London has been an all-time popular destination for travellers thanks to its appeal as a global city. However, as far as personal expenditure is concerned, it's definitely among the least budget friendly places in the world. Basic expenses such as transport could be ridiculously expensive especially if you compare them to prices back home. It could quickly add up if you're not careful. Here are some useful tips to keep your transport expenditure in check:
1. Get an Oyster Card
That's the first thing you'll want to do once you land in London. This is especially true if you'll be relying on public transport most of the time. An Oyster Card is a stored value smart card for usage on London's public transport, much like Singapore's EZ Link or Seoul's T-Money cards.
A single trip journey paid by cash on the Transport for London (TfL) rail network (i.e. London Underground, London Overground, Docklands Light Railway) is way more expensive than using an Oyster Card. In the most extreme of fare differences, it could be as much as paying £4.90 versus £1.50!
You can buy an Oyster Card (with £5 refundable deposit) at any of the international airports in London or at any of the London Underground stations. Simply top up the value of the card and you're good to go!
Alternatively, you may get a Visitor Oyster Card (with £5 non-refundable deposit) which will also entitle you to discounts on dining, shopping, attractions and entertainment at selected establishments. The best way to get the Visitor Oyster Card is through online agents (e.g. Changi Recommends).
Since 2014, TfL has allowed commuters to use contactless payment with selected debit and credit cards. If you hold a DBS Multi-currency account, you could use your DBS VISA Debit Card to pay for your transport as well. Just ensure that you have credit in your account's GBP wallet and you're ready to go.
For other kinds of accounts and contactless cards, they may charge extra for associated fees if they're not registered in the UK. Please check with your respective banks accordingly. For more information on contactless payment, please check out the link here.
2. Travel during off-peak hours
Fares are cheaper during off-peak hours on the TfL rail network. Peak hour fares apply from Monday to Friday (excluding public holidays) between 06:30 and 09:30, and between 16:00 and 19:00. All other hours (including weekends and late night hours) are considered off-peak.
Would you pay extra to suffocate in the carriage?
Travelling during off-peak periods makes the most sense as you'll get less crowded trains for less. It's simply not worth the money when you have to pay extra during peak hours and still experience that unpleasantness of jostling for space to breathe on a packed London tube.
3. Familiarise yourself with the zone-based fare system
The amount that you pay for each trip is determined by the number of zones travelled. As shown on the Tube map, stations are categorised into different Zones depending on their distance from central London.
A close-up of the London Tube Map. Stations are categorised into Zones as shown in the background.
Here are the general rules that determine your fare with the zone-based system:
The more zones you travel through, the higher the fare and vice versa.

Zone 1 is usually the route with the higher fares.

The lowest fare you can pay is £1.50 during off-peak period when travelling anywhere within Zone 2 to 6 in one trip.
Pro tip 1: Avoid Zone 1
If you're intending to travel across central London, you can actually bypass Zone 1 and pay a much lower fare. As long as you are travelling along a route that stays within a certain number of zones excluding Zone 1, you can pay as low as £1.50 during off-peak hours!
Just remember to tap your Oyster Card on the pink card reader (like the one below) when you transfer at interchange stations outside of Zone 1. If you don't, the system would assume that you take the shortest route through Zone 1 and charge a higher fare when you tap out at your destination.
Pink card readers are installed at interchange stations outside Zone 1. Remember to tap!
Pro tip 2: Maximising your journeys with daily fare cap
You may be worried about how your travel costs would quickly add up, given how expensive each trip can be. The good news is, there's a daily fare cap when you use your Oyster Card across various modes of transport, depending on the number of Zones you travel in a day.
Most visitors to London would usually travel within Zones 1 and 2, so the maximum amount spent on transport within these two zones in a day would be £6.80, which isn't too bad. If you travel through more zones within a day, your daily cap would increase accordingly.
4. Consider getting a Travelcard
If you're staying in London for more than five days, it may be more worth the money to get a Travelcard (available in periods of 7-days, 1-month or even 1-year) especially if frequently use public transport. You can choose the number of zones covered for your Travelcard with their various prices.
For example, a 7-day Travelcard for Zones 1 and 2 will cost £34.10. Assuming that you hit the fare cap of £6.80 every day within a week, that will be £47.60 total. In this case, having a Travelcard helps you save quite a bit on travel fare.
Travelcards can be loaded easily into your Oyster Card with the use of ticket machines at Underground stations. However, they cannot be loaded onto the Visitor Oyster Card or your own contactless card.
Getting a Travelcard is straightforward with the use of ticket machines.
Why you should consider getting a Travelcard
Usage on National Rail network
The Zone-based fare system is also applicable to National Rail services within London. However, single fare journeys on the National Rail are usually more expensive compared to TfL journeys of similar distance. If you use the Travelcard, it also covers the National Rail network with no extra charge, as long as you travel between stations within the zones covered.
Covered on London buses
Once you have a Travelcard, it automatically covers all bus journeys at no extra charge. The London bus network doesn't go by the zone-based system, so you can take buses to pretty much anywhere in London!
Pro tip: Get a Travelcard that excludes Zone 1
As highlighted earlier, Zone 1 is the main culprit for high fares. This is true for Travelcards as well. To save money, you can actually purchase a Travelcard that's valid for Zone 2 and a number of zones outwards, so outer London is pretty much covered.
If you need to get into Zone 1, you can simply transfer to buses at no extra charge since the Travelcard covers all bus journeys. So you can save quite a bit of money like this!
5. Take the buses
What's London without its iconic red double-decker buses? As a significant symbol of the capital, a ride on one of these buses should be included in your itinerary. After all, as William Gladstone once quoted, "the best way to see London is from the top of a bus."
And it's the most affordable form of public transport in London as well. Each journey costs £1.50 regardless of zones or distance travelled. Recently, the new hopper fare is introduced such that it allows you to make unlimited bus-to-bus transfers for free within the first hour from tapping in!
In addition, the daily fare cap for bus journeys is £4.50, meaning that it would be the maximum amount spent per day on public transport if you only rely on buses. If you are staying in London for 5 days or more and plan to take buses very frequently, you can get a 7-day Bus & Tram Pass for £21.20.
6. Cycle
Getting around London on pedals has become easier since the introduction of the Cycle Hire Scheme in 2010. To hire a bicycle, simply head to a docking station (like the one above) and follow the instructions on the machine.
The access fee is £2.00 per day, payable by bank card. As long as you make your journey between two docking stations within 30 minutes, there will be no additional charge. So if you wish to maximise the access fee, you can make as many bike journeys as you like within 24 hours as long as each journey is within 30 minutes. For longer journeys, £2.00 will be charged for each block of 30 minutes, from the second block onwards.
7. Walk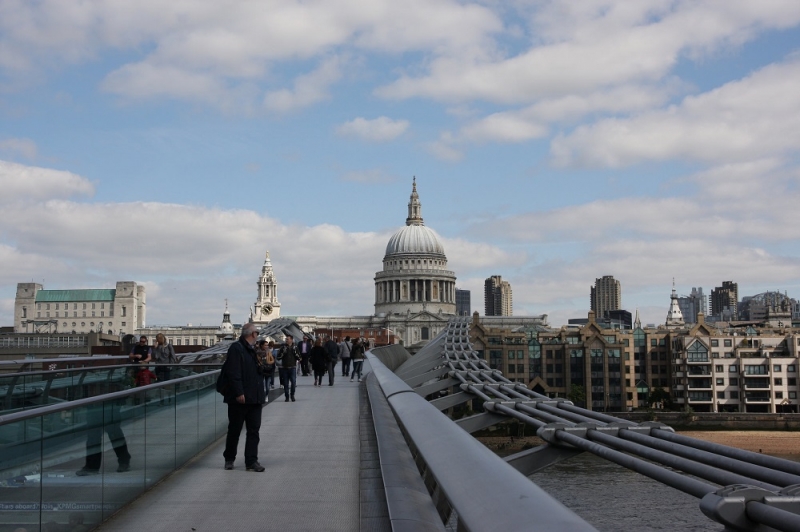 If you still insist on scrimping on your transport expenses, walking is a viable choice. After all, walking is healthy, free and you can even save time by enjoying the city view whilst beating the horrific London traffic. Walking is best done along the Thames, the bridges that go across it as well as within the numerous green spaces.
Some streets in central London are pedestrianised so you can just walk by fuss-free without dealing with vehicular traffic. Furthermore, you can always go on a self-guided walking tour that brings you to numerous places of interests that can be rather close to each other.
It is understandable to be cost conscious while getting around in London. The good news is that the transport cost is pretty much manageable as long as you follow some of the advice above. After all, saving a bit on transport means you could allocate more money for other travel expenses. So, if you can save, why not?