As someone who gets backaches relatively easily due to scoliosis, I try to avoid carrying heavy loads, if any at all. Hence, when it comes to walking long distances, I have always wondered if there was any way I could transport all my necessary logistics (water, food, and camera gear) without stressing my back.
Enter the humble shopping trolley—a common sight in any heartland neighbourhood in Singapore, serving the grocery shopping needs of many grannies.
Instead of carrying a backpack, I could simply pull a shopping trolley on my walks. With this brilliant idea (or so I thought), I bought a second-hand shopping trolley off Carousell and set off to test it out.
Walking Singapore's Northern Coast
Since I could load much more things into a shopping trolley instead of a backpack, I thought that I could walk for more than one day and sleep along the route. All I needed was a sleeping mat and some extra clothes.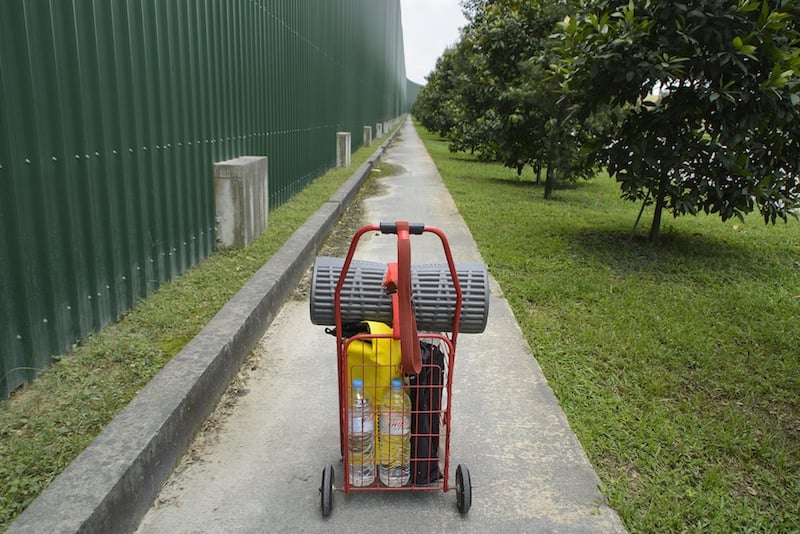 With these additional items, I decided to walk across Singapore (again), only this time through the northern coast of Singapore. Unlike my previous walking route from Tuas to Pasir Ris through the middle of Singapore, this route would be much longer, necessitating a sleepover somewhere along the way. I was also unfamiliar with the northern regions of Singapore and thus wanted to explore it too.
Starting from Pasir Ris this time, I cut across the town and arrived at the tranquil Lorong Halus Wetland, before taking the splendid Punggol Promenade Nature Walk. With the waters of the Punggol Reservoir to my right, the breeze in my face and the footpaths almost all to myself, walking could not get any more blissful than this.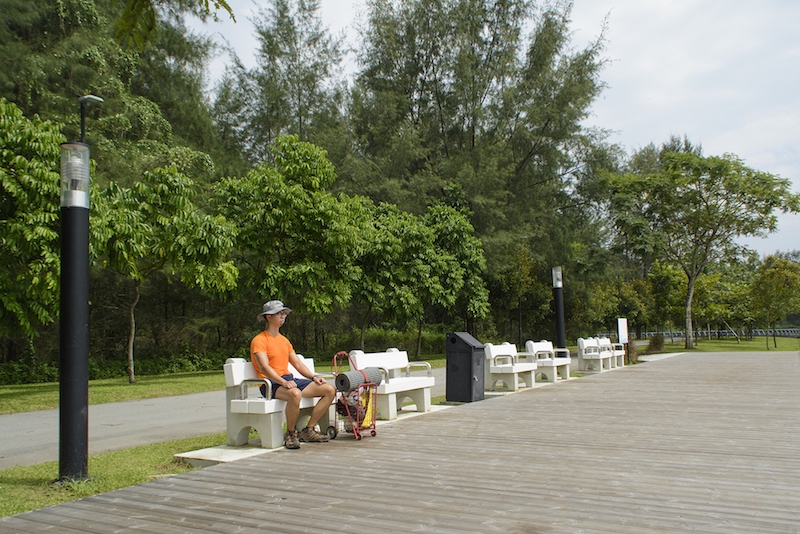 Leaving Punggol town, I crossed into the man-made islands of Pulau Punggol Timor (East Punggol Island) and Pulau Punggol Barat (West Punggol Island). The former serves as a landing and stockpile site for sand and granite imports, while the latter seems to be the site of various construction projects. As a result, tipper trucks were constantly barreling down the main road, kicking up plumes of dust – a huge contrast to the clean and idyllic Punggol Promenade.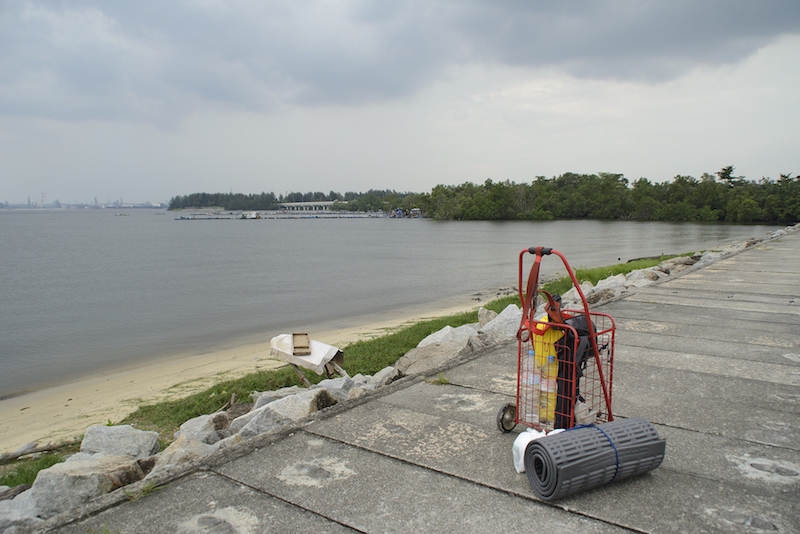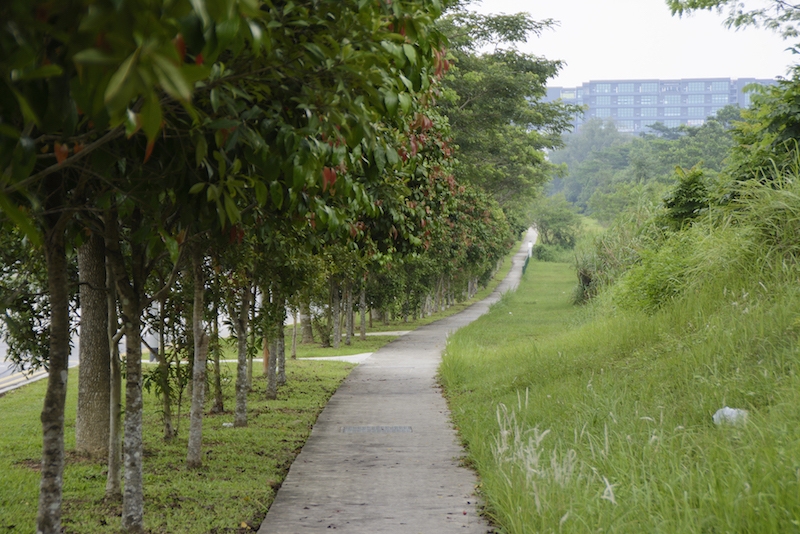 After walking past Seletar Airport, I crossed the Yishun Dam to enter Yishun town, tracing the outskirts of the Simpang military training area all the way to Sembawang. There, I turned into Admiralty Road and walked the full length of the road until Woodlands Waterfront Park, where you can get a good view of Johor Bahru and the Causeway.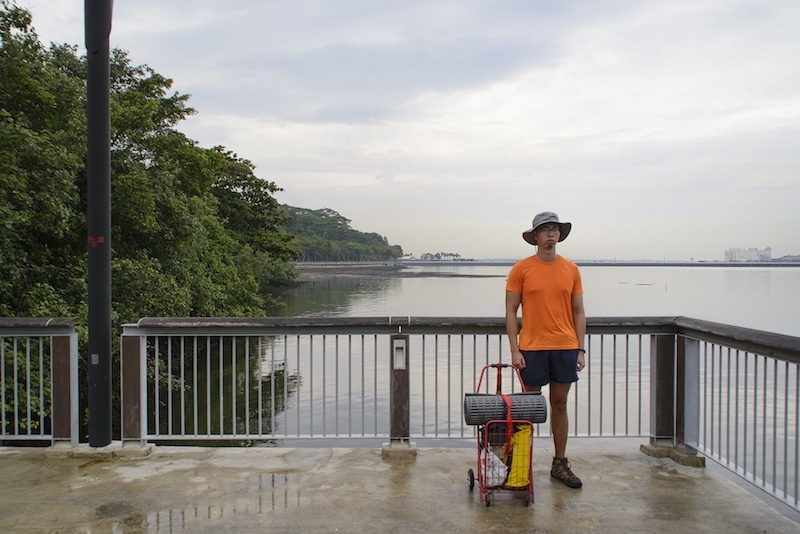 From here, I simply pushed on to Kranji Reservoir Park, with a detour to get dinner and supplies in Marsiling. Along the way, I had expected the industrial area in Kranji to be dead, given that it was evening time when I passed by. Instead, there were still many foreign workers moving around, eating and chatting on their phones. It sure was nice to know that I was not the only soul staying the night at Kranji, considering that the Hungry Ghost Festival was still very recent!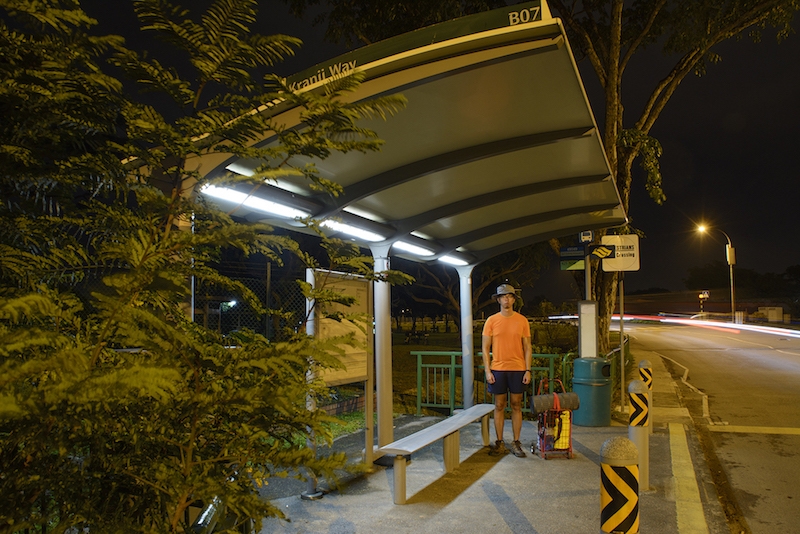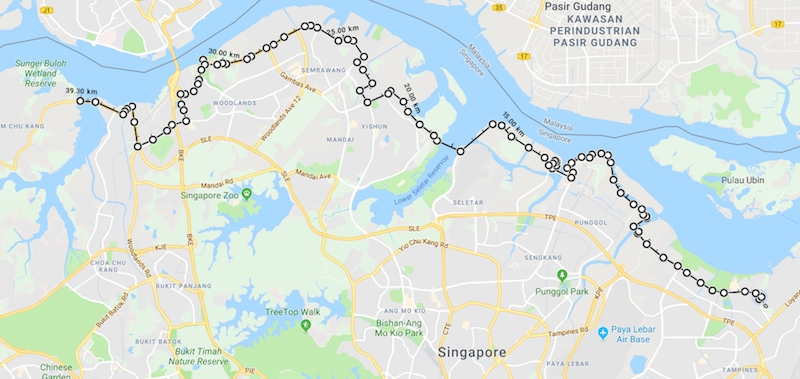 "Hotel Kranji"
Kranji Reservoir Park was a natural choice to spend the night, given that there were shelters and toilets. The scenic views on both sides of the Kranji dam, of both Johor and the Kranji Reservoir, sure helped too.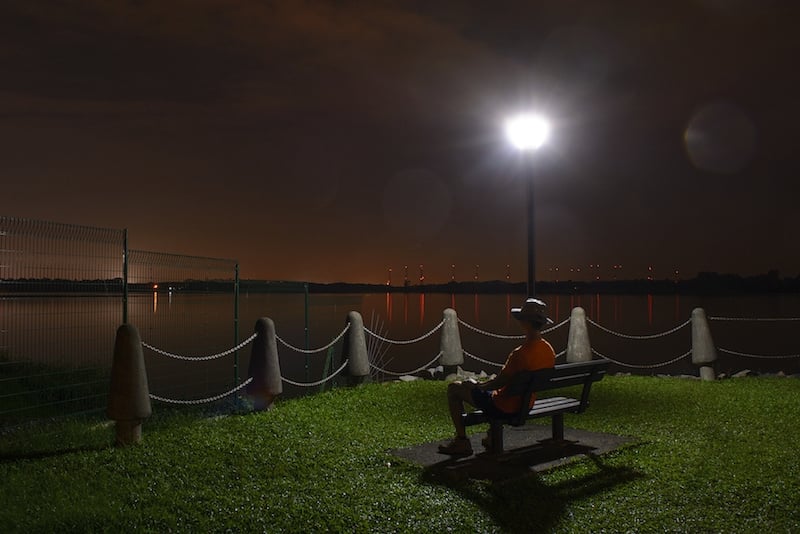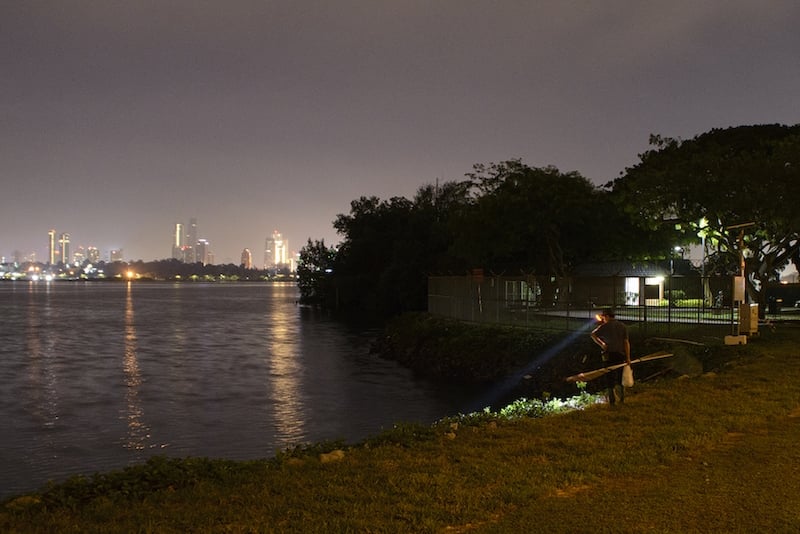 I "checked into" the shelter nearest to the toilets not only because of the convenience, but also the fact that the shelter deeper in looked a lot more creepy. I also casually dismissed the "Watch Out For Crocodiles" sign beside my chosen shelter, even though the thought of waking up to a crocodile beside me continued to linger in my mind.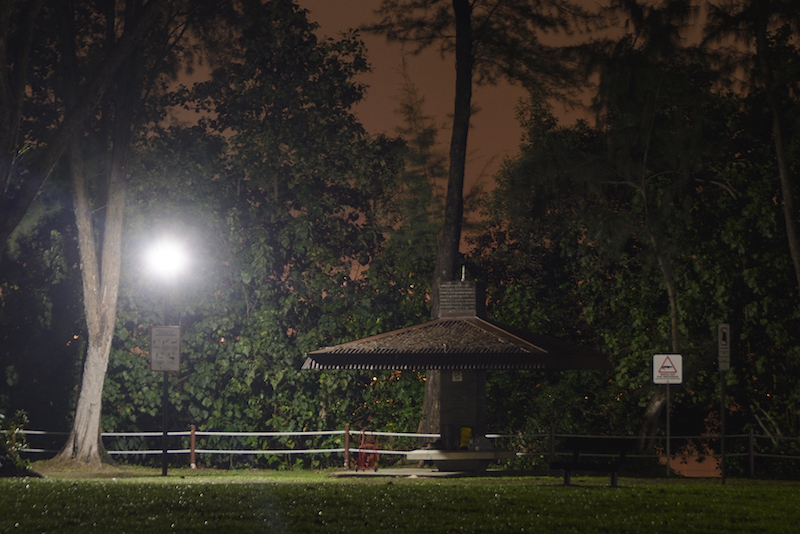 In any case, I had other things to disturb my rest, such as the pesky insects. My neck muscles also started to feel inflamed and I had jolts of excruciating pain—the kind that makes you cry out involuntarily—when I lay down on my mat. I suspected that the stiff neck I had prior to the walk had been aggravated by the prolonged pulling of the trolley.
I could not fall asleep the whole night, especially given that any small movement on my part could trigger those painful jolts in my neck. When morning came, I made the decision to abort my walk and return home by Grab. Unlike fatigue from walking that can be endured, neck pain is extremely debilitating and I did not want to aggravate it further.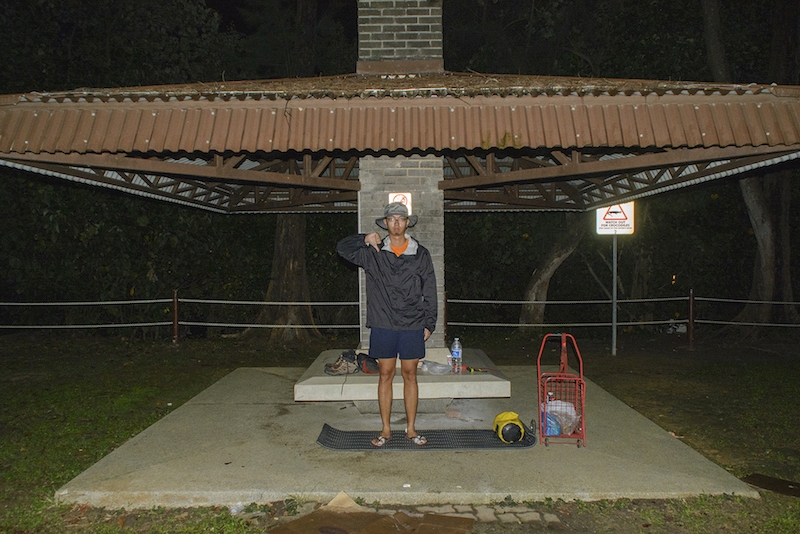 I had originally planned to walk down Lim Chu Kang Road and venture westwards to the Tuas Link MRT station, where I started my previous cross-Singapore walk. Alas, I would have to do that another time—probably without a shopping trolley.
Walking as a means to cultivate humility
To me, walking has always been a way to escape—momentarily—the grinding demands of modern living. The repetition of each step anchors one to a bodily rhythm that is reflected in the mind too, a momentum to reflect, and if necessary, to forget.
This episode also reminded me of another aspect of walking: humility is central to its experience. When I walk far—and long—I am at the mercy of the sun and rain, the paths available before me, as well as the limits of my body. I feel a keen sense of vulnerability and fragility, especially when I contemplate the distance I have to cover. There is nothing else I can do, but stay humble, taking one step at a time, wanting nothing more and nothing less.
It is in these moments when the world seems its vastest and the individual seems its smallest that the noise of one's ego and the din of societal expectations are muffled. One feels present and most attuned, both outwards and inwards. Perhaps, it is only by embracing rupture—from egos, from expectations—that one can find rapture.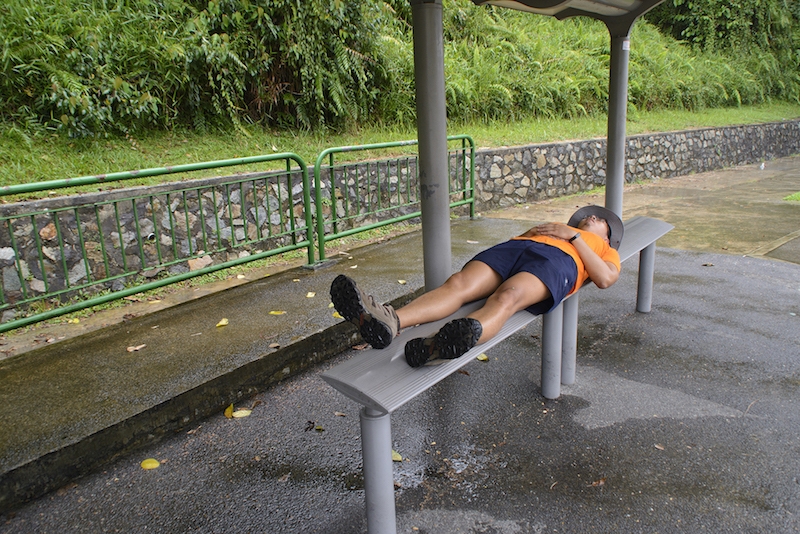 As Frédéric Gros, author of the book, A Philosophy of Walking, summed up in an interview with The Guardian: "There is an element of repetition in the act of walking where you can forget. And there is a tiredness. A peacefulness. I think that when you are really alone you have a fragility. The feelings are more intense. You have more of the feeling of the eternity of things. There are moments of vibration between your own body and the landscape."