"Is the lockdown boredom killing you faster than the pandemic virus itself? Fear not — our Pfizermeister COVID-19 Lockdown Boredom Buster is formulated with proven efficacy to combat and eliminate any pandemic-induced lockdown boredom and sobriety."
You'd think someone was fooling around with an advertising copy like the one above. But it's as real as it gets, and something only an award-winning cocktail bar like Malaysia's Backdoor Bodega could have pulled off. Its Pfizermeister is one of 40 drinks offered by the speakeasy based in Penang. And, one of three that specifically took inspiration from perhaps 2021's most talked-about topic: vaccine brands.
Also read: Drink a Bottle of Eco-Friendly Vodka And Help Save the Planet
Vaccine cocktails worth getting a shot of
The pandemic has stirred up all sorts of emotions from people. Among these feelings is the longing for the company of others, and anything that reminds one of a world without COVID-19. So, Backdoor Bodega came up with a solution. With a shot of your vaccine cocktail of choice, it's possible to have a good, relaxing time away from your friends using products you can order from home. Or, at least, if you're around Penang where the bar is based.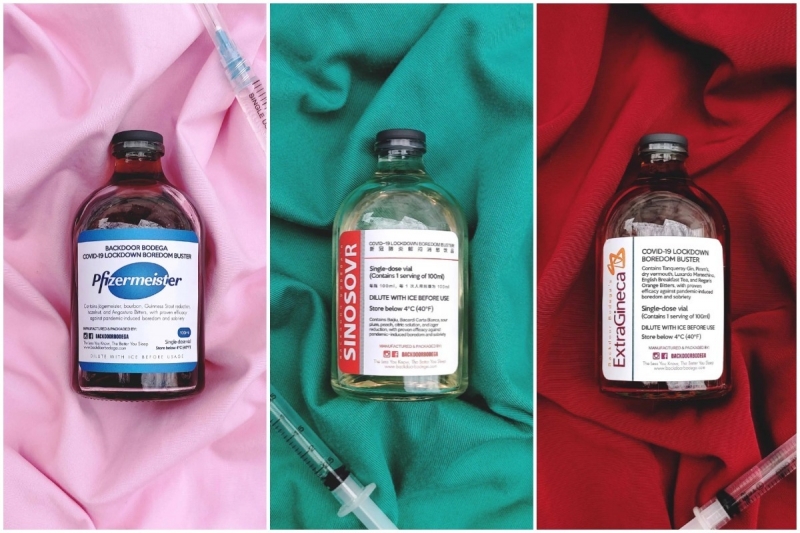 Along with Pfizermeister, which is named after the Pfizer-BioNTech vaccine against COVID-19, the Penang bar sells Sinosour (based on the Sinovac-CoronaVac vaccine) and ExtraGineca (based on the Oxford-AstraZeneca vaccine). Each cocktail comes in a 50ml bottle that's good for two "doses," and individually sold for RM38, or about S$19. You can even order all three variants together for a price of only RM100 or about S$32.
According to Backdoor Bodega, here's what each cocktail is made of:
Pfizermeister: Jägermeister, bourbon, hazelnut, Guinness Stout reduction, and Angostura Bitters.
Sinosour: Baijiu, Bacardi Carta Blanca, sour plum, peach, lager reduction, and citric solution.
ExtraGineca: Tanqueray London Dry Gin, Pimm's, Luxardo Maraschino, dry vermouth, English Breakfast Tea, and Regan's Orange Bitters.
Also read: Vaccinated Against COVID-19? Here's A List of Countries You Can Visit
To best enjoy these vaccine cocktails, be sure to first stir them with ice for roughly 20 seconds. Then, serve them in a chilled rocks glass along with orange peel garnish. If you're in Malaysia, you can place your reservations online and enjoy free shipping. The bar also sells "overpriced" lapel pins. And as per the store, if you purchase any of the Backdoor Bodega lapel pins, you can get their vaccine cocktails and other drinks at no extra cost.
---
All images credited to Backdoor Bodega | Official Website