Most of us, at some point or another in our lives, have thought about heading to a beautiful tropical island for a well-deserved vacation or getaway. Most of the time, we think about the Maldives, that gem of an island that just seems so absolutely irresistible. Then reality kicks in and we realise that we'd have to fork out a sizable amount to make that dream vacation any more than just a dream.
But fret not my friends, for there might just be a way to get that dream Maldives vacation yet, and for a much smaller amount of money! With the weakening Malaysian Ringgit, it's a good time to visit Malaysia and guess what, there are quite a number of beach resorts in Malaysia that offer top class Maldivian experiences!
So for all you beach lovers, and anyone who wishes to have a good, relaxing time by the beach, here are 8 unexplored beach resorts in Malaysia you should check out!
1. Lexis Hibiscus, Port Dickson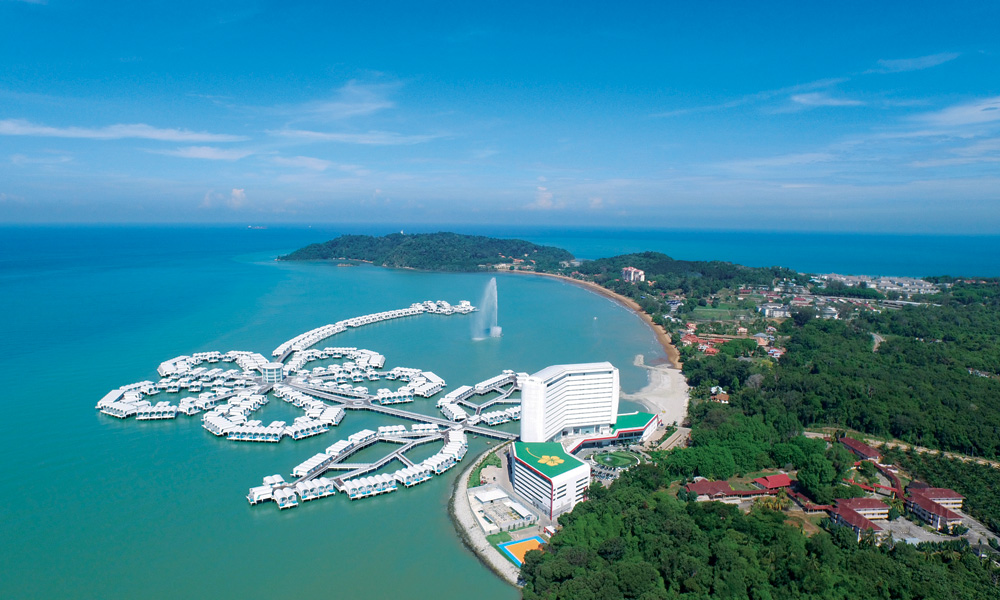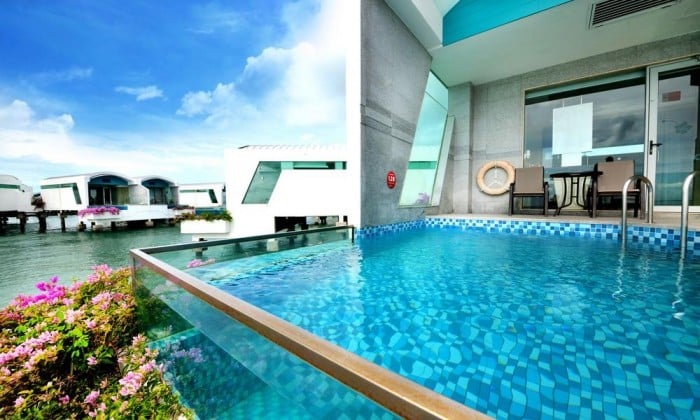 Image Credit: Lexis Hibiscus
There are luxurious beach resorts, and then there's the Lexis Hibiscus in Port Dickson. This is as close as you can get to the whole Maldives experience without a hefty price tag! Right off the bat, the resort, which features stunning overwater villas, is the Guinness World Record holder for the most number of swimming pools in a resort, and for the most overwater villas! But perhaps what is most impressive about the Lexis Hibiscus is the aerial view of the resort. You'll notice that the resort and the villas are laid out in the shape of a hibiscus, the national flower of Malaysia! How's that for representing the country? Awesome, right?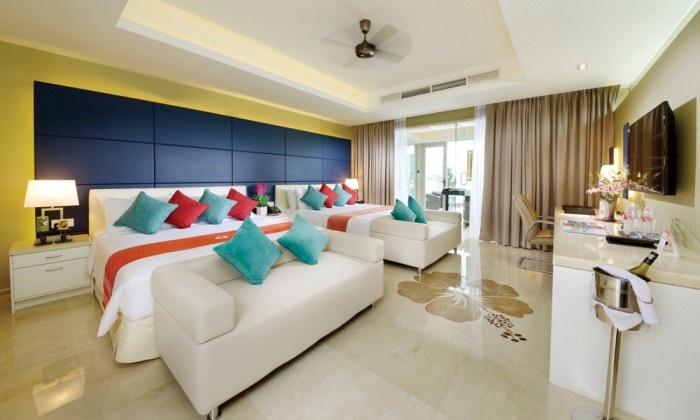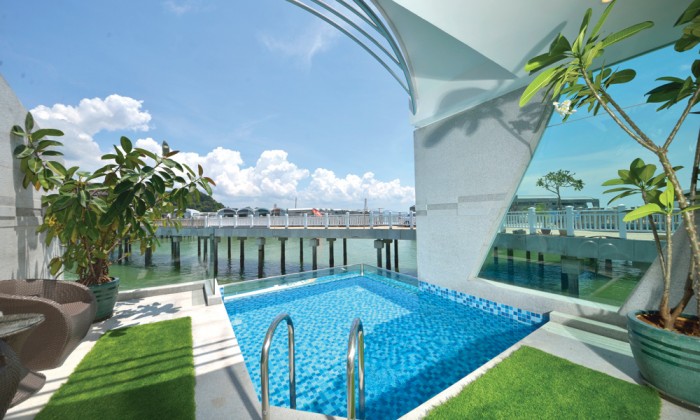 Image Credit: Lexis Hibiscus
Lexis Hibiscus takes luxury and comfort to a whole new level, with every villa fitted with its own private pool, perfect for a refreshing dip at any time of the day! Laze around, get your tan on, blast some music and just embrace this luxurious experience you get without having to splurge at all. The rooms themselves are also spacious, sophisticated, and offer the very best of comfort.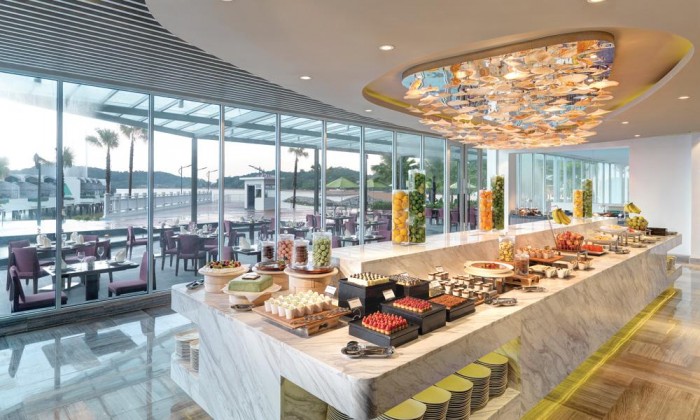 Image Credit: Lexis Hibiscus
The resort also offers an impressive range of restaurants, bars and lounges, all guaranteed to satisfy your palette and take you through an unforgettable dining experience. Aside from the dining options, the wide variety of activities offered here are bound to leave you spoilt for choice. Being close to the beach, a leisurely evening stroll is obviously a must, but if you're feeling a little too lazy, you can take the helicopter instead.
Yes! Helicopter rides are available here, along with bike rides, cruises, and a variety of outdoor activities such as archery, a variety of water sports and yoyo cars! When you venture indoors,  unleash your inner Celine Dion at the karaoke lounge or relax at the resort's spa.
2. Avillion, Port Dickson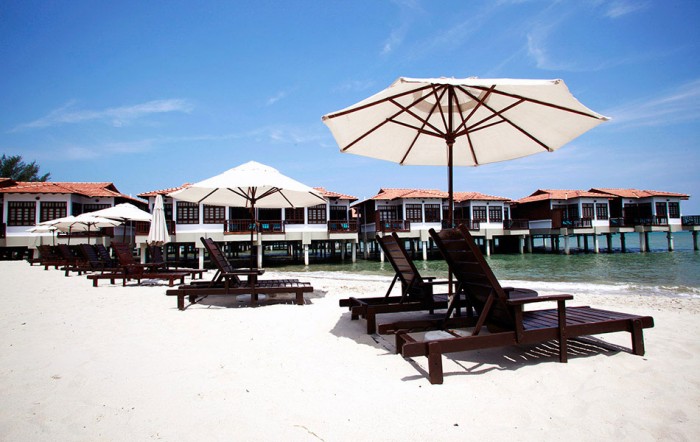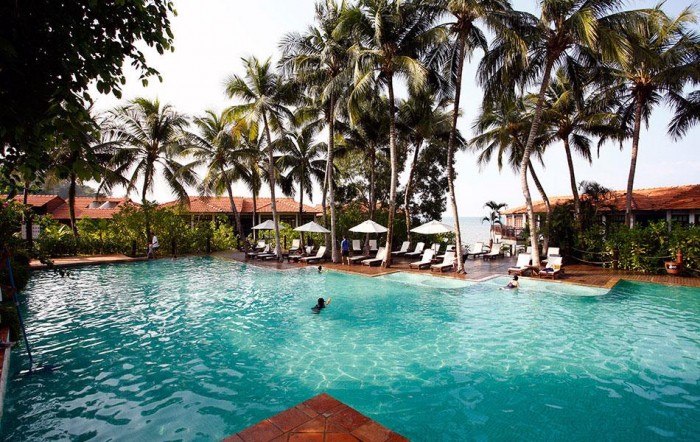 Image Credit: Avillion
The Avillion is a uniquely designed beach resort which has won several accolades for its tasteful layout and architecture. The beach resort combines traditional Malay architectural aesthetics (the resort is designed like a Malay fishing village) and modern furnishing, leading to a unique blend of cultural heritage and unrivalled comfort for guests.
Offering a variety of room options such as chalets and villas which overlook the Straits of Malacca, the rooms at the Avillion prioritise the luxury and comfort of guests above anything else. The very best rooms offer a private Jacuzzi and all accommodation options are only a stone's throw away from the core activities at the resort and beach.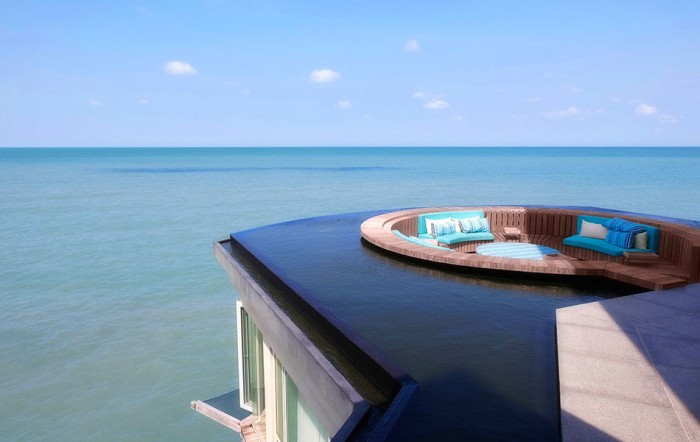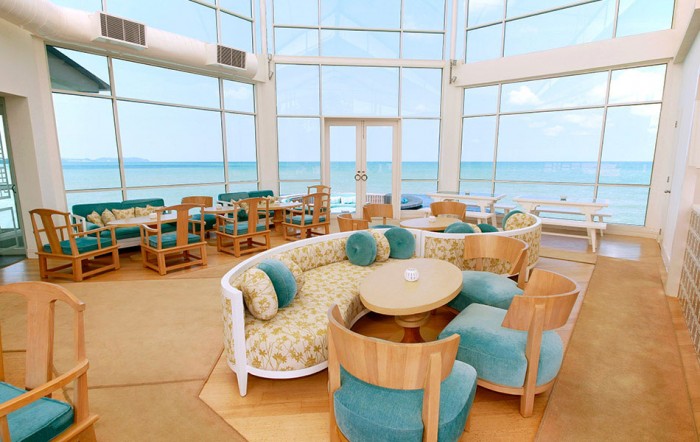 Image Credit: Avillion
There's quite a fair bit to do at the Avillion, from the usual water sports and beach walks to more cultural activities such as visiting the spice farm and taking a dip in the village pool. While you're there, why not take up caklempong, a traditional Malay musical instrument; visit the aviary, or even go fishing and hunting for crabs? If you're in the mood to unwind, visit the on-site spa and sauna, or just catch the sun setting over the horizon from the resort's lookout point. The view from the cosy lookout point is so splendid, you'll never want to leave!
In terms of food and beverage, the Avillion also offers a variety of different options, from international cuisine to rich local flavours. Fancy a drink? Check out The Gallery Lounge, an open-air, sunken bar which offers both alcoholic and non-alcoholic refreshments and drinks, ensuring that all guests will have an enjoyable happy hour.

3. Hibiscus Beach Retreat, SabahImage Credit: Hibiscus Beach Retreat
If I had to describe Hibiscus Beach Retreat with just one word to sum up its best qualities, it would be privacy. Located at the tip of Borneo in Sabah, some 170km away from Kota Kinabalu and 30 minutes (driving) from Kudat, Hibiscus Beach Retreat offers guests optimal privacy in a secluded area surrounded by the sea, jungle and an overall intimate atmosphere.
Guests are offered an option between two one-bedroom self-contained chalets: Clifftop, which is nestled atop a cliff and offers stunning views of the sea; and Treetops, which is a more traditional styled wooden chalet with a wonderful view of the seafront. Guests staying here are entitled to free scuba equipment rental for up to two persons and may also engage in activities such as jungle trekking, fishing and excursions to local cultural villages.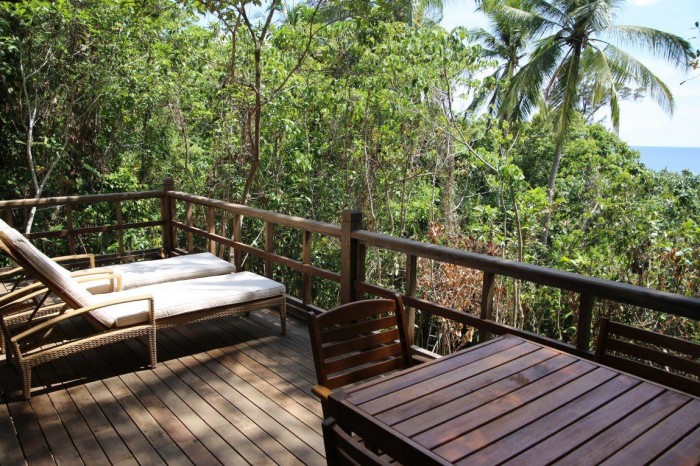 Image Credit: Hibiscus Beach Resort
But of course, the main idea, as the name suggests, is to relax,  take in the sun and enjoy the breeze of the South China Sea while lazing on a pristine 3km stretch of white, sandy beaches. Be rest assured that any stay at the resort guarantees amazing service, and a mesmerising experience just like one in the Maldives.
4. Palm Beach Resort & Spa, Labuan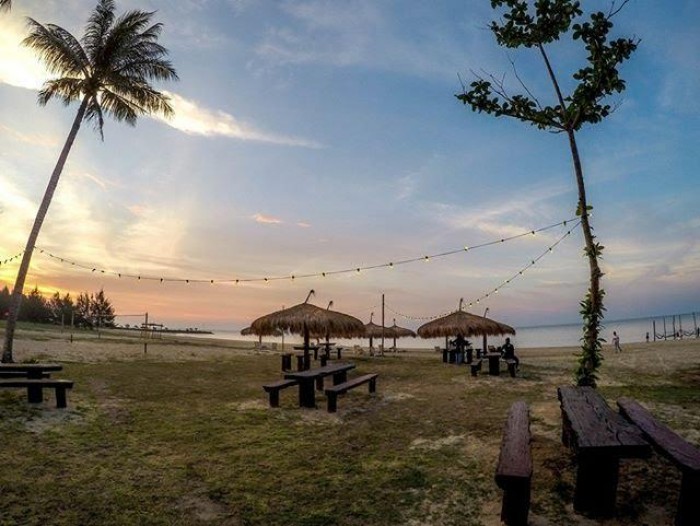 Image Credit: Palm Beach Resort & Spa
Staying on Borneo and focusing on Labuan Island this time, we have the Palm Beach Resort & Spa. The resort is situated on a private beach among tropical gardens, in an area which spans 17 acres. It offers spacious, comfortable rooms and is perfect for a private getaway. Being only 15 minutes away from Labuan's town centre, the Palm Beach Resort is also a good choice for those who have business in the city.
Offering splendid tropical views, guests staying at the resort will find that their comfort is well taken care of, with the resort offering multiple facilities such as spas, beach and poolside bars, beach sports activities and an in-house leisure lounge – all designed to lull the patron into an unforgettable experience of serenity.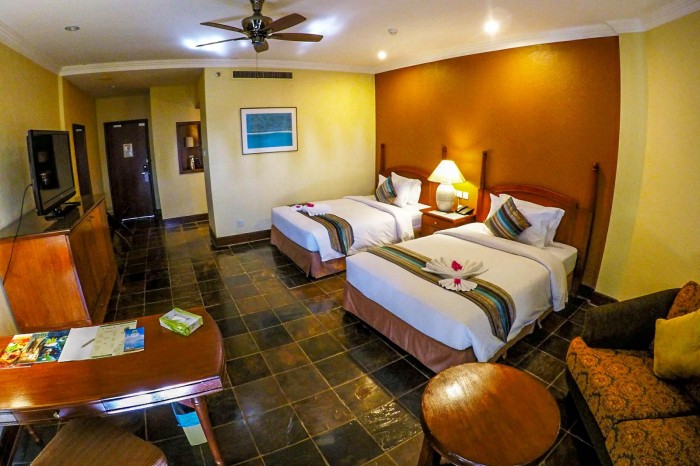 Image Credit: Palm Beach Resort & Spa
In addition, the resort also offers several ballrooms and seminar rooms, making this an ideal place for a private function or for a company retreat as well! Whether you'd like to watch the sun set over the sea or work up a sweat playing beach soccer, you're sure to have a great experience at the Palm Beach Resort and Spa!
5. Reef Dive Resort, Mataking Island, Sabah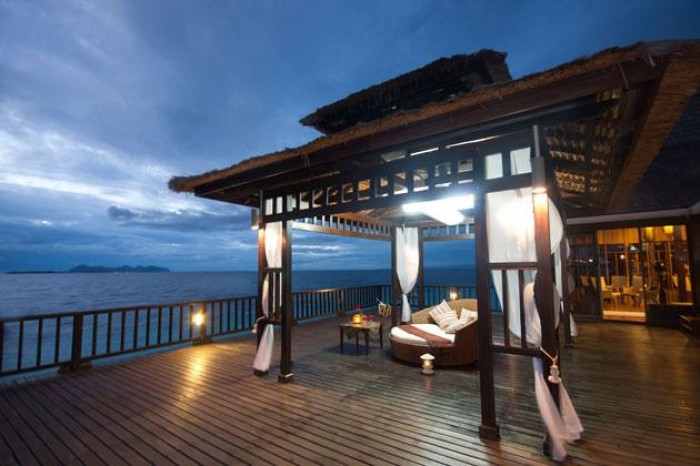 Image Credit: Reef Dive Resort  
Mataking Island is located near the village of Semporna in Sabah. The only way to get to the island is by taking a 40-minute ferry ride from Semporna's harbour. An article specifically about the island, which you can read here, contains more detailed information about the island itself.
The Reef Dive Resort is the best accommodation option on the island. It is a haven for those wanting a quiet getaway, those who love relaxing at spas, and for those who live to dive! The maximum occupancy of only 100 guests at a time ensures that it is the perfect spot for a beach-themed honeymoon or romantic trip for two!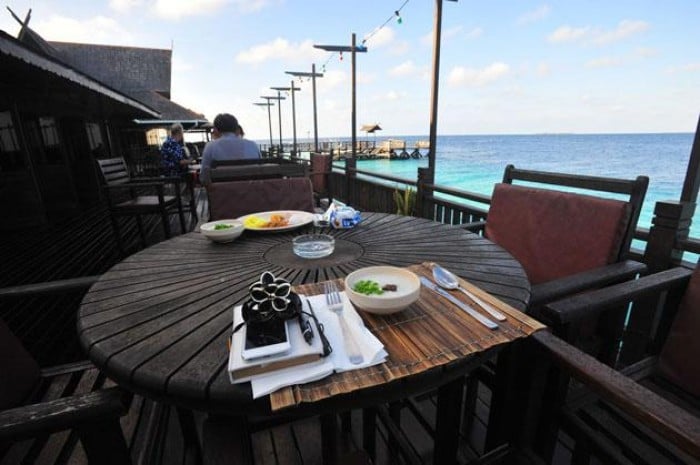 Image Credit: Reef Dive Resort
The resort comes equipped with lounges, bars and restaurants (weekends are BBQ nights!) facing the sea and guests can enjoy a multitude of unique activities while staying here. Apart from the usual beach activities, guests can climb the island's watchtower for a rewarding sunrise/sunset view, visit the peacock sanctuary, and even walk across, by foot, from Mataking Besar to Mataking Kecil! Just make sure not to get stranded during the high tides.
Apart from that, guests can enjoy multiple cultural events and arts celebration while staying at the Reef Dive Resort and enjoy exclusive access to the private beaches on the island! Sound amazing? Yeah, I think so too!
6. Thistle Port Dickson Resort

Image Credit: Thistle Port Dickson Resort
Thistle Port Dickson Resort is owned by the Thistle Group, which owns several hotels in London and across England, so you can definitely anticipate classy service while staying at this 5-star resort.
Located in Teluk Kemang, the surrounding area of the resort, 37 hectares to be exact, is a mixture of lush greenery, pleasant sea breeze, and a relaxing ambience. The scenic spaces are filled with footpaths for guests to take in the wonderful surroundings and the resort itself is top notch.

Image Credit: Thistle Port Dickson Resort
The rooms themselves are well-equipped with modern amenities and designed to maximise comfort and convenience.  Most rooms come with a view of the beautiful Straits of Malacca and the resort even has a nine-hole golf course! Apart from that, many of the best family-friendly activities take place surrounding the outdoor pool.
Those who are interested in watersports may also rent jet skis from the resort at fixed prices. Money can't buy happiness, but have you ever seen an unhappy person on a jet ski? Exactly. In addition to sea, sun and water sports, the resort also has a wide selection of international cuisine available at the resorts' restaurants and outdoor bars, offering the ultimate dining experience whilst soaking in the view of the Straits of Malacca.
7. Swiss-Garden Beach Resort, Kuantan, Pahang

Image Credit: Swiss-Garden Beach Resort
Operated by Swiss-Garden International Group, the Swiss-Garden Beach Resort in Kuantan, Pahang is located on the pristine Balok Beach. Much like the other resorts on this list, Swiss-Garden Beach Resort is also nestled within lush green landscapes and guests are rewarded with a stunning view of the beach and aquamarine waters right at their doorstep.
The room decorations contain a traditional theme highlighting the unique cultural heritage of Malaysia. Combined with modern facilities and various services, you're in for a tranquil time of pampering and relaxation. The resort also offers a wide variety of meal options across its various food and beverage establishments. From international themed buffets, to local oriental cuisine,  tasty pastries and aromatic, freshly brewed coffee!

Image Credit: Swiss-Garden Beach Resort
If you're done with the beach, then why not enjoy some live musical performances at the on-site Malibu Pub while sipping on a custom mixed cocktail? Or go for a relaxing massage at the Samsara Spa? If you truly wish to live it up, the Executive Suite even comes with its own private Jacuzzi! They also have a Turtle Sanctuary and Batik Village nearby which you can visit. Or if you're in the mood for picturesque views, hop on a cruise that takes you through a 500-year-old mangrove forest reserve!
So much to offer and so much closer to home than the Maldives, no?
8. The Andaman Resort, Langkawi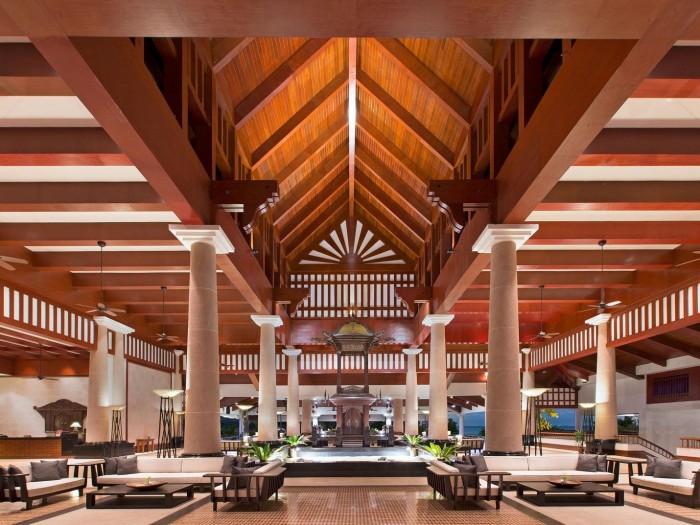 Image Credit: The Andaman, Langkawi
Langkawi Island, off the northern coast of Malaysia, is one of the most popular island vacation spots in the country. While most visitors will no doubt visit the Cenang Beach area, which is arguably the most popular hotspot on the island, many remain unaware about Datai Bay, one of the 9 best beaches in the world. And you'll find the impressive Andaman Resort on Datai Bay.
Compared to Cenang Beach, Datai Bay is far less populated, ensuring that guests staying at The Andaman get to enjoy more peace and quiet as they laze around on the (almost) private beach outside the resort. Datai Bay (and The Andaman) is nestled between an ancient rainforest and an 8,000-year-old coral reef. No surprise then, that snorkelling is one of the top activities here!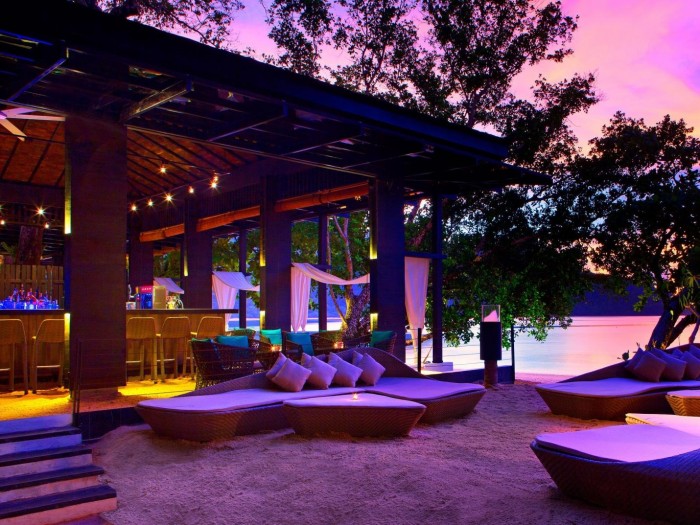 Image Credit: The Andaman, Langkawi
The seclusion and privacy of The Andaman make it a top spot for private functions such as family parties and wedding receptions, which only means one thing: the food here is superb. There are no less than four unique dining options at the Andaman, all of which combine local flavours with a hint of gourmet cuisine for the ultimate culinary adventure. As the sun sets, it's time to kick back and relax with a few drinks at the Jentayu Lounge or the Beach Bar, which features live musical performances and plush cabanas for a chill evening.
The rooms at The Andaman are the epitome of style and comfort, combining modern necessities and luxurious decorations and motifs, ensuring that guests enjoy a truly memorable island getaway experience.
A Maldives close to home
Of course, the resorts featured on this list vary greatly amongst themselves in terms of price but all of them certainly offer a less costly alternative than jetting out to the Maldives, with amazing activities to boot! So let's hold off on that Maldivian vacation for a while and give these options a try!