When:
24 to 26 July 2015
Where:
Marina Bay Sands B2 Expo Halls D, E and F
Time:
10am to 9pm
Admission:
FREE!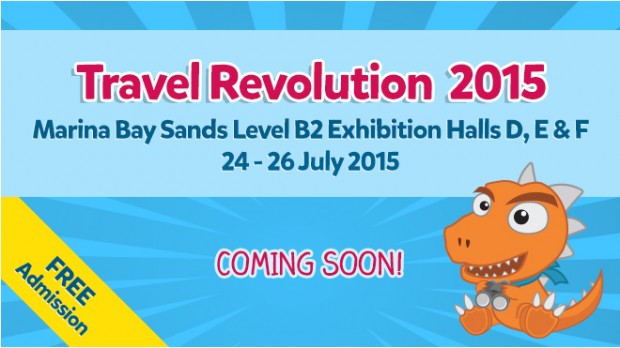 If you love awesome travel deals, the upcoming Travel Revolution Fair is one event you HAVE to attend. Travel Revolution 2015 features established tour agencies and major industry players including SA Tours, EU Holidays and CTC Holidays, and there will be plenty of travel promotions for everyone!
Besides travel agencies, credit card companies will also be present during the fair. Participating banks including Citibank, HSBC, OCBC, UOB and StanChart are offering promotional discounts and freebies for Travel Revolution 2015. There are also exclusive Visa travel deals to look forward to. So bring along your credit cards to the fair and look out for the best credit card promotions available for the travel packages that pique your interest.
Don't worry if travel packages and tours aren't your thing. As various national tourism organisations including Tourism Australia, Japan National Tourism Organisation, Tourism Authority of Thailand and Tourism New Zealand will be at the fair as well, you can drop by their booths find out more about your travel destination. These organisations' representatives will be glad to help you out by giving you travel recommendations from their trusty first-hand experiences!
Floor Plan
To make it easier for you to find your way around the Expo hall, here's a sneak peek of the floor plan!
List of exhibitors
Travel Agencies (and respective booths)
A3 Super Travel
A4 Dynasty Travel
A5 EU Holidays / EU Asia
A2 Hong Thai Travel
B10 Jun-Air Travel
B17 Nam Ho Travel
B31 New Shan Travel
C65 Lokopoko Travel
B42 CS Travel
A1 Chan Brothers Travel
C7 Apple Holidays
C12 I Love Holidays
C19 Misa Travel
C16 World Holidays
C13 JTB
C29 Farmosa Holiday
C38 Focal Travel
C31 Apple Vacations Singapore
D4 Reollo Travel
D5 Famous World Tours
C53 NTA Travel Singapore
C48 SingExpress
C45 Chan Brothers Express – Club Med
C60 Travel Star
C58 Skyline Travel
C54 Chan Brothers Worldwide Cruise Centre
A7 CTC Travel
C40 Trafalgar
D8 Insight Vacations
C34 Costa Cruises
D7 Cruise 1st Singapore
Banks (and respective booths)
K2 DBS Bank
K3 ANZ
K4 HSBC
K5 OCBC Bank
K6 Maybank
K7 Citibank
Tourist Organisations (and respective booths)
C66 Visit Indonesia
B7 Taipei City
B1 Korea Tourism Organisation
B24 Taiwan Tourism Bureau
C63 Okinawa Convention & Visitors Bureau
B35 Japan National Tourism Organization
D9 China National Tourist Office Singapore
C25 Australia
C22 Tourism Authority of Thailand
D1 Tourism New Zealand
Airlines (and respective booths)
F1 Air China
Other travel-related travel exhibitors (and respective booths)
V9 Universal Traveller Vendor
V1 OE2 Vendor
V4 Winter Time Vendor
V14 Escape! Vendor
V7 Changi Recommends Vendor
V15 Fotohub Vendor
V16 SingNet Vendor
V18 Swisswin Singapore Vendor
V20 Photobook Express Vendor
S3 i-Weekly
S2 Visa
V22 Prudential Assurance
S1 AIG
D2 Hertz Car Rental
D6 Avis Car Rental
Getting there
Address: Marina Bay Sands B2 Halls D, E and F @ 10 Bayfront Avenue, 018956
By MRT: Take either the the Circle Line or Downtown Line and alight at Bayfront Station (CE1/DT16), and take Exit E to head to the exhibition halls.
By Bus: Buses 97, 106, 133, 502 and 518 will bring you to the bus stop directly outside Marina Bay Sands.
By Car: Read here for car park rates and directions to MBS.