Contributed by Fly Chew to Asia.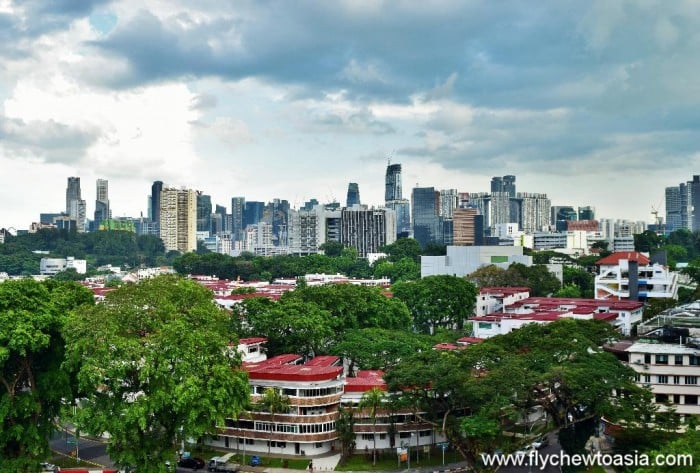 Having lived in Tiong Bahru since 1994, I felt rather ashamed that I have never taken a closer look at the history and heritage of my estate until today, when I discovered the National Heritage Board (NHB)'s Tiong Bahru Heritage Trail launched in April 2013. That is almost 3 years ago, gosh.
For most Singaporeans in my generation, Tiong Bahru is a modern, chic and trendy housing estate, awash with mod cafes, contemporary dining places and swanky shops. Artistry vibes linger in the air, as one sips on a cup of aromatic coffee, listens to hipster songs and does some people-watching.
But for someone like me who grew up in Tiong Bahru, what I see is everyday life. The cafes come and go and honestly, i have never visited one till the beginning of 2015, and by then cafe-hopping was probably long past the trend. I admitted that with the gentrification of the area, I tried to go with the flow and play some catch-up by visiting a few of the cool cafes in Tiong Bahru. But today, as I read about the NHB's Tiong Bahru Heritage Trail, it suddenly dawned on me how detached I have become from those childhood memories of Tiong Bahru. It seems like I have been sucked into this realm of gawking over pretty Instagram photos of upmarket Sunday brunches that are meaningless.
So I decided to embark on the NHB's Tiong Bahru Heritage Trail and wander on my own. Or you can also choose to join the tours conducted by volunteer guides at Tiong Bahru Community Centre.
Email: [email protected]
Phone: 6223 0748
Featuring 10 heritage markets, this 2.5km trail has been designed to bring you through Tiong Bahru's old architectural buildings, as well as other significant sites that residents of Tiong Bahru hold close to their hearts. All I can say is that at the end of the trail, I felt like I have gone back in time to reminisce those gray moments:
When dad and mum would bring my sister and I to the old one-storey Tiong Bahru Market (then called Seng Poh Road Market) to eat the famous Tiong Bahru Paus for breakfast on Sunday, and thereafter we would start our shopping spree in the market. During those days, the stall owners sold all kinds of things such as pyjamas, toys, sweets and snacks, cooking ware (clay pots etc), towels and blankets, clothes, shoes and slippers (those old rubber slippers), and I remembered there was also an alteration and tailor shop…
When I took my ballet and abacus classes at Tiong Bahru Community Centre in 1997 and was often scolded by my ballet teacher for landing loudly and clumsily…
When I would whisk past the bird corner because there were many uncles there, and I hated their sheepish stares (I also hated the squeaky noise made by some birds)…
These precious moments that I will always keep in my heart.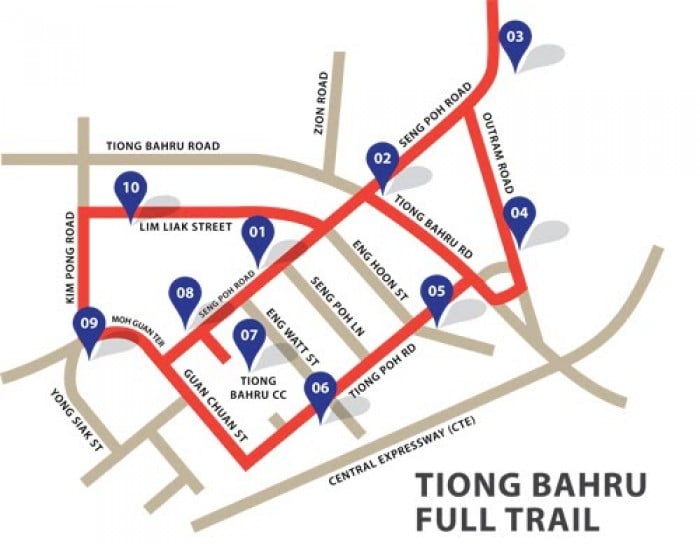 All factual narrations below are adapted from National Heritage Board.
Brief History
The word "Tiong" is Hokkien for "to die" and "Bahru" is Malay for "new". What it means is a new cemetery. Next to Tiong Bahru is the old cemetery and this refers to the site now occupied by the Singapore General Hospital. The relocation of the Singapore General Hospital to its present location in 1882, and the shortage of housing, and poor living conditions in Chinatown's slumps are the various catalysts that drive Tiong Bahru's subsequent transformation from a burial ground to a residential estate.
The Singapore Improvement Trust (SIT), the colonial predecessor to the Housing & Development Board (HDB), proceeded to exhume and remove all graves and started preparing the site for housing. The last graves were removed from the area in 1930.
Tiong Bahru may be a highly sought-after address at present, but back then, for five years after the infrastructural works were completed, SIT tried, unsuccessfully, to sell the site to private developers. SIT had initially planned to simply lay the foundation of the site and sell the property to private developers to finance and build the flats needed. This plan failed because when the site was ready in 1931, Singapore was in the grip of a recession. SIT then decided to embark on developing the properties itself. The first flat was completed in December 1936 and you can still see it today, Block 55 along Tiong Bahru Road.
It turned out that the Tiong Bahru flats were mainly occupied by Chinese "of the clerical class", rather than those in dire need of housing as rents in Tiong Bahru were considered too high. In 1940, the largest block of Tiong Bahru flats (Block 78 Moh Guan Terrace) was completed. These flats had bomb shelters in the basement. This marked the completion of SIT's Tiong Bahru Improvement Scheme. By 1941, there were 784 flats, 54 tenements and 33 shops – housing over 6,000 people – in the Tiong Bahru estate.
Also read: 8 Spots to Discover the Real Old Charm of Singapore
After World War II,  in 1954, a further 1,258 flats were added but these flats were of a different design from the pre-war ones. Read below for the contrast in design between pre-war and post-war flats, and see if you can identify them from the photos!
In the 1950s, many flats in Tiong Bahru were used by wealthy Chinese businessmen to house their mistresses, leading locals to refer to Tiong Bahru as Er Nai Chun (二奶村) or Mei Ren Wo (美人窝). Because of its proximity to the cabarets of Great World Amusement Park at Kim Seng Road (now Great World City), many pipa girls also lodged in these Tiong Bahru flats.
When HDB took over the functions of SIT in February 1960, the flats were sold for between $14,500 and $18,600 each. Today, most of these blocks have been gazetted as conserved buildings by the Urban Redevelopment Authority in December 2003.
1. Tiong Bahru Market
For the first marker on the Tiong Bahru Heritage Trail, it traced back to 1945 where two shop-houses along Tiong Poh Road were converted into a wet market. In 1950, the Municipal Commission constructed a new market called the Seng Poh Market which occupied the site of the current Tiong Bahru Market and Food Court.
Back then, Seng Poh Road Market was a simple wooden structure with zinc pitched roofs. When it first opened, the market had a row of stalls selling fish and pork and another row selling fruits and vegetables. An additional row sold cooked food. In 2004, Seng Poh Road Market was shut down for a complete rebuild. Stallholders were relocated to a temporary market at Kim Pong Road. It reopened in 2006 as a two storey building and was renamed Tiong Bahru Market and Food Centre. The new building was constructed at a cost of $16.8 million.
The Tiong Bahru Market and Food Court probably has the highest concentration of 'heritage hawkers' in Singapore. More than 20 stalls have a history of more than 30 years while at least 15 of them have histories dating back to the 1950s.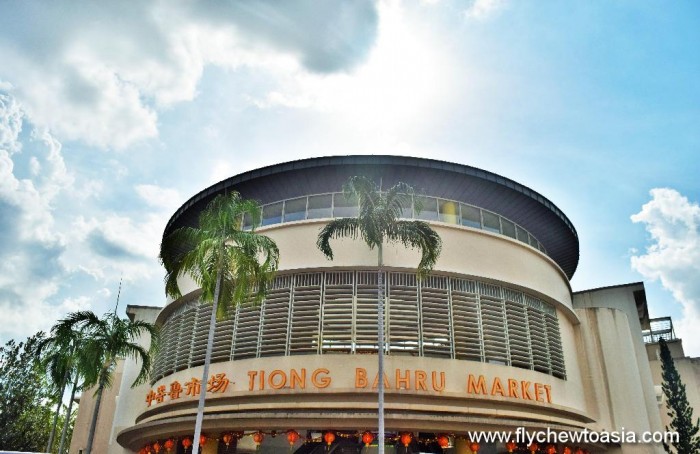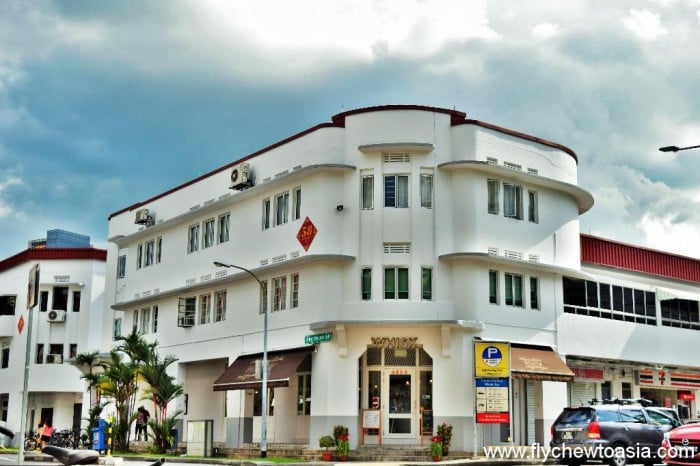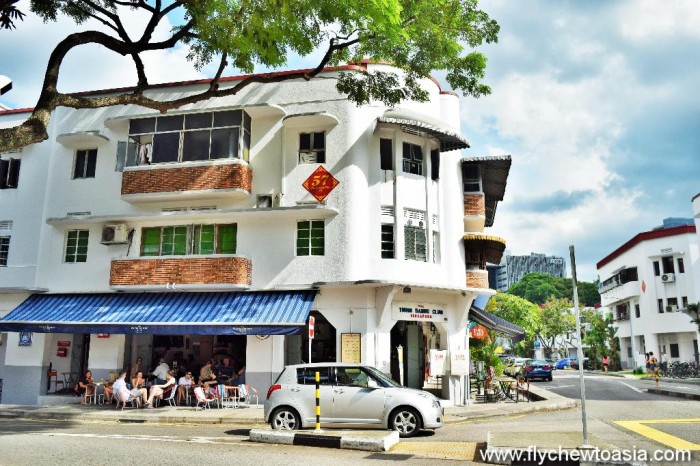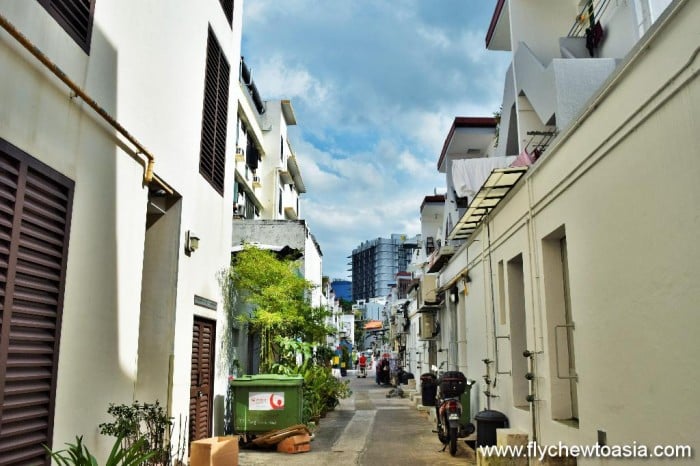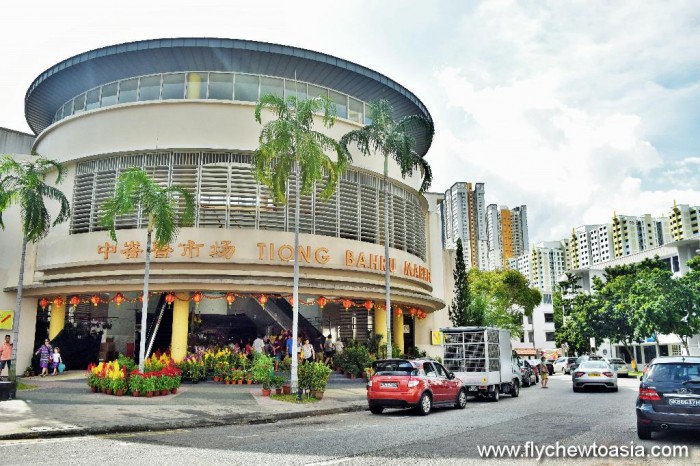 2. Bird Corner and Former Hu Lu Temple
This marker commemorates the site of the demolished Hu Lu Miao (葫芦庙), whose name came from a bright red gourd-shaped furnace used for burning incense papers located just outside the temple, which was built sometime around 1918. This temple was sold by its owners and demolished in 2006 to make way for the Nostalgia Hotel that now occupies its site.
Also read: Blast To The Past: Visit Singapore's Last Kampong Before It Disappears Forever
Beside the Hu Lu Temple, there used to be a very popular pet bird shop. The owner of this shop hung many birdcages containing songbirds outside his premises and this myriad of sounds and colours attracted many tourists and curious onlookers. The hustle and bustle of the pet bird shop drew the notice of the owner of Wah Heng, a traditional coffee shop, across the street from the Hu Lu Temple, on the ground floor of the row of flats that now houses the Link Hotel. Seeing how the birdcages attracted high traffic across the road, the owner of Wah Heng erected a metal structure outside his coffeeshop in the early 1980s to allow bird owners to hang their bird cages while they sipped coffee and chatted. This was an astute move as many bird owners made a beeline for the coffeeshop to show off their birds. The corner became very popular among bird owners and drew much attention from locals and tourists who would congregate at the corner.
In 2003, when renovations were carried out to convert the former SIT flats into the Link Hotel, the original bird corner was closed. In 2008, the owners of the hotel decided to reopen the structure for hanging birdcages, but no one even bothers to hang out at the corner now….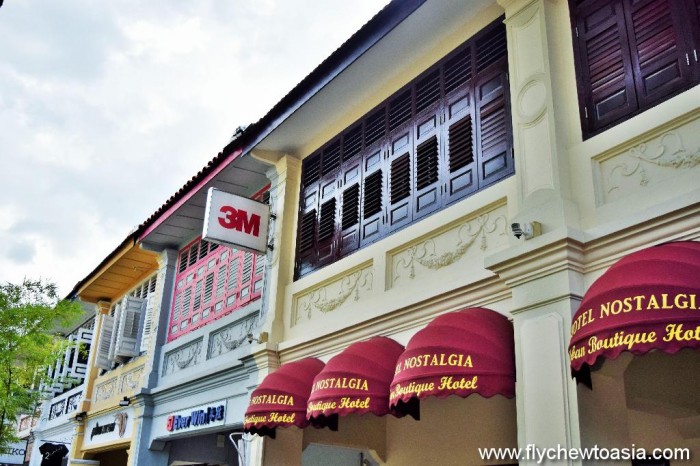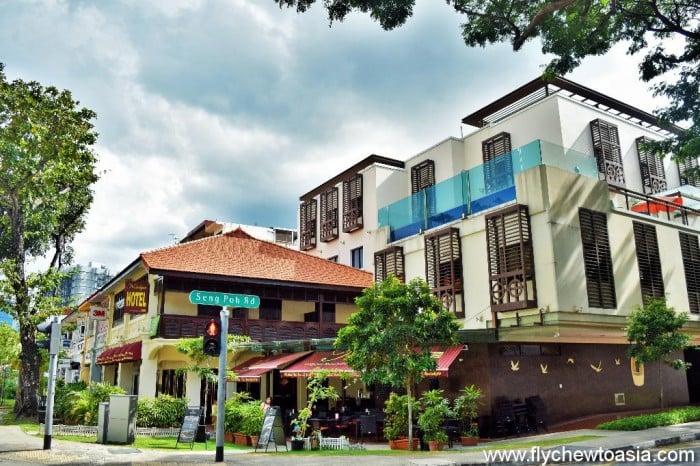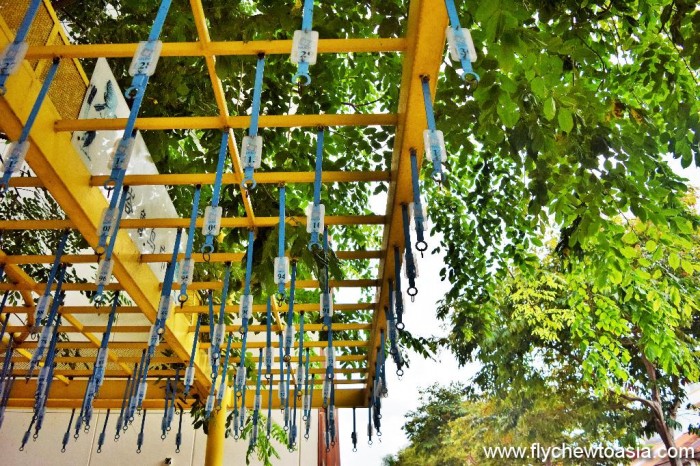 Just a structure now. No more sights and sounds.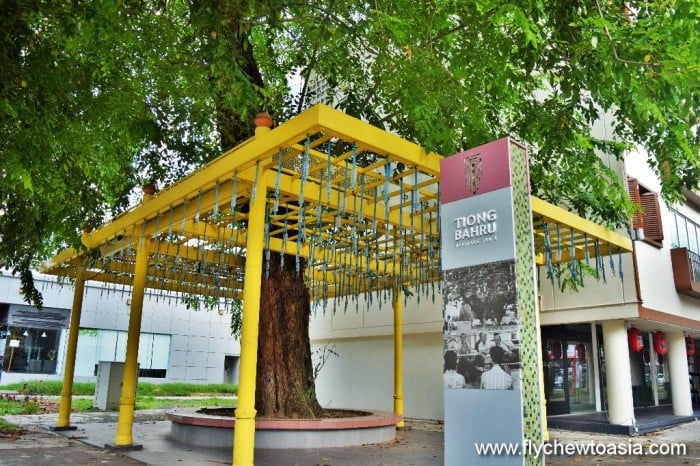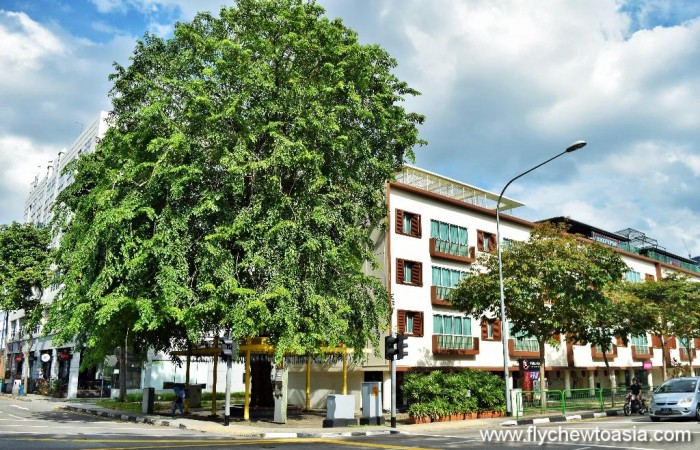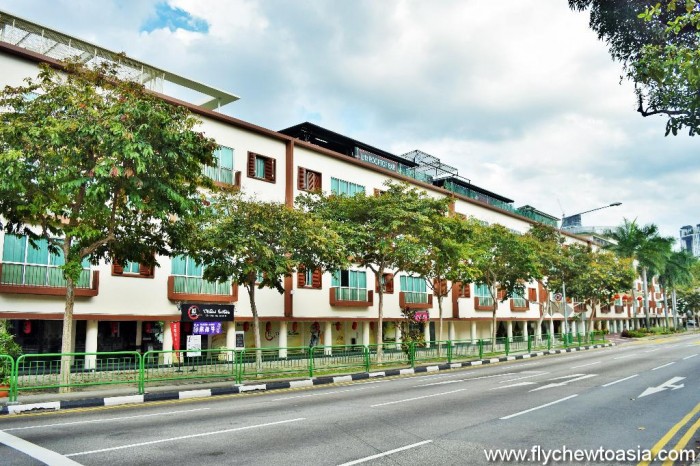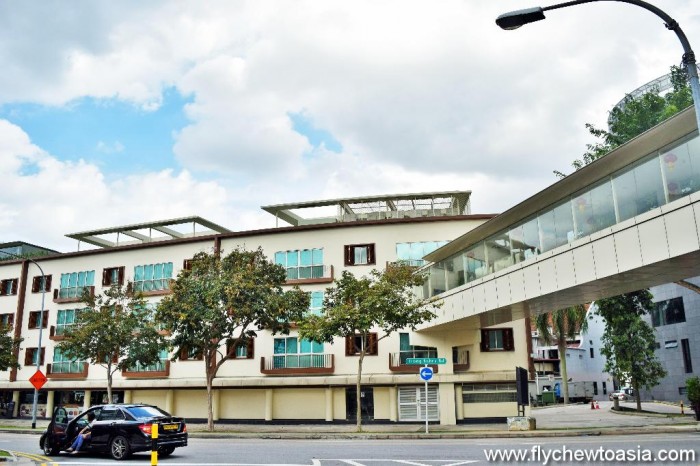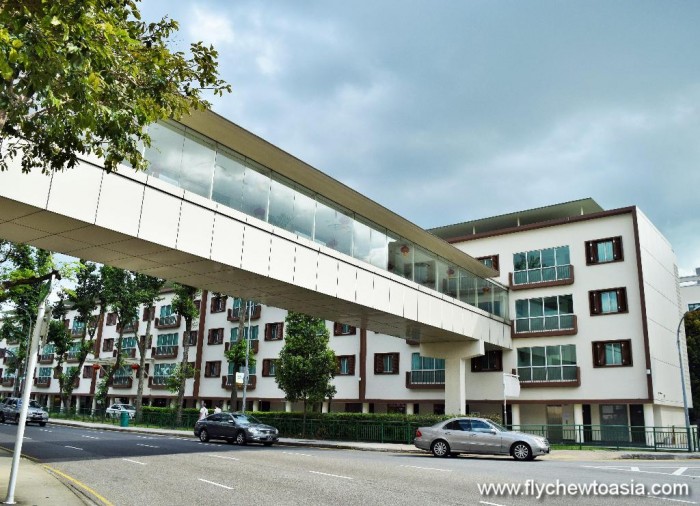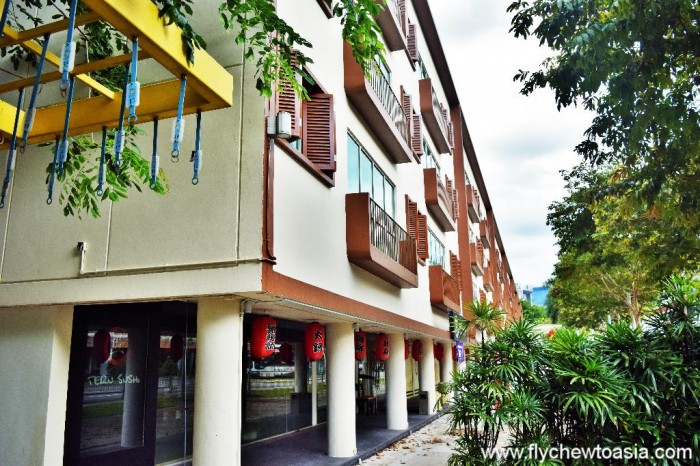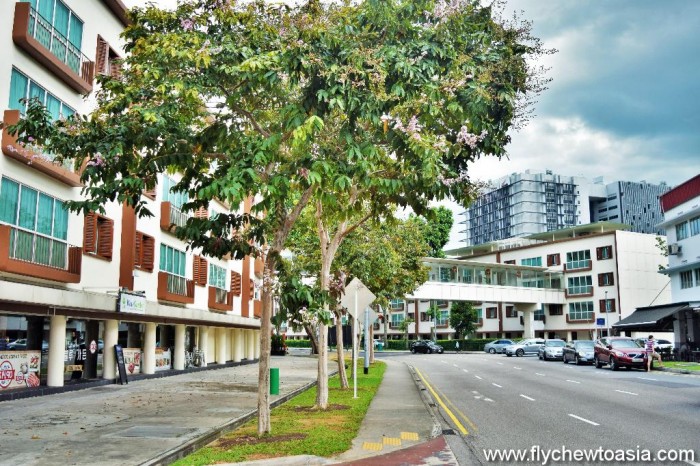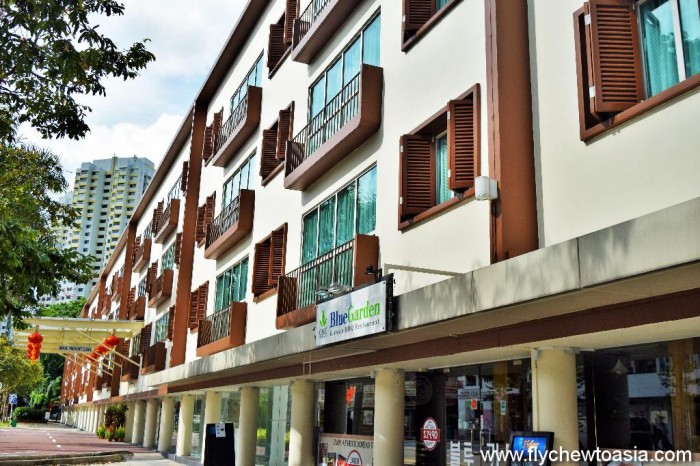 Just opposite of Link Hotel stands Block 55 along Tiong Bahru Road… yes this is the block of flats you will see when you get off at the bus stop to visit Tiong Bahru Bakery, and you never know that this is the very first block of flats completed by SIT for Tiong Bahru in 1936!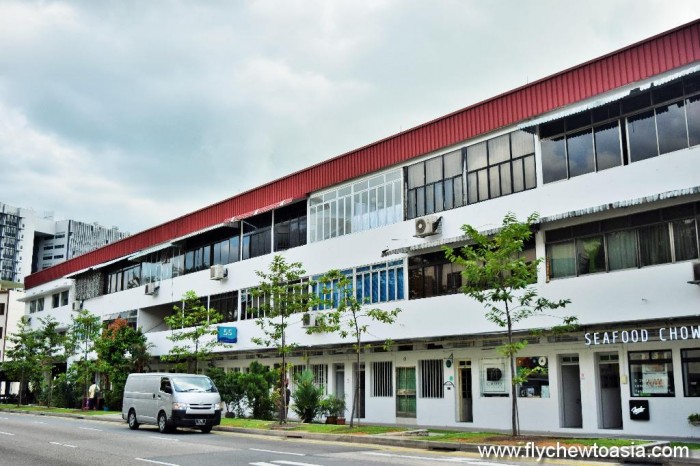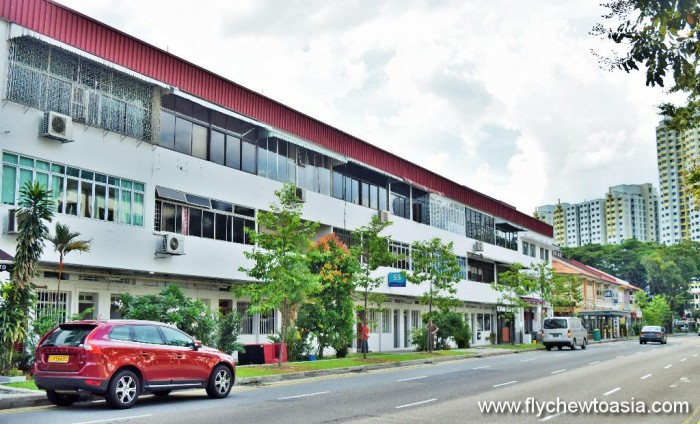 Markers 3 and 4 were not visited.
5. Monkey God Temple
Founded in 1920, the temple is popularly known as the Tiong Bahru Monkey God Temple. Trustees of this Temple claim that this was the very first temple in Singapore to be dedicated to the worship of the Monkey God. Its location, Eng Hoon Street, was one of the earliest streets in the Tiong Bahru Estate to be developed.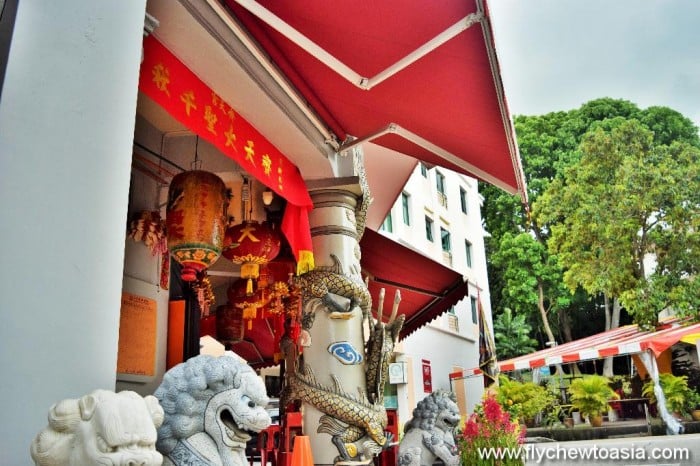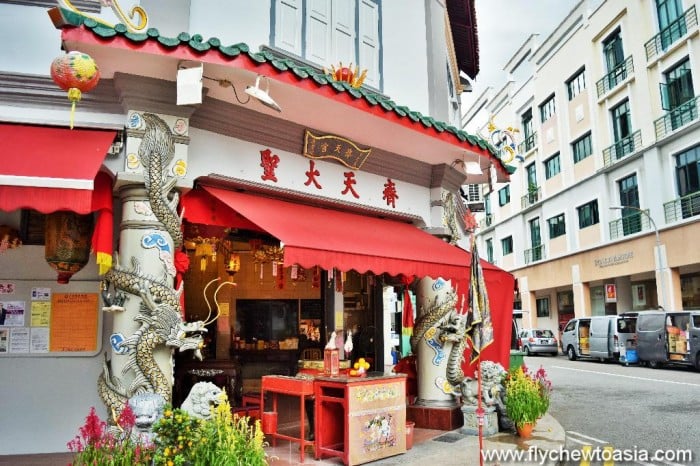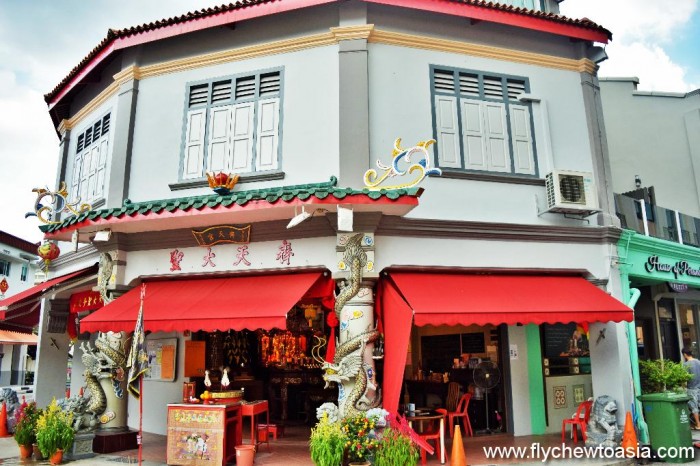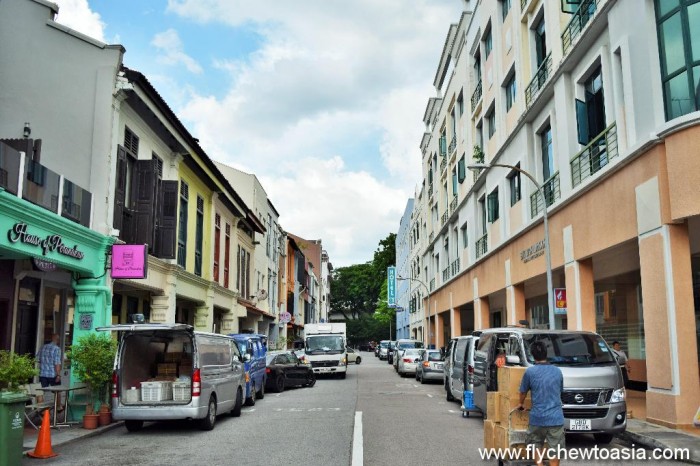 Walk to the end of Eng Hoon Street and you will see the CTE, that separates Tiong Bahru from the site of the Singapore General Hospital. In the past, without the CTE, they were linked and the reason why they were both the old and the new cemetery sites.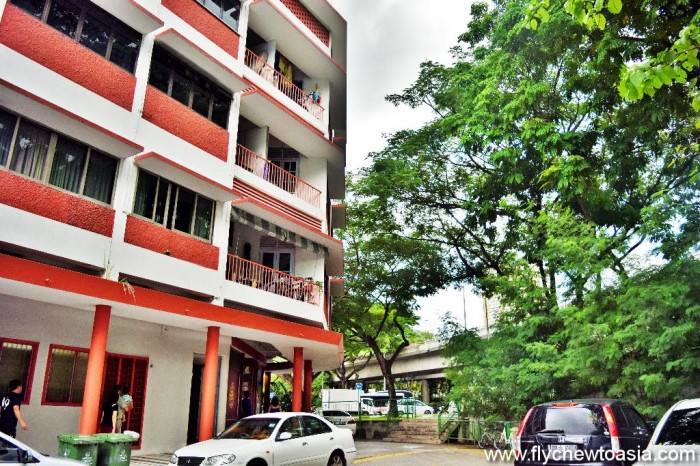 6. The Pre-War Architecture of Tiong Bahru
This marker commemorates the pre-war architecture of SIT's public housing. Based on a distinctive Art Deco style known as "Streamline Moderne", the buildings were designed to mimic the streamlined and aerodynamic features of cars, trains, ocean liners and aeroplanes, and inspired largely by technology and the speed of modern travel.
Also read: 12 Great Challenges for Every Traveller Coming to Singapore
Elements of "Streamline Moderne" include: clean, curved shapes and rounded corners; long, simple and uncluttered horizontal and vertical lines; occasional nautical element (e.g. porthole windows and stainless steel railings); flat roofs; and racing stripes to simulate speed and motion.
Blocks 81 and 82 along Tiong Poh Road were known to early residents as "aeroplane flats" because they appeared, from a distance, like the wings of an airplane.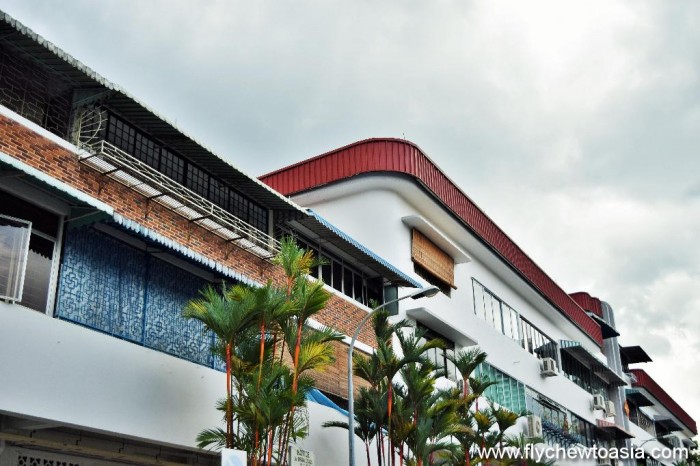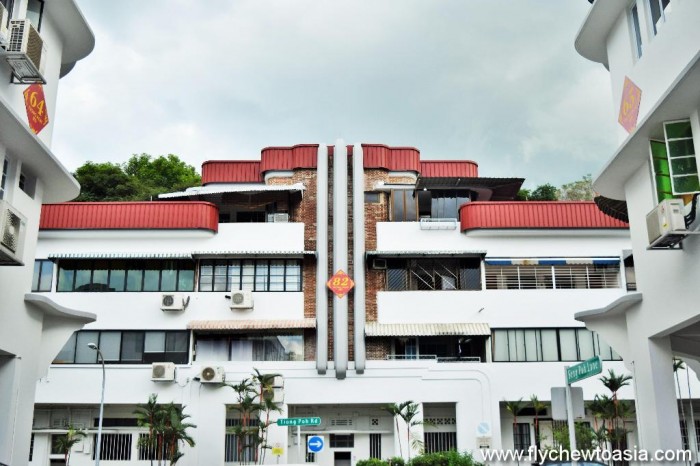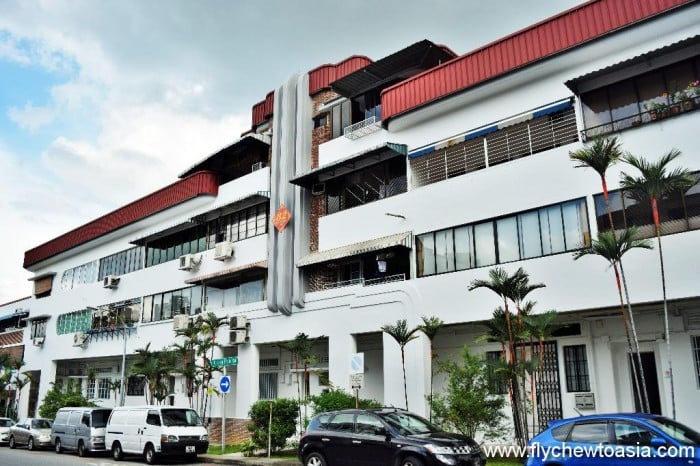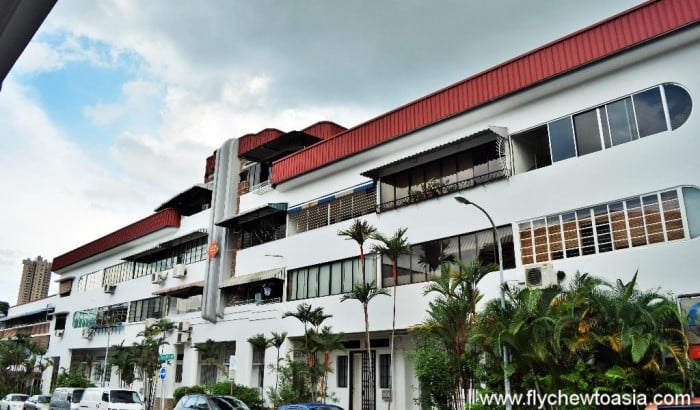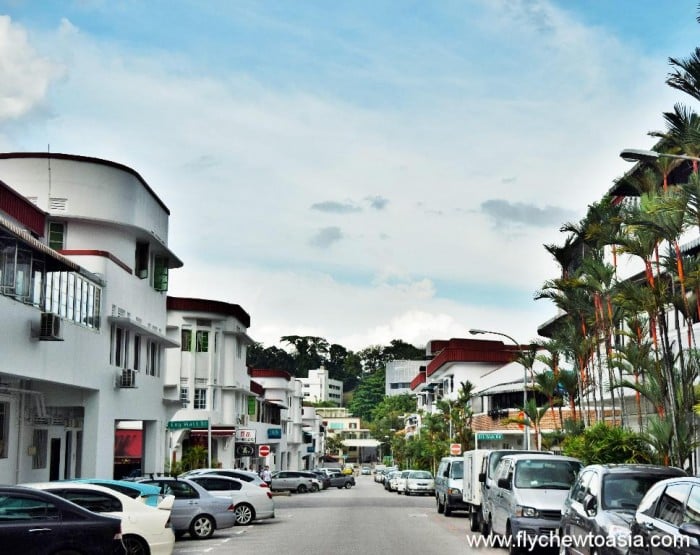 Another unique design feature of these pre-war flats is the use of brick work on some of the balconies. These fair-faced, unpainted bricks are laid out in pleasing patterns of darker and lighter bricks.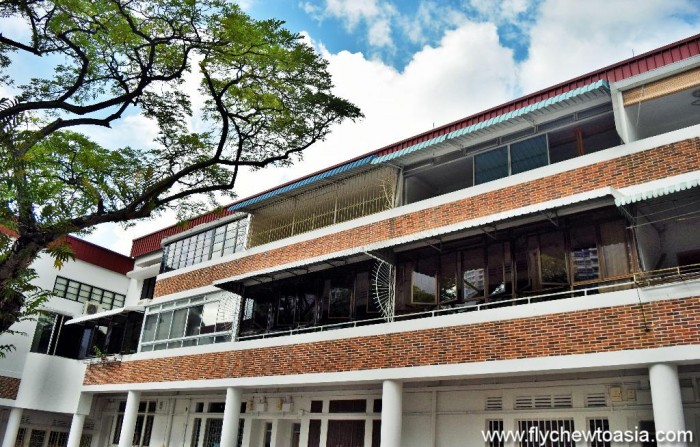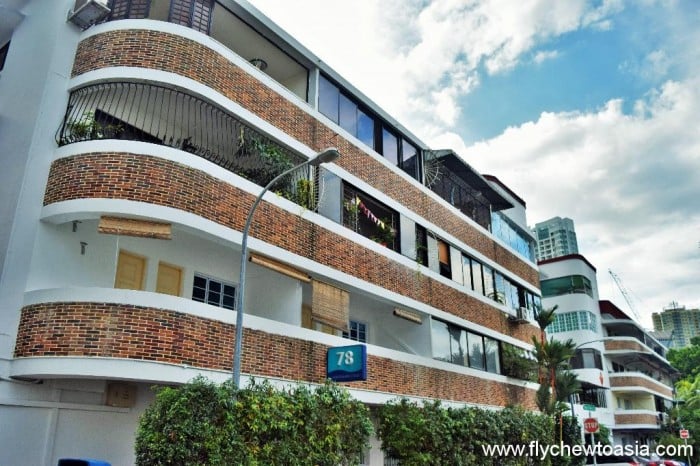 7. Tiong Bahru Community Centre
In 1948, plans to build a community centre which included an open air cinema were announced. This came to fruition in 1951, where a pre-war stand-alone air-raid shelter at Eu Chin Street was converted into today's Tiong Bahru Community Centre. Unfortunately, when i visited, only the administration building was still extant. The basketball court and field at the back of the administration building were fenced up and under construction.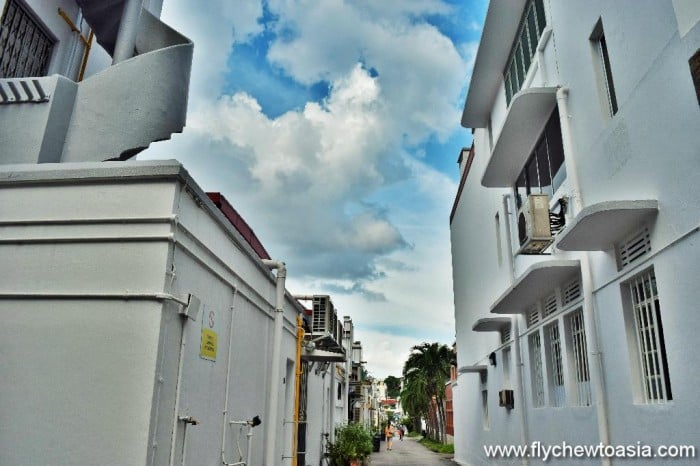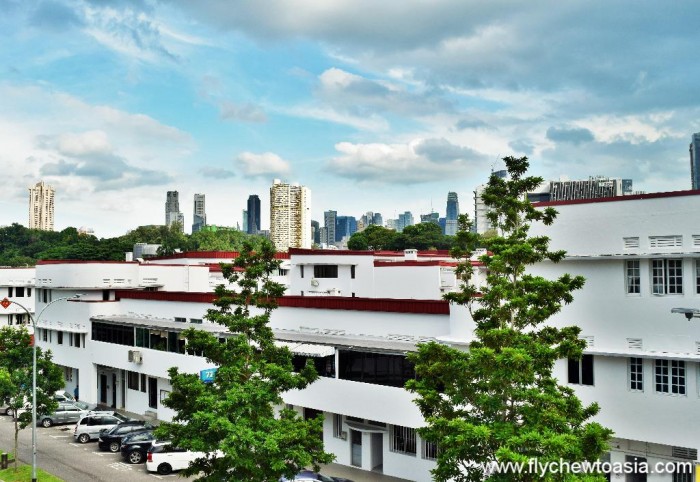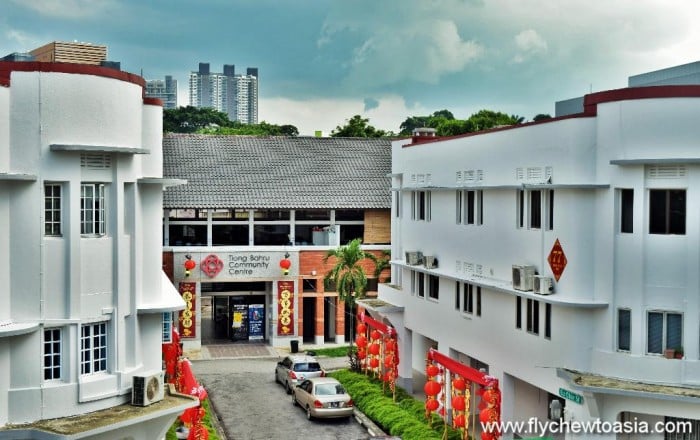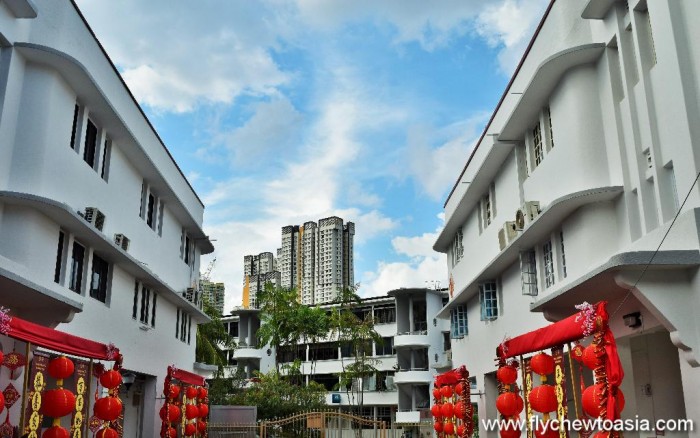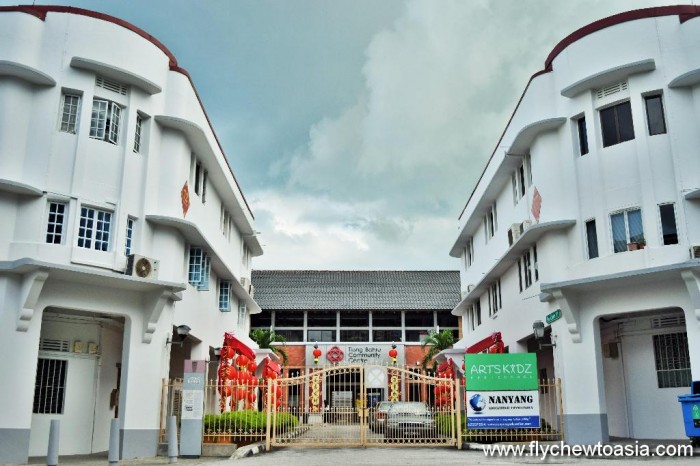 8. Seng Poh Garden and Dancing Girl Sculpture
In 1972, a landscaped garden at Seng Poh Road was planned. Sarawak-born sculptor, Lim Nang Seng (1916–1987) was commissioned and created the Dancing Girl sculpture seen in the garden today. He is the same sculptor who created the Merlion in 1972.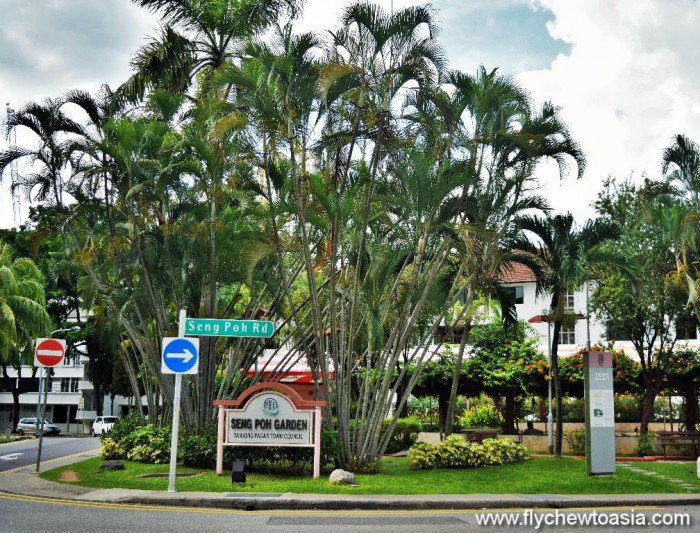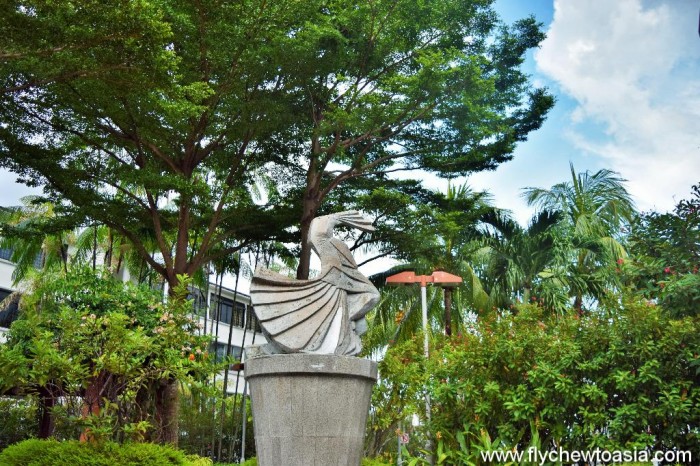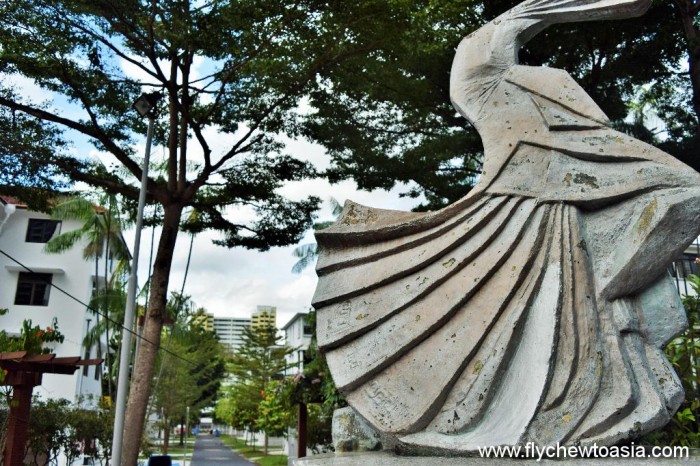 9. The Horse-Shoe Block and Air Raid Shelter
Block 78, which straddles Moh Guan Terrace and Guan Chuan Street, is uniquely designed in the shape of a horse-shoe. The "Horseshoe Block" is also known as "Gor Lau" or "five-storey flat" in Hokkien as it was the only five-storey building in Tiong Bahru at one time. It is also historically significant as it houses the first civilian air raid shelter in a public housing estate.
The earliest air raid shelters in Singapore were built sometime between 1936 and 1937 in Bukit Tunggal in Novena. At the time, there were no further plans to build more of such shelters because the outbreak of war in Singapore was considered a distant possibility. However, when war broke out in Europe in 1939, members of the public began urging the government to build more air raid shelters. The government was generally reluctant to do so because most of Singapore's buildings were built on low flat land close to the water table. This meant that the building of underground bunkers and shelters would be difficult and expensive. On 28 June 1939, SIT announced that a new housing scheme at Guan Chuan Street would include "a basement floor" that would be used as a covered play area, but which could, in times of emergency "readily be converted into an effective air raid shelter." This air raid shelter is significant because it is the only public housing building to have been built with the shelter as part of its design. The air raid shelter was in fact built to accommodate an impressive figure of 1,600 people although only half of the shelter is accessible today. Many war-time residents speculated stray bombs fell in Tiong Bahru only because Japanese bombers missed their main target – the Singapore General Hospital.
Block 78 also houses the Hua Bee Coffee Shop, which was one of the oldest surviving coffee shops in Tiong Bahru, and also one of the few remaining coffee shops in Singapore that still serves coffee with a slice of butter in the cup. Started in the 1940s, Hua Bee Coffee Shop was also used as the filming set for Eric Khoo's 1995 film titled "Mee Pok Man".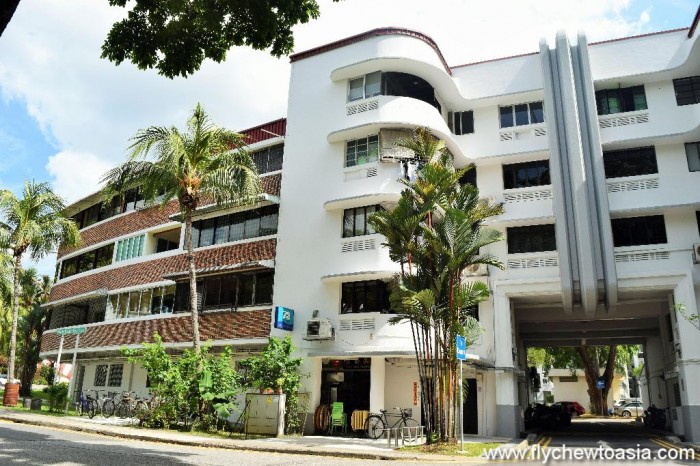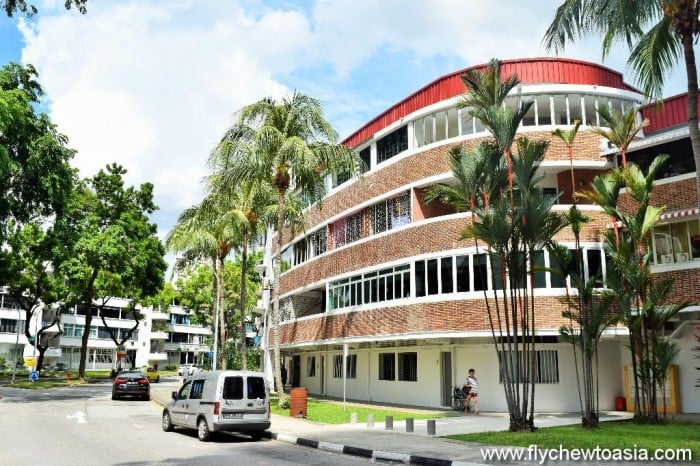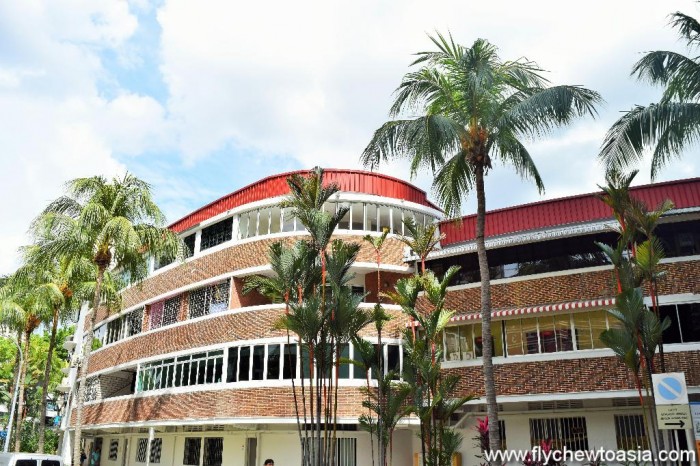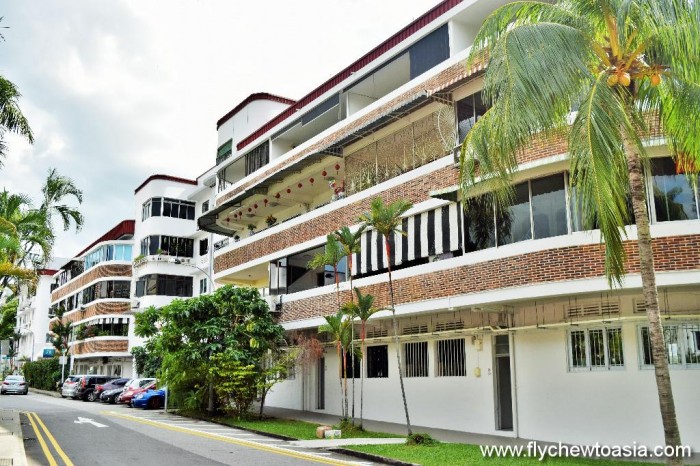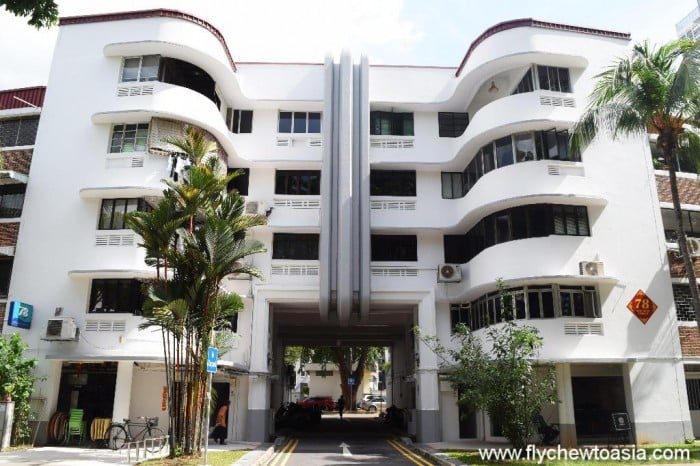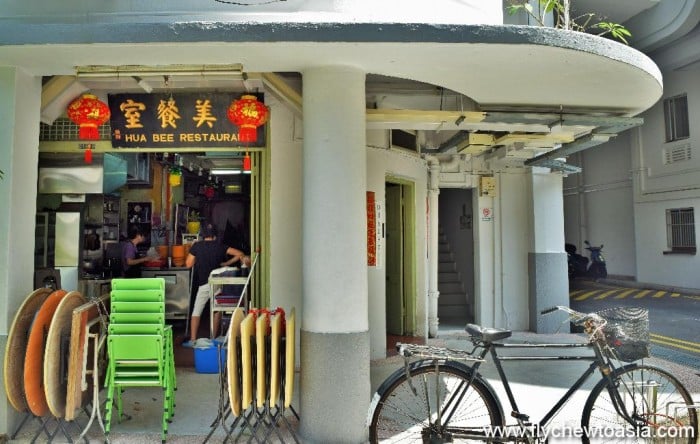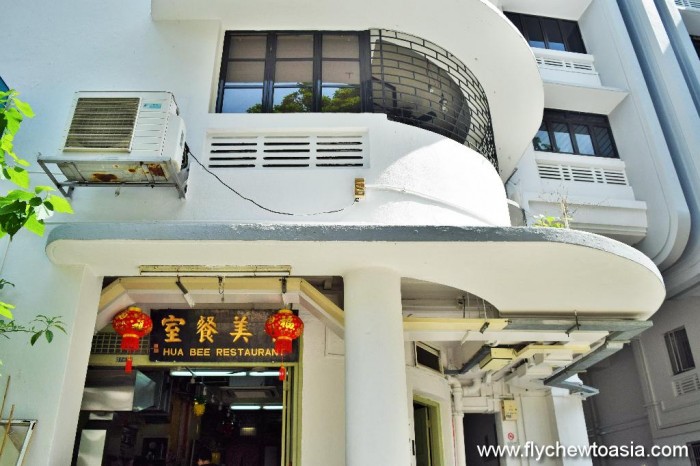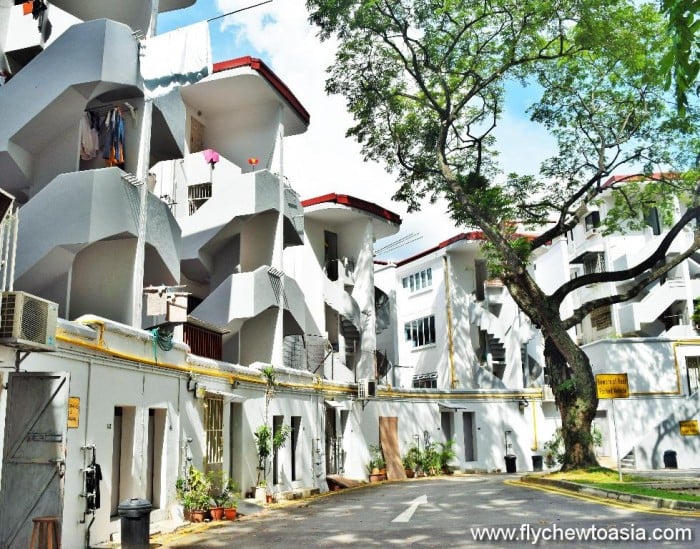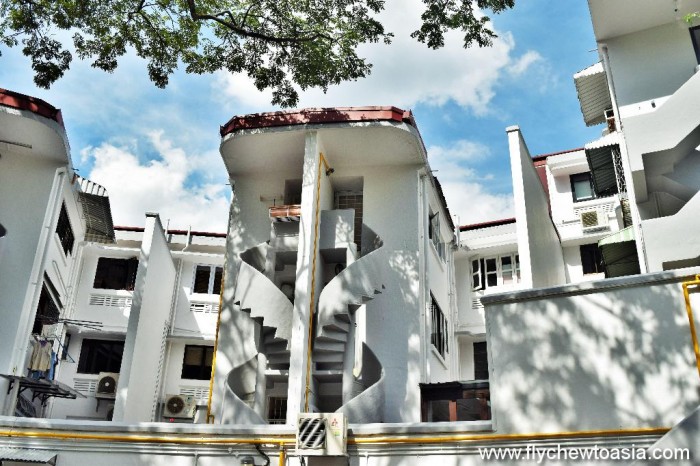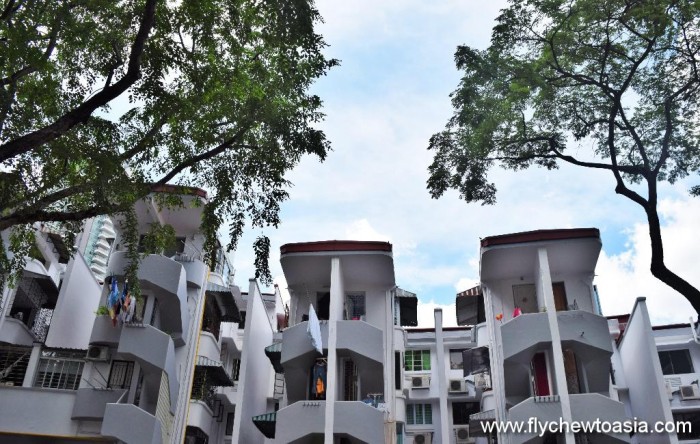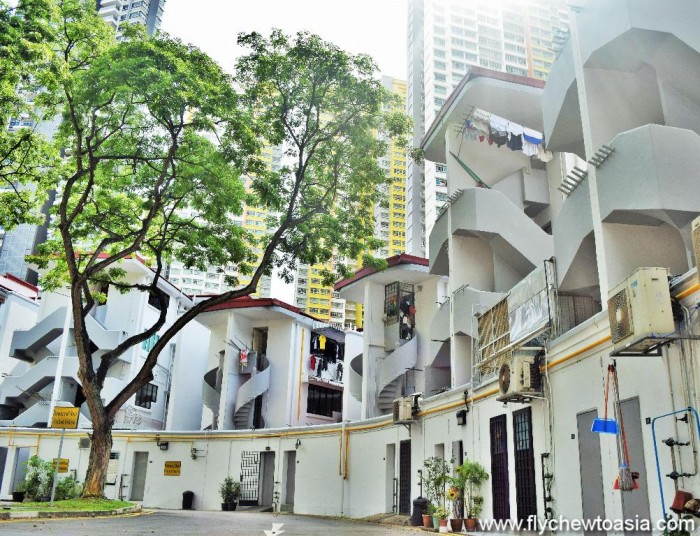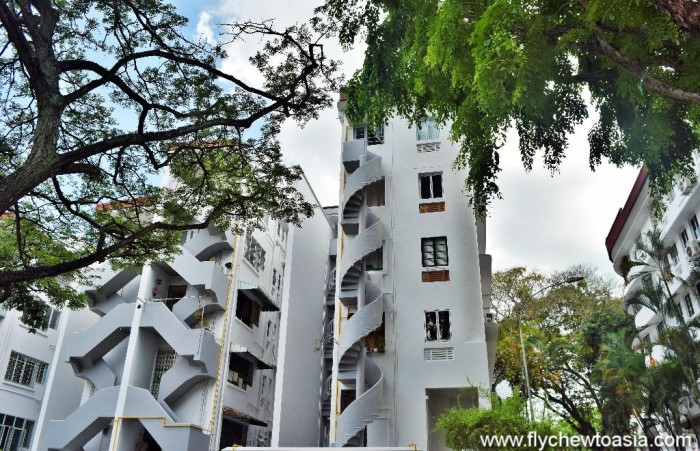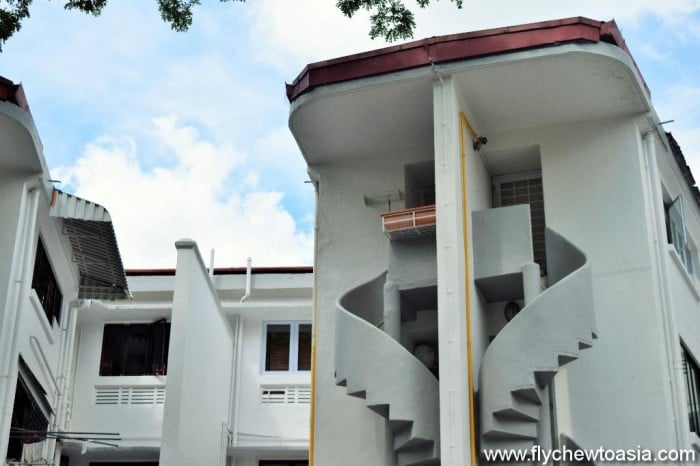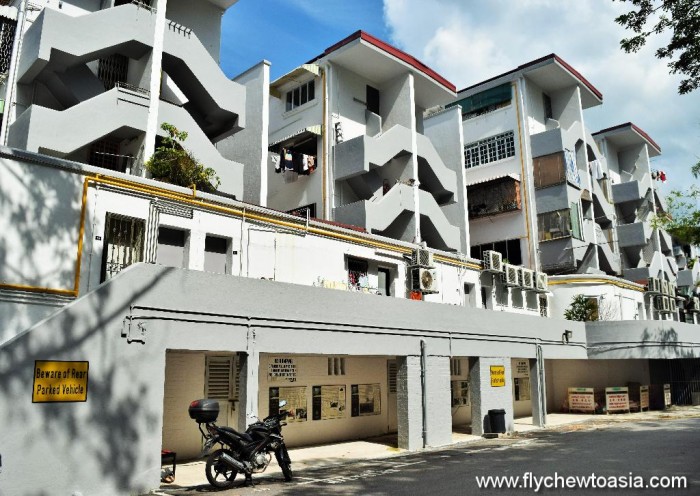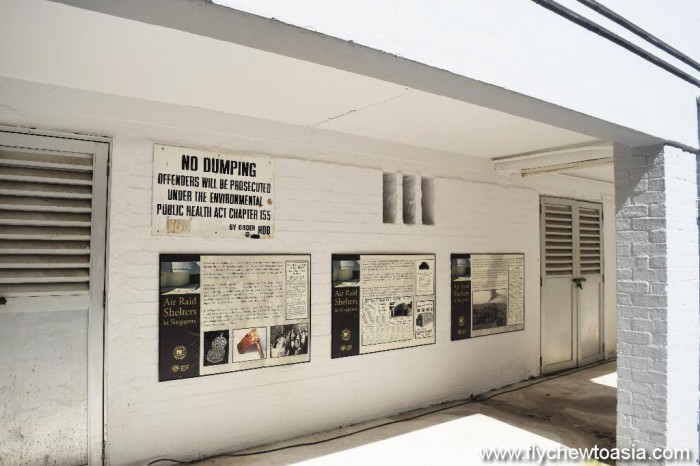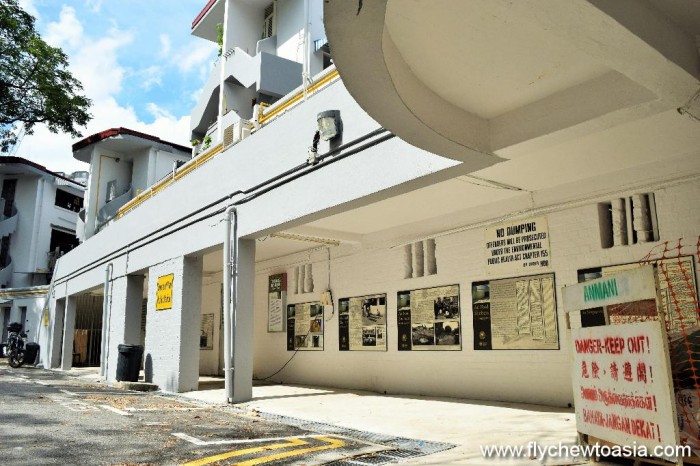 10. Design of Tiong Bahru's Post-War Flats
After World War II, SIT built several blocks of four-storey flats between 1948 and 1954, which can be seen around Lim Liak Road. The design of these post-war flats in Tiong Bahru was inspired by the "International Style". A characteristic of this style is the use of boxes in the interior space of the building. Lines are clean and simple, giving the building a modern yet functional look. The marker also notes how SIT architects ensured that the design of the flats were suited for the tropics, where intense heat and tropical rainstorms are common hazards, and incorporated local features such as:
Five Foot Way
The five-foot way was introduced to Singapore by Sir Stamford Raffles. By setting back the ground floor entrance and rooms of each apartment by five feet or more, a passageway running the length of the building is created. This allows pedestrians to walk from one end of a block to another in sheltered comfort, away from sun and rain. Five-foot ways were a regular feature of early shop-houses and were adapted for use in the Tiong Bahru flats.
Back Lanes
Back lanes were introduced, whereby each section of a block shall have at their rear a lane not less than 15 feet, and not more than 20 feet wide for the purpose of scavenging and drainage.  "Scavenging" here refers to access for night soil carriers, who use the back lane to collect night soil (human waste). You can see a well-maintained network of back lanes in these post-war design flats, even though the residents, from the start, enjoyed modern flush toilets in their units.
Spiral Staircases
These staircases provided an alternative access and a fire escape for dwellers of shop-houses. Spiral staircases are a medieval European invention, used mainly as a defence mechanism in fortifications. Those attacking a tower would find it more difficult to use their swords if they were right-handed whereas the defenders could more readily wield their weapons to overcome the enemy. Such staircases became popular even in peace times as they were aesthetically pleasing and saved space.
Kitchen Airwells
One common design feature of shop-houses is the location of the kitchen on the second floor of the shop-house. However, instead of boxing the kitchen in with the rest of the house, the kitchen is located in a protruding portion of the apartment, thus allowing the cooking fumes to escape naturally through the airwell.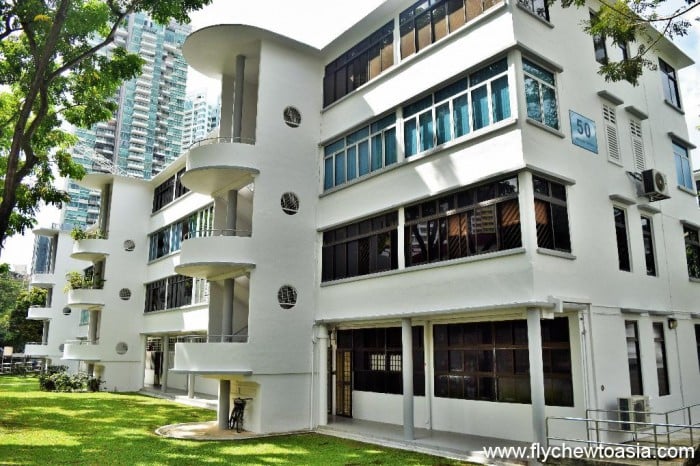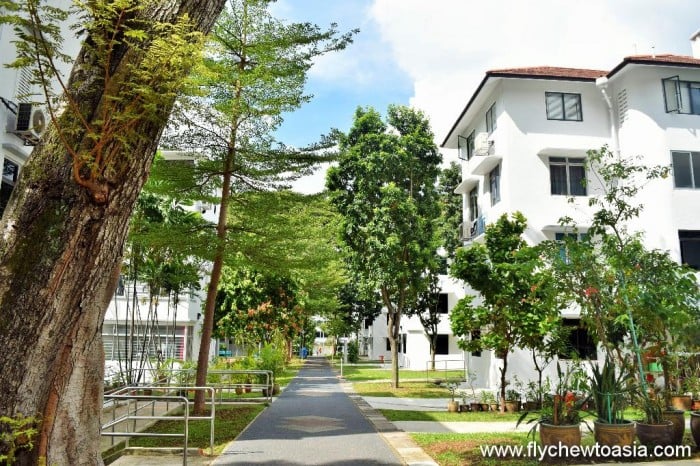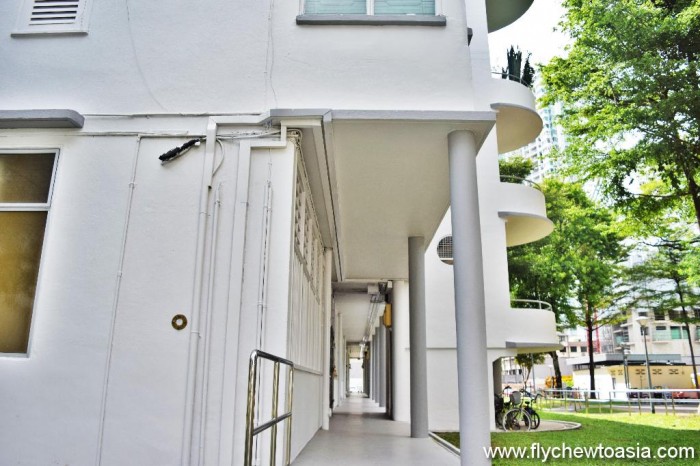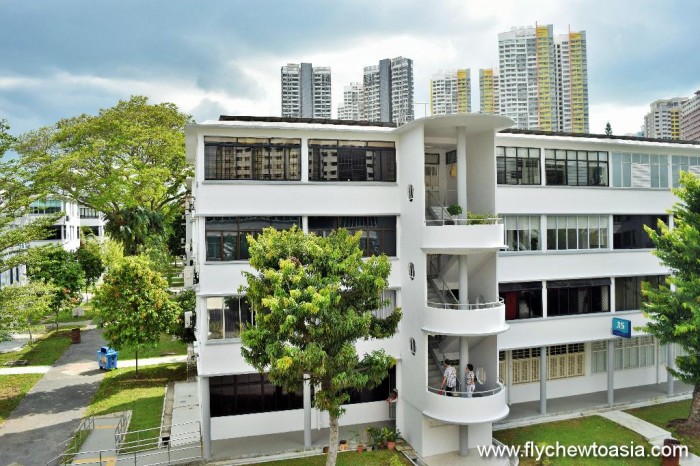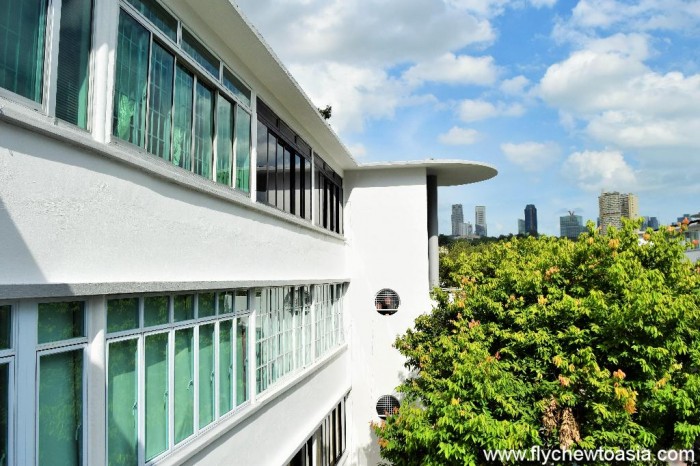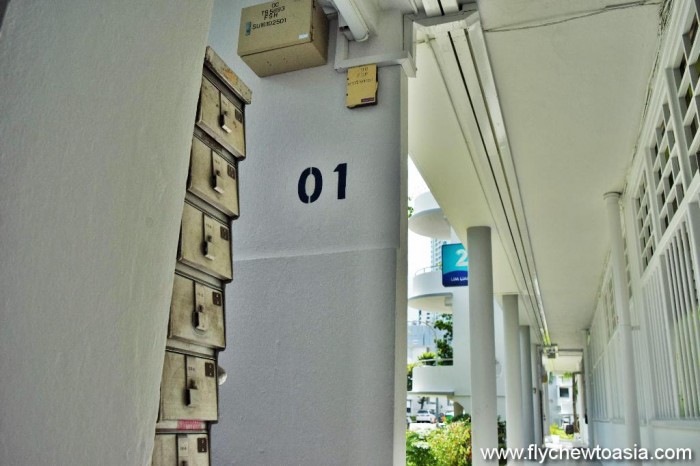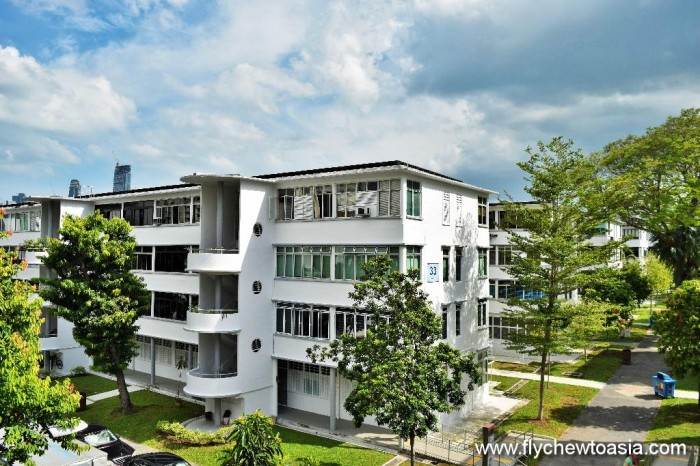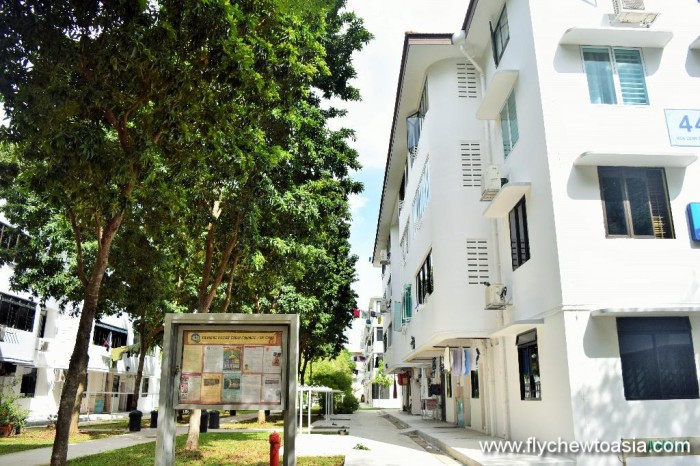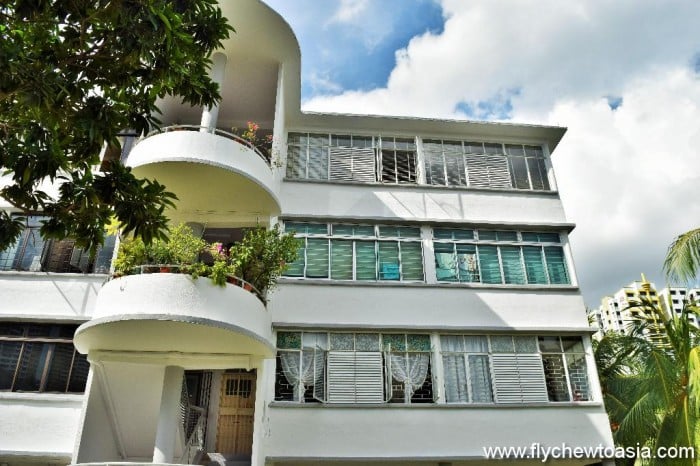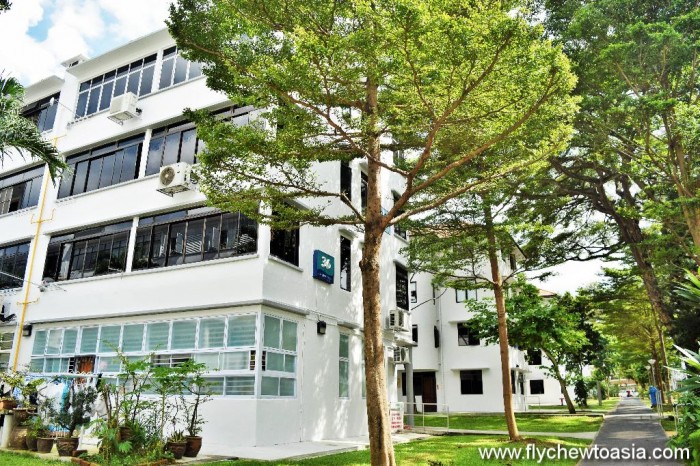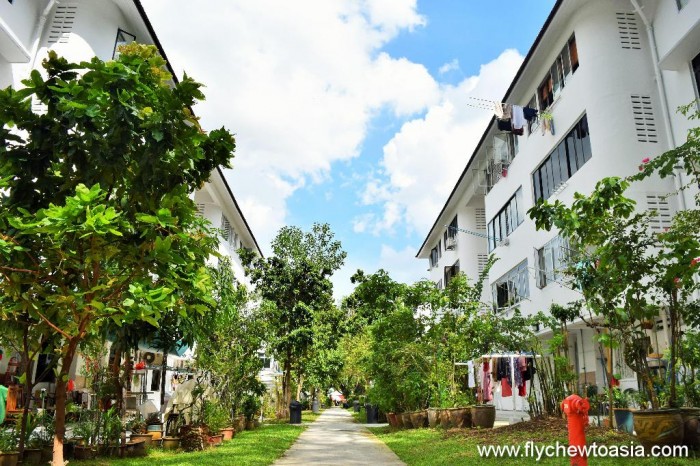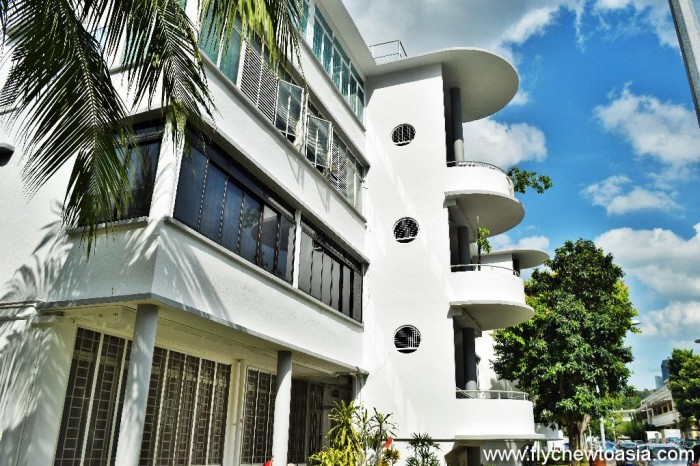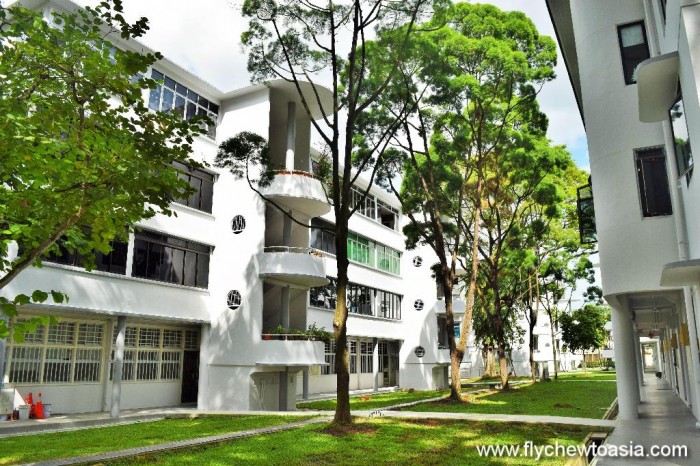 11. (Bonus, Not in Markers) King's Theatre Tiong Bahru
Before World War II, Tiong Bahru did not have any community organisation or civic body, so residents would find their own means of recreation. The sportsminded would trudge across to a big field by the Medical College of the Singapore General Hospital to play football or fly kites, while those seeking more sedentary pleasures might hike to the Great World Amusement Park at Kim Seng Road (today's Great World City), where the young were entertained by parlour games and the adults by the salacious offerings of the Flamingo Night Club.
Watching rented movies screened by the Tiong Bahru Community Centre in a vacant lot was also one of those recreational activities. Patrons were charged 10 cents a movie, and a large number of hawkers would gather in the square to sell goodies like ice balls, kacang puteh and sliced fruits skewered on a stick, all for five cents each. In July 1953, cinema operator Shaw Organisation announced plans to build a new air-conditioned King's Theatre in Kim Tian Road (which is where I currently lived yea). It could accommodate up to 1,000 people. The cinema was later sold to the Eng Wah Group.The cinema flourished during the heyday of the movies – the 1960s and 1970s when the local film industry was booming and popular celebrities would make appearances at the theatre – and often screened what were termed 'second-run' movies. In those days, popular movies would premiere in the big cinemas in town such as Lido, Orchard or Cathay; these were first-runs. Thereafter, the same movies would move to the smaller cinemas located on the outskirts of the city, such as King's Theatre. Third-run movies were screened in small village cinemas.
In February 1984, it was announced that the cinema would be closed, demolished and replaced with a 10-storey office-cum-residential complex, subsequently known as Kim Tian Plaza. But today, what stands at the former site of King's Theatre is a condominium, which you can see in the picture below.