If there's anything we love about Toy Story aside from Woody and his friends, it's Andy's extremely aesthetic room that resonated with us as children. Even now, whenever we see a blue wall painted with cute clouds, we immediately think of Toy Story. 
Well, what if we told you Andy's room has come to life and you can spend a night in it very soon? That's exactly what awaits you in Tokyo Disneyland, which will open Japan's very first Toy Story hotel in April 2022!
Also read: This Tokyo Restaurant Launched Lantern Partitions For Their New Normal
Tokyo Disneyland's Toy Story hotel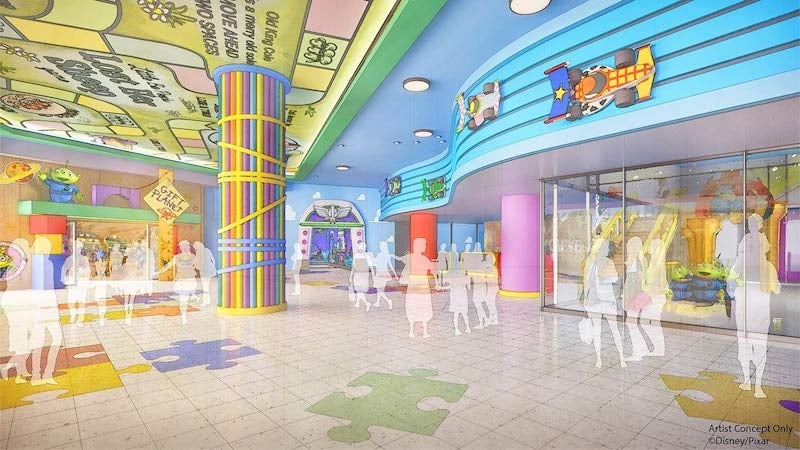 To be more specific, the Toy Story hotel will open on 5 Apr 2022, Tuesday. The whole hotel, starting from the facade going to the lobby and hotel rooms, is designed to make you feel as if you've stepped into the world of Woody, Buzz Lightyear, and Mr. and Mrs. Potato Head. For instance, the main foyer will feature board game-inspired interiors with puzzle flooring to match. There's a souvenir shop based on Toy Story's Pizza Planet, while the buffet restaurant called Lotso Garden Cafe presents a playful interior dedicated to Lots-o'-Huggin' Bear from Toy Story 3.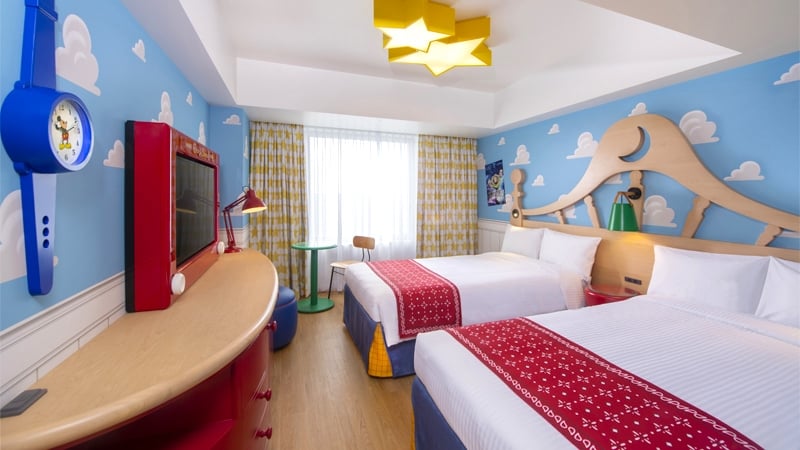 And of course, there are guest rooms that bring Andy's iconic bedroom to life. These rooms feature the same cloud wallpaper, a Buzz Lightyear poster, and a wall clock in the form of a giant Mickey Mouse watch. There are a lot more elements to the hotel rooms which will remind you of the Toy Story movies, but you'll just have to book a stay to revisit these childhood vestiges for yourself.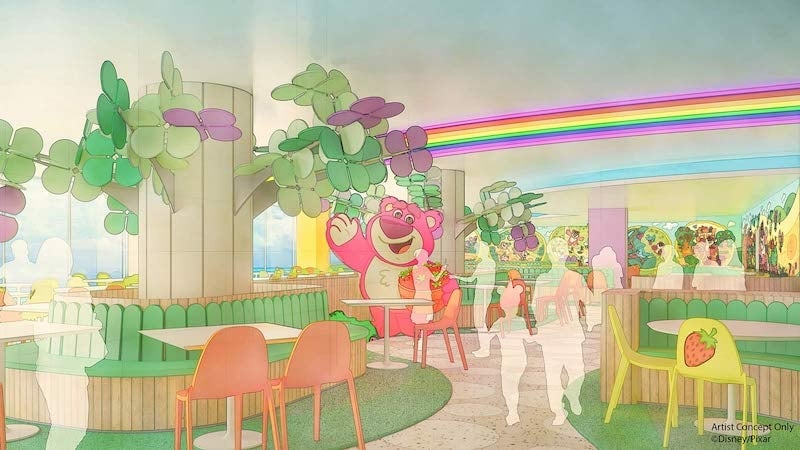 What's more, there are available photo spots scattered throughout the hotel's courtyard called Toy Friends Square. There, you can snap photos with iconic characters like Woody, Bo Peep, Buzz and Jessie. The Toy Story hotel will consist of 11 floors and 595 guest rooms. It will be located in front of Bayside Station on the Disney Resort Line for easy access to Tokyo Disneyland and Tokyo DisneySea. 
Also read: Introducing Tokyo Banassu — the Ice Cream Version of the Much Loved Tokyo Banana!
If you have never booked a stay in Tokyo Disneyland's hotels before, maybe the Toy Story hotel will finally convince you. We're definitely considering this!
---
All images credited to Tokyo Disney Resort | Official Website