How wide is your friend group? Do you tend to stick to similar people of your age, or go outside the comfort zone and meet people that are way out of your range? Regardless of your preference, Seoul is a city that can be categorised by age groups depending on the area. If you're looking forward to interacting with more locals on your next Korea visit, this is the post you need to keep an eye on.
1. Myeongdong, Dongdaemun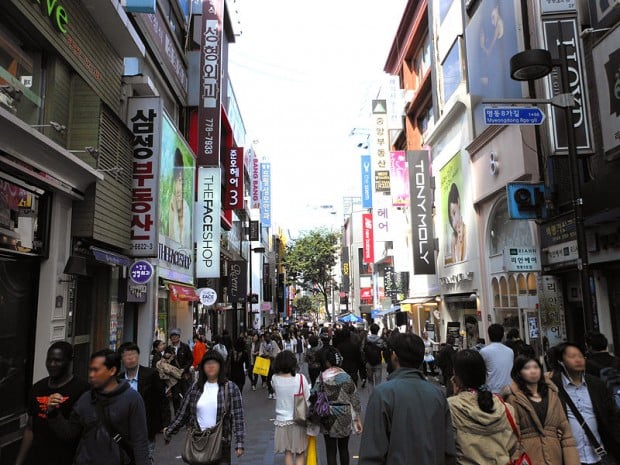 Image credit: Kirakirameister
Teenagers and beyond
Shopping, shopping and more shopping! If you're a shopaholic, here is the place to be. Located in the heart of Seoul, Myeongdong and Dongdaemun are known for their fashion-forward vibe. Lots of teenagers come here to spend time with friends, so if you're in your teens, this is the place to go! Cheap food, cheap clothes and young crowd. Boom!
Also read: 7 Shopping Places in Seoul You Might Not Know About
2. Hongdae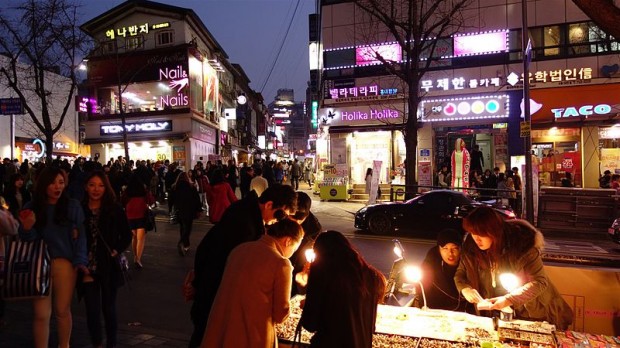 Image credit: Ken Eckert
Early 20's
Want to know more about the Korean youth culture? Or interested in the indie music scene in Korea? Hongdae is the place to go. Comprised of a large area surrounding Hongik University, Hongdae is the one stop destination for fashion, music, nightlife and so on. Due to its proximity to a lot of Korean universities, Hongdae attracts university students in their early 20's. If you're wearing a suit in Hongdae, you might feel a bit old, just so you know.
3. Kondae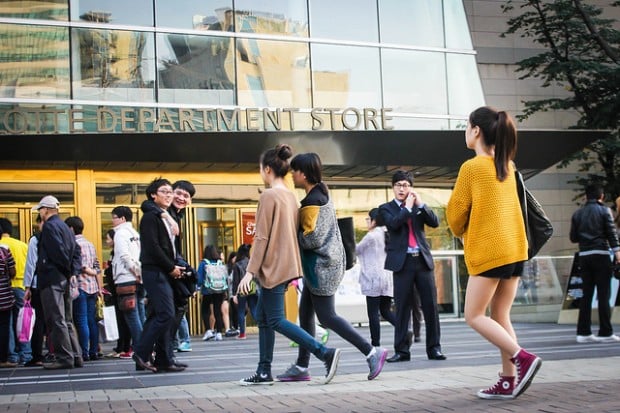 Image credit: therealrealjd
Early 20's
If Hongik University has Hongdae, Konkuk University, which is located at the southeast part of Seoul, has Kondae. Known for its exuberant nightlife, Kondae has a plethora of alleys full of restaurants and pubs, which some of them are indeed "hunting pubs" where you might end up drinking with a bunch of strangers, and maybe, romance? Like Hongdae, Kondae is also usually comprised of young university students in their 20's. Too tired of Hongdae? Kondae is where you need to go now.
4. Itaewon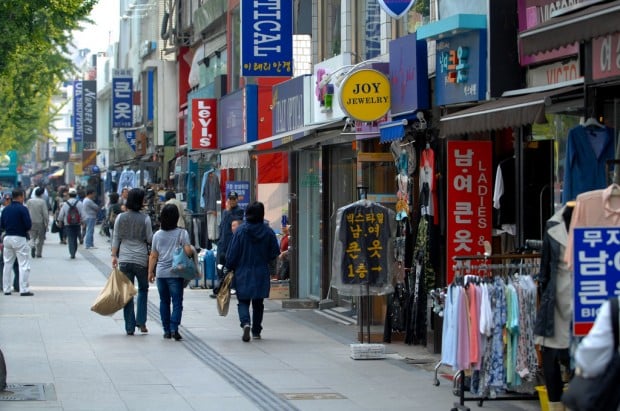 Image credit: imcomkorea
Mid 20's to Mid 30's
Every city has an area that has a large population of foreigners. For Seoul, it is indeed Itaewon, where multiple ethnicities come together to form a unique vibe in a foreign land. International cuisines from Mexican to Russian to Greek to Ethiopian food are available here, not to mention the amazing nightlife scene that it can offer. A number of bars and dance clubs are concentrated in this area, and most people who come here are very chill and are open to talking to random people. However, Itaewon is quite a pricey area; therefore it attracts those in their mid 20's to mid 30's. You won't find a lot of students here.
Also read: 10 Things to do in Seoul, South Korea
5. Gangnam Station Area
Image credit: mandu yuri
Mid 20's and Beyond
Gangnam style, here we go! This is where PSY's song "Gangnam Style" was born, which focused on Korean women that hang around this area. Indeed, Gangnam is very fancy; people who live here are considered rich and you'll see women carrying designer bags here and there. With skyscrapers filling up the scene, some foreigners have described it as the Manhattan of Asia, but with Koreans. Apart from all the uber-modern vibe, Gangnam is also home to a lot of restaurants, bars and clubs, in which you will find a very wide range of people; starting from people in their mid 20's and beyond.
6. Cheongdam, Sinsa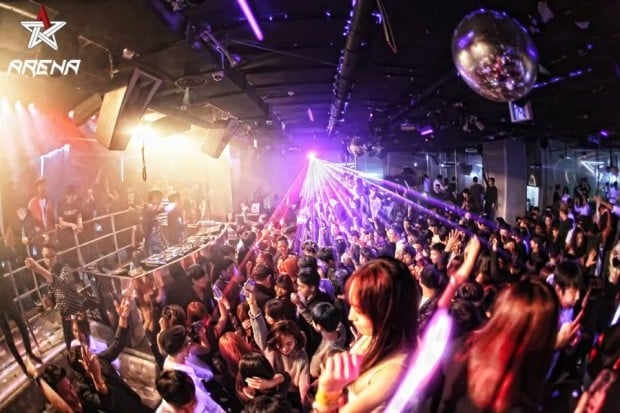 Image credit: clubinkorea.com
Late 20's and Beyond
Want to spend a proper night out in Seoul? Cheongdam and Sinsa area is the answer. Adjacent to Gangnam station area, Cheongdam and Sinsa are home to many high-label brands such as Louis Vuitton, Chanel, Versace, along with cool local brands that are mostly around Garosu-gil in Sinsa. This area also boasts some of the country's best electronic dance music clubs, including Octagon, Ellui, Syndrome and Answer. Looking for a posh night out? Head over to Cheongdam and Sinsa and you'll get to party like there's no tomorrow. Expect a slightly older crowd as well, since it is a rich area after all.
Also read: 24 Fun Things to Do in Seoul on Your Very First Visit