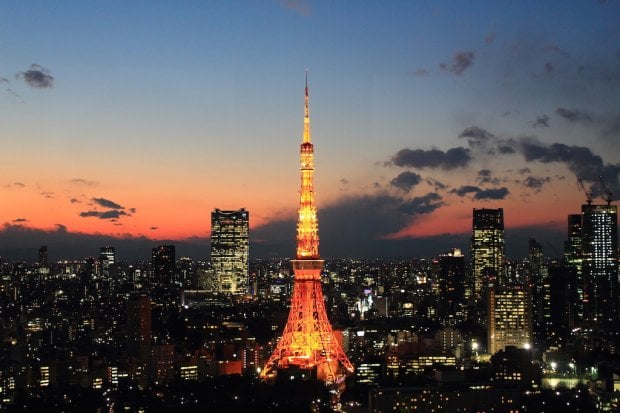 Image credit: Wikimedia Commons
Contrary to popular belief, Tokyo is not as expensive a city to visit as you think it is. With some useful tips and careful pre-trip planning, you can enjoy the city without having to burn a hole in your pocket! This guide hopes to bring you through some local tips that you might not be aware of to make your visit to the city possible on a tight budget.
Read also: How much do you really need for Japan?
Conversion rate:
100yen = SGD 1.15
500yen = SGD 5.72
1000yen = SGD 11.50
Visit during off-seasons
This is a no-brainer, but when exactly are the off-seasons? Like many other countries, Japan is less packed with tourists in winter. The period between mid-May (after Golden Week which is a week of national holiday that usually falls on the first week of May) and end June is also worth considering. This period is, however, mostly rainy.
Be wise and bold with your choice of accommodation
To meet the demands of backpackers, hostels are increasingly common even in Japan. For a good gauge, the price of hostels in Tokyo (for mixed dormitory room at a night/pax) averages at 2,500yen. Alternatively, you can also consider Airbnb, which seems to be winning the hearts and trust of many budget travellers.
But, while in Tokyo, why not expand your range of options to include more peculiar sleeping locations that will make your Japan travel even more exciting and memorable? Some of these are cheaper alternatives!
Karaoke room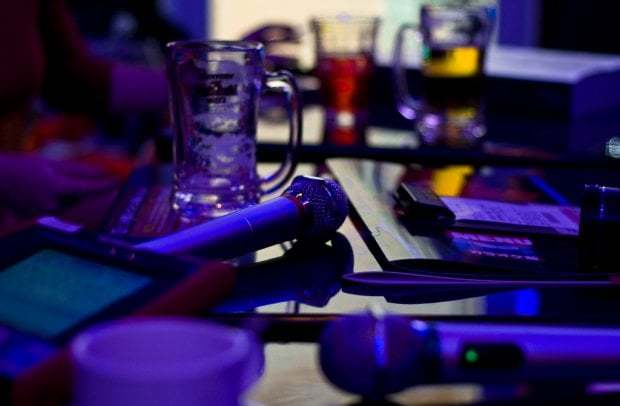 Image credit: Jimmy Alvarez
From 1,080yen/night with free flow of drinks
The sofas and sound proof walls mean that the rooms do not compromise on comfort and privacy, and "room service" (staff will bring food and drinks to your room, just call them with the internal phone) is prompt and available 24/7! If you are not sleepy, you can always sing – you'll be spoilt for choice with over thousands of English, Mandarin, Korean and Japanese songs listed.
Internet Cafes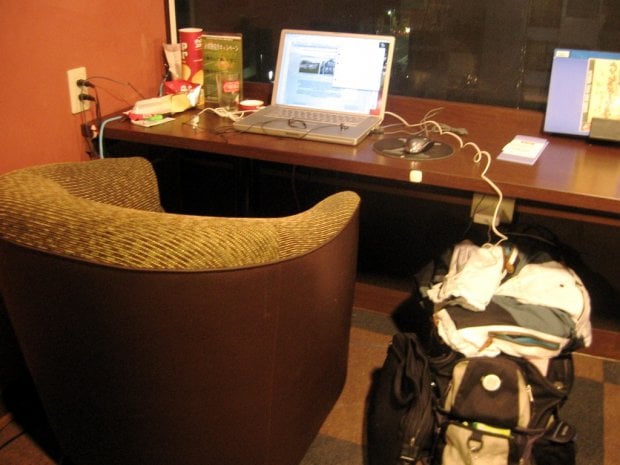 Image credit: Matthew McVickar
From 1,400yen/night (7 hours)
Internet cafes are not only for the otakus. Sure, they have floor-to-ceiling display of comic books, posters and figurines which can be pretty overwhelming, but they also have reclining sofa chairs that can serve as your bed for the night! Having a whole night's access to the internet is also highly enticing. Amenities in internet cafes have come to include vending machines selling instant noodles, luggage storage spaces and even showers to cater to travellers' needs.
Love Hotels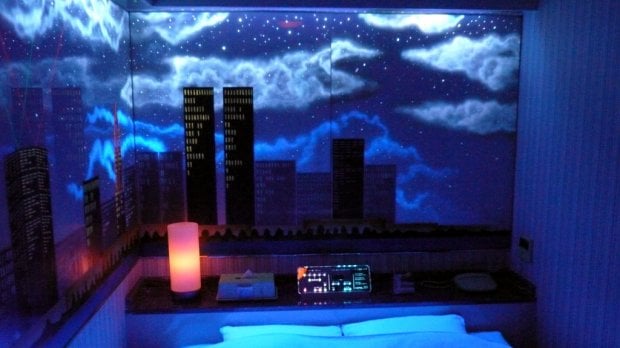 Image credit: Cory Doctorow
Fom 2,000yen/3-hour "rest"
Partied till wee hours of the morning? Arrived in Tokyo late at night and don't know where to stay? Love hotels are not a bad choice for a quick rest, but can be extremely pricey for a whole night's stay (from 6,000yen onwards). Prices are, however, volatile and dependent on the night's business. For the fun-lovers (in bed or not), there are themed rooms to choose from.
Capsule hotels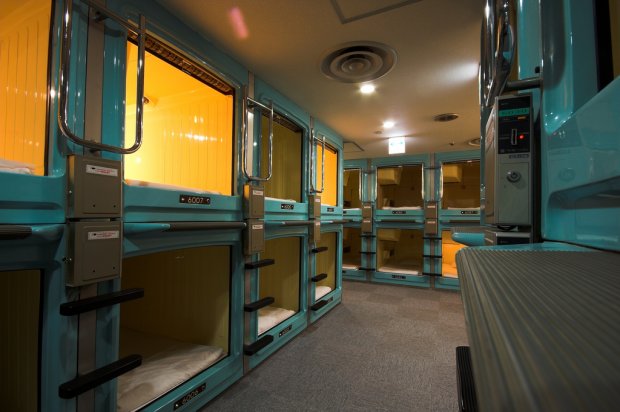 Image credit: Eric Montfort
From 2,900yen/night
Perhaps surprisingly, capsule hotels are not that close to being "budget", though they are viable alternatives to fancy hotels. As opposed to shared rooms in hostels, personal space and minimal social interaction is guaranteed here. However, note that many capsule hotels still prohibit women from lodging due to security reasons and that in itself says quite a bit about what to expect in terms of the clientele that these establishments generally receive.
Choose your mode of transportation

Transport can be the most expensive aspect of your trip to Tokyo. Train tickets within Tokyo start at 140yen per person per journey on the JR Line and subway tickets at 170yen on the Tokyo Metro Line. Of course, the further you travel the costlier it gets. If you are travelling within Tokyo mostly by subway, which is Tokyo Metro and should not be confused with JR, you can consider the Tokyo Metro Discount Tickets for overseas travellers
Public buses are typically more expensive than the trains and subways.
If you're a walker, good for you! Save more money by walking. Harajuku, Yoyogi and Shibuya may be indicated as three separate train stations, but they are all effectively within 30 minutes to 45 minutes walking distance. In fact, Yoyogi Park is more accessible from Harajuku Station than from Yoyogi Station itself. The best way to discover and enjoy a city is always by foot!
You can also consider renting an electric bicycle if you're confident of riding on the roads of Tokyo which have virtually zero bike lanes. Rental cost starts as low as 500yen/day! Should you decide to take a tour around Tokyo on a bike though, don't forget to bring a map. Your passport is also required for registration.
The last and most important tip of all: do NOT take taxis in Tokyo. The last time I took a taxi in Tokyo, the flag down price was 780yen (about SGD 9). I could have had 7 plates of sushi with that.
Eat at Japanese fast food restaurants
Japanese fast food restaurants are never out of sight in Tokyo. They are of course not the healthiest option around, but they serve delicious, safe, authentic Japanese food that is both satisfying and wallet-friendly – exactly what we need on a budget holiday. 
Also Read: 14 Must-Try Halal Restaurant in Tokyo
To eat: Beef bowl (gyu-don)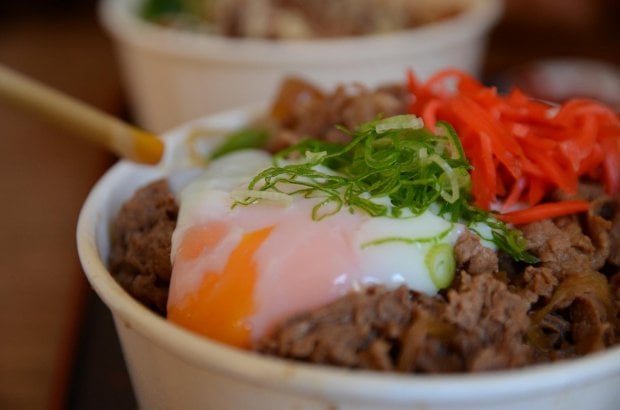 Image credit: Alpha
Price: From 290yen/regular bowl or 400yen/set (includes miso soup and pickles)
Where: Sukiya, Matsuya, Yoshinoya
Extra tip: Sukiya and Matsuya's beef bowls are offered in 4 different portions: mini, regular, large and extra large. If there are two of you, ordering the large (from 390yen) or extra large (from 500yen) bowl will most likely work out to be cheaper.
To eat: Tempura on rice or with noodles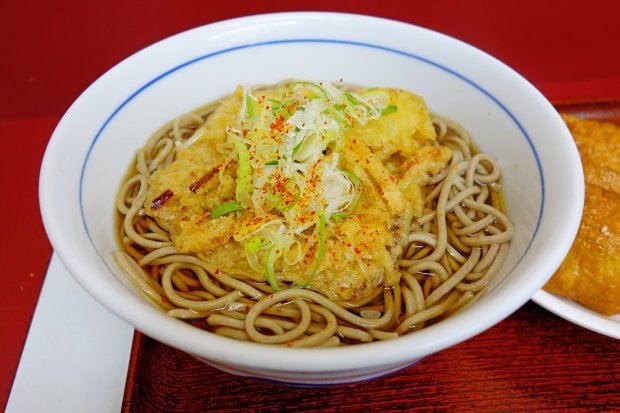 Image credit: Toshihiro Gamo
Price: From 500yen/set (includes miso soup)
Where: Tendon Tenya
To eat: Soba and udon noodles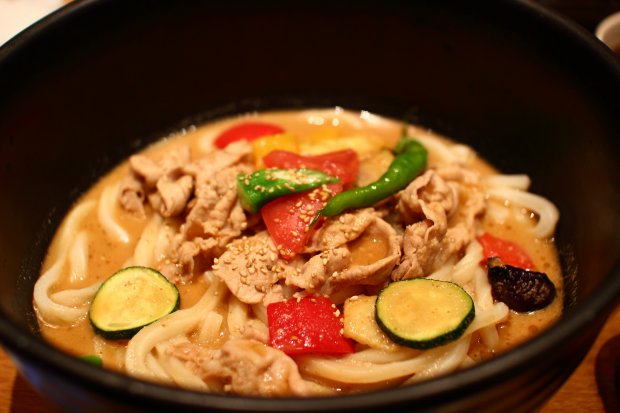 Image credit: photoantenna
Price: From 270yen/bowl or 500yen/bowl with a mini bowl of rice with deep fried pork cutlet with egg and onion (katsudon)
Where: Fuji Soba
Extra tip: Soba and udon noodles are perfect regardless of the season as you can order them either warm (atatakai) or cold (tsumetai).
 To eat: Japanese curry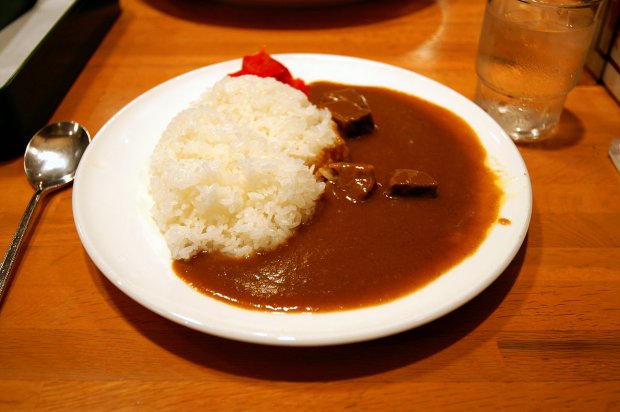 Image credit: Wikipedia
Price: From 442yen (curry with pork on rice)
Where: CoCo Ichibanya, Go! Go! Curry
Extra tip: The curries come in various levels of spiciness to suit different taste buds. Keeping in mind that Japanese food is almost never spicy, pick your choice!
To eat: Sushi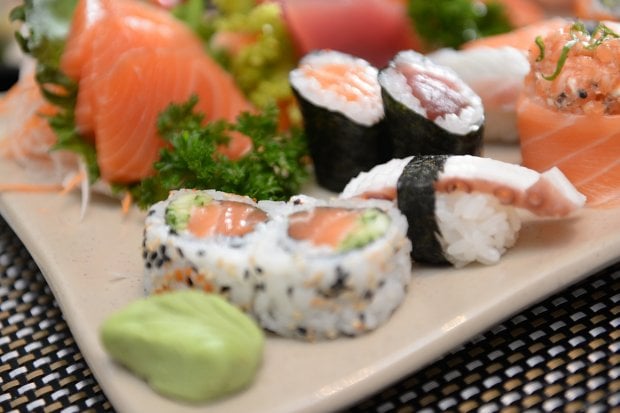 Price: From 108yen/plate (Sushi served on conveyor-belts are generally more wallet-friendly.)
Where: Genki Sushi, Sushi-Ro
To eat: Bento boxes with various dishes
Image credit: Me
Price: From 390yen/box (rice with meat and salad)
Where: Origin Bento, Hotto Motto
Extra tip: Some of these bento houses are open 24/7, allowing you to satiate your hunger at any time of the day.
Sick of Japanese food?
(Highly unlikely, but just in case.)
Where: MOS Burger, Lotteria and Freshness Burger for burger; First Kitchen, Saizeriya and Gusto for burger, pizza and pasta
Unfortunately, ramen is hardly "budget". The average cost of a bowl of ramen even in hole-in-the-wall establishments is 750yen. Look out for lunch deals though – in places such as Shinjuku and Shibuya where office workers and students congregate, there tend to be "one coin" lunch promotions on weekdays. Meaning, lunch is for only 500yen! What more, some ramen shops offer free upsizing of noodles. Be sure to ask for it (o-mori)!
Other than fast food chain restaurants, convenience stores such as Lawson, Family Mart and 7 Eleven are your best bet on cheap food. Rest assured that their quality and taste are not compromised. For a quick breakfast, pick a rice ball (onigiri) or two for as low as 108yen each! There are also bento boxes for those with a larger appetite. Sandwiches, bread and Chinese pork/chicken buns can also be bought. Try the pizza bun for a twist of Chinese and Italian flavours. For an occasional indulgence, try the spicy chicken cutlet at Family Mart.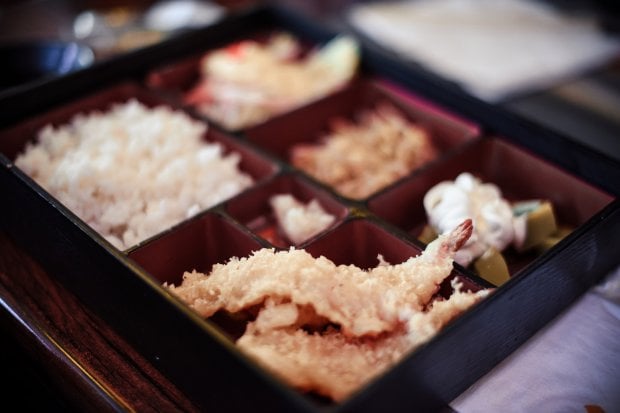 Image credit: Daniel Go
The bento boxes sold in supermarkets are no less inferior than those sold in restaurants. Although prices are slightly steeper than convenience stores' (about 100 – 200yen more), they offer a wider selection of food. A useful tip is to buy dinner from supermarkets closer to or after 9pm, as that's when the supermarkets prepare to close for the day and food items will start to be sold at half price to minimise waste. This applies to bakeries as well. One thing that you should definitely refrain from buying in supermarkets is fruits – they are notoriously expensive in Japan!
Drink from the tap
Water in Japan is potable. Although bottled water is by no means expensive in Japan (a 500ml bottle of mineral water costs about 90yen in convenience stores) drinking from the tap will allow you to save enough to pay for a meal or two. When dining out, you can have free flow of drinking water and/or tea without being charged.
Enjoy free attractions
Are your eyes widening at the 'f' word already? Believe it or not, free sights are in abundance in Tokyo. Here's a compilation – by no means an exhaustive one – of free things to do in specific areas of Tokyo: 
Where: Shinjuku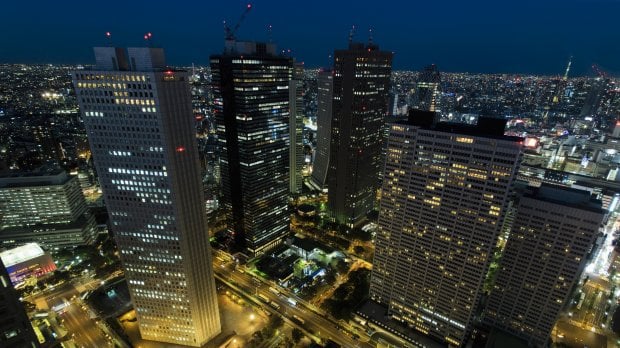 Image credit: Shinichiro Hamazaki
What to do: Go to Takashimaya basement for free food samples. Check out an unobstructed view of the entire Tokyo city and if you're lucky, Mount Fuji, from the Tokyo Metropolitan Government Building.
Where: Yoyogi/Harajuku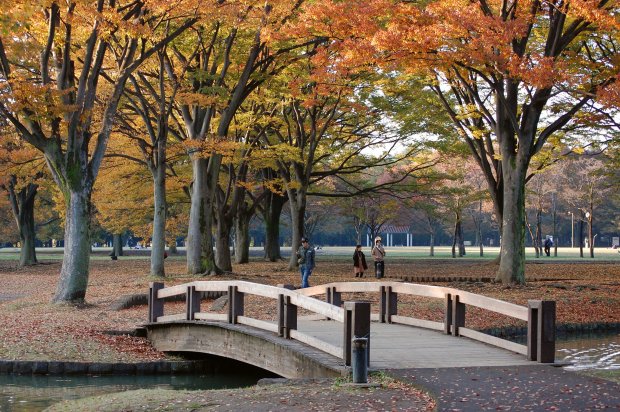 Image credit: clio1789
What to do: Visit Yoyogi Park and the nearby Meiji Shrine, followed by a stroll down Takeshita Street (where you can find Harajuku crepe) and Omotesando Street.
Extra tip: Go on a weekend to see buskers performing all kinds of acts in Yoyogi Park. On Sundays in particular, you will see Gyaru and Lolita fashionistas sashay their way down Takeshita Street as wide-eyed tourists look on. They will usually say yes to pictures.
Where: Shibuya
Image credit: Héctor García
What to do: Check out the latest Japanese fashion trends at Shibuya 109 – there are separate buildings for men and women. Observe the famous Shibuya crossing from the 2nd-floor Starbucks opposite the train station (you don't have to buy anything). Take pictures with the statue of Hachiko, the loyal dog.
Where: Ueno
Image credit: Alberto Gragera
What to do: Picnic at Ueno Park. Busk in old Tokyo vibes down Ameyoko Street.
Extra tip: Get your souvenir-shopping (read: green tea KitKats and wasabi peas) done for cheap at Niki no Okashi (二木の菓子) on Ameyoko Street. 
Where: Tokyo Station

Image credit: Wikimedia Commons
What to do: See and take pictures of Tokyo Station's new façade. Cycle around Tokyo Imperial Palace for free on Sundays, or simply wander around the garden. 
Get WiFi for free
McDonalds and Starbucks in Tokyo do not provide free WiFi services. Fortunately, the frustrated cries of all tourists have been heard. Present your passport upon arrival at Narita Airport to register for free WiFi at more than 45,000 hotspots across eastern Japan for up to 14 days! For more information, visit the official website.
Say NO to shopping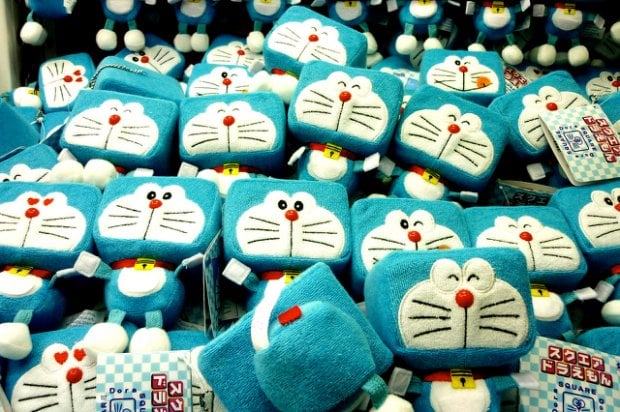 It takes quite a bit of self-discipline, but it's all part of the Art of Budget Travelling. Unless it's DAISO and it's something you absolutely, definitely, certainly cannot find at home or is too cute to resist (we can always cut some slack for some kawaii cosmetics and cool electronic gadgets, can't we?), put it down and walk away. Your cost-conscious alter ego will thank you for that later.
That being said, if you absolutely need to buy anything – from toiletries to stationery – just hit the nearest 100 Yen store. Food, however, is still cheaper in supermarkets and convenience stores. There are plenty of 100 Yen shops dotting Tokyo, but DAISO remains an edge above the rest in offering superior quality products, making it a good place to shop for souvenirs too. Don't be misinformed, though – items in 100 Yen shops are in fact 108yen, not 100yen, after tax.
Another good place to shop for cheap bargains is
Don Quijote
 (simply, "don-ki") where you can find literally everything under the sky. Snacks, instant noodles, heat packs, iPhone chargers, medicine, cosmetics, underwear, anime costumes, porn? You name it, they have it.
Travelling out of Tokyo?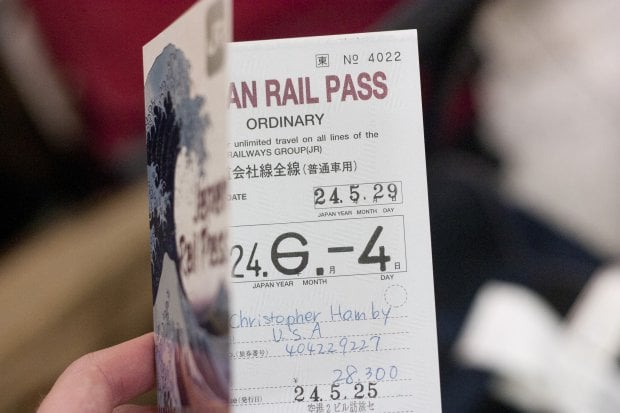 Image credit: Chris Hamby
Travelling out of Tokyo to other cities will definitely incur more money – especially on transportation. If you plan to visit Japan for a significant number of days and would like to see a handful of cities (Kyoto, Osaka etc), the JR Rail Pass is a viable option, but keep in mind that your journey on train might be longer than the time you actually spend in the different cities. Bullet trains are out of question – they are unaffordable for the average budget traveller. This article on tips and advice on the JR Pass will be useful for reference. The pass is absolutely NOT worth it if you plan to travel only within Tokyo. Do be reminded that you can only get the JR Rail Pass from outside of Japan, so if you decide to get one, make sure you place your order before you depart!
Night buses are cheaper alternatives for inter-regional travel, but they are not as foreigner-friendly as the trains. Finding the exact location of departure can be tricky for non-Japanese speakers. Willer Express provides English services online, but as with most other coach services, on-the-ground information is only available in Japanese. It is useful to have a hardcopy of your bus ticket and to look out for staff clad in company vests (usually in bright colours such as neon yellow or pink). Nevertheless, the journeys I have embarked with Willer Express so far have been comfortable, fuss-free and cheap.
Also Read: Tokyo Bucket List: 20 Challenges for your Next Trip
With these tips, you won't have to break the bank to travel to Tokyo. Do you have any other relevant tips to share with us? Let us know in the comment box below.