Australia is huge. I figured I might start this post by getting the obvious out of the way, so we can focus on possibly lesser-known facts. Being one of the biggest countries in the world, it is no surprise that Australia is extremely diverse. There are ancient rainforests, snowcapped mountain ranges, wild rivers, deep gorges, red deserts, coastal cliffs, and so on. While there are many who flock to Australia looking for adventure, there are also plenty who come simply to drink cocktails and to soak up the sun on the beach.
Being an island with a coastline spanning an incredible 35,000 kilometres, Australia is literally surrounded by beaches. Needless to say, some of these beaches are simply spectacular. Australia is home to the world's best beaches, including some with accessible coral reefs. Let's take a look at the ten best beaches in Australia, shall we?
Also Read: Which of These Places in Australia Would You Visit? We're Not Judging
10. 75 Mile Beach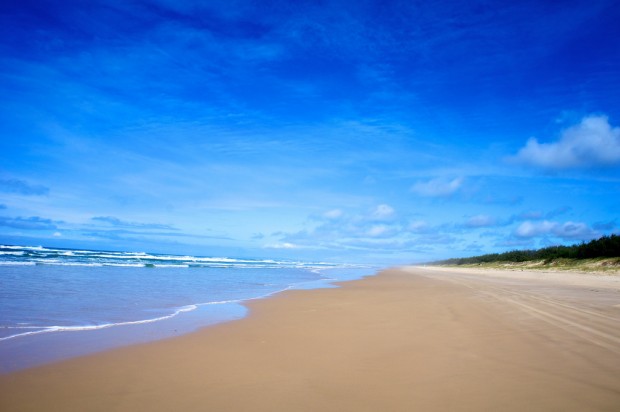 Image Credits: Romain Bochet
75 Mile Beach is an extensive stretch of beaches on the coast of Fraser Island, Queensland, which incidentally is the largest sand island in the world. Because of its sheer length, 75 Mile Beach consists of various types of sand, from white to orange and ochre. Fraser Island itself is a major attraction in Queensland, a great place to go off-road driving. The waters that surround the island, however, aren't the best for swimming due to the large population of tiger sharks. Luckily, swimming can be done in the inland freshwater lakes.
9. Esperance Bay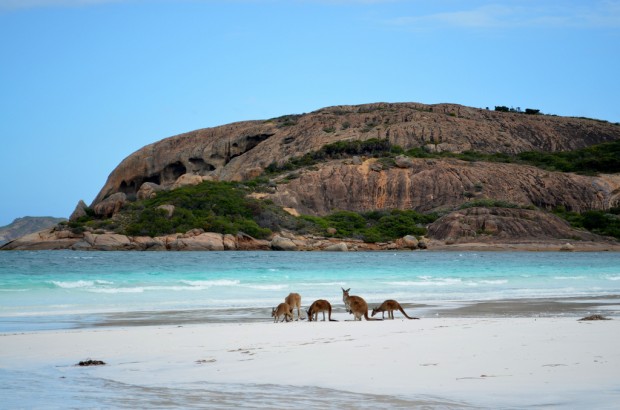 Image Credits: Sally
The beaches that surround the town of Esperance in Esperance Bay, on the south coast of Western Australia, are officially the whitest beaches in Australia. Featuring blindingly white sand and the bluest waters imaginable, Esperance Bay is actually a pretty calm area. You won't have any trouble whatsoever to find a nearly empty beach, a luxury that can be explained by the remoteness of the place.
8. Noosa Main Beach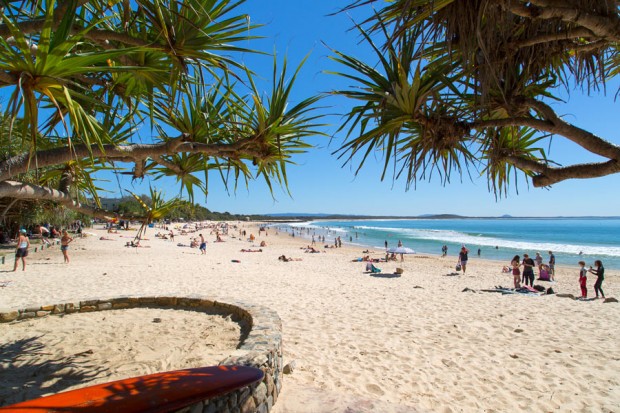 Image Credits: GO Holiday
Arguably the perfect example of a typical beach on the Sunshine Coast in Queensland, the Main Beach in Noosa has calm warm water, soft sand and a background of palm trees. This is a place to spot whales during migration season and dolphins all year round. Add to that excellent surfing conditions, a laidback atmosphere and some annual festivals, and you've got yourself a fabulous beach destination.
7. Byron Bay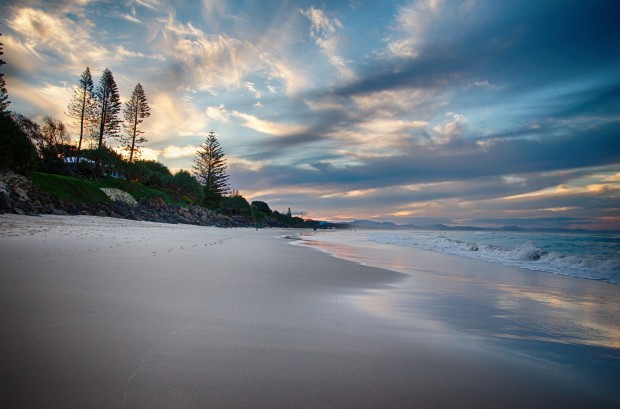 Image Credits: Richard Rydge
Located at the easternmost point of mainland Australia and backed by beautiful rainforest, Byron Bay is home to plenty of world-class beaches, a hippie mentality and great surf. The beaches really are of superb quality and there are so many of them that it's extremely easy to find an uncrowded section.
6. Monkey Mia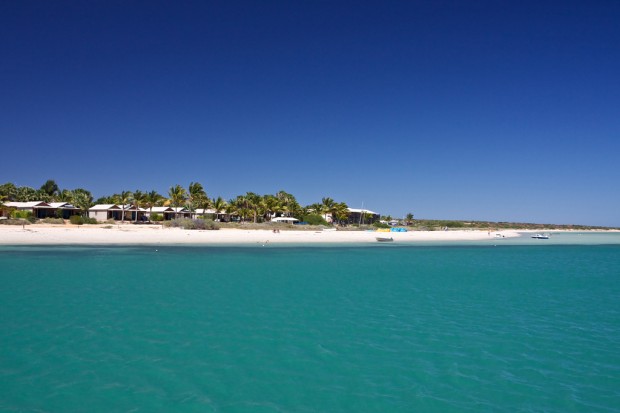 Image Credits: Rob Berends
Monkey Mia is a small town about halfway up (or down) the west coast of Western Australia. It is located in the heart of the Shark Bay World Heritage Area. Far removed from any other towns or cities, this is a great place to unwind, enjoy the sunshine and do some water sports. A major highlight is the pod of bottlenose dolphins that lives in the shallow waters near the beach and interacts with humans on a daily basis.
5. Bells Beach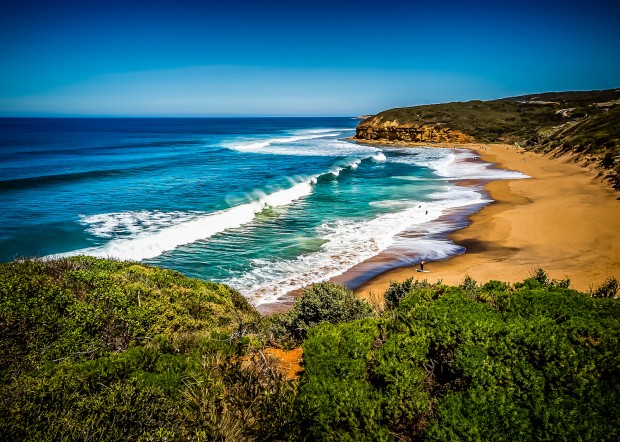 Image Credits: Russell Charters
One of the most famous beaches in Australia and even in the world—at least among surfers—Bells Beach is home to the annual legendary Rip Curl Pro Surfing competition and music festival. The beach lies at the start of the iconic and spectacularly beautiful Great Ocean Road, a short drive west from Melbourne, Victoria.
Also Read: 72-Hour Scenic Self-Drive Along Australia's Great Ocean Road
4. Cable Beach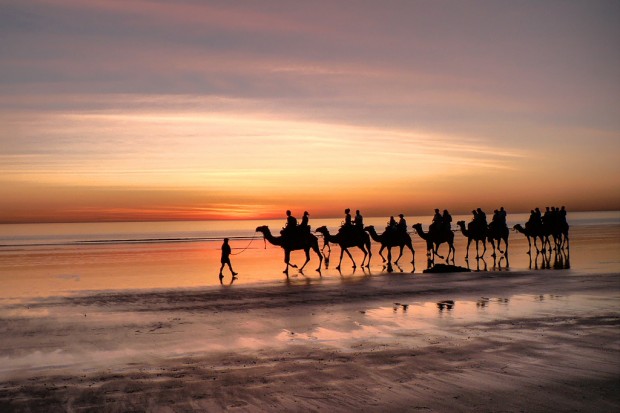 Image Credits: Dedi Sharabi
Cable Beach in Broome, Western Australia, is easily one of Australia's most gorgeous beaches, stretching out for 22 kilometers along the azure-blue Indian Ocean. Because the beach faces west, it offers one of the best sunsets in the country. Cable Beach is particularly well-known for its sunset camel rides on the beach, a truly unforgettable experience.
3. Bondi Beach
Image Credits: Nicolas Lannuzel
Bondi Beach is without question the most well-known beach in Australia. This iconic beach in Sydney is a popular spot among tourists, surfers, sunbathers, and show-offs. Always crowded, this is definitely one of the best places to people-watch in Sydney. By the way, Bondi Beach was where the first Surf Life Saving Club in the world was founded, more than a century ago.
2. Wineglass Bay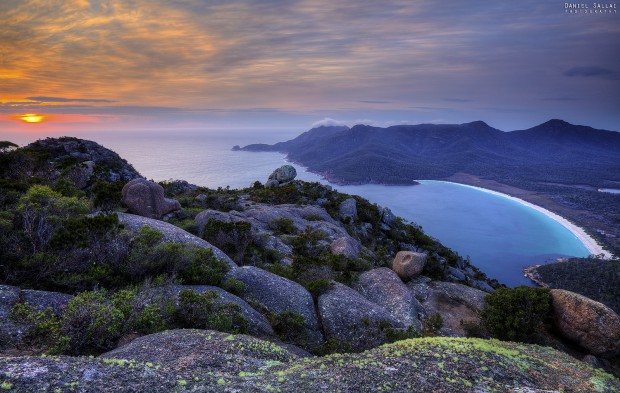 Image Credits: Daniel Sallai Photography
Although Tasmania is not the place that comes to mind when thinking about beaches in Australia, this island state is, in fact, home to some quite beautiful ones. Situated in Freycinet National Park on the east coast, Wineglass Bay is probably one of the world's most breathtaking beaches. To get there, you need to hike over a coastal mountain range. While descending the mountains, the views of the bay and beach below are spectacular.
1. Whitehaven Beach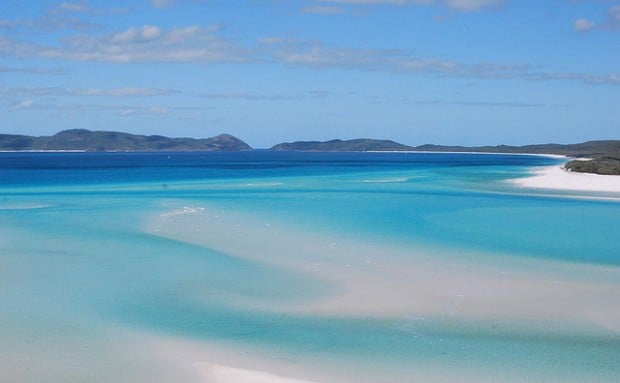 Image Credits:John Brennan
A place can't possibly be more tropical, exotic-looking and stunning, all at the same time, than Queensland's Whitsunday Island. Whitehaven Beach is so stunning that it simply destroys all competitors for the first place on this list. The sands of this beach are among the purest in the world, while the waters are crystal-clear and warm. The island, located near the Great Barrier Reef, is uninhabited, but can be reached by boat from Airlie Beach. The best way to see this unbelievably perfect beach is on a multi-day cruise.
Also Read: Best of Sydney Attractions, Transport, Stay, and Food Guide