Ah, Australia. Indeed, many of our peers flock to places like Melbourne, Gold Coast and Perth, but do you know that they don't even cover a quarter of the country? Mind blowing, huh!
Besides popular favourites like the iconic Great Barrier Reef and the architectural wonder of the Sydney Opera House, Australia simply has so much more unique activities and breathtaking sights to offer. If you're looking to experience Australia's dynamic culture in a diametrically different light, these underrated destinations are guaranteed to spice up your future travels!
See more of Australia with Qantas and score flights from just S$690* – this promotion is running till 23 July 2017, so start planning your holiday right away!
*Unless sold out prior to end date. Selected travel dates, days and conditions apply. Visit Qantas' official website for more information!
1. Central Coast, New South Wales
The fast-expanding region of Central Coast is a gorgeous hybrid of nature and urban landscapes. The region is famous for its unspoilt wilderness, as well as its authentic aboriginal sites in Bouddi National Park. For an even more immersive experience to the great Australian outdoors, camping at Glenworth Valley is an extremely popular activity amongst both locals and tourists alike. During your stay, you'll enjoy the natural beauty of the riverfront, which is well away from the hustle and bustle of the city.
For those up for an adventure of a lifetime, challenge yourself with an exhilarating ride down the world's longest rollercoaster zipline through the Ourimbah State Forest! Indeed, the Central Coast will inject some excitement to your next trip to this iconic city.
How to get there: Fly directly to Sydney with Qantas, and the Central Coast is less than 2-hours drive away.
2. Mackay Region, Queensland
Think of Australia, and its teeming animal wildlife immediately comes to mind. What better way to interact with the country's native animals than to get up close and personal with some platypuses in the Mackay Region! At its local award-winning dive centre, you'll get to scuba dive with these adorable semi-aquatic creatures and many other underwater animals in the crystal clear waters of the rainforest. If diving and snorkelling isn't your thing, the small town's picturesque Isaac Coast is a wildlife sanctuary perfect for bird-watching and dugong-sighting. With so much to discover, you might even become an Australian animal expert!
How to get there: Fly directly into Mackay City with Qantas with a short transit at Brisbane.
3. Jervis Bay, New South Wales
Jervis Bay is a stunning oceanic paradise along the Australian South Coast. With its pristine beaches covered with the whitest sands in the world, the village is a postcard-perfect destination off the beaten path of Australia. Since it's positioned along the seasonal whale migration path, the highlight attraction of Jervis Bay is its whale watching cruises, where tourists can spot all sorts of marine life, including the mighty humpback whale and playful orcas. Before the end of the day, chase the setting sun on a mountain biking trail at Kangaroo River for a ride you'll never forget!
How to get there: Fly directly into Sydney with Qantas and from there, Jervis Bay is a manageable 3-hour car ride away! There are also shuttle services that run daily to Jervis Bay from Sydney Airport.
If you're looking for a truly authentic Aussie experience, no one knows Australia like Qantas. Start your adventure with Qantas and experience the best of Australia before you even land! Recline on your seat and indulge in state-of-the-art entertainment, all whilst experiencing the flight crew's genuine warmth and friendly service. Enjoy every moment when you fly to Australia from just S$690* with Qantas!
*Sale ends 23 July 2017, unless sold out prior to end date. Selected travel dates, days and conditions apply. Visit Qantas' official website for more information!
4. Katherine Gorge, Northern Territory
We often hear of the West Coast's cape to cape journey, and the spectacular Great Barrier Reef of the East, but what's there to see in the Northern Territory? Well, we say: plenty!
Katherine Gorge, within the Nitmiluk National Park, is the place where you can experience the famed Australian outback. From bushwalking on foot and canoeing to a boat cruise or helicopter ride, there's no shortage of options to explore the ridges and falls of the national park. When you've reached south of your trail, be sure to visit the Cutta Cutta Caves which houses sparkling limestone formations and perhaps even an ancient fossil or two. Take your pick from these attractions and set off on an awe-inspiring outback journey through the little-known sandstone region of the north!
How to get there: Fly directly with Qantas to Darwin. From there, the Nitmiluk National Park is an estimated 3 to 3.5 hours drive Southwards.
5. Daylesford & Macedon Ranges, Victoria
Daylesford and the Macedon Ranges is your one-stop destination for a relaxing treat in Australia. The region houses lavish spas and natural mineral springs guaranteed to make for a luxurious retreat free from the throngs of crowds in the city. Try your hand at making French sausages or sourdough bread at a traditional bakery, visit Trentham Falls – the longest single drop waterfall in Victoria, or simply take in the rustic atmosphere of the quaint town. Whichever you choose, your trip to Daylesford and Macedon Ranges would certainly be an indulgent and rejuvenating vacation destination.
How to get there: Flying directly to Melbourne with Qantas, make the short hour's journey up North and you'll reach this restful escapade.
6. Sunshine Coast, Queensland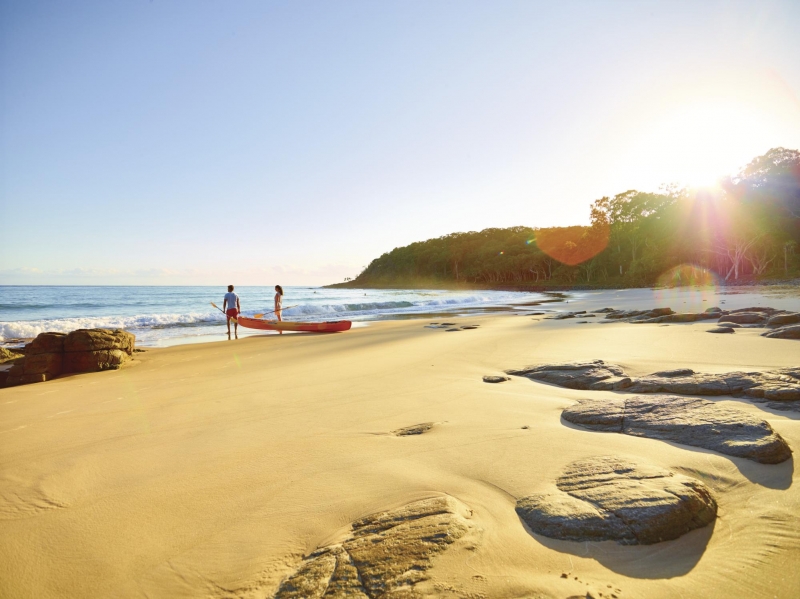 We're not sure why the Sunshine Coast isn't on the list of the favourite Australian tourist destinations, but it very well should be! This region north of Brisbane is jam-packed with exciting things to do – with theme parks like Aussie World, Ginger Factory, and Aqua Park Coolum, as well as local food trails and vintage shopping belts, Sunshine Coast makes an extraordinary vacation destination for the entire family. Another must-do attraction of Sunshine Coast is a kayaking trip or boat ride down the "river of mirrors" of Noosa Everglades. The mirrored waters of the lake is a breathtaking sight to behold, cementing it as one of Australia's best kept secrets.
How to get there: The nearest international airport being Brisbane Airport, take a flight with Qantas to Brisbane and Sunshine Coast is merely an hour and a half up north by car!
7. Coral Coast, Western Australia
A road trip along this uninterrupted coastline should definitely be on your bucket list. Starting from Perth, the complete drive itself to Exmouth takes a grand total of 10 days. For a more manageable 5-6 days journey, begin your tour of the breathtaking Coral Coast from Shark Bay. Drop by Monkey Mia – a World Heritage Site whose shores are visited by plenty of bottlenose dolphins throughout the year. Carry on northwards to the Carnavon and pay a visit to the famous Blowholes before continuing on. At your next stop, Coral Bay, go on anything from glass-bottom boat tours to quad-biking on sand dunes, and take in the great outdoors. Complete your road trip at Exmouth and spend an extra day sailing out and snorkelling to the Ningaloo Reef. Experience these and more, all while taking in the stunning view of the Indian Ocean during your drive!
How to get there: For the 10 day option, fly directly to Perth with Qantas. For the shorter 5-6 day version, take any domestic flight to Shark Bay Airport and begin your unforgettable Australian road trip from there!
8. Bendigo, Victoria
Bendigo was one of the greatest boom towns during the Victorian gold rush era of the 1860s. Now, the city is a traditional yet vibrant preservation of the country's gold rush origins. At the Central Deborah Gold Mine, delve more than 20 levels underground and learn the ebbing practice of shaft mining in an actual gold mine beneath this city. Throw on your caps and brace yourself for this fascinating look into this monumental turn in Australia's rich history.
How to get there: Fly directly into Melbourne Airport with Qantas. From there, choose between an easy 1.5 hour's drive up to Bendigo or the Bendigo Shuttle Bus that will ferry you from Melbourne Airport straight to your destination!
===
On top of the big cities and conventional attractions, jazz up your holiday with these lesser known destinations for a whole new experience of Australia! For more information about Australia and its unexplored regions, visit Tourism Australia's official website as well as their Facebook page.
Want your journey to Australia to be just as sweet as your destination? Qantas has got you covered. Enjoy premium services when you take their international flights!
The A330 economy flights offer simply the best on-demand inflight entertainment, allowing you to choose from over 100 movies, 500 TV programmes, games, radio channels, music and more. With over 1500 amazing options to keep you entertained on board, you'll definitely be spoilt for choice. Indeed, bid goodbye to any aimless idle and restlessness as you wait for your flight to land in Australia!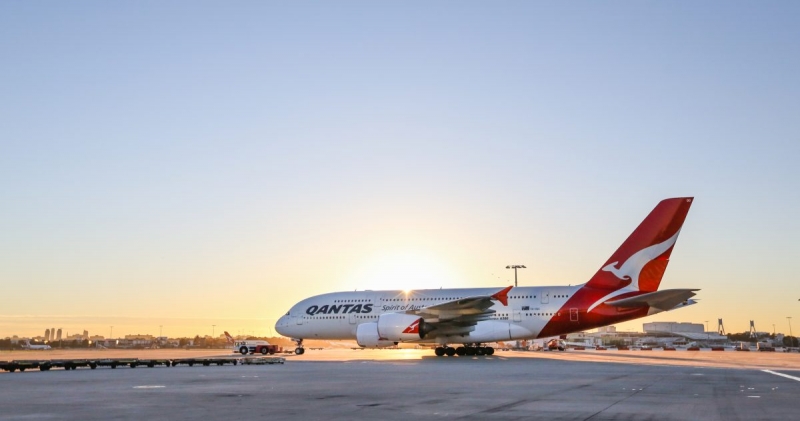 Moreover, get ready to be treated to some gastronomical delights onboard your flight from Australia back to Singapore. Qantas' A330 economy flight's upgraded inflight dining experience boasts a stellar menu of seasonal cuisines and award-winning wines. Take your pick from mouthwatering dishes like yellow curry barramundi with jasmine rice and spiced lamb koftas. On top of that, you'll get to view your flight's exclusive menu, and pick your meal online before you even board the flight! For more information, visit Qantas' official website or their Facebook page.
Book your flights to Australia from S$690* with Qantas now, and enjoy stellar comfort paired with first-class service. Let your Australian experience start the minute you step on board – Qantas has been voted the best airline (Australia-Pacific) at the Skytrax World Airline Awards, and rightly so. A flight doesn't only have to be a means to an end, and can, very well, be part of the journey – and your journey has only, just begun. Start exploring Australia and all its hidden gems today!
*Sale ends 23 July 2017, unless sold out prior to end date. Selected travel dates, days and conditions apply. Visit Qantas' official website for more information!
---
Brought to you by Qantas and Tourism Australia.