As an adult, amusement parks are very overwhelming. When you're a kid in an amusement park, you just want to try the first thing that you see. You move from one place to another until you get tired and tell your parents that you want to go home. But when you're an adult, being in a new amusement park, especially a good one, you dread the part of going home. You just want to maximise your time as much you can.
A kid goes to the place he or she feels interested in but an adult would go to the pre-researched best things to do at the amusement park. As a kid, you'll only remember the best things that happened but as an adult, you do remember the best parts but you also wonder what might have happened at the parts of the park that you've missed.
Also read: 15 Bucket List-Worthy Theme Parks You Should Visit in Asia
Having been to about three amusement parks internationally, one day is never enough. If you really want the best experiences from the perspective of so many tourists, make sure to research the best things to do at each.
Planning my family's Tokyo trip, we really had a hard time choosing between Tokyo Disneyland or Tokyo DisneySea. We only had three full days in the prefecture so we only had one day to give for an amusement park. I've read a lot of blogs and articles but people like both in an equal capacity. Some even do a half Disneyland and a half DisneySea for one whole day. In the end, we went with the cheaper alternative and most maximising option which was to choose one and we were set to visit Tokyo DisneySea.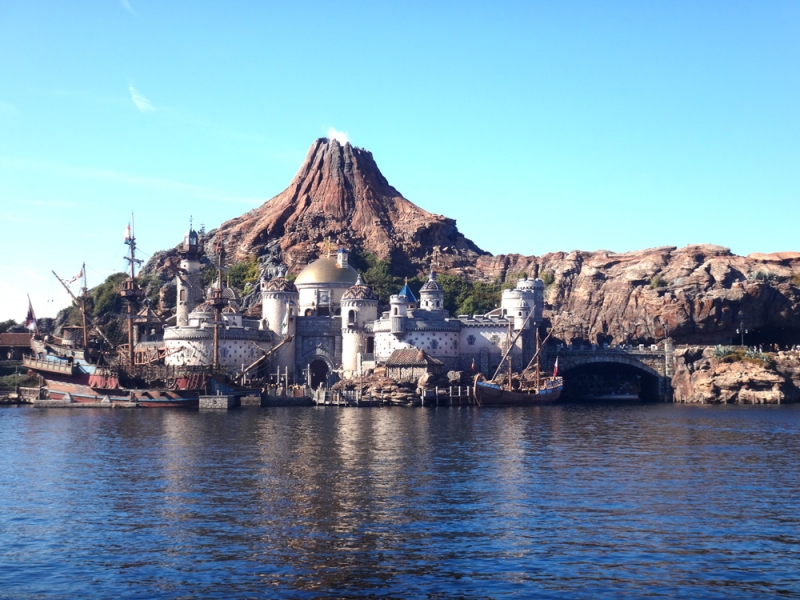 As expected, we did not experience all the rides and watch all the shows. But we explored the whole amusement park through walking the whole round, taking photos, visiting shops, and many more. From 9am to 8pm (this is the full day opening hours of the park), we experienced three rides and four shows. We tried to experience as much as we can in the time we were allowed to. We even visited the day of the week that had the least expected number of visitors through the crowd calendar but we still missed a few rides and shows.
After all that we have experienced at Tokyo DisneySea, here are the top 3 things that we feel you shouldn't miss during your visit:
1. Eat the Spicy Smoked Chicken Leg at the Lost River Cookhouse
From all the blogs I've read, the food or snack that was most raved about at Tokyo DisneySea was the flavoured popcorn and Toy Story alien mochi. We tried these out and they were really delicious but not to the point that I wanted a second order of it.
In the afternoon, my sister wanted to ride the rollercoaster at the Lost River area but we were too scared to go with her so we waited at a rest area. I went to the bathroom and when I came back, my younger sister was eating a big chicken leg. I asked her what it was and she said it was a spicy smoked chicken and pointed me towards the cart selling it. It had a pretty long line. I'm not into spicy food so I didn't ask to taste it.
Also read: Travel Cheat Sheet: Snacks to Buy Back from Japan Other Than the Tokyo Banana
Halfway through her chicken, my sister kept on convincing me to just taste it. She said the spice was just mild and told me I'd really like it. I was hesitant because it has some little flecks of red which I know could be chilli powder. She just pushed and told me to take a bite.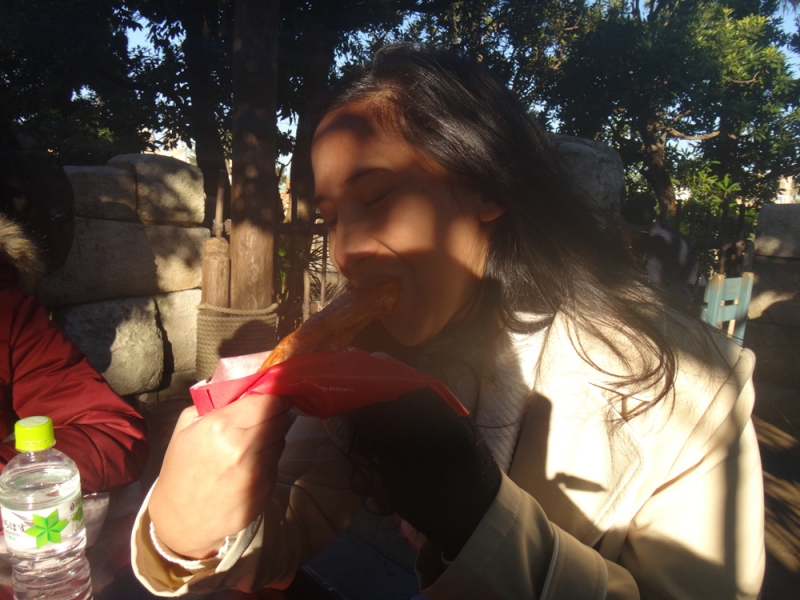 When I took a bite, the word OMG figuratively popped in my head. My sister smiled and said, "OH DIBA!" (See!) It was the juiciest, softest, creamiest, and tastiest chicken I have ever tried in my life! It had the right amount of spiciness that complimented the taste! Our family loves chicken so you'd think we've tried every kind of chicken! But yeah, this was the best!
I fell in line and bought 2 more spicy smoked chicken legs. My mom tasted it too and she really liked it as well. We tried a lot of snacks and food at Tokyo DisneySea but it was that chicken that was being served from a cart which won the best snack at Tokyo DisneySea for us. You should definitely try this during your visit!
2. Toy Story Mania is definitely a must!
Toy Story Mania is, without a doubt, the most popular attraction at Tokyo DisneySea. Our online research verifies it and our on hand experienced truly verified it.
We arrived at Tokyo DisneySea 30 minutes past opening time. After purchasing our tickets, we literally ran to American Waterfront area where the Toy Story Mania ride would be. I did expect a line because this was what most experience write ups said but I didn't expect that kind of line!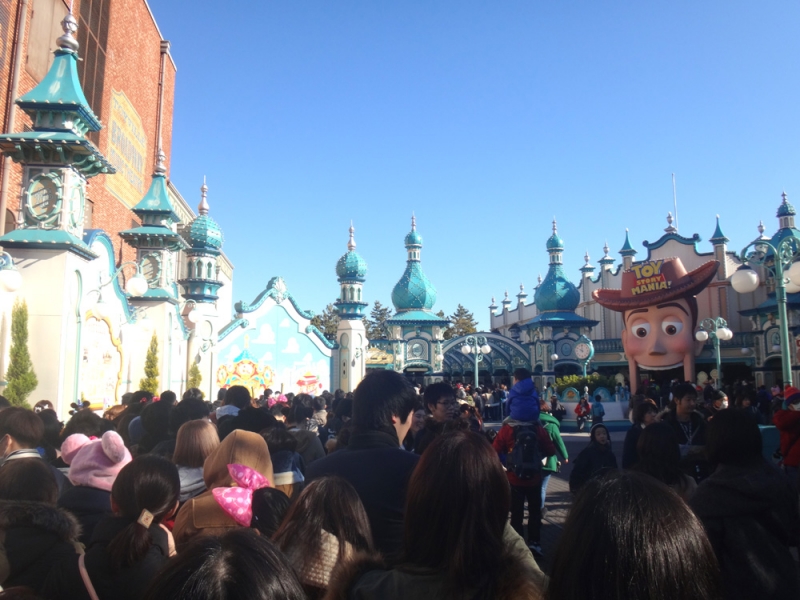 We were not in line for the actual ride. We were actually in line for the FAST PASS! There is already a line for the actual ride which could be compared to the line at Enchanted Kingdom's Rio Grande Rapids but 3x longer that is why we opted for the fast pass. But I didn't expect that we would have to fall in a long line just for that pass. We were in line at 9.45am and got our fast passes 45-50 minutes after. The fast pass we got was scheduled at 7.45pm. Imagine that! We were there at almost opening time and we got a fast pass for 7.45pm! It was really crazy!
If you want to experience Toy Story Mania, make sure you're there at the exact opening time or earlier.
We were at the fast pass gate at 7.30pm and we were allowed to enter already. The line only took five minutes before we were able to experience the ride. During those five minutes, we felt like Andy's toys as we passed by big structures of toys that you can find in the movie. It was really a great Disney kid fan girl moment. You would really feel like you're a toy waiting for Andy to come through the door and play with you.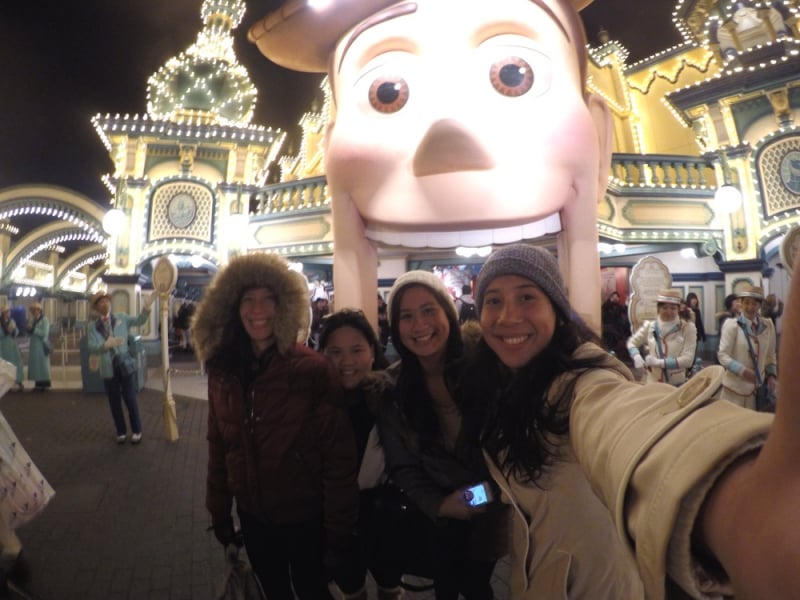 THE RIDE WAS REALLY FUN! It was worth the line for the fast pass and the anticipation of the whole day. Prior to our arrival, we didn't know what kind of ride it was. We didn't know if it was a roller coaster or a movie-like ride. We went in there blind and we had a lot of fun because of it! I don't want to tell what happens inside because I want you to be surprised as well. For us, it was worth it! We had so much fun! And it was one of the most wonderful moments we had as a family for a while. Life tends to get busy so we appreciate moments like that as a family and cherish them as much as we can.
Do not miss out on this ride! If you're afraid of heights or tend to get dizzy easily, you won't need to worry about those things with Toy Story Mania! Try it and you'll have the best time!
3. Don't leave without seeing Fantasmic!
It was after the Toy Story Mania ride when one of my sisters asked if we could go home. We were all pretty tired and missing out on the Fantasmic! show became an option for the moment. We sat down for a few minutes at a restaurant and my mom said that since we're already there, let's just wait for the show and watch it. And it's a good thing that we did because Fantasmic! was amazing!
It was a magical show of creative visuals. Most of the lines being said were in Japanese but if you grew up as a Disney kid, you could probably tell where the story of the show was going. The play of lights, sounds, and water were aesthetically pleasing that we were just in awe. The word WOW literally just came out of our mouths in some parts of the show.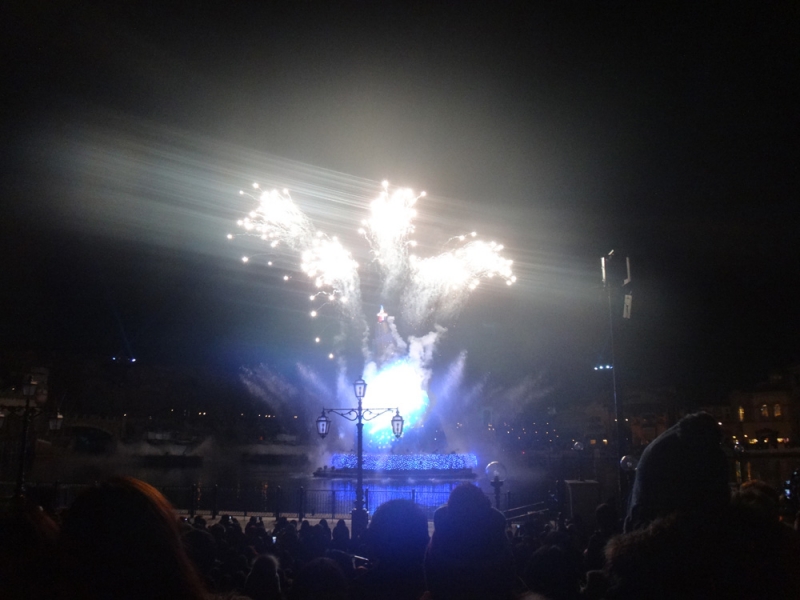 It was definitely a great ending to our magical experience at Tokyo DisneySea. The show just left you full of glee. In that moment, we did really feel like we were in the happiest place on earth!
At the end of the day at Tokyo DisneySea, if you feel like going home, don't! This show shouldn't be missed! Your day will be so much more worth it after watching this amazing and fantastic show!
Also read: Scream into 2017: 5 Theme Parks & Rides in Asia Opening This Year
There are lots of locals and tourists in Japan who go to these Disney parks on a daily basis. There is no off day, I believe. Make sure you plan ahead and check out the attractions beforehand. Follow different tips and pieces of advice and do check out the crowd calendar before deciding on what day you will visit. Choose 3-4 things that you really want to do and prioritise those. For the rest, you can just go with the flow once you're already there.
It's still alright to get overwhelmed once you get there because it is one of those moments we should always live for. But it's always good to have a few priorities in place.