ZUJI x TripZilla: Presenting to you, our nifty 'ZUJI Keeps It Real' series!
Straight up, no fluff: arm yourself with candid travel cheat sheets that contain authentic stories, real life experiences and insider tips for fellow travellers. We've been inspired and we hope you will be too!
---
Let me get things straight – I love it when my friends come back from Japan armed with box after box of Tokyo Bananas. But truth be told… the Tokyo Banana? A little passé. Plus, the short expiry dates are a total bugger! On my last trip to Japan, I managed to hunt down 12 yummy Japanese snacks – all of which a little bit tastier, a wee bit cuter, and definitely a whole lot more novel than the old Tokyo Banana. And it's not just me; all my friends and family back home loved all these as well!
So don't forget to get your friends who are heading to Tokyo to get some back for you, or heck why not just fly there and get them yourself?! And with ZUJI offering flights to Tokyo from S$606 ALL-IN with Cathay Pacific Airlines, there's really no better time to do so!
NOTE: THIS FLASH SALE HAS EXPIRED, BUT DON'T MISS THE NEXT ONE! FOR INSIDER INFORMATION ABOUT THE NEXT FLASH DEAL, JUST:
Empty your stomachs and loosen your waist belts – trust us, you're gonna need to do them both.
1. Tokyo Saison Honey Bears (Petit version)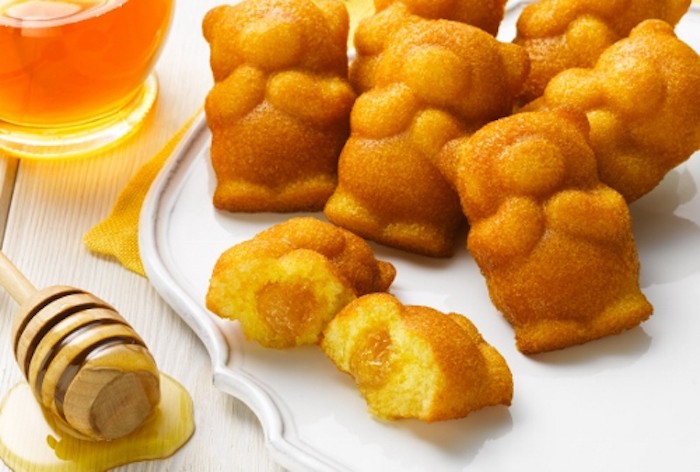 Image credit: Terra Saison Patisserie de la Nature
Aren't these the cutest little babies you've ever seen? These adorable little things are bite-size, and give a tangy pop of sweetness once you bite into the honey filling nestled in the middle of that light fluffy pastry. They're surprisingly addictive, and I couldn't stop at one. Before I knew it, I had chomped through the whole box in minutes. Don't laugh, I bet you would too!
Travel Cheat Sheet Tip: You can find these at Tokyo Station at the 'Terra Saison' store, and my tip for you? Buy more than one box. You'll thank me later!
2. R.L .Cream Waffle Cake
We Singaporeans are huge fans of waffles. Ice cream waffles, charcoal waffles, red velvet waffles or even salted egg yolk waffles. You name it, we probably have it. So when I chanced upon these cream waffles in Japan, how could I resist? These waffles are filled with cream of varying flavours – strawberry, orange, maple or even matcha. Hang on, who am I kidding. It's Japan, of course there will be matcha flavoured ones! Some even have little pieces of fruit encased within the cream.
Travel Cheat Sheet Tip: For something a little more travel friendly, why not get the bite-sized versions as pictured above left? They can be found at Tokyo Station and are really handy for long train rides – we were glad to have something to munch on during our Shinkansen (Japanese for 'bullet train') rides across Japan!
3. Tokyo Cheese Biscuits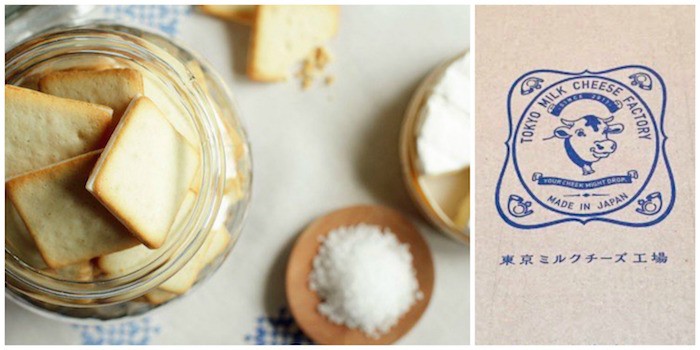 Image credit: Tokyo Milk Cheese Factory
These are probably the most undiscovered hidden gems in the whole of Japan. I bought a total of seven boxes home, and it was the best decision of my life! Despite being unassuming in appearance, these biscuits pack a good punch the minute you bite into them. You can choose from a couple of flavours – Salt & Camembert, Honey & Gorgonzola, Basil Tomato & Mozzarella Cookie – but my favourite would be the first one. So. good!
Travel Cheat Sheet Tip: True to its name, these milk cheese biscuits are only found in Tokyo and not anywhere else in Japan. So don't leave Tokyo without getting yourself a box or two! You'll find these at Tokyo Station (which if you haven't realised by now, is an absolute treasure trove for Japanese snacks), or across Tokyo like Lumine in Shinjuku, Tokyo Sky Tree, or at Haneda Airport.
Can you imagine all these in your stomach? Imagine no longer and
fly to Japan from just S$606 all-in with ZUJI's crazy CATHAY PACIFIC FLASH SALE!
 These fares are valid for 7 days only,
from 30 Nov – 6 Dec 2016
when you book with ZUJI.
Besides, you'll get to fly with Cathay Pacific Airlines, which is known worldwide for their reputable safety; rest assured that you'll be well taken care of from start to finish. The flight attendants are delightfully attentive, and are ever-ready with a new drink or a snack. And they're all really good to look at too, if you know what I mean!
Hurry book your tickets now – you know you want to!
4. Yaokin Umaibo – Doraemon Sticks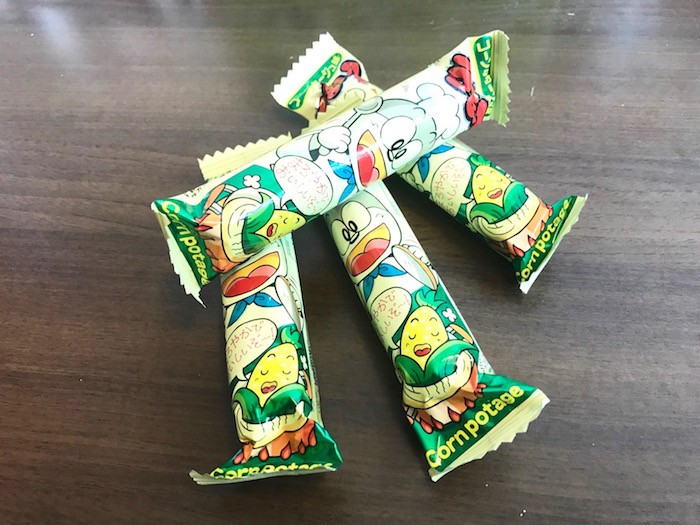 If you're a fan of the utterly adorable Japanese anime character – Doraemon, this is the snack for you! Yaokin Umaibo, affectionately known as 'Doraemon sticks', are essentially puffed corn sticks that are immensely popular among children and, dare we say, many adults alike. What makes these snacks stand out are their cheery coloured packaging – every stick is adorned with the Doraemon character in various costumes; you never know, you might get a chef one day and an astronaut the next. These sticks are delightful to crunch on, and come in a variety of flavours such as Curry, Beef Tongue, Mentaiko or just the essential Corn flavour.
Travel Cheat Sheet Tip: For those who like quirky flavours, try the Teriyaki Burger or Takoyaki flavours. Visit Japan's multilevel variety store – Don Quijote – to find the largest range of Yaokin Umaibo available. You can find lots of stuff including souvenirs at Don Quijote as well; the store is like an upsized Daiso, but times ten!
5. Jaga Pokkuru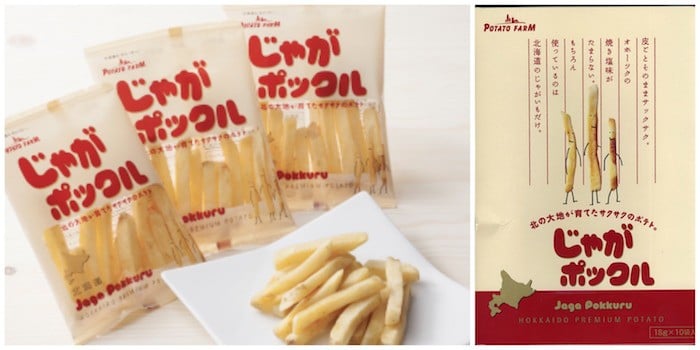 Image credit: (left) Calbee Potato Farm; (right) Jonathan Haynes
Unbeknownst to many, this is not –  I repeat, not – your ordinary french fry. Sure they might look like it, but the snack actually tastes like crispy potato chips delightfully condensed into the form of a french fry. Think: the combination of french fries and potato chips, but much much better! The snack tastes just like the real potato, and the  salt coating the fries is also lip-smackingly good. The best thing about these fries that they aren't just cookie-cutter freeze dried ones that are fried with machines whilst manufacturing. In fact, the potato strips are cut from whole potatoes and fried by an actual human being! The snack originates from Hokkaido and can only be found there.
Travel Cheat Sheet Tip: This snack comes in small packets of about 100 calories worth, which are great should you have a tendency to binge snack. That being said, it's a great stress reliever. And I say this from experience!
6. Momiji Manju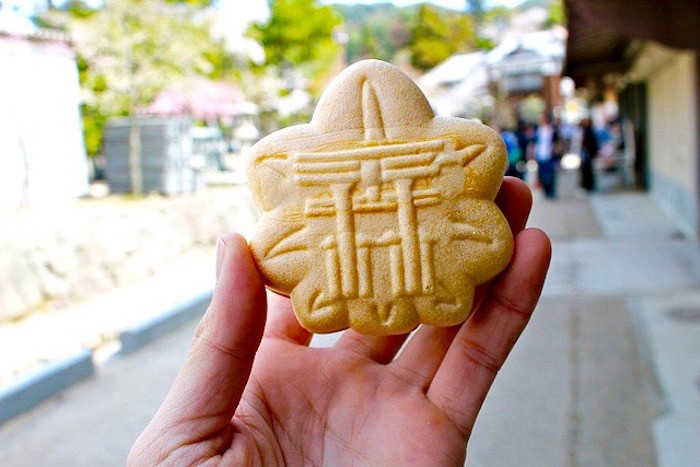 Image credit: Travis
These maple-leaf pastries are commonly found at Hiroshima or on Miyajima Island. When translated, Momiji actually means maple leaf, and Manju means popular Japanese sweet snack. It commonly comes with a red bean filling, but variations have been said to contain chocolate, cream cheese and cream. These pastries fit snugly into one's palm, and are a nice comfort food.
Travel Cheat Sheet Tip: I highly recommend making a day trip from Hiroshima to Miyajima Island! The island is a mere 20-minute train ride and 10-minute ferry ride away from Hiroshima, and is home to the famous floating torii gate. The island is also home to lots of fresh oysters due to nearby oyster beds, so it can be pretty fun to go on a food hunt for the oysters, tons of yummy Momiji Manju and more. P.S. The island has lots of free-roaming deer as well!
To make things
even
sweeter,
booking with your flights with your credit card
gives you an ADDITIONAL:
S$50 rebate with a min. spend of S$800

Whopping S$120 rebate with min. spend of S$1800

12% hotel coupon code
WOW! I'm loving all these little perks ON TOP of the flash sale. Besides, flying with Cathay Pacific Airlines means that you even get to have a layover at Hong Kong Airport –  those few hours of transit are more than enough time to indulge in some good old dim sum or sink your teeth into some crackling roast goose. If not, the food served onboard is really authentic as well. Plus, Cathay Pacific Airlines is also known for their punctuality – delayed flights no more!
Speaking of having no time to lose – what's holding you back? ZUJI, just take our money now!
7. Japanese candy dolls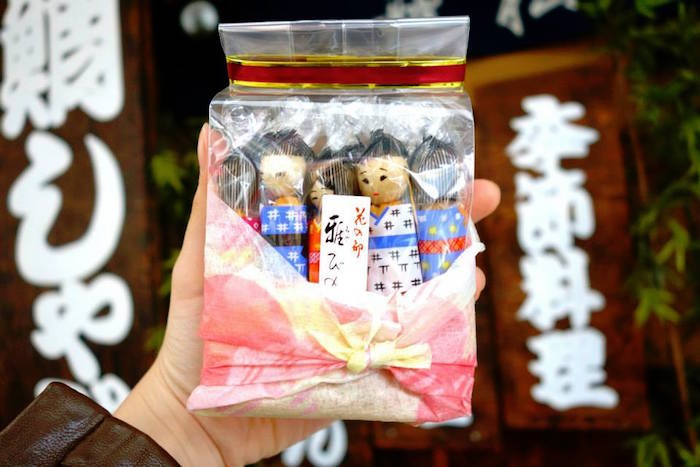 What makes a better souvenir from Japan than a packet of intricately decorated snacks decorated as Japanese dolls? This innovative packaging uses a round pea-like snack as the head and a long salty cracker as the body. What I love about Japan is the level of detail in their packaging – every snack is so delightfully packaged that I just want to buy them all – even if I haven't tasted them before! And this particular snack features Japanese women dressed in colourful kimonos, as well as Japanese men in their casual yukatas. They're almost too cute to eat!
Travel Cheat Sheet Tip: These snacks either come in individually packaged packets of 10, or in a giant bag containing 50 or so. Which you get depends on how many people you want to gift these to back home, but we won't blame you if you want to keep them all to yourself! This snack is commonly found in Asakusa, which is also known as the old town of Tokyo. Asakusa is home to the famous Sensoji Temple and Nakamise souvenir street, which is filled with stores selling the Japanese candy dolls.
8. Candied baby crabs
What caught my eye about this snack was the packaging, which depicts a giant cheery crab having lots of… smaller crabs in its mouth. Cannibalistic or quirky, it definitely piqued my interest. The candied baby crabs are actual small baby hermit crabs –  not crab-flavoured tidbits, but actual real baby crabs –  coated with sesame seeds and a sweet sauce. I don't know how you'll feel about devouring little crabs but, all that aside, they actually taste pretty darn good!
Travel Cheat Sheet Tip: From what I heard, the briny crunch goes pretty well when accompanied with beer as well. Perfect for that overnight mahjong session!
9. Owara Tamaten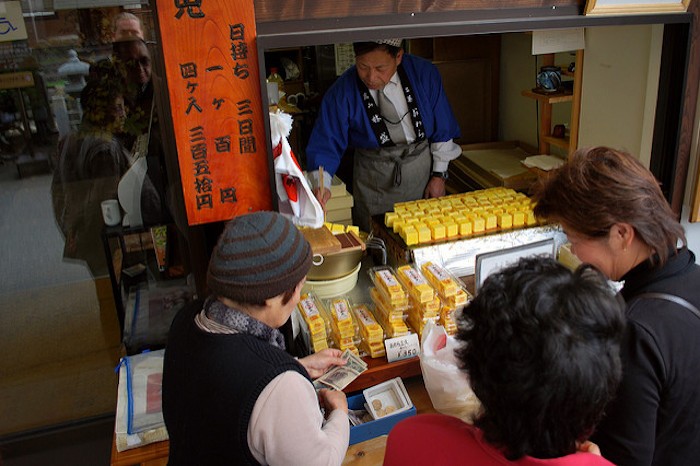 Image credit: (left) Aapo Haapanen
Owara Tamaten consists of a luscious yellow marshmallow cube that quite literally melts in your mouth. It's sweet like honey, and has a crusty exterior with a gooey filling. It looks like the well-loved tamagoyaki (a sweet Japanese egg omelette), but the cubed version. This snack is made on the spot by an endearing elderly couple, and the stall is often characterised by long snaking queues. These yellow delights can be found at Miyagawa Morning Market in Takayama, a quaint Japanese town located high up in the mountains.
Travel Cheat Sheet Tip: Takayama itself is well-worth a visit, and offers a taste of rural Japan. The town is especially popular in the winter, where snow blankets the streets. Miyagawa Morning Market itself is located parallel to the picturesque Miyagawa River, which makes for a relaxing morning stroll. The stalls in the market are pretty liberal with giving out free samples, so do visit on an empty stomach!
10
.
Hiyoko Manju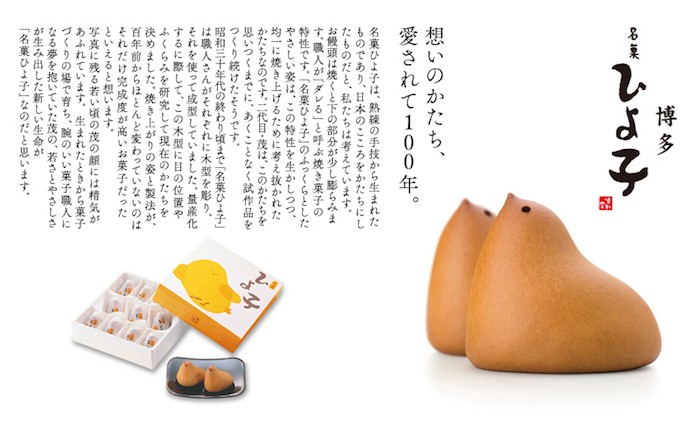 Image credit: Hiyoko
Hiyoko translates to 'chick' in English, and hence its only natural for this snack to come in the form of a cute little chick! Hiyoko Manju are a fragrant pastry with a sweet bean filling, and are a welcome change from the usual square or oblong shaped snacks. These cute little pastries have captured many a foodie's heart! The filling is pleasingly sweet, short of being cloying, and perfectly complements the soft aromatic exterior.
Travel Cheat Sheet Tip: These cute chick snacks originate from Fukuoka, and are most commonly found in that region. However, they were received with much fanfare that they're also sold in select stores in Tokyo. The box is really cute to keep as well, and even come with little compartments that you can use to store trinkets!
11. Baumkuchen layered cake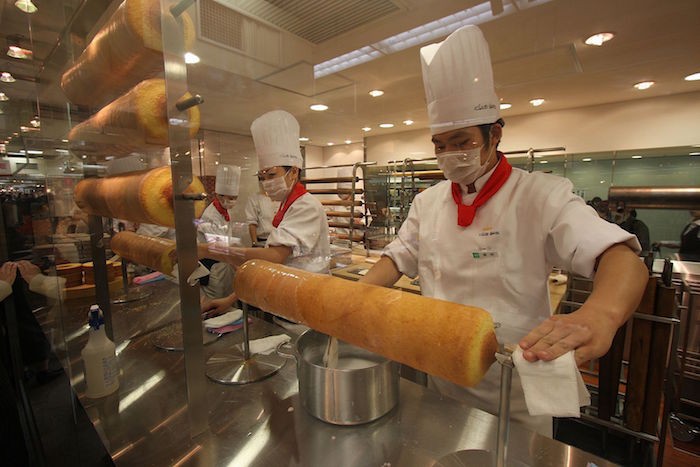 Image credit: Baumkuchen
Baumkuchen refers to a layered cake, where individual layers are added on after the previous layer has browned. How bakers do this is by rotating the cake on a spit and pouring the batter layer by layer. By allowing each respective layer to brown before the subsequent one is added, the end result reveals an intricately layered cake with golden lines between the layers. When sliced, the cake resembles the growth rings on a tree, and rightly so because Baumkuchen loosely translates to "tree cake" in English! I loved peeling the layers off layer by layer; the cake is really buttery and moist, and goes rather well with tea too.
Travel Cheat Sheet Tip: A popular flavour would be matcha, but the cake has a Tokyo Banana version as well – which might come in useful for when you're sick of the real thing but still secretly want a taste!
12. Keishindo Senbei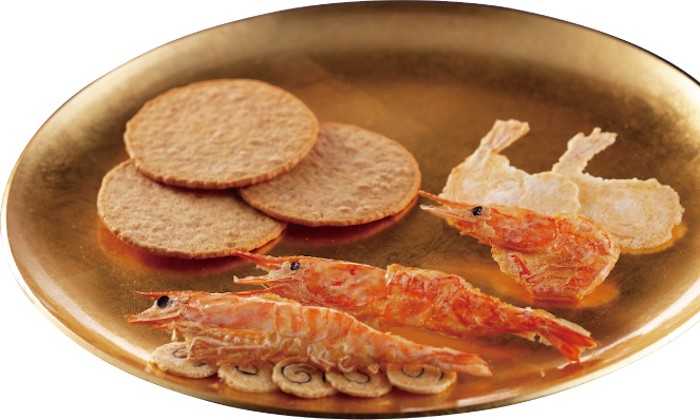 Image credit: Keishindo
These rice crackers can be found in any department store in Japan, but I actually chanced upon these in a vintage shop along the street. There are dedicated Senbei shops, which has an old-school nostalgic feel that makes the selling of these crackers all the more novel. These rice crackers are crispy and salty, giving that extra zing with every bite.
Travel Cheat Sheet Tip: They have crackers shaped like actual prawns as well, but from time to time they roll out some with famous Tokyo landmarks – such as the Tokyo Tower or the Sensoji Temple in Asakusa – imprinted on the cracker. It's an awesome souvenir that even showcases a glimpse of Tokyo!
Hungry yet? Well, stop dreaming about all these yummilicious snacks and go out there to get some for yourself! Why wait any longer to turn that dream into reality when ZUJI is having a FLASH SALE where tickets to Tokyo are going from just S$606?!
[FLASH SALE]
FLY TO JAPAN FROM S$606 ALL-IN WITH CATHAY PACIFIC ON ZUJI
Can't wait to start buying them all? Snap up your tickets to Japan with Cathay Pacific Airlines now – they're going from just S$606 all-in on ZUJI for 7 days only (30 Nov – 06 Dec), and we're sure they'll sell like hotcakes. In fact, they'll probably be gone in no time! Don't wait any longer, those snacks are just sitting on their shelves waiting for you to buy them. Book your tickets now before it's too late! P.S. These fares are exclusive to bookings made on ZUJI only!
If a trip to Japan isn't up your alley, check out these unbeatable fares that ZUJI is offering to Hong Kong from S$288, Bangkok from S$230, Taipei from S$421, Shanghai from S$449, Seoul from S$620 and Beijing from S$449 as well! Even better, book your flights with your credit card and you'll get:
S$50 rebate with a min. spend of S$800

Whopping S$120 rebate with min. spend of S$1800

12% hotel coupon code
ON TOP of the discounted fares! It's a dream come true. Remember that the FLASH SALE is on for 1 week – 7 days only!
The world is your oyster my friends, the world is your oyster. So, where will you fly to next?
For first-hand information about ZUJI's upcoming deals and promotions, simply subscribe to their mailing list right here and have them delivered right to your doorstep: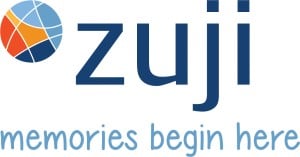 Thank you for your subscription.
By subscribing to ZUJI's mailing list, you will:
Be the FIRST to know about flash sales and exclusive airfares/promotions

Receive hints about flash sale timings – every minute counts!

Have first-hand information about ZUJI special promotions
Don't say we didn't tell you, the way to a man's heart is through his stomach. Book your tickets to Tokyo now to grab some snacks for your loved one! And lots for yourself too, while you're at it. Your friends and family will thank you later. Stay tuned for the next installment of our 'ZUJI Keeps It Real Series', but till then – Itadakimasu!
---
Brought to you by ZUJI.