Here's the deal: I am a ramen lover, or perhaps even a self-professed ramen connoisseur. While I was in Japan last year for an exchange program, I tasked myself with trying out most of the well-known ramen places in Tokyo.
I managed to try ramen from at least 30 different shops. I wanted to visit more, but at one point I came to the crossroads where I had to choose between ramen and keeping my hair on my head. I chose the latter. Here, I've compiled my favourites into a list so you don't have to risk your hairline to indulge in the best ramen.
Remember folks, it doesn't matter if you like men, women or anything in between. All that matters is ramen.
1. Ichiran Ramen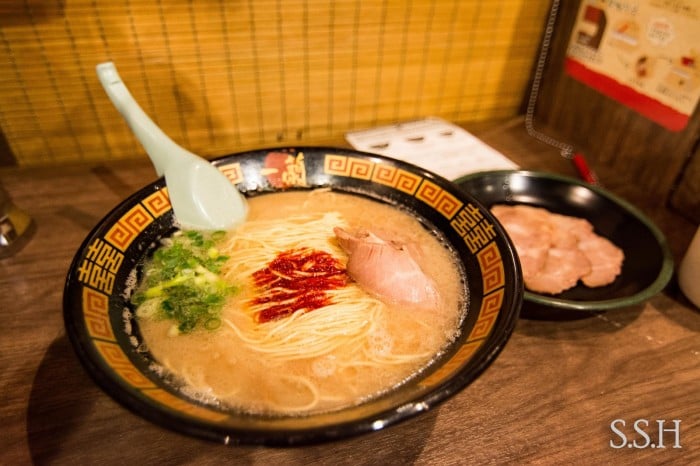 The supreme master of ramen shops in Japan, Ichiran is probably the most well-known ramen chain outside of Japan. A snaking line of hungry diners can be seen outside the shop every day – that's how popular it is. If you have been to Japan, you definitely would've heard of Ichiran even if you didn't get to try it.
Ichiran probably has the richest broth out of all the ramen shops that I have tried, as well as the option to customize the noodles to suit your fancy. Noodles are Hakata style (thin and hard) and Ichiran originates from Fukuoka, Kyushu. The only thing that could've been better would be the chashu; I found that it was just average-tasting and a good slice of pork could really elevate this dish to legendary-tier ramen.
Soup Base: Tonkotsu (Pork bones)
Price: 1000 to 1500 Yen
Nearest Station: N.A.
Address: Everywhere in Japan. EVERYWHERE.
Website: https://www.ichiran.co.jp/english/
English menu or English-speaking staff: Yes
Also read: 12 Underrated Foods You Should Never Leave Japan Without Trying
2. Ippudo Ramen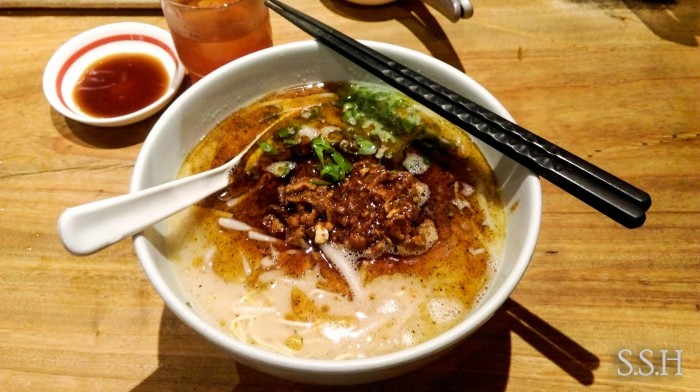 Ippudo Ramen is no stranger to many, especially ramen-lovers living in Singapore. Ippudo opened an outlet in Singapore a few years ago and has since gained rave reviews and is constantly packed during lunch and dinner.
However, after trying Ippudo in Japan, I can safely say that the original trumps their Singapore counterpart. Besides being cheaper than Singapore's Ippudo, Ippudo in Japan offers more customizability and a wider variety of ramen types and toppings, as well as side dishes.  
Soup Base: Tonkotsu (Pork bones)
Price: 700 to 1500 Yen
Nearest Station: N.A
Address: Found in many parts of Japan
Website: http://www.ippudo.com/
English menu or English-speaking staff: Most likely
3. Mutekiya Ramen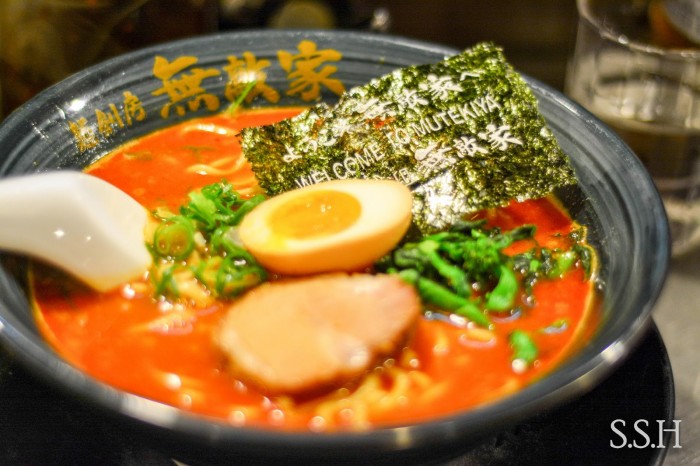 Located in the bustling district of Ikebukuro, Mutekiya ramen literally translates to" invincible/unrivalled ramen" – although there seems to be a lot of other competent rival shops around. Still, the ramen broth is thick and flavourful, and the noodles are slightly thicker than those of Ichiran and Ippudo.
There isn't really a particular aspect of the ramen that stands out for me, but the entire dish blends well as a whole, which is hard to achieve. Also, they have a piece of seaweed with the words "Welcome to Mutekiya" printed on it in every bowl of ramen. How awesome is that?
Soup Base: Tonkotsu (Pork bones)
Price: 750 to 1200 Yen
Nearest Station: Ikebukuro (Yamanote Line)
Address: 南池袋1丁目17-1, Toshima, Tokyo 171-0022, Japan
Website: http://www.mutekiya.com/
English menu / English-speaking staff: Menu in English
Also read: Have Some DIY Food Fun in Japan
4. Yamaguchi Ramen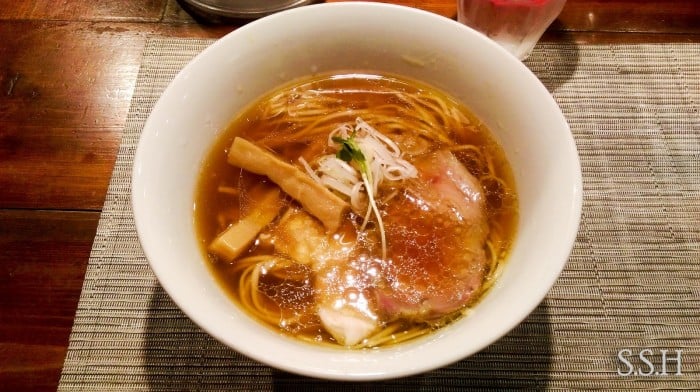 Located in the busy student district of Takadanobaba, Yamaguchi Ramen is the only chicken-based broth ramen on this list. From the picture, the ramen might look a little like Chinese chicken soup noodles, and to be very honest, it kind of tastes like it. The soup broth has that chicken taste but at the same time, it reminds me of shark's fin soup broth. (I do not endorse eating shark's fin soup, by the way. Save the sharks!)
For me, the part that stands out the most is the noodles, which are smooth, silky and springy; it's just like having a little piece of ramen heaven in your mouth. People who prefer 'cleaner' and less heavy soup bases would probably prefer this over the other ramens on the list. The shop is rather small, with only 10+ seats in total, and is usually packed during mealtimes. Yamaguchi, which is a 10–15 minutes' walk from Takadanobaba station, is listed in the 2015 Michelin Guide so…. better get those legs moving.
Soup Base: Chicken
Price: 780 to 1000 Yen
Nearest Station: Takadanobaba (Yamanote Line) or Waseda (Tozai Line)
Address: 2 Chome-11-13 Nishiwaseda, 新宿区 Tokyo 169-0051, Japan
Website: http://www.ramen-yamaguchi.com/
English menu/speaking staff: No
5. Watanabe Ramen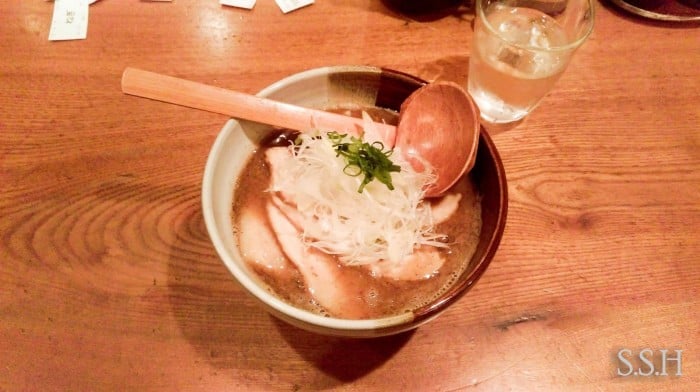 Of all the ramen shops listed here, Watanabe is probably the least known of them all. Most people wouldn't even notice the shop's inconspicuous entrance and signboard in a small alley near Takadanobaba. Watanabe is a tiny shop, probably housing a maximum of 10 customers at any given time.
What makes the ramen here stand out from the rest on this list is that the soup base is fish, rather than the usual Tonkotsu, Miso, Shoyu (soy sauce) or salt-based incarnations. This brings a unique taste which is rather flavourful, and I have to say that the bamboo shoots served are absolutely to die for.
The soup base is rather thick, which will not suit everyone's palate. For a lover of heavy soup bases like myself though, this really hit the spot on a cold winter night.
Soup Base: Fish
Price: 800 to 1200 Yen
Nearest Station: Takadanobaba (Yamanote Line)
Address: Japan, 〒169-0075 Tokyo, Shinjuku, Takadanobaba, 2 Chome−1−4
Website: N.A.
English menu or English-speaking staff: No
6. Tsuta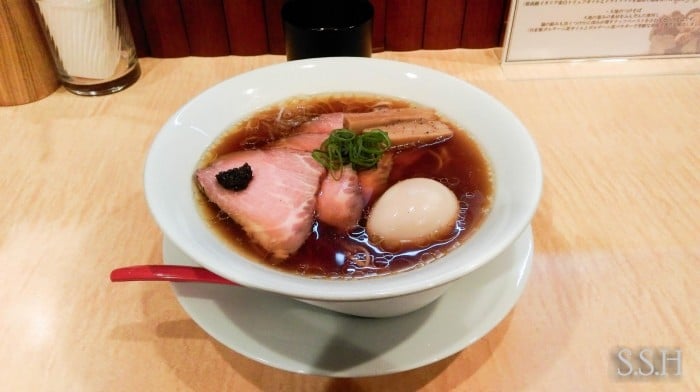 Tsuta Ramen is also the only Michelin-starred (one star) ramen shop on this list and also in the whole of Japan, which says a lot. The soup is Shoyu based, with some black truffle oil thrown into the mix for extra flavour. The noodles are quite similar to that of Yamaguchi ramen, and the chashu is chewy and flavourful.
The only downside is that you have to get a ticket very early as they are sold out by 1pm on some days. If you want to make sure you get to try Tsuta Ramen, head down to the shop at around 7–8am in the morning, and get a meal ticket which will indicate the time you should come back for lunch. After that, go walk around Sugamo and explore nearby attractions before joining the queue again for your turn to sit down and eat. No chatting, no taking photos and selfies in the restaurant. Just indulge in your ramen.
Also, before you head down to Tsuta Ramen, do check out their website for any closing days. If you don't, you might end up having to make multiple trips like I did. *cries in a corner*
Soup Base: Shoyu (Soy sauce) with black truffle oil
Price: 1000 to 1500 Yen
Nearest Station: Sugamo (Yamanote Line)
Address:  Japan, 〒170-0002 Tokyo, 豊島区Sugamo, 1−14−1
Website: http://ameblo.jp/yuki-onishi/
English menu or English-speaking staff: Menu in English, some staff can speak a little English.
Also read: What to Eat in Japan: 23 Must-Try Foods Other Than Sushi
7. Menchin-Tei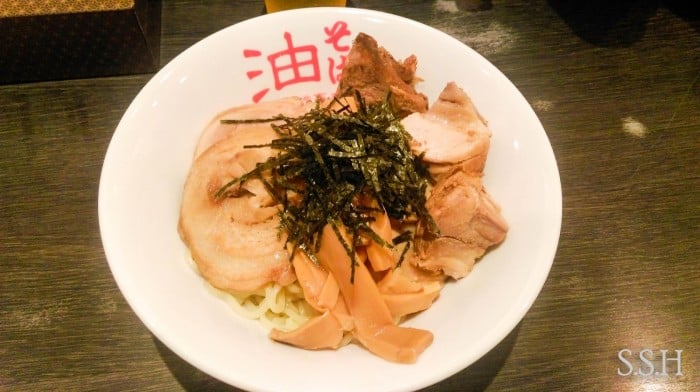 You might be looking at this and thinking, "but… that's not ramen!"
Nonsense. Of course it is.
Abura soba is basically dry ramen so I'm putting it on this list. Plus, not featuring my favourite noodle shop in all of Tokyo would be a blasphemy.
Located near Waseda University, Menchin-Tei is usually packed with hungry businessmen during lunch hour, and hungry students (like me) from the dormitory next door during dinner time. The process is simple: go in and buy your ticket, pour some vinegar, chilli, garlic sauce and chilli oil on your noodles, mix and eat. It's a heavy and flavourful bowl of noodles, and might be a little overwhelming for some. But if dry noodles are your kind of thing, you can't go wrong with this bowl of Abura Soba.
Soup Base: None
Price: 600 to 1500 Yen
Nearest Station: Waseda (Tozai Line)
Address: Japan, 〒169-0051 Tokyo, Shinjuku, 西早稲田2丁目3−25
Website: hit-men.co.jp
English menu or English-speaking staff: No
Bonus: Mamezen Soba
You may have noticed by now that all the aforementioned ramen dishes contain some form of pork or chicken, so what about our vegetarian and Muslim friends? The answer to that lies about 450 kilometres and a S$150 train ride away from Tokyo, in the heart of the ancient city of Kyoto. (Yes, I know that this is about ramen in Tokyo, hence this is listed as a bonus.)
Mamezen is one of the few ramen shops in Japan that is completely vegetarian, using soy milk as a soup base, as well as having flour-based ingredients and vegetables. The taste is rather good despite it comprising only plant components, and the ramen is not too pricey either. Strict vegetarians should note that the noodles contain small amounts of egg!
Soup Base: Soymilk
Price: 1000 to 1500 yen
Address: Japan, 〒606-0865 Kyoto Prefecture, Kyoto, 左京区下鴨東高木町13-4
Website: Mamezen.com
English menu or English-speaking staff: Menu in English, staff can speak a little English