If you consider yourself a true otaku and a fan of all things Anime, then there is no doubt that you have, at some point in your life, heard of this mystical little area in the city of Tokyo called Akihabara.
Although Akihabara was historically known only as an important shopping area for electronic goods, contemporary Akihabara is recognised as THE cultural centre for anime, manga, arcade and video games. Frankly speaking, it is an otaku's paradise on Earth!
So, for all you anime fans out there, here is the ultimate guide to Akihabara, specially designed for the otaku in you!
Basic information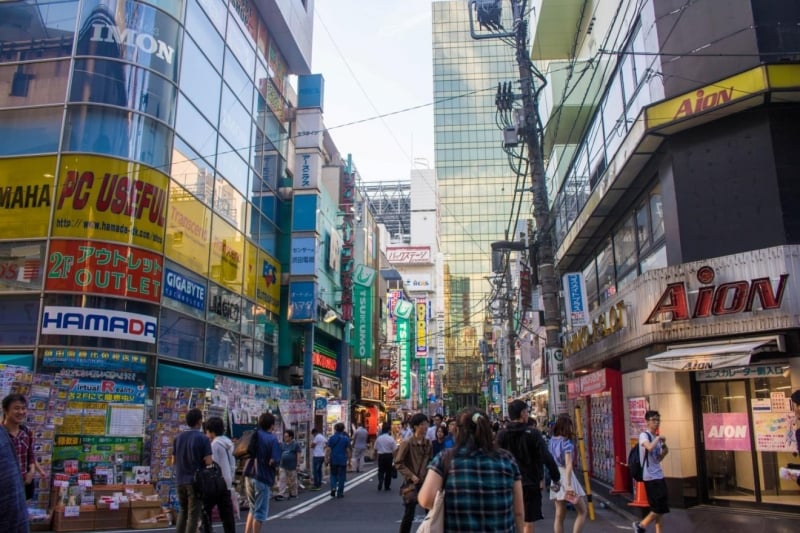 Now, now, I know everyone's excited but before we dive into the holy land of otaku culture, let's get some basic but essential info out of the way: how to get to Akihabara and when to go there.
Akihabara is one of the most accessible areas in central Tokyo (praise the anime gods!), with Akihabara JR Station connected to most, if not all, major subway lines departing major stations such as the Shibuya, Shinjuku, and Tokyo stations. A one-way subway ticket would set you back about 150 yen (about US$1.50) on average.
While any day is a good day to visit Akihabara in my book, be aware that on Sundays and public holidays, the Main Street crossing which intersects with Chuo Dori (we'll get to that) is closed to traffic, making it a pedestrian area! Yay!
Now that the boring stuff's done with, time to get to the juicy bits!
Unleash thy otakuness
If you hadn't figured it out by now, there's a ton of anime and manga related merchandise for sale in Akihabara. Whether you're there to hunt for that elusive figurine for your collection or just want to window-shop a little bit, you'll likely be bombarded with wave after wave of figurines, posters and other anime/manga memorabilia the moment you step out of the subway station.
While I'm certain that you'll be able to navigate to a shop just fine (they are everywhere, after all), there are some specific locations that you should check out for the very best otaku experience.
Where to go?
Chuo Dori is a good place to start to ease into the vibe of Akihabara. Here, both sides of the street lined with game and hobby shops specialising in Japanese pop culture. In addition to anime/manga and vintage video game shops, you'll also find multi-storey arcades, gachapons and pachinko machines.
These are easy to spot if you love retro games. Just look out for classic video game symbols, like the Space Invaders or SEGA's company logos. Most of the games are fun and there's always a chance of nicking something neat, but I must caution that if you've already spent 5,000 yen on one claw machine with no luck, it's probably best to just move on or buy whatever it is you're trying to get.
While we're on the subject of Chuo Dori, one anime/manga store that I highly recommend is Mandarake. Mandarake is a huge franchise with branches all over Tokyo. That being said, the Akihabara branch is one of the biggest, featuring eight floors (EIGHT!) of collectables, DVDs, CDs, and manga.
Apart from being one of the biggest stores in the area, Mandarake is also unique because of its collection of second-hand goods. Yep, a large portion of the merchandise in Mandarake are pre-owned (but still in top condition), meaning there's always a chance of stumbling upon rare, vintage memorabilia here.
My advice is to take the elevator all the way up to the eighth floor and slowly work (and shop) your way down. Alternatively, the Gamers flagship store (right outside one of the subway station exits) and Radio Kaikan are also popular shopping option for anime/manga merchandise. Take note however that the upper floors of Gamers close at 9 pm, an hour earlier than the ground floor.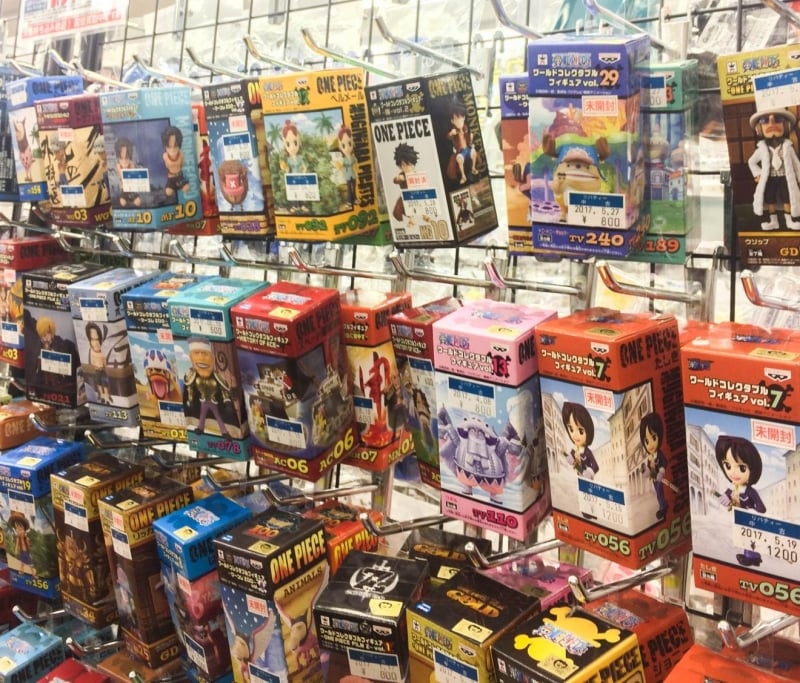 Additionally, ACOS Akihabara in the Akiba Cultures Zone is but one of the many stores in the area which specifically sell cosplay materials, including wigs, uniforms and props. If you're not looking to transform into Naruto for the day, don't worry, because some items sold in the store can double up as the perfect souvenir. Ninja mask, anyone?
And what about food?
While you will find no shortage of tasty snacks and scrumptious meals on offer in Akihabara, a more uniquely otaku experience would be to visit a maid café. While I don't have any particular ones to recommend, I have a feeling you won't need me to anyway.
That's because you'll find the maids around about every other corner of the street advertising their cafes by handing out flyers. A word of warning: some maids do not appreciate having their photos taken on the street. If you want free photos with willing participants, cosplayers often take to the street on Sundays and they are often more than willing to pose for the camera.
Most maid cafes offer menus comprising sweet treats (food, I mean) and a selection of pastries and cakes. Honestly, some of the prices are a little steep compared to an ordinary café, but I suppose the experience makes up for the price difference, eh?
In addition to the maid cafes, there's also a Gundam themed café right outside the west exit of the JR Akihabara station. Here, the waiters/waitresses are dressed in modified Gundam uniforms, which, if you ask me, is reason enough to pay the café a visit.
J-Pop Haven
I'm pretty sure I've mentioned this before, but I'm more into K-Pop than J-Pop. However, sometimes a particular group can get so popular that you become aware of them even though you're not much of a fan of the genre.
AKB48 is a big deal in Akihabara. The Japanese girl idol group did originate from the area after all. So, you can find an AKB48 café (right next to the Gundam Café), and, more importantly, the AKB48 theatre can be found on the 8th floor of Don Quijote, which is something like a discount retailer franchise. Tickets for live performances go for about 3,000 yen (about US$30) and are quite frequent in nature. Good luck getting those tickets though, you'll need it.
Of course, if you're into other J-Pop artists, you can find their latest releases and albums on sale in music stores every two or three buildings apart while walking along Chuo Dori (seriously, you need to check this part of Akihabara out).
Not just otaku culture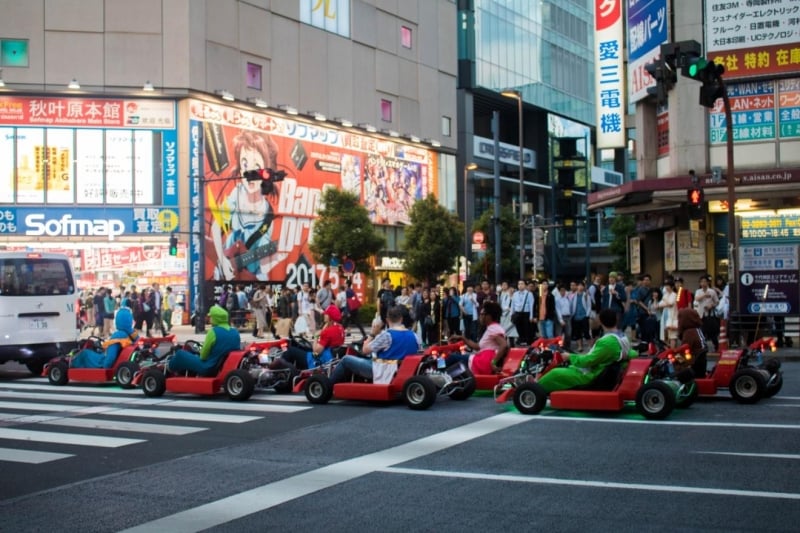 Of course, there are many other things to do and see in Akihabara, such as real-life Mario Kart and the Kando Myojin Shrine. But as the title suggests, this guide to Akihabara is tailor-made for the die-hard fans of Japanese pop culture and while I'm sure I didn't cover every major store/attraction (hey! I was pretty dazed myself from all the flashy neon and the window-shopping), this article and the locations listed is a great place to start your pilgrimage in the heartland of Japanese anime and manga culture!