Always dreamed of going on safari, yet find yourself lamenting how Africa is so far away? We've recently discovered another way to fulfil that wistful dream! Nestled in the middle of the state of Assam in India, Kaziranga National Park boasts a wonderful diversity of wildlife and fauna. Open daily from 1st November to 30th April, this teeming wilderness features a vast expanse of panoramic forests, scenic marshlands and calming rivers!
Declared as a World Heritage Site since 1985, and serving as a protective stronghold for a number of endangered species, Kaziranga is one of the few places in the world where you can view nature in its purest form. From tigers, rhinoceroses, water buffaloes and elephants, wildlife enthusiasts will be in for a splendid treat as they travel through the conservation park.
Still not convinced as to why you should save on your flights to Africa? Well then, let me introduce you to 8 terrific reasons as to why you should definitely consider Kaziranga, Africa as your next wildlife destination!
1. It's home to two-thirds of the world's greater one-horned rhinoceroses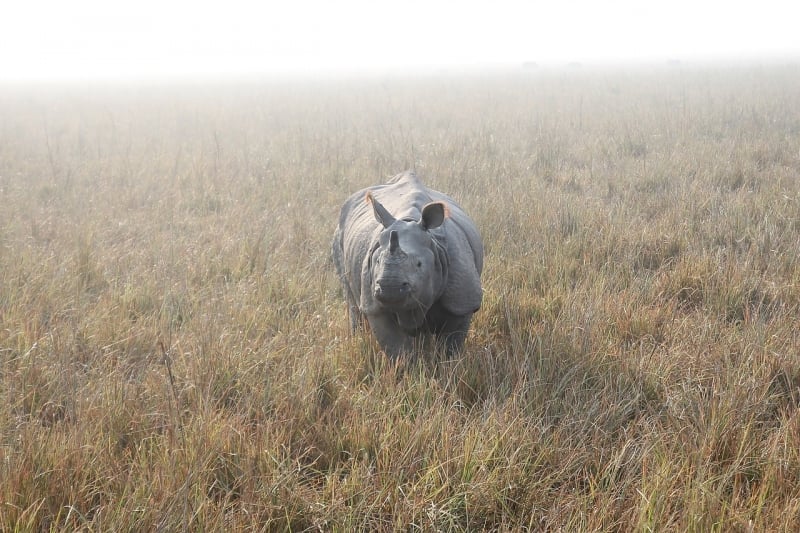 The great one-horned rhinoceros once populated the plains of northern and eastern India, but their numbers were quickly cut down due to excessive poaching and agricultural development over the years. Today, about 3,000 of these rhinos can be found in the wild, with almost 2,000 of them calling Kaziranga their home.
You'll be able to spot them almost everywhere in the national park! From grazing on grasses and shrubs, congregating at bathing areas or nuzzling noses with other rhinos, the great one-horned rhinoceros are a signature attraction of Kaziranga. They are solitary creatures, often bolting away at the first sign of danger, so there's very little to fear from these shy animals.
I personally felt a tinge of sadness, knowing that these great one-horned rhinoceros are only commonly sighted in the wildlife preserve. Poaching still remains a huge threat to these endangered species, with their horns being a favourite commodity on the black market as a popular ingredient in traditional Chinese medicine.
2. Choose between cruising on a jeep…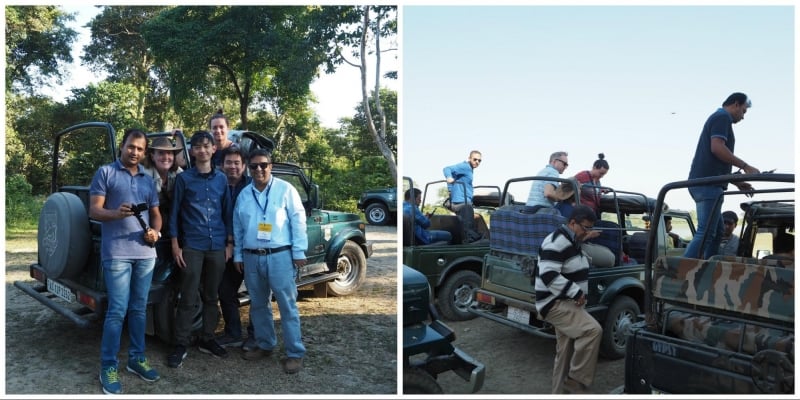 At Kaziranga, you're given the choice of exploring the national park by jeep, where you'll be able to stand at the back and enjoy the scenic tour. There's no need to worry about falling off, as the drivers will set a gentle pace throughout the safari! They'll also stop the vehicle at times to point out nearby wildlife and attractions for your viewing pleasure.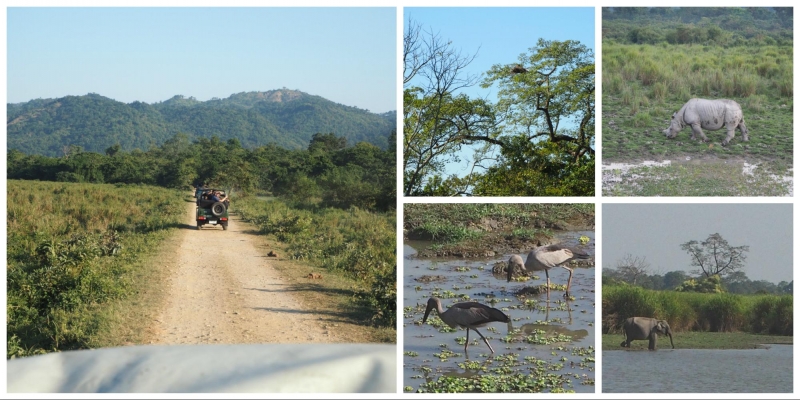 The jeep safaris run around fixed circuits across various ranges, from which you can select a desired route depending on what you're looking to spot in Kaziranga. The western range of Bagori is a hot favourite amongst tourists, as they'll have a higher likelihood of spotting the greater one-horned rhinos in the area. Birdwatchers may alternatively lean towards to the eastern range of Agaratoli for its rivers and the diversity of water birds.
3. …or riding a lumbering elephant!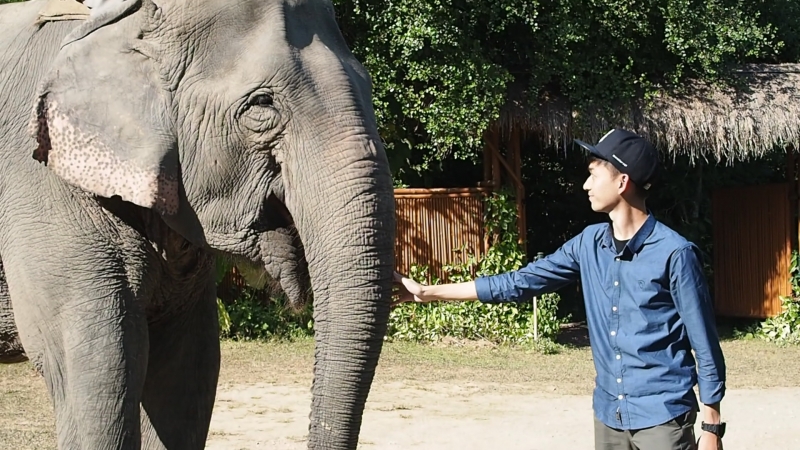 If riding a vehicle doesn't sound too exciting for you, then how about traversing through Kaziranga on top of a fully grown elephant? With the guidance of a mahout, or an elephant rider, you'll be able to mount these majestic beasts and traverse Kaziranga in a unique way. You won't be restricted by roads or obstacles, as your elephant will easily navigate through tall grasslands and mud with complete ease.
The best thing about riding on top of these tamed elephants is that you can get really close to the animals in their natural habitat without spooking them! The native creatures are less likely to run away in fear at the sight of an ambling elephant herd than a speeding jeep. That means you'll be able to take plenty of wildlife photos from the amazing top-down view on  an elephant's back!
4. The entry fees are super affordable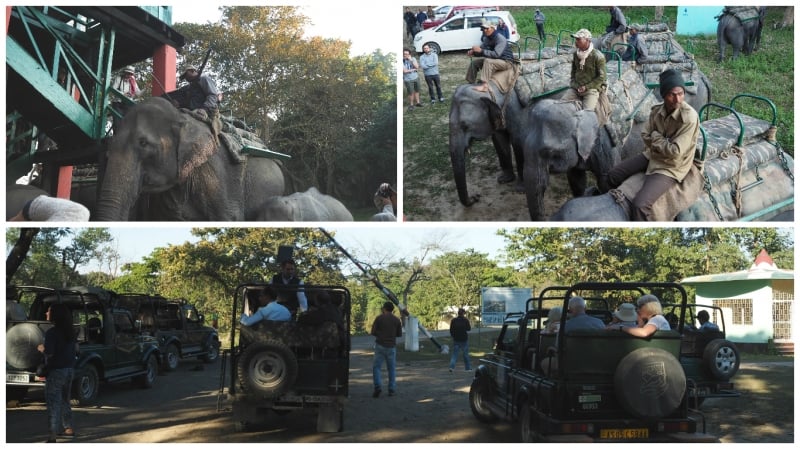 Before stepping foot into Kaziranga, you'll need to register and pay for your entry fees, on top of other miscellaneous taxes. For those visiting for the first time, the calculations may be a little overwhelming at first! But once you break it down, it becomes a lot easier to understand.
Any foreign visitor who wants to go on an elephant ride will need to pay for an elephant seat, an entry fee and a guard fee, which totals up to about 4,000 rupees (~S$81). If, however, a tourist decides to hop on a jeep safari instead, he or she will require payment for a vehicle rental, road toll, an entry fee and a guard fee, totalling up to about 3,000 rupees (~S$63). Additional fees also apply if you're bringing professional photography equipment or planning to feature Kaziranga in a documentary film.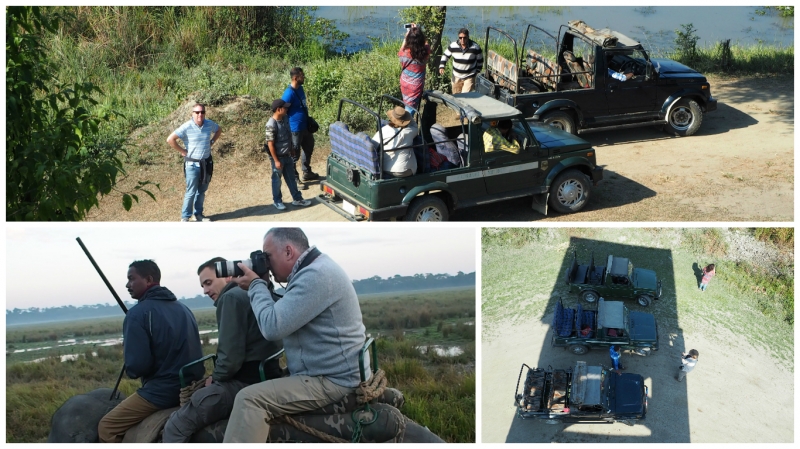 Compared to African safari tours which average about US$800 to US$1,000 (~S$1074 – S$1343) per person, the prices in Kaziranga are a godsend if you're looking to preserve your travel budget! Furthermore, the safaris only last two hours at the most, which was good news for me, as I wasn't exactly sold on the idea of spending the night camping in the wilderness!
5. Interact with the friendly locals and guides
The guides in Kaziranga are often more than happy to share their stories and tales with interested visitors to the national park. My own guide highlighted certain areas to be popular tiger spots in the western range of Bagori as we drove along. He also went on to share the best dates and times to visit for a chance to catch the elusive cat napping in the middle of the road, something we were very thankful for!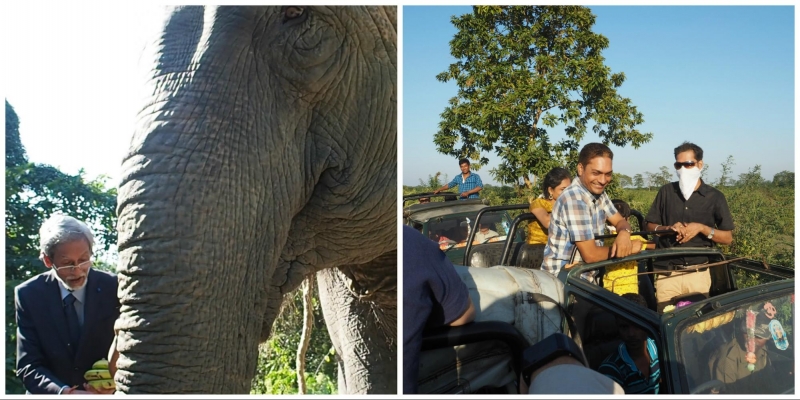 The locals in the area also share the same cordiality as the tour guides in Kaziranga, with the more amiable ones sharing their own personal sightings around the national park for us to explore, and catch sight of the animal in question. Many of them are also avid animal lovers, and are glad for a chance to regale anyone with their passion and knowledge on the animals in the national park!
6. Go on a spontaneous wild hunt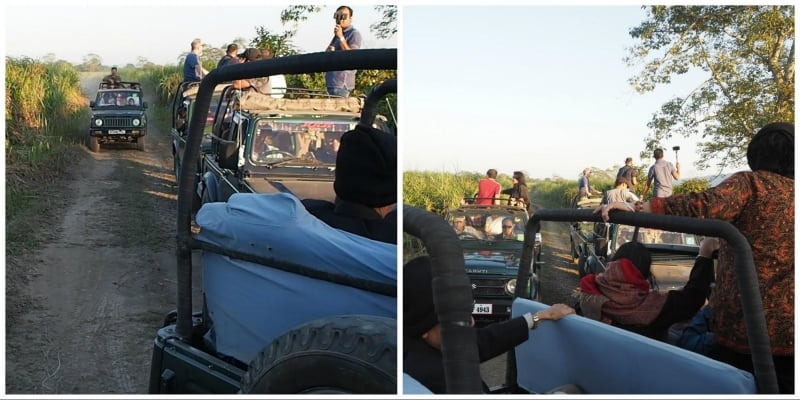 During our jeep safari, we were travelling back to the starting point to end the day when the vehicle in front of the convoy suddenly slowed to a stop. Their driver immediately called for a complete silence amongst the group. Although I didn't know what exactly was happening, I took out my camera and waited patiently for any sign of animals in the bushes.
Within minutes, a loud scream from the front startled us as we scoured the surroundings to find out why. Imagine our surprise when we found out that a tiger had calmly walked out from the bushes, onto the road and in front of the jeep convoy, before disappearing into the bushes on the other side of the road! Despite the sunset, our guide immediately signalled to our driver for a speedy chase across Kaziranga.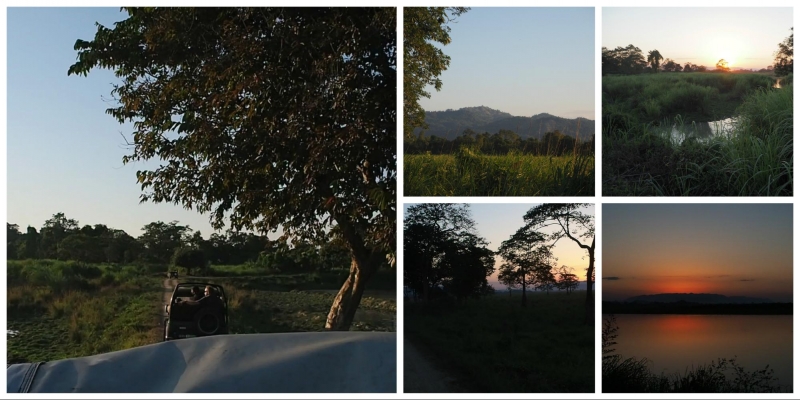 It was quite the wild ride across the national park, with our guide glued to his binoculars while directing our driver on a frantic pursuit for our shy feline acquaintance. We spent plenty of time camping at scenic spots in hopes of catching sight of the tiger once more. Unfortunately, we weren't that lucky and eventually went back empty handed. The adrenaline rush from the hunt itself, however, was enough for an amazing adventure!
7. Spend a night at one of their jungle-themed resorts!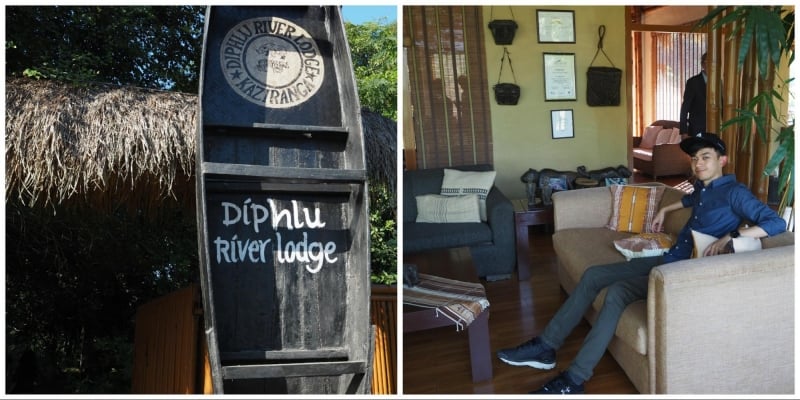 At the end of your safari adventures, treat yourselves to some rest and relaxation at the numerous accommodations located near Kaziranga. With their decorations drawing heavy inspiration from the national park itself, feel right at home with the wooden furnishing and jungle ornaments that perfectly blends the natural beauty of the area with the generous hospitality.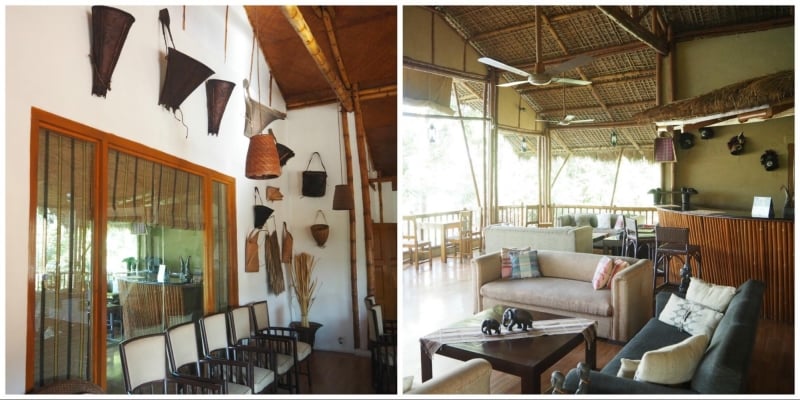 There are plenty of hotels, resorts and lodges that fit the bill for any sort of travellers. Tourists can easily get a comfortable single room for 3,000 rupees (~S$62) a night at Wild Grass Resort. For those looking for something more posh, a luxury room at Iora – The Retreat or Borgos will cost you about 6,000 rupees a night.
If budget is a concern, then renting a cosy tent or cottage from Nature Hunt Eco Camp will only set you back 2,000 rupees (~S$41) a night. Strategically situated away from crowded areas, it's also a great place for tourists looking to escape the hustle and bustle of city life!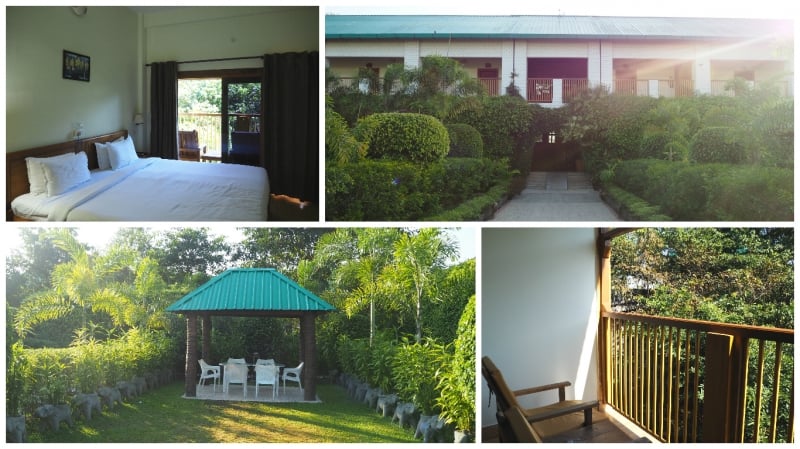 It's also worth noting that the staffs at these hotels are able to arrange jeep and elephant safaris at Kaziranga for their guests as well. Although slightly pricier than booking directly with the national park authorities, it eliminates the need of registering and going through troublesome paperwork. All you need to do is to express your interest, inform them on which date and time you'd like to attend, and you're all set!
In addition, if you have the time, clamber to the top of one of Kaziranga's observation towers for an unparalleled view over the national park. These points, which also serve the park rangers as a lookout point for illegal poaches or stray animals, offer tourists an aerial view of the lush greenery and the diverse wildlife below. These towers are also perfect for birdwatchers looking to get a better view of their feathered friends. It's the best place to watch out for the thousands of migratory birds looking to escape the cold weather. From local pigeons and pheasants to Siberian storks and ducks, the sheer number of avian visitors flocking to the nearby trees and rivers during the seasonal change has deemed Kaziranga to be a marvellous bird sanctuary as well.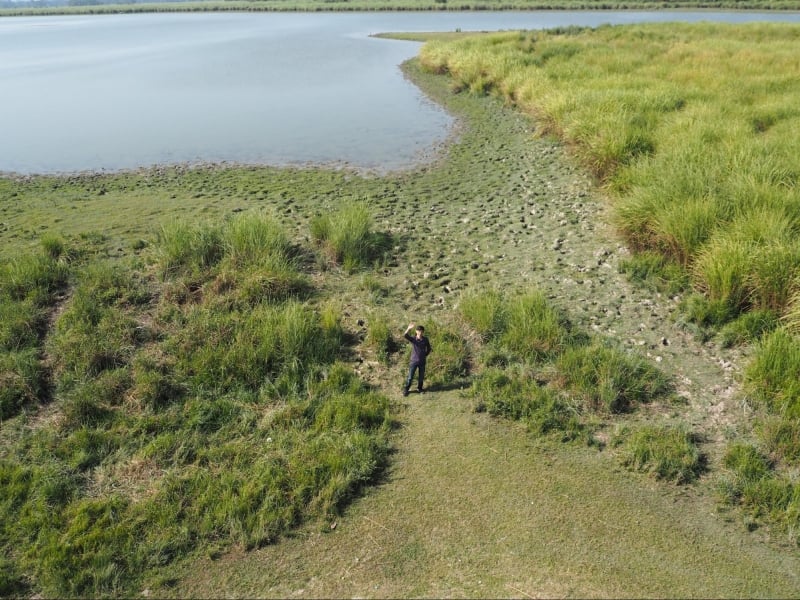 Has Kaziranga won you over yet as your next safari destination? With a rich biodiversity of animals, fauna and natural wonders littered across the boundless plains, you'll be missing out on plenty if you decide to give this wondrous place a miss. For more information, bookmark Incredible India's website and Facebook page. Whether you're in for the wildlife, the elephant rides or even the resorts, there's definitely something for everyone at this awesome national park!
---
Brought to you by India Tourism Singapore.