Located in northwestern South Korea, Incheon is best known as the home of Incheon's International Airport. For most, Incheon is just a stop before heading to the bustling city of Seoul. 
However, this port city is also an exciting holiday destination offering numerous travel experiences for all. From cultural streets to attractions by the waters, Incheon should definitely make it up your travel destination list. I had the opportunity to visit Incheon: these are the places you shouldn't miss on your next trip out to Incheon, the inspiring metropolitan port city!
1. Wolmi-do or Wolmi Island
An island just one kilometer off the mainland, Wolmi-do is connected by a highway, making it an easily accessible stop. Here, you can find the Wolmi Sea Train, Wolmi Fountain and Wolmi Theme Park – a perfect place to spend time with your friends and family for a day out by the sea.
Wolmi Sea Train and Wolmi Fountain
The Wolmi Sea Train service runs a 6.1km section along four stations throughout Wolmi Island and is the longest tourist monorail service in South Korea. The train is able to carry up to 46 passengers per ride and the entire route takes about 35 minutes. Boasting an impressive view of the island and the ocean, the Sea Train is perfect for all. Fare is set at 8,000₩ (S$9.38) for adults and 5,000₩ (S$5.86) for children.
Wolmi Theme Park
First opened in 1992, it was remodeled and reopened in 2009 with many new rides with includes the 70m-high Hyper Shoot Drop, Tagada Disco, a two-storey Viking Ship and a 115m-high Ferris Wheel. Featured in many variety shows, this theme park has grown in popularity in recent years as well.
2. Chinatown (It's home to a Jajangmyeon Museum!)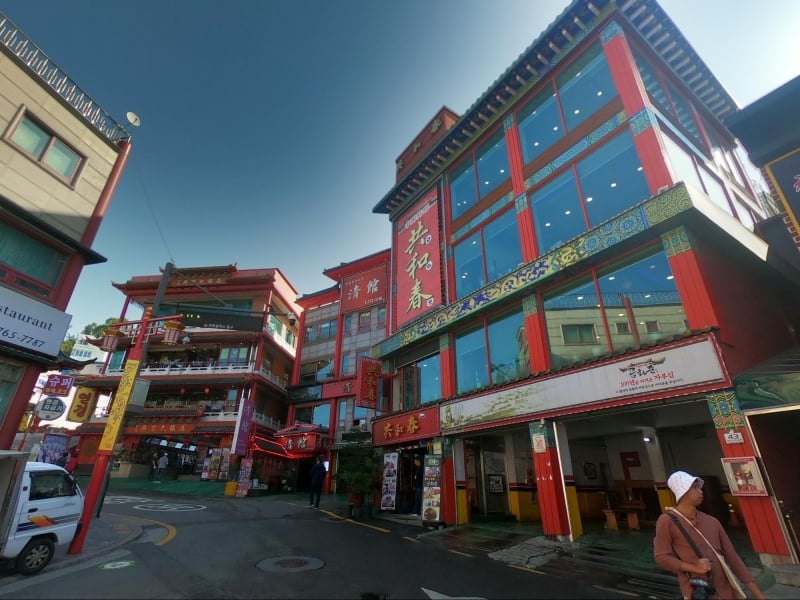 Incheon's Chinatown is one of the most popular streets after it came into being with the opening of Incheon Port in 1883. Most of the businesses in this area are restaurants and cafes, where you can sit back and relax as you enjoy the vibrant colors that decorated the streets. 
Today, the residents of Chinatown are mostly 2nd or 3rd generation Chinese, descendents of the early Chinese settlers. Much of the history is still contained and walking down the streets was truly an experience! There is even a Jajangmyeon Museum here dedicated to the famous noodle dish which originated from this very Chinatown in Incheon.
3. Songwol-dong Fairytale Village
Just a street away from Chinatown is the vibrant and colorful Fairytale Village. This dreamy village was built up as part of the government's plan to revive the housing areas which were falling into disrepair, an initiative similar to that of Busan's Gamcheon Cultural Village.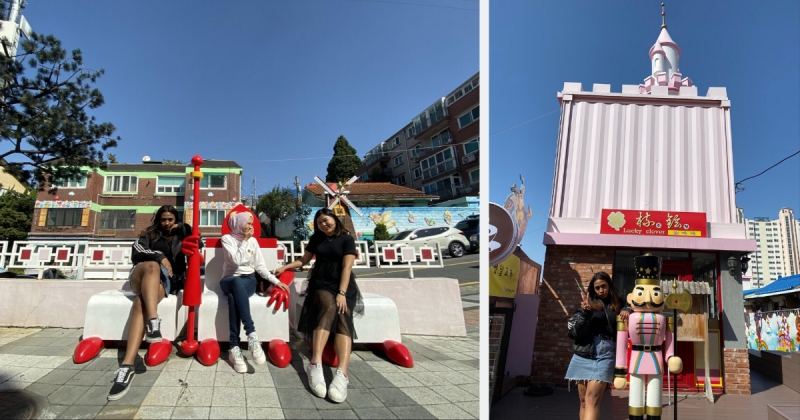 You'll find murals and characters from movies scattered on the roads and the walls scattered all around. Not only is this Fairytale Village perfect for families with kids, even I was excited at the colors and the life-sized characters all around!
4. Joyangbangjik Cafe
Joyangbangjik is one of the most interesting cafes I have ever been to! Formerly a textile factory since 1933, it was eventually refurbished into a vintage cafe. With a variety of drinks and desserts, you can enjoy the cafe while satisfying your cravings.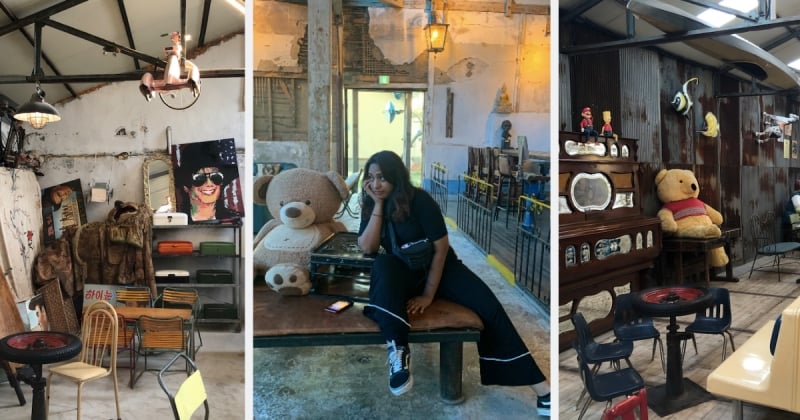 Every little room in the gallery-style cafe was an experience in itself and so tastefully furnished (even though it might look as if the decorations were placed thoughtlessly)! 
Each room was so well designed such that you can see the old remnants of the factory but yet still enjoy the modern twists. Even outside, there were decorated seating areas! I personally spent too much time just exploring the grounds!
5. Paradise City's Wonderbox
Paradise City is the first integrated resort complex in Northeast Asia and is also home to the family entertainment theme park, Wonderbox! Wonderbox is an indoor theme park with the concept of 'amusement park of the night' and of carnival fun. 
The two-storey building covers almost 4000 square meters. This theme park also features carnival-style games and several amusement facilities which includes a bungee drop, a Ferris wheel, a carousel and many others! This is the perfect place for families, with many rides for children and rides for adults as well.
See You in Incheon!
With so much to do, Incheon is the place to be! The next time you find yourself in this port city, spend a couple of days to explore its many hidden gems. Theme parks, exciting cultural villages and more awaits!
#TripZillaTip: Here's how to score a flight deal to Incheon! AirAsia is currently having promotions for flights from Singapore to Incheon (via Kuala Lumpur), with prices starting fromSGD194 for BIG members! Booking period is from now until 1 December 2019 and travel period is from now until 30 Jun 2020.
If you need more ideas to bulk up your itinerary around this incredible region, head over to Incheon Tourism Board's official website where you can discover even more sights to see!
Big thanks to Korean Tourism Organisation for facilitating this trip!