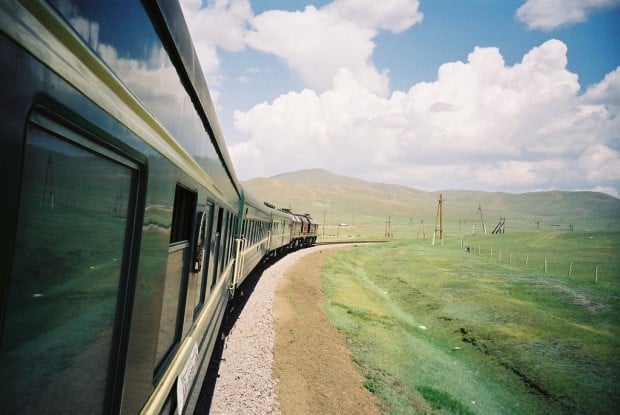 Image credit: Boccaccio1 
The Trans-Siberian Railway is the world's longest train journey. Some have it on their bucket list while others can't imagine being on a train for so long. I belong to the former group, and embarked on this journey in May 2015.
I'm a traveller who doesn't earn a lot of cash so I did everything on a low budget. Surprisingly, this epic train ride costs a lot less than what I expected based on my research. To help other travellers who are planning to take on the Trans-Siberian Railway, I shall present to you the breakdown of my expenses and some budget travel tips.
Note: All prices will be quoted in USD after converting prices from their original currency in June 2015.
How to purchase tickets
The process of buying tickets is different in China, Mongolia and Russia. Here is a brief summary:
China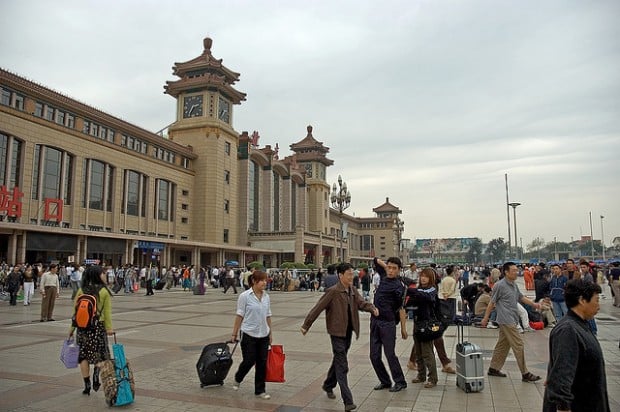 Image credit: Chris Hill
Arriving at the Beijing Railway Station is daunting because English is not widely spoken and there's a large building to navigate. Once you are in the right ticket office, go in and ask for availability and prices. Unfortunately, I was unable to get tickets here because the train from Beijing to Ulaanbaatar was sold out for the next week.
Your other option is to book using an agency online, and this 24 – 30 hour journey will set you back about $250+.
There is another much cheaper option, but you'll technically be "cheating" since it involves a bus ride. Hop on the bus from Beijing to Erlian, also known as Erenhot, then cross the border and then take a train from Zamiin-Uud to Ulaanbaatar. This total journey cost me just $57.45.
Mongolia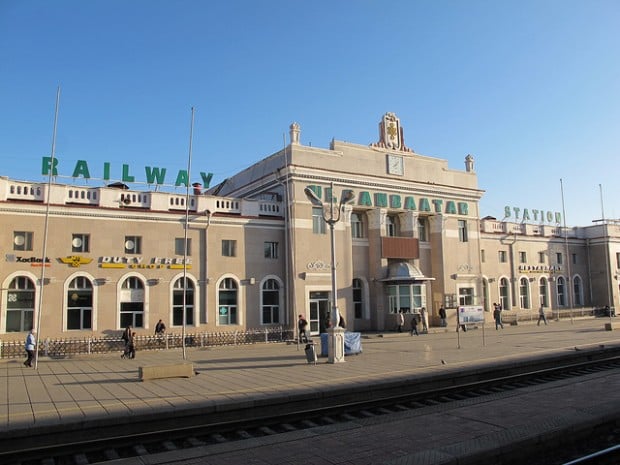 Image credit: Li Tsin Soon
Stopping in Mongolia for at least a couple days is a must. Ulaanbaatar is a fantastic stop off point, and the easiest way to book a train ticket to your next stop is through your guest house. They might charge a small commission, but they'll save you the trouble.
You will be given two or three train options depending on the day you leave. We chose the train that took two days to reach Irkutsk, departing at ~9:00am and arriving at ~8am, two days later.
Russia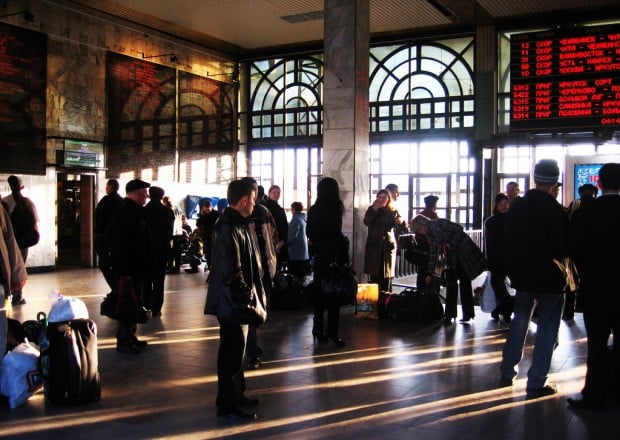 Image credit: Michael Chu
Finding ticket booths at Russian train stations is easy, thanks to signs in Cyrillic and English. Whether you get a ticket attendant who can speak English or not is a real gamble. The safest option we found was to write down exactly what we wanted in Cyrillic. Spend some time learning Cyrillic, and be sure to write down the details you need to show to the attendant.
While ticket offices in Russia don't always have attendants, they strictly follow the schedule. The closing time is posted on the window of each booth so if there are queues, be sure that you are not in a line that is closing within the next 30 minutes. You might find yourself lining up again at a different booth.
How much did the journey cost me?
Beijing to Erlian: $35.50 for an overnight sleeper bus from Beijao bus terminal
Crossing the Mongolian border to Zamiin-Uud train station: $10.15
Zamiin-Uud to Ulaanbaatar (2nd class): $11.80
Total for Beijing to Ulaanbaatar = $57.45
Ulaanbaatar to Irkutsk = $46.00
Irkutsk to Krasnoyarsk = $34.40
Krasnoyarsk to Moscow = $109.75
Moscow to St. Petersburg = $30.65
Total from Beijing to St. Petersburg = $279.55
Your overall expenses will vary depending on the number of stops you make and the current exchange rate. If you are taking third class and are not fussy with seating arrangements, our costs should be pretty similar. The major difference in my route compared to other travellers is the Irkutsk to Moscow route. Most people would drop off in Yekaterinburg but I chose Krasnoyarsk instead to explore Stolby National Park.
Is third class really rugged?
Third class, or as some call it cattle class, is not a rugged class at all. I was told it was going to be rough and filled with rude people but I found the opposite. Many of my fellow train passengers were Russians returning home after their one year army service. Everyone was friendly once introduced, and with a lot of charades, Google Translate and patience, I was able to learn plenty from everyone and I even made some new friends. Bring along family photos, as your fellow passengers will love to see them. Second class offers more privacy as there is a door to close off your berth, but the journey will be less social.
Will the trains be sold out?
The only train I had trouble booking was the one from Beijing to Ulaanbaatar or Erlian, and this was during the shoulder season. All the other trains I booked at the departure destination had plenty of available seats.
Choosing seat assignments
Depending on how large your group is and how many seats are left, you may or may not get beds next to your travel partner. On the train from Krasnoyarsk to Moscow, my friends and I were initially given a price for the four of us, and we tried to ask for a cheaper price. We were successful, but we found out later that we were spread across two different carriages. Initially, we didn't like this idea, but as soon as we got onboard, the benefits were awesome. Meeting people was easier, and finding seats in the dining carriage was easier too.
Keeping expenses low while on the train
You can buy a bunch of food in larger quantities at supermarkets in the cities you stop at instead of buying some unhealthy and expensive food from train station stalls or from the restaurant carts. Keep in mind that you have unlimited free boiling water on the train so choose noodles, oats, tea, canned vegetables, fruits, sandwiches and biscuits. Staying healthy while on the train is not going to be easy, but you should try.
Alcohol is also available for purchase at any stop where you could get off the train. Drinking some vodka on the train was part of the experience but we found that the train guards were not fond of any alcohol on the train. We indulged from time to time, and as long as you are subtle about the drinking, that means keeping the bottle out of view, there will be no issues. Don't get too rowdy, it is not a 'party train' and you don't want your new friends disliking you.
In general, the further west you head, the more expensive food and drinks become, though it is not by a great deal.
Also read: 15 Scenic Train Routes in the World
General tips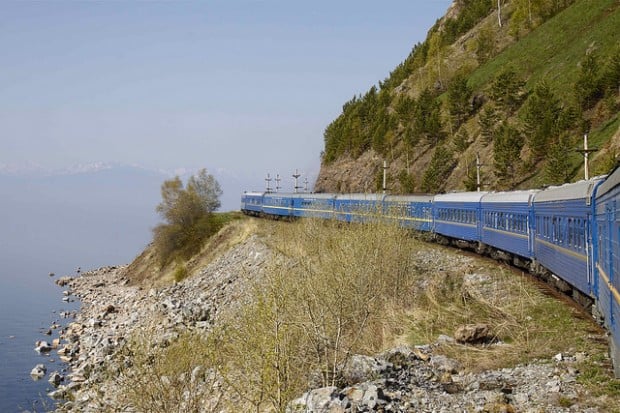 Image credit: Martha de Jong-Lantink
If you make friends with Russians, they may ask if you have 'Kontakt'. Initially, I thought they were asking for my Facebook, email, or phone number, but Kontact is actually the main social media platform in Russia.
Take advantage of the quick train stops, where you can get off the train for 10 – 30 minutes. Try to write down the stop timings if you cannot get a printout. The trains run on time with military precision so you can plan this part well.
On your journey, you will cross seven timelines. Moscow time will be printed on your Russian train tickets so always be conscious of the time in your current location and how far ahead of Moscow time you are. If you are unsure, ask a local for the time.
Mongolian currency is not exportable so be sure to exchange any Tugriks in Ulaanbataar or at the border. I am stuck with $150 worth of Mongolian currency.
Also read: Qinghai-Tibet Railway: One of the Greatest Train Journeys in the World
The train from Beijing to St. Petersburg or vice-versa is a once in a lifetime journey. The cultures of China, Mongolia and Russia differ a lot, and depending on where you are from, you could get the cliche 'culture shock' initially. Don't worry so much about the costs involved because the journey can be completed a lot cheaper than what you might expect, and the whole experience itself will give you so much more than what you paid for.