Whether you are already an experienced surfer or just want to test the waters (literally), there is always a great surfing spot in the Philippines to level up your skills.
As an archipelago composed of more than 7,500 islands sandwiched between the Pacific Ocean and South China Sea, the Philippines boasts of a long coastline where you can surf all-year round. However, the best time to catch a swell is anytime between August and early November, when most of the typhoons come into the country.
Also read: Top Destinations in the Philippines to Visit Even During the Rainy Season
If you're ready to catch some waves, here are among the top surfing destinations in the country!
Western Luzon
Pagudpud, Ilocos Norte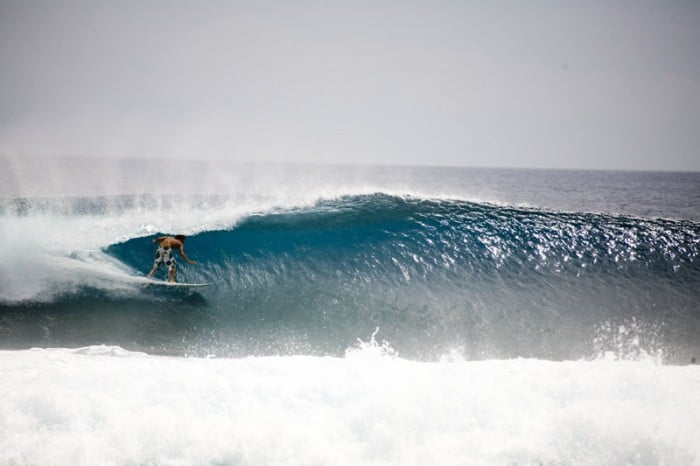 Image credit: Bryan nys
The Bangui Windmills is a testament of the strong winds that gush its way to Ilocos Norte, so it is not surprising why one of its towns is also becoming a famous surfing destination. While its white sands and blue waters are not as famous as the others found in this list, it is ideal for surfers who would like to avoid the huge crowds.
San Juan, La Union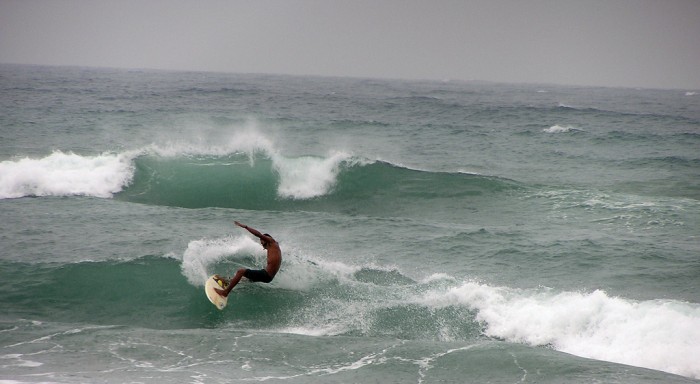 Image credit: dahon
While most surfing spots in the Philippines are located in the east, facing the Pacific Ocean, there are also a few awesome ones found on the other side of the country which faces South China Sea.
San Juan in La Union is considered as the Surfing Capital of the Northern Philippines and its beaches are lined with surfing schools that attract both local and foreign tourists.
Also read: Best Places to Surf in Asia
San Felipe, Zambales

Image credit: Lady May Pamintuan
Just a four-hour ride from Manila is another destination ideal for those wishing to try out surfing as a hobby. Sitio Liwliwa is a popular place for surfers and is located just a few minutes away from the national road. With its easy access from Manila, it is one of the easiest weekend getaways for surfing enthusiasts.
Eastern Luzon
Baler, Aurora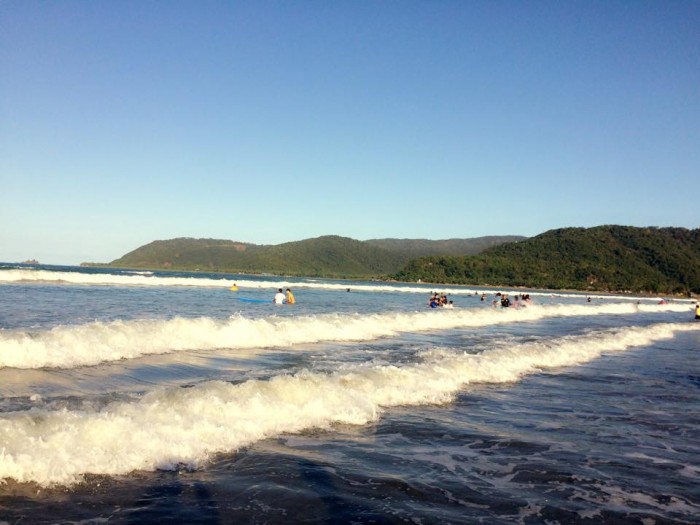 Image credit: Travel Jock
Baler is not just about history, it is also one of the best places to surf in the country. According to the locals, the surfing culture in the town started after the crew of Apocalypse Now left a surfing board after filming there back in the 1970s. Sabang Beach boasts of medium sized waves while Cemento Beach gets larger and stronger waves which is why surfing competitions are often held there.
Also read: 7 Easy Steps to Enjoy a Weekend Escape in Baler, Aurora
Bagasbas Beach, Camarines Norte

While most surfing sites feature powdery white sand beaches, Bagasbas Beach in Daet boasts of fine grey sand with big waves. A lot of advanced surfers frequent the place as it is known to provide great barrels, especially between July and November.
Puraran Beach, Catanduanes

Another renowned surfing destination in the Philippines, especially in the international surfing community, is Puraran Beach in Baras, Catanduanes. It is best known for fast and hollow barrels making it a favoured playground among local and foreign surfers.
Gubat, Sorsogon

Slowly gaining popularity is this small town in Sorsogon whose sand-bottomed beaches make the perfect surfing destination. It creates great swells for practising all-year round but the best ones often come between October and March.
Visayas
Also read: Escape the Crowd: These 10 Beaches in Eastern Visayas are Totally Unspoilt
Calicoan Island, Eastern Samar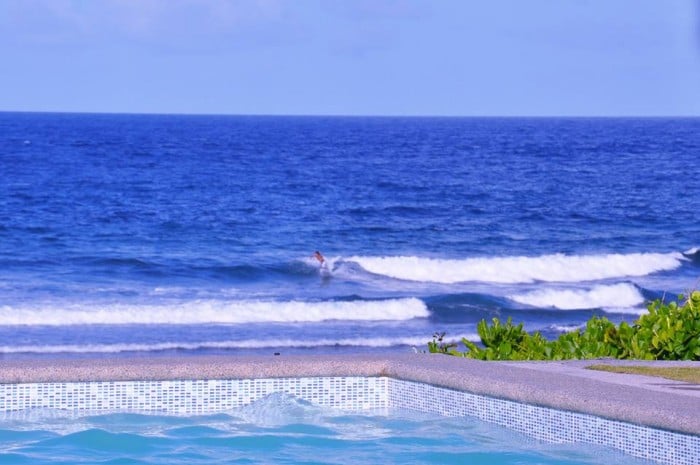 Image credit: Guiuan Tourism
Calicoan Island in Guiuan, Eastern Samar may have been badly hit by Typhoon Yolanda a few years ago but it certainly does not mean that the best surfers in the area have given up. Head on to ABCD Beach, find the local pros living in simple huts and have the beach all to yourself.
Dulag, Leyte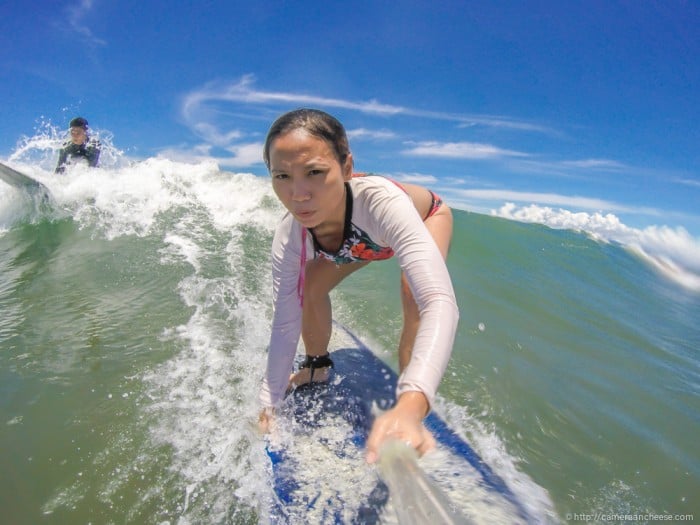 Image credit: Camera and Cheese
If you have yet to try out surfing, the surf camp in Dulag, Leyte might just be the place for you. The waves there are perfect for beginners — not too short and not too tall. While you might not feel as challenged there as you would be in the other surfing destinations included in this list, you will very much become addicted after a few tries on your board.
Also read: My Weekend Getaway: Sabang Daguitan Surf Camp in Dulag, Leyte
Mindanao
Lanuza, Surigao del Sur

Lanuza in Cantilan is most famous for its surfing camps that are perfect for beginner and advanced surfers alike. The best time to visit the place is between November and March where the waves are frequently huge and you can also get to choose whether to conquer reef breaks, beach breaks or anything in between.
General Luna, Siargao Island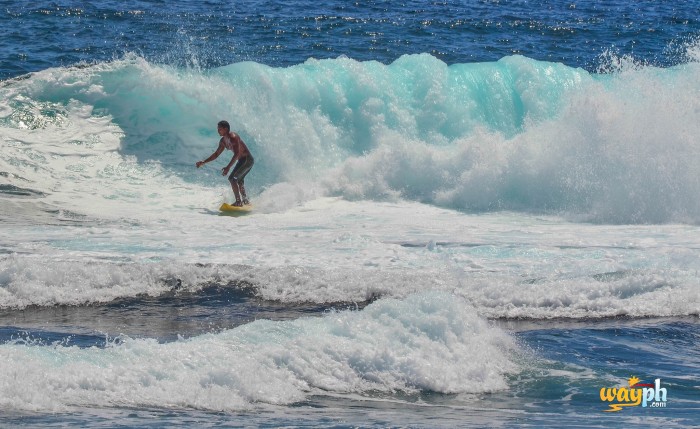 Image credit: Way PH
Perhaps the most famous place to catch a wave in the country is on the beautiful island of Siargao. Dubbed as the Surfing Capital of the Philippines, it is a favourite not just among local but also international surfers. Several local and international surfing competitions also take place here and are well supported by the provincial government.
Mati, Davao Oriental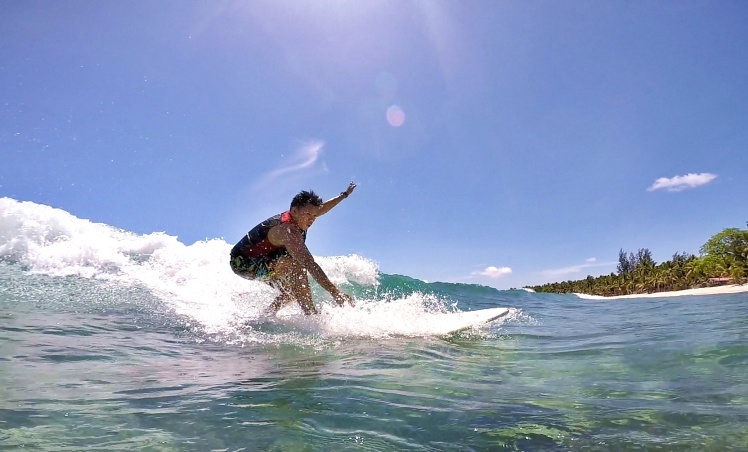 Image credit: The Red Kid
Dahican Beach in Mati boasts of seven kilometres of raw shoreline that is just the perfect playground for those wishing to try out or improve their surfing skills. It is more popular for skimboarders, however, thus earning the title as the Skimboarding Capital of the Philippines.
Also read: I Spent 3 Days Surfing and Flying an Ultra-Light Plane in Mati for ₱3,900
I'm quite sure this list has gotten you stoked already. C'mon — let's paddle up and catch those waves!