With more than 7,000 islands dotting the Philippine archipelago, it might get a tad overwhelming to explore the country, especially for first time visitors.
"When should I take this kind of transportation? How much would it cost me to travel from here to there?" I'm pretty sure you have these questions in mind. So here, let me introduce to you the different modes of transportation to help you maximise your time and budget as you travel around the Philippines.
Also read: Simple Tips for Travelling Philippines on a Budget
Jeepney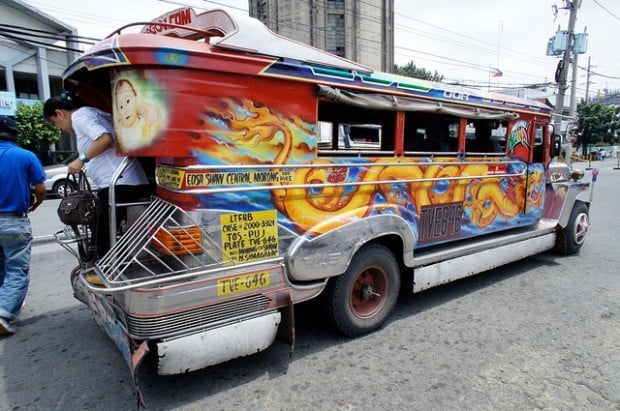 Image credit: Rajesh_India
Let's start with the country's "King of the Road", the Jeepney. You can easily spot jeepneys in major cities of the Philippines such as Metro Manila, Cebu City and Cagayan de Oro City, to name a few. These public utility vehicles come in many different colours and shapes, but a typical one is pictured above.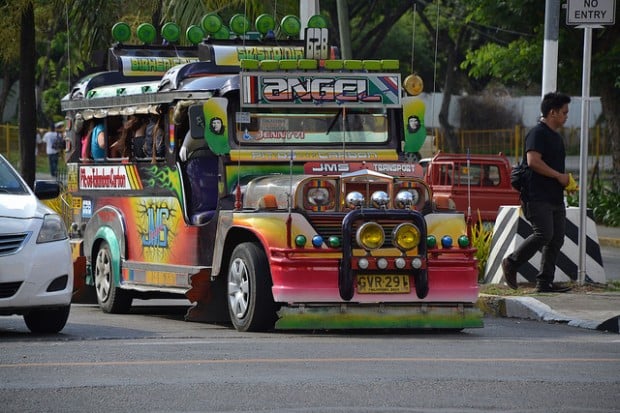 Image credit: shankar s.
62B jeepney in Cebu City, Pit-os – Carbon Route
Jeepneys follow certain routes which are written on the sides of the vehicle or on the placards hanging on the windshield. In some areas, route numbers are placed at the front and back of the jeepney so people can immediately see the route from afar. Of course, that is if you're already familiar with the numbers and the routes they signify.
To make sure that you're on the right track, ask the locals or the jeepney driver before hopping on the jeepney. Depending on the distance, jeepney fares range from PHP 7 to PHP 20. Ask the conductor, the driver or your co-passengers for the exact fare. You need to have some basic social skills for this, especially since you'll get squeezed into one small space with a bunch of strangers.
Also read: 20 Reasons Why Travelling to the Philippines is a Total Waste of Time
Bus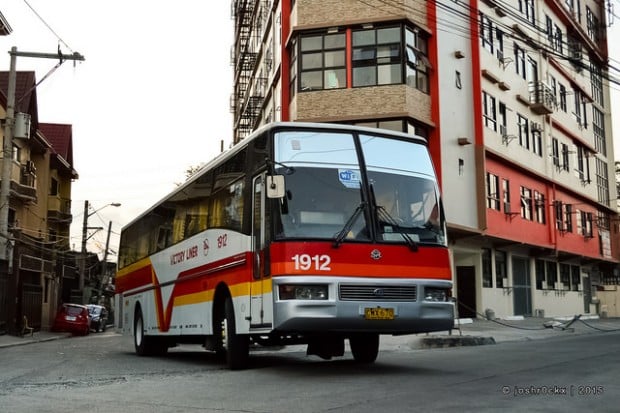 Image credit: joshr0ckx
For longer routes, particularly when going out of the city, buses are the most convenient method of transport. Say you want to explore the provinces of Luzon; you can go to the designated bus terminals in Metro Manila and hop on a bus. Fares could vary depending on your destination, but expect to pay from as low as PHP 50 to more than PHP 500.
Tricycle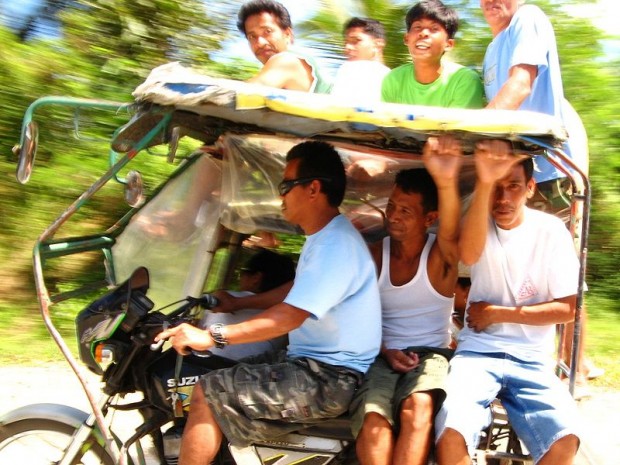 Image credit: Sir Mervs
The tricycle, a form of auto rickshaw, is common in small cities, towns and rural areas. The shapes and sizes of tricycles vary in different areas, but it's basically a motorcycle with a sidecar for the passengers. The tricycle is most convenient when you go to barangays or less urbanised towns where the roads are narrow and unpaved.
Some tricycles follow certain routes but most of them are for hire, so you can haggle and arrange for a special trip. Fares range from PHP 6 to PHP 250, depending on the place and distance. To be safe, always ask about the normal fares from the locals (not the drivers) so you won't get ripped off.
Habal-habal (motorcycle)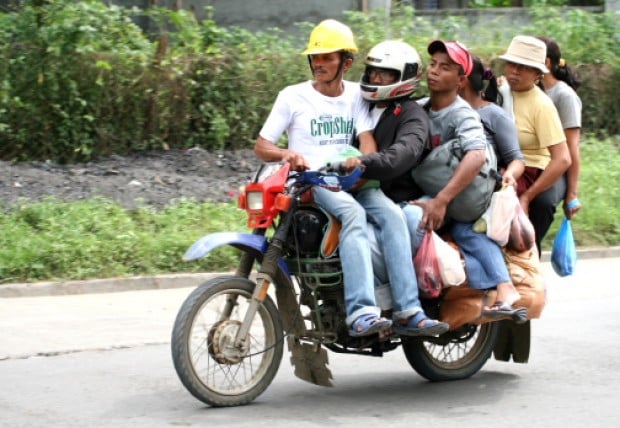 Image credit: Keith Bacongco
The habal-habal (motorcycle) is often referred to as the poor man's motorcycle taxi because it's cheap, convenient and can slither its way through steep and rough areas. Fares range from PHP 10 to PHP 100, depending on the place and distance.
Also read: 16 Things the Philippines Does Better Than Other Countries
In Mindanao, a different version of habal-habal is called skylab where wooden planks are placed across the back seat of the motorcycle to accommodate more baggages and passengers. This is definitely not for the faint of heart! You'll get what I mean when you watch this:
Train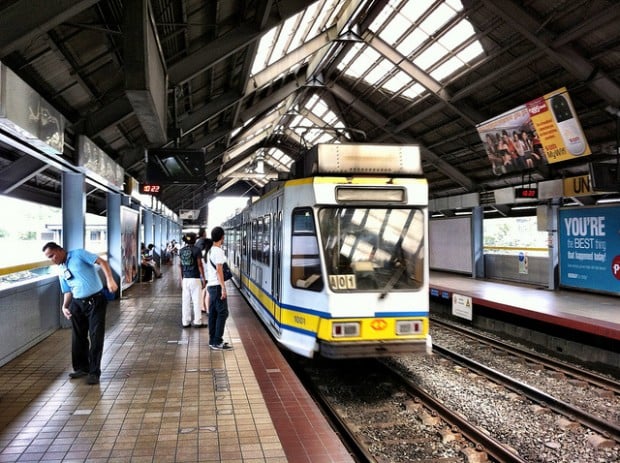 Image credit: Tim Riley
Trains can only be found in Metro Manila so in other parts of the country, you would have to settle for other means of transportation. Given the heavy traffic every day, the train is the fastest way to get around within Manila, but I must say that it's jam-packed with commuters, and it's not as efficient as the train systems in other countries. Expect long queues and crowds of passengers rushing to get inside the trains. It's worth the adventure though, if you really want to experience what it's like to commute by train in the country's capital.
Taxi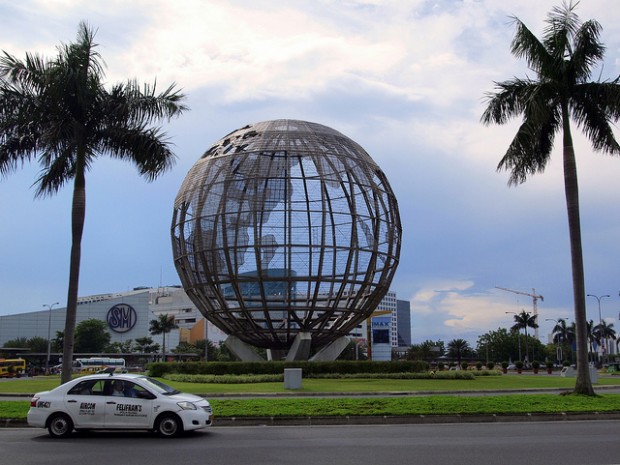 Image credit: Roberto Verzo
If all else fails, hail a taxi! It's almost everywhere in the country from big cities to small ones. Don't get tricked by some taxi drivers who would ask you to pay a fixed price. Rule of thumb is to travel by meter unless you go out of town, which is beyond the taxi's scope.
Car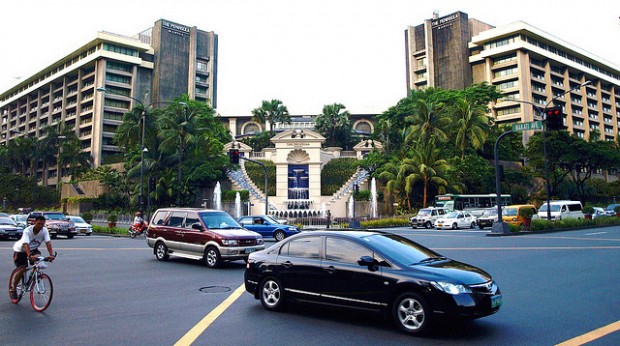 Image credit: Jun Acullador
Because of the many taxi issues, apps like GrabTaxi, GrabCar and Uber are getting popular in the Philippines, especially in Metro Manila. Just download the apps, and you can hail these private vehicles right at your fingertips. Unfortunately, they are only available in major cities like Metro Manila and Cebu, so you won't be able to use them in many parts of the country at the moment.
Boat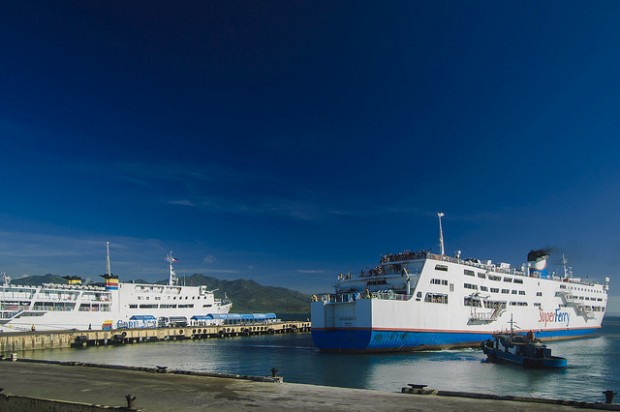 Image credit: Chrisgel Ryan Cruz
When you want to hop between regions and provinces by sea, say from Manila (Luzon) to Cebu (Visayas) or Cebu to Cagayan de Oro (Mindanao), you need to take the big passenger boats like SuperFerry. Depending on destination and season, fares range from PHP 800 to PHP 1,500.
Fast craft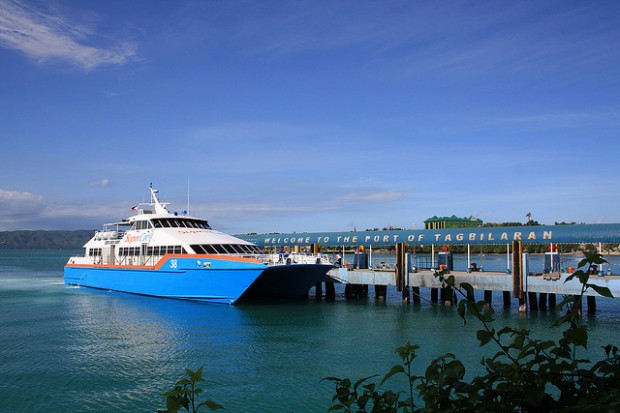 Image credit: Vincent Paul Sanchez
When you want to explore the neighbouring islands and provinces, the fast craft is the most convenient mode of transport. Say you're staying in Cebu but would like to visit Bohol or Leyte, you can take the SuperCat, Weesam Express or Oceanjet. Still depending on destination and season, fares could range from PHP 600 to PHP 1,000.
Ro-ro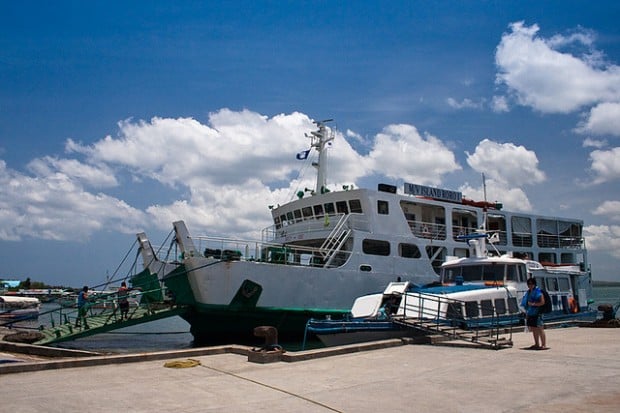 Image credit: Eugene
The ro-ro (roll-on/roll-off) ship is a type of sea transport that carries both vehicles and people. If you rent a car or have your own, and would like to go on a road trip to another island, you have to take the ro-ro. The built-in ramps allow your car to roll on and off the vessel easily. The ro-ro is usually available for short distance sea travel, so the fares wouldn't cost more than PHP 500.
Pump boat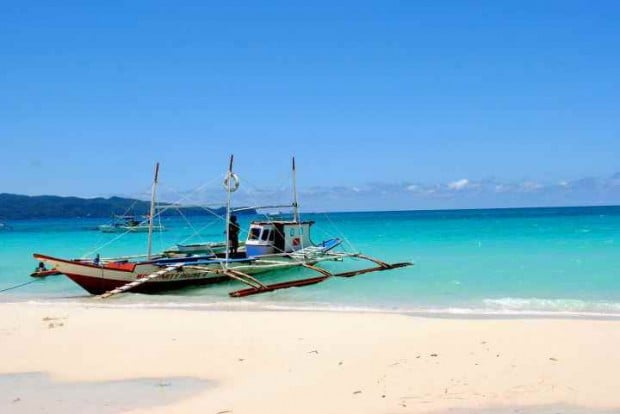 Image credit: Chill and Travel
A pump boat is an outrigger canoe powered by gasoline or diesel. When you want to go island hopping, you can hire a pump boat almost everywhere if there's a beach. Depending on the place and the pump boat's capacity, a special trip could set you back from PHP 1,000 to PHP 3,000.
Banca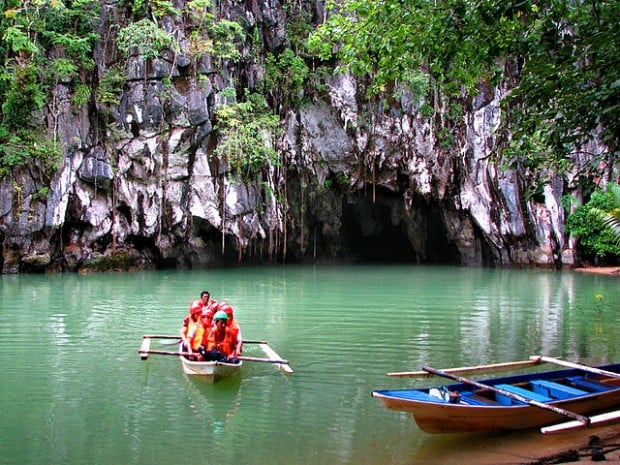 Image credit: Storm Crypt
Bancas are indigenous wooden canoes generally used by the fishermen. Sometimes, they're used for tourism purposes like entering a cave or going to another island which is not too far from the mainland. The cost of hiring a banca differs, depending on the location and nature of the trip. Always ask the locals or the local government tourism offices to avoid getting scammed.
Airplane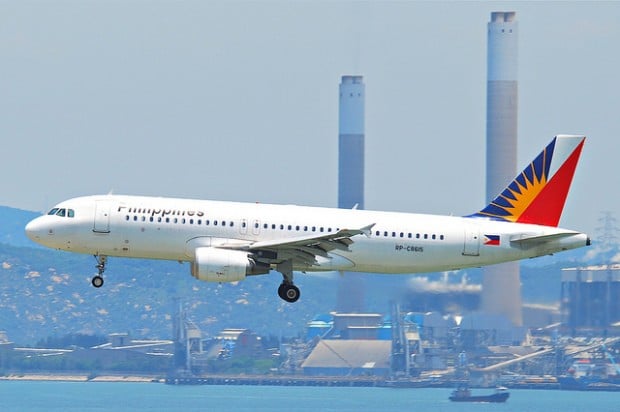 Image credit: Aero Icarus
While the airplane is not the cheapest, it definitely is the fastest mode of transport for inter-island travel. You only have to fly for an hour or so between domestic destinations. Major airlines operating in the country include Philippine Airlines, Cebu Pacific and AirAsia. Airfares could vary depending on airline, season and schedule. One-way regular fares could cost you around PHP 1,200 to PHP 4,000, but if you know the booking tricks, you might snag super cheap promo fares.
Also read: 15 Experiences You Must Have in the Philippines
Getting around the Philippines could be a little tricky, but once you're familiar with the different transportation options and approximate costs, it shouldn't be a major problem. The transportation system in the Philippines might not be the most efficient in the world, but adventure and a new kind of experience await you in every ride!