HOLA! VALE! ASEOS! These are the top three words that I learnt from my recent sojourn to the beautiful country of Spain. Oh, and I also recently added a fourth one to my limited vocabulary – "Despacito", thanks to the incredibly catchy tune and remix by Luis Fonsi and Justin Bieber.

Spain used to be some sort of an enigma to me, a country I knew little of other than the sprinkling of words like: Gaudi's architecture, football, tapas and sangria. So naturally, I was overwhelmed with excitement when I finally had the opportunity to explore this culturally and historically rich country.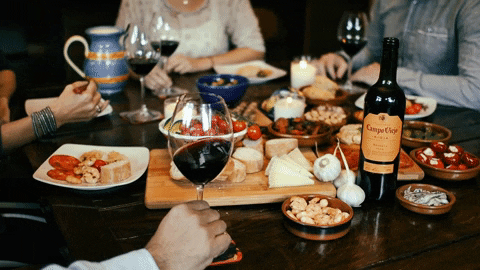 There's just something about the passionate roar of laughter at their dinner tables, the languid alfresco dining ambience, the clinking of sangria glasses, the generous platters of jamón and cheese… I could wax lyrical about the charm and beauty of Spain's cobblestoned streets, friendly locals and how cheap wine is everywhere, but then we'd be here all day.
So, let's start with the underrated Spanish city that stole my heart – RONDA.
If you're wondering where Ronda is, it is situated in the Malaga province of Andalusia. Offering spectacular views of the El Tajo gorge, I'm not kidding when I say the lush river valleys and dramatic escarpments literally blew me away. Every corner looked like it could be a desktop wallpaper. Not convinced? Here are 5 reasons that'll definitely convince you to add Ronda to your Spain itinerary for sure.
1. Cliffside hike. SPECTACULAR SCENERY. Need I say more? 😍
The first thing that struck me as I wandered around the cliffside paths of Ronda, was how different it was from the other Spanish cities. It was a much-needed escape away from the hustle and bustle of city life, offering copious amounts of greenery which were (literally) a breath of fresh air to me. After visiting numerous museums, cathedrals, and historical places in Spain, a healthy dose of Mother Nature's creations was exactly what I needed. 
Alameda Park: El Balcon del Cono & Mirador de Aldehuela Viewpoints
The first stop I headed to was Alameda Park. This was the best spot that provided unparalleled views of Ronda's impressive surroundings! I stepped out onto the balcony and looked down, only to find myself subconsciously holding my breath because the plunge was crazy. Such was the splendour of the view that stood before me, I could barely fathom that vastness of it all.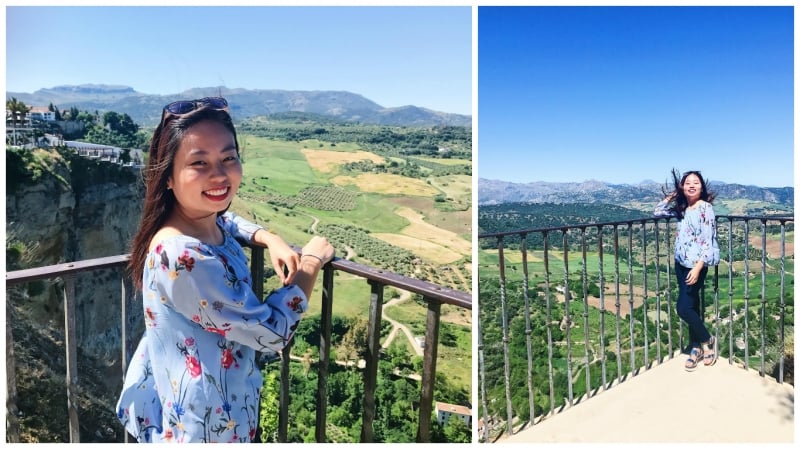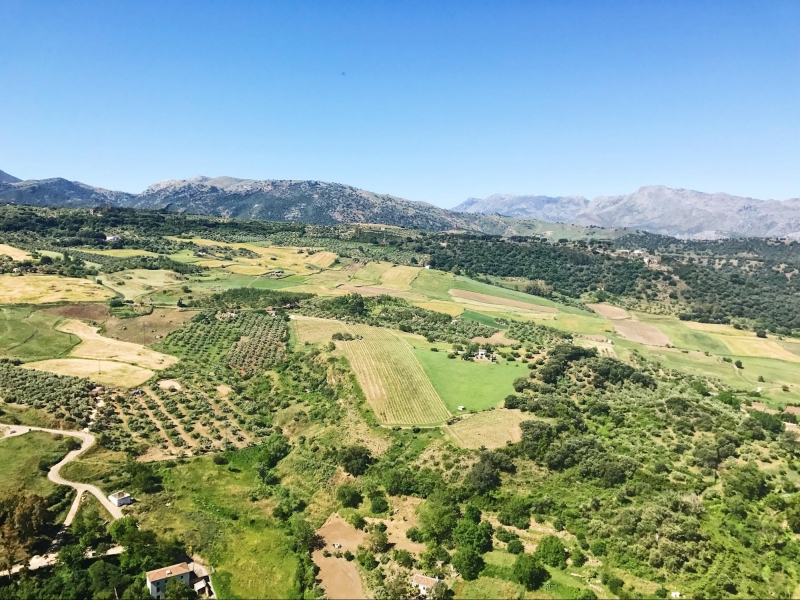 Look at this marvellous creation that stretched out into the horizon before my very eyes – the cloudless blue sky and undulating rolling fields of green melded together in perfect harmony. I couldn't stop snapping photos of this sight!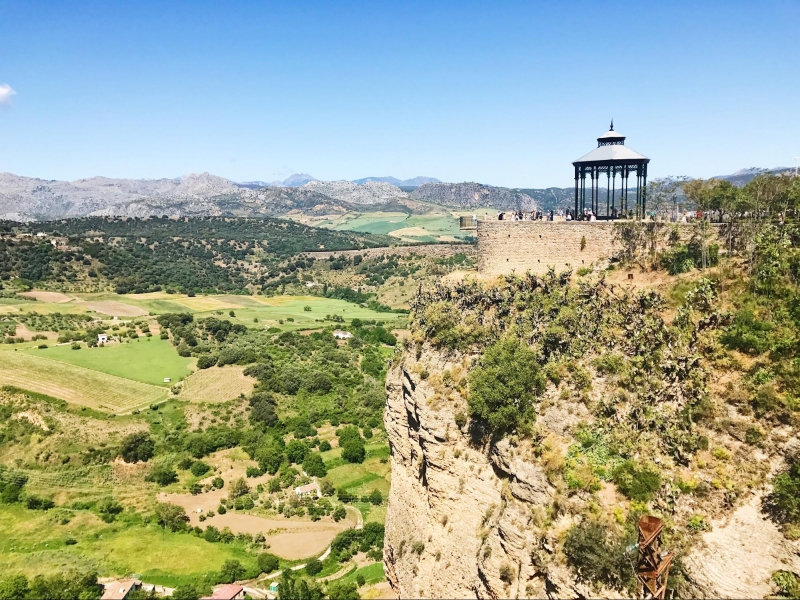 Walking on further, I reached the El Balcón del Coño viewpoint (the pavilion pictured above). Strolling along this cliffside town was extremely refreshing and strangely cathartic. I felt all my worries dissipate away as I walked and, admired the mountains in the far distance.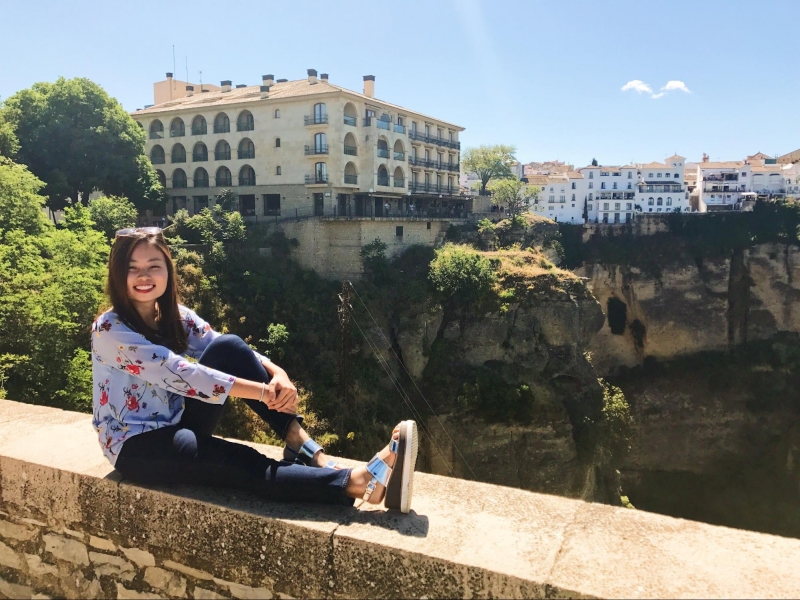 The Mirador de Aldehuela viewpoint is actually named in honour of the architect, José Martin de Aldehuela. He's the same incredible architect who built the bullring, Puente Nuevo, and Malaga's cathedral amongst many others. Also, how cute is that smiley face-shaped cloud in the sky?! It was an accurate reflection of how I felt exploring Ronda that day!
The New Bridge, Puente Nuevo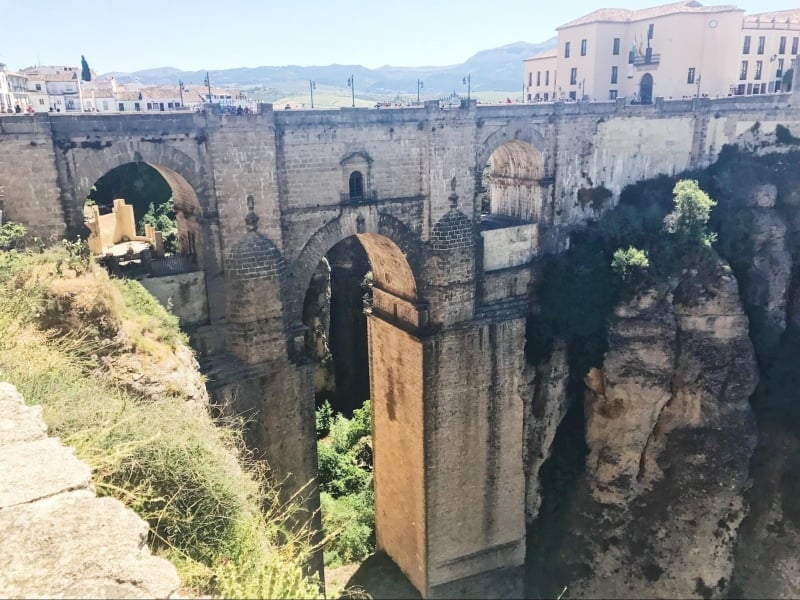 After walking along the cliffside edges, I followed the meandering path to reach the Puente Nuevo. One of the most representative monuments of the city, Puente Nuevo was a stunning sight to behold! It was completed in 1793 and took 42 years to build. Now, it connects the old Moorish town and newer parts of the city. Fair warning though: looking down from the bridge is definitely not for the fainthearted. Also, there have been cases of tourists falling off the edge just because of a photo-op so…don't risk your lives just because you want to do it for the 'gram.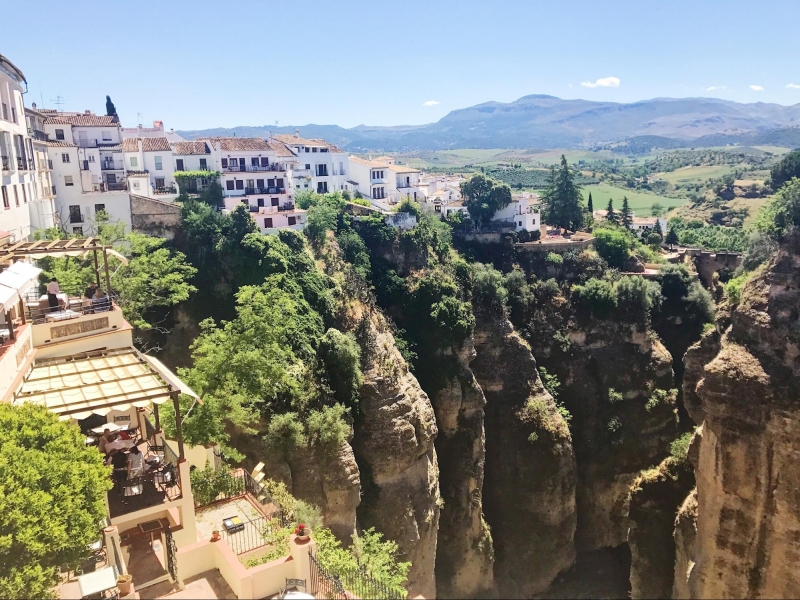 This is the view that greets you as you look out from Puente Nuevo. The beautiful contrast of the whitewashed houses that sit atop the cliffs, the blue sky, and the lush greenery in the horizon was truly mesmerising. I stood there for a good five minutes to drink it all in!
Jardines de Cuenca – Cuenca Gardens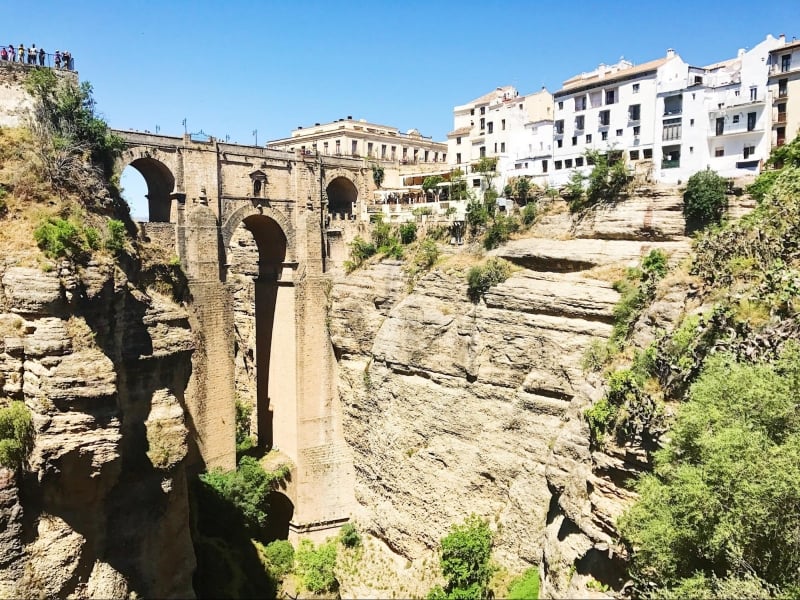 Continuing onwards, I arrived at the Cuenca Gardens, which also offered a clear view of Puente Nuevo. Comprising of a series of small terraces, it was filled with winding pathways, palm trees, and numerous rest areas perfect for escaping the heat.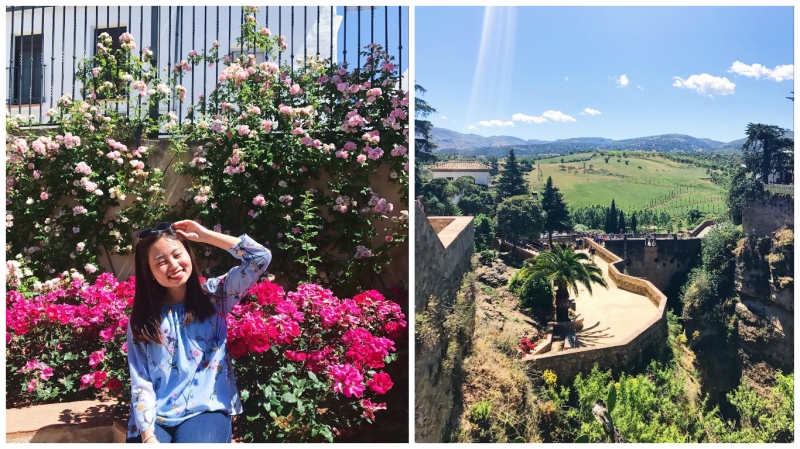 The blooming flowers in varying shades of pink, also made great backdrops for shameless photo-taking! Nothing brightens up the city like fresh colourful roses, geraniums, and jasmine adorning the sidewalks and railings.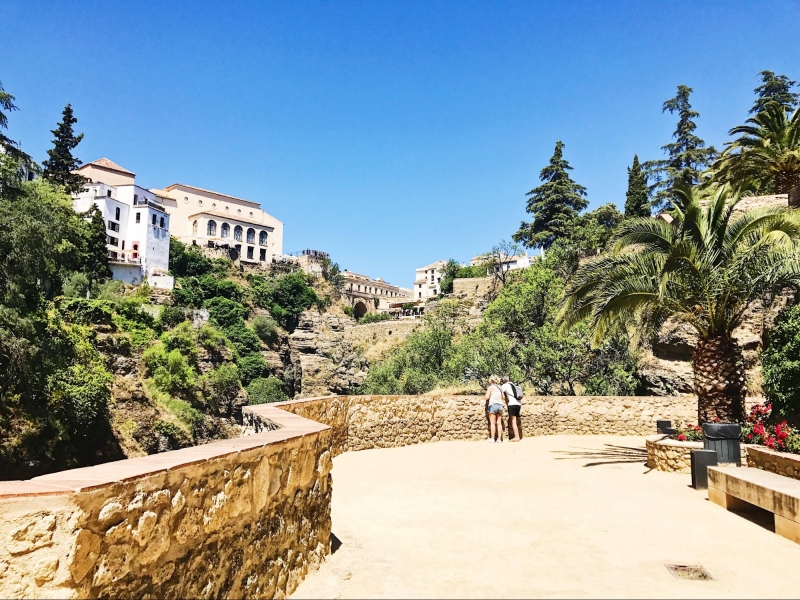 Every terrace offered a different perspective of the Puente Nuevo and the Tajo Gorge, so I couldn't stop snapping away.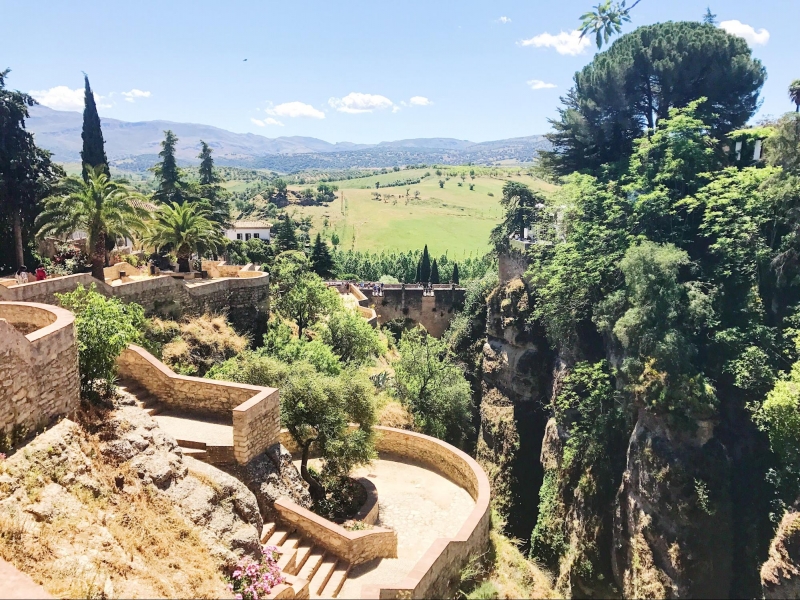 As we continued making my way down the terraces and stairways, I reached the Old Bridge (pictured in the middle).
Philip V Gate & Puente Viejo (Old Bridge)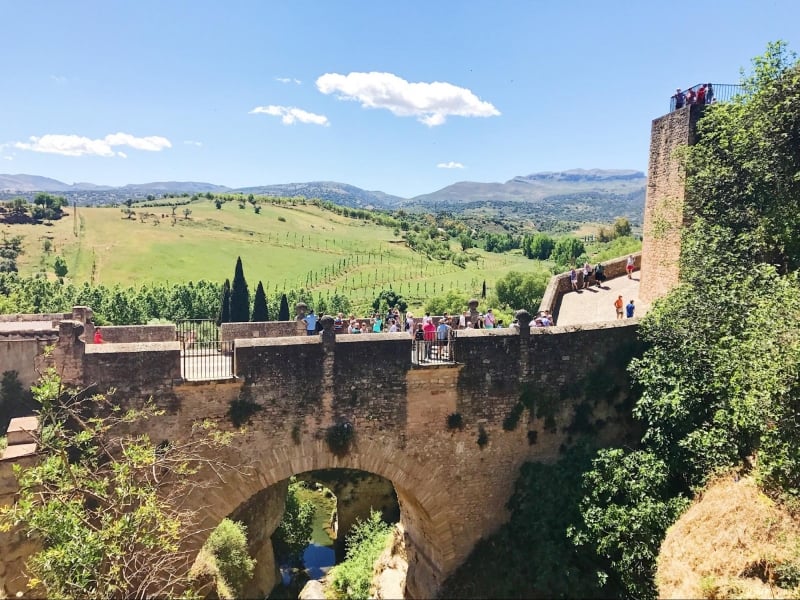 Here's a closer view of the Old Bridge, which only carries pedestrians nowadays. It connects the old Moorish town with a small market area known as Padre Jesús. A centre of commercial activity during the 16th, 17th and 18th centuries, it's known as the romantic district for poets, painters and travellers who have traversed this path throughout its history. As I walked across the Old Bridge, I tried to imagine the bustling scene it was hundreds of years ago.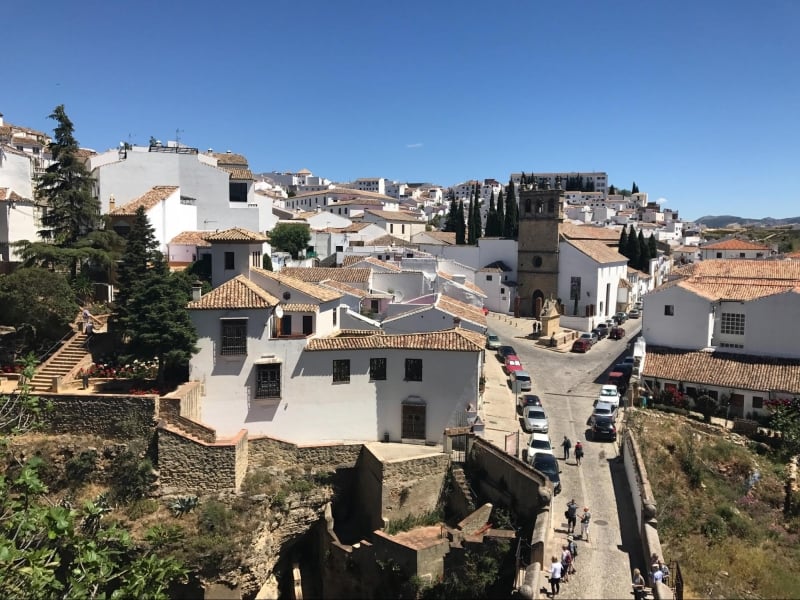 And…this is the gorgeous view of the Mercadillo district from the Philip V Gate, featuring the signature Andalusian architecture of whitewashed houses.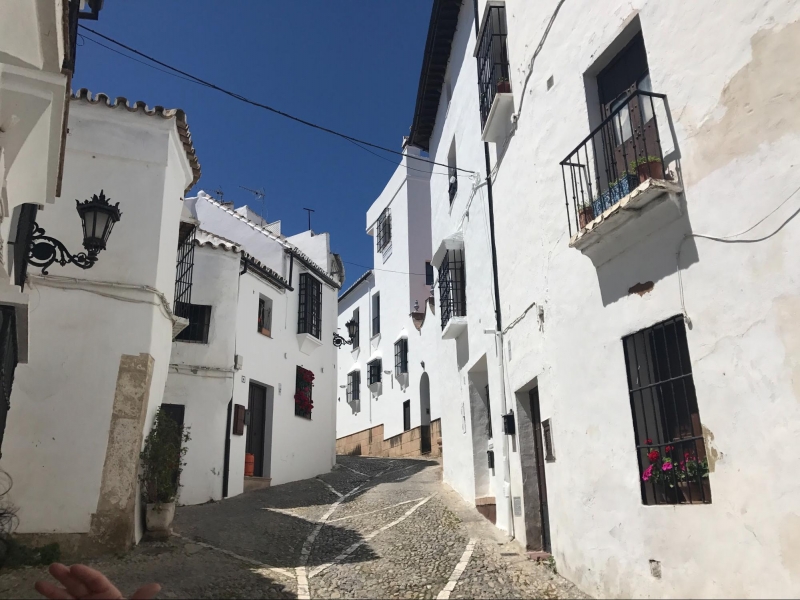 The wrought iron in the windows and balconies are protective features, which reflect the beautiful and popular Andalusian style of buildings. Walking through these streets surrounded by pristine whitewashed walls was a calming and peaceful experience.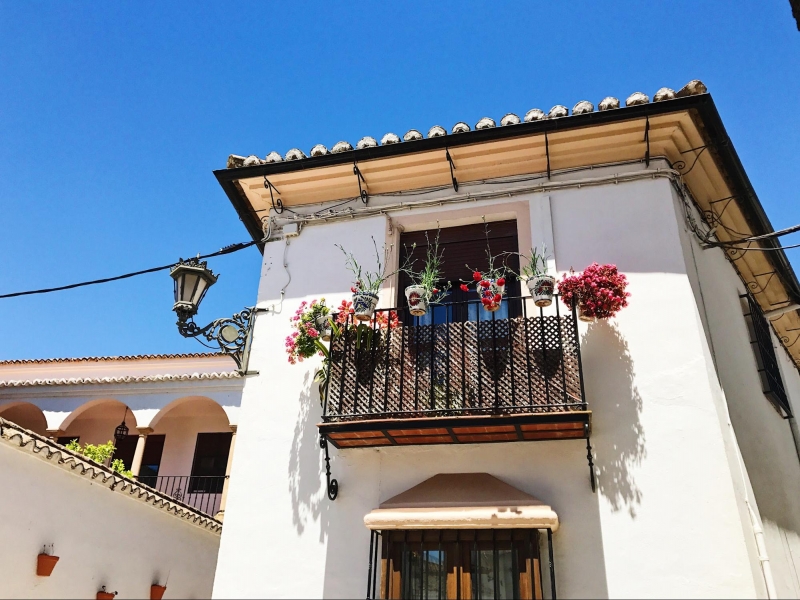 It's amazing how beautiful their balconies can look, with just a simple row of potted plants and flowers. And this marks the end of the short cliffside hike I took to get a glimpse of Ronda's most scenic areas! I absolutely loved it and I know you will too.
2. Explore the exquisite house of San Juan Bosco 🏡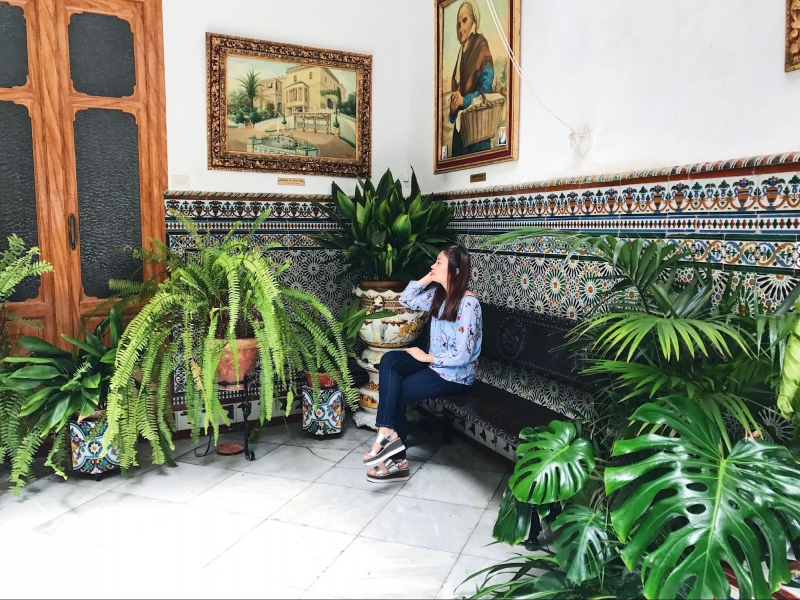 Firstly, you must be wondering, who on earth is San Juan Bosco?! He was actually an Italian Roman Catholic priest, who dedicated his life to helping and educating disadvantaged youth and juvenile delinquents, teaching based on love rather than punishment. This was known as the Salesian Prevention System. Fun fact: he never actually lived in this house!
One of the most exquisite spots in the city, the house has a Nazarite tiled patio (as pictured above), exemplifying the array of ceramic patterns in the region. Built at the start of the 20th century, it was given away by the Granadinos family to the Salesian Priest Order, and functions now as a rest home for priests who are old and ill. Isn't it absolutely heartwarming?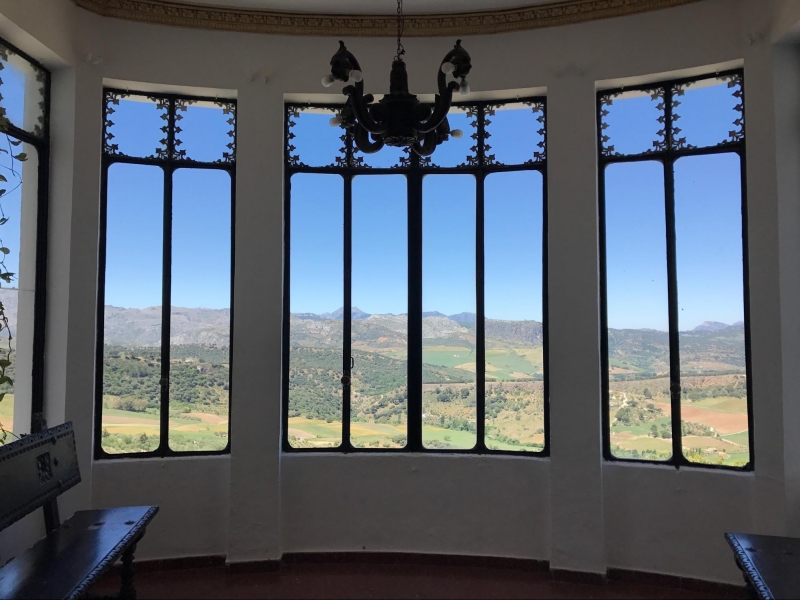 From the house, you also get a splendid view of the Guadalevin Valley!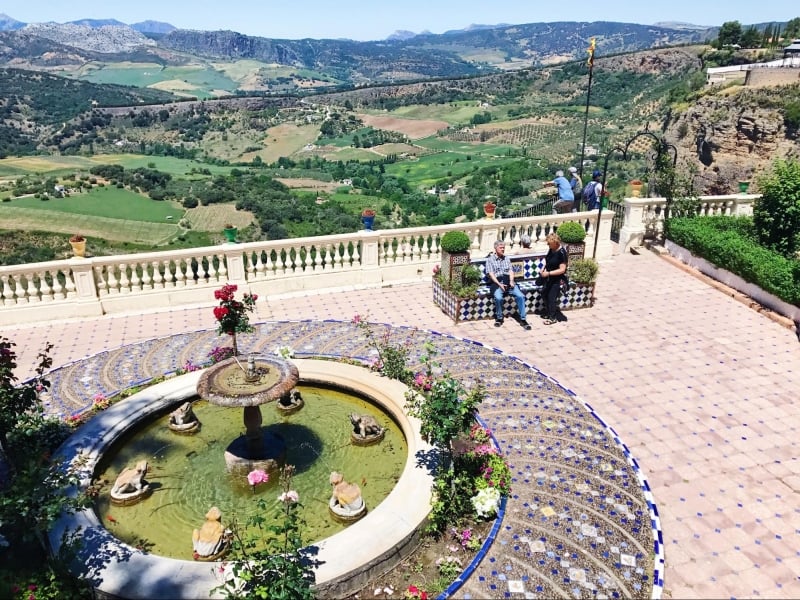 The outdoor fountain in the courtyard is also a sight to behold, and is decorated with Arab-style ceramics. You don't come across such a unique fountain everyday, that's for sure. 
3. Explore the grounds of the oldest bullring in Spain, the Plaza de Toros 🐂📷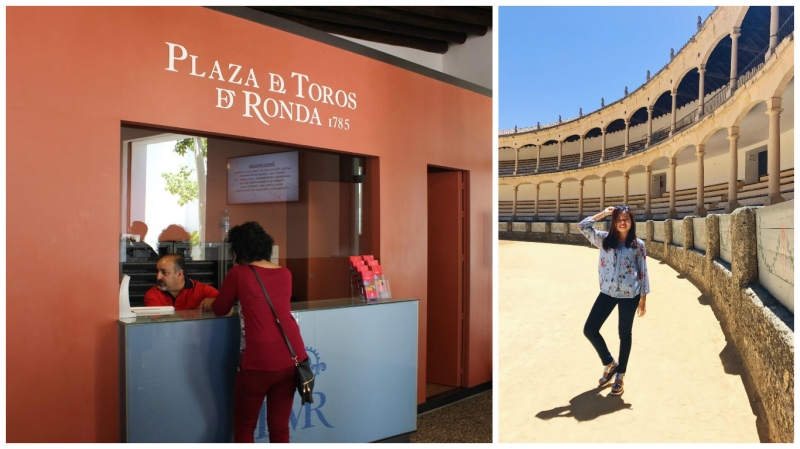 And here's one of the most iconic structures of Spain's cultural identity: the bullring. In fact, this bullring in Ronda is the biggest and oldest preserved bullring in Spain! Built in the 18th century, this majestic architectural structure rendered my mouth agape in awe as I stepped in.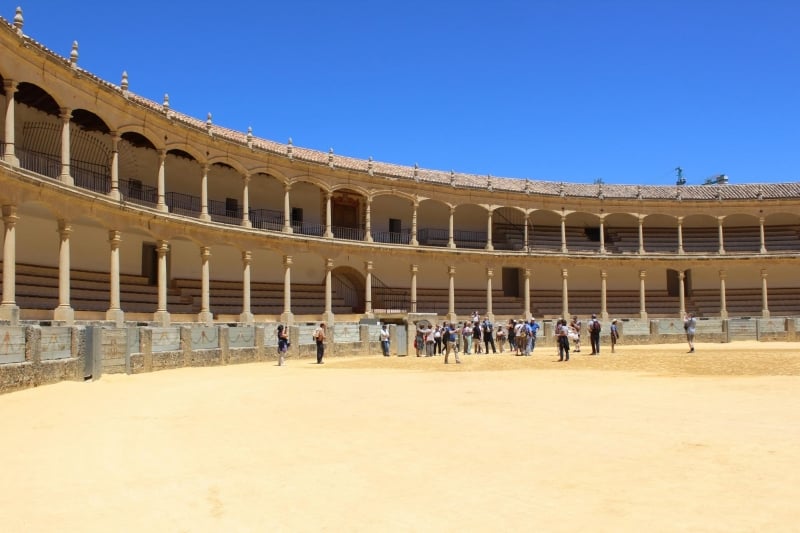 This colossal bullring is made out of a whopping 136 pillars and two layers of seating, each with five raised rows. Just think: the palpable tension from the roaring of 5000 spectators all in their seats, entranced by an exciting bullfight happening in the ring. I wish I had the chance to spectate a bullfight right here!
4. Get up close & personal with horses and bulls at Reservatauro Ronda 🐴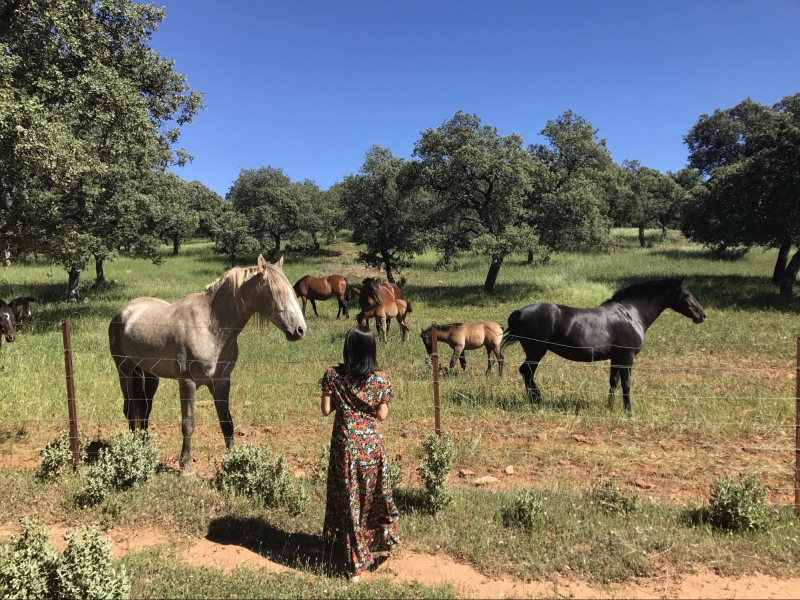 Even though we didn't get a chance to spectate a bullfight, visiting Reservatauro Ronda was an eye-opening experience! It gave us an exclusive glimpse into the Spanish tradition of bullfighting which is deeply ingrained in their culture and society. Reservatauro Ronda is actually owned by the famous bullfighter, Rafael Tejada, and we even had the honour of meeting him in person!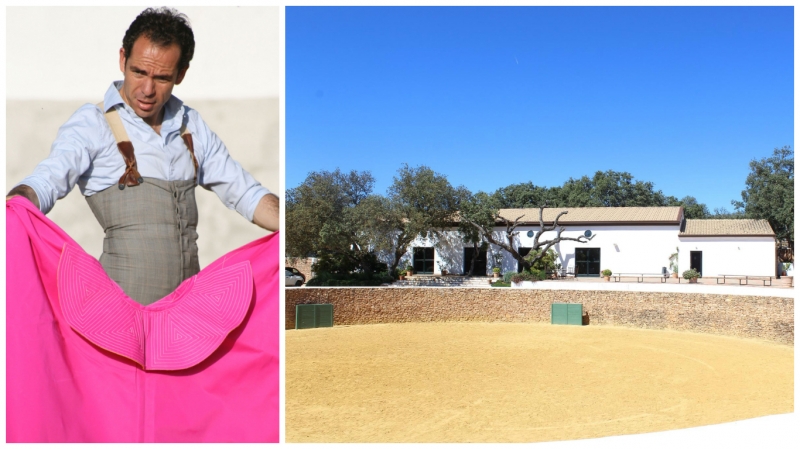 He shared with us his beliefs, past experiences, and fun facts about the bullfighting industry that we could never learn from brochures or internet research alone. It was honestly pretty inspiring to watch him talk about bullfighting so passionately and animatedly, eager to share his life stories with us.
Did you know that each bullfighting costume costs around 6,000 euros (S$9400+)?! That's an incredible amount of money poured into making the finest suit. Plus, it takes six months to make one and only three places in the whole of Spain are able to produce it. Cool, huh? And in the traditional corrida, three matadores each fight two bulls, earning a minimum of 9,000 euros (S$14,125+) per bullfight.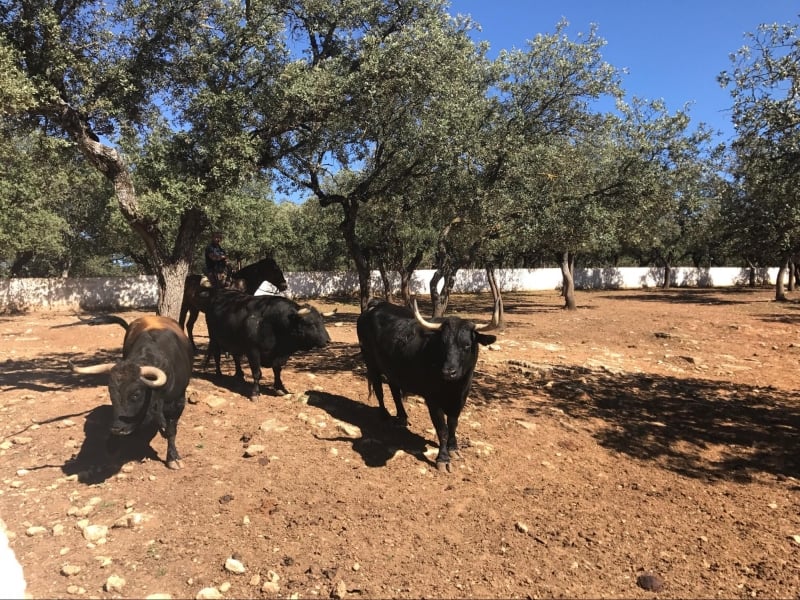 I've constantly wondered what motivated these bullfighters to constantly risk their lives for such a tradition, and Rafael Tejada answered that question with an earnest and simple reply: PASSION. His story is pretty unique: his passion for bullfighting started in his early childhood days, but he did not pursue his calling. Instead, he chose to take the mainstream route of proper education, becoming a civil engineer and garnered much success in the real estate industry subsequently. Nevertheless, his longing for pursuing the vocation of a bullfighter became incredibly strong, and he eventually quit his cushy job start his training. There's really no other reason that could possibly explain his decision other than bona fide passion.
As we explored the farm, we learnt about the selection process and breeding of the bulls. We also got up close and personal with stark white or glossy brown Andalusian horses, that were freely roaming around the sprawling Mediterranean pastures in this compound. I even managed to grab a horse-fie with a handsome horse that had perfect bangs.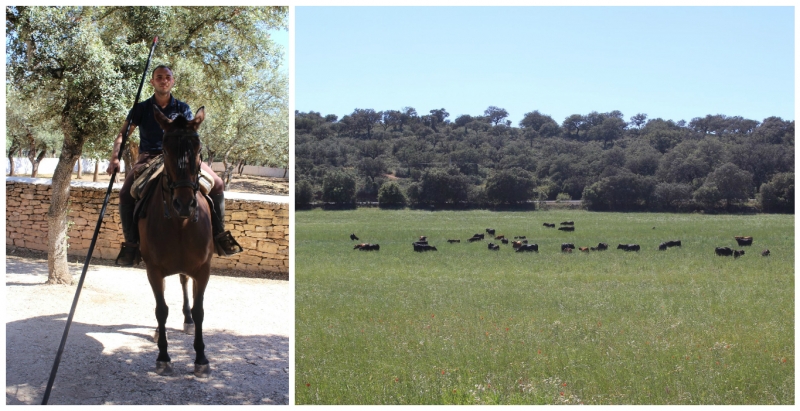 No matter whether you agree or disagree with this cultural tradition, a visit to Reservatauro Ronda will change your stereotypes towards bullfighting. I emerged with a newfound understanding and appreciation of the laborious efforts in breeding and training the bulls, as well as the horses who assist in the bullring. It was such a fascinating and informative experience!
5. Watch a Classical or Flamenco Guitar Concert at Ronda Guitar House 🎸🎼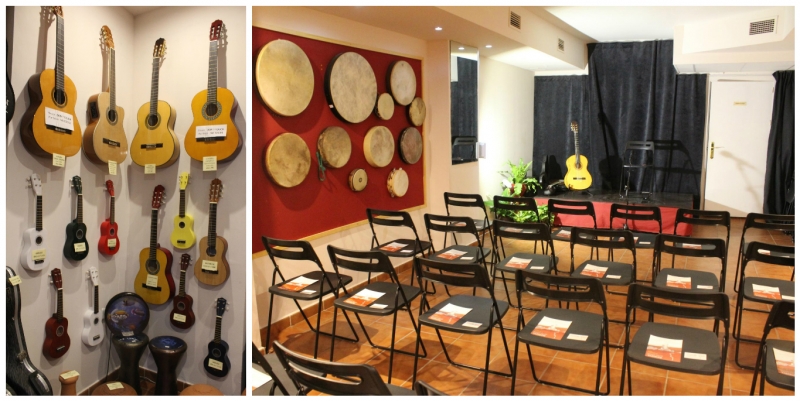 A quaint and cosy space dedicated entirely to the Spanish guitar, you'd never guess that you could even watch guitar concerts right here as well! Apart from exhibiting and selling hand-made guitars and paraphernalia, they also offer intensive guitar courses and… BAR SERVICE. Oh yes, they even serve a selection of local wines, sherry & beer from the province. Nothing like a glass of wine to complement your Spanish concert experience.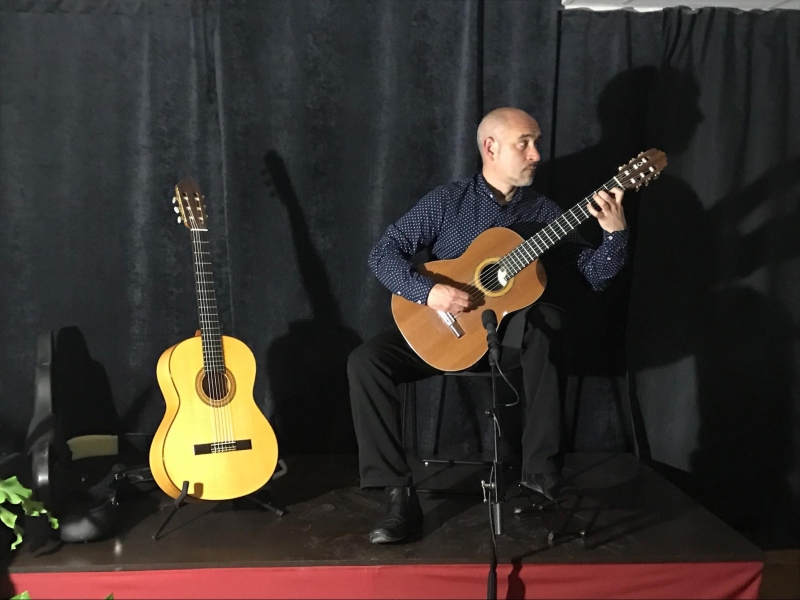 Their resident guitarist Pacoseco, specializes in Spanish, Flamenco, and Andaluz music, and performs twice a night! We had the privilege of watching him perform, and boy, he made playing complicated tunes on the guitar look so effortless. He even performed some of his self-compositions, demonstrating great versatility and creativity as he switched between elegant Spanish tunes and fast-paced flamenco tunes.
Evidently, I've been clearly ignorant about the wonders of a guitar because I never knew that it could be played in so many different styles. Here's one of my favourite performances by him!
Address: Calle Mariano Soubirón no. 4 (next to Alameda del Tajo)
Bonus: Stay a night at Hotel Catalonia Reina Victoria 🛌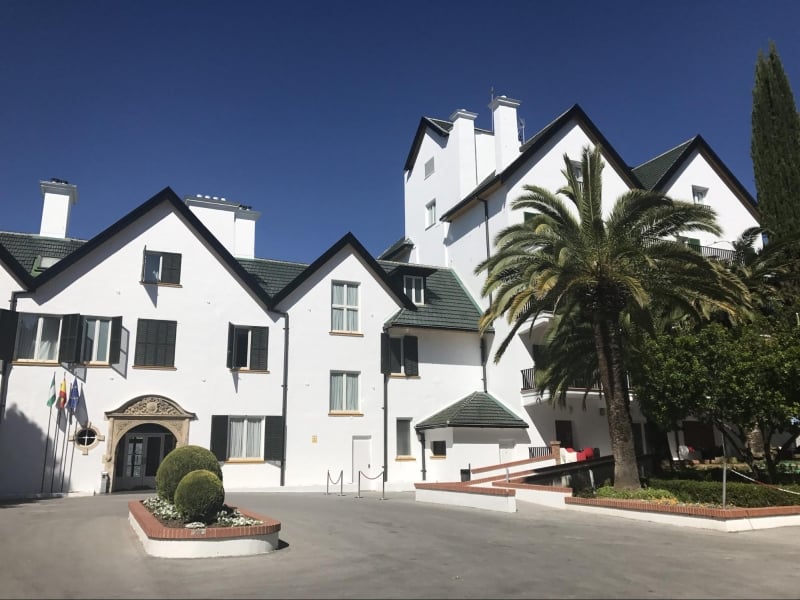 And if you're wondering where you should stay for the night, I strongly recommend Hotel Catalonia Reina Victoria Wellness & Spa. It has been the choice of accommodation for many famous bullfighters, poets, as well as national and international artists who've come to visit Ronda. Located at the edge of El Tajo, you'll be rewarded with incredibly picturesque views from the hotel's terrace, the outdoor pool and even from your room's private balcony!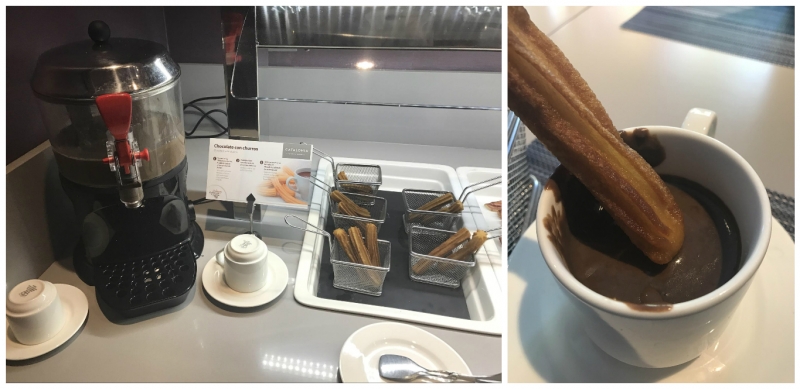 In all honesty though, the highlight of my stay was actually this amazing HOT chocolate dispensing machine available at breakfast. Coupled with freshly made churros that were delightfully crispy on the outside and soft on the inside, this was the ultimate treat to start off a great day. Just take a look at that sinfully gooey cup of chocolatey goodness! I might have added a few inches to my waistline in the process, but hey, what's life without the occasional indulgence? 😉
Tempted to visit Ronda now? It's about time you made a trip to Spain and explore all of the hidden gems it has to offer. I left my heart here and as cheesy as it seems, I know you probably will too. *winks*
Getting to Ronda: 🚆🚌🚗
Ronda isn't exactly the most accessible place in Spain, so the best way to weave it into your itinerary would be to stop there for a day or two, as you depart Malaga and head for Seville. Alternatively, you could also visit Ronda as a day trip from either Malaga or Seville.  
By Train: The train journey takes about 2 hours and travels directly from Malaga to Ronda. You can book your train tickets via RailEurope or ACPrail.
By Bus: Direct buses also run from Malaga to Ronda. The best buses are run by Los Amarillos from Malaga's main bus station, taking less than 2 hours to reach Ronda.
By Car: If you're renting a car, driving to Ronda from Malaga should take you around one and a half hours. Take the A369 from Malaga to Ronda via the Campillos road if you'd like a comfortable and safer drive. But, if you're an experienced driver in Spain and up for a challenge, take the A7 Toll Road to San Pedro on the coast and then the winding, uphill climb to Ronda on the A376.
---
I extend my deepest gratitude to Cathay Pacific and the Spanish Tourism Board for showing me the wonders and sights of Spain's most beautiful cities.