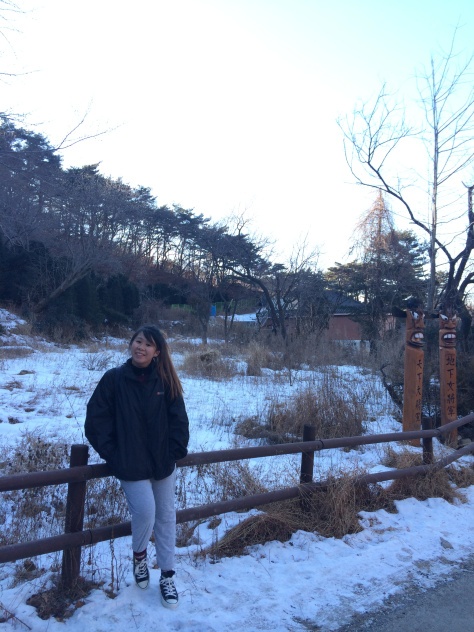 This post is a guide for travellers, based on my personal experience of travelling to Korea with just SGD1600 for 12 days. I'll also be sharing my itinerary. Please note that SGD1600 is inclusive of accommodation, flights, transports, food, activities and shopping… aka everything.
[fzPriceBlock]icn[/fzPriceBlock]
I travelled to Korea during winter because I just want to see snow. I know it is quite funny but yes I have never seen snow before so it is sort of one of my to-dos in my bucket list. So why Korea? We actually wanted to go to Harbin because of the magnificent snow festival and also, I had travelled to Korea once back in 2012. But I thought why not go to Korea again since I went there in Spring last time. And can winter sonata a bit (haha!). So we decided to go to Korea instead.
Also read: 5 Days to Get the DMZ, Winter Sonata, Shopping and Soul Out of Seoul
Honestly, I don't think January is the best time to go to Korea because IT IS DAMN FREAKING COLD. It's always below 4-5 degrees and highest temperature in the day can be only -7 degrees. SO FORGET ABOUT DRESSING TO KILL BUT DRESSING TO SAVE YOUR ASS. I've worn 2 layers of long john, hoodies and on top of it, I've worn another layer of pullovers and windbreaker. It was so cold that I refused to take photos with my iPhone because I need to remove my gloves (sorry la budget don't want to buy gloves compatible with touchscreens) and I actually bought more heat pads on top of what I brought from Singapore. The sun sets pretty early (around 4-5pm) but I guess it was all worthy for the beautiful snow and skiing adventure.
From my personal experience, the best time to go to Korea is actually mid April- early May because it's Spring and Spring is awesome because the weather allows you to layer up your clothes enough just not to look like ba-zhang (dumpling in hokkien) or sweat and all the flowers are blooming so you can spam ootd and the sun sets late (around 8-9pm) which means you can do a lot more stuff but actually not valid because Korea has a lot of things to do even at night (so don't worry even if you are going in winter) Oh and girls, prepare to burst your wallet because you are in the right place at the right time! The clothes selling in that season are so pretty and probably ahead of the trends in Singapore. OK BACK. SO LETS START!
1. Get the right ticket
By "right" I mean that it must be affordable and that it must reach the destination at the right time. You don't want to land in a country at night and waste one day flying. ALWAYS USE SKYSCANNER FIRST TO CHECK OUT THE RATE. Scan, and choose properly. Some can be rather misleading eg. really cheap price but the need to transit twice. Ain't got no time for that so be careful when it comes to choosing your flight. Next, GO DIRECTLY TO THE FLIGHT WEBSITE TO BOOK YOUR TICKETS. DON'T RISK BOOKING VIA AGENTS/MIDDLE MAN BECAUSE YOU DON'T WANT TO RUIN YOUR TRIP JUST IN CASE ANY PROBLEMS POP OUT. It will definitely be slightly cheaper but my advice is DON'T RISK IT.
Even though I am one that will always go for the cheapest option, when it comes to flights NO WAY I AM GONNA DO THAT.  This is because the airline is not responsible for any issues because you didn't book from them, and it's not easy to find those agents. They exist in the virtual world but may not have a counter in the airport. There could be payment complications and maybe fraud cases! Yes, I am being very very sceptical about this and I discourage anybody from using those platforms to buy flight tickets.
Also read: Seoul: Korean Culture at its Peak
So I managed to get a return air ticket from CHINA EASTERN AIRLINE for only SGD 559.5. I know a lot of you will be asking why not Scoot or AirAsia? Because not all budget airlines are cheap. In fact, commercial airlines can be cheaper than budget airline. That's why you gotta skyscan first! I remember the time when I am purchasing my ticket, Scoot was the most expensive (around 730) and Airasia was around 680? Even though Scoot provided a direct flight but nah 730 is no go for the cheapo me. We gotta transit at KL if we took AirAsia and still pay up to 680?! So again no go! So we decided to go with China Eastern Airline which is only 559.5SGD, transiting at Shanghai and reaching Incheon in the morning, SO MUCH MORE comfortable than budget airlines because there are meals provided (included in the 599.5 we paid), in-flight entertainments like movies and also pillows and blankets given for the 7 hours flight.
2. Get a shelter
I don't know about you guys but I personally think that you don't have to spend a lot on accommodation because it's just a place for you to house your luggage, bathe and sleep. It's not like you are going to spend your whole day there so when I look for accommodations, I will go for hostels/guesthouses. As long as it's clean, affordable and convenient, I am pretty cool with it. I chose Duri House and I LOVE IT SO MUCH. I REALLY REALLY REALLY ENJOYED MY STAY THERE. And I have so many reasons that I think I need to use bulletpoints.
Affordable. One night costs KRW45000(SGD50) for 2 persons so it will only be around 25 dollars per person. In total, I only spent SGD250 in accommodation for 10 nights which is okay to me.
Convenient. It's just a few steps away from the subway station, Gyeongbukgung. (Line 2, orange line) And there is also airport express #6011(cost KRW10000 / SGD12 ) that alights right in front of the street.
Even though it is a guesthouse, every room has its own bathroom aka DON'T NEED SHARE TOILET!
Super well-facilitated. There's water heater! SUPER ESSENTIAL DURING WINTER! Hair dryer, towel, toothpaste, shampoo, body soap all provided! There is a shared fridge along the common corridor so you can actually put the kimchi you bought there so its freshness can be retained. Wifi provided too! Sometimes the host, Mrs. Yim will knock in our door and offer us snacks.
Hanok-styled guesthouse (traditional Korean house) so we get to experience charcoal heater on the floor in winter, sleeping on the traditional Korean mattress and sitting on the floor at home (what you usually see in Korean drama)
AWESOME HOST! Mrs. Yim is really one of the best hosts ever. She cleaned our room and toilet everyday. You know how we know about it, because we don't fold our mattress and we came back after a long day, the mattress was folded nicely and clothes are nicely hanged. And there was this day who I just put aside my smelly sock at one corner of the room so that my whole luggage won't stink and guess what?! I came back, my socks were missing and the next day, they were placed nicely on the sleeve all smelling good! This is when I realized she actually washed my sock and really pays attention to little details that make her customer feel welcomed. Also, Mrs. Yim helped us a lot on our skiing adventures. She actually recommended which skiing resorts to go and helped us with the booking of shuttle buses (even drawing out a map) and helped us get discounts! She can't really speak good English but it's still understandable.
FOOD FOOD FOOD FOOD EVERYWHERE! BBQ, SEAFOOD STEW, BEERS, FAMILY MART, PARIS BAGUETTE etc. You named it, you have it.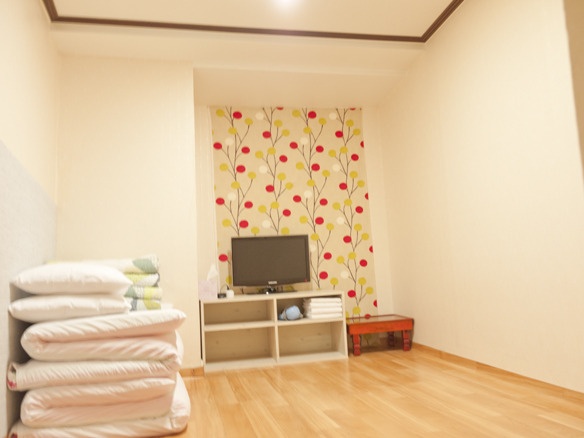 So how to go about booking? Just visit www.durihouse.kr to reserve. And all the photos on the website are true (not exaggerated/photoshop/fake)
3. Getting around
Seoul is generally easy to explore around. The whole city is linked via subways which make it very easy to go around. In every exit of subway stations, they will have this direction sign to various attractions, indicated by respective exits. So just follow the sign and you are good to go. Just buy T- money card from any convenience store. It works as Ez-link card or transport pass and it costs only KRW2500 (approx. SGD3) if my memory doesn't fail me. You can keep it and top up anytime/any amount you want. For direction, you can visit english.visitkorea.or.kr. Good to have a Seoul subway map with you. In Seoul, you can actually use Mandarin to converse as there are bound to be a Mandarin-speaking staff everywhere. Don't ask me why, probably due to globalization and immigration.
Also read: Coffee, Cafes and Couples: 7 Best Cafes in Seoul for Couples
a. Places to go / things to do
1. Gyeongbukgung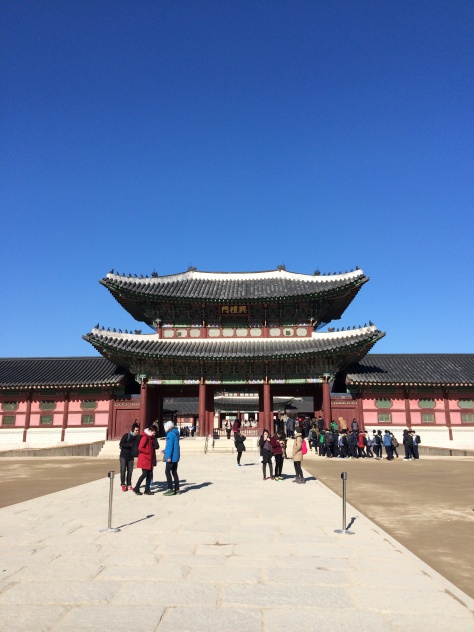 Don't tell people you visit Korea without visiting its palaces. There are admission fees but you can just walk in without paying because there's simply too much people for the ushers to manage. Just stick behind a tour group and listen to the guide to know more about the palace.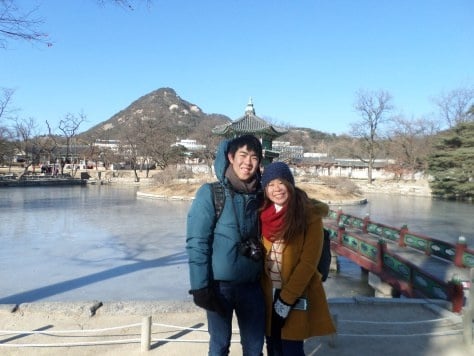 2. Bukchon Hanok village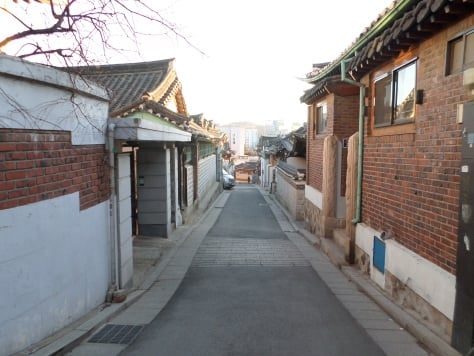 Nice place to take ootd / can see Namsan tower from here / one of the oldest streets in Seoul with beautiful traditional hanok houses (Anguk Station, exit 2 and go straight 300m).
3. Namsan Tower aka N-Seoul Tower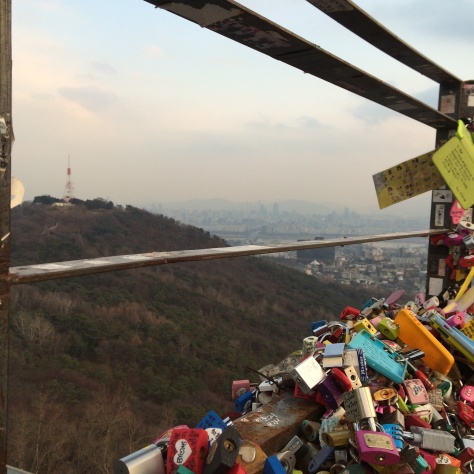 Seoul's Eiffel tower, can see the whole Seoul from the observatory / Admission fee of KRW10,000 (approx. SGD12) up to the observatory / Favourite place for Korean couples to 'lock' up their love /Bring your own lock or unwanted handphone cover there to save money because one lock can cost up to KRW15000 / approx. SGD18 (need to take a bus from Heoyeon Station, cost around KRW850 / approx. SGD1).
Also read: "Locks of Love" Partially Collapse Famous Paris Bridge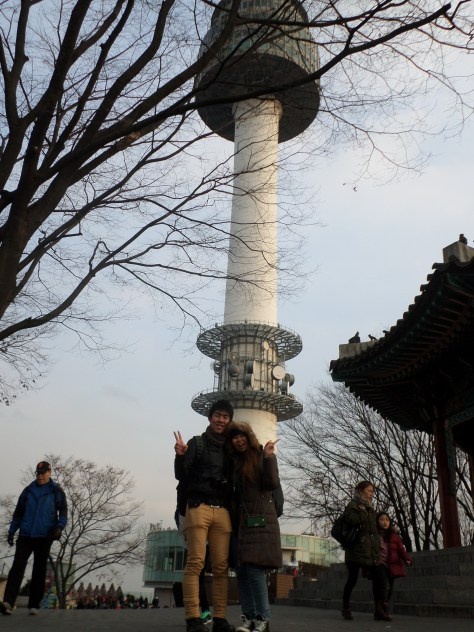 4. Ttukseom Hangang Park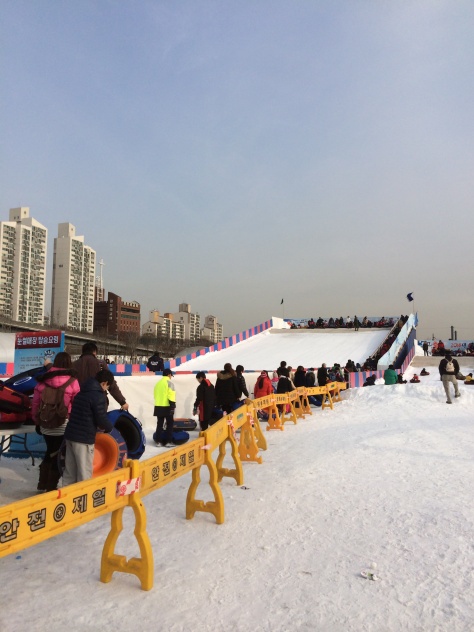 Open all year round / different activities for different seasons / snow sledding and skating in winter, swimming pool, wing surfing in summer / There are also booths for educational purposes eg booth that has traditional Korean games etc quite cool to see little kids playing / can stroll along Hangang river (super different from strolling along Singapore River as Hangang is A LOT WIDER) / admission fee of KRW6000 (approx. SGD7) for snow sledding (Ttukseom-Resort Station, exit 2 or 3).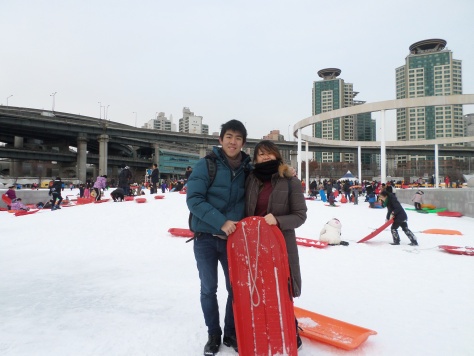 5. Noryangjin Fish Market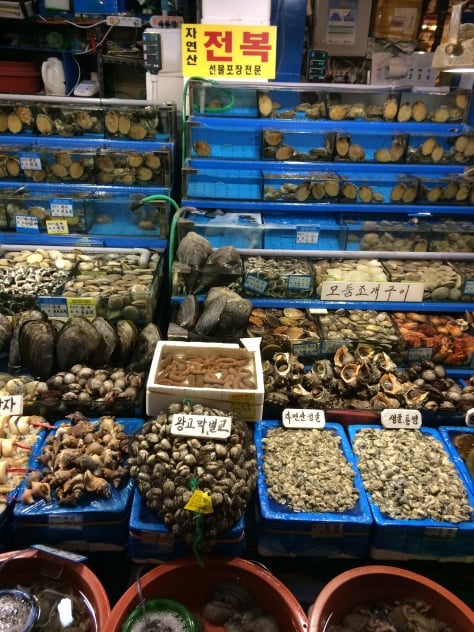 Wholesale seafood market with many different seafood (some you will never see in sg ) / buy fresh seafood especially sashimi and bring it to a restaurant to be cooked / remember to bargain (be firm) / remember to check the price with the restaurant before giving them your seafood (Noryangjin Station, exit 1).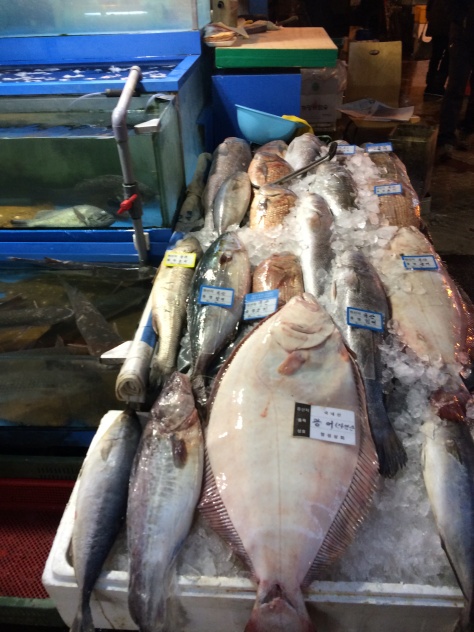 6. Hiking in Bukhansan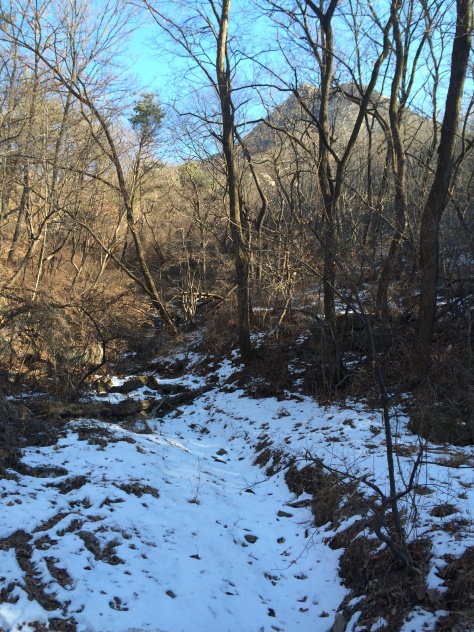 Hiking has always been in the blood of Koreans and is done every season. Nothing beats being on top of the mountain watching the sun sets. Very beautiful historic temples and fortress along the trail. Be careful as rocks can be slippery in winter. I personally hike Bukhansan in winter and I feel that as long as you are careful enough, everything will be fine even without hiking equipment. There are several trails catered to different level of fitness, so don't worry. (Gupabal Station, exit 1, take bus 704 and get down at Bukhansan Fortress)
7. Nami Island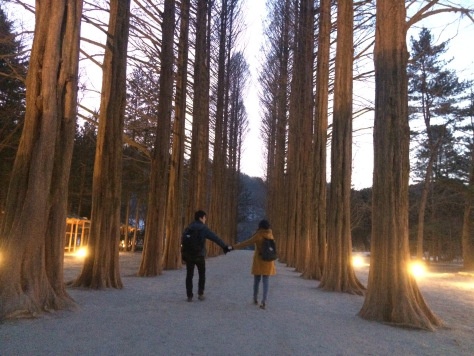 Winter Sonata's filming site / outskirt of Seoul / Seoul's Palau Ubin (need to take ferry there) just that it's a lot prettier / During autumn, you can see rolls of maple tree down the stretch of pathway (I have inserted some photos from spring) / admission fee of KRW8000 (approx. SGD9) for foreigners
8. Petite France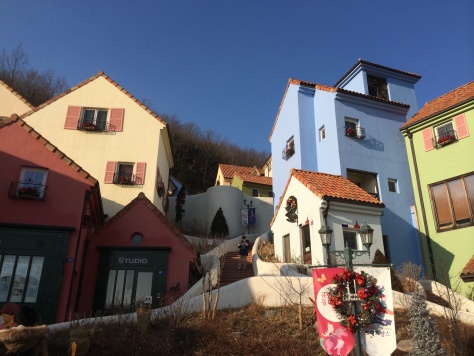 Filming site of drama You Who Came from the Star, Running Man ep 40 (the one with Nickhun and Taecyeon) / French cultural village / very vintage architecture / something like a theme park just that there are no rides / 30 mins away from the dock (Namiseom dock) that goes to Nami Island / Recommend to go Nami Island and Petite France on the same day. Just go to Gapyeong Station, walk out (there's only one exit) and you see an information booth. The staff there can speak really good English, ask them for help and they will give you a brochure that states the various timing for the tour bus around the region (bring you to Namiseom dock and Petite Island). It is only KRW5000 (SGD6) and you can hop on again after getting down.
9. Skiing at Jisan Forest Ski Resort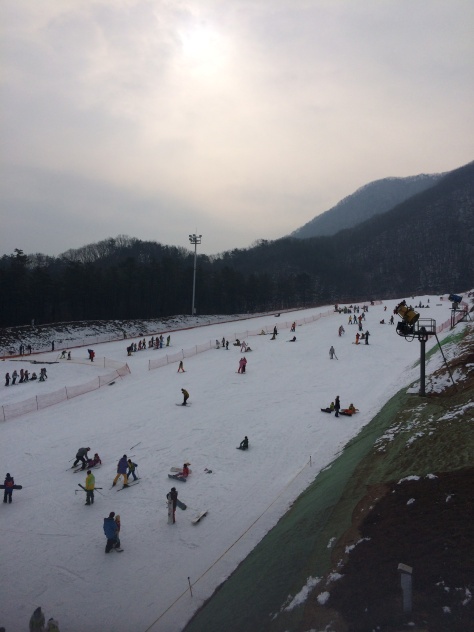 There are many skiing resorts in Seoul but they are all located on the outskirts of Seoul. My host, Mrs. Yim actually recommended us to go Jisan because she said it is the most convenient one compared to the rest. She booked seats for us in the free shuttle bus that brings us to the resort and got us discounts for the skiing gears #perksofhavingawesomehost! You can go to http://www.jisanresort.co.kr/eng/index.html to make reservations for the free shuttle bus. There are several pickup points and one of it is right in front of Gwangdaemun which is just one bus stop away from where we stayed. Skiing is really one hell adventure because it can be really tough to master at the first try.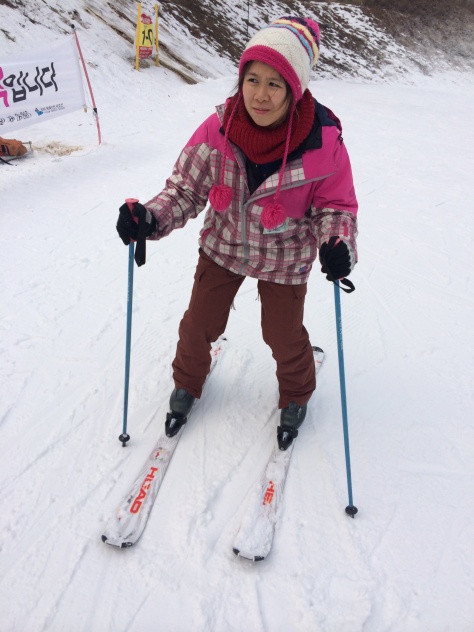 Skiing is not tiring but trying to get your feet up after falling down is freaking tiring. I think I wasted half of my energy trying to get up but I must be quite proud to say that I can now ski without falling for 5 mins 🙂 As we put skiing as the second last activity during our trip, we were scared that we do not have enough to pay for it because it can easily go up to KRW100000 (approx. SGD118) so we actually set aside KRW100000 just in case. However as we choose the half-day skiing package with lift included (trust me, half a day is enough) and gotten discounts, we only spent KRW640000 so we have more money the last few days to be spent on eating! 🙂
10. Clubbing in Seoul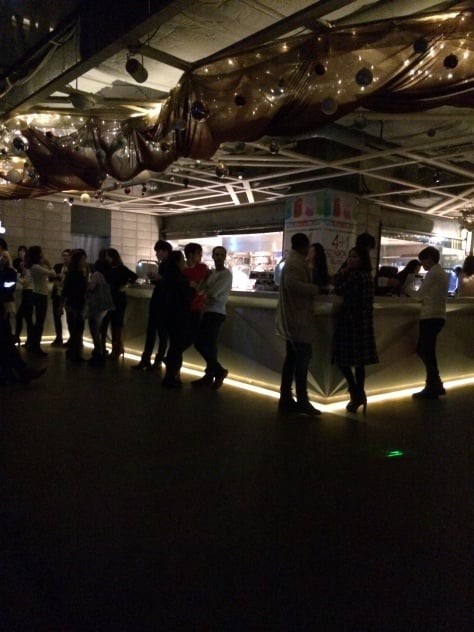 It is really interesting to look at different countries' nightlife. There are two different kinds of clubs in Seoul, those really posh one (the one you see in drama) and those that youngsters/hipsters will visit (can wear sneakers one). The posh ones are often located around Gangnam, Apujeong where all the rich people stayed. If you don't know, 'Gangnam Style' is actually a sarcasm towards the rich people living along Gangnam. Ok back, so we decided to visit Club Octagon. And indeed, all of them are so sexy and stylish. I AM DEAD SERIOUS, ALL OF THEM, GUYS AND LADIES LOOK SO GOOD.
Also read: Plastic Surgery Tourism – The New Rising Trend in Asia?
They probably have plastic surgery but that is not the point. They are really very good-looking and fashionable. It was bloody cold out there but I saw ladies wearing really short dress / shorts and cropped top. They deserved my upmost respect. The crowd is generally older / mature but the club plays awesome music and have the best sound system in town. The interior is well designed with really huge dance floor and even a pool inside. The check-in system is also awesome as they offer a big bag to put all your stuff inside and it costs KRW3000 (approx. SGD3.5). Best time to visit is every Thursday because there is free entry before 11pm. Drinks are reasonably priced too, around KRW10000 (approx. SGD12) and cabbing around is quite cheap (less than KRW10000 / SGD12 to and fro from where I stayed). Definitely an eye opener. (Gangnam Station, exit 2 and get a cab to New Hilltop Hotel in English)
12. Shopping at Dongdaemun, Ehwa, Hongdae, Myeongdong, Namdaemun, Itaewon, Insadong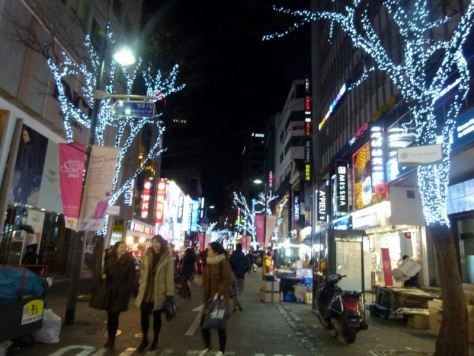 One simply does not visit Korea if he or she did not visit these places. All these are the well known to-go places in Seoul and you definitely will miss out if you don't visit them. Really cheap cosmetics/mask/face wash around and shops coming out with creative promotions to attract customers. Dongdaemun district has many wholesale fashion markets opening up to 6am in the morning and there is a club at the basement in HelloapM. Among all the shopping buildings in Dongdaemun, my favourite is helloapM because it's like Platinum mall in BKK. You can find almost everything there. Ehwa and Hongdae are where the Korean youngsters usually hang around. There are many buskers/artists around the area where they express themselves. Clothes there are relatively more fashionable and trendy. PLEASE BARGAIN!! Myeongdong is a cosmetics heaven, you can find a lot of big brands there. (Something like Orchard in SG). Namdaemun, Itaewon and Insadong are more of the traditional markets. Because it is winter so I didn't spend a lot on shopping. I only bought 3CE makeup from Stylenanda, Laneige BB cushion (KRW37000 = SGD40) and Innisfree facial cream. Oh yes and Stylenanda has free neoprint machine so we spammed! And there's a lot of street food along the street! TRY ALL THEM!
Also read: Cult Beauty Brands You Must Buy While Travelling Asia
13. Travelling out of Seoul to take V-train
We took a 5 hours train ride (0-train) out from Seoul that loops around the inland running through Gangwon-do, Gyeongsangbuk-do and Chungcheongbuk-do (10 hours to and fro Seoul) just to see the interior of the Korean Peninsula. It will then stop at Buncheon Station and then we had to alight and get to the V-train. (Seoul > Buncheon Station > V-train (Buncheon>Yangwon>Seungbu>Cheoram>Bucheon)>Bucheon Station>Seoul). The V-train will then bring us closer to the inaccessible region.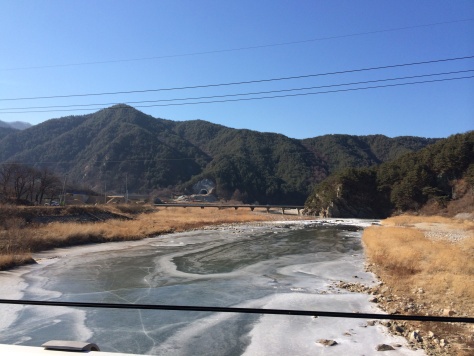 It is really damn pretty with valleys covered with snow and river frozen. I think it will be even prettier if it's autumn! Really amazed by these breathtaking views of natural rocks and cliffs along the steep valleys and mountains. Really make the 10 hours worthy. As this region is less accessible than the major cities due to its rugged geography, not many Koreans themselves actually took the V-train. FEEL LIKE A REAL KOREAN!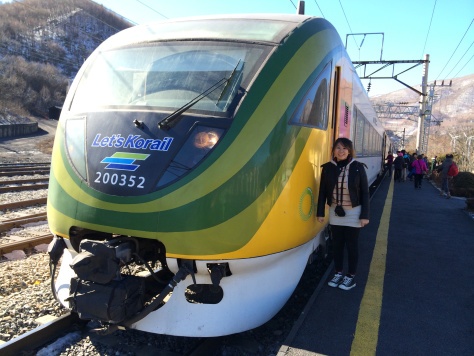 Please take note of the timing because there is only one train going back to Seoul at 4.45 pm and we are taking KORAIL to Bucheon Station (will not appear in the Seoul subway map). KORAIL is the intercity train that links up the whole Korea and its ticket must be bought from Seoul Station. Just go to the information counter and tell them you want a ticket from Seoul > Buncheon>V-train>Bucheon>Seoul and they will do the job for you. It costs around KRW38300 (approx. SGD45) for students (aged 13-25). Remember to bring passport along and book in advance because there is limited seats on the train. Visit english.visitkorea.or.kr for more information.
14. Eating at Gwangjang Market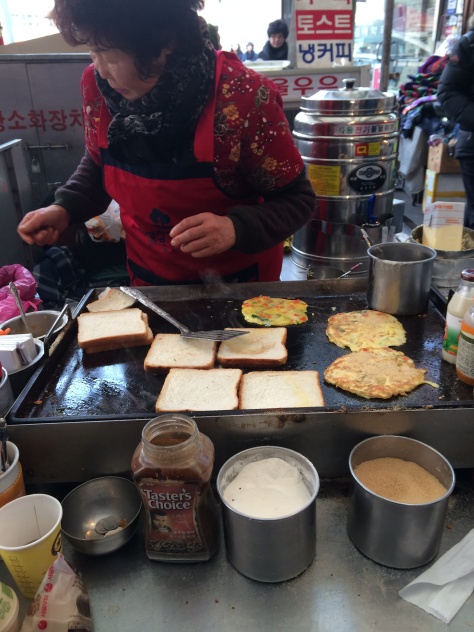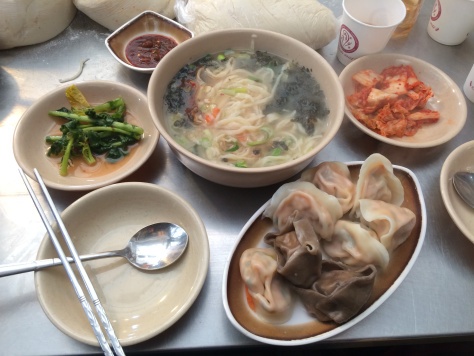 This place is a genius for all foodie! YOU CAN FIND ALL SORT OF FOOD THERE. And you get to see TV station coming to interview vendors. Remember to try the SBS-intro handchop noodle(aka Banmian) (Jongno 5-ga Station, exit 8).
Also read: 21 Bizarre Asian Delicacies That You Either Love or Hate
15. Shopping at Lotte Mart (The one at Seoul Station)
The biggest department store in Seoul / grab all your ramen, kimchi, peppero, banana milk / cute Korean wok (the one you see in drama) back home. Remember to bring your own shopping bag because they don't offer plastic bag. There will be a corner when they provide all un-taped box and you have to tape the box yourself. Tape provided. Didn't manage to take photos, too busy shopping!
16. Themepark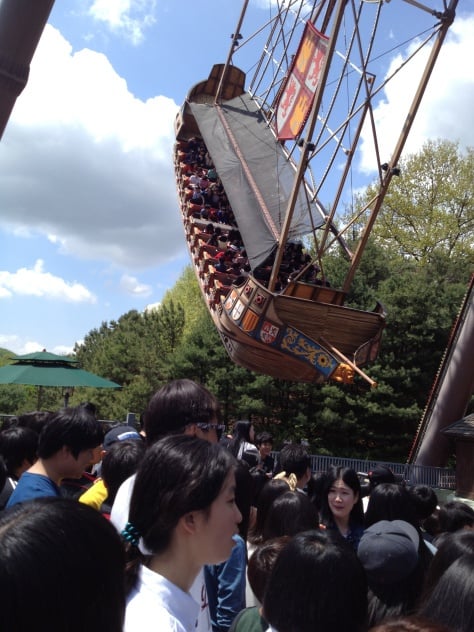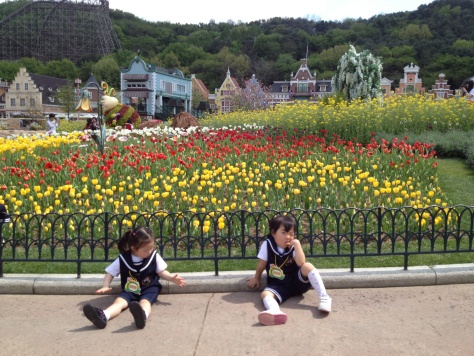 I didn't go to any on my latest trip but I went to Everland in 2012. I personally prefer Everland to Lotteworld because the rides in Everland are a lot more exciting and exotic! There are discounts for students if I am not wrong and there is a shuttle bus (5002) from Gangnam Station. (Photos taken in spring)
Also read: Jeju Loveland: The First and Only Erotic Theme Park in Korea
17. Korean Bath house aka Jjimjilbang
I didn't go to any on my latest trip too but again, I went in 2012. It was really an eye opener! Very interesting. Don't worry, they segregate both genders to respective bath houses. After bathing, both genders can meet in this steam house with various temperatures. Then there will be this huge lepak corner to slack / rest. Remember to roll the towel on your head. I didn't take any photos though because I just put everything in the locker. The one I visited was Sealala Spa. Really huge! There is a water park on top of the building. Admission fee of KRW7000 (approx. SGD8) (excluding the water park). You can visit english.visitkorea.or.kr for more information. (Mullae Station, exit 4. Walk straight and turn right when you see Home-plus supermarket. Walk straight and you will see Sealala on the right)
Also read: 4 Cultural Tips to a Fantastic Time at South Korea Jjimjilbangs
18. Trick Eye museum at Hongdae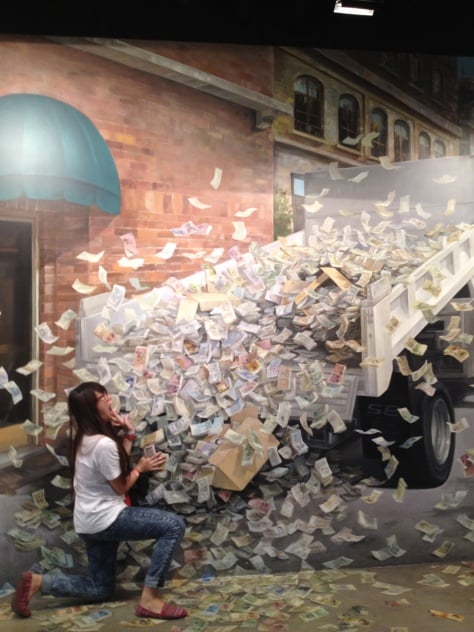 Went in 2012. It is an arts gallery with 3D painting. Visitors can 'interact' with the painting so remember to bring your camera in! Not free, admission fee of KRW15000 (approx. SGD18). Photo taken in 2012! (Hongik University Station, exit 9).
19. Camping
I personally have not tried camping in Korea but I would definitely try when I am back because camping is strongly cultivated in the Korean's lifestyle. It will be quite a hassle to plan but think of the experience you get. I checked online and there are rentals of camping gears (things like tents, tables, mattress, grill set). I think you have to bring your pots or mass tin so you can cook? (Can buy from Lottemart for KRW6000 / SGD7). There are a few campsites in Seoul and one of them is Natural Campsite in Seoul Grand Park (Grand Park Station, exit 2) and it's quite well-facilitated (Shower room, kitchen, cafeteria, gym etc). Quite reasonably price(15000krw of camping fee with 4-person tent included, 1000krw for renting mattress). So interesting! Visit english.visitkorea.or.kr for more information.
b. What to eat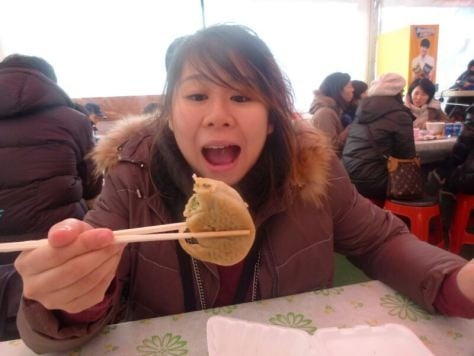 One does not visit any country if he or she doesn't eat local cuisine and street food. Street food is a must especially in Korea! Actually throughout my trip, I spent the most on eating because KOREAN FOOD IS GOOD! Besides that, they usually have very huge serving and free flow water and side dishes! Tips: Try not to go to those really touristy place to dine in (places like Myeongdong, Itaewon, Insadong, Namdaemun), street food is fine but try not to go to their restaurant because they are very commercial, very expensive and usually not-so-nice compared to ones that are located further away (the more authentic one). And I personally feel that Gyeongbukgung area has many nice places to eat, you have to really roam into the shophouses between streets to hunt for good food. Oh and Sinchon and Hongdae area because they are where youngsters hang around so food there are not so expensive.
Also read: How to Eat Your Ramen Like A Pro
1. BBQ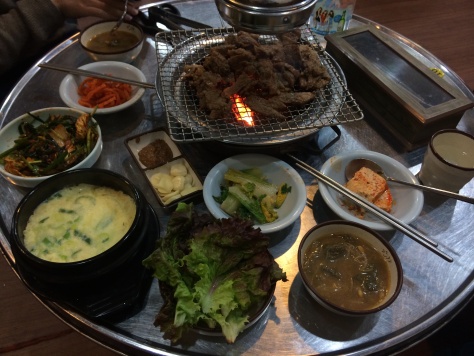 YOU AIN'T VISITING KOREA IF YOU NEVER TRY BBQ IN KOREA. BBQs are very different from SG. In SG, we always go for BBQ buffet where we can eat those meat like crazy but in Korea, most of the restaurants sell meat by pax or kg (hardly see buffet around). Ok I got to agree that buffet is one of Singapore culture / strong Singapore identity but have you ever wondered why? I personally feel it is a manifest of kiasu-ism because Singapore got this mentality that they "earn" by going for buffet as they can eat all you want and they will stuff themselves to the brink (I'm guilty of that too) and instead of really appreciating the food, all we do is stuff ourselves and see how much we can eat. So it is really such a pity and I feel that the Korean F&B industry are doing it right this way by just selling by pax. So one person usually orders 1pax of 1 kg of pork each (KRW10000 / SGD12). If you think it's not enough, you are terribly wrong because the meal will be substantiated by so much side dishes and you are really enjoying your meal and not feel disgustingly bloated after it.
2. Seafood stew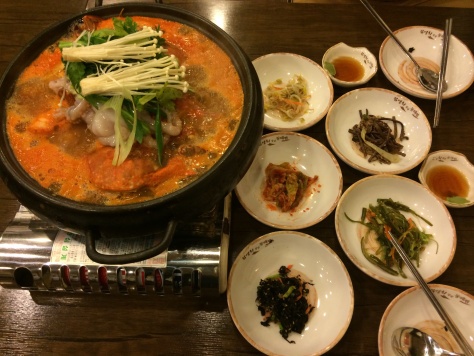 IT IS A MUST TO TRY KOREAN SEAFOOD STEW. Usually the authentic Korean shop(one that is really run by ahjumas) will not compromise the quality of the seafood because it plays a viral role in making awesome soup base and they are very generous one!! They actually gave us 3 crabs for this stew! SHIOKNESS TO THE MAX! Costs around 40000krw, one of the more pricey food I eat but it is too good to be missed and worth any penny. The market rate of it is around 40000-50000krw. Anything more than that, you are probably scammed.
3. Stir-fry chicken pan aka Dakgalbi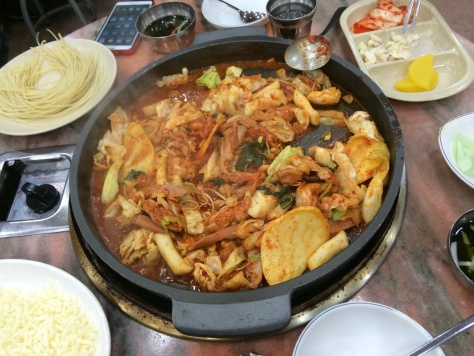 Basically it's just marinated boneless chicken with spicy Korean chilli paste but there's other food in the pan too (Toppoki, cabbage, pasta, sausage, cheese, ham, rice, ramen). They will give you this cute apron so you won't smell/dirty your clothes. Cost around KRW21000 / SGD25 one pan, so it will be awesome if you have more friends to eat with you.
Also read: The Chick List: 10 Droolworthy Asian Fried Chicken Dishes
4. Ginseng Chinese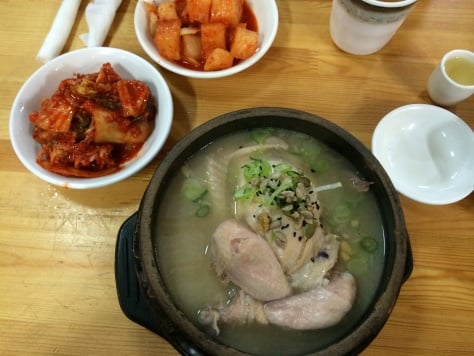 What is Korea without Ginseng?! It is the most authentic place to eat Ginseng Chicken and please don't compare all these with the one in SG. INCOMPARABLE! The place to eat is Tosokchon Samgaetang (quite authentic, quite because it has slowly commercialized. I went there in 2012 and the service was better and food tasted better but when I went in 2014, the crowd management was slow (because a lot of tourists) and food doesn't taste as good but still one of the best I tried) Cost KRW15000 / SGD18 for the basic one (there's more to choose from), worthy of that price because it is relatively good and large portion. Free flow side dish and free soju to keep warm in winter. It is located at Gyeongbukgung Station, exit 2. Walk straight and turn left at Jahamun-ro 5-gil Road.
5. Spicy stew with cheese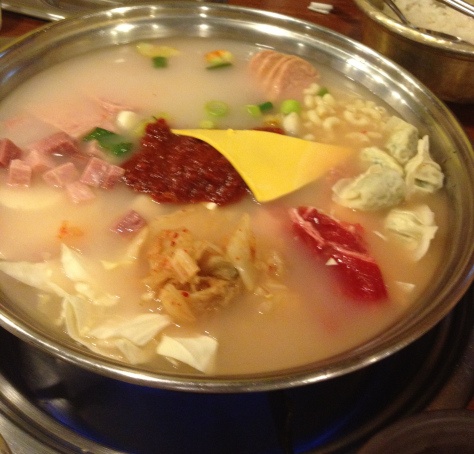 Actually I don't know what it is called in Korean (*Thanks to all the comments, now I know what it is called. It is Budaejjigae which literally means leftover army soup) but it is something like army stew where they put everything inside and let it boil. There's luncheon meat, ham, bacon, macaroni, prok, beef, toppoki, cabbages, dumpling, ramen and CHEESE and chilli paste! Taste damn good when the soup boils and become really saturated with the essences of all the ingredients! This is when I realize we can actually put cheese in our home cooked ramen! One pot costs around KRW18000 / SGD21 and can be shared among many people! They usually provided rice and free flow side dishes!
6. Street food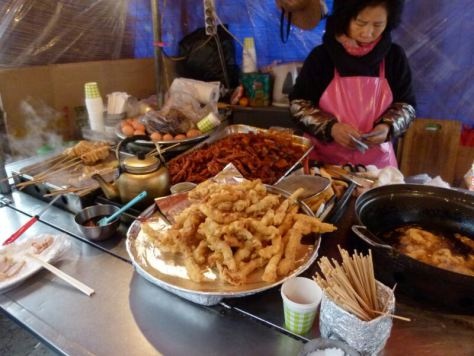 Die-for! All finger food can be found! Toppoki, egg cake, kimbap, oden, fried sausage, etc. (CANNOT NAME FINISH). In winter, vendors will offer you a cup of hot soup to keep warm and some vendors have stools around so you can sit and eat at your own comfort. STREET FOOD ARE VERY CHEAP SO JUST SPAM ONLY!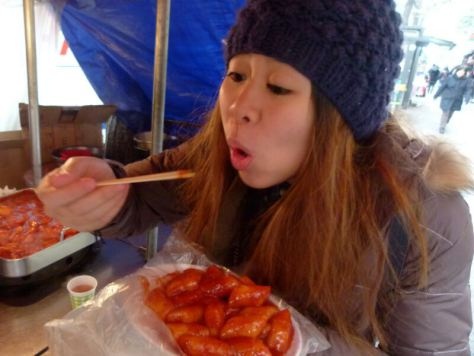 So yay I have finally completed this guide! Blogging about it makes me miss Korea but I will definitely be back again! 🙂 Actually travelling is not expensive if you do a proper research about the places you are visiting, accommodation, air ticket and also cut down on shopping. You must be clear of your travelling objective eg. you can spend SGD1000 in BKK because you are just going there to shop. For me, it will be really just immersing into the culture, doing what the locals do and eat what they eat. So SGD1600 do not apply to you if you are going to shop (especially in Spring and Summer) but I am sure you can definitely survive Korea with just SGD1600. Hope this guide is useful for you! (Especially to many of my friends that are going Korea for exchange). Do drop me a comment / email if you have any questions. 🙂
Contributed by buttergoesbudget.