When the topic of taking a holiday to Singapore comes up, it's always accompanied with laments of how expensive everything is there. Yes, we concede to the fact that the cost of living is really high but… That doesn't mean you have to squander all your savings during your trip! And that's why we've collated this list of nine tips to help you spend less, worry less and enjoy more on your next trip to this country that has plenty to offer. You're welcome!
1. Eat your fill at affordable hawker centres
Instead of making a beeline for those famous restaurants, you should head to a hawker centre during mealtimes! If you don't know what a hawker centre is, it's basically a food centre housed with a multitude of stalls selling foods from an assortment of different cuisines at much cheaper prices.
The appearance of these food centres may be simple, but don't let that fool you! Inside these homely food centres lie a plethora of yummy (and cheap!) foods that definitely wouldn't disappoint your stomachs or wallets.
Whichever cuisine you're craving – be it Malay, Chinese, Indian or even Thai or Japanese – you can find them all at hawker centres. But if you're looking for a more authentic local experience, make sure you give these local delights a go: Chilli Crab, Hainanese Chicken Rice, Roti Prata (fried flatbread cooked over a grill), Satay (seasoned, grilled meats served on skewers with a peanut dipping sauce), Laksa (spicy rice noodle soup) and Rojak (fruit and vegetable salad mixed together with a sweet sauce).

2. Discover the cultural side of Singapore
Singapore is a multi-ethnic country, and you can find little communities of the different cultures in their respective enclaves. Spend some time in the renowned Buddha Tooth Relic Temple in Chinatown, visit the Sultan Mosque (Masjid Sultan) when passing through Kampong Glam, or revel in the vibrance of the sights and smells in Little India.
Apart from learning about the the diverse culture of this little city state, being in these cultural enclaves will also allow you to have an authentic taste of the various cuisines! (Because who doesn't love food, am I right?)
Sussing out an affordable place to stay in the heart of Singapore's culture hubs? Posing as the city's second largest hotel with over a whopping 1,500 rooms, Hotel Boss boasts a very modest price tag that will not burn a giant hole in your pocket. With an extensive selection of cosy rooms that are elegantly furnished, be rest assured that there are room types for all sorts of money-conscious travellers!
Strategically nestled between Singapore's two eclectic cultural enclaves, Kampong Glam and Little India, Hotel Boss is just a stone's throw away from Singapore's prized heritage spots. With quirky local boutiques, artisanal cafes and good bargains dotting the precinct, there are indeed countless of reasons why Hotel Boss is a sound choice. Comfortable, cost-savvy and central to everything, Hotel Boss will truly leave you with a memorable stay. Raring to find out more? Discover about our awesome stay here!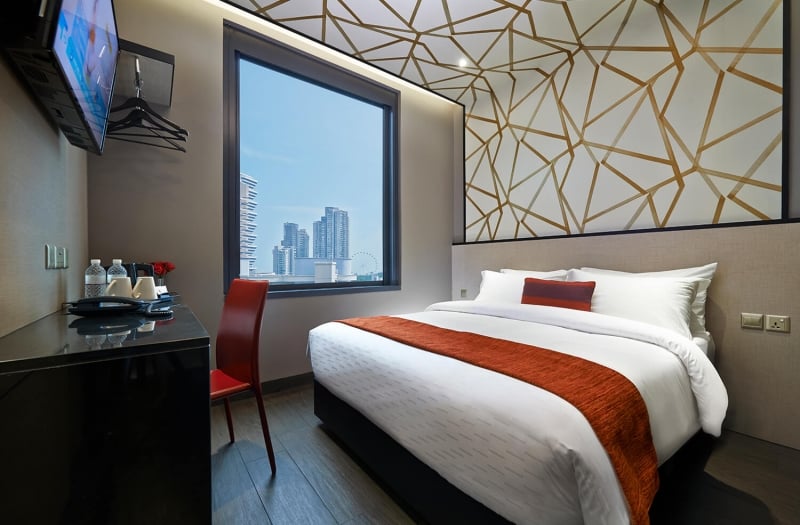 Great news! You can now enjoy an exclusive 5% off ALL rates by using use the promo code <TRIPZILLA> upon checkout. This applies even on top of other existing promotions. Click HERE to book now!
There's no better time than now to revel in this modern, contemporary retreat. A central location will ensure you get the best of the Lion City's sights and sounds while comfortable rooms will leave you feeling absolutely rejuvenated.
3. Walk, walk and walk!
Let's face it: This little red dot isn't really that big. When compared to its Asian neighbours, Singapore is a lot smaller in terms of size, making it a lot more manageable (and less time consuming) to make it from one place to another on foot.
In fact, some Mass Rapid Transit (MRT) stations are located close enough to each other that walking to the next stop might be a better option because you don't have to spend any money!
4. Purchase an EZ-Link Card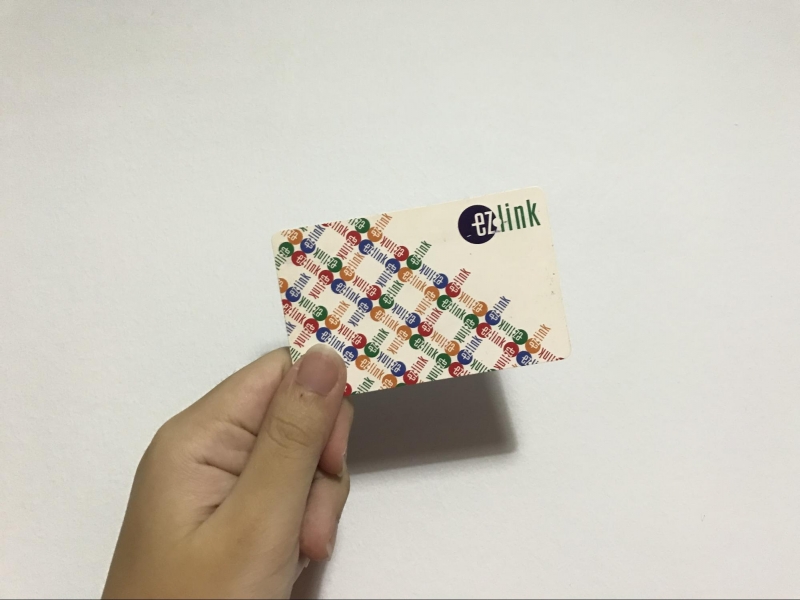 Even though walking from place to place costs you no money, let's be real. Sometimes you just have to get to your next destination fast and you just don't have the luxury of time to be walking. (Or maybe, you're just lazy – don't worry, we totally get it.) It's actually much cheaper to use an EZ-Link card than to pay separately for every trip you take on the public transport during your time here. The card runs on stored value, so you can just top it up with as much as you think you'll need.
5. Trade conventional hotels for budget hostels
Staying in a hotel can be expensive, and we won't deny that! But there's no need to despair, because there are other accommodation options you can consider staying in that won't burn a big hole in your pocket. Budget hostels are a popular option among travellers, as prices can go as low as S$15 a night. If you don't mind compromising a little on privacy to share a room with other travellers, then budget hostels are definitely a good option that'll save you a lot of money. Plus, it's a great way to meet new people from all over the world, especially if you're travelling alone!
6. Skip shopping at big shopping malls
We know it sounds absurd, but hear us out… We're not asking you to not shop completely, just not at the large shopping malls, because there are other places where you can get similar items for much, much cheaper.
You can check out retail spaces like J.Avenue (at JCube mall) and *SCAPE Underground for trendy apparel, or nab a steal at Bugis Street Market. If you're lucky, you might even be able to catch a flea market during your stay here – they are usually roving and temporary, so it's always good to keep a lookout for them!
7. Explore Singapore's many beautiful national parks
Think Singapore is just an urban concrete jungle? Well, that's not true! Singapore is also home to a number of national parks, providing you with more than enough opportunities to get some fresh air. Some of these parks are also interconnected, making it a whole lot easier for you to experience more than one park at one go. Simply follow the park connectors!
We personally recommend taking on the Southern Ridges, a 10-kilometre stretch of open green spaces covering a total of five parks (yes, five!). Entry to all national parks are also free of charge, which is always an added bonus!
8. Seek out free attractions
Believe us when we say that there are PLENTY of free attractions in Singapore, and we're not only talking about all the national parks. You can snap tons of pictures with Singapore's icon – the Merlion – at Merlion Park, get unobstructed views of the city at ION Sky, chill by the beaches at Sentosa, or even admire the beautiful flora and fauna at Gardens by the Bay (you have to pay an admission fee to enter the Cooled Conservatories and the OCBC Skyway).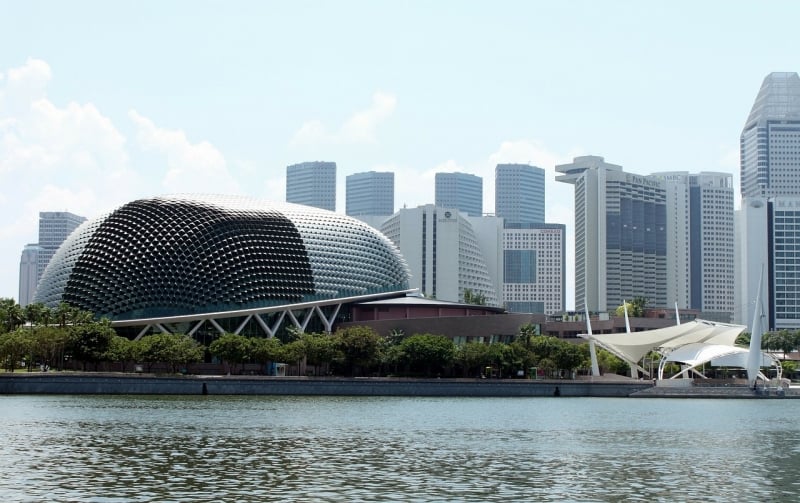 If you fancy some arts in your itinerary, you can check out Esplanade – Theatres on the Bay. These dome-shaped buildings resembling durians often have free performances that you can sit in and enjoy even without any tickets. Some museums also offer free admission into some of their special exhibitions, so that's one more thing to look forward to!
9. Experience Clarke Quay's vibrant nightlife
This one's for all you party animals out there looking for a place to chill out and have a good time! There are loads of bars and clubs at Clarke Quay, most of which are offering Happy Hour deals late into the night. Even if you're not looking to blow your money on fancy alcohol, you can still find somewhere to kick back and relax here. Grab a beer (or any beverage of your preference) at a convenience store, then sit by the Singapore River and soak in the laid back vibes.
BONUS: Budget-friendly shops with solid bargains
While you probably already know about the standard Daiso, we're here to give you some more insider tips on where to get your necessities at cheaper prices. If you happen to run out of any toiletries during your stay here, you can make your way to Venus Beauty. Selling a wide range of items from skincare and hair care products to even household products like laundry detergent, Venus Beauty probably has whatever you need.
Feeling peckish and in need of a snack? You can drop by any Valu$ (pronounced as ValuDollar) outlet or mama shop (a convenience store or sundry shop that is usually located under HDB flats) to get your supply of snacks and drinks, among many other everyday products. Things are sold cheaper at Valu$ and mama shops than at large supermarket chains like Fairprice and Giant, so it'll certainly shave a few dollars off your expenditure when you purchase them here!
Also read: 10 Shops in Singapore Where You Can Buy Cheap Travel Essentials
Nobody should have to feel deterred from visiting a country just because of how expensive it is. Singapore is no exception – this little red dot is a truly beautiful country with rich culture and something to discover at every turn. Now that you're equipped with these money-saving tips, there's no more excuse to put off taking that trip to Singapore!