Mention the words 'Changi Airport' to Singaporeans and even though they may try to hide it, their hearts will inevitably swell with pride.
Named the world's best airport at the World Airport Awards for the fifth year running, Singapore's Changi Airport is well-known for its gorgeous aesthetics, state-of-the-art facilities and surfeit of services and retail therapy – to the extent that it has even somewhat become a tourist attraction.
Recently, a foreign friend of mine even remarked to me in amusement, saying "I heard that Singaporeans enjoy hanging out at the airport." That, I couldn't deny. I mean, which other country's citizens have a habit of heading to the airport out of boredom or camping over at the airport to study for an exam?  
For those that don't understand this unusual practice of ours, I highly recommend checking out these activities! Whether you're heading to Singapore for a holiday, to transit or you live here, there's always something for everyone.
P.S. This list excludes mainstream restaurants and dining options which you can find at Changi Airport's website.
PUBLIC AREA
1. Whizz down a whopping four-storey slide
What better way to revive your childhood than to whizz down the world's TALLEST slide in an airport? At an impressive 12 metres high, get ready to experience a crazy adrenaline rush as you shriek your way down at speeds of up to six metres per second! Whether you're physically young or young at heart, you'll definitely be itching for another round as soon as you reach the bottom.
Located at: T3, Arrival Hall, L1
2. Marvel at the magnificent Kinetic Rain installations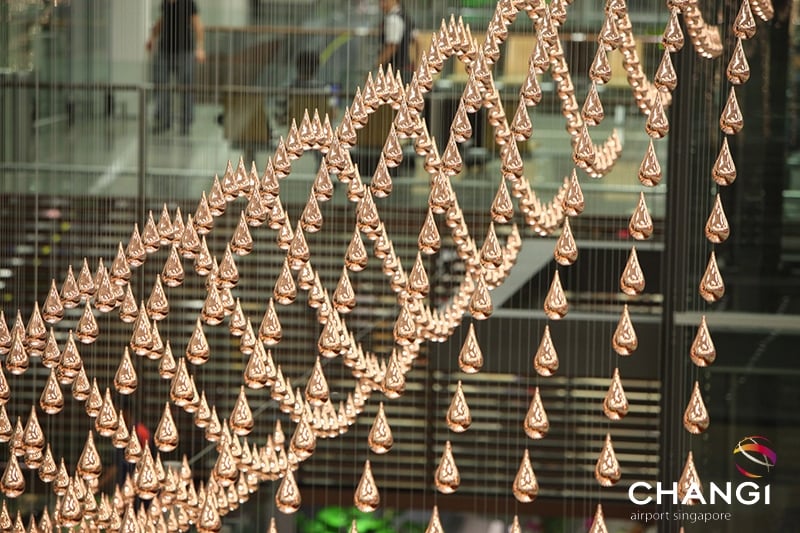 A familiar sight to locals who frequent the airport, the Kinetic Rain sculptures located in Terminal 1 are formed by 1,216 bronze droplets moving rhythmically and forming various abstract patterns including that of an aeroplane, hot air balloon and more! Besides adding a unique artistic charm to the airport as a whole, this beautiful and fluid installation is an elegant, one-of-a-kind piece which visitors and locals alike enjoy marvelling at. Don't forget to take some videos!
Location: T1, Departure Check-in Hall
3. Go plane-spotting at the Viewing Mall
Are you an avid aviation enthusiast or daydreamer constantly with your head in the clouds? What better place to relax and watch the planes take-off and descend (or daydream) than at the viewing galleries located in Terminals 1 to 3! For those Instagrammers out there, this is also the best place for emotional and pensive 'back-view' shots.
Location: T1-3
4. Pamper your children with the 'Changi Loves Kids' scheme
For those who haven't already realised, Changi Airport is extremely family and kid-friendly as apparent from their 'Changi Loves Kids' scheme whereby numerous dining outlets offer kids menus. Your little ones even get to dine for free at Swensen's! Furthermore, with numerous kid-friendly facilities and services such as Kiddy Rides, Baby Care Rooms and even a Reading Corner, your kids will never be found bored or cranky before a flight!
Locations: T1 Viewing Mall L3, T1 L3 Public Area, T3 B2 beside The Slide, T3 B2 beside Pastamania (Kiddy Rides); T3 B2 beside Four Fingers, T3 B3 beside The Slide (Baby Care Rooms); T3 B2 beside Customer Service Counter (Reading Corner)
TRANSIT AREAS
5. Work your tan at the Rooftop Swimming Pool and Jacuzzi
Feeling tired after your long-haul flight? Or do you have a long layover before your next connecting flight? Aerotel Singapore is here to save the day. Enjoy unparalleled comfort and convenience with their flexible room sizes and hourly bookings that are best suited for each traveller's need. Aside from plush beds, showers, health and fitness facilities and more, you can even take a dip and work your tan at the Rooftop Pool and Jacuzzi.
They are the only transit hotel in Asia to have an outdoor swimming pool, so make the most out of this precious opportunity! You're bound to feel refreshed, rejuvenated and ready to take on your connecting flight! With a poolside bar available, you're welcome to enjoy an ice-cold beer (or two) and freshen up after your swim.
If you're looking for a relaxing way to while those hours away, you'll be delighted to know they also have the Library, where you can indulge in an engaging book coupled with a warm cuppa to soothe your senses. Mmm, it sure sounds like bliss doesn't it? Whoever said transits have to be torturous anyway? If you know where to go and how to spend your transit hours wisely, you could actually be reluctant to leave the comforts of your hotel and head off to your connecting flight!
Location: Aerotel Singapore, T1 Departure Transit Lounge, L3
6. Embark on a FREE movie marathon at the Movie Theatre
Stuck in Changi Airport for a long layover, not knowing how to kill time? Well, the digital action here doesn't stop with its Movie Theatres screening your favourite films –  all day, errday. With these free-of-charge screenings ongoing 24/7, doing nothing isn't even an option anymore! Do note that the theatres will be closed for weekly maintenance, so check Changi Airport's website for more details.
Locations: T2 Departure Transit Lounge, T3 Departure Transit Lounge North
7. Have a photoshoot and be one with nature at the eight gorgeous gardens
A. Sunflower Garden
Think that you need to head to the Netherlands for a gorgeous photoshoot amidst a vibrant sea of sunflowers? Well… think again! Tucked away from the hustle and bustle of the Transit Hall is the stunning Sunflower Garden which boasts a stunning sea of cheery yellow.  Besides taking your fix of selfies, do try to spot the runway and aircraft parking bays which are visible from here!
Location: T2, Departure Transit Lounge, L3
B. Orchid Garden & Koi Pond
The Orchid Garden features more than 700 orchids of 30 species grouped by various colours and shapes representing the four elements of nature: Earth, Water, Fire and Air. In addition to viewing the stunning pink beauty prized as Singapore's national flower, visitors can also feed the beautiful Koi fishes at the ponds every day at 9.30am and 4.30pm! Definitely a fun experience that the kids will love.
Location: T2, Departure Transit Lounge, L2
C. Water Lily Garden
A unique garden featuring water lilies in a natural aquatic garden environment, the Water Lily Garden features a meandering tiled walkway resembling radiating ripples on water after a pebble has been tossed into a pond. The garden shelters are exquisitely designed in the shape of the water lily leaf and you'll find the Amazon Water Lily, Sacred Lotus and more here!
Location: T1, Departure Transit Lounge, L2
D. Sculptural Tree Garden
A stunning garden featuring three tall-tree like sculptures clad with an interesting collage of foliage, the Sculptural Tree Garden is an exquisite mixture of greenery and art. For a closer appreciation of nature, do check out the raised walkways which offer you a good view of the entire garden.
Location: T1, Departure Transit Lounge, L2
E. Enchanted Garden
An interactive and decorative garden which 'magically' comes to life with sights and sounds, the Enchanted Garden will captivate you as soon as you step in! It features motion sensors which trigger sounds of nature and blooming flowers as well as LED lighting embedded pathways. Everyone is bound to have a great time admiring the giant glass bouquet sculptures and stained glass pieces.
Location: T2, Departure Transit Lounge, L2
F. Piazza Garden
A lush sea of green dotted by occasional bright-coloured flowers, the Piazza Garden features seasonal and thematic plant displays throughout the seasons. Special thematic displays are also put up for Singapore's various cultural and ethnic festivals whereby culturally important plants are showcased. Do pop by for a glimpse of these cool seasonal plants!
Location: T1, Departure Transit Lounge, L2
G. Butterfly Garden
In the Butterfly Garden, you'll be greeted by a tropical butterfly habitat with a profusion of flowering plants, lush greenery and a six-metre grotto waterfall as soon as you enter. Over 1,000 tropical butterflies from a range of 40 species can be found fluttering in this compound which is also known to be the world's very first Butterfly Garden located in an airport.
Location: T3, Departure Transit Lounge, L2 and L3
H. Cactus Garden
Featuring more than 100 species of cacti and crid plants from Asia, Africa and America, the Cactus Garden is a beautiful and relaxing place to walk through and bask in the sun. Besides admiring the exquisite species of cacti, you can enjoy a drink or two at the bar found within the garden.
Location: T1, Departure Transit Lounge, L3
8. Go on a duty-free shopping spree
For all you shopaholics out there, Changi Airport has got your retail therapy covered even whilst transiting! With wide ranges of beauty and skincare products available at Cosmetics & Perfumes by Shilla, premium wines at DFS Vintage and DFS Wines & Spirits, the trendiest watches at DFS Watches and more, you're bound to be utterly spoilt for choice. Time to bag some value-for-money steals for your loved ones!
Locations: T1-T4 (Cosmetics & Perfumes By Shilla), T3 (DFS Vintage), T2 (DFS Watches), T1-4 (DFS Wines & Spirits)
9. Binge on PS3, Xbox, Wii and more at the Entertainment Deck
If gaming is more of your kind of thing, the Entertainment Deck will be your ultimate haven. Loaded with the latest Xbox 360, Playstation 3, Kinect station and even an MTV booth, you're bound to have the best time waiting for your connecting flight! Table tennis, beach volleyball, bowling games or soccer – you take your pick!
Location: T2, Departure Transit Lounge
10. Get immersed in Singapore's history and Peranakan heritage at the Theatre of Experience
Located right in Changi Airport's newly opened Terminal 4 is an impressively rich tapestry of culture and technology which consists of theatre performances, live bands, heritage-themed facades, immersive LED displays and more! From the cool Immersive Wall LED display of Singapore's skyline and Changi's connectivity to ASEAN destinations to the iconic Peranakan shophouses which inevitably invoke a sense of nostalgia, you'll be blown away by the visual representations showcasing Singapore's unique mix of cultures.
Location: T4
11. Keep up with the latest sports matches or send an e-Postcard at the Xperience Zone
For all the sports enthusiasts, transiting doesn't mean that you have to miss your beloved matches, you know! Simply head down to the Xperience Zone to catch your dose of the latest sporting events on large screens whilst lounging on comfy plush seats! There's also an interactive e-Postcard service which allows you to send your loved ones an e-Postcard on the go!
Location: T2, Departure Transit Lounge, L2
12. Catch some beauty sleep at the Snooze Lounges
We all know long flights and travelling can get extremely tiring which is why… Changi Airport has built these free-to-use Snooze Lounges in all their terminals! Say goodbye to the much-dreaded dark eye circles that ruin your selfies!
Locations: T1 Transit East L3, T2 Transit North Pier (Sanctuary Lounge and Oasis Lounge), T3 Transit North Mezzanine, T4 Departure Transit L2M
13. Get rejuvenated with a shower and spa at the pay-per-use lounges
For those of you weary travellers waiting for your connecting flight, there's no better way to get rejuvenated than to indulge in Changi Airport's shower facilities, nail care, foot reflexology and massage therapy services at their paid lounges. With numerous locations available, your pampering session is just a few minutes away!
Locations:
Terminal 1: Airport Wellness Oasis (L3),  Plaza Premium Lounge (L3)

Terminal 2: Ambassador Transit Lounge (L3), TranSpa (Central L3), Spa Express (Central L3)

Terminal 3: Ambassador Transit Lounge (L3), Be Relax (L2)
14. Snap and share some beautiful photos at The Social Tree
At a towering nine-metres tall, The Social Tree is Changi's largest interactive installation created for the purpose of snapping and storing your photos and video memories. It is an avant-garde memory capsule where you'll have the option to 'attach' your photos and videos onto its eight touch-screen photo booths. Whether you come as a family or a group of friends, you'll definitely have a blast taking memorable pictures!
Locations: T1, Central Piazza
15. Watch your little ones have a blast at the Play Area
Don't know how to occupy your grumpy and restless children as you wait for your connecting flight? Simply bring your little ones to the indoor, air-conditioned playgrounds and they're bound to have the time of their lives conquering these engaging obstacles and making friends!
Locations:
Terminal 1: Departure Transit Lounge East, L2

Terminal 2: Departure Transit Lounge North, L2

Terminal 3: Departure Transit Lounge Central (L3), Departure Transit Lounge (L2)

Terminal 4: Bus Station, L1
16. Try your hand at some Interactive Art
For those artistic souls, why not try your hand at some interactive art at the Art Rubbing Station? Here, you'll be able to create and take home your own imprints from rubbing surfaces of icons inspired by local Singapore culture and Changi Airport! Definitely an experience both adults and children will enjoy.
Locations: Viewing Mall, L3 (T1); Departure Transit Lounge South, L2 (T2); Level 2 and B2 (T3)
17. Binge watch your favourite TV shows at the TV Lounge
For TV addicts like myself, the biggest con to travelling and transiting is probably not being able to watch my favourite TV shows in comfort. But with Changi's TV Lounge, you can now enjoy your beloved TV programs with a great quality sound system whilst lounging comfortably on plush seats.
Locations: Departure Transit Lounge, L2 (T3); Departure Transit Hall, L2 (T4)
18. Go on an art appreciation spree in T3
Quite contrary to the popular belief that Singapore has a poor arts scene, Changi Airport is dotted with numerous award-winning art installations and sculptures for visitors to enjoy. Simply follow this trail and you'll be in for an eye-opening time!
Location: Various locations (stated above) in T3
19. Enjoy a quiet moment in the Prayer Rooms
For the religious souls craving for some peace and quiet away from the bustle of the Transit area, Changi offers a multi-faith prayer room for you to enjoy a quiet devotional moment.
Locations: L3 (T1), Departure Transit Lounge North, L2 (T2); Departure Transit Lounge South, L2 (T3); Departure Transit, L2M (T4)
20. Send your loved ones some postcards
If you're killing time waiting for your connecting flight, why not seize the opportunity to send some snail mail to your loved ones? Whether it's a beautiful postcard or a small gift, your family and friends are bound to appreciate your kind gesture.
Locations: Departure Transit Hall (T1-3)
*Postal services are also available in the public areas of T1-3.
BONUS: ONGOING/COMING-SOON EVENTS
21. Changi's Mystical Garden with Sanrio Characters (Ongoing)
Step into Sanrio Wonderland this Christmas and journey through Changi's Mystical Garden from now until 5 Jan 2018 for an amazing time with fun-filled activities and exclusive Sanrio plush toys! The main highlights include a Mystical Garden Centerpiece featuring a gazebo and treehouse, Drone Show, Light and Snow Show, four-metre-tall Hello Kitty Topiary and adorable Sanrio playground.
Location: T3 Departure Hall, L2
22. Step into a whole new world at Jewel Changi Airport (Coming Soon)
For those who don't already know, Jewel Changi Airport is a mixed-use development set to open in early 2019! Featuring a hotel, exciting attractions, aviation facilities and numerous retail and dining options, this humongous ten-storey complex will make visitors feel like they've just entered a whole new dimension altogether.
Some cool attractions to look forward to include the Sky Nets (a bouncing and walking net 25 metres above the ground), Discovery Slides, Canopy Mazes, Foggy Bowls, Petal Garden, Topiary Walk and more! It is lush, green and slightly similar-looking to Gardens by the Bay; visitors can get ready for the ultimate airport experience of their lifetime!
Well done if you've managed to finish scanning the entire list! With a plethora of exciting activities, state-of-the-art facilities and high-quality wellbeing services, you're guaranteed an amazing time at Changi Airport! Trust me, being at the airport has never been THIS much fun.