In the blink of an eye, December has arrived and 2017 is drawing to a close. Are you ready to ring in the new year? If you think that there's nothing cool to look forward to in 2018, we are here with a list that will make you think twice! From the return of A&W to spanking new malls and exciting festival line-ups, it looks like 2018 is going to be just awesome!
1. The long-awaited return of A&W
After a long and painful 14 years of absence, A&W is set to be back in sunny Singapore in 2018! That's right, time to ditch the other fast food chains and stuff your face silly with A&W's signature curly fries and coney dogs before washing it all down with frosty cold mugs of root beer! We don't know about you but we are definitely looking forward to this one!
2. New shopping malls to explore
Residents in Yishun and Paya Lebar can look forward to new shopping centres opening up in their precinct with the launch of Northpoint City and Paya Lebar Quarter respectively. Northpoint City will be the largest mall in northern Singapore with over 400 dining and retail outlets across two wings (sounds impressive, doesn't it?!). The Paya Lebar Quarter will be both a mall and residential space, complete with a cinema and spa outlets. In addition, the residence area will be linked to park connectors, an MRT station and other workspaces nearby. Once it opens, this mall will surely be the newest hangout spot for lunch or drinks after work!
3. New hotels for staycations
Here's a heads-up for those who love their weekend staycations! Come 2018, there will be a few new hotels opening in Singapore where you will be able to have a pampering getaway in style. These include the boutique hotel, The Duxton Club, by celebrated designer Anouska Hempel, Capri by Fraser and swanky Dusit Thani Laguna Singapore.
The fully-restored Raffles Hotel will also be unveiled mid-2018, after closing its doors December this year. The premises will have more suites, amenities and technological updates in order to better cater to its guests.
4. Lots of concerts to look forward to
Fans of The Script, Foster The People, Imagine Dragons and Jay Chou can look forward to their favourite idol's music concerts in 2018. Belt your hearts out to your favourite tunes and groove to the beat! Other returning favourites include Katy Perry, Shawn Mendes, Harry Styles, Niall Horan as well as Bruno Mars on his 24K Magic world tour!
5. Fun running events to help you check "Exercise More" off your list of new year resolutions
Pokemon Run Carnival Singapore 2018
Pokemon fans, it's time to grab your gear and head for the Pokemon Run Carnival Singapore! Get ready to unleash your inner pokemon trainer and "catch" tons of cute pokemon as you go along your running route! There will even be a huge inflatable carnival area waiting for all trainers at the end of the race! Are you ready? Gotta catch 'em all!
Date: 27 Jan 2018
Register: Online here
Safari Zoo Run
If you prefer "catching" real animals, then the Safari Zoo Run is just the perfect race for you as it allows racers the unique opportunity to run through Singapore Zoo and the Night Safari! You can say hello to all the different animals and stop for some photos with the cute animal mascots along the way. This year is the Safari Zoo Run's 10th anniversary, so expect a lot more fun surprises and activities!
Date: 27 Jan 2018
Register: Online here
Run for Light
Run for Light is something that is both fun and meaningful because it raises funds for the underprivileged community. Choose either the 1km Blindfold Walk, which is two by two – where one person guides the one donning a blindfold – or the usual 5km or 10km competitive/fun runs.
If giving back to society is one of your New Year's resolutions for 2018, there is no better way to start by running for a visionary cause where your participation makes all the difference.
Date: 3 Mar 2018
Register: Online here
6. A new mobile service provider
For those who have heard of MyRepublic, you will know that the local fibre broadband operator currently only offers broadband services. However, that's all set to change this coming 2018 as Singaporeans can look forward to MyRepublic's launch of mobile services!
MyRepublic has already signed a deal to buy airtime in bulk from one of the major telcos in Singapore. They also plan on being "very competitive" when further questioned about the price of their mobile plans. We can't wait to see what's in store!
7. More budget long-haul flights
Fulfilling your wanderlust will get much easier in 2018, with more budget airlines offering long-haul flights. For instance, Scoot will be launching flights from Singapore to Berlin in the second half of 2018 – its third long-haul destination after Athens and Honolulu. All in all, Scoot is aiming to triple its long-haul offerings in the next two to three years which means… You can travel further for cheaper!
Another budget carrier, Norwegian Air, is also looking to offer more flights connecting Singapore to London following its successful launch in September this year. It also plans to launch flights that will connect Singapore to other Scandinavian and European countries in due time.
8. Cool festivals to look out for
Finally, there will also be cool festivals lined up for next year, where music and art lovers will be able to revel in their natural element. The St. Jerome's Laneway Festival will see artists like Billie Eilish and Wolf Alice while the M1 Fringe Festival will showcase art installations and theatre. Festivals aren't just all about appreciating arts and culture though, because this year there will also be a Fitness Fest! Yes gym buffs and yoga-meisters, there's a festival for all of you, too!
BONUS: An unforgettable MRT ride for couples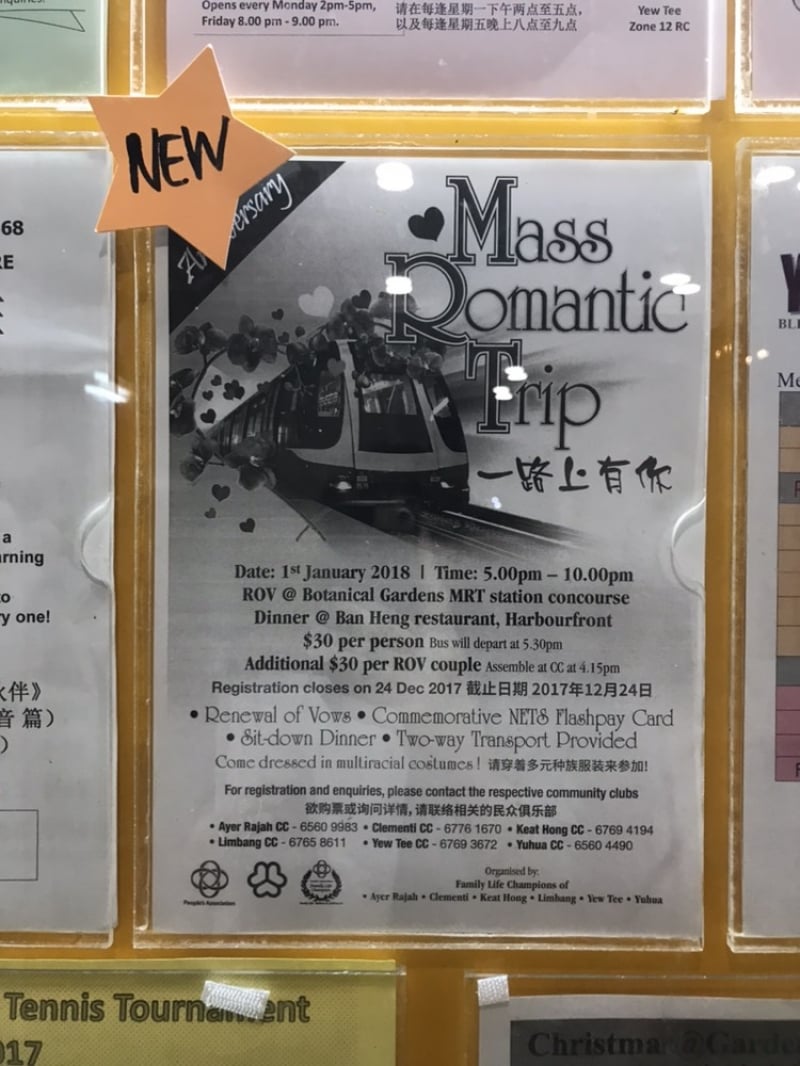 If you're looking for a novel way to celebrate the new year with your other half, why not go on a Mass Romantic Trip, on our very own MRT no less? This romance on the rails will bring couples through a renewal of vows followed by a sit-down dinner. You will even receive a specially designed NETS Flashpay card too!
Date: 1 Jan 2018
Time: 5pm-10pm
Register: At selected community clubs by 24 Dec 2017
Can't wait for 2018 already? We don't blame you… with so much in store, who isn't?