Every traveller dreams incessantly of seeing the world, of exploring new territory with all fears and inhibitions thrown asunder. Every holiday should be an adventure, a story to tell when you finally get home. So why not push yourself out of your comfort zone and venture on a backpacking trip?
Destination is key: choose a region where it's an eclectic mix of light, sound, culture and food, with just the right amount of chaos. After all, why should an adventure be anything less? Here we present to you the ultimate backpacking destination – Southeast Asia – and 7 places for you to kickstart your escapade:
Vientiane, Laos

Image credit: Benh LIEU SONG
Laos is often overshadowed by the bordering countries of Thailand or Vietnam, but it is a region that's definitely worth a spot in your itinerary. And where better to start your backpacking adventure than from Vientiane, the capital of Laos itself?
Unlike the typical Southeast Asian capital that is often overrun by thundering motorcycles and sprawling night markets, Vientiane is indeed a breath of fresh air. The best way to explore the city is on two wheels; we recommend you to rent a bicycle and take a leisurely cycle through the city. The city is only home to 750,000 people, and offers wide expansive spaces, magnificent palaces/temples, elegant French-inspired statues, as well as brilliant sunsets guaranteed to stop any traveller in their footsteps.
Luang Prabang, Laos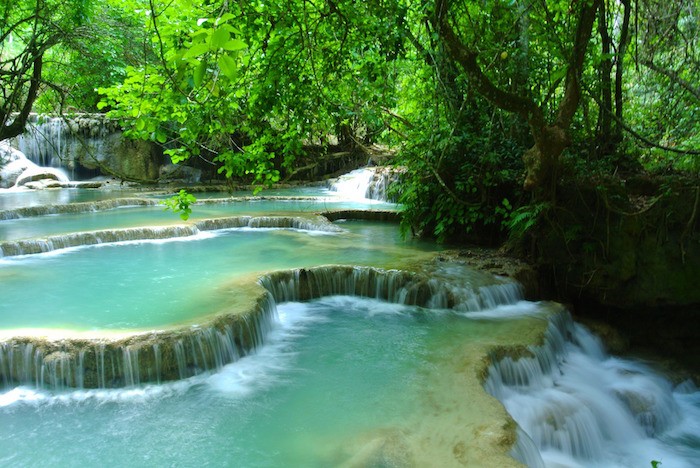 Perhaps you prefer something a little more exciting, something a little off the beaten track. We've got just the thing for you – choose to start your crusade from Luang Prabang, a heaven for any nature/outdoors enthusiast.
Get back to your roots and closer to nature at the stunning Kuang Si Waterfalls. The Kuang Si Waterfalls are an icon of the region, and boasts crystal-clear turquoise waters and a photogenic backdrop for any Instagram picture to boot. Throw on your swimming suit and take a dip; the waters are icy cold, and are the perfect respite amidst Southeast Asia's sweltering heat. Explore the spectacular Pak Ou Caves, or venture to the nearby Elephant Village for a day among those majestic beasts. There are so many things to do in Luang Prabang, which is perfect to kickstart your SEA exploration.
Chiang Mai, Thailand
Image credit: John Shedrick
Every November, the city of Chiang Mai lights up with a sky full of glowing lanterns. Watch as the sky transforms into a surreal sea of light, as the people come together in a rousing celebration of hope and desire. Plan the start of your trip to coincide with this magical festival, and start your backpacking with a bang.
Other than the festival, trawl through Chiang Mai's many night bazaars/markets, each offering more food and goods than the next. If you're brave enough, you can even munch on crickets, mealworms and so on. The markets here offer everything, and we do mean everything. If you're up for a little more adventure, located 2 hours from Chiang Mai is Doi Inthanon, the highest peak in Thailand (2,565 metres). Get lost on one of many beautiful walking trails near the summit that run through the forest – it'll be an experience you'll never forget.
Siem Reap, Cambodia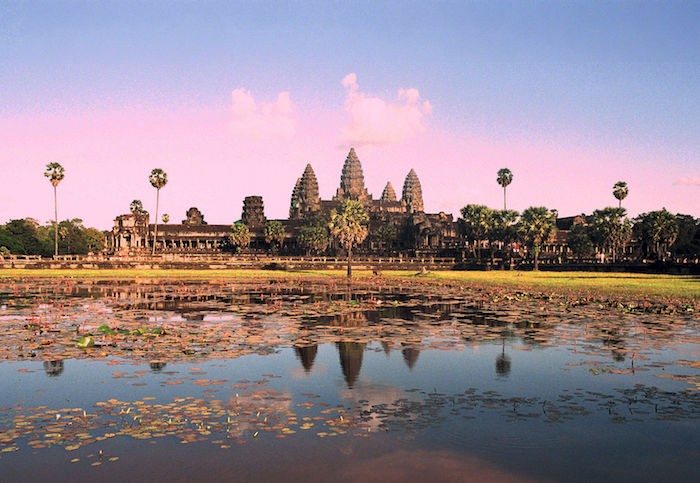 Image credit: Gisling
Siem Reap is home to the renowned Angkor Wat, a towering temple complex with countless intricate carvings and elaborate ruins. Start your trip bright and early and venture to the complex to watch the sunrise – you'll realise that during that golden hour, the compound is generally empty, serene, and pretty much yours for the taking.
Take a deep breath and revel in the peace and quiet; it's not everyday that you get to witness such beauty. There's just something about watching the sun cast its rays over the still Earth, bringing colour and light to everything it touches. Start your SEA backpacking adventure here, and tick this off your bucket list!
Yogyakarta, Indonesia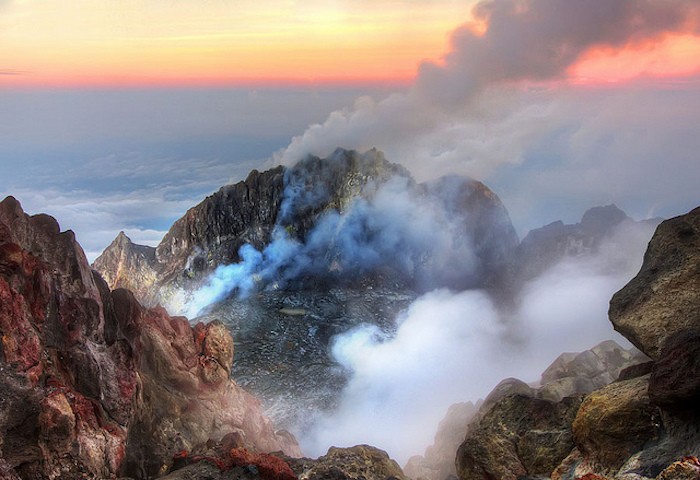 Image credit: Jimmy McIntyre
Why not choose Indonesia as your starting point? Indonesia is not only home to rich Javanese culture, but is also home to active volcanoes that are devastatingly beautiful, to say the least. Thrill-seekers should attempt to hike Mount Merapi, located near Yogyakarta. It is one of the most active and deadliest volcanoes in the country, but many still venture here for the ultimate adventure of a lifetime. Climb the volcano and feast your eyes on a dramatic landscape, a smoking crater, and possibly the best sunrise you'll ever see in your lifetime. It might sound like an exaggeration, but you just have to see it for yourself.
Other than Mount Merapi, there are countless geo-heritage sites in the region worth a visit. Alternatively, you can choose to explore the ruins located in Yogyakarta itself, and delve headfirst into the fascinating history that permeates every inch of the city.
Kota Kinabalu, Malaysia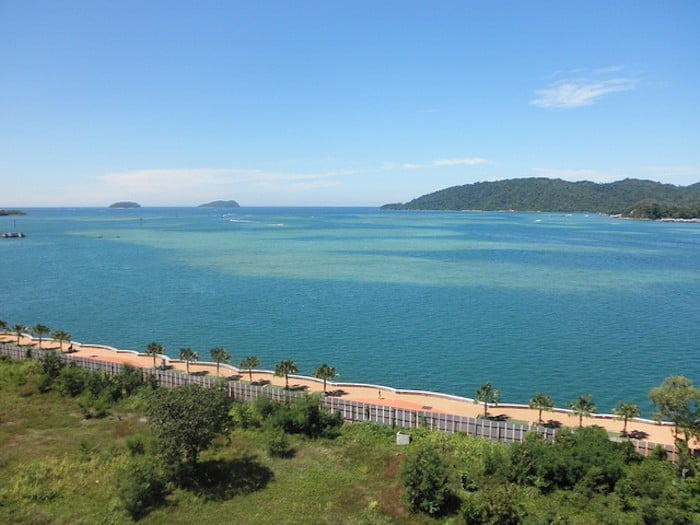 Image credit: Jason Thien
Perhaps start your backpacking a little closer to home, and choose Kota Kinabalu as your first destination. Mention Kota Kinabalu, and Mt. Kinabalu comes to mind. However, did you know that Kota Kinabalu is actually home to a plethora of pristine white-sand beaches? Grab the chance to lounge on the beach, or partake in an exciting range of water-sports such as parasailing or jetskiing. Go scuba diving or even helmet diving, where you wear a helmet and walk on the seabed through schools and schools of fishes.
Travel back in time and take a ride on the North Borneo railway, an authentic steam engine train that runs twice a week from Tanjung Aru to Pagar. It's a treat for the senses on board this train; first you get to watch the engineers throwing log wood to feed the fire that builds the steam to drive the train, you get to take pictures with the staff clad in uniforms of yesteryear, your lunch is presented to you in tiffin boxes, and you also get to chug past rolling paddy fields, mangrove forests, and numerous small towns.
Mandalay, Myanmar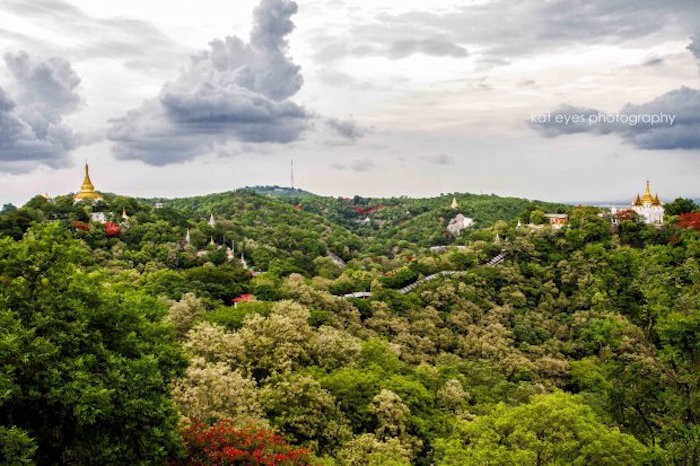 Of course, how could we forget Myanmar? Tourists have been flocking to the region in search of hot air balloon rides, sweeping panoramic views and the like. But why go where everyone goes? We recommend you to start your trip from Mandalay instead, the second largest city in Myanmar.  History buffs would delight in a trip here, for the entire city oozes years and years of history and culture. Traverse your way among temples and pagodas, each more magnificent than the last.
What stands out, however, wouldn't be the architecture, but the heartwarming hospitality of the people. Feel right at home everywhere you go; the locals of Mandalay are friendly, obliging, and non-intrusive. They don't intrude into your personal space, but instead remain on the fringe offering their widest smiles and genuine help should you require assistance. This is the country to visit should you want an authentic experience, and to see a country through a local's eyes.
So there you have it – 7 places to kickstart your SEA backpacking adventure. P.S. SilkAir offers flights to ALL 7 of the above places! The flights are all offered at amazing prices, and all fly directly to the destination. Besides, cheaper flights means more money to spend during the trip, no? It's a win-win situation! Book your flights with SilkAir now!
Pack your bags, and get ready to see the world. Adventure is out there, all you have to do is take the first step. Bon voyage!
---
Brought to you by SilkAir.