Having been to Bali three times, it struck me that while I've enjoyed the villas and the beaches that Bali is so famous for, I haven't actually checked out very much of the cultural and historical bits of Bali.
Thus, my family arranged for a half-day tour through our resort The Villas with a guide called Yogi, checked out two key cultural spots in Bali, just outside the main Kuta area. Now getting out of Seminyak was tough – Bali's roads have not caught up with the sheer number of tourists, and there were some massive jams. What should probably have been a half hour drive ended up being one and a half hours instead, with most of it stuck along a narrow main road exiting the North Kuta area.
We ended up checking out two famous temples of Bali in Tabanan, north of Kuta called Pura Taman Ayun and Tanah Lot.
Pura Taman Ayun, or the Royal Temple of Mengwi
First we headed to what Yogi called Mengwi Temple, better known as "Pura Taman Ayun" instead – Mengwi is actually the name of the village it is located in and the king who built it, whilst Pura Taman Ayun translates into a rather poetic 'Garden Temple in the Water'. This 18th century Hindu temple is on the list of UNESCO's world heritage sites.
It cost us just 15,000 rupiah per person to attend, but we didn't spend too long there because the weather was pretty humid and we wanted to catch the sunset at Tanah Lot. We basically took a slow walk around the compound, which was peaceful and serene even with tourists around. This is good if you want to see some culture without the hordes of tourists. Take a look for yourself: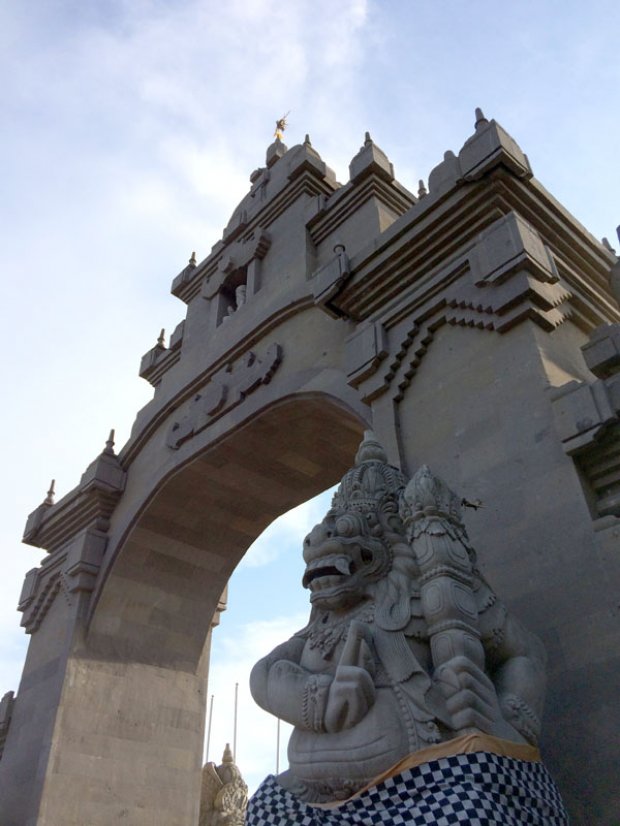 The main entrance and where most of the cars are parked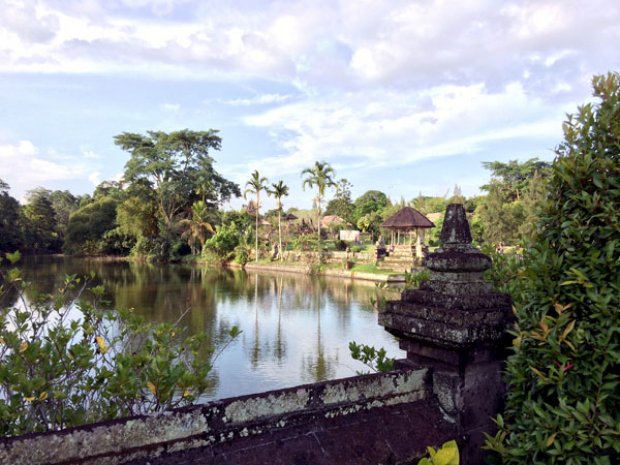 The temple is surrounded by a large moat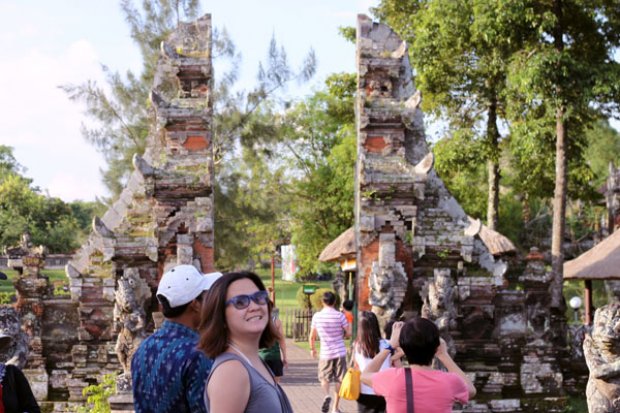 The traditional entrance to most Balinese temples and sacred places – the split gate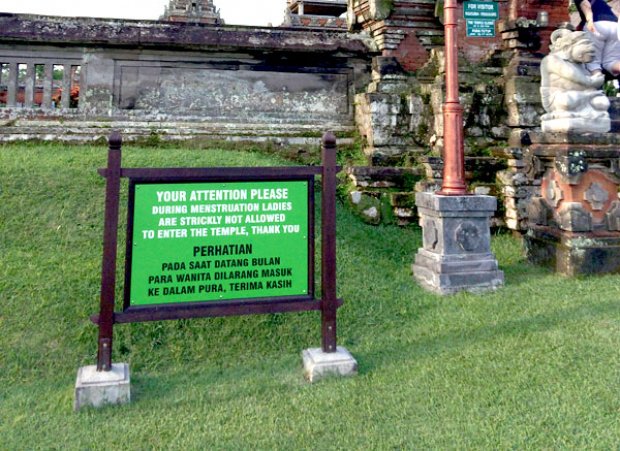 So I'm pretty sure it's impossible to check, and I think the modern woman might pitch a fit if they were barred from visiting just because of biological cycles.
Cock fighting is a big part of Balinese Hinduism; the animal sacrifice and the blood of the cock spread around the temple is supposed to an offering to the gods. While this is okay for religious purposes, betting on the fight is technically illegal, but that doesn't really seem to stop anyone…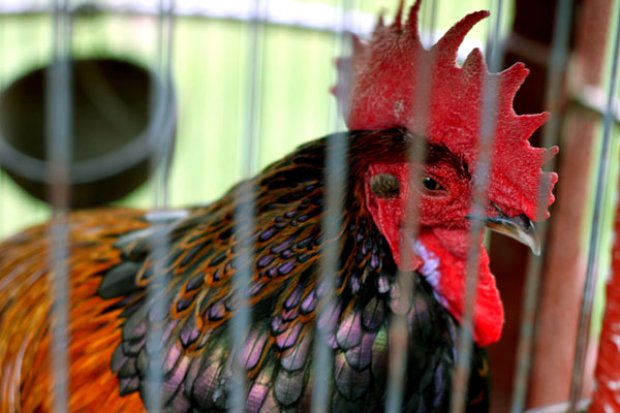 One of many caged cocks around the compound. Some are pretty aggressive and will peck if you get too close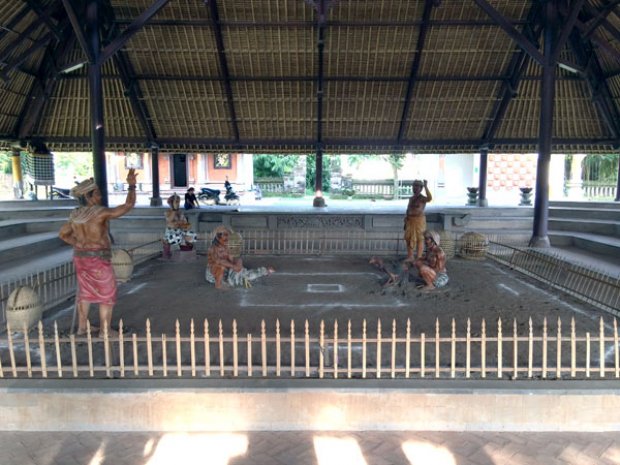 A life sized diorama of cock fighting
We visited the temple a couple of days before Nyepi, and spotted several devotees praying in the temple, but other than that it was pretty quiet all around.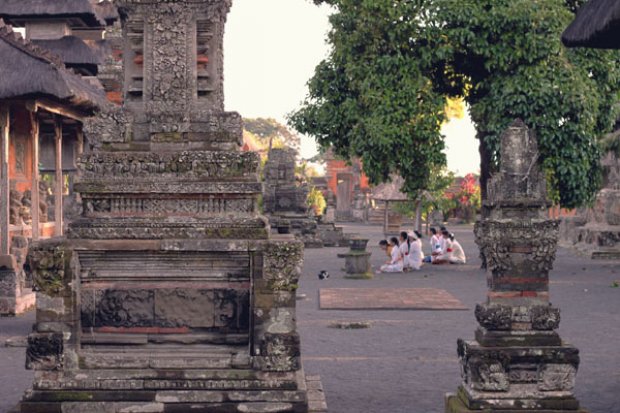 Quiet moments of prayer in the inner courtyard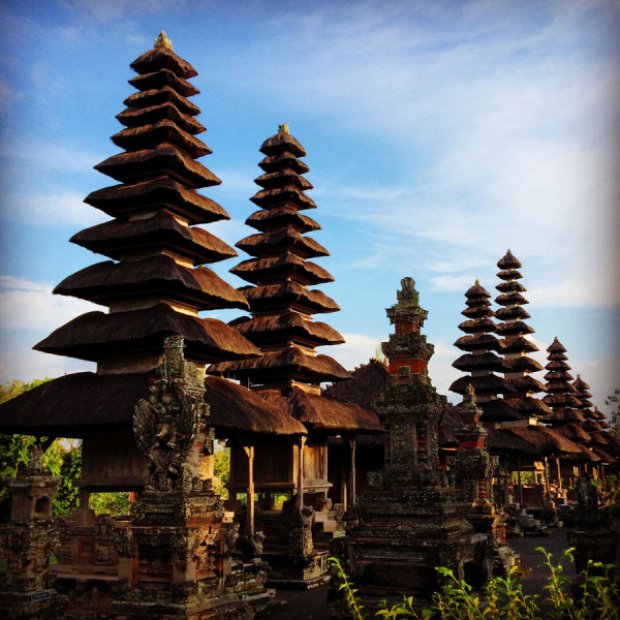 The pretty pagodas
Tanah Lot, the Land in the Sea

From Pura Taman Ayun, we drove down to Tanah Lot on the western coast of Bali. Thankfully traffic wasn't too heavy yet so the drive wasn't as long as the trip to Pura Taman Ayun. However, it was evening by the time we got to Tanah Lot, just in time for the sunset. Entry fee was 30,000 IDR per pax (SGD 3.40).
Tanah Lot is one of Bali's more famous sights due to its picturesque nature and beautiful temple. The temple is perched on a little rock island that can be accessed by foot during low tide.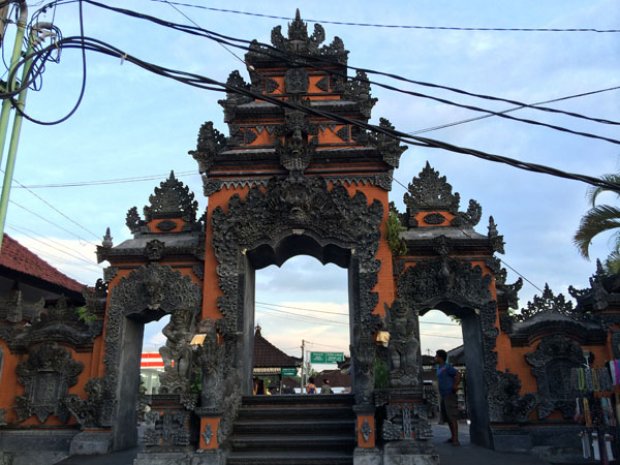 The main entrance to Tanah Lot where our driver dropped us off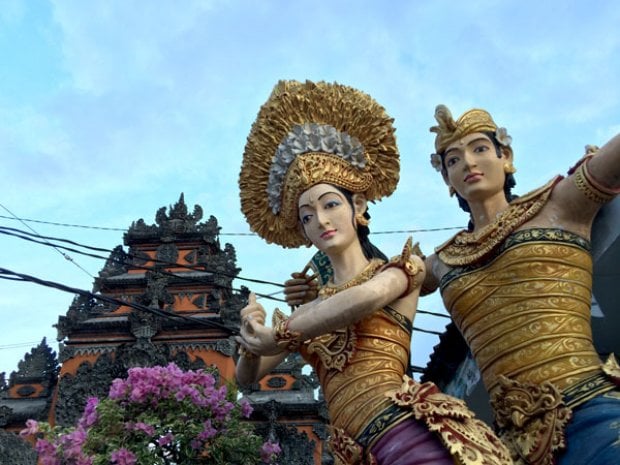 Fancy statues greeting you
You don't see the beach straight away – it's a slight walk through a small village with many little shops before you get onto a rather small beach. Be prepared for there to be a lot of tourists, especially at sunset. Due to this, don't expect a pristine beach either, this one is a little grotty.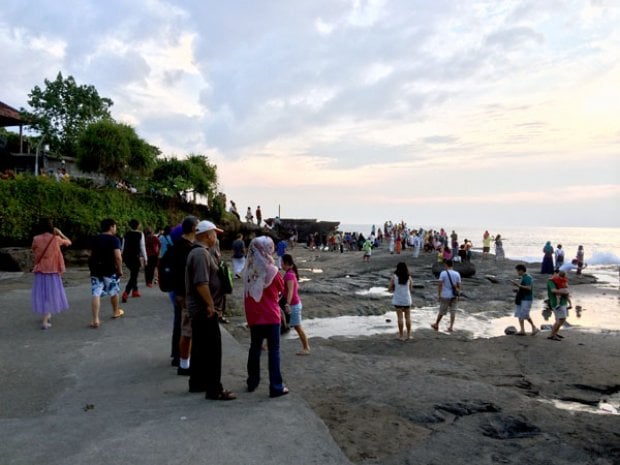 The beach is pretty small, and not really one you want to suntan on…
That's Tanah Lot behind me, and yes you can see the crowds and the litter everywhere, boo.
The beauty of the temple is that while you can't actually visit it (Yogi says that it's infested with poisonous sea snakes that crawl around devotees who pray there. So… yeah I'm not taking that chance), you can actually walk over to the large rock in low tide. I saw a queue forming in the waters, and naturally like all other Singaporeans who see a queue, I decided to join it and check it out.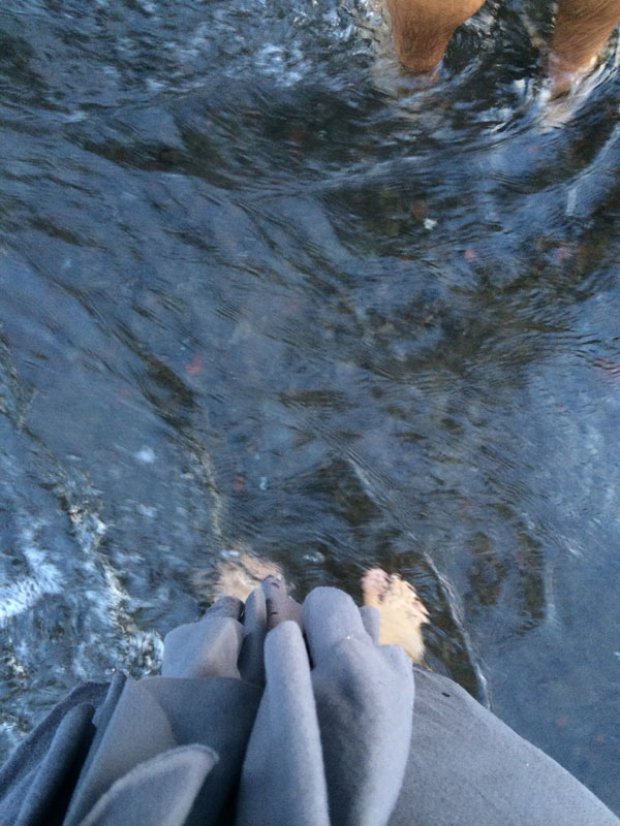 I'm about shin deep in waves
The tide was low but the waves were pretty strong, they had a couple of guys stationed nearby just to make sure everyone was okay. Unfortunately, I was stuck behind a really annoying family with little girls who screamed every time a wave came by.
Bali Tanah Lot Holy Spring Water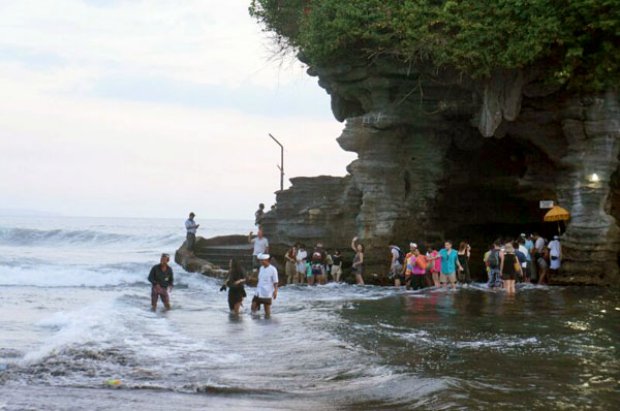 Can you spot me?
 You can walk up the stairs on the left side a little way, but that's it as the path leading to the temple above is locked.
So it turns out that there is a little holy spring and altar at the base of the rock, and people were lining up to take a drink from it. The water actually comes from a little spout underneath the rock (hope it wasn't originally a sewage pipe or something!), and as I leaned in to let the water run over my hands, I noticed the rock next to me start to MOVE – apparently I was sharing my holy water with what must be a really holy crab! Anyway, after drinking from the holy spring, you are then given a traditional Balinese blessing, where someone shakes some of the water on you and sticks rice grains on your forehead as a mark of prosperity.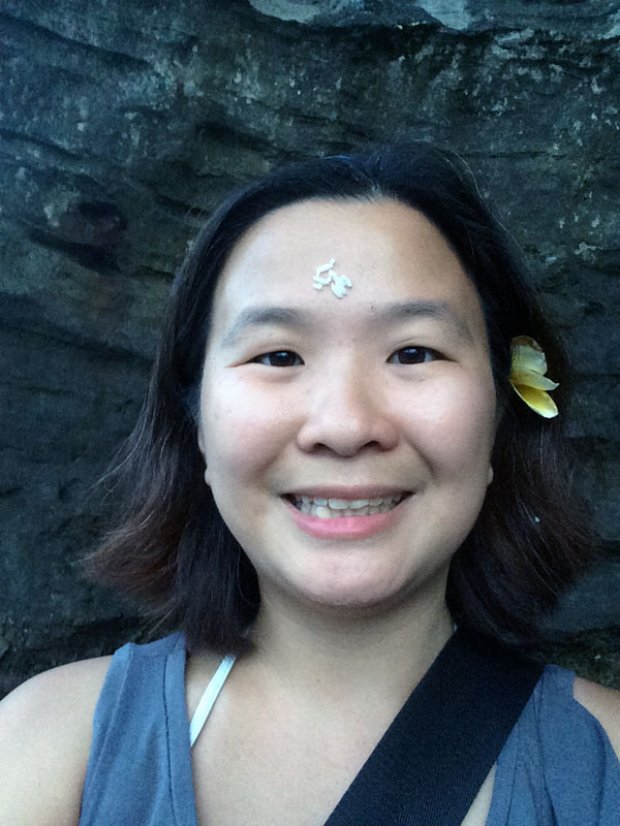 The rice got stuck on my head surprisingly well, even while I was sweating the rest of the evening! I had to use my nails to peel them off my forehead.
There is actually a little cavern where you can see some 'holy snakes', though they didn't seem to be around when we were there. It's apparently good luck to touch them, though from what I've managed to glean off the internet, it sounds a little bit dodgy to me. I think you're not missing much really…
Our guide Yogi found us and led us back up the stairs and we walked along the cliff, where there are several great lookout points to admire the little island of Tanah Lot from. He cautioned that the roads leading back to Kuta now would be really jammed packed with all the tourists heading back for dinner post-sunset, so heeding his advice, we stuck around Tanah Lot and had dinner at a cliffside restaurant called Warung Mandala.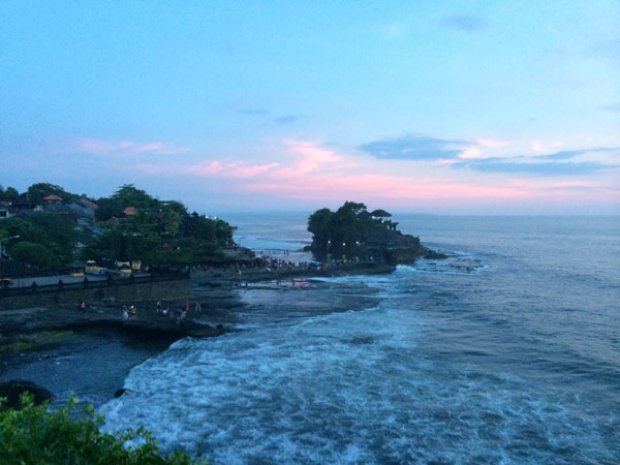 Tanah Lot from the lookout point on the Cliff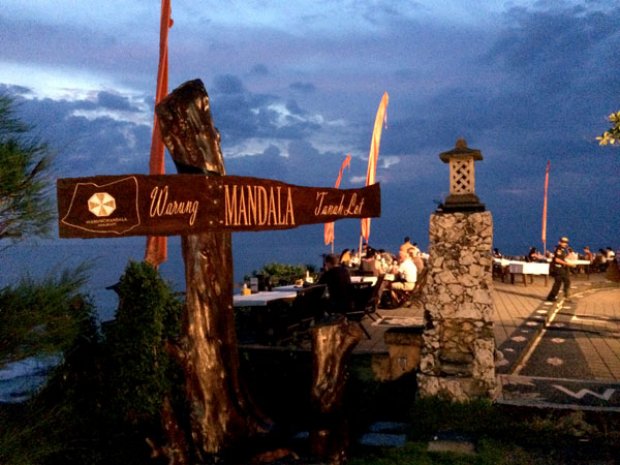 Dinner at Warung Mandala Tanah Lot
It was pretty dark by the time we sat down so there wasn't much view left. This restaurant gets packed during peak season, but we managed to find a seat without much waiting around. We ordered an assortment of seafood, which was pretty decent overall, but I think the crabs and prawns were a little disappointing and small (probably needed a dose of that holy water), but otherwise we had a decent dinner here, and Yogi was right – the roads were much smoother and emptier by the time we headed back, and we reached Seminyak in half an hour.
Crab for dinner!
I enjoyed finally seeing and learning a little bit about Bali's culture!
Have you been to either of these 2 temples? Or are there other more beautiful temples in Bali that you would recommend?
Contributed by The Occasional Traveller
Inspired? Here are some sites for you to make your travel happen: