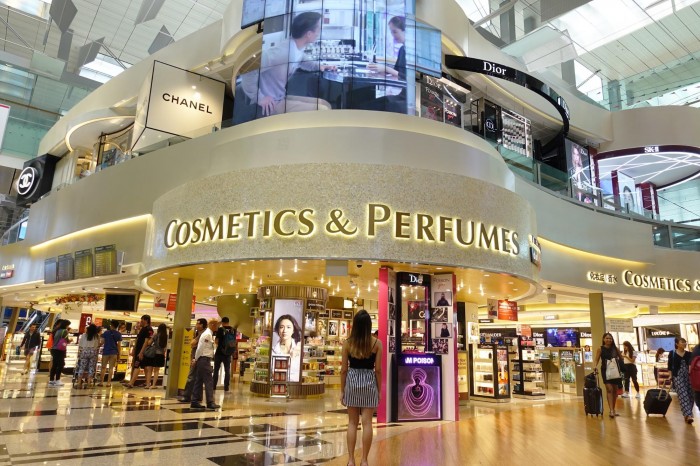 Ladies, I've got great news for you! Bored out of your mind while waiting in transit? Then Shilla Beauty Loft is definitely the place to visit to chase those transit blues away! The first-of-its-kind in the world, Shilla Beauty Loft teams up with the biggest names in the beauty industry, with the likes of Dior, SK-II and La Prairie offering you luxurious beauty services, in addition to selling their exclusive products at this loft.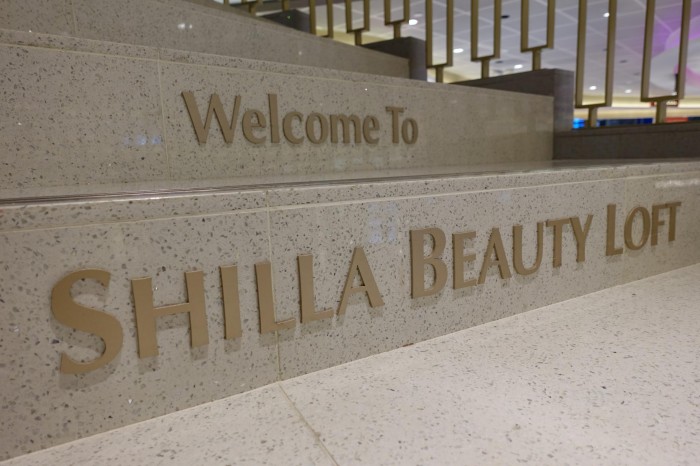 The other day, I had the rare chance to experience many of their services in a day, and boy was I blown away! With their services ranging from a flash makeover to a rejuvenating facial, this is one stop that you don't want to miss when in transit.
So without further ado, let's check out my own experience with Shilla Beauty Loft!
Stop #01: Hand massage at Luxury Skincare Bar by La Prairie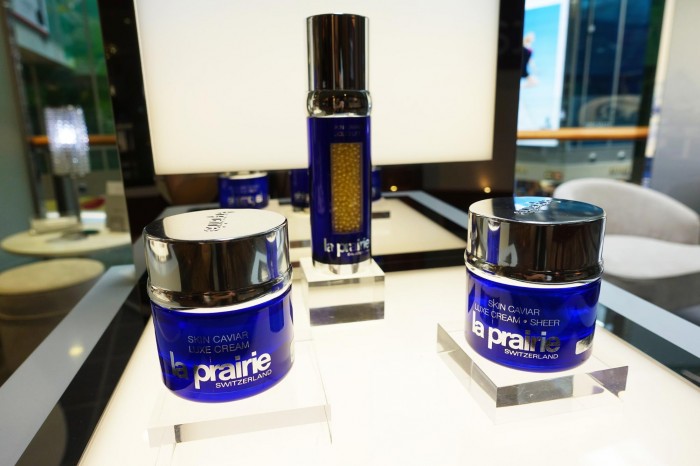 La Prairie is a luxury anti-aging brand from Switzerland, selling a wide range of products for both skincare, makeup and fragrances. To enjoy a complimentary hand massage, simply grab any La Prairie products to be eligible!
Other premium offerings include colour matching, face treatments, eye massages and the La Prairie fragrance collection. You can also instantly smooth, lift and brighten your most expressive feature with an eye consultation and eye lifting massage.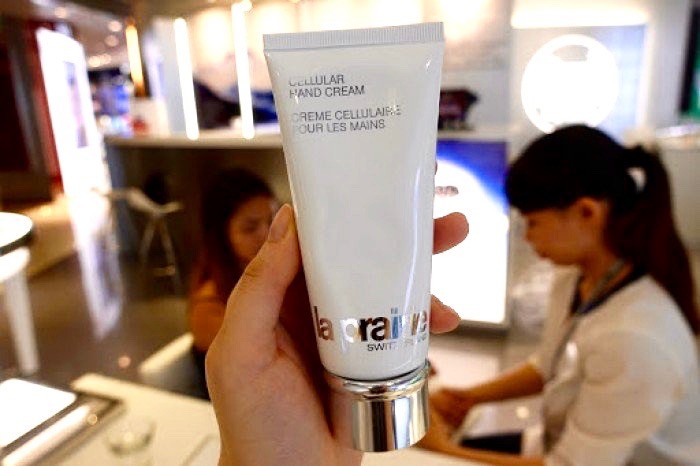 I was pretty excited for their in-house hand massage service since that was the first time that I was going to be using their product! Using their cellular hand cream, a La Prairie beautician will gently but firmly massage this lush hand cream all over your hands up to your forearm. Their hand cream is an extremely moisturizing hand treatment that gently exfoliates at the same time, leaving your hands silky-smooth.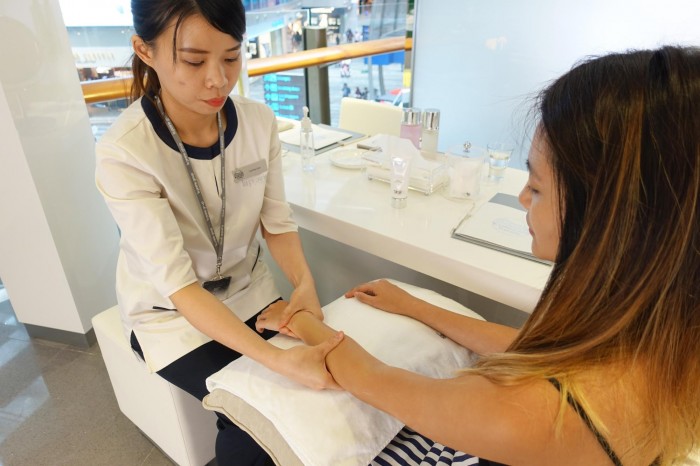 Right after the soothing massage, the effects of the cream were super obvious and instantaneous. I swear my arms really felt way more smoother and softer – I just couldn't stop touching my own hands!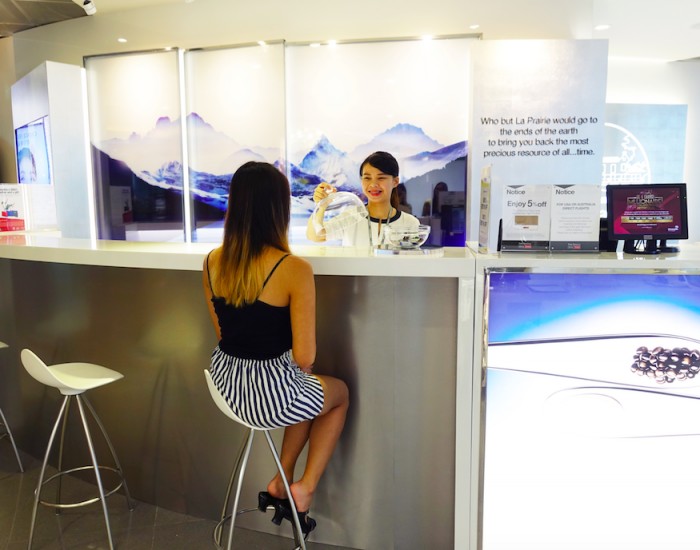 La Prairie's bar is a pretty good place to chill at, too! So after you're done checking out their products as well as with your hand massage, sip a relaxing cuppa coffee or tea, and munch on the delicious Swiss chocs they have while you're at it.
Stop #02: Magic Ring Skin Test at SK-II PITERA Lounge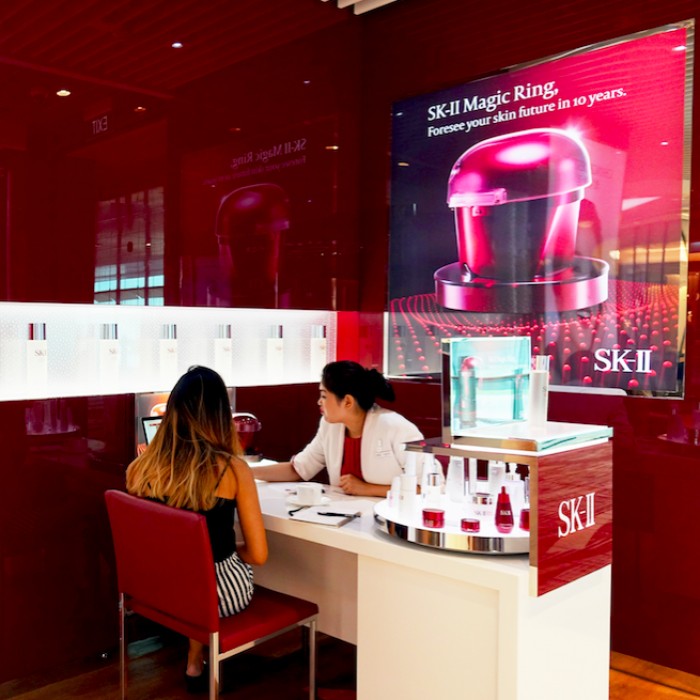 Having heard so much about the SK-II Magic Ring Skin Test, I was pretty excited to try it out myself! Basically, this skin test reveals how old your skin age is, along with the percentage for your skin's texture refinement, firmness power, wrinkle resilience, spot control, and radiance enhancement.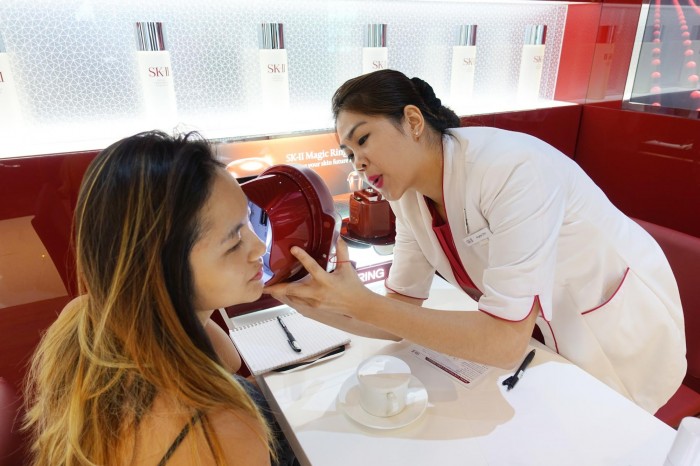 The friendly SK-II personnel was super nice and friendly during the whole process, and took her time in explaining to me in detail about the five aspects of the test. So if you have any questions, feel free to ask! The friendly staff will definitely be more than happy to help.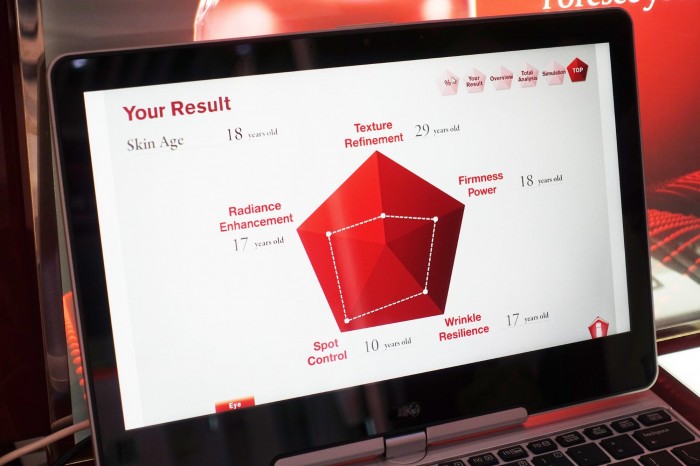 And now, for the big reveal: my skin is only 18 years old! I was so over the moon!! I mean, who doesn't want to be forever young (or at least, have forever young skin), am i right? *pats back for maintaining skin well*
Stop #03: Facial at SK-II PITERA Lounge
Right after the Magic Ring Skin Test, it was time to get super pampered with the Pitera™ Essential Facial, SK-II's signature facial treatment. The best part? NO EXTRACTION. So all in all, it was a pretty soothing, relaxing, and painless facial.
The treatment room was a little quiet haven away from the hustle and bustle of the rest of the transit, which is perfect if you're looking for some R&R before your flight. Plus, who doesn't want soft-as-tofu skin?? So, yup, basically my skin was feeling way smoother and softer after this facial. Unsurprising, considering the amount of products that were used on my face!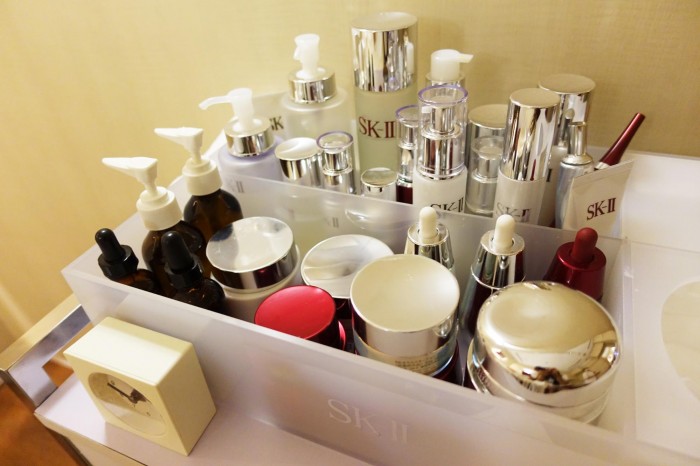 Seriously, just look at all these goodies – all for me!!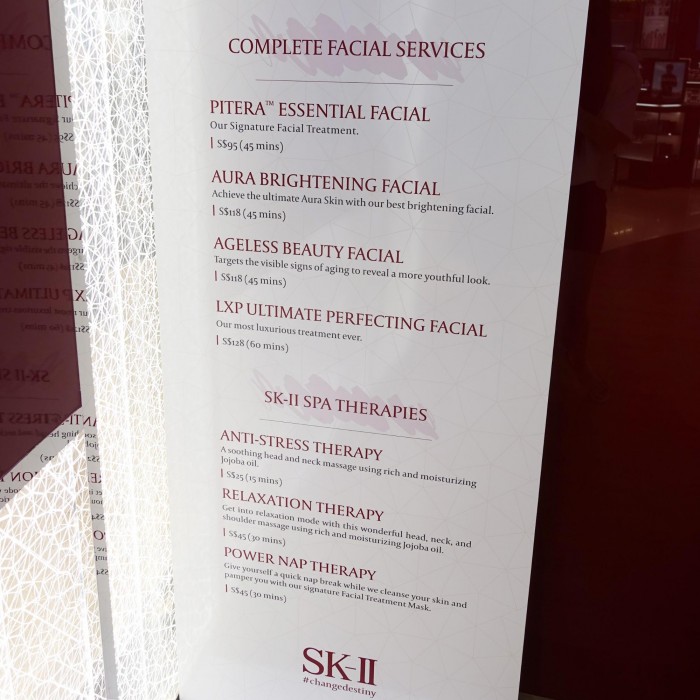 Plus, I managed to catch some snooze time while I was at it. As much as I tried to stay awake to enjoy every single luxurious minute, I couldn't help it – the facial was just way too relaxing. Anyway, SK-II has a few different facials and therapies for you to choose from, so take your pick and have yourself a luxurious pre-flight pampering!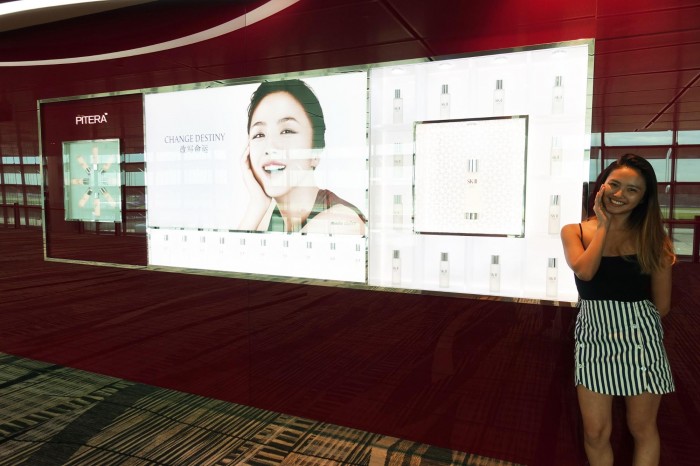 Me, enjoying my post-facial skin!!
Stop #04 Flash makeover at Dior Beauty House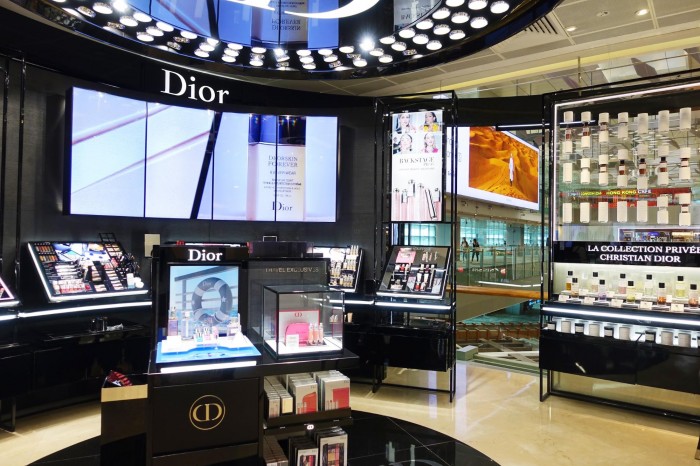 Next up was the stop that I was the most excited for. I mean, which girl just DOESN'T love a free makeover and feeling like a princess??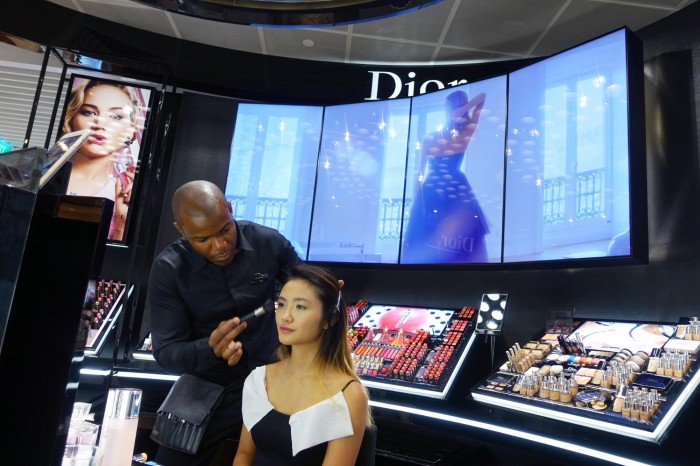 Stepping into the Dior's section of Shilla Beauty Loft, I was ushered into a chair by Ken Alcindor. A very popular Dior makeup artist, Ken has done the faces of many China stars, so you can only imagine my excitement at having my makeup done by him!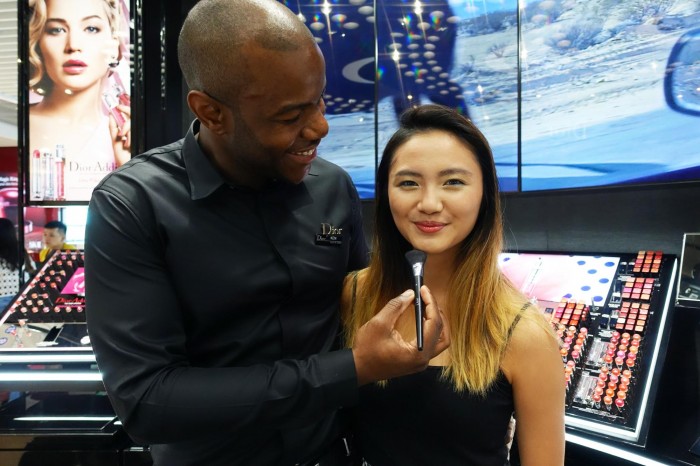 TA-DAAAA! It was a super glamorous look that I was so not used to, but no matter, it was still pretty cool to see myself like this! More than that, though, I really enjoyed chatting with the makeup artist – Ken is a super friendly guy, and conversing with him was honestly the most fun part of the whole makeover. I was pretty intimidated at first (after all, a Dior makeover sounds very high class, no?), but Ken made me feel extremely at ease and welcomed, which definitely made the whole experience a whole lot better!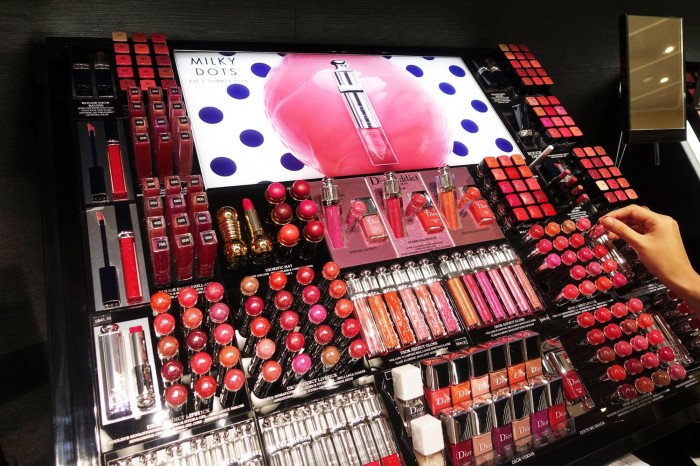 My flash makeover took only around 10 minutes, including our conversation time, so it's a pretty good pick-me-up for those in a rush during transit! And even better? This makeover is totally free. That's right, FREE! So the next time you're flying off from Changi Airport, DEFINITELY. GO. FOR. THIS. MAKEOVER!!
Stop #05 Fragrance consultation at Dior Beauty House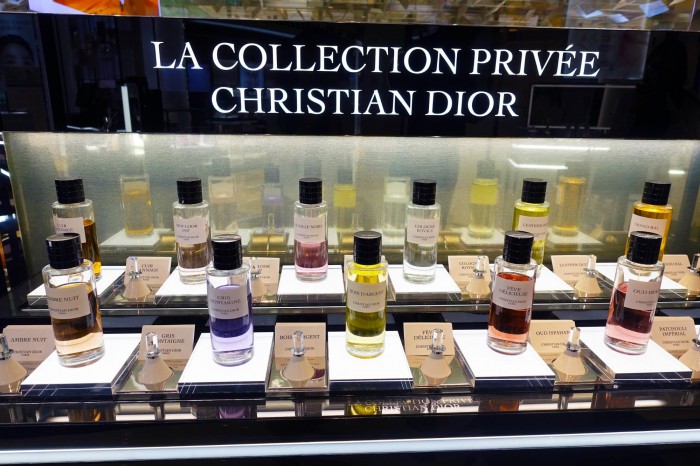 I don't usually use perfumes, but this stop really changed my mind. Maybe it's because I've always never bothered to check out good perfumes, or maybe I'm just inherently lazy to even try to find a suitable perfume for myself… And that's where this fragrance consultation comes in.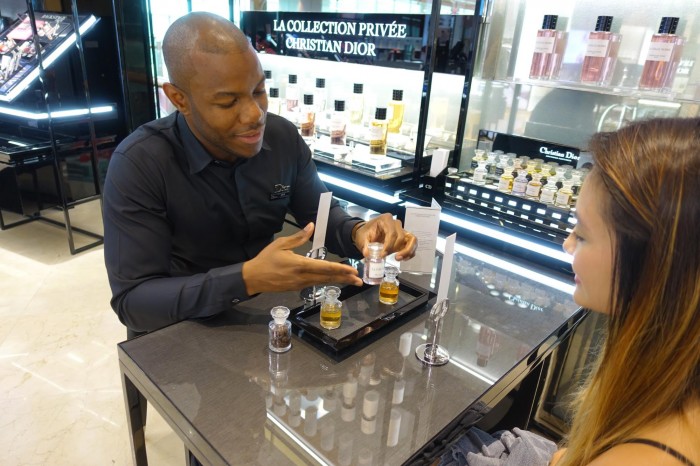 So basically, the friendly fragrance consultant will ask you a few basic questions (no spoilers here!) and then pick out a suitable fragrance for you from La Collection Privée Christian Dior, an exclusive range of perfumes. This private collection of 12 perfumes are only available at a few selected places in the world, one of them being our very own Changi Airport! Yes, it's that exclusive.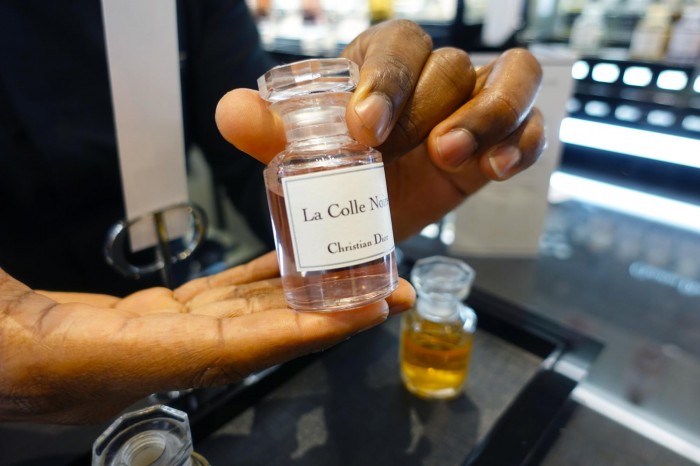 In the end, I was graced with the scent, La Colle Noire, and I absolutely loved it! This multi-faceted fragrance has definitely made it to my "must buy" list!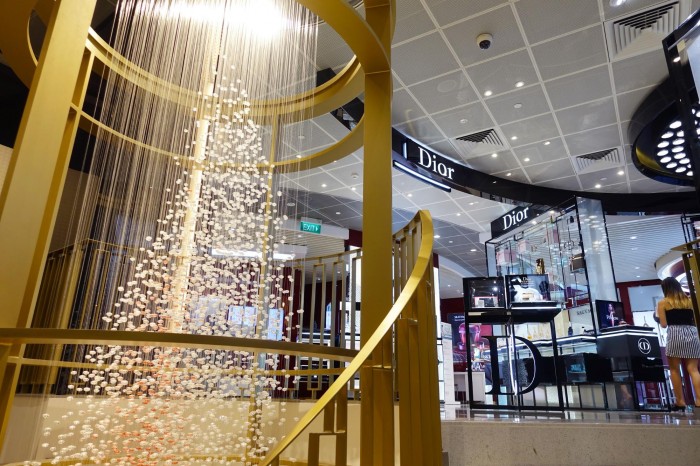 All in all, Shilla Beauty Loft really blew me away – I went up without really knowing what to expect, and walked away feeling super impressed and feeling like a million bucks. So the next time you have a flight to catch, you should most definitely check in early and head up to the Shilla Beauty Loft to feel like an absolute princess. Ladies, this is seriously the place to be to pamper yourself like crazy before you fly off!
Visit http://sg.shilladutyfree.com/en/beauty-loft/ for more information on the services.
Also read: Reasons to Check In Early: Fun Things You Never Knew You Could Do at Changi Airport
---
Brought to you by Shilla Beauty Loft