Ahh… The great Gold Coast. It didn't get its gorgeous-sounding name for nothing! Gold Coast is an absolutely beautiful place, and vacationers flock here during all seasons to get a slice of its long golden beaches, the multitude of theme parks, and to experience the Aussie way of livin'. However, behind all these well-known destinations lies a hidden side of Gold Coast like you've never seen before!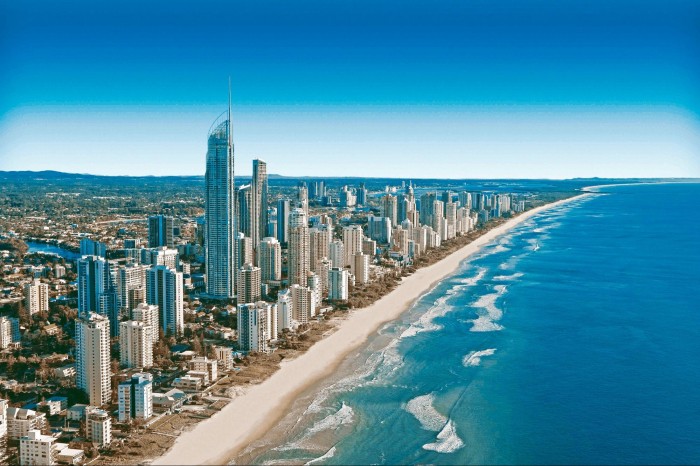 In fact, the next time you find yourself at Gold Coast, or even if you're visiting it for the first time, you should totally try out these things to really experience the region in all its glory!
Explore the numerous beach precincts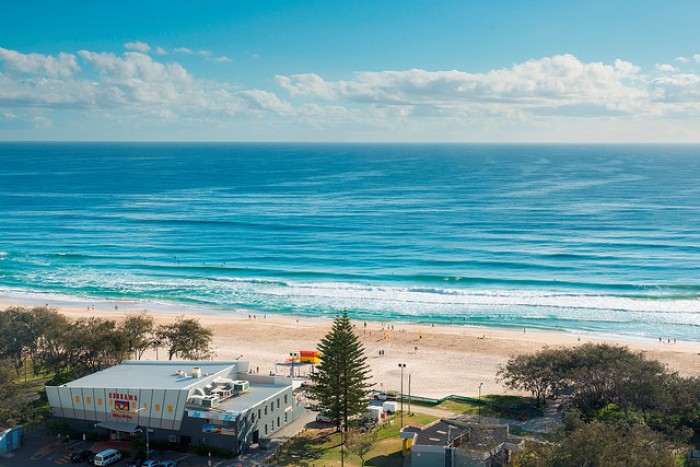 Broadbeach, Gold Coast | Image credit: Roderick Eime
Everyone knows about Surfers Paradise and Main Beach, but what about the equally gorgeous area of Broadbeach? Touted as the little brother to Surfers Paradise, you can bet your socks off that it's equally as good as its elder sibling – or perhaps even better! Ride the waves and get your surf up at this beach precinct with the surfing lessons from Broadbeach Surf School.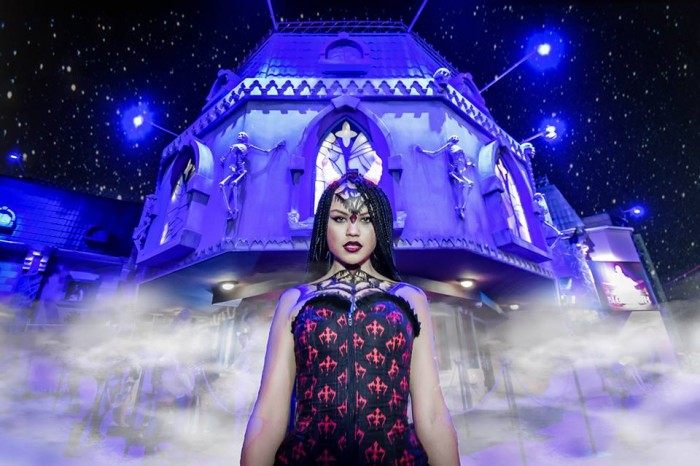 Image credit: Dracula's Cabaret Facebook
More than that, though, Broadbeach offers many, many, many totally awesome dining options that you can thank the foodie heavens for. For example, at Dracula's Comedy Cabaret Restaurant, start your dinner with a ghost train ride that brings you to the Theatre of the Vampire, and then get ready to be entertained by devilishly good performances all night long!
Or if your focus is all about the food, Broadbeach is known throughout the region for being a popular cafe and dining precinct containing countless award-winning food and drink establishments. The variety here is immense – venture to Elk Espresso and No Name Lane for a good cup of coffee, or Social House and Mamasan for food that will not disappoint. Our personal favourites are Mecca Bah Gold Coast and The Cuban Bar and Lounge Dining – both of which definitely deserve a spot on your itinerary. Plus point: Broadbeach is connected to Surfer's Paradise via G:Link, Gold Coast's friendly light rail shuttle.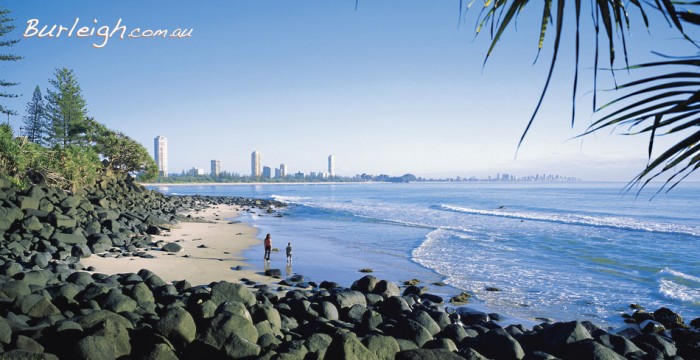 Image credit: Burleigh
Also, at Burleigh Heads, or simply Burleigh to the locals, get ready to be astounded by more than just the beach views! While its waters are equally as magnificent, this beach precinct offers many other spectacular sights as well. At the Burleigh Heads National Park, feast your eyes on vast rainforests, basalt columns and mangroves aplenty (and maybe spot some whales – yes, whales! – while you're at it)! And at John Laws Park, eat your heart out as you gaze in wonder at one of the best views in the world; with views that extend till as far as Surfers Paradise, it's definitely a sight that you won't be forgetting anytime soon.
Get lost in the natural paradise of Mt. Tamborine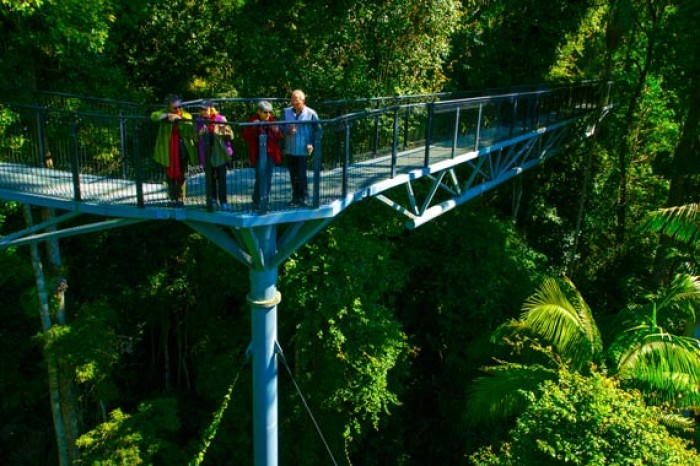 Image credit: Mount Tamborine Chamber of Commerce & Industry
It's easy to see how Mt. Tamborine can so quickly, and so easily, steal travellers' hearts. Just a stone's throw away from Gold Coast lies a piece of wonderland that feels like it exists in a whole different universe. Here you find an abundance of greenery, an enveloping bubble of crisp fresh air, and waters so clear they look like a sea of mirrors. This spectacular hinterland has something for everyone – a treetop walk for nature lovers, cheese tasting and liquor tasting for the foodies, as well as thrilling 4WD tours for the adventure seekers.
Image credit: (left) Witches Chase Cheese Facebook; (right) Tamborine Mountain Distillery
If you have a knack for cooking, why not take on a cooking class at Tamborine Cooking School? Try your hand at whipping up Asian, French, Italian, Spanish, or even Moroccan cuisine against the backdrop of the magnificent Mt. Tamborine. The best part? You get to eat what you cooked!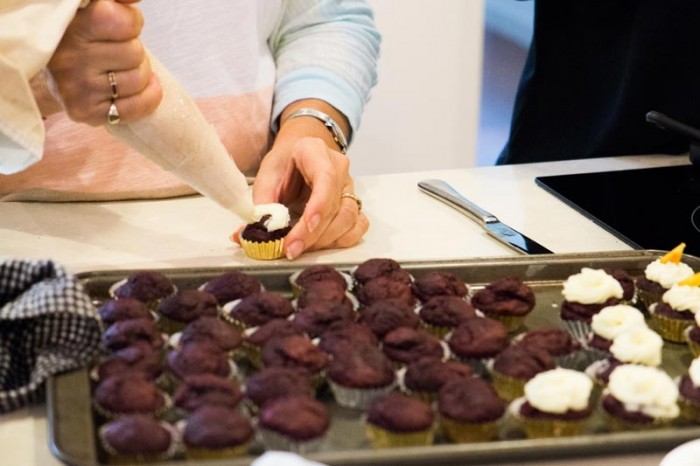 Image credit: Tamborine Cooking School
Be one with nature; there are countless nature trails available, and each more beautiful than the last. Take a leisurely 1.5-hour walk to Curtis Falls, which is the only waterfall in the area that can be viewed from the base of the falls. The area is full of waterfalls – if you just can't get enough, spend the day traversing Witches Falls, Cameron Falls and Cedar Creek Falls.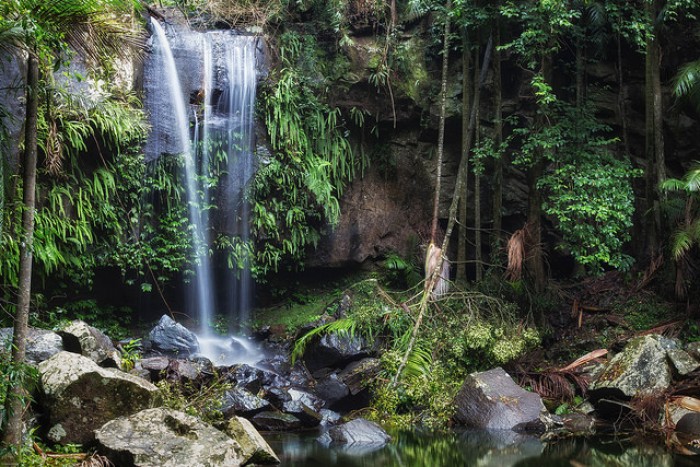 Image credit: Steve Austin
The hinterland is full of surprises around every corner – and it's just 90 minutes away from Gold Coast! Take it from us – a day trip to this gorgeous region, or even a couple of nights' stay, is definitely worth a spot in your itinerary.
Indulge in a Farmstay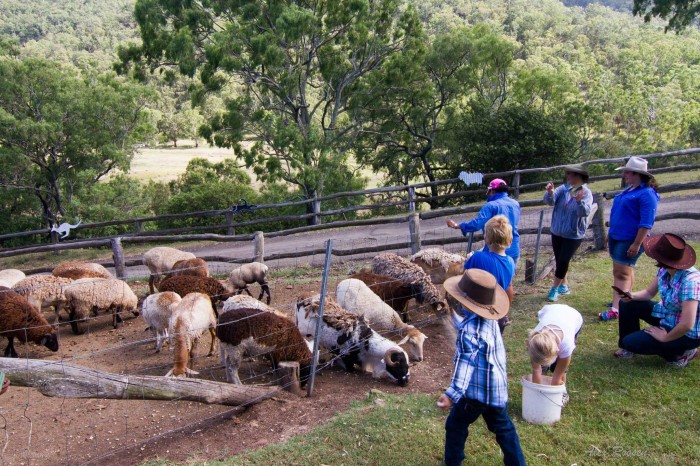 Image credit: Bestbrook Mountain Resort
Sometimes, we all just gotta slow down, unwind and disconnect. And where better to do that than at a farmstay? Put those phones away – you'll have no choice but to do so anyway, for mobile reception is at a bare minimum. It's time for a total social detox, and indulge in some well-needed downtime. At a Farmstay, you can collect chicken eggs, milk cows, ride miniature ponies and simply get lost in the wilderness.
Dine on fresh produce every day, straight from the fields; and drink fresh milk directly from the udders of cows. Forget all those theme parks, a farmstay is the best way to bond with your kids!
Go cafe-hopping all day everyday
Gold Coast is chock-full of cafes! There seems to be a quirkier, or a cooler, cafe popping out around each corner every couple of days. Indeed, the cafe scene is flourishing! But with so many cafes, how does one know which to pick? Here are our top two picks.
The Paddock Bakery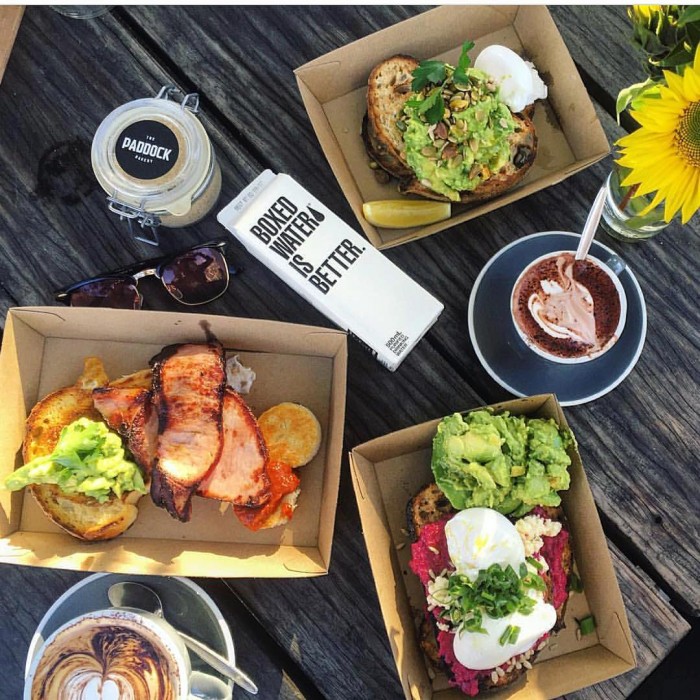 Image credit: Paddock Bakery Facebook (instagram): @edible.brisbane
It doesn't get any homelier than this! The Paddock Bakery boasts a spectacular antique wood-fired oven, and is a regular haunt for local Sunday brunch-goers. Expect to dine on artisanal bread and Nutella doughpots, all washed down with a heartwarming cup of coffee. We don't mean to tout the bakery's horn, but they aren't reputed to offer Gold Coast's best breads for nothing! Note that Paddock Bakery is open every single day; all the better for you to visit at anytime of the day, anyday of the week.
BSKT Cafe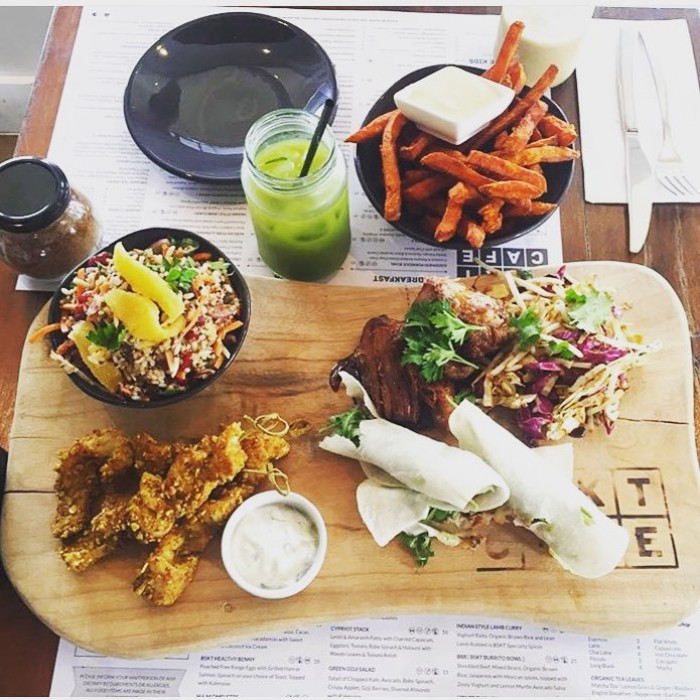 Image credit: BSKT Cafe (instagram): @eatmywords_au
BSKT Cafe is a nondescript health food cafe that has taken Gold Coast by storm. Aiming to promote a global culture of healthy eating, this cafe serves up food that not only doesn't threaten to clog up your calories, they serve us hearty meals that taste pretty darn good too. We normally shy away from overly healthy food, but this cafe definitely deserves a thumbs up. I mean, just look at that spread – is that delicious or what?
Go hunting for 'em food trucks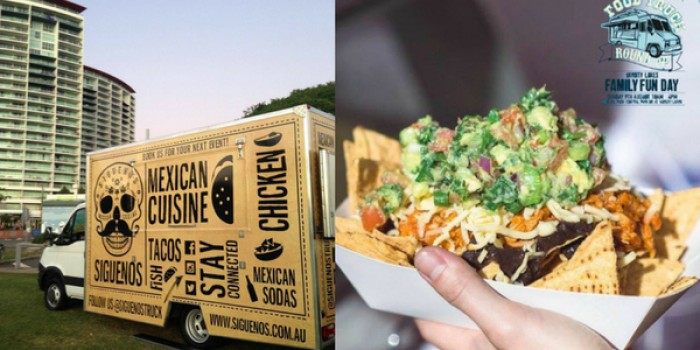 Image credit: Food Truck Round Up Facebook
If cafes aren't your thing, how about hitting up some food trucks for a change! The best thing about food trucks would be their unpredictability – you never know when one will pop up in your friendly neighbourhood park, or just along the streets. The variety of food offered is astounding, sometimes it's hard to imagine how food that looks like that can come out of a truck. Better get used to it – for food trucks are the one thing you should definitely hunt down whilst in the Gold Coast!
And lastly, in an attempt to burn off some of those calories, the shopaholic in you can…
Shop till you drop at the newly renovated Pacific Fair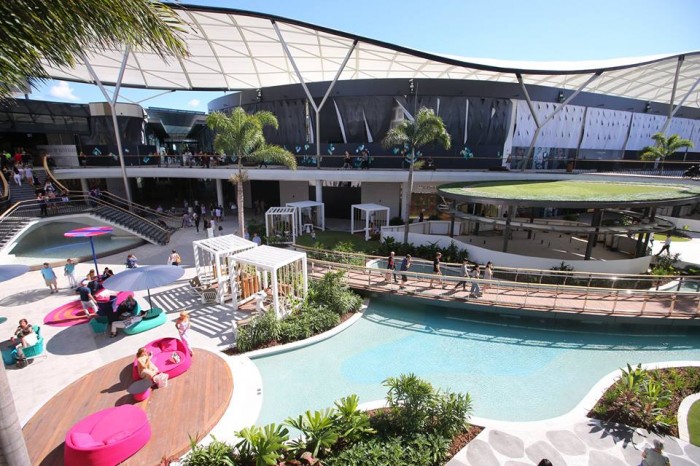 Image credit: Pacific Fair Shopping Centre Facebook
A major shopping mall in Gold Coast, the recently-newly renovated Pacific Fair is back, and better than ever! With over 400 speciality shops, along with an outdoor leisure and entertainment precinct, you can bet your socks off that one day at Pacific Fair is definitely not enough! And after all, what's a vacation if it doesn't include our favourite national pastime, shopping?
So there you have it – the majestic Gold Coast. Bet you didn't know there was so much to do here, huh? And to make your travelling much easier, Scoot flies there 4 times a week from Singapore on one of their majestic Boeing 787 Dreamliners. What are you waiting for? Book your tickets now – it's time to see Gold Coast like never before!
---
Brought to you by Scoot and Tourism & Events Queensland.