We all know that feeling of creeping dread when it comes to packing for a vacation.
No matter where you're heading to, however, this list will help you along your way. Here are some travelling essentials you may or may not have thought to bring on your next sojourn overseas. Be it rocky beaches or rugged treks, we've got you covered with this list of packing recommendations for six different types of vacations!
1. Travelling corporate
All work and no play (maybe a little?) makes for a difficult packing list. Beyond a busy schedule, the sheer number of functions — dinners, conferences, symposiums — packed into a business trip means little time to plan outfits or procure emergency supplies. Stay frazzle-free with these handy pointers, and go seal that business deal with confidence.
Pick versatile clothes that also travel well
The array of meetings and their attendant dress codes means prioritising work clothes with versatility and durability when travelling. Neutral colours that mix and match well will help coordinate your business style, while helping you stay fresh and at the top of your game. Choose wrinkle-free clothes that require little maintenance and practice packing techniques to ensure that your outfits travel well.
Planning ahead is half the battle won on a business trip. Always check which business documents you will need in hard copy, and which one you can keep a soft copy version of. Unless you're sure that your destination provides convenient printing and copying facilities, it's probably a better idea to file away important documents in a trusty folder that you can carry with you at all times.
Constant travel on air and on land makes travelling light an absolute imperative. Many business travellers prefer a single carry-on that saves them the trouble of waiting by conveyor belts for checked-in luggage to arrive.
With its seamless integration of style and function designed to meet the demands of both business and leisure travel, the Samsonite EVOA makes for a presentable yet practical luggage choice for your next working trip. Its customisable handle length doesn't take up undue space in its rich interior, meaning more space for workwear and accessories.
Its Aero-TracTM suspension wheels also offer prime manoeuvrability to let you hit the ground running — and literally too, as its suspension system means never having to worry about careless handling. Plus it comes in stylish colours like Brushed Silver and Brushed Black, which are sure to give your sleek business outfits an added oomph.
2. Urbanites and culture vultures
Cobbled streets or concrete pavements. Museums or cafes. Broadway musicals or pub crawls. No matter your reason for wandering among towering skyscrapers or scrambling to the next hipster hangout, here are three essentials for the prowling city-dweller.
When you've spent hours treading on cobblestones up and down Paris' undulating streets, you'll start crying out mon Dieu for all the wrong reasons. Prevent blisters and sprains by wearing comfortable walking shoes that also provide ample support for your feet and ankles.
Breathability and easy drying are also key considerations. For those with flat feet and lower back problems, customised insoles are also a must to keep you on your happy feet for a while longer.
Be a tote-toting explorer
Visiting various city attractions also mean collecting a lot of collaterals. Be it concert merchandise or information booklets provided at museums and galleries, you'll soon have your hands and pockets full with miscellaneous items.
Carry spacious (and stylish) totes to chuck your loose paper, tickets, tissue packets, gum, mints or even spare change. They also double up as grocery or shopping bags, and are especially useful in countries which charge extra for plastic bags. Carrying one with a comfortable handle length will also deter bag snatchers.
Roll along with a hardy spinner
Wide and smooth city pavements may be convenient for you to tow your luggage on, but not all city streets were made equal. Rough and uneven, potholed and pockmarked, some streets do not make for ideal luggage rolling, and may even end up breaking wheels or scratching suitcases.
The Samsonite EVOA's Aero-TracTM suspension wheels help the luggage withstand substantial shocks and impacts, and also reduces noise and vibrations when navigating uneven terrain. Metallic corner protections also further guards the shell from sharp objects, making the Samsonite EVOA an excellent choice for a trip to any city in the world.
3. Doing it solo
With millennial affluence and influence, going solo has never been an easier decision. Even if you're on a shoestring budget, or precisely because of it, your solo travelling experience will surely be an invaluable one. That said, here are some tips to ensure that your journey of self-discovery will be a truly memorable experience.
Solo travellers are conspicuous targets for petty theft, especially if they're found wandering foreign streets by their lonesome selves. While this might sound like a no-brainer, it nevertheless bears repeating: always stash enough for the day in your wallet, and get a light and thin money belt to strap emergency money to your body.
Avoid bulky fanny packs; when placed under layers of clothing, they make you an attractive prey instead. Well-hidden, compact money belts make sure that your travel fashion stays on point whenever and wherever, without having to compromise on security.
Keep your phone juiced up on the go
When out on a solo vacation, your smartphone is the travelling essential bar none. It does everything for you: be it finding your way around, searching for food recommendations, checking local bus timings, taking Insta-worthy shots and stories and keeping yourself up to date through social media – there's simply no going without your phone.
So keep your workhorse running with travel-sized power banks — just remember to charge them before you head out!
There's a reason why this item is standard issue in the army. Easily packed and even easier to dry, a microfiber towel is perfect for the solo traveller that's always on the move. Nothing feels worse than having to use a wet and musty-smelling towel that was never properly dried at the previous AirBnB. So where drying options for your laundry may be limited, always go with a microfiber towel.
For solo travellers, selecting an appropriate travel luggage is also an especially important decision. You'll have to consider size, weight, durability and features that suit your needs when purchasing one.
Shorn of extraneous features, the Samsonite EVOA makes for a solid, no-frills choice when it comes to choosing a carry-on suitcase. Standing at a minimum of 44cm, the sturdy suitcase is compact enough to be brought on any flight, while its sleek yet understated finish will have you staying on top of your style game without drawing undue attention.
4. With kids in tow
If packing for one is enough to cause a splitting headache, imagine having to pack for multiple children with specific needs. Amidst the absolute whirlwind that is a family vacation, the following items may just help keep your head within the eye of the storm.
While travelling, restless children may be more annoying than endearing. An anxiety-inducing flight or a long road trip may have the little ones acting up when you least need them to.
Occupy them with fun, convenient activities that require little supervision. For example, download games and apps that require no connection on your phone or tablet; if not, bring short, easy reads, or some puzzle or colouring books that will hold their attention.
Besides games or books, listening to music is a great way to keep kids sufficiently occupied and, depending on the prevailing mood, may either hype them up for an exciting hike, or settle everyone down for a quiet evening wind-down. Pack an earphone splitter along for some private music that the whole family can share and enjoy.
Fill those little tummies
Family vacations may be filled with minor inconveniences that include traffic jams, flight delays and the like. While waiting for that return train or transit flight, be sure to have an energy bar or some light snacks at hand to stave off hunger for you and your children.
5. Sunny, tropical escapades
Sun, sand and sea: that's everyone's idea of a perfect beach vacation. Lesser attention is paid, however, to the grimy sweat, gritty beaches and salty seawater that may make going to and returning from the beach a less than pleasant experience. Spend less time fussing over beachwear and more time getting that glorious tan with these beach-friendly items!
Scuba-diving in clear blue waters. Kayaking around islets. Make sure you keep those memories safely stored in your phone with protective waterproof cases. Select ones with clear covers that also ensure full use of your camera and touchscreen even with wet fingers. Secure your phone further with a flotation strap to prevent it from sinking unrecoverably down to seabeds.
Cheap, light and easy to pack, a sarong is a versatile and convenient accessory for any trip to the beach. Used as a fashionable cover-up, the sarong can also double up as an impromptu beach mat, head cover, or to bundle up loose items when leaving the beach.
Furthermore, sarongs can help you to cover up when visiting particular places with specific dress codes or while participating in certain activities. Yes, we mean those awe-inspiring temples in Bali or the like.
Protect your feet with water shoes
You may enjoy the soft wet sand seeping between your toes, but you will not enjoy having your bare feet cut by sharp rocks and seashells, or nipped by tiny scuttling crustaceans. Especially handy when exploring sea caves, protect your feet with water shoes that are designed for wading and trekking in wet places.
Choose those that sport a good grip and are easy to dry and carry. Style-conscious beach-goers will be spoilt for choice too, since water shoes now come in a variety of designs and colours.
6. On the road
Ever since Jack Kerouac's On the Road, the notion of the great American road trip has gotten many adolescents and families hitting the road on grand, cross-country journeys. The resplendent sights of New Zealand or the gorgeous coastlines of Okinawa also beckon for many to visit. Long hours on the road with your loved ones surely make for some improvised, but unforgettable, travel experiences!
Navigate the old-fashioned way
The unreliability of electronics and connectivity while out in the open means that bringing physical maps is often a good idea. Even if your GPS unit is working, poor connectivity might mean imprecise locations and confusing directions. Hence, your best bet while navigating unfamiliar territory remains an old-fashioned map — just remember to revise your map skills and geographical knowledge before reading one.
Prepare an emergency car kit
Emergency services may not always be available while travelling along deserted highways. Remember to prepare an emergency car kit before stepping on the accelerator — include a first aid kit, working flashlight with batteries, and some jumper cables. A portable air pump and car jack can even be considered if you'd like to be extra careful. Or else, you can always buy a prepackaged emergency car kit to put your mind at ease.
Top up with a car charger
The array of electronic devices now integrated into our daily lives means that you'll probably need a way to keep them up and running even while on a road trip. A car charger with USB ports makes charging your devices an absolute cinch. Simply plug it into the car's accessory outlet — and you're good to go.
When faced with long drives, you might feel peckish on the go after spending hours cramped up in a moving vehicle. Bring some snacks and gummies along at hand for that much-needed sugar rush, as well as a neck pillow to tide you through the journey. Take turns to nap in the car so there's always someone fresh and rejuvenated behind the wheel!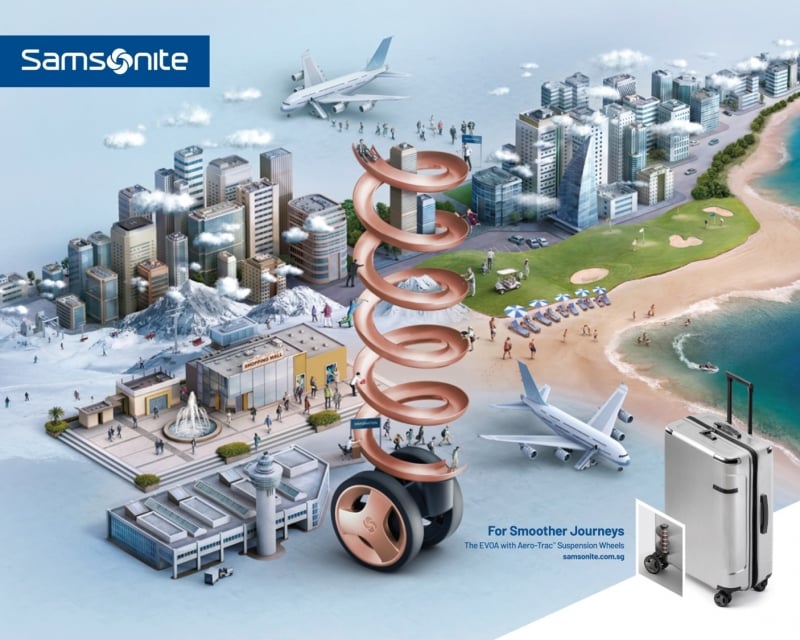 No matter where you might be going next, the Samsonite EVOA is a great travelling companion to bring along on any vacation. Beyond the foregoing features, several others will make travelling an absolute breeze with this hardside suitcase. For the solo traveller, added security is ensured with the double-layered anti-theft zipper, while the TSA Recessed Combo locks mean that those travelling to the US will never have to worry about having their locks destroyed. The luggage also comes in two sleek colours: Brushed Silver and Brushed Black.
You can also take your pick from either the Spinner Rolling Tote, Spinner 55cm Front Pocket, 55cm/20inch Spinner, 69cm/25inch Spinner, or the 75cm/28inch Spinner. As versatile as a beach sarong, the capacious interior is also ideal for those on an urban shopping trip, while the various compartments help separate dirty clothes from clean ones after a full day at the beach. Indeed, this compact yet durable suitcase is the ULTIMATE travelling essential to have when you're planning your next big trip!
---
Brought to you by Samsonite.