Picture this: you want to keep shopping but your boyfriend is really not feeling it. Or you're super hungry but the kids insist on taking even more rides at the theme park. Or it's insanely hot and you feel like chilling in a café, but your squad wants to snap some pics out in the sun.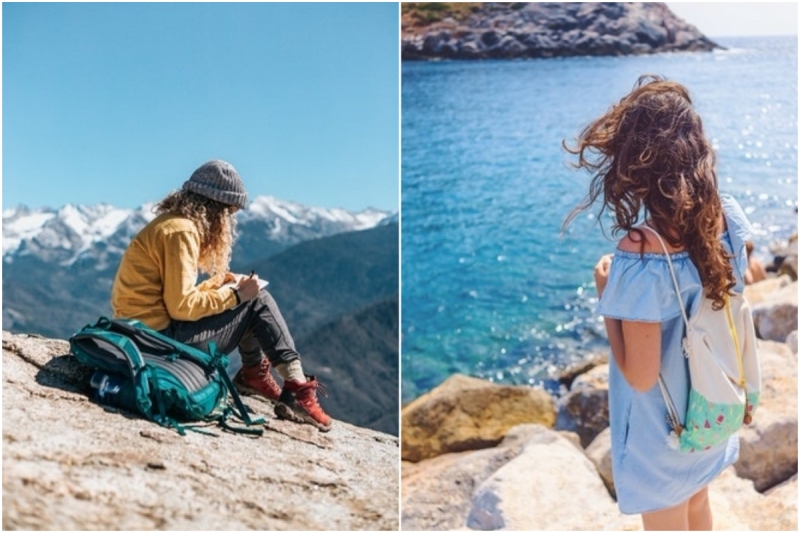 Ladies, if any of these holiday gripes are familiar to you, we have the perfect solution: take a solo trip! Solo travel is all the rage nowadays as it offers greater freedom to travel at your own pace. After all, as the saying goes, compromise just leaves both sides unhappy.
Admittedly, the mere thought of it might be daunting, as you'll have to get around on your own, stay alone and find suitable activities to occupy yourself each day – typically on a tighter budget too. However, not to worry! We've compiled a list of ten destinations that are safe, interesting and accessible for first-time female travellers.
1. Iceland (Reykjavik)
Reykjavik ranks #1 on the Global Peace Index and is apparently so safe that its people leave their cars unlocked and running while they shop for groceries. It's a developed city and the epicentre of Icelandic life and culture. More than that, it offers stunning natural scenery and must-see phenomena like the Blue Lagoon and Northern Lights. There are also many backpackers' hostels, where you can chat with fellow travellers if you start getting lonely, or perhaps even find a buddy to accompany you on your next adventure!
Already can't wait to set off on your first ever solo trip to Iceland? Stretch your dollar by booking your trip with Expedia through the Expedia mobile app. We understand that solo travelling can put a dent on your savings. Stand to save big with hotel and flight bundle deals; you can expect to save up to a whopping S$600 on your bundle deals, as compared to booking them separately. What's more, look out for Mobile-only Exclusive Deals on the app to save up to a staggering 40% more. Make the Expedia App is your one-stop money-saving travel buddy!
 Check out these fantastic deals on Expedia:
*Do note that prices are subject to daily fluctuations.
2. Denmark (Copenhagen)
Copenhagen is a haven for solo travellers. The people have that classic European style and charm, and the city is gorgeous, clean and green! It's easy and safe to get around by bicycle (plenty of locals do so too). Check out the long pedestrian-only shopping street Strøget, take a stroll through the many castles and gardens open to visitors and admire the lovely and photogenic waterfront district of Nyhavn. Food is a bit pricey in the city centre, so venture out for cheap and good meals!
 Check out these fantastic deals on Expedia:
*Do note that prices are subject to daily fluctuations.
3. Thailand (Chiang Mai)
Compared to Bangkok, Chiang Mai is much more suitable for solo travellers. It's quieter, safer, full of lush greenery and surrounded by mountains that create the perfect backdrop for relaxation and reflection. It's inexpensive yet retains a cosmopolitan air in the city, so you won't be too out of your depth either.
Check out some of its beautiful temples and maybe try out a few of the many yoga styles you can learn there. There's a reason why Chiang Mai is dubbed the "rose of the north"!
Here's good news for the budget-conscious solo traveller! Save an extra 10% or more on your adventure to Chiang Mai with the exclusive member pricing feature on the Expedia App! Simply sign up as a Expedia+ member (yes, it's free!) and click on the 'Member Pricing' button as soon as you enter the app. Browse through various destinations and hundreds of different hotels and be sure to look out for the yellow Member Pricing Tags at the right side to know which deals are eligible. New members will even receive a 12% hotel coupon code – perfect for getting started on seamlessly booking your next getaway!
Check out these fantastic deals on Expedia:
*Do note that prices are subject to daily fluctuations.
4. Costa Rica
Adrenaline junkies, take note! Costa Rica's reputation for being dangerous is unfortunately misleading; instead, the locals are warm, helpful and eager to show you the best their country has to offer. Take part in a whole host of recreational activities like surfing, volcano-hopping, canyoning, rafting and ziplining. In fact, Costa Rica is touted to be the birthplace of the first zipline! So grab your Go-Pro camera and get ready for a solo adventure like no other.
Check out these fantastic deals on Expedia:
*Do note that prices are subject to daily fluctuations.
5. Australia (Melbourne)
With free tram service around the city centre and a friendly English-speaking population, the accessibility to services and facilities in Melbourne makes it a safe and convenient place for solo travel. Wander through Melbourne's many museums and galleries, then soak in its nightlife and world-famous live music bars. As an added bonus, Melbourne is a great base if you want to head down to other places like the Great Ocean Road or Phillip Island.
Solo travelling can be slightly intimidating since you only have yourself to depend on, especially when it comes to planning the activities and things that you want to do. You don't have a tour guide to bring you around, nor do you have a travel companion who always seems to have everything planned out. Don't fret! Find fascinating things to do Down Under with the Expedia App, which allows you to book activities as well.
Even better, the Expedia App allows you to filter the type of activities that interest you. Book a spellbinding full-day Yarra Valley hot air balloon tour or a relaxing half-day Melbourne City walk and make new friends with fellow travellers along the way. Sign up as a new member and score a 12% hotel coupon code too!
Check out these fantastic deals on Expedia:
*Do note that prices are subject to daily fluctuations.
6. Mexico (San Miguel de Allende)
This colourful colonial-era town is located about 240-kilometres from Mexico City, in the Bahia Mountains of central Mexico. Its status as a UNESCO World Heritage site has made it extremely popular for expats since the 1930s and its residents, who are mostly comfortable conversing in English, remain welcoming to tourists. This is the place for you if you're a wanderer who just loves to explore charming cobbled streets, quaint art and architecture sites, with your camera and notebook in hand!
Check out these fantastic deals on Expedia:
*Do note that prices are subject to daily fluctuations.
7. Taiwan
Not only is Taiwan extremely safe for solo travel, the locals are friendly and very willing to lend a helping hand. Whether you're a city or country gal, you'll never run out of things to do by yourself – be it trying the delectable street snacks at any night market (and not having to share!), taking a trek up Alishan mountain, exploring Taipei city or snapping pics of the one-of-a-kind Pingxi Sky Lantern Festival.
Snag the best deals with Expedia! For example, book a minimum of 5 nights stay with the Expedia App and save up to 35% on selected hotels on Expedia's Stay Longer and Save promotion. Awesome, huh! In addition, book your solo trip to Taiwan now on the Expedia App and earn rewards points on your mobile booking. Get instant Expedia Rewards member recognition and elevate your member status up till +Gold as you travel more with Expedia! And for a LIMITED TIME only, book on the app and gain double the Expedia Rewards points for all your bookings. I'm sure this has convinced you to be an Expedia convert already!
As an Expedia Rewards member, you also gain unparalleled access to member-only deals, promotions and even special coupons when you shop on the Expedia App. Keep your eyes peeled for the exclusive 'Unreal Deals', which comprise the day's best package deals from your home country. Get more information regarding Expedia's amazing rewards system here and you'll be on your way to redeeming some incredible perks on your next trip!
Check out these fantastic deals on Expedia:
*Do note that prices are subject to daily fluctuations.
8. South Korea (Seoul)
There's really no reason not to love Seoul! It's famously clean, safe and easy to get around, which checks most of the important boxes for solo travellers.
Speaking of which, the shopping deals you can get along trendy, well-known streets like Myeongdong, Dongdaemun and Lotte Department Store are simply unbeatable. Look forward to splurging on Korean clothes, shoes and more without your kids, friends or partner whining about how it's about time to stop!
Be on your way to noshing on delicious Tteokbokki and Budae Jjigaes with Expedia's limited time only promotion! From only S$749, bag yourself an irresistible deal of return flight tickets on Asiana Airlines plus a 3-night hotel stay in the bustling city of Seoul. Book from now to 30 April 2018 for travel from now till 15 November 2018 to enjoy this promotion! Even better, if you haven't booked with Expedia before, there's no better time to start as new users will receive a 12% hotel coupon code. How's that for size!
Check out these fantastic deals on Expedia:
*Do note that prices are subject to daily fluctuations.
9. Indonesia (Bali)
The strong backpacking culture in Bali means that accommodation is often inexpensive, as long as you aren't looking to stay in a luxury seaside hotel. In the daytime, you can chill by the beach with your favourite summer romance novel for some me-time, or try some cool water activities like windsurfing or snorkelling. Then, sip on a tropical cocktail and mingle with the crowd at Bali's super happening bars and clubs as the sun sets. Basically, it's ideal for a solo getaway!
Having a planless long weekend next week? Or just really stressed and need to get out of the country for a treat-yourself-session? Make a spontaneous decision and depart the next day or week to the Island of Gods! Sounds crazy? It might just be the best decision of your life!
Score irresistible last-minute deals with Expedia! On this page you will get access to the most popular last minute offers at reasonable prices. Book your solo trip deal (flights and a swanky villa included, it's wild!) to the beautiful town of Canggu in Bali today and save loads on last minute flights, last-minute hotels and last-minute bundles. With Expedia's great prices you are guaranteed a fantastic weekend getaway – perfect for the last minute traveller.
Check out these fantastic deals on Expedia:
*Do note that prices are subject to daily fluctuations.
10. Malta
Forget "cities of love" like Paris and Verona, Malta is the place to go if you're feeling like an independent woman! The Maltese Islands are nestled in the Mediterranean but are often overshadowed by neighbours like France, Italy and Greece. Malta is an up-and-coming travel destination with an abundance of breathtaking historical sites in Valletta and Rabat, pristine beaches at Gozo Island and Mellieha and gorgeous, serene hideaways like Blue Grotto. Most residents are fluent in English, so you shouldn't have much trouble with communicating or commuting either.
Check out these fantastic deals on Expedia:
*Do note that prices are subject to daily fluctuations.
In today's digital age, the internet offers a wide array of choices when it comes to making travel plans. You are bound to be overwhelmed with the multitude of travel apps, booking websites, tour agencies and the likes. But trust me, the Expedia App is definitely set to revolutionise the way you travel! Perfect for the first-time solo traveller, it features a no-frills, user-friendly interface which offers a seamless booking process. And for all the awesome features and deals outlined earlier, there's no reason why you shouldn't already be on the app!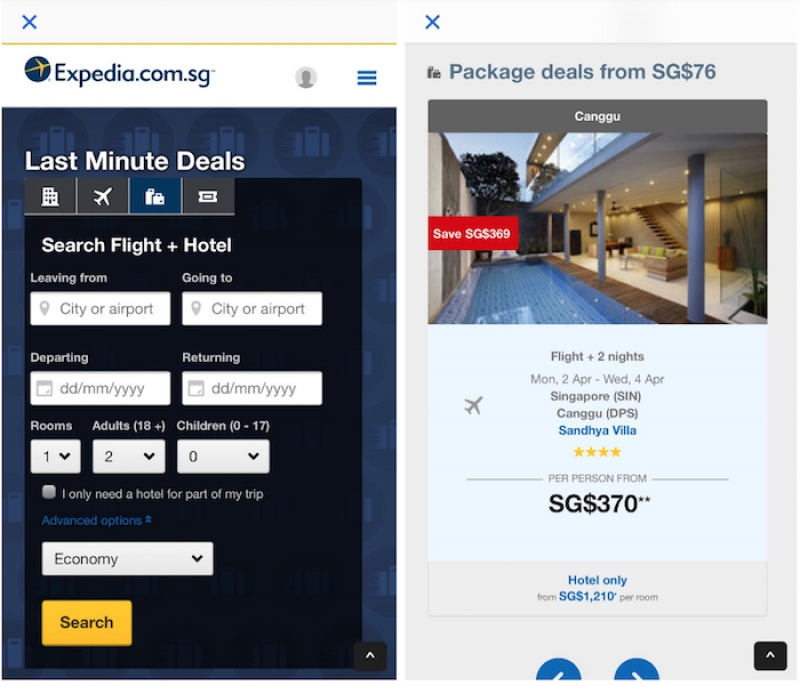 Say goodbye to the struggles of toggling between multiple airline and hotel tabs. Indeed, solo travel is not as difficult and arduous as you may think. With Expedia, you can embark on the long-overdue solo adventure of a lifetime from the comforts of your mobile phone, without busting your bank account either. You will, in fact, feel like you have a virtual travel companion with you on your solo adventure!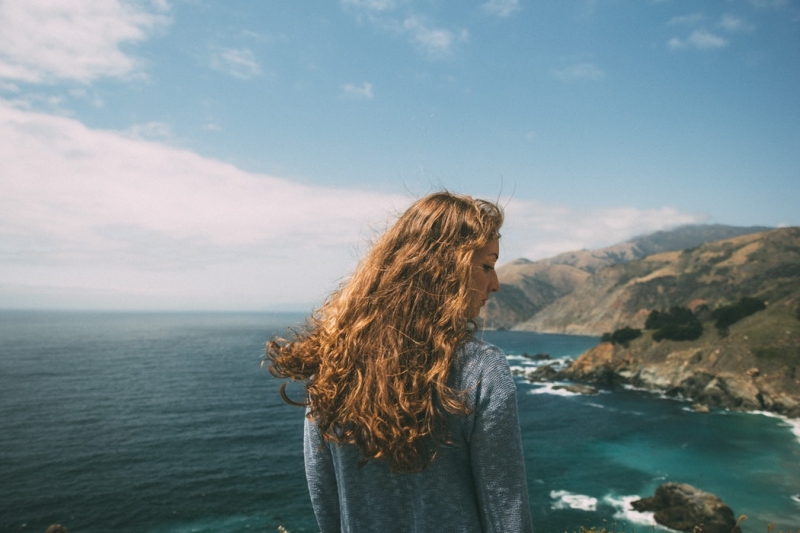 So yes, if you're a female and reading this, perhaps its time to break out of your comfort zone. There's more to life than just your jobs, partners or kids. Do this for yourself and you won't regret it. Safe travels!
---
Brought to you by Expedia.