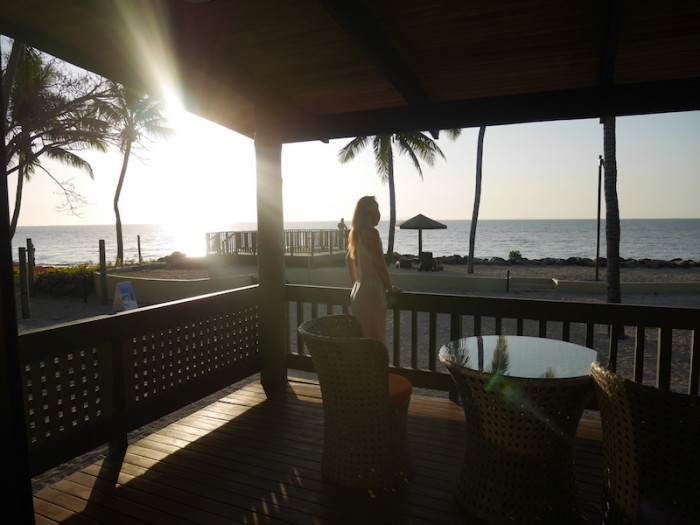 If you've read my previous articles about my Fiji trip – such as the experiences to have in Fiji and my flight on Fiji Airways – you'd know how amazingly gorgeous this hidden gem is. While you plan your getaway to Fiji, make sure you do your due diligence in researching and picking your perfect accommodation. You have made the decision to fly 10 hours to the Fiji islands, so you definitely want to make sure your stay there will be an enjoyable one. If you're keen, I have a good recommendation for you, and that is DoubleTree Resort by Hilton Hotel Fiji.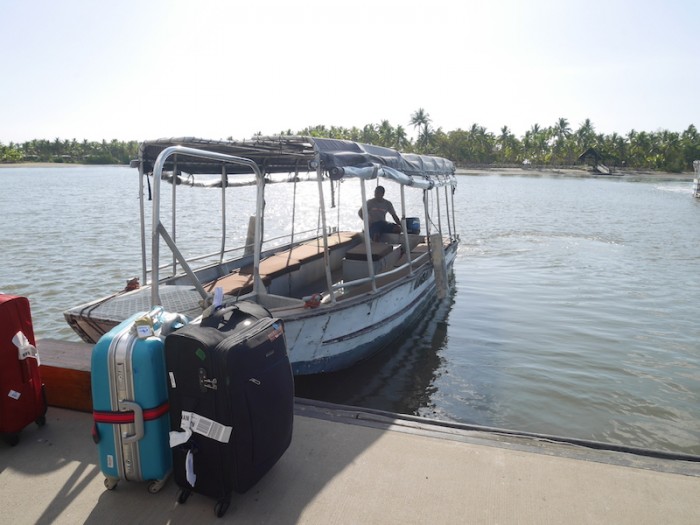 Fiji is made of small islands, and DoubleTree Resort by Hilton Hotel Fiji is accessible by a speedboat ride which takes less than five minutes from the main island of Viti Levu. On Sonaisali Island, where this resort is located, you get to enjoy a serene atmosphere and undivided attention from the hotel staff – sounds like a good place to enjoy some quiet "me time" or couple time, isn't it?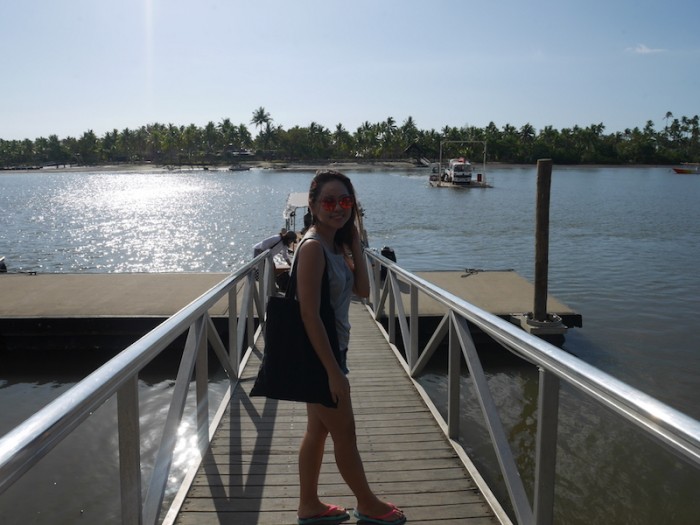 At the hotel lobby, there's a screen that shows important information such as the flight schedule. Quite helpful!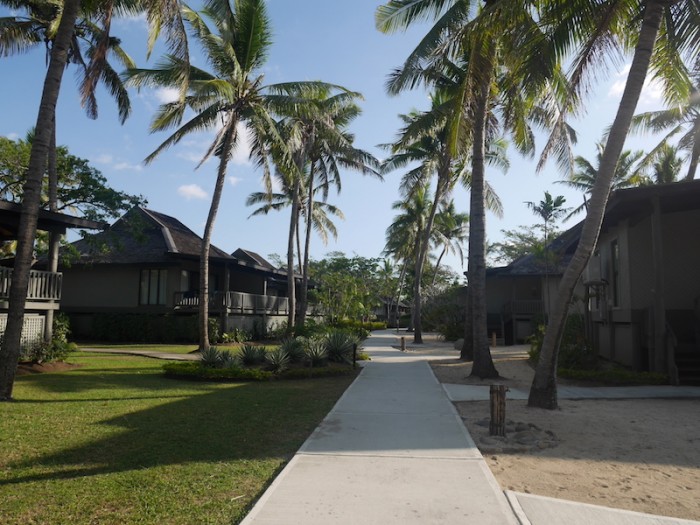 Take a step into the resort after you've checked in and this is what welcomes you – rows and rows of standalone resort suites. If you opt for rooms that are facing the sea, look forward to the stunning ocean views every morning, and warm sunset skies as the night slowly kicks in. Basically, it's a view not to be missed.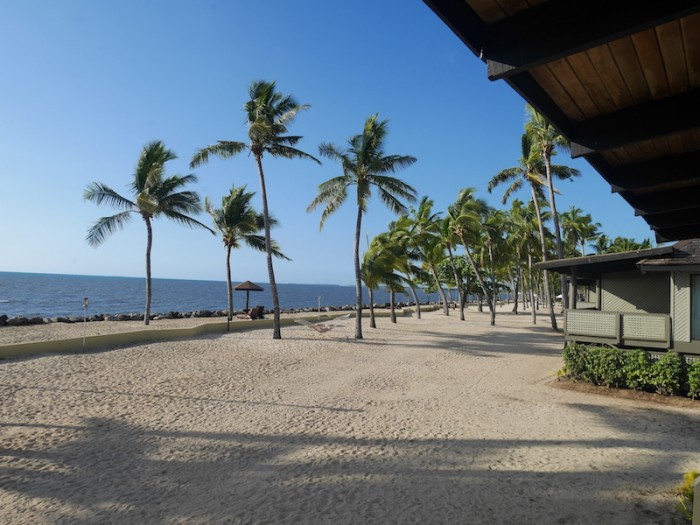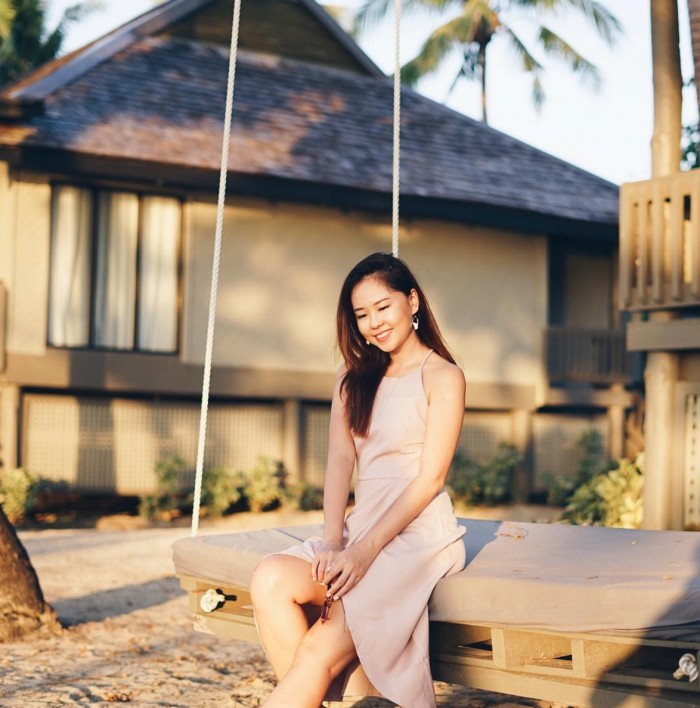 Of course, if your rooms are not facing the sea, there are still swing beds and hammocks around the area available for use. 
The suites
We stayed in their Double King Premium Ocean View Bure which is perfect for families, with two king-sized beds. There's also King Ocean View Bure which is perfect for couples.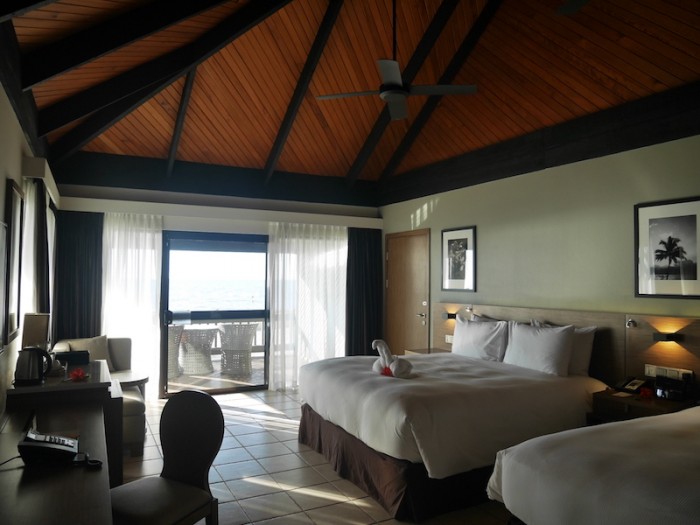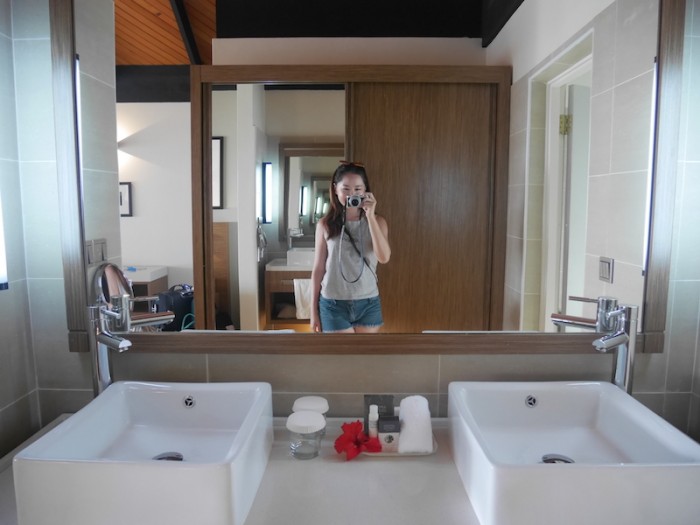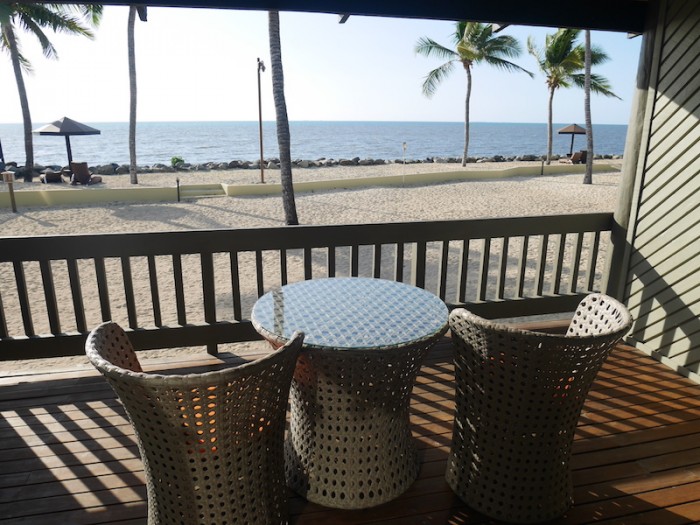 Views of the South Pacific from the veranda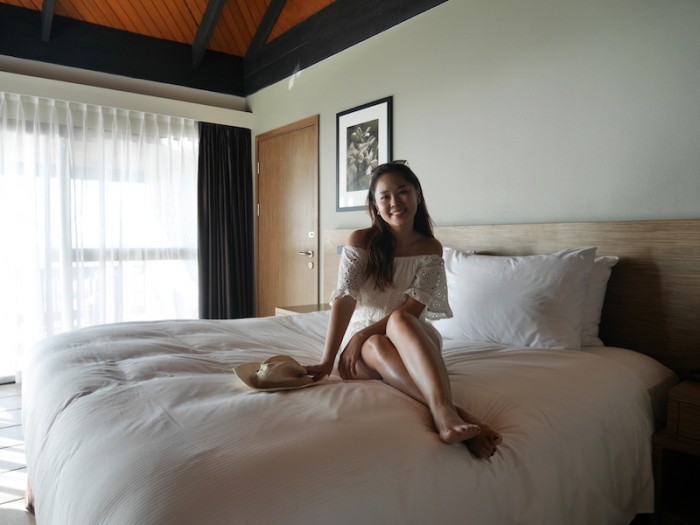 Comfy and spacious beds
Spending the night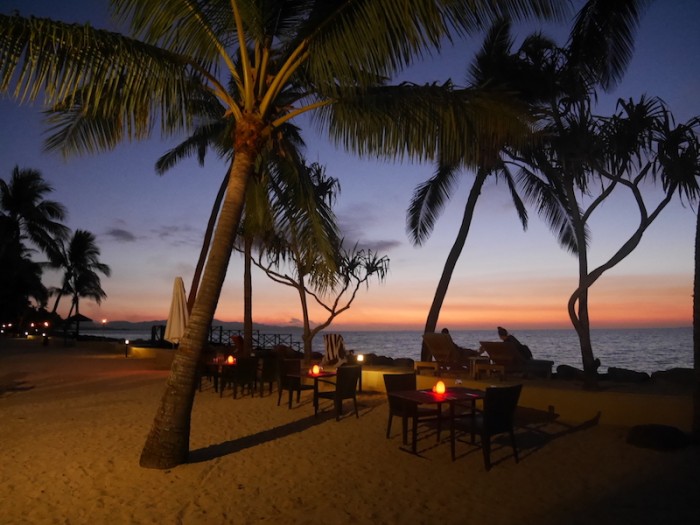 As the night falls, you'll know it's time for a stroll along the beach. Take your time to enjoy the sea breeze and the sounds of waves, because I am sure this kind of moments is hard to come by. I really treasured the tranquillity at this huge resort which didn't house many tourists during my stay.
Morning treats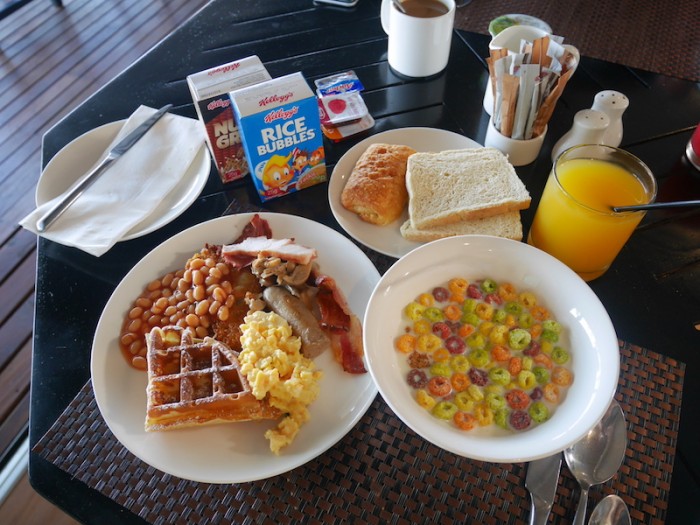 The buffet-style food served during breakfast was alright, with common choices like cereals, baked beans, bacon and bread. The view, however, is surely worth a mention!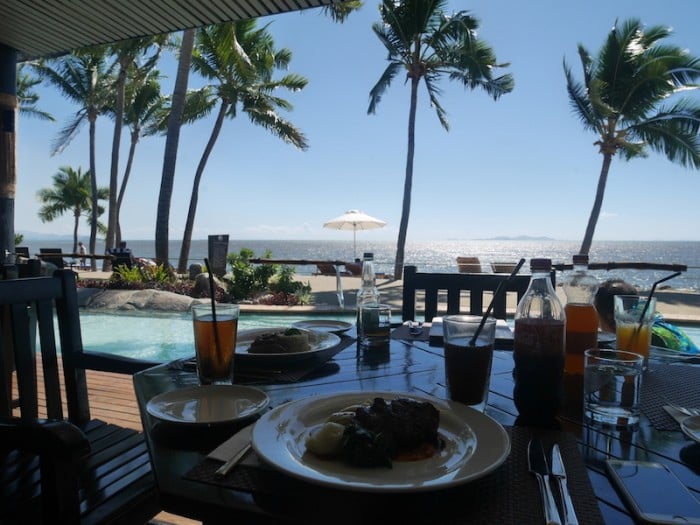 This is the view when you enjoy your meals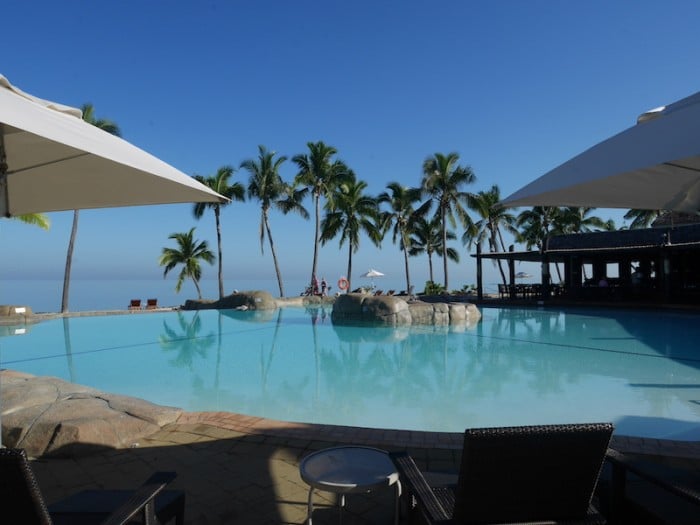 The only downside is the communication with the staff here. Personally, I feel that communication breakdown is common and inevitable in Fiji. It's nothing too severe, as most Fijians do know English. However, English is not their first language so be prepared repeat yourself clearly when trying to convey your request to the staff. Other than this, I would say that most staff are extremely polite and friendly. After all, a bubbly smile and a cheerful disposition are almost common across all Fijians!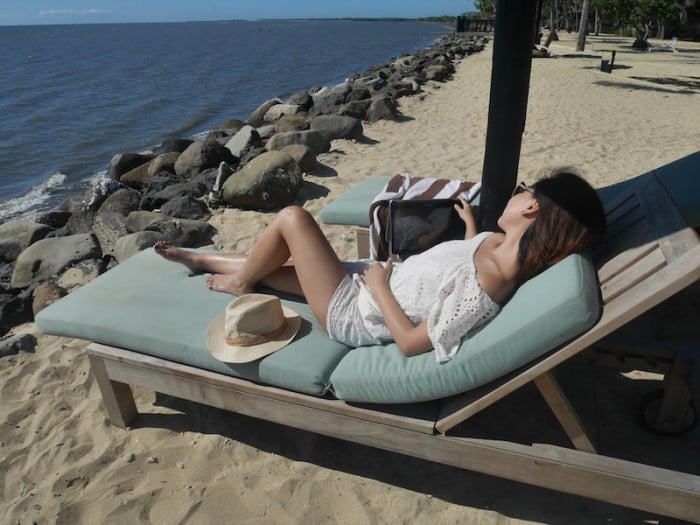 For more information, visit DoubleTree Resort by Hilton Hotel Fiji's website. 
---
Many thanks to Fiji Airways for taking me to Fiji!