Contributed by Quotient Travel Planner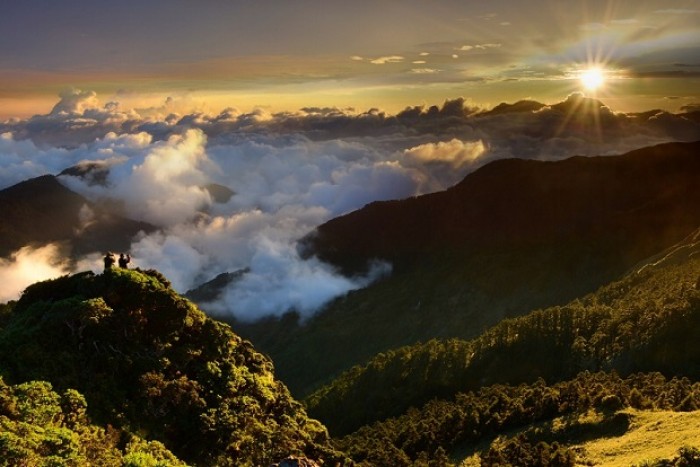 Image credit: CC BY 2.0 (張君宏, 2013)
For thousands of years, the little island of Taiwan has intrigued and drawn explorers from far corners of the world. Among them, the Portuguese navigators became particularly beguiled by this nation's visual beauty that they literally named it "Ilha Formosa" or "Beautiful Island".
Ever since, the East Asian gem has been bedazzling sojourners with its jaw-dropping scenery. There is something magical about embracing the azure Pacific Ocean with its long golden beaches, seeking solace in pristine lakes circled by imposing verdant mountains and being recharged by invigorating hot springs tucked away in tranquil villages.
Taipei, while undeniably fast-paced with its modern neon-swathed skyscrapers, high-speed communications and famous bustling night markets, can offer travellers a hearty dose of nature and a more idyllic lifestyle — without them having to venture too far out.
Here are five rewarding day-trip experiences to enjoy whilst in Taipei.
Hike at Yangmingshan National Park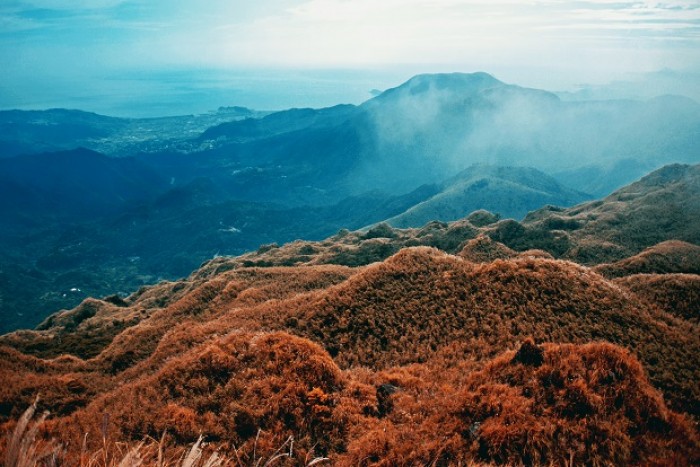 A short escape from Taipei, Yangmingshan National Park boasts a complex eco-system and beautiful views over the city. | Image credit: CC BY 2.0 (勃星 張, 2015)
Taking pride in 286 mountain summits rising up to 3,000 metres above sea level, Taiwan is hailed as a climbing and hiking paradise. On top of that, nature lovers can enjoy these opportunities not far from urban areas or even the bustling capital. Visitors in Taipei after a nature immersion can head to Yangmingshan National Park, a 50-minute drive away or about an hour-long bus ride. Make your first stop the main visitors' centre, where the rangers will offer maps and advise on the dozens of trails you can attempt in just a day.
If the weather is clear, consider hiking up Mount Qi Xing (1,120 metres), which is the highest summit in the greater Taipei basin and offers an impressive panorama of the city. Before reaching the peak, you can take in the diversity of the eco-system, which gradually changes from the base to the top, covering lush rainforest environments, towering Taiwanese fir trees and areas where wind-swept high meadows are entirely coated in silver grass.  Your time in Yangmingshan will surely inspire you to start thinking about your return trip to Taiwan in search of more natural beauty!
Also read: 10 Things to Do in Taipei
Soak in relaxing hot springs at Beitou
Due to its peculiar geology, Taiwan boasts a high concentration of hot springs scattered all around the country. | Image credit: CC BY 2.0 (カメラマン, 2015)

Due to its peculiar geology, Taiwan boasts a high concentration of hot springs scattered all around the country, offering the perfect respite for travellers wishing to relax and recharge their mind and body in the heart of nature. Get steamed up in Beitou, located only 30 minutes north of the capital, at the foot of Yangming Mountain. Travellers can start their adventure by exploring the source of the springs in the bubbling Hell Valley before visiting the Bathhouse Museum, which used to be an original spa used by the Japanese.
Also read: The Onsen Battle: Taiwan vs Japan
Before you jump into hot water, you should probably know that some of the hot springs are entirely natural and located either alongside rivers or in the verdant nearby forests. For a more pampering experience, however, Beitou area also boasts plenty bathhouses and health spas where sulphurous waters can be enjoyed in pools and private bathrooms of various luxurious hotels.
Raise a lantern at Pingxi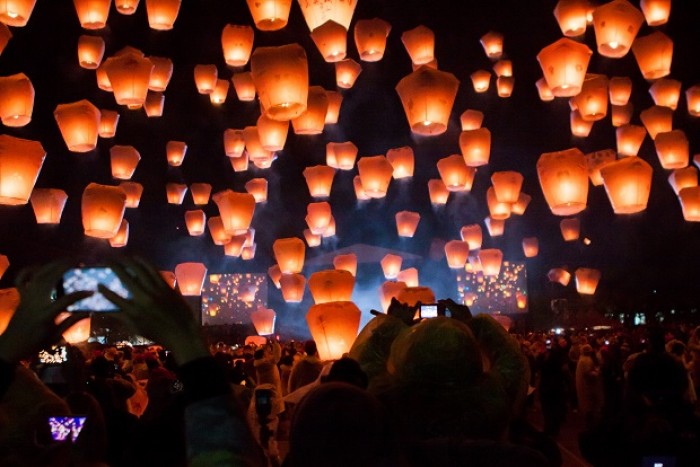 The small village of Pingxi is renowned for its annual lantern festival. | Image credit: CC BY 2.0 (Jirka Matousek, 2014)

For a taste of the past, hop on the train for a 40-minute ride and be prepared to experience a slice of Taiwan as it was 40 years ago. Famous during the Japanese colonial era, Pingxi, an old mining village, has preserved its architectural layout perfectly and even if its buildings might appear to be a tad battered and decrepit against a backdrop of verdant mountains and intertwined train lines, for travellers this is definitely the main charm.
Throughout the year, the village is rather sleepy, allowing you to enjoy peaceful walk and an unhurried time of shopping for souvenirs in Pingxi Old Street, but come late February, the famed lantern festival takes over the town and the ambience here changes dramatically. On the humble train track that pierces the street, thousands of luminous lanterns are released into the dark night sky each night representing individuals' wishes to God — a truly dramatic and unforgettable image.
Also read: 5 Things to Do in Taipei That Cost Nothing
Immerse in Miyazaki's surreal world in Jiufen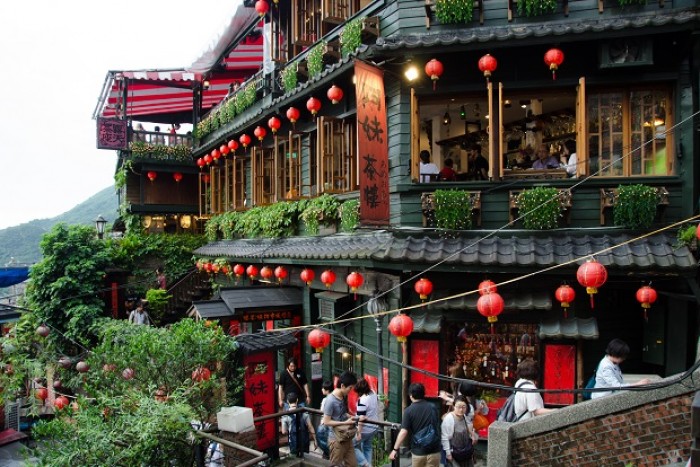 The village of Jiufen boasts a fairtytale charm due to its intricate buildings. | Image credit: CC BY-ND 2.0 (cotaro70s, 2014)

Only an hour train ride away from the capital, the visually impressive town of Jiufen was once the inspiration for Japanese director Hayao Miyazaki's beloved film Spirited Away. Today, the collection of astonishing buildings still transport visitors to the master's imaginative world and create a fantasy-like atmosphere for travellers who pop by.
Imagine a layered village peppered with Japanese-era structured donning red lanterns flickering late into the night and some breathtaking vistas of surrounding mountains and still Pacific Ocean from a vantage point. While exploring the village, expect a multitude of teahouses that promise a superb panorama accompanied by tea ceremonies as well as a variety of street vendors and small boutiques selling everything from local delicacies to inspired souvenirs for your loved ones.
Also read: 7D6N Taiwan Itinerary Covering Taichung, Tainan and Taipei
Go fruit picking at Shangri-La Leisure Farm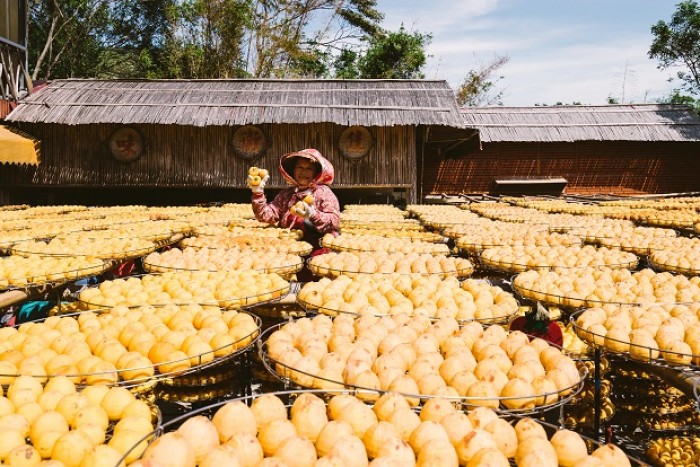 Taiwan is renowned for its astonishing variety of delicious home-grown fruit. | Image credit: CC BY-SA 2.0 (Wei-Te Wong, 2015)

Taiwan is an incredibly agriculturally bountiful country, producing everything from rice to tea to an astonishing variety of fruit. Thanks to its sub-tropical climate and diverse geographical topography, locals can grow a versatile slew of produce year-round.
At Shangri-La Leisure Farm in Dong-Shan Township, Yilan county (the train can whizz you there in about 1 hour 20 minutes), travellers, too, will be able to experience local produce in the midst of the countryside. Surrounded by hills and mountains and boasting views of the valleys, plains and ocean, this farming haven is an excellent site for immersing in nature and also participating first-hand in the picking of fruit. For those interested in experiencing folk activities, the farm also organises unique lantern workshops, cooking classes and guided eco-tours.
Have your own refreshing experience in Taipei. You'd be happy to know that Quotient TravelPlanner specialises in bespoke travel, so that you can make that desired trip happen according to your preferences.
Start building that epic holiday today, or choose from one of their many Ready To Tour packages.