Ah, Japan! It never fails to dazzle and invoke awe with its traditional charms, sumptuous food, trendy fashion, and incredible sceneries. There is a myriad of things to see and experience in Japan – from exploring its dynamic cityscapes to wandering the grounds of cultural attractions and shrines, enjoying its spectacular natural wonders, and feasting on its culinary delights. For first-timers, 10 days in Japan across Tokyo, Osaka and Kyoto is the perfect introduction to this amazing country.
This essential 10D itinerary will bring you to the heart and soul of all things that scream Japan!
Day 1 – Tokyo (Meiji Shrine, Harajuku, Shibuya)
Start off your much awaited Japan trip in the bustling hub of Tokyo! Rise early and make your way to Meiji-jingu, or Meiji Shrine. Dedicated to the 19th Century Emperor who opened Japan to the West, this Shinto Shrine is tranquil and austere, perfect for a peaceful morning visit.
Be sure to make a stop at the cleansing station, where you can partake in a purification ritual to cleanse your hands and mouth before offering a prayer. Hoping for a good GPA or a promotion at work? Write your wishes on small pieces of wooden planks and hang them up on the prayer wall.
After spending a couple of hours at the shrine, make your way to Takeshita Dori, the pulsating focal point of Harajuku. Harajuku is a well known shopping district in Tokyo that is known to be the central hub for Japanese pop culture. Also known as the "Mecca of Kawaii", the 400 metre Takeshita Dori street is littered with numerous boutiques, fashion stores, adorable dessert kiosks and themed cafes. Spot Japanese cosplayers in all kinds of whacky getups and accessories!
The must try, quintessential snack in Harajuku is none other than crepes! There are several crepe stores along Takeshita Dori, with Santa Monica Crepes being one of them. Choose from over hundreds of flavours and toppings to create your own customised sweet or savoury crepe!
If you prefer something savoury, be sure to try the Poterico, a popular packaged potato stick snack in Japan produced by Calbee. There is a Calbee+ store on Takeshita Street that makes this snack FRESH! The fresh poterico or fresh chips with chocolate drizzle is a MUST TRY!
As you approach late afternoon, continue your walk to the surrounding area of Shibuya. It is a lively destination with many bars, clubs and izakaya. Like its counterpart Harajuku, it is also a trendy shopping district. But the main attraction has to be, without doubt, the legendary Shibuya Crossing!
Possibly the busiest intersection in the world, the Shibuya Crossing is an overwhelming tsunami to the senses, with people headed in all directions as the traffic lights change. Navigating your way through the chaos of the intersection is something that all visitors to Tokyo must experience for themselves. One of the most popular viewing spots overlooking the intersection is the Starbucks joint located across from Shibuya Station.  
To end off your exciting first day in Tokyo, make your way to Ichiran Ramen, one of Japan's best Tonkotsu Ramen place! The secret to their success would be its creamy, smooth pork-based tonkotsu soup, topped with Ichiran's signature red pepper sauce mixed with three different types of spices. Do not be put off by their individual booth seating – it is intended so that your focus would be only on savouring the noodles!
Day 2 – Tokyo DisneyLand
Disney fanatics, it's time to rejoice! Relive your childhood fantasies and fairytales at Tokyo Disneyland. Prepare the inner child in you for an immersive, magical experience unique to Disney, with extravagant and spectacular shows/parades lined up to enthrall you! You will find classic themed areas such as Adventureland, Tomorrowland and Fantasyland. Meet your favourite Disney Characters like Mickey and Minnie, zip around on thrilling, adrenaline pumping rides and take in the sights of the whimsical Disney castle, which lights up beautifully at night!
Remember to get ahead of the crowd by getting your tickets online. Tokyo Disneyland Tickets are priced at about 7,400 Yen, or about 92 SGD. Also, be sure to queue early to increase your chances of obtaining a Fastpass for your favourite ride! Depending on which characters are your favourite, you may want to prioritise Toy Story Mania and Journey to the Centre of the Earth as these rides are wildly popular.
Day 3 – Ghibli Museum, Shinjuku
You must be exhausted after an exhilarating day out at Tokyo Disneyland! Sleep in a little longer and make your way to the Ghibli Museum, located in Mitaka just outside central Tokyo. This museum is dedicated to Miyazaki Hayao's Studio Ghibli, one of Japan's renowned animation studios. They have produced several feature films such as My Neighbour Totoro and Princess Mononoke. The museum is whimsically designed in a similar style to the studio's films, and many of their popular characters can be found there, including a life-sized robot from the film "Castle in the Sky".
Thereafter, make your way to artsy and bustling Shinjuku! While here, be sure to visit the lesser known Golden Gai area. Amidst the high-rise buildings in Shinjuku, there is a tiny section of 6 narrow alleyways that remain in a time capsule from the early 20th century.
Popular for its architecture and some may say "seedy" nightlife, this local haunt in Tokyo is getting more attention in recent times. It is home to about 200 tiny bars that are plastered with an eclectic selection of posters, obscure logos and colourful artwork. Keep your cameras handy for some great shots when the area lights up with hipster neon lighting. End off your day with some scrumptious Yakitori chicken at any of the joints and cleanse your palate with a refreshing pint of Asahi beer.
Shopping in Tokyo is every shopaholic's dream come true! As you splurge all your Yen away at the swankiest shopping districts in Japan, you might find yourself frantically searching for an ATM and a money changer, which can waste precious time!
To avoid all the trouble and hassle, why not open a Multi-Currency Account with DBS and pay like a local! Not only do you avoid paying foreign exchange fees (which lessens the burden on your already tight budget!), you will also never be short on cash to get that dream pair of shoes! What's more, with the Multi-Currency Account you can access 12 foreign currencies and the Singapore dollar conveniently with one account! Wherever you travel to, your transactions will be debited from the respective currency wallets.
Here's how the DBS Multi-Currency Account works:

STEP 1: Keep a lookout for the best time to exchange your currency

Keep your eye on the exchange rates of the Japanese Yen and wait until its value drops to your preferred rate before exchanging your Singapore Dollar for the Japanese Yen.
Pro-Tip: Once you've settled on the destination you're travelling to, you can start to set up a FX Rate Alert on the latest DBS/POSB digibank app, to get notifications when your preferred rate is met! Simply log in to digibank app > Select 'Transfer' on the menu > FX Rate Alert

On top of the Japanese Yen, your MCA account also covers these other foreign currencies that you can use with the DBS Visa Debit Card: Australian Dollar, Canadian Dollar, Hong Kong Dollar, New Zealand Dollar, Norwegian Kroner, British Pound, Euro, Swedish Kroner, Thai Baht and US Dollar.

STEP 2: Transfer funds into your MCA to secure your desired rates

Don't forget to transfer funds into your MCA so as to lock in your desired rates! Your exchange rate will be locked in at the time of Funds Transfer, and will not be subject to any future fluctuating market rates.

STEP 3: Whip out your DBS Visa Debit Card and you're ready to go!

If you're a new DBS/POSB customer, every new MCA account comes bundled with a complementary DBS Visa Debit Card. With this card, you will be able to make cashless transactions in Japan on the go.
Travelling just got so much breezier with DBS! Not a DBS customer yet?
Day 4 – Ginza and Train to Osaka
It is your last day in Tokyo and what better way to end of this leg of your trip than with MORE SHOPPING! Head to Ginza, Japan's biggest luxury shopping district. Similar to Singapore's Orchard Road, Chuo-dori is the main shopping street in the Ginza area. It is home to numerous departmental stores, flagship boutiques and restaurants.
If you're there on a Saturday or Sunday afternoon, you'll probably be able to experience the weekly Pedestrians' Paradise. This is a weekly event that closes Chuo-dori to traffic and has been held since 1970! Cafes in the area will offer seating on the street for the event, and you can enjoy performances by street musicians while basking in the festivities.
For all Muji fans, or Mujirers as they would call themselves, a visit to Muji Yurakucho is a definite must! This three-storey Muji flagship store sells every Muji item you can possibly think of. Stationary, clothes, household items and beauty products – you name it, they have it! They even have a Muji optician and florist within their premises! Say whaaaaat?
Yes, Ginza is hands-down known for luxury shopping; but it also boasts a culinary scene that's one of the best in Tokyo! From upscale restaurants serving premium grilled meats to the unassuming sushi joints, you'll be spoilt for choice. After your shopping spree, make your way to Sukiyabashi Jiro, one of the most famous sushi restaurants in the world!
Having earned three Michelin stars, it is a tiny spot with only a few seats but serves sushi of utmost premium quality. Chef Jiro and his team are famous for their meticulous attention to detail. Be sure to reserve a spot at this coveted restaurant wayyyy ahead!
Burp! After your delectable sushi meal, make your way to the train station. Take the Shinkansen to your next destination…. Osaka! The journey will take about 2.5 to 3 hours.
Day 5 – Osaka Castle, Dotonbori, Shinsaibashi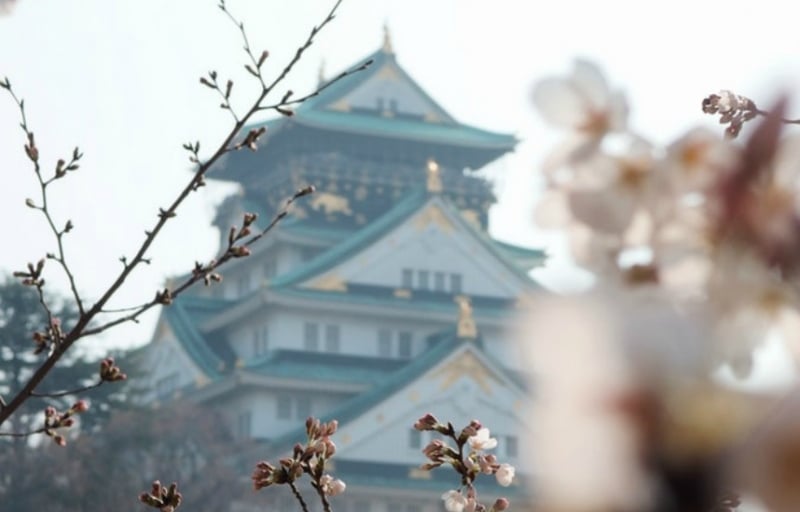 The most recognisable landmark of Osaka is the Osaka Castle, and no trip to Osaka is complete without a visit to this majestic attraction. The existence of this castle is monumental and it is an icon of the country's resilience and strength. While the magnificence of the castle is quite a grand sight from afar, the interior has been refurbished as a museum for tourists to learn more about the history of the castle and its inhabitants. At the top level, you can also wander out to the balcony and get a sweeping view overlooking the surrounding areas.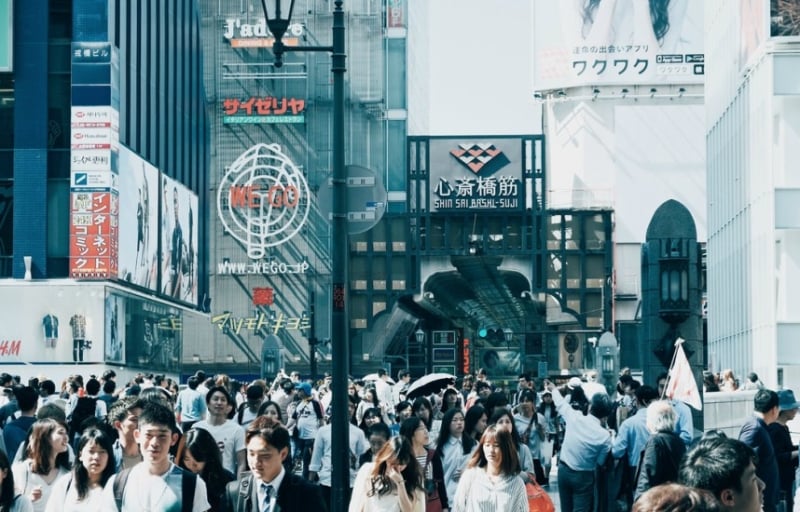 Don't be surprised if you end up spending the whole morning at the Osaka Castle. Thereafter, make your way to Shinsaibashi, a popular shopping district which has a long-standing history of being the regional centre of commerce in Osaka. The main artery of Shinsaibashi is the Shinsaibashisuji shopping arcade which runs for almost 600 metres and is home to almost 180 brands, boutiques, cafes and department stores. This is the best place for discovering the latest fashion trends!
If you had time to visit only one place in Osaka, it would definitely be Dotonbori. As the sun sets, get ready to embrace Osaka's nightlife at its finest right here at Dotonbori, packed with restaurants, huge blinding animatronic signs and neon lights. Don't miss the iconic Glico Man billboard, and peek into Don Quixote to savour every Kit-Kat flavour imaginable!
You'll be thoroughly spoilt for choice with the array of restaurants and cafes along Dotonbori Canal which serve up some top notch Japanese food. Head down to Daruma Kushikatsu, which has been serving delicious food in Osaka since 1929! Kushikatsu is a unique style of Japanese cuisine where all the food is deep fried and skewered. From shrimp and chicken meatballs to cheese and sweet potatoes, you name it and they'll fry it! Don't forget to dip the skewers into their signature thick, sweet tonkatsu sauce for the added kick.
Day 6 – Universal Studios Osaka
Dedicate the whole of Day 6 to Universal Studios Japan! In fact, you might even realise that one day is not enough for this theme park. There is just something magical about Universal Studios Japan – it has a nice balance between Hollywood and Japanese culture that makes a visit here different from what you would expect.
Opened in 2001, the theme park is the most visited amusement park in Japan after Tokyo Disneyland. It currently has eight sections – Jurassic Park, Waterworld and the ever popular Wizarding World of Harry Potter just to name a few. Harry Potter fans can experience a simulated broomstick ride, practice spells with magic wands and have a taste of the caramel-flavored 'butterbeer". For true blue Potterheads, you can even purchase the complete uniforms of the houses of Gryffindor, Slytherin, Hufflepuff or Ravenclaw, as well as your ideal wand.
1 Day studio passes for adults start at 7,900 yen (~S$97). Time is precious if you're only spending a day here, so do get your tickets beforehand! It is also advisable to get an Express Pass, which will help you in avoiding horribly long queues by giving you priority entry to a fixed number of attractions. Don't forget to catch the iconic night parade as well with dozens of incredible character floats that just dazzle and glisten in the night!
It's always better to be safe than sorry while travelling! Especially when you're visiting two amusement parks during your entire trip in Japan. Why not travel worry-free with
TravellerShield Plus travel insurance
? With DBS, you don't have worry about a single thing while travelling because they've got you covered.
Check out their latest promotions
today!
Day 7 – Minoo Park, Umeda Sky Building, Kamigata Ukiyoe Museum
Take it slow on Day 7 with a morning trip to Minoo Park, a forested valley on the northern outskirts of Osaka. Just 30 minutes away from Umeda, this serene paradise is popularly known for its waterfall, Minoo Falls. Embark on a picturesque 3km walk along the river, starting at Hankyu Minoo Station, to reach the waterfall. The first half of the trail passes by several temple buildings, with the Ryoanji Temple being the most impressive one. During autumn, this is one of the best places to see the autumn foliage in a natural setting. If you're headed there during fall, be sure to try momiji – maple leaves deep fried in batter!
Dubbed Japan's kitchen, Osaka is a true foodie's paradise! The Namba area is filled with cheap and delicious eats that promise not to break your bank while delivering big on flavour! You would have definitely watched one of those videos on Facebook about the famed Omu-Rice dish… Well, Hokkyokusei is the place to taste it! Founded in 1922, this eatery is known to be the founder of Omu-Rice in the Kansai region, before it was popularized all over Japan.
After a satisfying meal, head to Umeda to visit the Umeda Sky Building Floating Garden. Also known as the New Umeda CIty, this spectacular high-rise building consists of two stunning towers that are connected by the Floating Garden Observatory. It offers amazing panoramic views of the city from its open-air deck. Visit during sunset or at night for a surreal experience!
Day 8 – Kyoto, Tofuku-ji Temple
Take the Shinkansen and head to the Tofuku-ji Temple, one of the principle Zen temples in southeastern Kyoto! Founded in 1236 under the orders of the Fujiwara, this temple is particularly renowned for its amazing autumn colours. The most popular view is from that of the Tsutenkyo Bridge, which spans a valley of maple trees. The Sanmon Gate, which stands at 22m tall, is the oldest Zen gate of its kind and behind it stands the main hall.
From Tofukuji Temple, head south to Uji, a small city situated in between Kyoto and Nara. The town is located along the banks of the Uji-gawa river and makes for a decent half-day trip out of Kyoto! Uji is famous for its superior quality green tea (yes, matcha fans rejoice!) and popular on menus of restaurants are matcha flavored Soba noodles, ice cream and sweets.
As you explore the sights and sounds of Tokyo, Osaka, and Kyoto, don't forget that you can use your DBS Visa Debit Card to pay directly in Japanese Yen… as long as you have funded your
DBS Multi-Currency Account (MCA)
!
Save time on withdrawing cash from ATMs or dealing with the poor exchange rates in airports and train stations. Simply use your MCA to buy the Japanese Yen at your preferred rates and pay directly cash-free. You don't even have to pay a foreign exchange fee! So what else are you waiting for?
Day 9 – Arashiyama Bamboo Forest and Fushimi Inari Taisha

Did you know that the sound of the swaying bamboo stalks in this spellbinding grove has been voted as a governmentally recognized sound? The peaceful natural sound is so calming that Japan's Ministry of Environment has voted the Arashiyama Bamboo Forest as one of Japan's "100 Soundscapes".
Just 30 minutes away from Kyoto's city centre, the lush bamboo forest is a stark contrast to the urban landscape surrounding it. Standing amidst the towering stalks of bamboo is akin to stepping into another world. Be sure to get there as early as 8am so as to avoid the crowds and to snap that Instagram-worthy shot!
Continue your quest for the perfect Instagram feed by making your way to the Fushimi Inari Shrine! Build in 711, this shrine is the most famous for thousands of shrines dedicated to Inari, the Shinto God of Rice. This attraction is renowned for its iconic, flame-colored torii gates. You'll notice that there is Kanji writing on each torii, and the oldest gates have been said to date back to as early as the 8th century!
And before you set off on your Japan vacation, don't forget to download the
DBS Lifestyle app
which lets you activate your card's magnetic stripe! It's just so convenient. Simply download the app, look for
Card Services
under the
More
tab, and select your card. It'll automatically be activated when you travel, and de-activated when you're home!
Download now!
Day 10 – Nishiki Market and Gion District
Start your day bright and early with a food trail in Kyoto's Kitchen! First opened in 1310 as a basic fish market, the 700 year old market has expanded over the years to become the best location for fresh seafood, produce and local Japanese street food. The entire market is only about five blocks long but as you walk along the narrow alleyways, you'll find your senses enthralled in many different directions.
Regardless of whether you're a shopaholic or just a window shopper, the market is an intriguing place to spend at least half a day at. Sushi, candied kumquats, soy donuts or baby octopuses stuffed with quail eggs – there's a huge variety of interesting foods to try!
After stuffing yourself silly at the Nishiki Market, make your way to Kyoto's entertainment district, Gion. A thriving hub for artists, theatres and geishas, Gion is packed with bars, restaurants and traditional teahouses. It is the most scenic and atmospheric at night, when lanterns are lit and apprentice Geishas will roam the back streets on their way to appointments. It's easy to spend a whole afternoon wandering in this area, stretching from the Kamo-Gawa River in the west to as far as the Yasaka-jinja Shrine in the east.
And there you have it! The ULTIMATE 10D Tokyo, Osaka and Kyoto itinerary to experience the best of Japan! Follow this guide and you will be rewarded with sights, sounds and tastes that will make you want to explore Japan even more! Truly a timeless destination, Japan is set to leave you absolutely awestruck.
Get your travel essentials in check with DBS and start packing your suitcases, because you're in for a spellbinding time in Japan.
---
Brought to you by DBS.
DEPOSIT INSURANCE SCHEME (from 1 Apr 2019)
Singapore dollar deposits of non-bank depositors and monies and deposits denominated in Singapore dollars under the Supplementary Retirement Scheme are insured by the Singapore Deposit Insurance Corporation, for up to S$75,000 in aggregate per depositor per Scheme member by law. Monies and deposits denominated in Singapore dollars under the CPF Investment Scheme and CPF Retirement Sum Scheme are aggregated and separately insured up to S$75,000 for each depositor per Scheme member. Foreign currency deposits, dual currency investments, structured deposits and other investment products are not insured.