Japan – where bustling metropolitan cities and rural charms meld. Many things resound as being iconic of Japan: ramen, Kinokuniya, anime, stationery… the list goes on. Be it food, tourist sites, or novelty activities, here is a selection of activities for you to experience the quintessence of Japan.
1. Be astounded by the panoramic view of Mount Fuji and Lake Kawaguchiko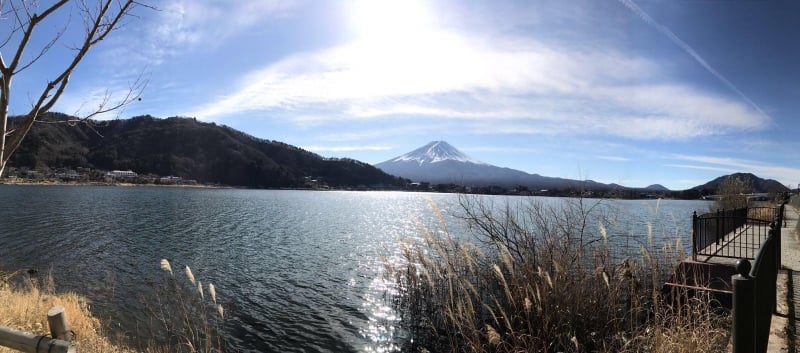 These photos speak for themselves – the splendour of Mount Fuji and Lake Kawaguchiko are unparalleled! Bask in the serene tranquillity of Lake Kawaguchiko while admiring Mount Fuji from afar. This is the perfect opportunity to embrace your inner zen while snapping away for your Instagram feed.
2. Feast on authentic Udon or Ramen from Vending Machines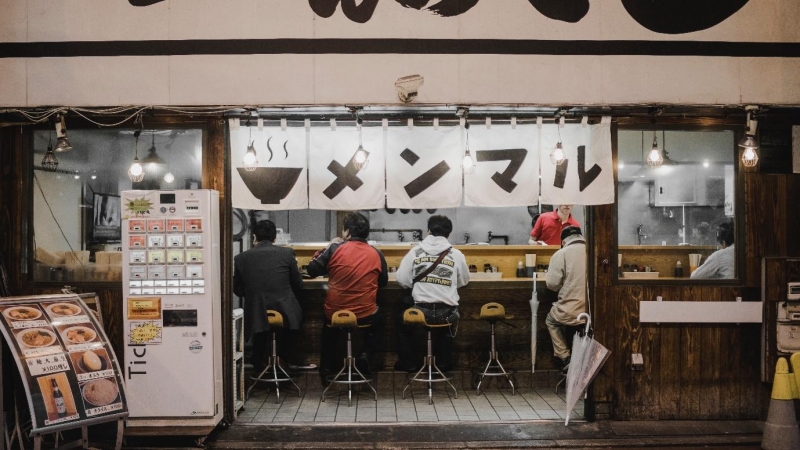 Few things beat having hot, silky udon or chewy ramen on a frigid winter night. Add an element of fun to your udon slurping by placing your order through a vending machine! While some countries like Korea offers a few eateries serving udon via orders placed with a vending machine system, which country could be more appropriate for enjoying this novel experience other than Japan, the hometown of udon and ramen? Oishii!
3. Visit a museum dedicated to cup noodles
Whether it's the late night hunger pangs, or last-minute lunch before rushing out of the door – cup noodles have saved our lives more than once. But have you ever thought about how they're made? Wonder no more, for now, you can learn all about the processes involved in manufacturing this delightful quick fix!
Make a trip down to the Cup Noodles Museum in Yokohama or Osaka, the birthplace of instant noodles, for a behind-the-scenes of this humble invention. Behold a spectacle of seemingly countless different permutations of cup noodles, arranged primly in glass cases according to their dates of conception!
Pose with one-of-a-kind museum exhibits like this display of the famous Harakiri cup. This museum is probably one of the most family-friendly museums too, with its interactive programmes teaching little tots the secrets behind manufacturing cup noodles as well as getting to create your own completely original CUPNOODLES package, which is unavailable anywhere else in the world.  So if you're taking the family on a trip to Japan, now you know where to go!
4. Have a mochi feast
You'd be in mochi-heaven with the ubiquity of stalls selling this signature Japanese sweet – in department stores and even subway stations! Take your pick from a plenitude of flavours, such as the Daifuku (sweet red bean paste or white bean paste), Ichigo Daifuku (containing a whole strawberry) and mochi ice-cream.
5. Wear Yukatas and Experience Tatami Living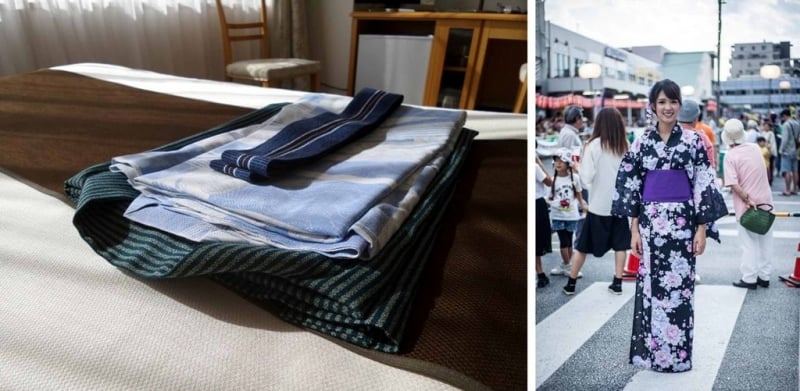 Your accommodation in Japan will most likely provide Yukatas, so you can get to experience wearing one and feeling like a true blue Japanese. Complete your experience by staying in traditional Japanese-style rooms in the rural provinces of Japan, which feature Tatami mats as bedding.
6.
Explore 12 floors of kawaii stationery al

l

within one building

Itoya is a stationery store boasting a hundred-year legacy. It is located in the swanky area of Ginza and it's not hard to see why; Itoya is a designer stationery retailer. With twelve floors of high-quality stationery, you're guaranteed to find every kind of stationery imaginable. You can pen your heartfelt affections to your family or lover at the SHARE space on the second floor, then post it right where you are!

This is also the perfect time to stock up on souvenirs, for there is something for everyone at Itoya. The most special experience at Itoya is the notebook personalisation service on the fourth floor. How amazing is choosing your own notebook cover, notebook paper, and having your name engraved on it? Head up to the seventh and eighth floor for some tactile thrill, as the stunning array of textured paper, washi wrapping paper, and cardstock (pictured below) will pique your artistic side. Hungry? Café Stylo on the twelfth floor of Itoya will take care of that with its San-Francisco-inspired menu.
7. Shop at the first-ever Kinokuniya branch
The first Kinokuniya bookstore in the world lies in Shinjuku, Tokyo. You can learn about Japan and Japanese culture as much as you like with the wealth of books on these topics here – provided you understand Japanese! This bookstore also caters to niche interests, such as anime, and carries a small range of books in English.
8. Admire organised chaos: murals in Asakura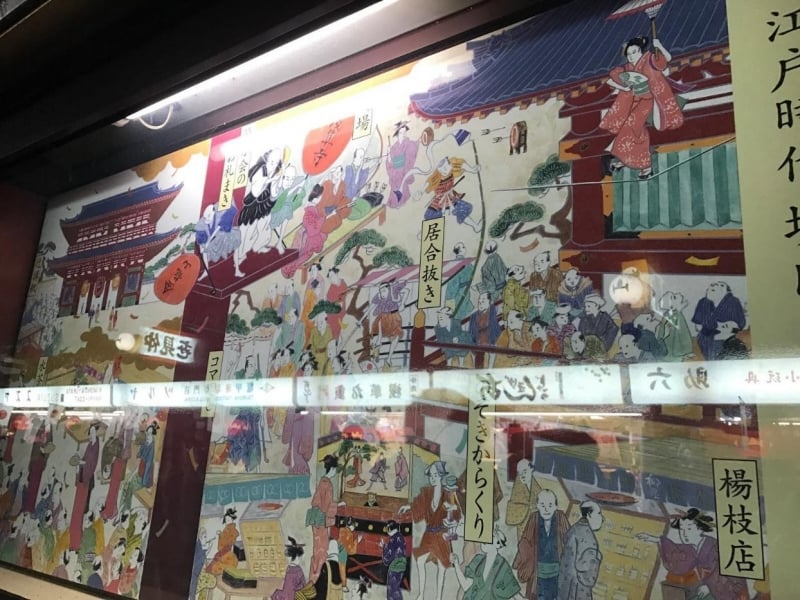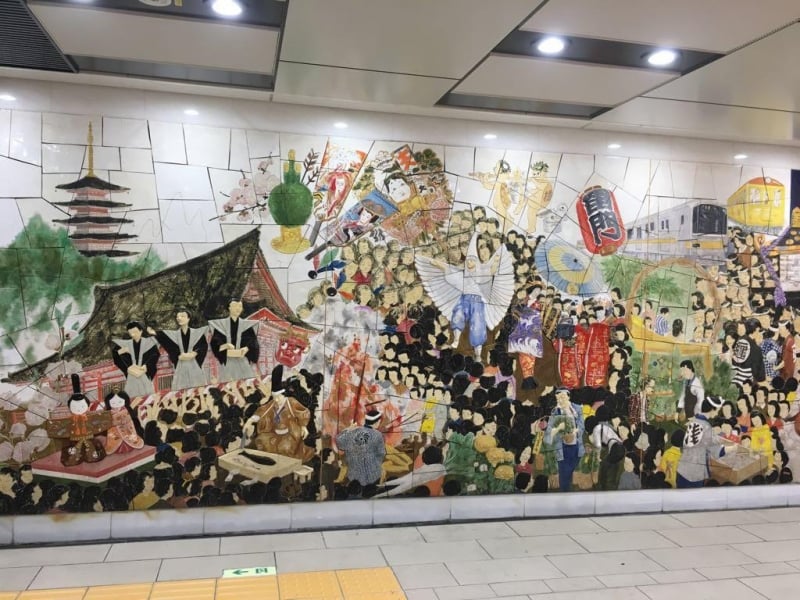 Asakusa is a must-visit, with its quaint streets (and even the subway station) decorated with these aesthetic murals that give a glimpse into Japan's history. The dense but visually coherent murals ooze a cultural feel, serving the dual purposes of art and storytelling. You can also purchase interesting snacks and souvenirs at Asakusa and watch chefs prepare street snacks through glass windows. Be sure to drop by the renowned Kaminarimon temple, though you may have to jostle with other ardent tourists!
9. Buy beautifully packaged snacks and souvenirs for your loved ones
You'll find yourself endlessly exclaiming over the meticulously packaged snack boxes available in Japan. With sweet, pastel ribbons and washi paper adorning the boxes, you can save yourself the pains of bulk gift-wrapping. Presentation is everything to the Japanese, and this clearly extends to their snacks too! Your relatives and friends are sure to be grateful for these gifts that are almost too beautiful to consume.
10. Feed your love for anime at a low cost
Anime books and magazines are costly…except in Japan! You can purchase anime magazines for a few dollars at convenience stores, so anime fans won't have to worry about breaking the bank. Even if you're not into anime, check out the feat of Miyazaki's giant "Anime" Nittere Ohdokei Automaton Clock at the NTV Broadcasting Center in Shiodome, Tokyo. Designed by Ghibli animator and film director Miyazaki Hayao, this clock is the product of 5 years of designing and constructing and is deemed among the biggest clocks in the world.
It allegedly resembles a castle in an anime film…anime fans, do you know which one?
Japan offers an invigorating plethora of experiences for the avid traveller. So the next time you're there, be sure to give these ten things a go!