After endless days of morning commuting, with someone else's sweat plastered on you and the city grime seeped into your every pore, there will come a time when you simply just want to escape from it all. We know exactly how that feels. And we know just where to go.

In the charming sunshine coasts of Kuantan, Pahang, time stand stills. With nature's hidden gems splattered all over its magnificent landscapes, it is the place to be for those who seek comfort in a refreshing and rejuvenating escapade. Here, we'll kick-start you off on a halcyon getaway from the city with these seven simple yet amazing activities. Let's go!
1. Watch the sunrise at Teluk Cempedak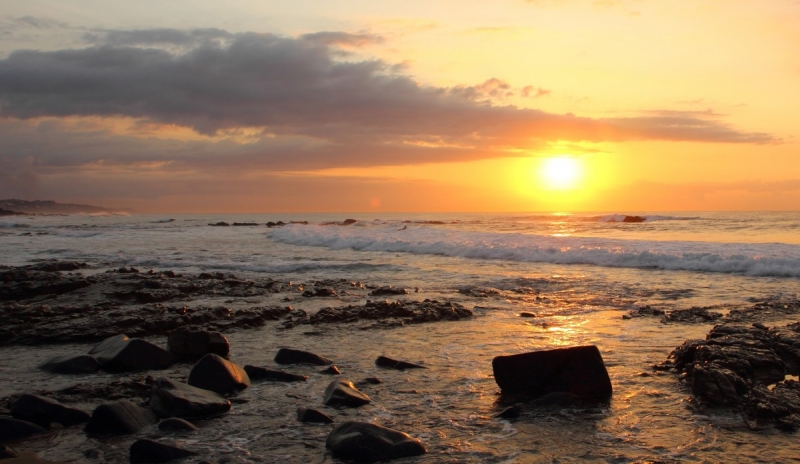 A renowned beach in Kuantan, Teluk Cempedak is the perfect place to go for dazzling views of sunrise. As the pure scattered light illuminates the sky, its hues also chase away all darkness and worries accumulated from the concrete jungles. The rocks by the shore shine as if they are wearing golden crowns, and the tides of the sea race to reach the horizon where the majestic sun arises. In that moment, the serenity is simply unparalleled.
2. Hop onto an old mine train in Sungai Lembing
If you are a fan of history, then you are in for a treat! Take a ride down memory lane on an antique mine cart in Sungai Lembing's abandoned tin mines. As the death knell sounded for the tin industry, gone are the glory days in Sungai Lembing. Nevertheless, there is much historical significance in these mines, which have been recently restored for exploration.
As the train enters the dark tunnel, feel a rush of cold breeze brush and your heart thump quicker with each chug. Shrouded in mystery and rumours of supernatural phenomenon, the eerie tunnel is ghastly yet captivating. Fun fact: these mines are more than 300-kilometres long and 700-metres deep – that's the height of 14 storeys!
These decrepit mines tell the tales of blood, sweat and tears of young men who laboriously slogged in these dangerous mines, some never to see the light of day. More importantly, they also encapsulate the tenacious spirit of Malaysians who struggled to bring the bread home for their families – a single aspect that forms the cornerstone of Sungai Lembing's identity.
3. Snap gorgeous photos at the Rainbow Waterfall
Nestled deep in a forest not too far away from the tin mines is the picturesque Sungai Lembing Rainbow Waterfall. While it is no easy task to get here (it includes a 45-minutes leisure hike), we guarantee that the view at the end will be worth it! As the morning mist clears, a stunning rainbow adds a colourful radiance to its surrounding monotonous greenery. Small but mighty, it is a fond reminder of the simple blessings in our lives.
4. Refresh your palette with "mountain-water" dishes at Sungai Lembing
What better way to get intimate with the nature than to savour on food made with the purest water from the mountains? Right here in Sungei Lembing, the fresh and sweet mountain-water enhances the taste of these dishes naturally. No wonder it's a perennial favourite of many Malaysians!
Sister Fong's Mountain Water Tofu is one of the most famous dishes here. If you find this familiar, it's because you might have seen this unbelievably soft and silky dish on many variety shows! Small as Sungai Lembing may be, it has nevertheless attracted many curious palettes from all over the world  just for a glimpse into its delectable delicacies.
While you are there, make sure to try Sungai Lembing's noodles as well. These succulent and springy delights are handmade with (no points for a right guess)… mountain-water too! Cooked over charcoal fire, you cannot find these noodles anywhere else in Malaysia.
5. Ride an ATV on a beach by the setting sun
Yes we know, ATVs are pretty common in southeast asia. But riding one on a beach AND by the sunset? That's something else entirely!
With the soothing, rhythmic percussion of waves on the sand accompanying you as you chase down the horizon, your face aglow with the the last orange rays before twilight beckons the stars, it is an experience like no other!
And right here in Kuantan, you can do just that! At LKPP De Rhu Beach Resort, buckle up for an adventure-of-a-lifetime on the ivory beach that faces the vast South China Sea. Race your friends to the end, and break into hearty laughters as you pose for an awesome Fast and Furious-style group photo with your ATVs. You will forget any woes at the end of it all!
6. Unleash your inner Picasso at the Natural Batik Village
Batik painting is an absolutely perfect respite for those who wants to catch a breather from the hustle and bustle of city life. Relish in a peaceful and quiet afternoon painting your very own batik artwork in Kuantan Natural Batik Village. Mix the basic colours until you find the perfect blend and use them to inject life into the intricate motifs. Plus, you also get to keep your very own batik painting afterwards!
The Natural Batik Village also sells stunning batik cloth, silk shirts, dresses – perfect souvenirs to remember your visit by! If you are curious as to how these are made, simply request for a tour to learn more about the process of batik manufacturing. The friendly locals would be more than happy to introduce you to their beautiful culture.
7. Savour on local seafood in Beserah
Steamed grouper
Foodies, rejoice! North of Kuantan, in the quaint fishing village of Beserah, you will find the best of local seafood. In fact, this is exactly where the locals come for their seafood fix. Home to famous delicacies such as keropok (fish crackers) and ikan masin (salted fish), a trip to Kuantan will not be complete without a treat to these yummy seafood produce!
With such brilliant views, soothing peacefulness and tasty food, a trip to Kuantan will definitely be a restful one. So wave goodbyes to the dusty concrete grids, and pack your bags for a refreshing escapade to Kuantan now – for the earth has music for those who listen, and the pathless woods has treasures for those who seek.
---
I extend my sincere gratitude to Tourism Malaysia for this wonderful opportunity to explore the hidden gems of Kuantan.