Contributed by Camera and Cheese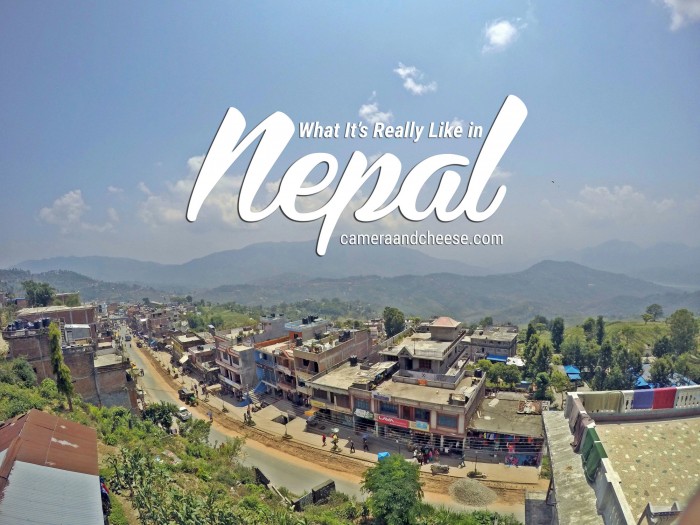 Destination: Nepal
Duration: 49 days
What to see and do: Durbar Squares, temples, cave, shopping, hiking, and eating, to name a few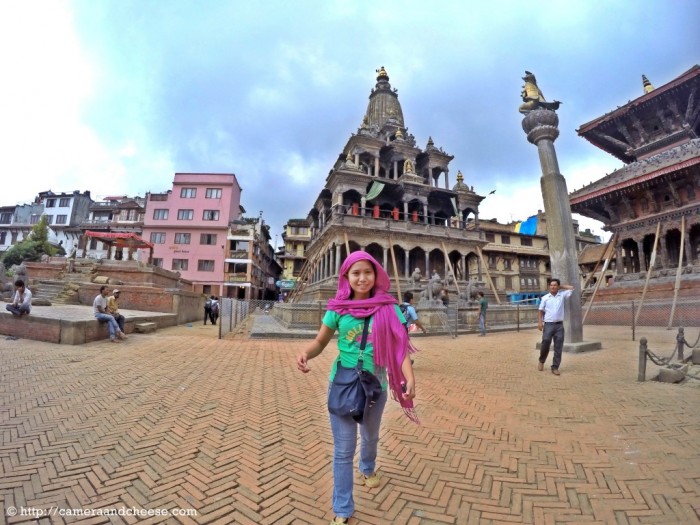 Running around Patan Durbar Square
Nepal, the home of the world's tallest mountain and of the famous Gorkha soldiers, was hit by a 7.8 magnitude earthquake (United States Geological Survey's (USGS) Earthquake Hazards Program) last April 25, 2015. This earthquake is also known as the Gorkha earthquake as the epicentre was very close to Gorkha District.
Last June 2015, about two weeks after the May 12 major aftershock, I had a golden opportunity to work on a temporary assignment in Nepal. I've written about the beginning of my journey but that barely sums up my entire experience. A lot of my friends ask me, "How's Nepal?" or "How was your experience?", and I could never really explain them all in small talks. Hence, this entry. If I haven't bored you yet, read on to find out more.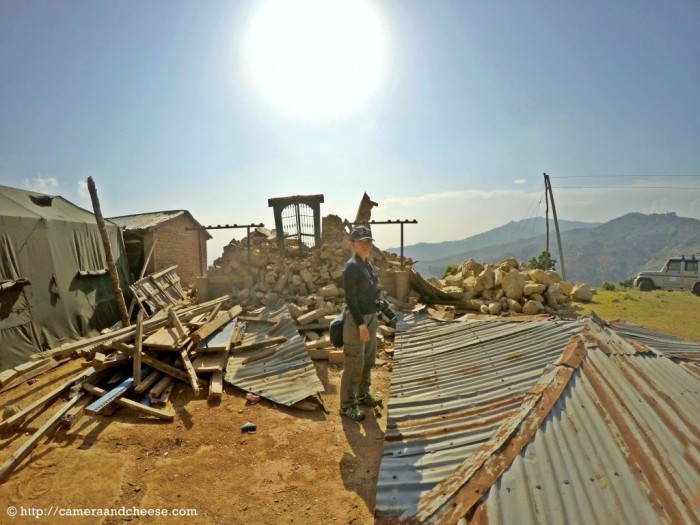 Devastation under the scorching heat
What I packed
This is really important. Before heading to the unknown (no, I did not know which part of Nepal I was to be assigned and no, I did not have a return ticket, scary I know), an orientation handout was sent to us. It listed things I needed to prepare for and things I ought to pack. Bring warm clothes, they said. Darn did I regret that. I brought a tent, sleeping bag and two very thick jackets to keep me "warm" only to find out that we were to work in Gorkha Bazar, a generally warm area (this might be an understatement as it gets really hot there a lot). To make the long story short, half of my luggage composed of things I never got to use. The weather there, for me, was unpredictable and it varies from place to place and season. Our colleagues who worked out in the field would be able to make use of the thick clothing since they spent days in the higher mountains;  but I stayed in the office most of the time so I only got to wear t-shirts and jeans. I promise to make a separate entry for my favourite travel essentials very soon!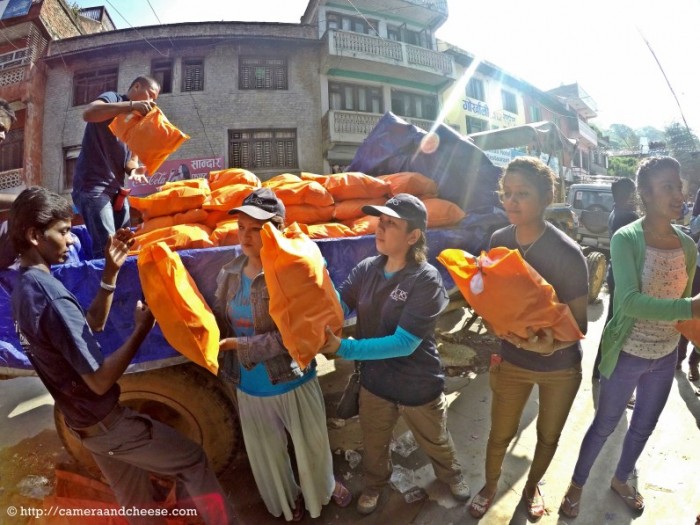 Collective efforts to bring aid to victims
Expectations versus reality
As a Yolanda (Haiyan) survivor, I know what a real disaster looks and feels like. And I also know how media can sometimes really escalate news and make things look just so much worse. Yolanda left most of my city flat. The earthquake in Nepal, however, left many buildings and houses still standing. It made me ask, "Did almost 9,000 people really die here?" Apparently, as explained by my more experienced colleagues who worked in the field, most buildings left standing are in the central parts of districts because the infrastructures were built with more "modern" infrastructure. Up in the more rural areas, a lot of houses were damaged because they were built only with bricks and clay, materials that are not very durable when used alone. Tribhuvan Airport in Kathmandu was also not heavily damaged in my opinion, and was fully functional. However, it was rated as the worst airport in Asia this year. I never got to feel any aftershocks where I stayed though colleagues said they felt some while we were there.
I have imagined to work in a tent but we stayed in a "hotel." We blocked one hotel and booked more rooms in another since we were a growing team. Our office was in one of the rooms we rented in one of the hotels. It wasn't a big office really but it was so much more than what I expected. Yes, there are still many hotels in Gorkha, Pokhara and Kathmandu, and yes, there are still so many restaurants to choose from in Pokhara and Kathmandu.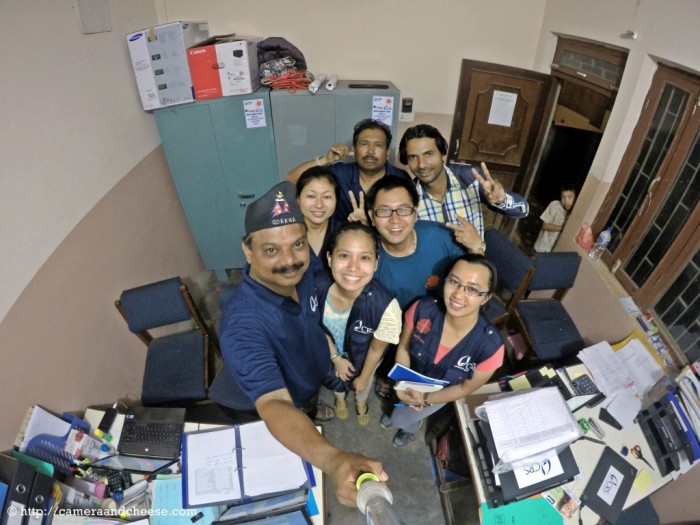 Gorkha squad behind the scenes
What I was really there for
No, I'm not one of those people whom you'll see in the television giving relief materials first-hand to victims, or those you'll see in helicopters giving aid. I am part of the "back office" so to speak and I work behind the scenes. Back in my home office, I serve as an Administrative Assistant and I serve as a Property Custodian. But when I was sent to Gorkha, I was tracking staff movement, booking hotel rooms for staff, managing properties, drafting contracts, and managing our big fleet! It was all too hard but motivationally challenging. We were the biggest team in Gorkha, we had the biggest operations and the biggest fleet compared to other INGOs. That makes me really proud to have been a part of the first few people to serve during the early stages of the emergency response.
Miss Lucille and I with two of our best volunteers in the middle
Also read: Why Volunteer Abroad?
On my first day, I had to beg our supervisors to allow me to participate in kits distribution. I promised them that they can lock me in the office after. Thankfully, they allowed me to experience field work. I thought it would be my last but it wasn't. I went to two more field activities after that and got to really see the hard work that our team was doing in the field, the dedication of our volunteers, and the happy faces of those people whom we served.
My supervisor and I (we were both in the same room) would usually wake up at 5:00 or 5:30 in the morning. She would wash her clothes and I would jog or do yoga. We went to work around 7:00 AM and finish at 10:00 PM. And I still had to wash my clothes when I got back to our room. We practically had only a few hours of rest and we were working seven days a week. Management then decided to let staff take Saturdays off. So every Saturday, we would go out to other tourist spots, eat good food and relax.
Places I visited
Riverside Springs Resort
The pool keeps trying to suck me in
This was a nice river resort thirty to forty-five minutes away from Gorkha Bazar. We go there when we want to get a different dish to eat. It was a really nice breather from the gloomy days in our office. It had a huge dining area, a very inviting swimming pool, and a row of about four tents slash rooms which were right in front of the river. It would have been really nice to just spend one night "camping" there.
Gorkha Bazar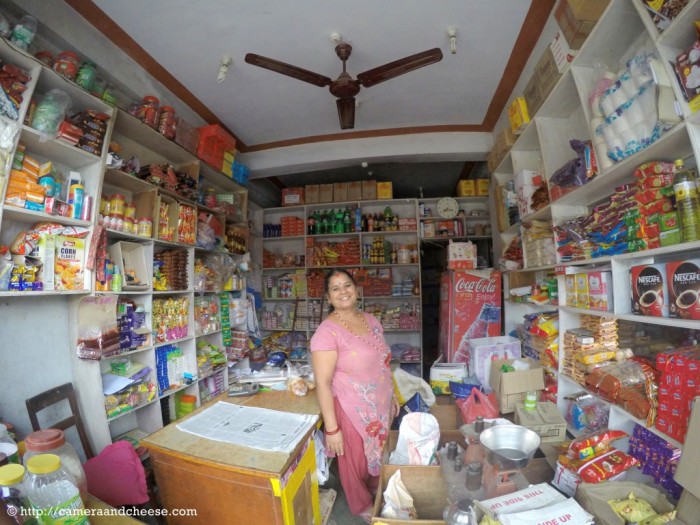 My favourite store in Gorkha
Nepal is composed of districts. The one we were in was Gorkha and its sort of "capital" was called a Bazar. Gorkha basically is composed of other different divisions or municipalities. On our first Saturday off, we opted to explore Gorkha Bazar first. We went to the museum, their durbar which was relatively small, and went up to the breathtaking palace.
Also read: What You Can Buy With SGD 1 In Nepal
Manakamana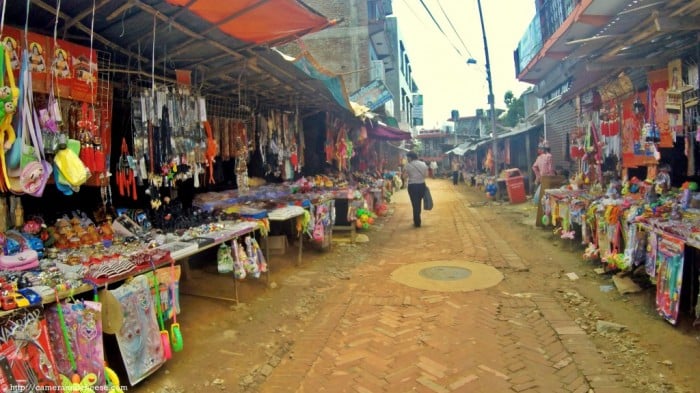 Stalls after stalls of souvenirs at Manakamana
Still in Gorkha district, we visited what's left of the Manakamana Temple. The highlight really was the exciting ride in the cable car. Most people were there for the temple.
Pokhara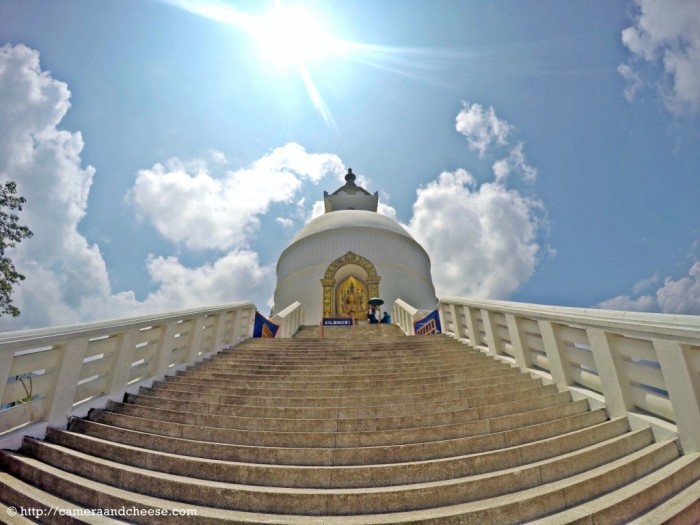 All the sweat was worth it!
Pokhara is the "capital" of Kaski District. Locals say that it is the second largest municipality in Nepal but according to Wiki, it is the third. It is about three to four hours away from Gorkha Bazar. Pokhara was a whole different place compared to Gorkha. It had more green, was more lively and full of tourists!
We went up to the magnificent World Peace Pagoda. It was a bit of a hike but it was so worth it! We also went to the Phewa Lake, Radhakrishna Temple, Devi's Fall, a cave and of course we went shopping, well the girls did. Souvenir items were a bit more pricey there.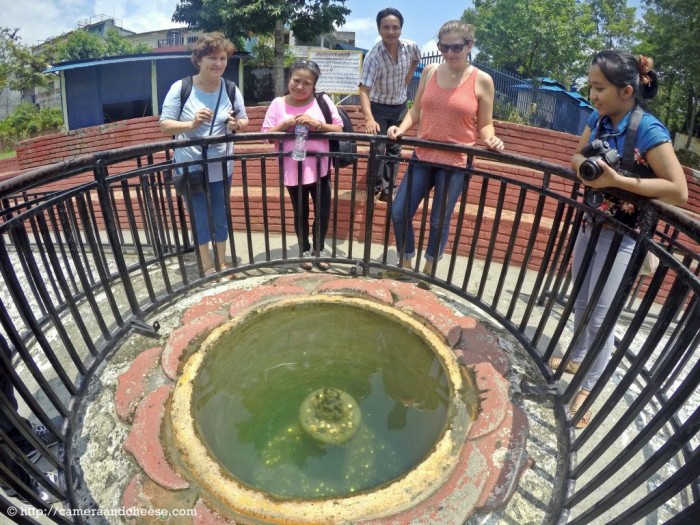 Addictive wishing well at Devi's Fall
We had a chance to toss coins at the wishing well at Devi's Fall. They say, if you toss a coin and it manages to stay in the centre, your wish will be granted. One of my Indian colleagues went a bit cray cray and bought too many coins. It was almost like gambling, lol. We told him it would not be a good idea to take him to a casino.
Devi's Fall is actually a place where a wife of a Swiss national was taking a bath. She apparently fell and died. The water source is Phewa Lake and it passes through a cave called Gupteshwor Mahadev.
Kathmandu
Ah, that one place no one should ever miss in Nepal. There are three popular and huge durbars in Kathmandu – Patan, Kathmandu and Bhaktapur. All were famous and all had their share of devastation during the earthquake. We were only able to go to one which was Patan in Lalitpur. It was free to get in, many people were there, both locals and tourists. I was just in awe looking at the infrastructures and colours and oh the statues! I've also really grown to love Buddhist statues and temples.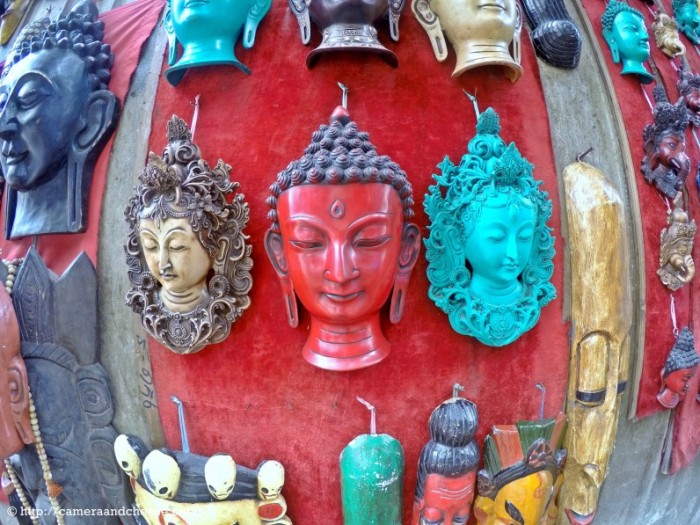 Colourful displays at the market in Kathmandu
On our last whole day in Nepal, we got to go around Thamel, probably the biggest shopping destination in Nepal. If you've ever been to Divisoria in Manila, you can imagine that Thamel is sort of like it. You can haggle and bargain. Thamel is close to Kathmandu Durbar Square but unfortunately, we couldn't go in because we had to pay NPR 1,000 and we thought it was too expensive. So we skipped that but from afar, I can see that it really was full of debris.
If you ask me, my favourite place would have to be Pokhara. Gorkha was too remote, Kathmandu was too populated. Pokhara, in my opinion, was just right. It was greener and just beautiful, really.
Also read: Nepal's Garden of Dreams is a Sanctuary for the Tired Feet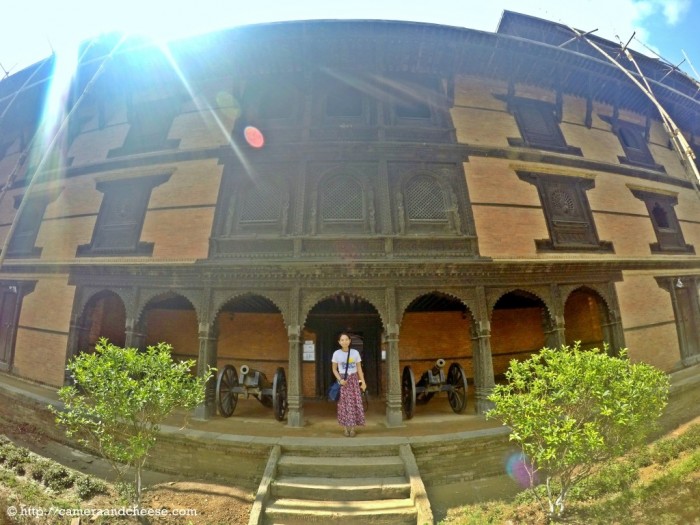 Gorkha Palace facade
Challenges
I know this is a really long post but do feel free to skip this is if it's too much. I just wanted to share the challenges I had living in Nepal for almost seven weeks. Everything was different and I got lonely quite a few times. I think if you would visit Nepal as long as I did, you would want to know these.
Language
Boy was this such a struggle. Nepalese generally are not fluent in English. Some locals understand English but not a lot can really talk and write in English. I was working with drivers most of time and I could only communicate with a few of them. The solution? I learned Nepali words and sentences. I was actually quite good at it that a lot of people mistook me as a local which was really cool. Here are some important words and sentences that I think would be good to learn.
Namaste – the universal greetings in Nepal
Kripaya – please
Sahayog – help
Dhanyabad – thank you
Dai – older brother/man
Bai – younger brother/man
Thik chha – I'm fine/are you fine?/okay?
Aunus – come
Janus – go
Kripaya tapai ____ aunus – Please come to ______
Washing my clothes
Yes, this was a struggle for me. Someone else actually washes my own clothes back home. When I was in Gorkha, I had to wash everything myself. This might sound super gross but I resorted to wearing pants for at most five times until I decided to wash them. I was just too lazy! Since I wasn't out in the field that much, my excuse was, "I'm always in the office anyway and my pants don't get dirty too much" (wink). I tried to have a few of my clothing washed by a local but I wasn't sure if she was doing it right so I just ended up washing them myself.
Food and health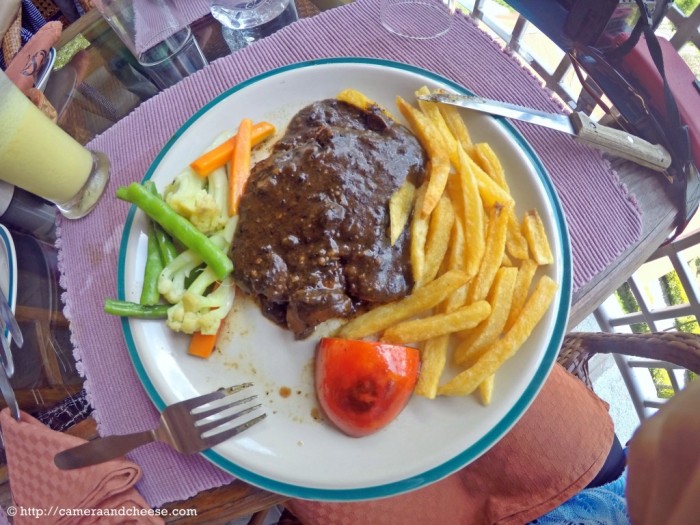 Best pepper steak I have had only at the Riverside
Food in Nepal was not bad at all. I just was not used to the turmeric, dhal and mutton. We had free meals but the hotel served us the same kinds of things everyday. As I said, I didn't mind the food but I wish they would switch it up a bit. On my first two weeks, I really didn't eat much. I ate half of my emergency supplies already and I thought to myself, if I wanted to survive (that time, we still did not know when we were going home), I had to adjust to the food. I had no choice. So what we did was eat free meals occasionally and buy our own food outside if we didn't feel like eating at the hotel. My favourites would be momos which were dumplings and I loved the chicken fried rice and chow mein, their version of pancit or noodles.
I also had trouble with my fitness. I jogged quite a few times but damn everything was in steep slopes so it was so hard. Even if I could go on, I didn't want my legs to grow more muscles. One time, my legs gave up and while a colleague and I were going downhill, I fell and had wounds on my knees. So I decided to do something else. I was convinced to try yoga.
Yoga was the best thing that happened to me in Nepal. I was so lucky to have an Indian colleague. He practised yoga and meditation not only as an exercise but it was naturally his way of life. I was really inspired by him. Before I went to Nepal, I tried out a few videos on YouTube but gave up on it because I was never sure if I was doing things right. Now, ever since I was back home, I make it a point to do yoga everyday. I am practising with the aid of YouTube. But the most important lessons I have learned were those from my colleague – breathing, letting go, self-awareness. I even bought a yoga mat in Gorkha and brought it with me to the Philippines no matter how much space it took on my luggage.
Also read: 5 Ways to Be a Better Traveller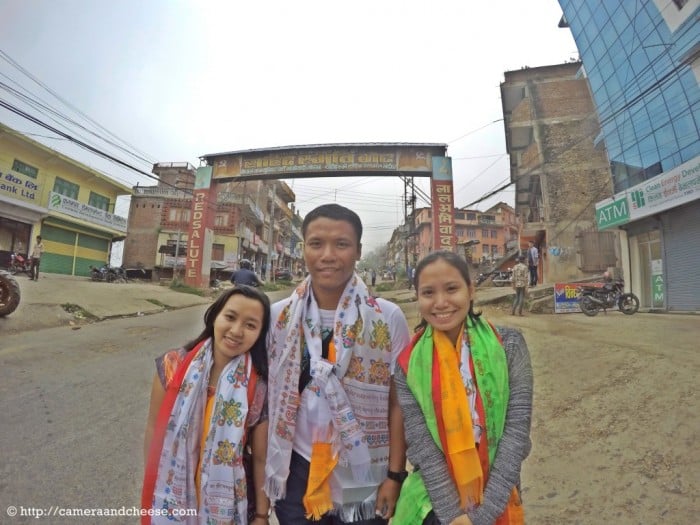 Final photo opportunity at Gorkha Bazar
This is probably not a very informative post and it's more of a "me" story. But I hope this can give you a better picture of what Nepal is really like. To be honest, I really want to go back. A week before we were about to leave Gorkha, I was already looking for tickets to come back just to have a vacation. Nepal is too beautiful and rich in culture for you to miss, seriously. Leaving Nepal was heartbreaking and truly bittersweet. If I'd ever have the chance to go back, I would stay in Pokhara on a yoga retreat and enjoy good food, nature, and calming music. And I wouldn't mind going on a hike even just to the bottom tip of Mount Everest!
I know, TMI. Ciao for now!