The most visited city in the world teems with themed cafés that offer tourists and café hoppers the most unique and unimaginable experiences. Here are seven of the coolest themed cafes in Bangkok that will keep you hooked on Bangkok's quirky café scene.
1. Unicorn Café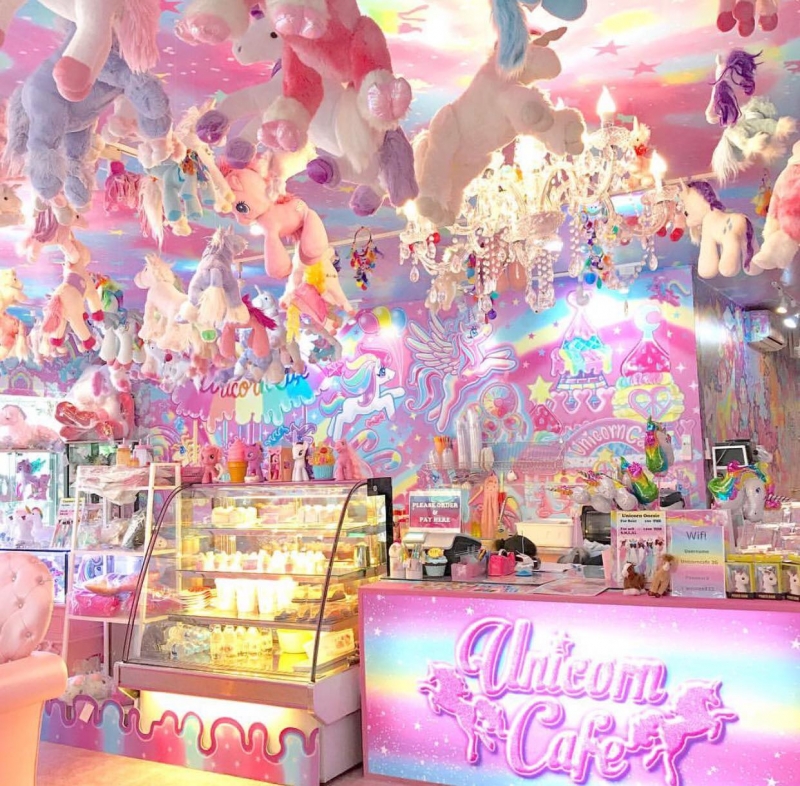 At the Unicorn Café in Bangkok, unicorns are no longer a figment of the imagination. Intent on bringing these mythical creatures to life, the café owners really go out of the way to deck their store with everything magical and mystical. The walls and ceilings are adorned with all sorts of unicorn toys, the buntings and colour palette scream a lovely purply-pink, and all the carefully thought-of elements make unicorn fans out of random visitors. Get mesmerised with the unicorn overload while enjoying their colourful drinks, fab cakes, and all the dreamy fluff.
Address: Soi Sathorn 8, Bangkok, Thailand
2. Little Zoo Café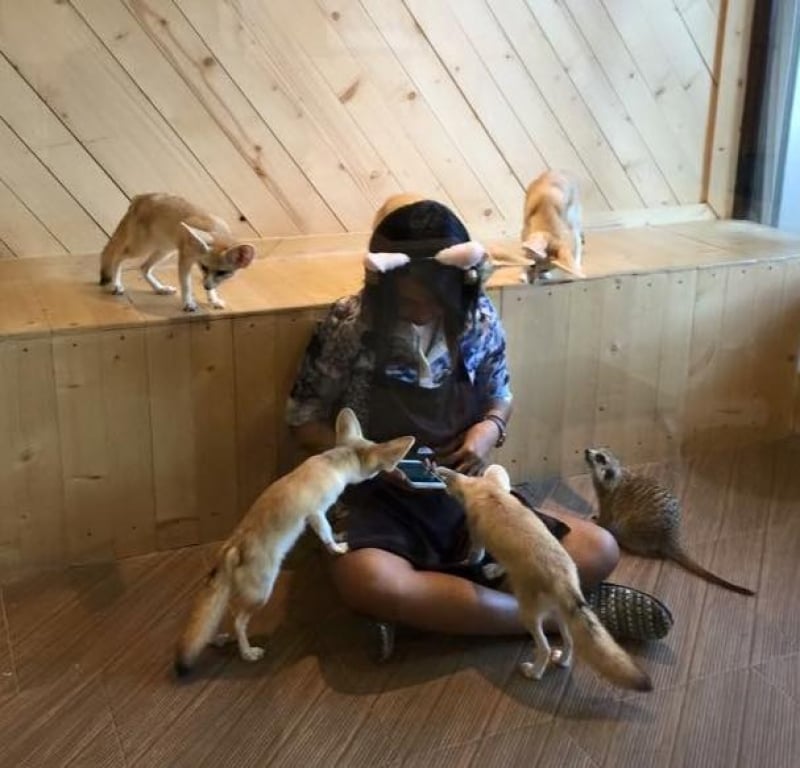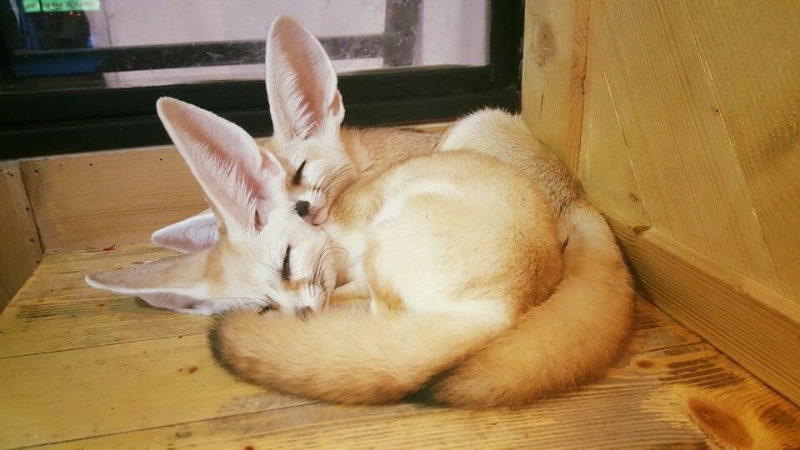 Turns out racoons, foxes, owls, and wild animals make good companions. Little Zoo Café in Bangkok is home to over nine different species of wild animals that will surely put a smile on your face with their cute and silly gimmicks. Customers are invited to play with the animals and feed them during certain periods in the day. Another reason why you should visit this quaint cafe is its good coffee and affordable price (100–130 baht for a beautifully frothy cup of cappuccino).  
Address: Bond St, Ban Mai, Pak Kret District, Nonthaburi 11120, Thailand
3. Sanrio Hello Kitty House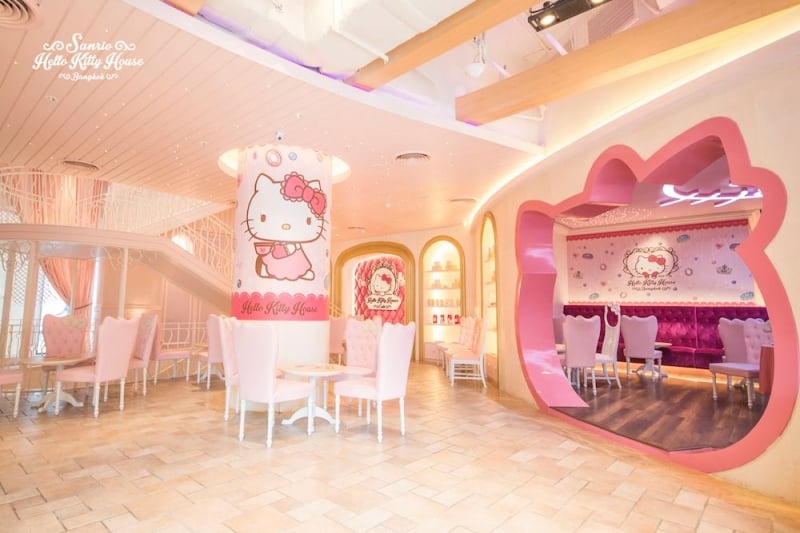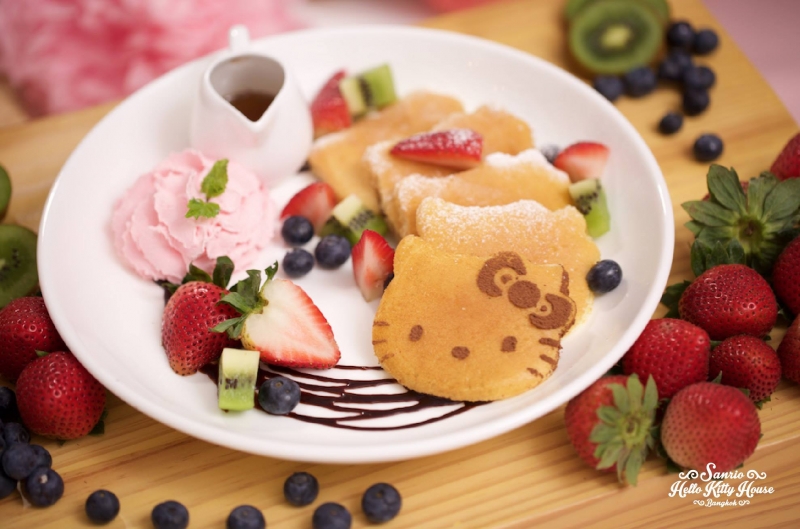 What to expect in a Hello Kitty–themed restaurant? An unparalleled collection of Hello Kitty–inspired furniture and trinkets, collectibles and must-haves. Even the menu is especially Kitty-crafted with cute Hello Kitty elements. It's a Sanrio collector's – or any girly-girl's, for that matter – dream cafe. With Instagram-worthy nooks in each corner and a little shop with various Hello Kitty keepsakes, Hello Kitty lovers from around the world flock to this cutesy cafe to get their fill of Hello Kitty pink.
Address: Pathum Wan, Bangkok 10330, Thailand
4. On the River Café
Think: a tropical or Caribbean haven right in heart of Bangkok. On the River Café is the only café in Bangkok that offers customers the experience of kicking back in a simulated Caribbean atmosphere. If you're early, you might even score one of the unique Catamaran lounger nets for a soothing hum day treat. Besides the novel experience of chilling above the water, you can also savour spectacular desserts from 100 to 250 baht and coffee from 85 baht, all served with a soothing river view.
Address: 16/1 Keranawatana T.Bangprok A.Muang, Bangkok, Thailand
5. Perhaps Rabbits' Café
Perhaps Rabbits' Café is an ode to everyone's favourite childhood fairytale, Alice in Wonderland! Hop right into the rabbit hole and emerge to find an interior space that's furnished with Alice in Wonderland-inspired decor!
You'll find wacky wallpapers, floors and walls covered with green artificial grass, and Victorian fashioned tables and chairs topped with strange bottles and saucers, much like the tea party scene in the story itself! Every corner in this café is just a picture-perfect backdrop for absolutely stunning 'gram pics that will make all your followers green with envy!
Aside from the glorious decor, the café also serves up awesome renditions of "Wonderland" desserts from cute Late Rabbit-designed cakes to tarts and other sweet delights all dressed in ditzy coloured frosting or embellished with details such as chocolate playing cards and cookies iced with designs.
Address: Ekkamai 10, Bangkok, Thailand
6. Bico Café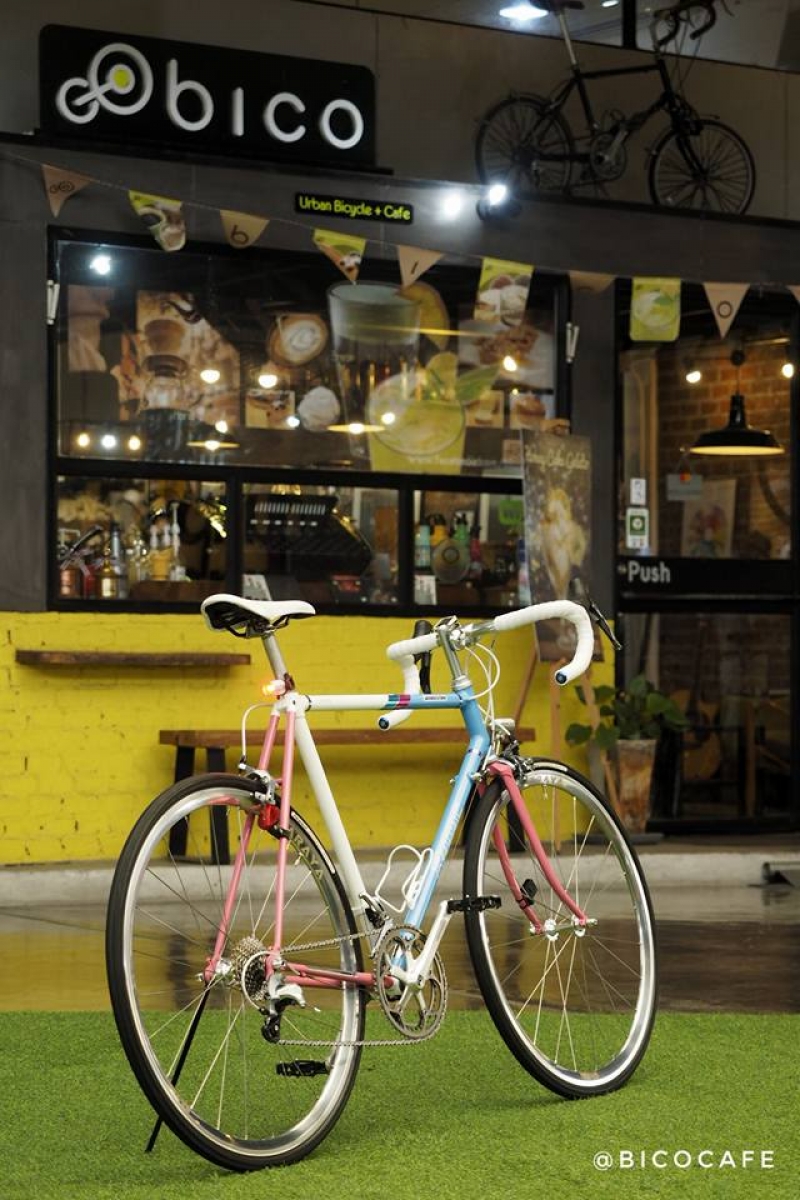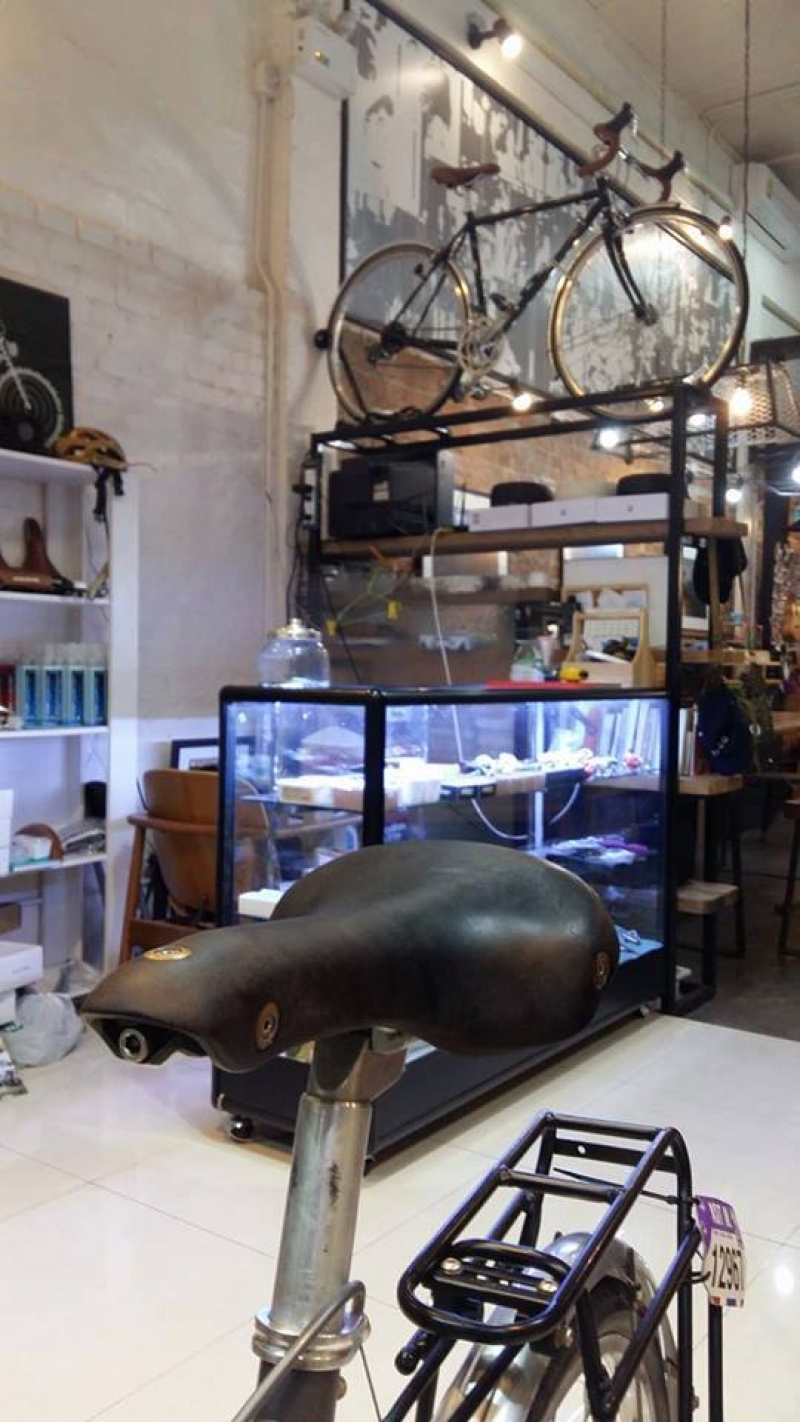 More than a place for good coffee, Bico Café is a community space for bikers around Bangkok. Founded by a group of veteran bikers in Thailand, Bico has become the favorite destination for youngsters who enjoy the rustic feel of the homey cafe and a necessary pit stop for bikers who meet up before or after their ride. The owners also offer bike maintenance services.
Address: 1/5 Town in Town, Sri Wara Rd. Lad Phrao., Bangkok, Thailand
7. BTS BRICK LIVE Café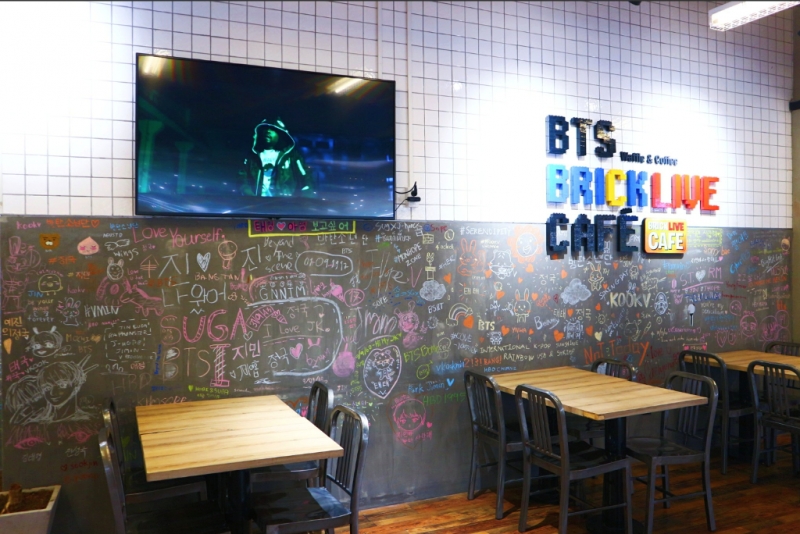 Are you a fan of the K-Pop group? Then, get ready to gaga over this new BTS-themed café. It's definitely heaven on earth for the boygroup's fans, what with all the memorabilia, videos, and fandom treats. From a huge mural of BTS on a LEGO wall to menu items inspired by the boys' favourite beverages, the owners definitely know how to make an A.R.M.Y. happy. Sit back and enjoy their curated sodas while jamming to your favourite BTS tracks.
Address: Bang Kapi, Huai Khwang, Bangkok 10310, Thailand
8. Hajime Robot Restaurant
Fancy being served by robots? Hajime Robot Restaurant isn't a café per se since it specialises in Japanese Yakiniku and Hotpot shabu-shabu meals, but it surely gives customers an interesting experience that shouldn't be missed! So, if you're looking for a more hearty meal, this is the place to go to!
Order your food from the touch screen menu and sit back and watch as your friendly live-sized robot waiter zips in and brings orders to your table. Aside from serving up food, your robot waiter will also bust a move and dance every 30 minutes or so! Now talk about entertainment while dining! 
Address: 3rd floor, Monopoly Park, Rama3 road (Industrial Ring road) Bangkok, Thailand

If you're looking for a hip spot to hang out for a cup of joe, stake out Bangkok's brewing cafe scene at any of these quirky cafes. You'll find that Bangkok's imaginative spirit is alive with every warm cup.