The desert: it scorches during the day and becomes a sub-zero hinterland at night. Throw in a few cautionary tales of stranded, hallucinating wanderers and you're probably not helping its bad press either! But truthfully, it's just grossly misunderstood. If anyone tells you that there's nothing fun about the desert, just point them to the wonderful case of Qatar.
Qatar is a modern day miracle. Remodelling itself from a pearl fishing economy into the region's wealthiest metropolis, Qatar has gone to great lengths to transform the prospects of Qatar and the Qatari people. Not sure how the desert can excite? Leave it to Qatar to show you how the arid desert landscape can get a makeover into a sprawling playground chock full of wild and exhilarating activities!
Also read: Top 10 Things to Do & Places to Go in Qatar
1. Bash through desert dunes in an SUV
One can only imagine how backbreaking it must have been crossing the desert all those bygone eras ago. Pan the horizon and all you'd see are mammoth-sized sand mountains punctuating endless stretches of brown flat land. But all that changes once you get yourself a roaring SUV. The desert then becomes a DIY roller coaster ride!
Your driver has free reign to give you the craziest desert experience the sand-stained SUV can take. Careen down sheer plunges and zigzag up towering dunes so high that you have to crane your neck to see their peaks. These drivers have all racked up miles of experience and will conscientiously ensure that your ride will be a safe (but also bumpy) one.
2. Take to the desert with some extreme sports
If the thought of dune bashing makes your spine tingle with excitement, then you might as well complete the whole package with the other extreme sports on offer as well, such as sand skiing, quad biking and paragliding. Feel the wind rush through your hair and the adrenaline rush through your veins as you skid down gargantuan dunes and rev the engine of your all-terrain vehicle (ATV). Fair warning, the weather can get extremely hot so you may want to spread these activities out over multiple days instead of cramping all into a day.
3. Spectate a camel race
For centuries, camels merely served as transportation for people across the world. These lanky, big-lipped creatures can carry up to 500 pounds and earned the nickname of being the "ships of the desert". But while your closest encounter with one may likely have been a lazy, snail-paced strut at the zoo, Qatar lets you take things to the next level.
At Al Shahaniya Race Course, camels become powerhouse speed demons. Deeply entrenched in the country's culture, camel racing remains the traditional sport of Qatar and receives strong support from the Sheikhs themselves. The stakes are highest during the November to February period, when a slew of fiercely competitive domestic and international tournaments are held to win coveted prizes like the Emir's golden sword. Watch as prized camels lock horns, surging through distances up to 10 km and leaving dusty sandstorms in their wake. It's essentially equestrian, but the desert edition!
Fun Fact: Did you know that camel racing is actually more technologically advanced than most sports? While football is barely scraping at goal line technology, camel racing uses miniature remote controlled robot jockeys to "pull the reins".
4. Glamp in style at a luxury beachfront resort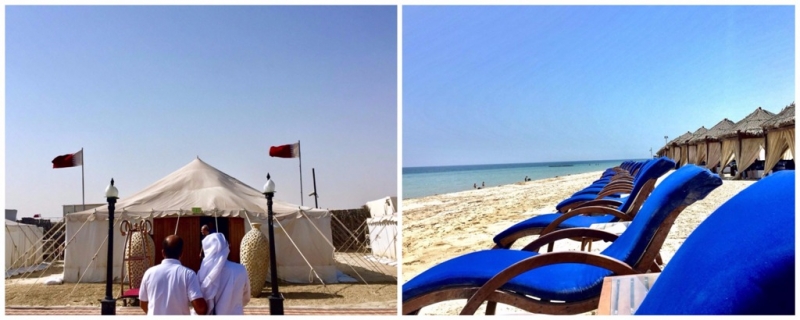 Who would have thought that you could find a glamorous beach resort hidden in the folds of the dessert brown? Dive into the Arabian Gulf for a languid dip with the lulling waves and balmy breeze for company. Thereafter, plonk yourself on the plush beach chairs, dig your feet into the sand and while the day away suntanning. Arabian Adventures Qatar also boasts a row of luxurious private cabanas that come fully fitted with charging pots and ceiling fans. In the evening, spread a picnic mat across the sand to enjoy a waterfront dinner under the stars while the children play at the beach soccer and volleyball pits.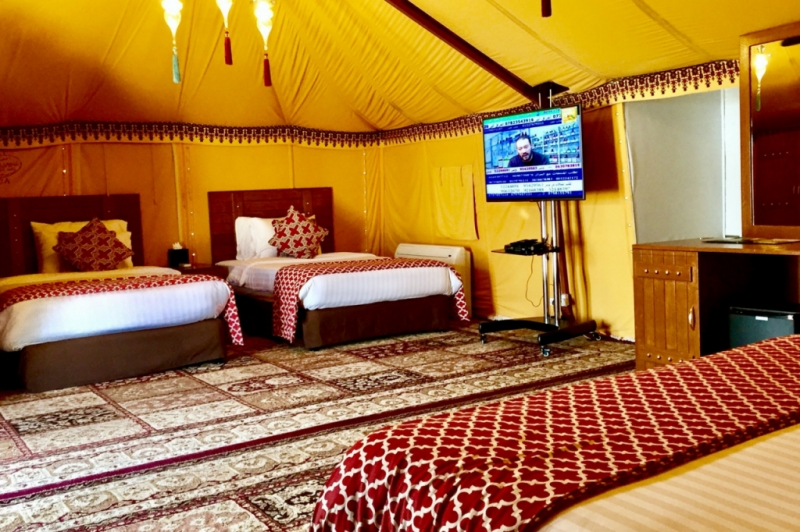 Come nightfall, retire into one of these spacious bedouin-styled apartment tents immaculately decked in opulent decor. While one night here costs around QAR1,800 (~SGD665) per couple, the cost is a small price to pay for the absolute comfort you'll enjoy. Uncannily distinct from the desert that envelops it, this resort experience somehow still fits seamlessly into the environment, curating a splendid escape from the hustle and bustle of the city. When in Qatar, don't just settle for a conventional hotel chains. Instead, be bold and experience camping in the desert with style!
5. Marvel at Bir Zekreet's peculiar rock formations
Directly across the peninsula from Doha, Bir Zekreet is a region along the north-western coast dotted with intriguing rock formations that make for great photo opportunities. Centuries of perennial strong winds have gradually eaten away the softer sedimentary rocks, chiselling the limestone boulders into a variety of interesting shapes. Some sport mushroom outlines while others have holes carved through them as though pierced by a giant imaginary sword. Bir Zekreet is one big geography lesson that also looks like it came out of a Hollywood set. Beyond casual sightseeing, a group of avid rock climbers in Qatar also conduct regular expeditions to scale these escarpments. Adrenaline junkies, if you're up for a challenge, you can approach the Doha Climbers to tag along!
Fun Fact: Production companies regularly film here. So if you do stumble across random huts, don't be fooled into thinking them to be real. Still, these man-made structures do make for a great photo!
6. Scuba dive in the warm turquoise waters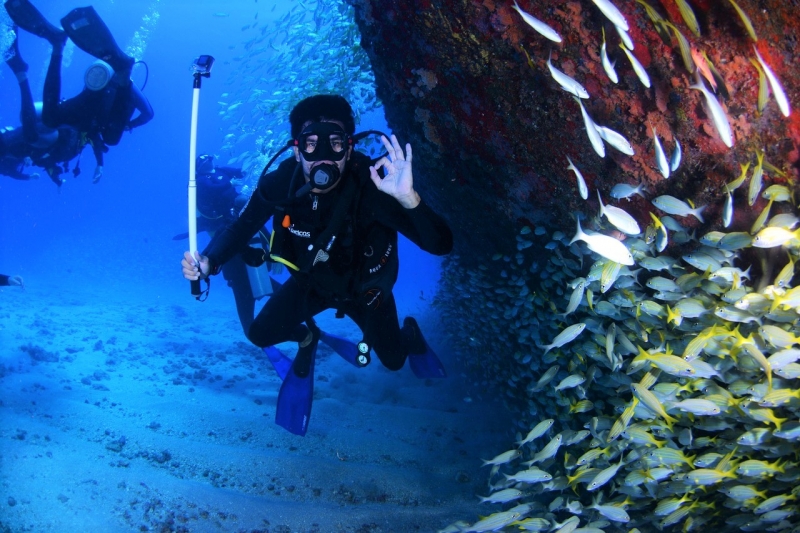 Since Qatar is flanked by the ocean on three of its four edges, it's time that we give mention to water sports too! And, in particular, scuba diving. The warm turquoise water not only makes it more conducive for beginners to learn, but also draws schools of vibrant marine life. Some of the best spots for scuba diving include the man-made Old Club Reef, where the ocean floor has been decorated with ornamental sunken cars and barnacle-ridden oil drums. These beautify the area and make for a pleasant diving experience amongst the corals, fishes and crustaceans.
Several more obscure diving sites like the Macadeen shipwreck can only be accessed via a chartered boat. But these promise even more teeming ecosystems to swim with! However, to get the best possible experience, engage the services of popular guides and not the more suspect roadside peddlers.
7. Explore Qatar's most well-known cave
In the Rawdat Rasid region, Dhal Al Misfir is Qatar's most renowned cave. Hardly any light can shine beyond the jaws of this cavern, keeping the interior a mysterious darkness that invitingly beckons curious explorers to climb into it. Inside, this 40-metre deep cave holds a spectacular natural phenomenon – a vast depository of fibrous gypsum crystals, all shimmering under whatever light passing through to emit warm glows. These crystals, called "desert roses" for their uncanny likeness to the flower, shine like a thousand miniscule fireflies fluttering around in a frenzy. If you're lucky, you may even spot the parliament of resident Little Owls that make the cave their home. Though this attraction is hardly the most adrenaline pumping of the lot, it does make for a nifty pit stop for the curious traveller to investigate and snap a few photos.
8. Immerse in the ancient sport of falconry
In Qatar, and across much of the Middle East, falcons are regarded as stately regal birds. Falconry was introduced centuries ago, where falcons offered easier means for hunting down various prey than attempting to shoot them from gunpoint. In today's modernised society, the sport of falconry continues to live on, and it is not surprising to find many Qataris partaking in falconry despite the exorbitant sums required in this competitive sport; falcons can cost up to a million Qatari Riyals and heavy-set equipment like radio monitors, vehicles and various communication tools aid owners in tracking their hunters in action during tournaments.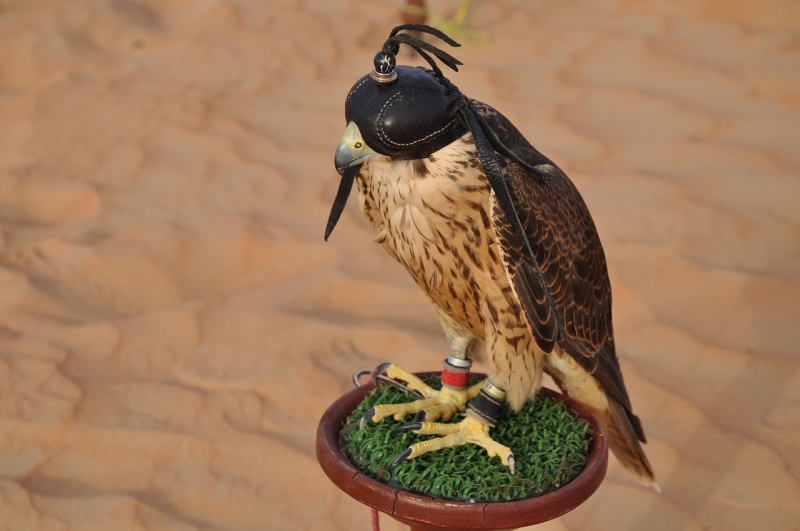 A slew of falconry competitions, like the Qatar International Falcons and Hunting Festival, are organised annually and admission is free. From the Altalee Championship, which tests the falcons' ability in spotting their Houbara bustard prey, to the Almazzain falcon beauty pageant and even the Little Falconer little league championship, Qatar opens up a whole new world of sport. In Qatar, spectating these age-old falconry and camel competitions is not only an exhilarating experience, but it also gives an insight into the pivotal role they used to play in the lives of the Qatari people.
9. Discover mysterious ancient carvings in Al-Jassasiya
Just off Al Shamal Highway along the North East coast, Al-Jassasiya is arguably one of the most peculiar landmarks in Qatar, in no small part due to the fact that scientists have yet to date the origins of the stone carvings there.
If you take a stroll around the area, which used to be a limestone quarry until 1957 after the discovery, you'd find tons of mysterious petroglyphs, which are prehistoric rock carvings. A total of 874 petroglyphs litter around Al-Jassasiya, each depicting shapes we see in our everyday lives today! From geometrical patterns to outlines of daisies and animals like scorpions and fishes. Best visited in the morning or evenings, Al-Jassasiya makes for a great day trip out exploring the ruins and brings out the eager archeologist in you! Besides, in the age of information, the lack thereof at Al-Jassasiya makes it all the more alluring.
So there you have it – 9 must-do outdoor activities in Qatar for the adventurous traveller. The next time you plan on going overseas to overdose on some adrenaline pumping fun, why not make Qatar and the Middle East your destination? Not only can you explore your adventurous edge in the desert wilds of Qatar, you'd also still be just a stone's throw away from the comfortable Doha cityscape. Whenever the sun gets too scorching, you can always just head back into the city and cover even more activities there!
Also read: Have a Layover in Qatar? Here's How NOT to Waste It!
To make things even easier, Qatar is waiving entry visa requirements for citizens of a whopping 80 countries! This visa will be issued upon arrival and will be valid for 30 days from the date of issuance. It's applicable for both single and multiple trips, and benefit travellers from countries such as Singapore, Malaysia, Hong Kong, Indonesia, Thailand and more. In addition, travellers travelling on Qatar Airways are eligible for a free transit visa (ranging from 5-96 hours). How awesome is that! Apply for your FREE transit visa here.
For those who would like to purchase tour packages, the following Qatar Specialists are definitely your best bet! They are:
Chan Brothers Travel

(+65 6212 9660

)

CTC Holidays

(+65 6216 3456

)

Country Holidays Travel

(+65 6334 6120

)

Broadway Travel

(+65 6732 0990

)

Azza Travel

(+65 6292 7110

)

Jetabout Holidays

(+65 6734 1818

)

Prime Holidays

(+65 6291 3322

)

Shahidah Travel

(+65 6291 4555

)
For more information, check out Qatar Tourism Authority's official website or their Facebook page. In fact, save yourself the research and visit this destination page that contains everything that you need to plan your trip!
The desert doesn't seem that daunting now, does it? Enjoy!
---
Brought to you by Qatar Tourism Authority.