It was a Friday evening, the last before my Qatar sojourn concluded. As though synchronised with the darkening night sky, Doha's financial hub also killed its computer screens dead black as locals clocked off from work. But across the bay, Souq Waqif, Qatar's iconic market bazaar, was slowly breathing to life.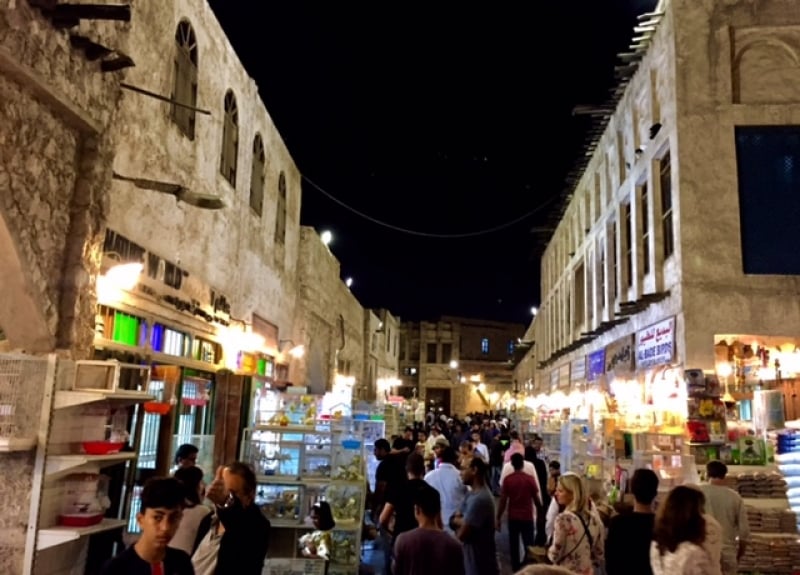 "Ahhh, now this is the real Qatar", exclaimed Ayyad, our guide, as he pressed his nose to the wind.
At first glance, Souq Waqif exterior mirrored the crumbling walls of a rustic ruin; sand-stained walls and a jagged shell gave it its fort-like finish. But don't let your guard down and mistake it for that. Inside, each shop is immaculately refurbished with shining and modern interiors. It took a while, but once the farrago of exotic scents, symphony of hypnotising sounds and kaleidoscope of distinctly Arabian sights hit me, I knew exactly what Ayyad was referring to.
Weathered with an illustrious history, Souq Waqif, or "Standing Market", was once a dingy shore-front bazaar. Sixty years ago, hawkers would endure standing up the entire day to peddle their wares because the receding shoreline made it impossible to sit, hence giving it its name.
The Souq was an impressively sprawling complex. The main street, our starting point, hung so many sparkling gold chains that there seemed to be more jewellery than corridor. Beyond them, it meandered into an intricate web of narrow alleyways, each gushing with currents of tourists and locals alike.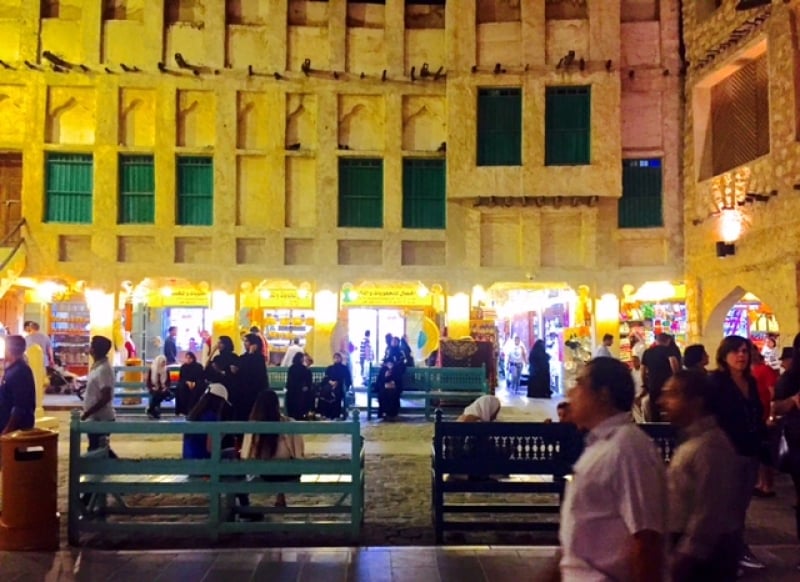 Elbowing our way through the bustling pathways packed with everyone from bright-eyed juveniles to sleepy geriatrics, the Souq was clearly the place in Qatar to be at on a Friday night. Different sounds chorused through the atmosphere; from hopeful customers eagerly attempting to haggle for bargains with reluctant salesmen to parrots squawking and crackling kebab roasts.
The Souq was divided into various sectors, each selling a hodgepodge of different things. Eastward, the Pet Area stacked ubiquitous bird cages precariously atop one another. If beautiful cockatoos don't fancy, the market also sold a few caged porcupines!

In the opposite direction, the Household Area laid out beautifully intricate dyed rugs amidst the clutter of pots and pans. Walking down another lane, past the Spices Corner into the food section, people smoked at puffy shisha parlours and unwinded to the dreamy tunes of a zither that played in the background.
But perhaps the most iconic show-stealers were the falcon shops. In Qatar, as with many other gulf states, these regal hunters are held in high regard. A glamorous symbol of wealth and status, falcons at the Souq can fetch from anywhere starting from QAR 2,000 up to a staggering half a million riyals. In fact, they're such a premium luxury that each falcon even possesses its very own passport.
Walking into one shop, I observed the cast of falcons perched on wooden bird stands in a sandbox in the middle of the room, eyes capped and oblivious to fanfare they were garnering.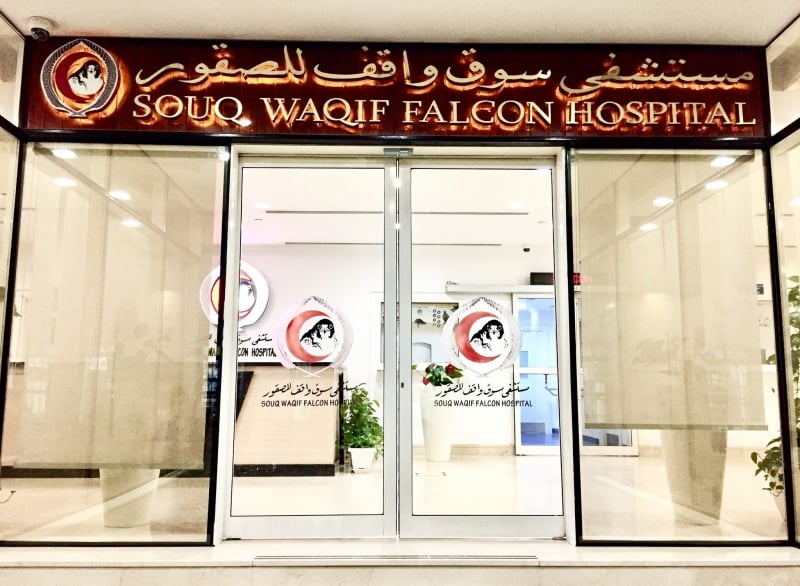 As the Qatari proverb goes,"who doesn't know the falcon will eat it". To admire the birds even more, the cheery shopkeeper even shared with me the arcana of his profession: how to hold a falcon. Keep your cool and you may even manage a great photo with them! But it didn't stop there, they even had a falcon hospital to treat ailing birds right across the road. When in Qatar, the falcon shops at Souq Waqif are highly recommended.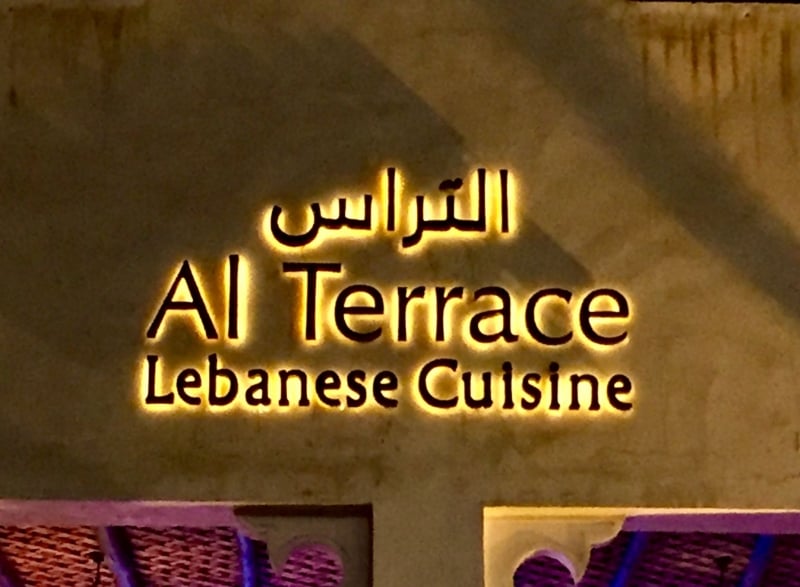 Of the bevy of food stalls and dining outlets, Al Terrace was arguably the tastiest. Tucked away in a less bustling but decidedly more relaxing corner, its Lebanese cuisine whipped up scrumptious servings of authentic middle eastern culture. Our hearty buffet spread included samkeh harrah (grilled fish), dawood basha (meatballs doused in tomato sauce), lamb kebabs and shish tauk, a type of chicken to wrap in arrayeh pita bread. Thereafter, Al Aker's delectable sweets and cakes were just the desserts needed to round off the night.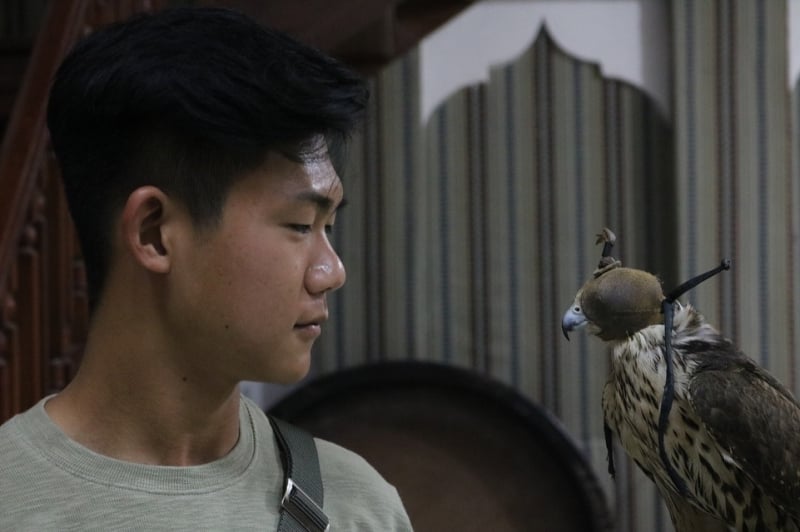 As our dowd boat wandered across the Doha Bay, lost between the lulling currents and shimmering under the full moon, my thoughts were likewise cast adrift as I recollected the evening's escapade.
The skyline's towering monoliths were coming into full view. Akin to exotic Arabian dancers, each one gleamed peculiar (but undoubtedly award-winning) silhouettes. Roaring supercars veined the downtown grid while the air filled with the incessant babble of oil-doused dealings. Tourists across the world are drawn to the city, like moths seduced by light. Yet, I couldn't help but invariably pine for a return to Souq Waqif's dwarfing outline behind me.
From the ubiquitous parrot peddlers and nondescript shisha parlours to watchful falcon merchants and curious curry houses, Souq Waqif is the thriving haunt reincarnated by locals for locals. Though situated on the less glamorous outer fringes of Doha, this standing market should be high up your Middle Eastern bucket list. It oozes an authenticity so infectiously alluring, that you'd think you're right in the thumping heartbeat of Qatar and everything it stands for.
---
This trip was made possible by the award-winning tourism marketing agency, BrandStory Inc., in collaboration with Qatar Tourism Authority. Together, they curated an exquisitely planned itinerary of the best activities Qatar has to offer.