Sidestepping the clean-cut doorman at my impeccably posh Sheraton Grand accommodation and out into the shade of the skyline, I was blown away by a hypnotising hodgepodge of scintillating smells. But it wasn't the earthy springtime scent and neither was it the diesel-toned air you'd often find in metropolises like Doha.
Sniffing curiously, I could make a few of them out. Freshly warmed brews, rich tangy gravies, exotic Arabian spices and sugar-rolled sweets. There were definitely more, but the aromas were so inviting that my senses overloaded and fuzzed out. It smelled of pure heaven—like one giant kitchen mish-mashing all my favourite cuisines. I couldn't resist and floated toward my sizzling source.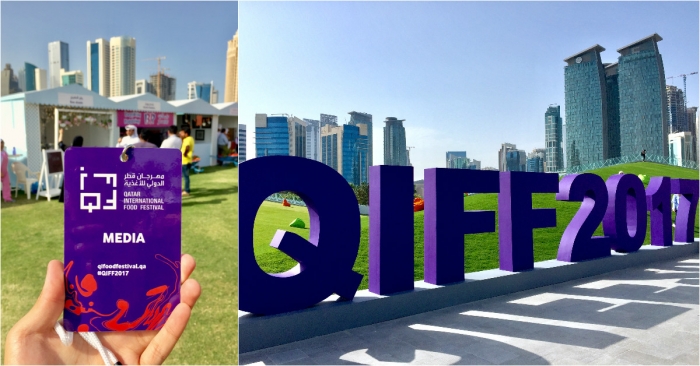 With that, I kickstarted my culinary escapade at the 2017 Qatar International Food Festival, which lasted from 29 March to 8 April on the courtyard by the Sheraton in Doha. It set my tongue wagging and my stomach growling, and was a sumptuous success! 2018's edition promises to whip up an even bigger, brighter and tastier treat that foodie diehards can't miss. To get you all peppered up for next year, here's all you need to know about #QIFF.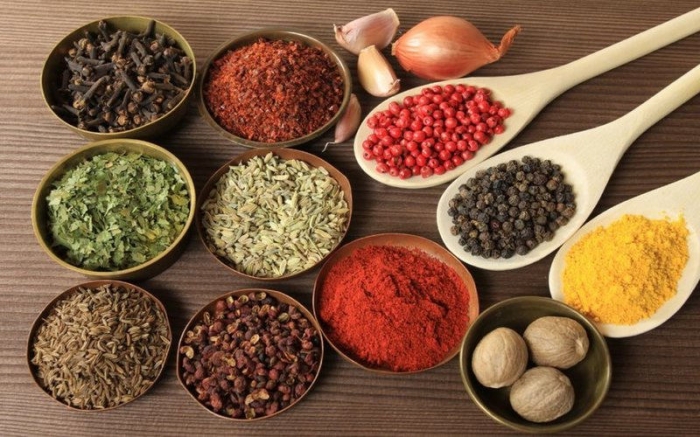 What is the QIFF?
"Food is our common ground, a universal experience"
– James Beard
If there were ever a place to celebrate these words, it'd be at the QIFF. Foodies flock and cuisines congregate, hailing from distant lands and uttering different languages, but all sharing identical hunger pangs and an equal love for food.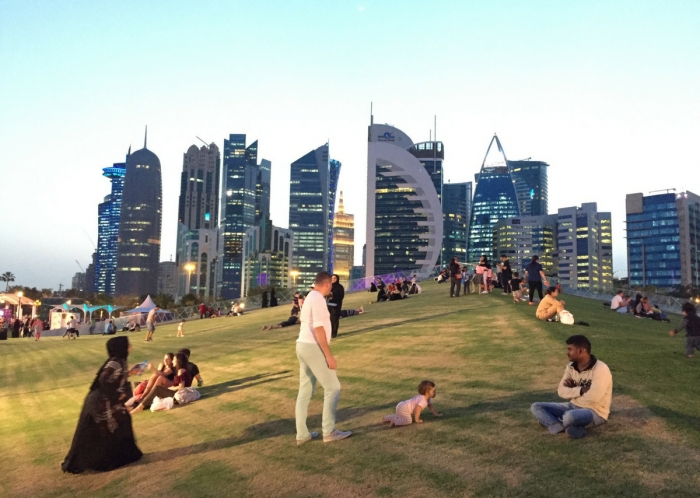 Plush bean bags, quirky garden furniture and innumerable food stalls in a colour coded bazaar. With the backdrop of Doha's shimmering skyline, it was the perfect chill setting.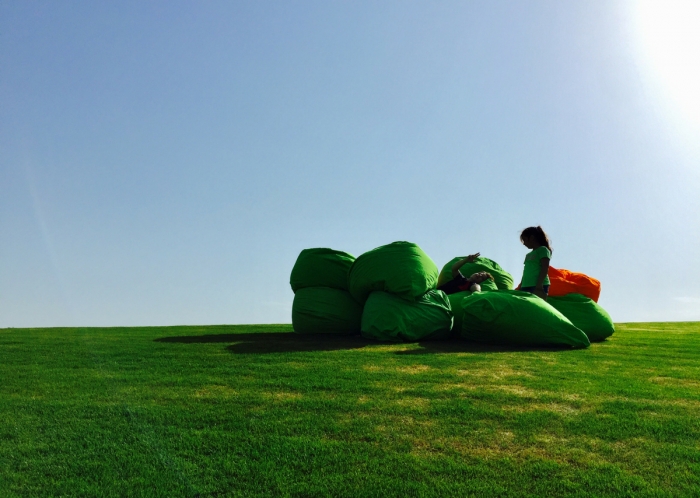 Fun Fact: Did you know that this year was the 8th edition of the QIFF? From its humble origins, the festival has become one of the biggest events on Qatar's calendar!
Taking centre stage at the Main Zone
A staggering 73 different stalls lined around the garden centre like a trapezoid fence, each one hawking to offer the best picks from their menus. With enough food on offer to feed whole armies, you'd think an impending food coma was seemingly inevitable. But QIFF literally packed my whole day with a multitude of events that I hardly had time to catch my breath. From interactive cooking classes to child-friendly egg painting stations, the Main Zone was where all the action was jam-packed.
Food, glorious food
Some stalls sported curious names to match their attractive food; there was Memos Cafe's low-fat sponge cake, 7st by Mumbai Spices, Karma Mqanees, Johnny Rockets and Nova Venezia Italian Pastry. Others lured me in by displaying their most crumbly cakes, tarty popsicles and delightful dishes.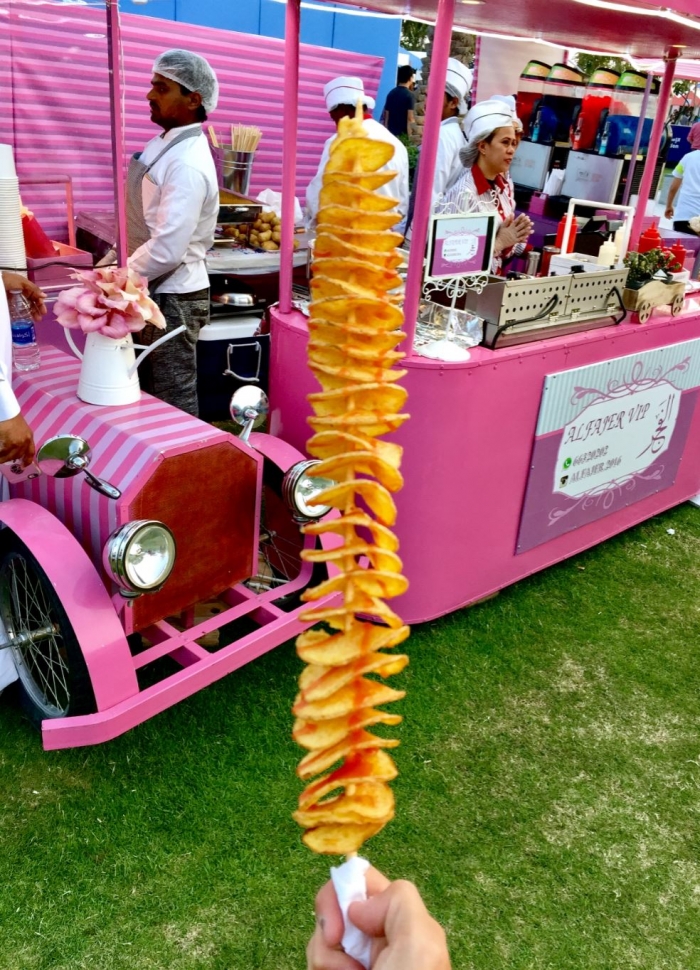 Al Fajer's crackling hot pot was attracting quite the crowd so the Singaporean in me wanted in on the queue as well. What was I queuing for? A wobbly stick of deep fried potato chips doused in sweet sauce.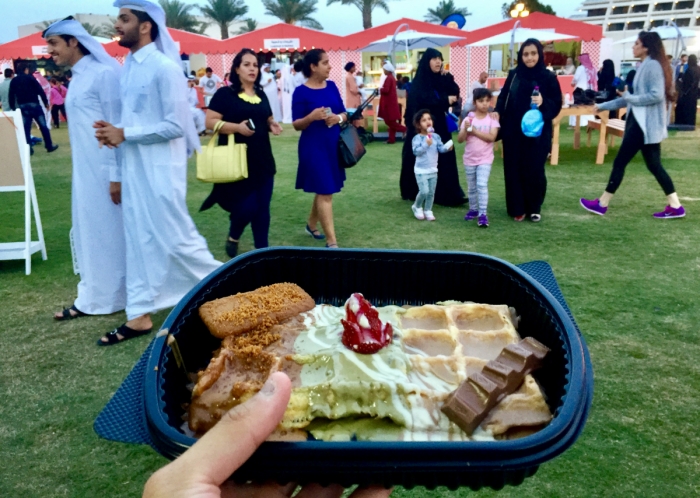 Another was the savoury waffle topped with gooey goodness of melted kinder bueno, peanut butter and pistachio.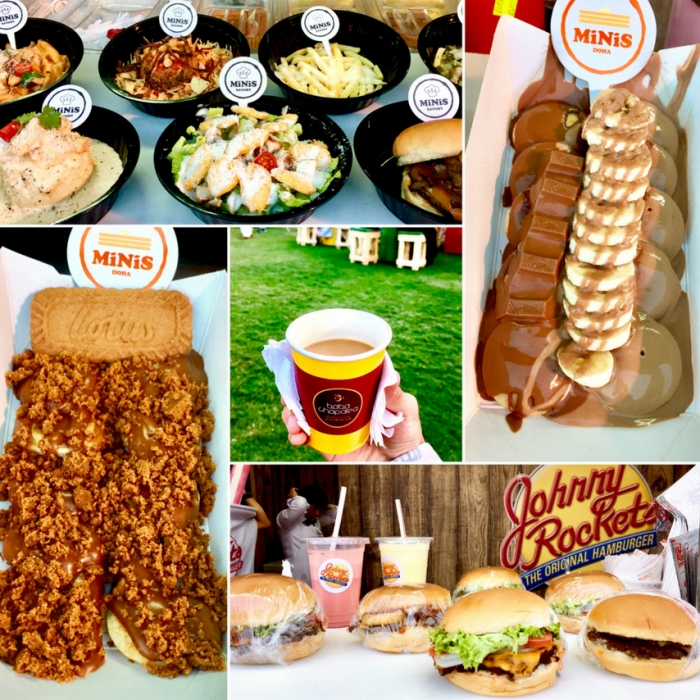 With so many different types of food, my greatest headache at the QIFF was which to pick! But one local beverage you must wash your meals down with is the Karak tea. This warm brew bears an aroma comparable to milk tea but adds a hint of refreshing spiciness. Other interesting local flavours include the surprisingly sweet Balaleet noodles, a mainstay in Middle Eastern cuisine.
Cooking Theatre
While eating is a necessity, cooking is very much an art. One returning crowd pleaser was the Cooking Theatre. People flocked to this free-for-all class hosted by an expensively assembled A team of locally and internationally renowned celebrity chefs. The star-studded cast included chefs Manal Al Alem and Fawaz Al Omaim amongst others. This year even featured Masterchef USA's very own Graham Elliot and other stars like Andy Bates!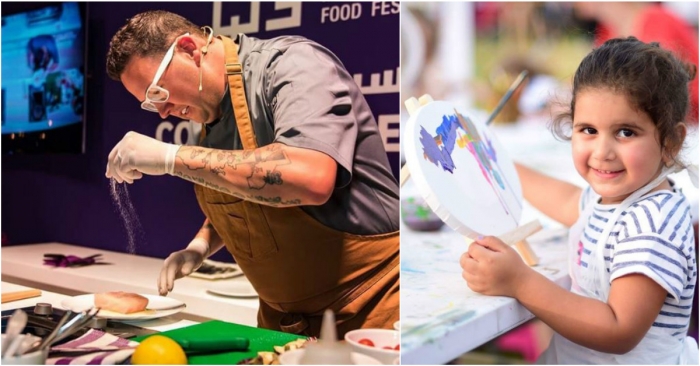 Image Credit: (Instagram) @qiff.qa
They even had a QIFF Library featuring cookbooks and food-related literature. Beyond the cooking tutorials for adults, QIFF also hosted art classes for the kids, where children busied themselves learning how to paint on egg shells. If you're already looking to QIFF 2018, you had better don your chef hats, drape your aprons and rush to get front row seats. Where else would you be able to learn from the very best for free!
Food Trolleys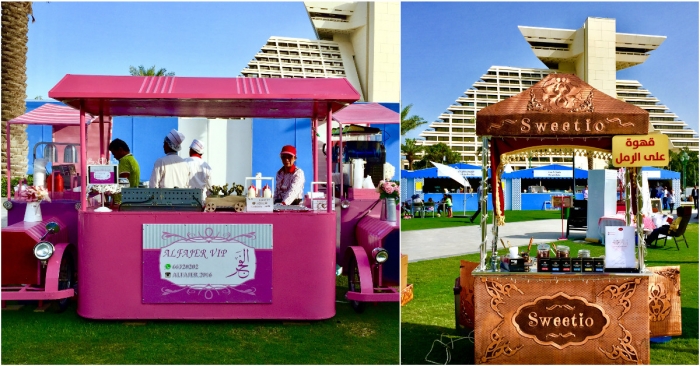 Over 20 food trolleys dotted the outer rim of the main zone, each one decked in as spectacular an exterior as the other. Sweetio served up some cool gelato while I ordered that monstrous stick of deep-fried potato chips from Al Fajer VIP. Some skewered juicy kebabs while others packaged beautiful cookie hampers. These trolleys were small in comparison the stalls, but they definitely packed a punch.
Food Banks
While wrestling to keep my oddly pivoted fried chips stick balanced, a niggling concern festered in the back of my mind. With all this massive amount of food, where does all the leftover go? Before I could cry foul, I stumbled upon the unassuming Food Bank booth.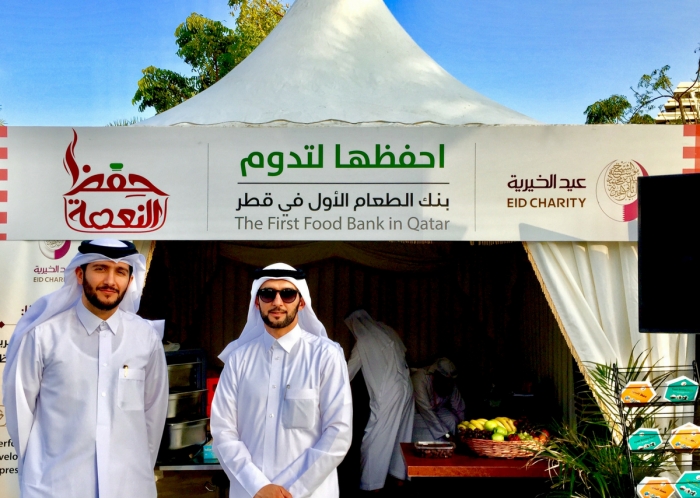 So if you're planning on visiting in 2018, don't go gobbling down whole stalls worth of food because all unused ingredients and food stock are redistributed to foundations for the needy.
The best time to visit?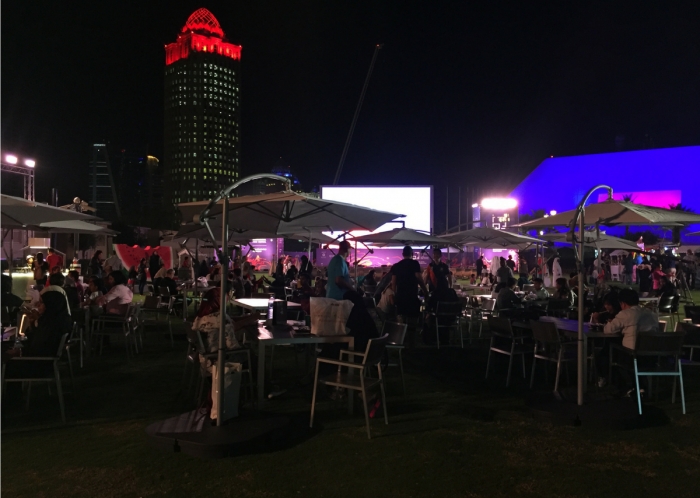 QIFF should ideally be visited in the evenings. As dying sun fades beyond the horizon, the air becomes pleasantly cooling and the festival steers into full swing. It's also when downtown Doha clocks off work so you can expect to mingle with the local crowd.
Couples lay mats across the smooth carpet grass for intimate picnics. Excited children animatedly tug their parents to watch the street performers. As dusk faded to night time, everyone crowded around the main festival stage to watch screened films. You could feel the relaxing chill infectiously spreading through the air.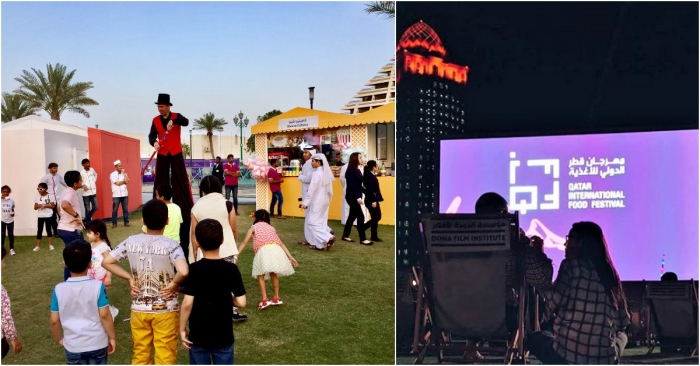 Image Credit: (right) (Instagram)@qiff.qa
Night time also makes for some awesome photo opportunities!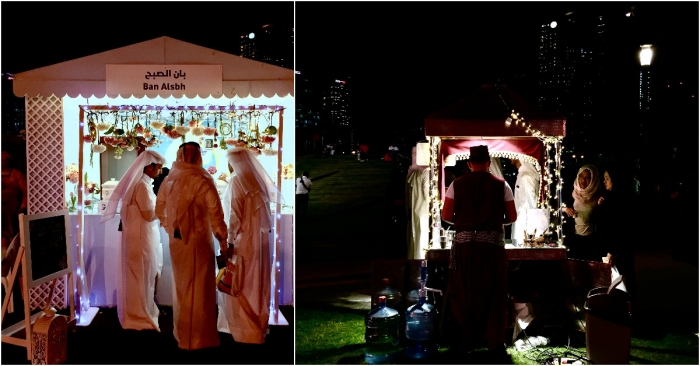 Cultural Zone celebrating international cuisines
From Italian neapolitan richness to exotic Turkish delights, every country overflows with unique flavours. Since they often say there's also no place like home when it comes to food, QIFF 2017 featured 10 bonafide veterans from across the world.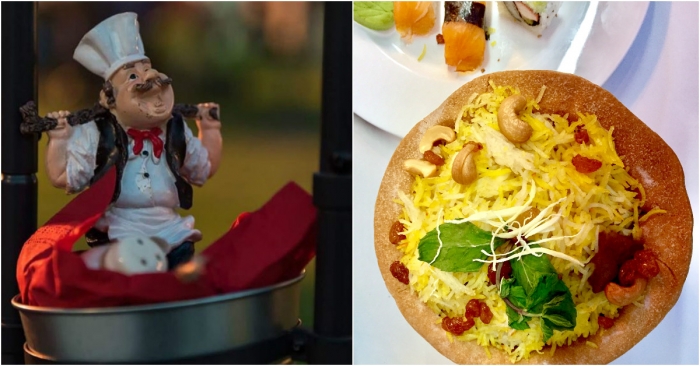 Image Credit: (left) (instagram) @qiff.qa
After washing down my California tortilla starter with a warm cup of Ethiopian coffee, I armed myself with a juicy German bratwurst and made a beeline for the colourful sushi platter. With so much international love on heartily-piled plates, I didn't need to zip across the world to find these foods. I had all I needed at QIFF.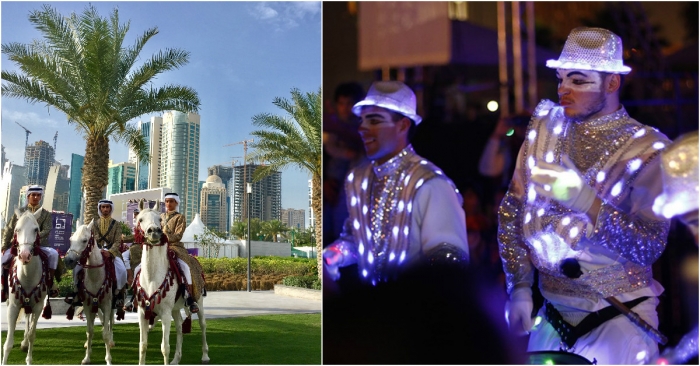 Image Credit: (right) qifoodfestival
They even had a ton of colourful cultural performances. With all the traditional costume donning performers you can snap photos with, QIFF was definitely photo opportunities galore.
Healthy Zone for the evergreen organics
QIFF also dedicates a special shoutout to all the health fanatics out there. If you're a dedicated vegan or less keen on oil saturated and sugar-doused food, the "Green" area was the health stop to patronise. One popular stall was the Nabla-Plant Fast Prep tea!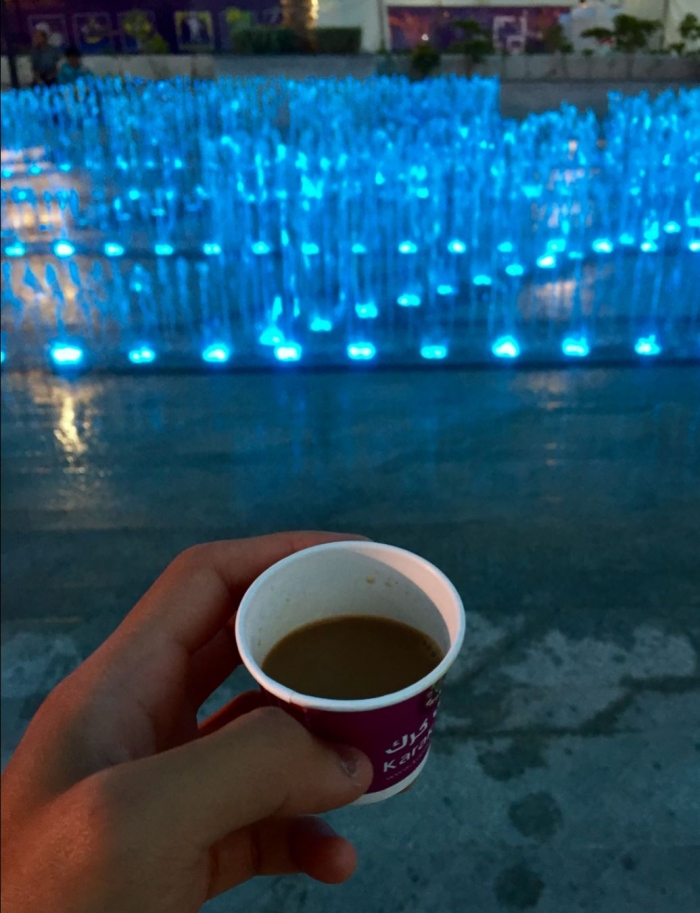 It tasted strikingly similar to my original cup of Karak Tea. Even without all the sugar additives, the impressive earthy ingredients were every bit as savoury and soothing.
In efforts to champion healthy living, local nutritionists also ran interactive health workshops in collaboration with Qatar Cancer Society.  
Hotel Zone to indulge in first-rate fine dining
The larger the hotel, the swankier its restaurants and tastier their menus. But who are we kidding, those restaurants get pretty frustrating sometimes don't they? We dress all uncomfortably prim and proper to dine with ostentatious chandeliers and clanky cutlery that probably contribute to an astonishingly pricey meal. Don't even get me started on their endless waiting lists.
QIFF is where you can lose all those frills and enjoy the crème de la crème meal to fit your lofty epicurean standards. Strolling through this area, I found impressive hotels like Intercontinental Doha, Four Seasons, St Regis, Holiday Villa Hotel & Residence Centre, Westin Hotel, W Hotel and Banana Island Resort.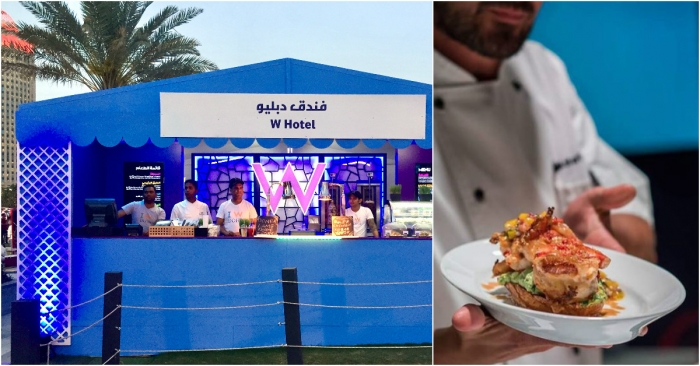 Image Credit: (right) (instagram) @qiff.qa
This was definitely a cheat code into the swankier side of life. In fact, it's the first place where I could feast on 4-5 star mouthwatering dishes by the distinguished chefs, but in affordable bite-sizes on the go.
The star of the show     
Before the cynics among you start scoffing at the trite notion of hotel food, QIFF is already one step ahead. Can you say you've dined to it…whilst dangling 100ft up in the air clinging from a precarious crane? When QIFF that said it would curate a dining experience to remember, they weren't kidding about it and a Dinner in the Sky is by far the craziest attraction of the lot.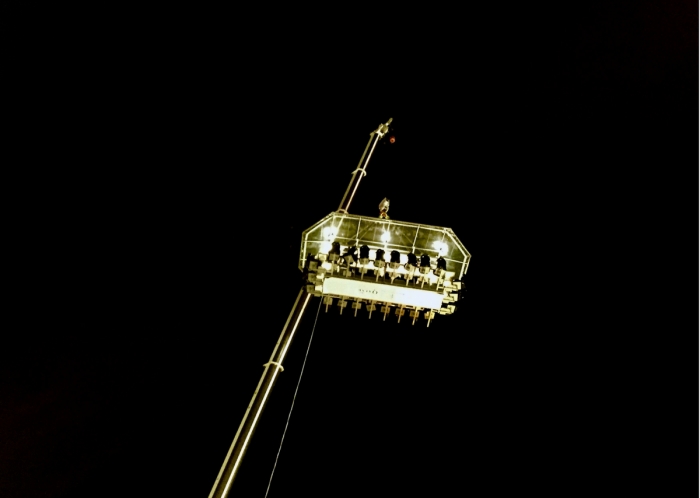 *Gulp* Some quiver in fear and others raise eyebrows, but I certainly wasn't in any mood to conclude my tour until I had a go on arguably the most unforgettable highlight of the festival.
Buckled into our 22-seater platform, we were whisked off the ground and floated upward weightlessly into the jet-black night sky above for a 45-minute dinner. The crowd below shrunk beyond recognition as the glamorous metropolis lights brightened to even more dazzling shades. With the cool spring breeze to tuck into my delectable four-course meal, all I had to do was take in my unrivalled vista of the enchanting cityscape.
The fainthearted might feel marginally churlish looking down below. But don't worry because the seats are attached to the platform and you're safely strapped in.
When at the QIFF, you have to give the Dinner in the Sky a go. 6 "flights" (7 on weekends) were conducted each night and customers could either walk right up to register on the spot or book online to reserve seats. I'd recommend coinciding your flight with the nightly fireworks for even more breathless views. At 500 riyals (S$191) per person, it's borderline pricey. But when you consider the acclaimed 4 Seasons menu you're chomping down on, it isn't all that unreasonable. Besides, can you really say you've done it all till you've eaten smoked salmon topped with caviar suspended mid-air by a huge crane?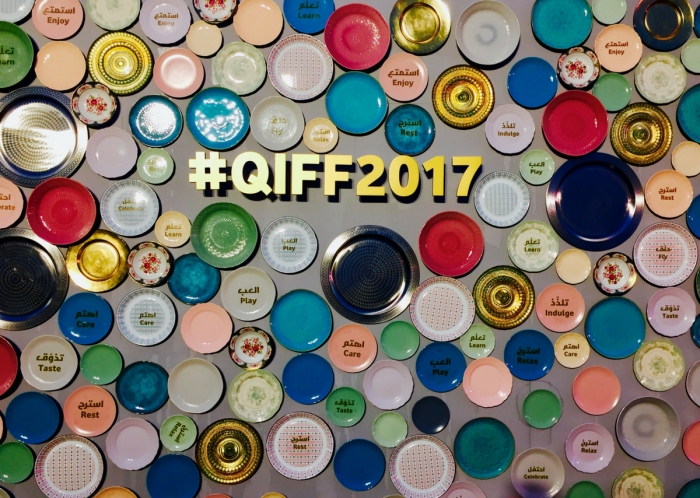 I'd been to food festivals before, but none as impressive as the QIFF. It's diverse but authentic and bustling yet incredibly unwinding. Your senses kick into overdrive with all the eye catching sights, intricate tastes and lulling smells. It's also one of the biggest food festivals around! In fact, it was so extensive that I opted to conduct my own independent excursions down to the festival grounds beyond our curated itinerary. From a dreamy dinner within the clouds to the rich flavours grounded below, Doha's Qatar International Food Festival is definitely a must-visit.
---
This trip was made possible by the award-winning tourism marketing agency, BrandStory Inc., in collaboration with Qatar Tourism Authority. Together, they curated an exquisitely planned itinerary of the best activities Qatar has to offer.