How much do you know about Qatar? If I asked you to name drop a few attractions synonymous with it now, you'd probably be picturing an arid desert so brown that you can't differentiate between ground and sky. The next thing might very well be a thobe-donning Middle Eastern oil tycoon. If your rebuttal is the Burj Khalifa, that's in Dubai.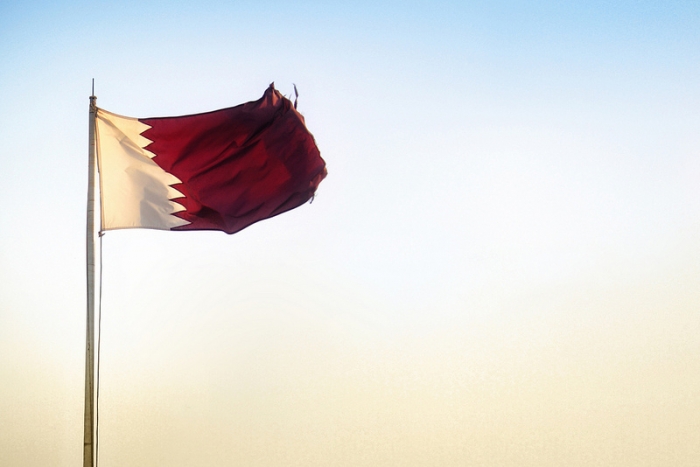 Just under 20 years ago, the Qatar skyline was a desolately blank picture. The only thing that hugged the coastline was the lonely Sheraton Grand. Now, the once solitary luxury hotel is dwarfed by every other skyscraper that towers around it.
In this short amount of that, that previous barren land is long gone. In its place, stands Doha, a bustling new-age metropolis on the cusp of international greatness. What was once only sand, is now an ever-growing tourist hotspot. I was recently invited to Qatar and had the privilege of visiting all of the best that the country has to offer.
1. Explore Katara Cultural Village
If you're greeted by a landmark as beautiful as the Katara Mosque from the onset of your Cultural Village tour, you know it's going to be worth the walk. With striking blue-purple tiles and intricate carvings dressing this masjid's exterior, the pilgrimage site is definitely a must-visit. Venturing inward, the village also offers a ton of photo opportunities. Decorative drapes filter the natural light, casting brilliant oblique shadows on the desert brown walls and paving for amazing snapshots.
Fun fact: If you stand in the very centre of the open amphitheatre, your voice will be echoed all through the entire arena! So this might be the upgrade you need from your bathroom shower to test out your singing skills.
Other notable attractions include the Al Jazeera Media Cafe. Order from an impressive interactive digital menu installed on the tabletop that allows you to select your meal, watch the most recent news and even play air hockey! Just outside the eatery, there's also the famous Bird Towers bird pen and its intriguing design of punctuated holes.
2. Brush shoulders with the rich and famous at The Pearl
Think Qatar's equivalent of Singapore's Sentosa Cove. Both thriving safe havens for the abundantly affluent one percent are lined with sky-scraping super condominiums and have a marina decked with an impressive plethora of luxury yachts. Only The Pearl is much bigger! Qatar has ambitious plans to triple the number of residents on this reclaimed land from the current 12,000 by the time of the World Cup.
Besides gawking at the Ferrari showrooms, shopping at the Pearl is strictly all things designer. But unless you're determined to max your credit card out, the Pearl is also the place to see the rich and famous live life in the fast lane. Grab a coffee and sit by the many cafes to admire the gleaming wharf for company. Besides, haven't we all been curious about how the world's richest live?
3. Admire the Doha skyline from a dowd boat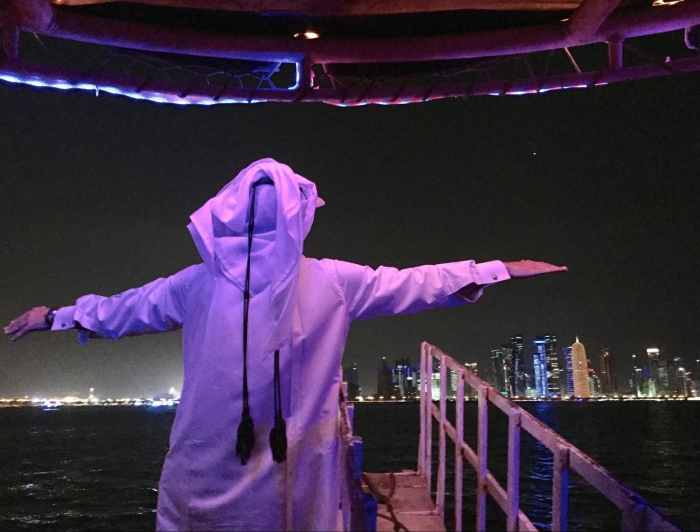 It doesn't glitter at The Pearl alone. Doha's skyline is beauty in epic, postcard-worthy proportions and Al Corniche, the bustling downtown boulevard running adjacent to the shimmering bay, is a thing of architectural artistry. As though locked in a perpetual feud to outshine each other, each towering monolith along the bank fights to dazzle the crowd. From Burj Qatar's intrinsically Islamic cylindrical facade to the spectacularly futuristic neighbouring Aspire Tower, there are some truly remarkable buildings here.
The best way to take in this view is by hitching a dhow boat ferry in the evening. As you drift from the harbour flanking Souq Waqif, an unrivalled vista of the technicolour city grid sparkles into the frame. With the clear view and balmy sea breeze, the ferry is surprisingly refreshing and offers some amazing photo taking opportunities. Once you alight across the bank, there's also a pleasant park to enjoy a cooling stroll through.
4. Appreciate culture at the Museum of Islamic Art
For all the culture vultures circling out there, one landmark in Qatar you have to check is the Museum of Islamic Art. With hallowed galleries featuring ancient artefacts retrieved from all across the region, the museum is the illustrious centrepiece of Islamic art and history. Here, you'll find intricately patterned Georgian rugs, immaculately preserved remnants from Damascan palaces, porcelain wares from Central Asia and even war relics from Turkey. With four floors worth of excellent exhibits, you can easily spend 4-5 hours here!
Tip: For arguably the best photo spot on land in Doha, walk into the museum and head straight for the courtyard on the left. Walk past the fountains and you'd have a full view of the skyline from the archways.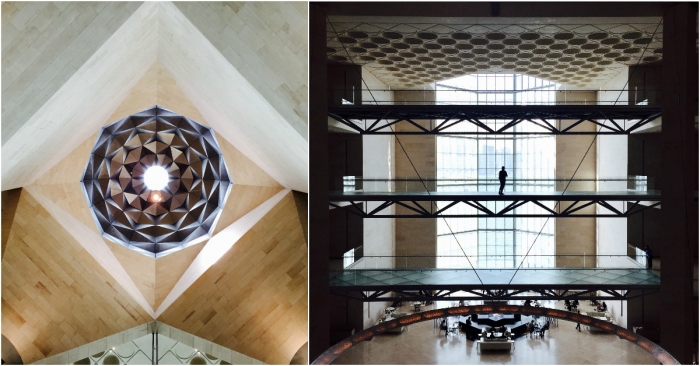 The museum itself boasts an opulently elegant interior that pays homage to the sprawling art house that it is. Don't just focus on the exhibits alone. Past the twin spiral staircases, be sure to crane your neck upward to the alluring octagon roof before admiring the azure bay through the floor to ceiling panel.
5. Fine dine at the stylish Idam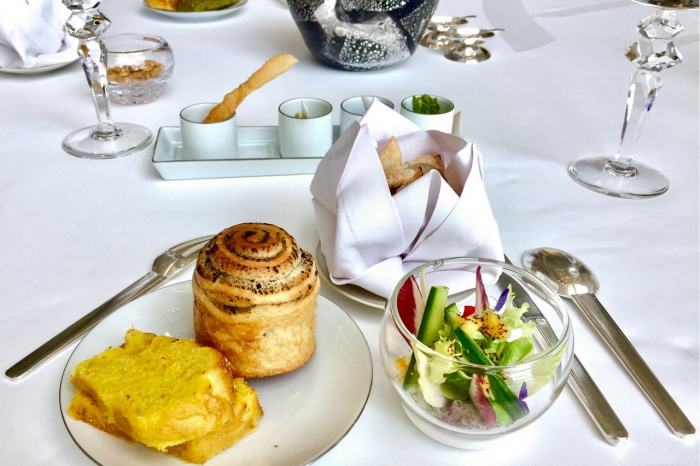 If you made the journey to the Museum of Islamic Art, you might as well treat yourself to a fine-dining experience of the highest epicurean order while you're at it. Located on the fifth floor of the museum and with a magnificent view of Doha on offer, Alain Ducasse's first restaurant in the Middle East is the perfect setting for a classy meal. Idam's menu offers a tantalising fusion of the French Mediterranean cuisine sprinkled with a dash of Arabian exoticism.
Tucking into my tangy "blue crab and mango salad", I was blown away by the subtle tastes so delicately infused in my appetiser. It only got better from there; the "quick seared bonito fish" was one of the best I'd ever tasted. For the icing on the cake, I recommend the "Iranian Pistachio Souffle" with its pitch-perfect balance of flavours. At 500 QAR (S$191), it's admittedly not the cheapest option out there. But hey, it's always good to treat yourself once a while and Idam's food makes it worth it.
Also read: Why the Qatar International Food Festival is Heaven On Earth for Foodies
6. Escape to a private beachfront resort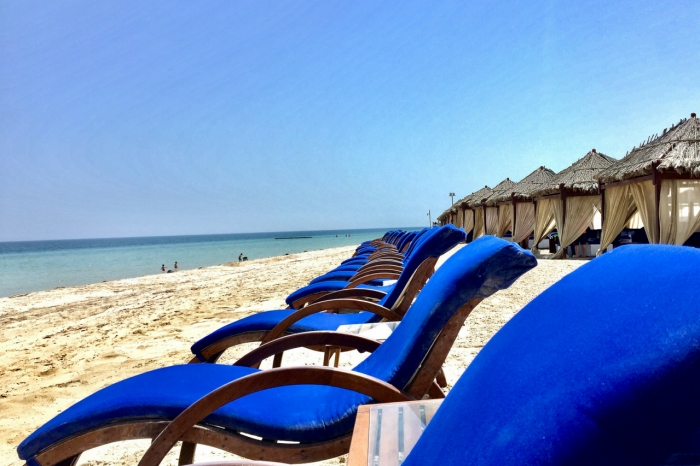 Outside Doha, the desert stretches on for miles on end. But amidst the arid brown carpet and tucked along the Arabian Gulf, you'd find Arabian Adventures Qatar, a luxurious beach escape that trumps most resorts I've been to.
With the sun in your eyes, wind rustling your hair and lulling waves for music, the plush beach chairs invitingly beckon you to while the day away suntanning. Even if you can resist that, you're bound to cave in to the private cabanas. These may look rustic, but they are so posh that they come fully equipped with charging ports, a ceiling fan and cool drinks. I couldn't resist slouching in one and spent the remaining afternoon in immobile bliss. With other activities like beach soccer and volleyball, the infectious languor gives you the peace of mind you wouldn't expect a desert to afford.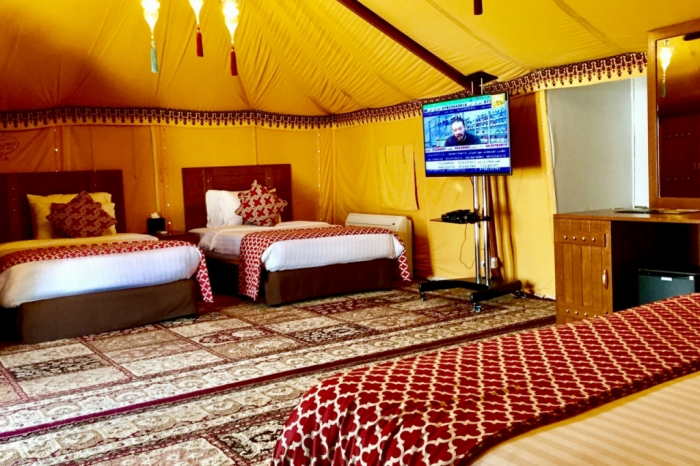 The site has fifteen similarly extravagant tents like the one above. While one night in it costs around 1,800 QAR (S$689) per couple, the pricey cost is offset by the fact that you get to stay in absolute comfort. But if this is too costly, you at least try a lunch here because their mixed grills platter is to die for.
7. Bash through sand dunes in a buggy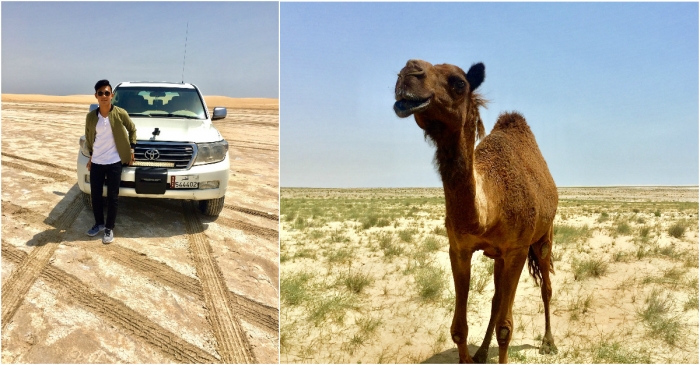 When in a predominantly desert nation like Qatar, the desert terrain is naturally the place to visit for your dose of adventure activity. With its slew of desert-centric entertainment, Qatar makes transforming the bare landscape into a sandy playground seem like a piece of cake.
Imagine crashing through mammoth-sized sand mountains in a roaring dune buggy. Some dunes were so steep that I had to crane my neck to see their peaks. We bumped and swivelled, wholly at our driver's mercy to test the limits of our car sickness. But don't worry if you feel queasy. There are rest points along the way for fresh air and you might even get to see a herd of wild camels!
SUV rides cost 250 QAR (S$95) per person and all drivers are experienced so your ride is definitely safe. Though with all that zigzagging along slippery slopes and careening down sheer plunges, just make sure you don't have yourself too hearty a breakfast!
8. Zip through the desert on an ATV or scrambler bike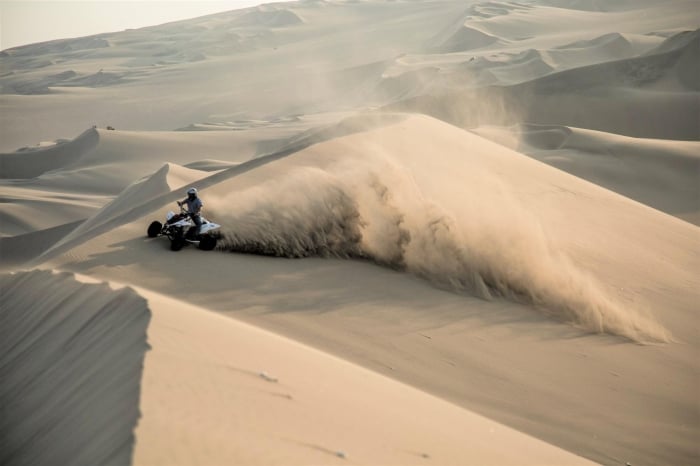 While dune buggies promise an undeniably exhilarating experience, how does switching it up with a solo joyride in an All-terrain vehicle (ATV) or scrambler bike sound? Take to the rolling desert dunes for your very own Moto GP experience. With vehicles for hire, you don't need to rely on an SUV driver to curate a stomach-churning morning for you. You can do it yourself!
While it is an enticing and convenient prospect packing an entire day with the whole selection of desert sports activities, I wouldn't recommend it. The desert heat remains unrelenting even in spring. Unless you're somehow already conditioned to the spartan temperatures, spacing out your activities will make your experience less draining.
9. Immerse in Souq Waqif's authentic local scene
Unorthodox novelties aside, perhaps it is at Souq Waqif, or "Standing Market", where you'll get to experience the most authentic angles of Qatar. From humble origins as a seaside market, it has now diversified to selling a whole array of different products and is a mouthpiece for all that Doha and Qatar stands for: modernity grounded by tradition. From the outside, the compound looks like a rustic sand-stained ruin. But look inside, and you'd realise that the stalls are all immaculately refurbished with shining furniture.
Selling everything from Arabian rugs and colourful spices, to squawking parrots and stocky shisha pipes, the Souq is a popular tourist destination. One stall was even selling porcupines as pets! With the bustling sights and symphony of sounds, I'd highly recommend a stroll through the market's snaking streets because each alleyway sells fascinating trinkets that make for awesome souvenirs to pack home.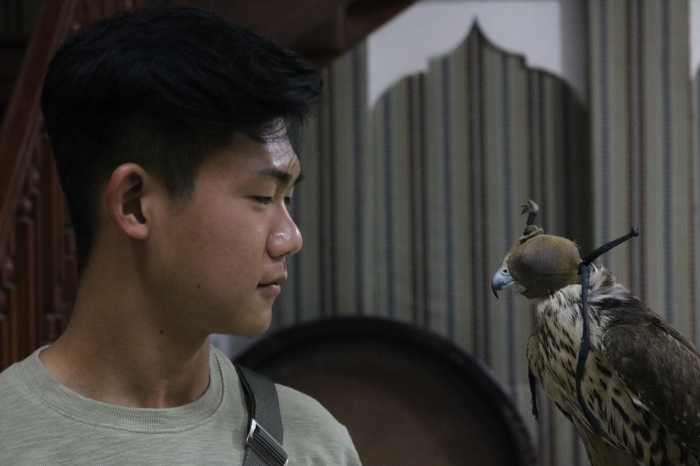 When at the Souq, you can't say you've seen it all till you've browsed through a falcon shop. Falcons are held in high regard in Qatar and across the Middle East. With each fetching for a minimum of 2,000 QAR (S$765) and going up to a cool half a million, the industry booms so widely that they even installed a Falcon Hospital in the market. You can walk into most shops and they'd gladly allow you to pose for a shot with these regal hunters.
[BONUS] 10. Dare yourself to a Dinner in the Sky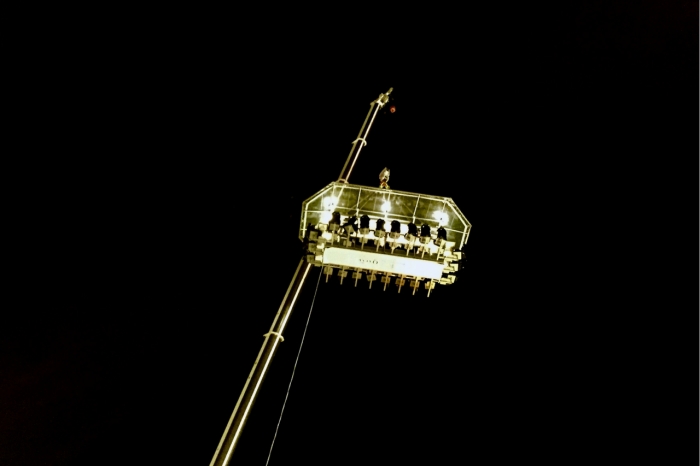 Having already given mention to both the foodie aficionados and adrenaline junkies, it's time to combine the both of them into one epic dining experience. Have you ever tasted an award-winning food from an internationally renowned hotelier? Okay, you probably have. Rephrasing my question, have you ever eaten a Four Seasons' meal dangling 100ft up in the sky from a precarious crane? What?!
I did just that at Dinner in the Sky at Qatar International Food Festival (QIFF) 2017! This point is a bonus as this coveted event is not available throughout the year. It has, however, been a mainstay for previous QIFF – which happens annually – so you should definitely book yourself a place for this dining experience should your trip coincide with the food festival in future. Be whisked up in the air for a 45-minute long, four-course dinner and toast to a peerless view of the city skyline. If that isn't good enough, the exquisite food you're chomping down to will be even better. Don't worry because you're strapped in tightly and completely safe. Although I wouldn't recommend looking down unless you want your heart to skip a few beats.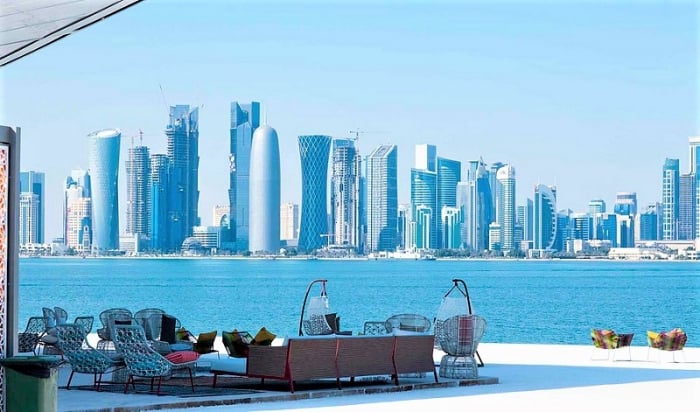 Image credit: Mohamod Fasil
Qatar and the rest of the Middle East remain largely unexplored by most Southeast Asians. Perhaps some people mistake it for being dangerous? Well, according to the Global Peace Index, Qatar's actually ranked one of the most peaceful places in the world! I definitely came back unscathed bar a bigger belly.
Qatar's a city on the edge of tomorrow. All around me were sprawling construction sites promising even bigger and better attractions to come. If it was capable of transforming itself from barren desert into thriving metropolis in less than two decades, you can definitely expect it to impress even more by the time of the 2022 World Cup. Qatar—a space to watch out for, and when its time comes, you'll know the activities you can skip straight to.
Now that you know how much Qatar has to offer, why not add it to your list of holiday destinations?

Full of culture and brimming with potential, this modern metropolis promises spectacular sights at every turn. From well-polished glass veneers of buildings to tumultuous sand dunes, trust me, you're in for a treat! You can find out more about more about Qatar here or at the official Facebook page.

All ready to explore new lands and taste new experiences? Wait no more and book your tickets here!
---
This trip was made possible by the award-winning tourism marketing agency, BrandStory Inc., in collaboration with Qatar Tourism Authority. Together, they curated an exquisitely planned itinerary of the best activities Qatar has to offer.