As far as urbanisation and development goes, Qatar is undoubtedly the epitome of a world-class city. Having repositioned itself from a pearl fishing economy into the region's top performing economy, this city definitely deserves more attention from the world!
What's remarkable about Qatar is the speed at which the city centre develops at, and the dynamic balance it offers in the preservation of history, tradition and culture. The seamless fusion of heritage and state-of-the-art developments put Qatar in an attractive light, constantly making one wonder what goes on behind the scenes of Qatar's progress, and what else it has got to offer with its limitless potential.
Also read: Have a Layover in Qatar? Here's How NOT to Waste It!
Don't worry if the thought of Qatar sounds foreign to you! With this itinerary, we have you all set and ready to explore the marvels of Qatar. From cultural sites to the latest attractions – we've got you covered. All that's left is for you to pack your bags and jet off to Qatar!
Day 1:
For your very first meal in Qatar, have breakfast at Sabah W Masa. Located on Salwa Road, this eatery serving Lebanese cuisine is almost always packed with people – have a taste of the food there and you'll understand why! We recommend that you have a go at the big breakfast Beirut-style (labneh topped with olive oil and served with a basket of fresh bread). Alternatively, have a go at the fabulous Lebanese pudding!
After breakfast, head on to visit the iconic Museum of Islamic Art. Situated on the Corniche in Doha, the museum is constructed on a man-made peninsula in the vicinities of the traditional dhow (a wooden Qatari boat) harbour. From the exterior of the museum, you'll be able to observe how it has been influenced by ancient Islamic architecture simultaneously fusing modern geometric patterns into its design. As you tour the five-storied museum,  immerse yourselves in Islamic Art dating back to 1,400 years of history. The museum is home to a collection of work that has been curated since the late 1980s, and remains to hold one of the world's most complete collections of Islamic artifacts from Egypt, Iran, Iraq, Spain, Turkey, India as well as Central Asia. Complete with both temporary and permanent galleries, the museum promises an engaging visit every single time. For all the history buffs out there, this is definitely not something to be missed!
While you're in the area, swing by for lunch at IDAM, located on the fifth floor of the museum. Savour French Mediterranean cuisine presented with an Arabic twist, alongside spectacular views of the Doha skyline. For those who would like to stick to the more classical local and regional delicacies, fret not as the restaurant has plenty of such offerings as well.
After taking in that sumptuous meal, take a stroll around the vicinities of the museum. Don't miss out on the museum's iconic photo spot – the museum's courtyard provides you with an unobstructed view of Doha's charming skyline across the sea.
After you're done with the museum, you can make your way down to Souq Waqif. Dubbed the social heart of Doha, Souq Waqif is arguably the best way to experience the local scene via an authentic taste of traditional commerce, architecture and culture. Albeit a popular tourist destination, the Souq remains true to its roots and holds on to its original vibes, unwavered by commercialisation and gentrification. From the national Qatari dress to spices, perfumes and handicrafts, take a stroll down the alleyways and you'll never know what other gems or souvenirs you may discover!
As far as heritage goes, falconry remains to be an important element. Your trip here would be incomplete without visiting the Falcon Souq for a glimpse of falconry in Qatari society, where falcons are highly loved and revered. An actual souq dedicated to falcons, shopkeepers are more than willing to give you a tour around the falcon showrooms to admire these extravagant birds. With the shopkeeper's supervision, you can even choose to photograph and hold the falcons!
Take a short break and drop by for some desserts at Al Aker Sweets located within Souq Waqif. Ever heard of Knafeh? This Middle Eastern cheese pastry soaked in sweet, sugar-based syrup is a speciality of the Arabic countries. Crunchy on top and soft on the inside, it'll leave you begging for more!
Choose to drop by the Souq Waqif Art Centre for an excellent display of paintings, sculptures and various art pieces. Housed in an attractive building at the centre front of the Souq, the art centre functions as a creative hub in Doha, serving as the cultural meeting point for contemporary art alongside tradition and heritage.
As the day draws to a close, the livelier the market gets. With an array of restaurants available, you'd probably be spoilt for choice as to what to have for dinner. If you don't have any ideas, why not consider grabbing dinner at Al Enna Restaurant to experience some local Qatari food? Have a serving of Machboos Dijaj if you're in the mood for some roasted chicken, or you could try out the Madfee Saloonah (Catch of the Day) for some traditional fish with Qatari spices. Top it off with some rose juice or lavender coffee for the perfect end to the day.
After dinner, hop onto a Dhow Boat to cruise down The Corniche. Have some drinks and enjoy a panoramic view of a litted up Doha city skyline. Relax into the night amidst the beautiful scenery alongside the sea breeze the caresses your face gently. Alternatively, choose to take a stroll along The Corniche and we promise that you'd have an equally fulfilling experience being up close to the waterfront.
End your day by checking in to Banana Island Resort. A paradise sanctuary, indulge yourselves with their world class facilities that would definitely guarantee your comfort and pleasure during your stay.
Day 2:
Rise and shine! Have your breakfast at the resort's restaurants before heading out for more activities that are lined up for the day.
Begin your day with some outdoor activities and have some fun in the sun! Choose to take a morning stroll along the resort's 800-metre long private beach, opt for a refreshing dip in the lagoon pool, or have a go at surfing in the surf pool.
For the adventurous souls out there, why don't you sign yourselves up for some water sports? Get your adrenaline pumping on a high speed banana boat ride across the ocean. Alternatively, glide around the waters of Banana Island on a kayak to enjoy the morning breeze and gentle waves.
Regardless of whether or not you have any experience in diving, the resort's diving centre offers you the opportunity to explore the underwater world, and to experience some close encounters with the vibrant marine life.
After a morning of adventure, head to the Katara Cultural Village. Currently the largest and most multidimensional cultural project of Qatar, the village is home to a collection of impressive theatres, galleries and performance venues, and serves as a meeting point for people to experience the cultures of the world. As you approach the cultural village, you'll be greeted by the Katara Mosque, decked in a mosaic of blue tiles with hints of red and yellow.
Do also keep a lookout for the Katara Amphitheatre, constructed with a well-crafted harmony between a classic Greek theatre and completed with defining Islamic features.
Perfect for seafood lovers, dine at the L'Wzaar Seafood Restaurant for lunch. The restaurant is known for its customisable meals, allowing you to select your preferred type of seafood and style of preparation utilised by the kitchen – so as to best suit your palette. Choose from Mediterranean, Far Eastern, Arabic or Japanese; you name it, you get it!
Have you really been to Qatar if you didn't swing by The Pearl-Qatar? A self-sustaining man-made island off the West Bay coast, The Pearl exemplifies glamour, complete with luxurious yachts lined up alongside residential towers, villas and hotels. To top it all off, The Pearl is complete with a designer shopping complex carrying branded boutiques.
The Pearl doubles as a popular dining spot, with its waterfront promenade lined up with cafes and restaurants catering to a variety of preferences. From bite-sized snacks to a complete 5-star dining experience, there's bound to be something for everyone. If you're in the mood for some desserts, drop by Dalloyau for some delicious French pastry. Yum!
Next up, gear yourself up for some retail therapy! One of the newest additions to Doha's vibrant modern landscape, the Doha Festival City is complete with over 500 stores optimised for day-to-day shopping as well as luxurious high-end fashion. Its sheer scale and size makes it one of the largest malls in Qatar and definitely one of the largest malls in the entire Middle Eastern region. Calling all shopaholics out there, would this become your next shopping paradise?
In the months to come, Doha Festival City would also be home to the highly anticipated Angry Birds Adventure Park. If you're travelling with your kids, this is definitely not something you'd want to miss!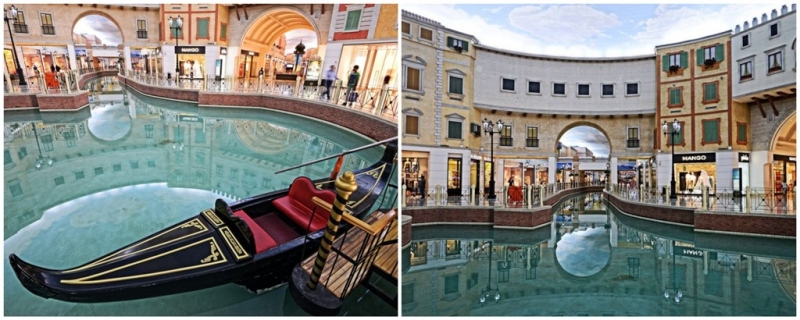 With charming Venetian style interiors coupled with astounding range of shopping, dining and entertainment venues, Villaggio Mall would be sure to deliver a unique and unforgettable experience. You'll probably forget that you're in Doha as the exquisite design and interior decor transports you to Italy momentarily. Venice is, of course, incomplete without its iconic canals and gondolas but, fortunately for you, Villaggio Mall provides you with the option of cruising down its indoor canal that runs through the centre of the mall. What more can you ask for – this is probably as Venetian as it gets!
When you're done exploring the mall, dine at P.F. Chang's Villaggio for a taste of their famed Dynamic Shrimp!
Located within the Aspire Zone (Doha's dedicated sports complex) stands Qatar's tallest hotel. Connected to Villaggio Mall via an air-conditioned walkway, The Torch – Doha is a 300 metres tall skyscraper hotel with rooms complete with state of the art amenities! Rest and recharge for the night before you embark on your third day of adventure.
Day 3:
As dawn approaches, wake up to the beautiful Aspire Park, a massive green oasis that also happens to be Doha's biggest park. Complete with beautiful fountains and playgrounds for the younger children, the park is perfect for a refreshing morning walk amidst nature.
You'll probably be starving by the time you're done with your morning stroll around the park. We suggest that you have brunch at Afghan Brothers Restaurant for a taste of authentic Khaleeji dishes!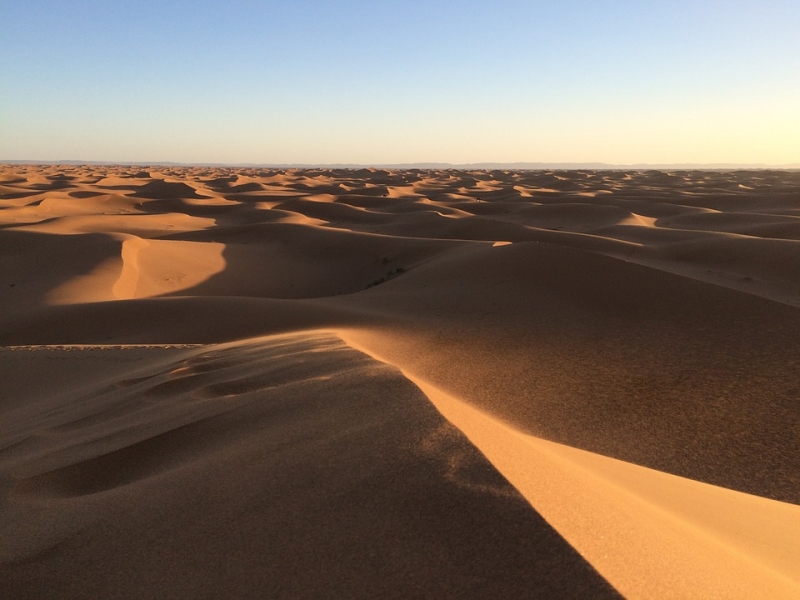 Are you ready for the highlight of your trip? Sign yourselves up for a Overnight Desert Safari Tour! Reckoned as one of Qatar's finest treasures, Khor Al Adaid or 'Inland Sea' is bound to take your breath away with its picturesque landscape decked with large golden sand dunes.
What's a desert safari tour without some dune bashing action! Get on board a 4×4 vehicle for your very own roller coaster ride through the sand dunes. After you strap yourselves down on a Land Cruiser, your skilled instructors would navigate you through the dynamic dunes of the desert. For all the adrenaline junkies out there, you could request for your instructors to increase the thrill level of your ride if you're up for a challenge!
If you're a fan of extreme sports, you'd be surprised to know that the desert is perfectly capable of giving you with this amazing experience. Have a go at sand skiing & sand boarding, quad biking and paragliding. Feel the adrenaline rush as you glide through the air gracefully in your parasail, or speed down the sand dunes on your quad bike.
If you're looking for something milder, yet at the same time doubling as a refreshing experience, go for a camel ride in the desert and watch the sun set into the far horizon.
Also read: 9 Must-Try Adventure Activities in Qatar for an Absolutely Thrilling Holiday
As the day comes to a close, feast on a traditional BBQ Meal in the desert under the stars. Lose yourself in the vastness of the desert as you sit by the bonfire as the music serenades you into the night.
If you'd like to take a day trip to explore the sand dunes in the desert, do so with a tour on the Monster Bus! One of the newest additions to the desert tours, take a ride across the mighty sand dunes on this magnificent off-road monster bus. You'll be picked up by your safari guide from wherever you are in Doha, and you'll be well on your way to Sealine beach. While you're there, you may also trek along the Sealine coast! When you're done with your exploration, dig in to a sumptuous meal at the Sealine Beach Resort.
Day 4
For your last 24 hours here in Qatar, have a hearty breakfast at the Safari camp before embarking on your journey back to the city!
Head down to Bir Zekreet for more interesting views of desert topography and landscapes. Although this area looks largely uninhabited, we assure you that it is far from boring! Marvel at the natural reserve where you can observe animals like deer and oryx roaming around in their natural habitat. Then, continue your journey up further where you will be able to see Zekreet Film City, which is an old movie set! Here, you can channel your inner Steven Spielberg as you wander through its perfectly preserved settings.
Did you know that some scenes in 'Transformers: Revenge of the Fallen' was filmed at this very location? How awesome is that? Be sure to take lots of photos or perhaps record your own short film while you're here! Hollywood experience, checked!
Have you ever gone to look at art installations in the middle of a desert? Check out Richard Serra's 'East-West/West-East' art piece that aptly lies in the middle of the desertscape. The installation consists of four steel plates in perfect alignment but, in order to accommodate to the uneven desert topography, the plates are of differing heights. Between 14.7 metres to 16.7 metres in length above the ground, the plates and can be seen and contemplated from each end of the sculpture.
This monumental desert art piece aims to allow spectators to create and discover their own sense of space, as they interact and move across the landscape and installation.
After you're done, continue towards your next destination – Al Zubarah. As Qatar's largest heritage site, largest archaeological site in the whole Qatari Peninsula and one of the UNESCO World Heritage Sites, Al Zubarah is definitely a place that's not to be missed! Strategically positioned in between the Strait of Hormuz and the Arabian Gulf, this area was once a bustling pearl fishing and trading port.
Feel free to stomp around the fort and be transported back in time as you walk around the grounds of one of the best examples of an 18th century merchant metropolis!
We bet that you're feeling totally famished after all that desert exploring! If you would like something different after days of local cuisine, how about having a little taste of Brussels for a change of flavour? For dinner, treat yourself to a sumptuous meal at Belgian Cafe Doha at the Intercontinental Doha. Tuck into Belgian mussels and fries and enjoy a few mugs of creamy, cold beer to complement your view of the gorgeous Doha skyline. With delightful food, fantastic ambience and amazing company, this is truly a perfect way to bring the evening to a close!
We can't think of a better way to end your vacation in Qatar than with a drive through the dazzling cityscape of Downtown Doha on your way back to the airport. Gape in awe at the spectacular, towering buildings all lit up against the night sky. Look out especially for the Aspire Tower, Doha Towers, Palm Towers and Tornado Tower while you're at it – the architecture and design of these megatall skyscrapers that go up to 300 metres will surely wow your socks off! A real eye-feast before you fly back home really does make the perfect ending.
Here's an additional tip: to make your travelling more efficient and convenient, consider opting for the Hop On Hop Off tours offered by Doha Bus. Just as its name suggests, choose to hop on and off the bus whenever and wherever you like! Select from either the 24-hour or 48-hour option, and you'll be all set to tour the city with ease.
There you have it – a complete 4D3N itinerary for you to explore Qatar. The next time you're planning for a vacation, why not consider exploring Qatar alongside the many other Middle Eastern countries? From mouth-watering local delicacies to heritage sites and modern state of the art developments, Qatar is definitely the destination to be at. Grab your passports pack your luggages and we'll see you there!
To give you that extra push, Qatar is waiving entry visa requirements for citizens of 80 countries! This visa will be issued upon arrival and will be valid for 30 days from the date of issuance. It's applicable for both single and multiple trips, and benefit travellers from countries such as Singapore, Malaysia, Hong Kong, Indonesia, Thailand and more. In addition, travellers travelling on Qatar Airways are eligible for a free transit visa (ranging from 5-96 hours) – apply for it here.
For those looking for a fuss-free experience, save yourself the research by letting these Qatar specialists take care of you from start to end:
Chan Brothers Travel

(+65 6212 9660

)

CTC Holidays

(+65 6216 3456

)

Country Holidays Travel

(+65 6334 6120

)

Broadway Travel

(+65 6732 0990

)

Azza Travel

(+65 6292 7110

)

Jetabout Holidays

(+65 6734 1818

)

Prime Holidays

(+65 6291 3322

)

Shahidah Travel

(+65 6291 4555

)
For more information, check out Qatar Tourism Authority's official website or their Facebook page. Start planning your Qatar escapade now!
---
Brought to you by Qatar Tourism Authority.