Qatar Airways CEO Akbar Al Baker attended a press conference in Doha last month, which was held to unveil the second expansion phase of Hamad International Airport.
It was during the conference that Al Bakar told the media: "When I show you the images later [of the planned expansion], you will realize that somebody copied our design, which was already on the table nearly six years ago … We had individuals from that country, I will not name it, that took our design and did it."
Based on the images shown below, it's not hard to figure out which country he was referring to.
Glass ceilings, spiral waterfall and lots of greenery… Looks familiar?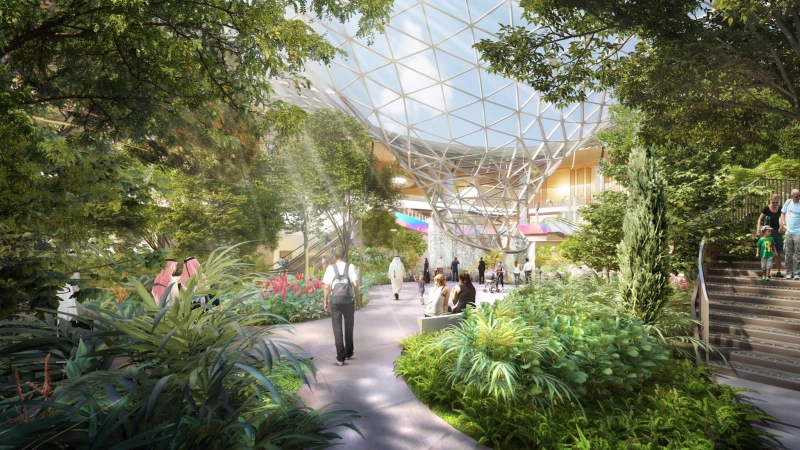 That's because Al Baker claims Singapore's Jewel at Changi International Airport is a copy of their airport design. On top of this, Al Baker highlights that the design for the Hamad Airport expansion was already in place six years ago.
Changi Airport Group and Safdie Architects respond
Over in Singapore, Changi Airport Group's chief executive Lee Siow Hiang and Jewel's architect Moshe Safdie have refuted Qatar's alleged claims of copyright. Firstly, Jewel's design was picked in July 2012 after a "competitive process". Safdie Architects was then awarded the contract in May 2013 for its "compelling" design.
Mr. Lee emphasised that Changi Airport Group takes intellectual property rights seriously, and that they "value originality and creativity while innovating to improve the Changi experience".
In addition, architect Mr. Safdie has not visited Qatar at all, nor have Safdie Architects done any projects in Qatar. Mr. Safdie also explained that they have been "pursuing the concept of gardens as a focal point… for many decades". Their findings then inspired them to create what has now become Jewel Changi's centrepiece.
To see how similar the two designs are, here are some side-by-side comparisons of both airport designs:
See the design for yourself at Singapore's Jewel Changi
So who copied who? It is unclear as both sides claim that their designs have been set for a very long time.
However, the expansion of Hamad International Airport will only be complete a lot later, with a section of it ready in time for Qatar to host the 2022 World Cup.
In the meantime, you can enjoy the magnificent architecture at Jewel Changi, which has been open since April 2019. This large shopping and lifestyle complex consists of at least five floors of retail and a huge sky garden. It's massive, so be prepared to budget a full-day to explore the entire space.