It is undeniable that some of the best ways to truly immortalise the idea and a visit to some place new is the impressive views that the place boasts. A great way to ensure that you get some of the best memories of a place that you visit to go on a hike and follow a hiking trail to a viewpoint. Often, this is quite a daunting activity as many hikes require practice and an impressive and better than average fitness level. However, not all hikes are long and tough! Here is a list of easy hikes that could be done in a day with a rewarding finish.
Read more: A Guide to Gunung Pulai: The Best Hiking Trail in JB
1. Ijen, East Java, Indonesia
Considered one of the most epic adventures in East Java, the track to the Ijen Crater takes about 1.5 hours and is famous for its Blue Flames lighting up the bottom of the volcanic crater. Ijen volcano is also home to a turquoise coloured acid lake that looks brilliant, making you feel as though it is otherworldly! There are also many tours you can take that will guide you up the crater safely.
2. Oudomxay, Laos
Oudomxay is in the heart of Northern Laos where you can pick from 1- to 3-day treks with home stays in a Khamu village. Day hiking trails are also in abundance for you to choose from depending on what you want to see – from waterfalls to learning more about the culture of the people living in the area. One of the popular day treks take about 5 hours and is mixed with cultural experiences where you can learn about local life, beliefs, work and religious rituals. You can also meet many hill tribes as the area is home to 14 different indigenous ethnic groups!
3. Mount Pinatubo, Philippines
Behold the beautiful blue-green lake on crater when you take the trail along Mount Pinatubo. While most people simply go to Mount Pinatubo for the hike, there is a variety of activities in the area that you can take part in including trying the volcanic ash massage and mud pack at Pinatubo Spa Town! The hiking trail here is relatively easy and you can pick your route – either with driving along Crow Valley and hiking for about 20 to 30 minutes or walking down the valley and all which will take you about 2 to 3 three hours!
4. Sapa, Vietnam
Delivering dramatic postcard landscapes, Sapa is gaining popularity amongst many travellers who enjoy hiking. The region features some of the highest mountains on the Indochinese peninsula that will take your breath away. You can also meet the many ethnic minorities who call Sapa their home as well including the Hmong, the Dao and the Tay. Some of the treks may take days but some are shorter and will take you about 3 to 4 hours to finish!
5. Bako National Park, Malaysian Borneo
Want to experience wildlife hiking? Then hiking trails within Bako National Park in Malaysian Borneo would be perfect for you. Boasting a perfect introduction to Sarawak's forests and wildlife, it is also possible for you to see almost every type of vegetation found in Borneo in this one park. There are a number of well-marked trails from short pleasant trails to serious full-day hikes, for hikers of all ages and abilities. The wildlife here are also accustomed to humans so you can be sure to enjoy your time here!
6. Mount Bromo, Indonesia
Surrounded by a plain known as the 'Sea of Sand', Mount Bromo is one of the most visited active volcanoes and easily accessible. The best time to admire the incredible landscape is just as the sun rises which calls for a very early start to the hike. Luckily there are many tours and guides to choose from! The hiking trail also only takes you less than an hour up a well-defined path so you don't have to worry about not being able to make it all the way through the hike.
7. Dragon's Back Trail, Hong Kong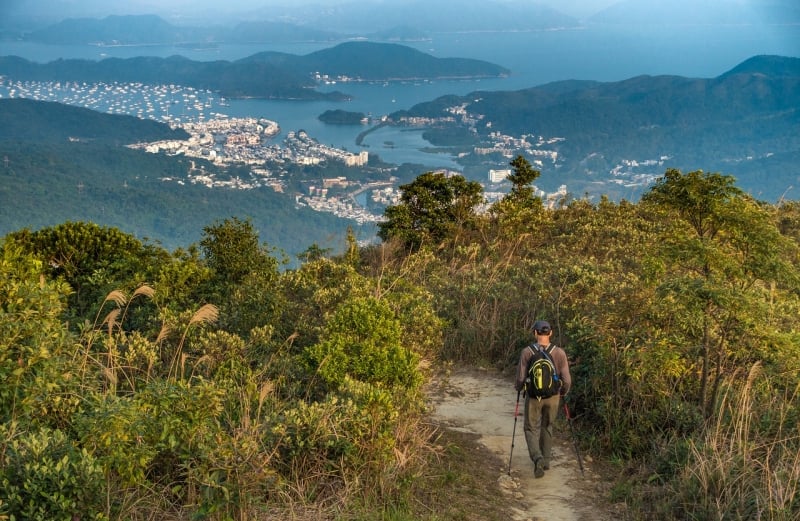 One of the most scenic hikes in Hong Kong, the Dragon's Back Trail is also one of the easiest hikes to complete and most conveniently located. Once you made your way up the hiking trail, the mesmerizing ocean views will sweep you off your feet. The trail follows a completely exposed ridgeline on top of the mountains with the ocean on both sides. This snake-like trail is also the reason for the name of the trail! 
8. Mount Fuji, Japan
Hoping for a hike that is more of a challenge but still can be done within a day? Try taking the hike up Mount Fuji! With four routes, you can pick which suits you and your fitness level best. Do not underestimate it though! Even the Yoshida Trail, the most popular and manageable, takes about 5 to 7 hours to ascend and another 3 to 5 hours to descend. The terrain is steep and rocky on the way up and slippery on your way down so be sure to keep your fitness level in check before D-day. 
9. Cameron Highlands, Malaysia
Cameron Highland is home to a comprehensive network of walking trails that were built during World War 2 going through the jungles and mountains in the area. With 14 hiking trails and jungle walking trails to choose from, you might get confused on which is the best! Some of the trails can be done in under an hour while others can take up to four hours so plan your day ahead to pick the one that best suits your schedule and ones that cover the areas you really want to see. You will come across tea plantations and lush scenery coupled with cool climate, perfect for a day of walking and exploring!
10. Luang Prabang, Laos
Known as the Chomphet Hike, this hiking trail is away from the hoards of tourists on the less developed side of the Mekong River. As you trek your way along, you will also find five different temples including the historic Wat Long Khoun! The once rugged and unmarked trail is now paved making it easier for all hikers to pass through. Enjoy the beautiful remnants of crumbling temples covered by thick greenery, old relics, sacred caves and more. The distance and time also varies according to the route you choose, from 1KM up to 10KM.