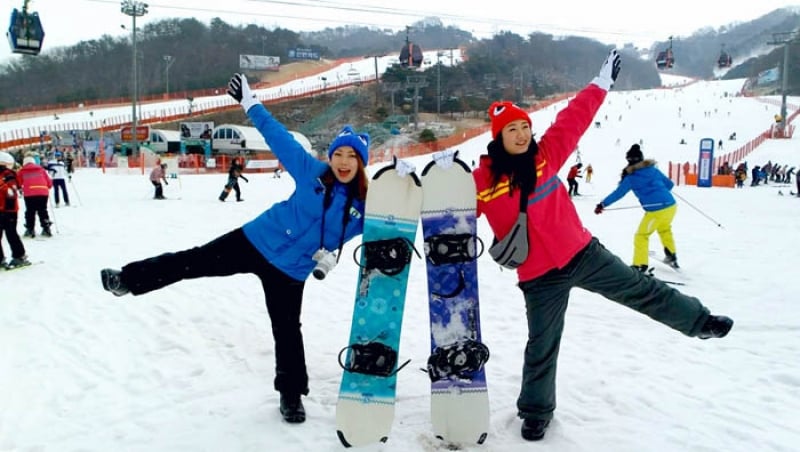 Are you thinking of a year-end ski trip with your peers or a family-friendly New Year's holiday? Korea is now ready to offer you whatever you want, with its snow-white mountains and state-of-the-art ski facilities. But here comes the most important question: which ski resort should you choose among the 17 resorts throughout the country?
Each ski resort has its own charm and style that you can enjoy, depending on your tastes and preferences. Ask yourself these questions to help you determine the most ideal option: Who are you traveling with? Are you a first-timer or an experienced skier? Do you want to try other attractions along with a ski experience? When are you visiting Korea?
1. For trendy hipsters in their 20's: Daemyung Vivaldi Park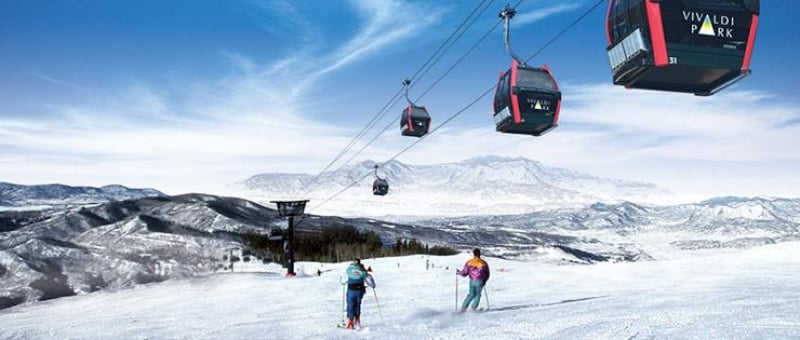 If you're a young trendsetter in your 20's seeking the latest trends and culture, Daemyung Vivaldi Park is here for you. Vivaldi Park Ski Resort was in fact, the most visited ski resort in 2016! With 12 ski slopes and 10 lifts (including gondolas), this stylish ski resort is known as a trailblazer among Korea's ski resorts, and especially loved by younger generations in Korea. Thanks to its long operation hours from 8:30 am to 5 am the next day, you can even relish the joy of night skiing under the moonlight.
As you can tell from the names of the slopes – Funky, Hip-hop, Jazz, Techno, and more, you get to glide downhill with the trendiest music playing in the background. Catering to the taste of young twenty-somethings, the ski resort often holds DJ parties and festivals such as the romantic Light Festival!
Catch both winter thrills and romance at once at Daemyung Vivaldi Park.
2. For family travelers with kids: Oak Valley Ski Resort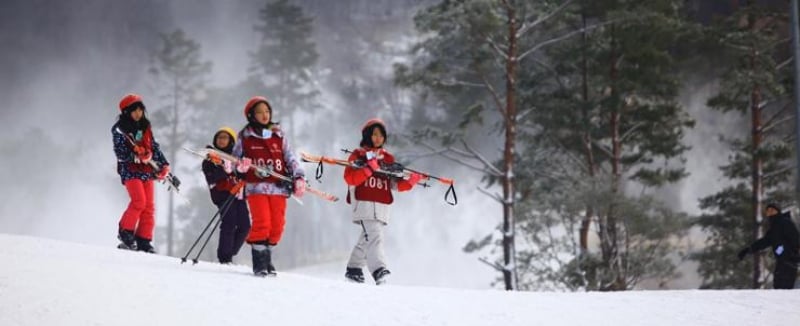 Oak Valley Ski Resort prides itself as a premium family-friendly ski resort that best accommodates family visitors. The slopes are divided by the degree of each slope into: 2 beginner, 5 intermediate, and 2 advanced courses. Because the beginner slopes are wide and inclined gently, first-timers and children can learn skiing safely. The ski resort's strength lies in ski lessons that are provided for different age groups, even for children under 7 years old. Apart from the ski facilities, there is also a sled slope for kids who are too young to ski, hence making the ski resort the best place for all ages.
As Oak Valley Ski Resort boasts family-friendly settings and focuses on safe skiing, it is usually less crowded compared to other ski resorts. Nevertheless, it offers facilities that may seem peripheral to skiing itself but important to families, such as a wide range of food options.
Families and novice skiers, check out Oak Valley Ski Resort for a great time.
3.  For experienced skiers: High 1 Ski Resort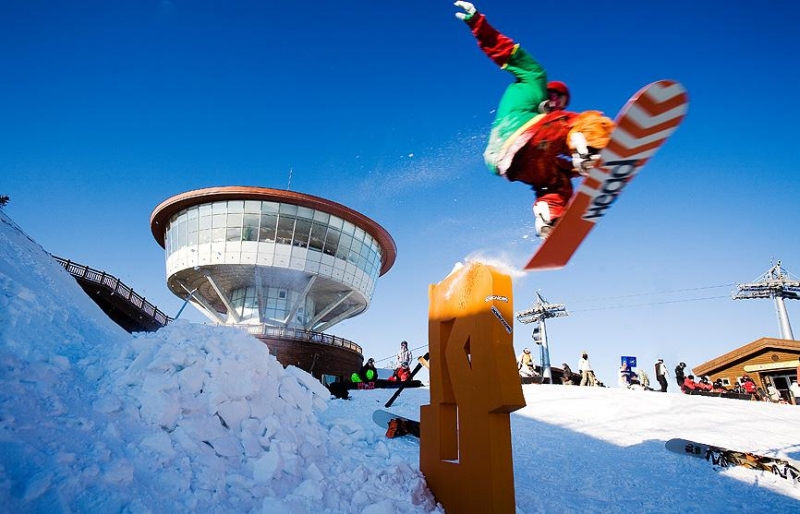 There are two main reasons that make High 1 Ski Resort the best place for experienced skiers and snowboarders. Firstly, the snow quality in High 1 Ski Resort is spoken highly of by many ski & snowboard manias in Korea. Located deep in the steep mountain ranges of Gangwon Province in Korea, the resort has naturally high snowfalls. If you visit High 1 Ski Resort during the weekdays, you'll be gliding on even puffier snow slopes.
Secondly, High 1 Ski Resort is one of the top two mega-sized ski resorts in Korea. Its ski slopes are long and wide, with 18 runs and a total length of 21 km. Three of the slopes start from the top of the Baekunsan Mountain, overlooking the entire ski resort.
Are you an adrenaline-seeking advanced skier? Chase hair-raising thrills at High 1 Ski Resort today!
4. For time-pressed travelers: Elysian Gangchon Ski Resort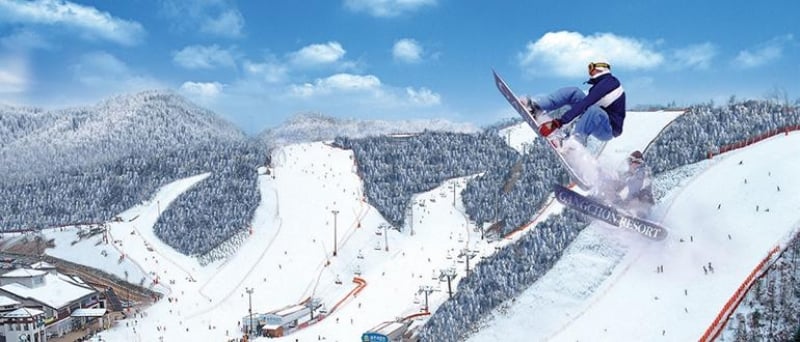 Located only 90 minutes away from Seoul by car, Elysian Gangchon Ski Resort is often visited by skiers who want to have a longer skiing time and save time spent on transport. It's also perfect for those who want to have a half-day ski experience, and visit nearby sightseeing spots such as Nami Island, Garden of Morning Calm and Petite France. By visiting the ski resort and romantic attractions in one day, you'll feel as if you've transported between a magical winter fairy world and a thrilling snow world on the same day!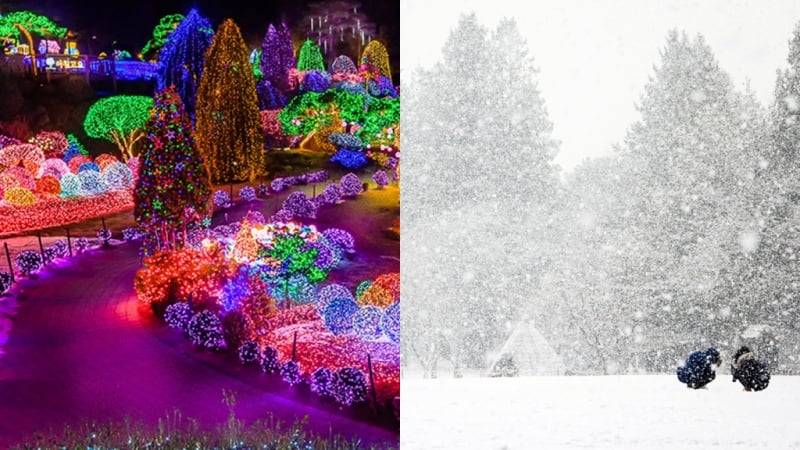 Plus, there's also good news for those who are afraid of skiing but want to have fun playing snow at Korea's ski resorts. Here's a solution: check out the snow sled tour or the free time tour at Elysian Gangchon Ski Resort.
5. For early bird skiers wanting fewer crowds: Yongpyong Ski Resort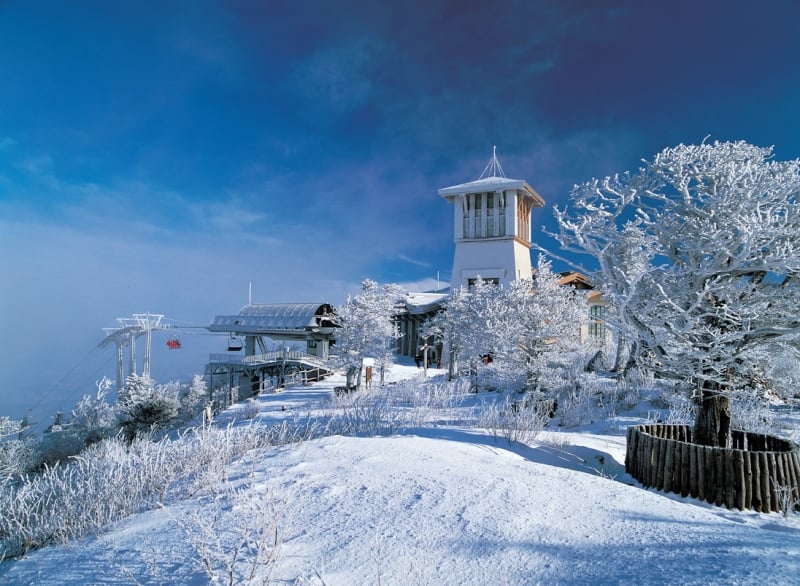 One thing you cannot avoid on your ski trip to Korea is the crowd, as it's a very popular winter activity for both local Koreans and foreign visitors. If you want ski slopes that are less crowded for an optimal skiing experience, here's a huge tip. Make your trip in November or early December before the peak season. Among the recommended ski resorts for early-bird skiers especially this year, is Yongpyong Ski Resort in Pyeongchang, the largest ski resort in Korea and the venue for Pyeongchang 2018 Winter Olympics.
If you visit Yongpyong Ski Resort in early winter this year, you'll get to avoid the crowd and experience the ski resort that top class Olympic skiers will use! Awesome or what? Some of the ski slopes will be closed to the public after mid-January, since it's designated as the venue for Alpine Skiing during the upcoming Winter Olympics, so be quick to experience the world class slopes!