Dubai is a playground for the riches, and at the same time a dystopian wonderland of avant-garde skyscrapers. It is a city that has far exceeded the realms of modern day architecture, and one that holds a mind-boggling number of world record-breaking titles – from the world's tallest building, only 7-star hotel… Down to the only dinosaur carousel in the world.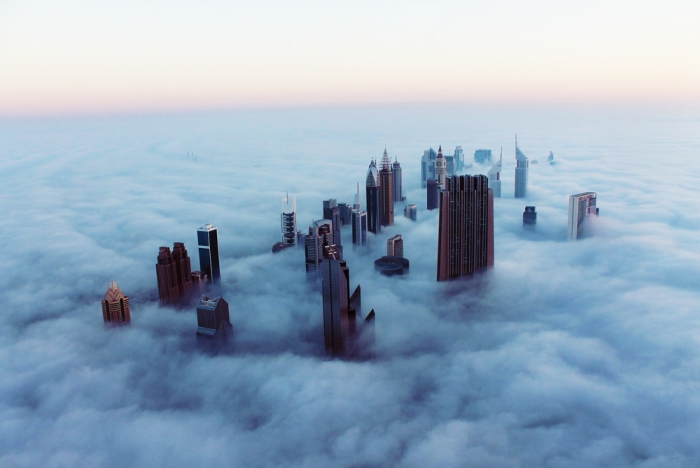 While this throbbing city affords so much more than its concrete spaces, like me, you might just find yourself marvelling incessantly at all its architectural spectacle.
Burj Al Arab 
Reigning the throne of luxurious hotels in the world is Burj Al Arab, also crowned the world's first seven star hotel. This $24,000 a night hotel is often graced by A-list clienteles and celebrities like Gigi Hadid, Lewis Hamilton and Kendall Jenner.
Cayan Tower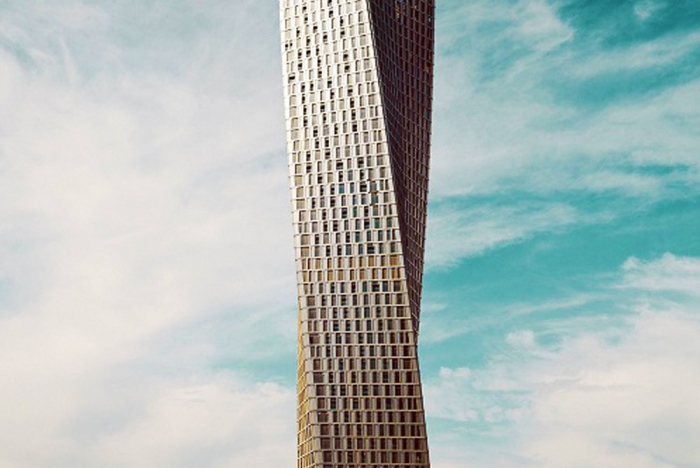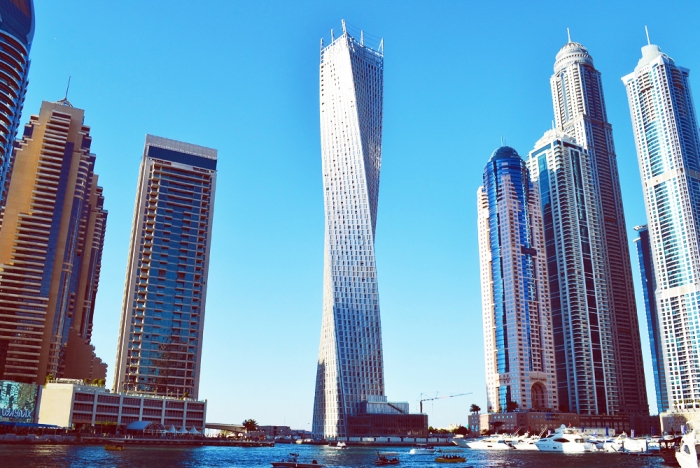 The Cayan Tower (which used to be known as the Infinity Tower) twirls gracefully in a landscape of upright buildings. Beneath its striking appearance, this one of a kind structure is brilliantly designed to protect the its interior spaces from solar exposure.
The World & Palm Jumeirah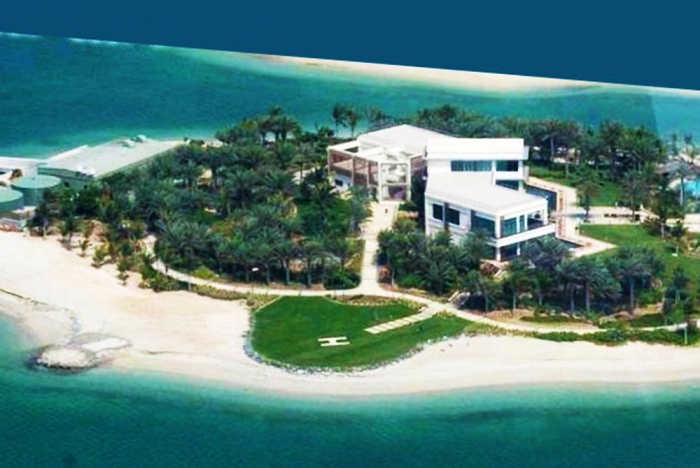 Dubai doesn't only impress with the high-rise, but its artificial archipelagos have some of the most ingenious concepts one can fathom. Along the coast of Dubai lies Palm Jumeirah and The World, each spanning over several kilometres. The World is inarguably one of Dubai's most imaginative construction projects, with the 300 islands making up the shape of the world map.
Each of the 300 islands is sold to real estate tycoons and investors, and boat tours will be available to the public for a taste of this extravagant playground.
JW Marriott Marquis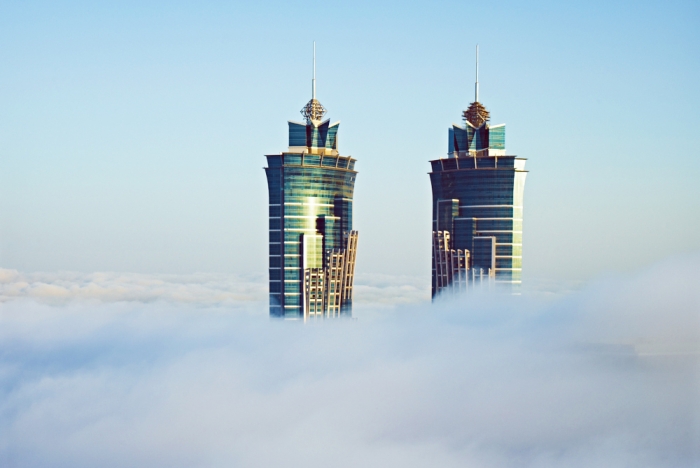 There's probably nowhere you can get closer to sleeping on clouds than in the world's tallest hotel, JW Marriott Marquis Dubai. The two 77-floor twin towers boast over 1,600 rooms, and are hard to miss with their iconic 'spiky' exteriors.
Atlantis The Palm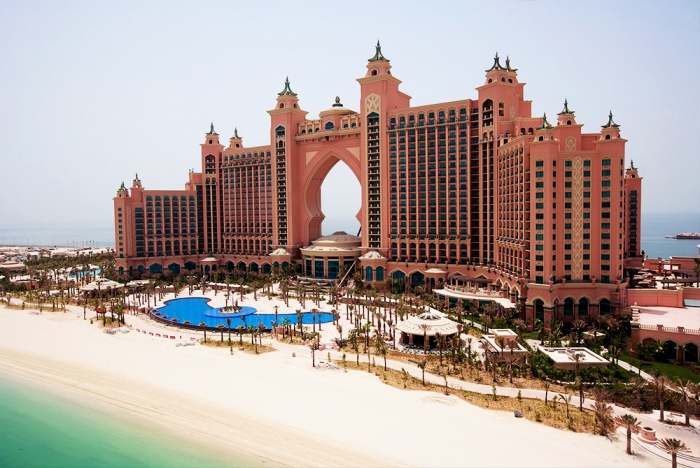 Themed after the fable of Atlantis, the majesty of Atlantis The Palm is entirely enthralling as it is smothered with oceanic furnishing and decor. Situated on Palm Jumeirah Island, the five-star resort offers a dazzling view of the Arabian Gulf.
Metro stations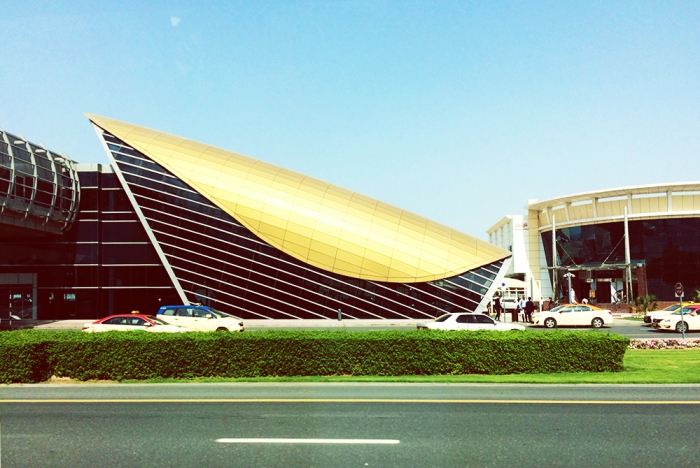 While you'd think the towering skyscrapers would be stealing all the show in the city, the metro stations here look just as astounding – futuristic, almost.
Jumeirah Beach Resort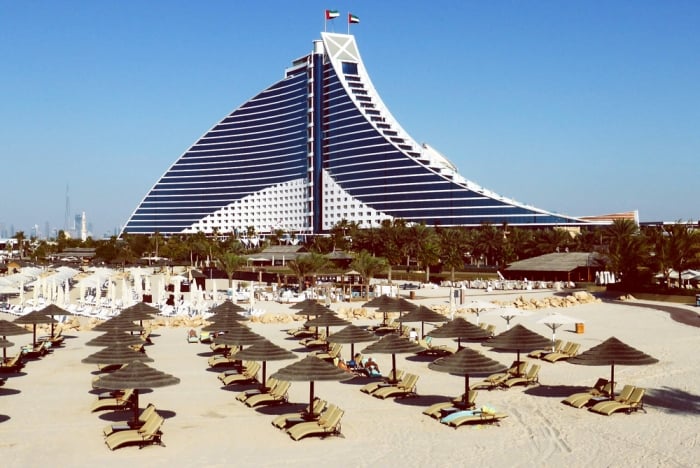 This five-star luxury resort sits on Jumeirah Beach in the Dubai Marina, and has a private beach exclusively for its guests. Donned in dusky blue-plated glass, this beach resort is sculpted like an ocean wave and is unmissable from a mile away.
Dubai Park Towers
These pickle-shaped buildings offer an aerial view of the financial hub and are one of the country's most symbolic real estate projects. It is designed such that a wide balcony is available in every apartment for residents to bask in the sights of Dubai International Financial Centre.
Jumeirah Mosque
Beautifully and intricately assembled, the Jumeirah Mosque was established entirely from white stone in the medieval Fatimid tradition. It is also the only mosque in Dubai that is open to non-Muslim guests six days a week, and can hold up to 1,200 worshippers.
Raffles Hotel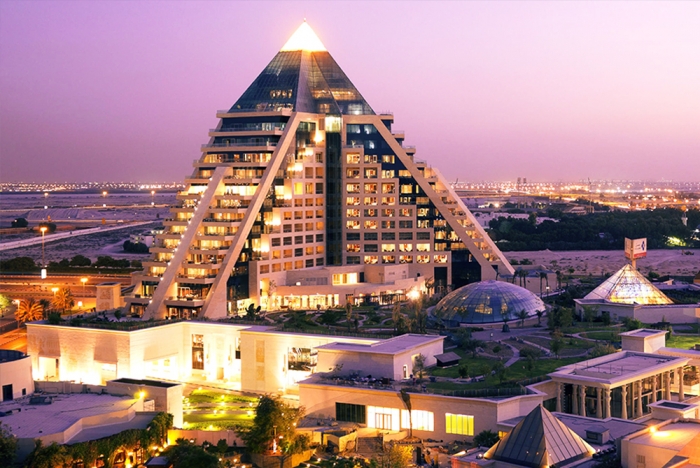 One of the most popular five-star hotels amongst tourists, this 19-storey pyramid is, despite shortchanged in its height, a stunning architectural icon in Downtown Dubai.
Viceroy Palm Jumeirah Dubai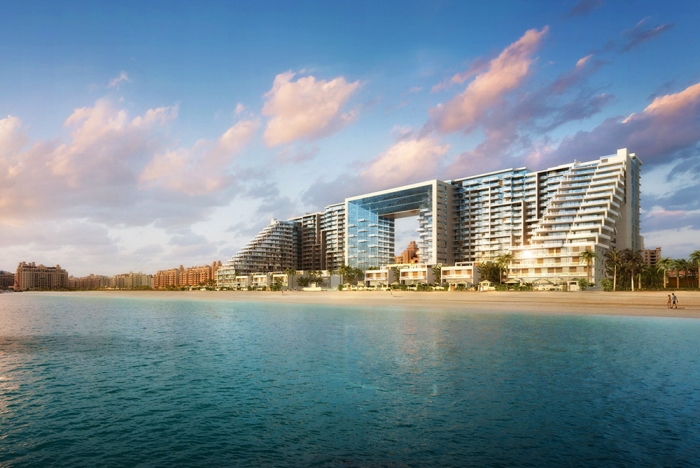 Nestled along the Arabian Gulf, Viceroy Palm Jumeirah Dubai is one of the most geometrically stunning hotels in the Middle East, and brags a unfathomable total of 272 swimming pools.
Burj Khalifa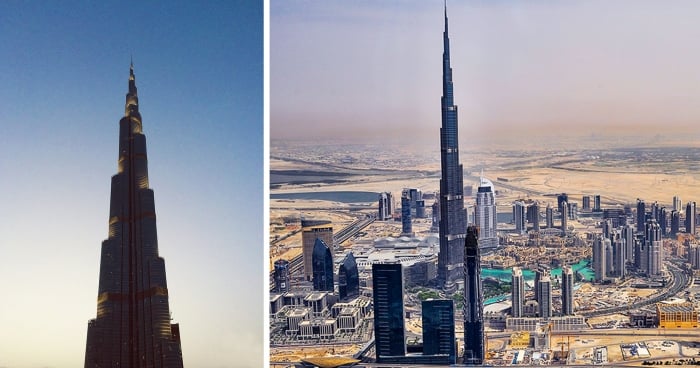 A skyscraper thrice as tall as the Eiffel Tower, the Burj Khalifa boasts an altitude of 828 metres, sustaining the title of world's tallest building for nearly a decade. This record breaking building took 5 years to construct, and an unthinkable 22 million man hours to complete.
Princess Tower
Royal and downright ravishing, The Princess Tower stands as one of the world's tallest residential buildings, rising to a whopping 101 stories and comprising of 763 residential units.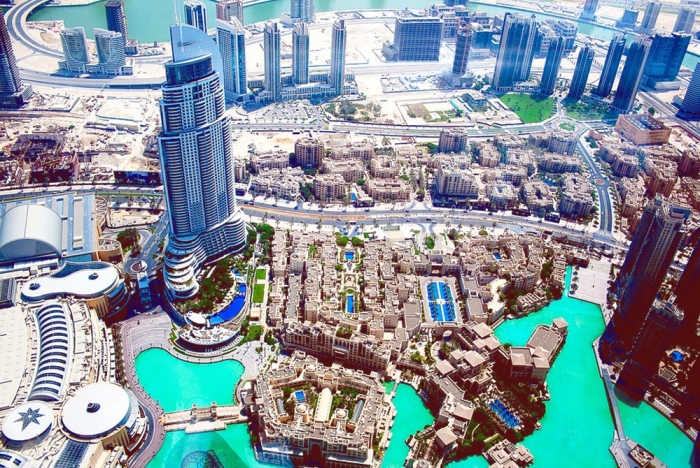 With countless bizarre high-rise projects currently under construction and many others on their way, it's only a matter of time before Dubai tops itself again in this grandiose architectural chase.
---
A huge thank you to Dubai Tourism for this opportunity which had me falling in love with this enthralling city.