Dubai is well-known for its ritzy over-the-top opulence and grandeur; they have the tallest building in the world, the fastest airport Wifi in the world, the largest OLED screen in the world… You name it, they've probably topped it.
However, look beyond the initial shimmering front and you'll discover that Dubai does have a few surprises concealed up its sleeve. Other than having a sprawling desert located just an hour's drive from the city centre, Dubai is also home to a unicorn food trailer park that looks as if it belongs somewhere over the rainbow!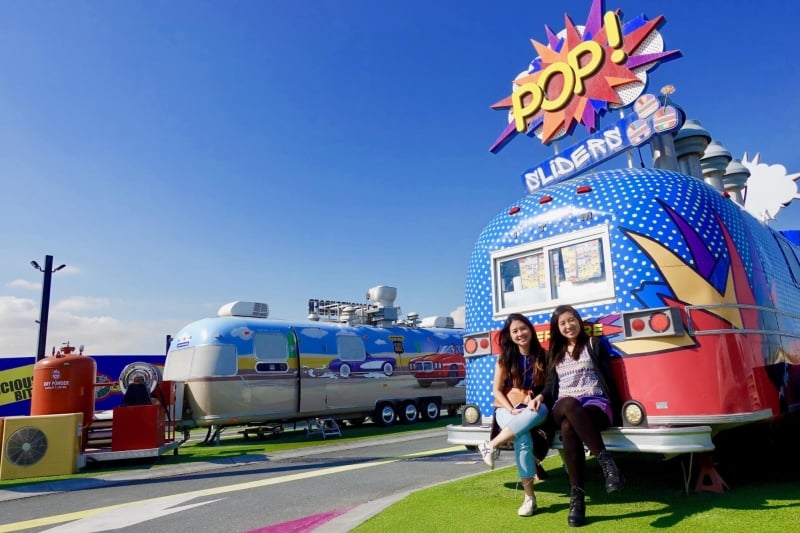 This food trailer park is located at the last exit from the E11 expressway from Dubai to Abu Dhabi, hence earning itself the name of 'Last Exit'. The park is home to uniquely designed food trailers, each peddling its own fare. It's open round-the-clock and offers the perfect opportunity for motorists to grab a bite before continuing on their journey.
Here are some food trucks to look out for:
POP Sliders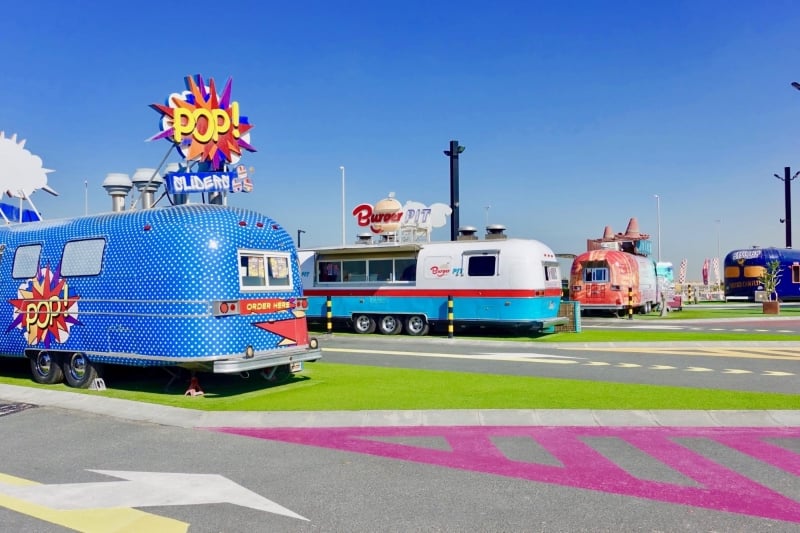 It's not hard to spot POP Sliders – just look out for the colourful sign saying "POP!" that adorns the truck. The POP Sliders food truck is among the most aesthetic of the lot, both exterior and food wise.

Best known for its colourful burgers, we recommend getting a couple of beef sliders and some of their 'Secret' fries, which are drizzled with melted cheese, caramelized onions and a special sauce.
Poco Loco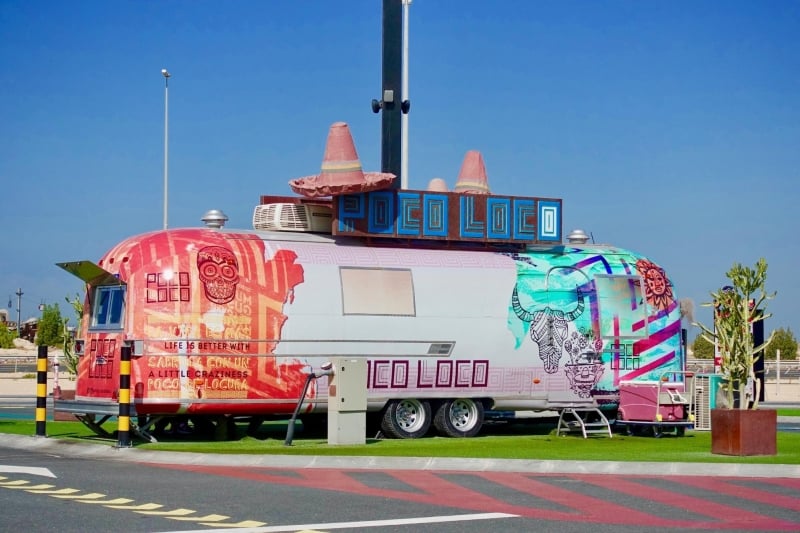 Poco Loco is a Latin American establishment that serves up an interesting fusion of Japanese and Peruvian flavours. Just check out the two hats perched on top of the trailer!
We recommend trying the chicken or beef tacos (the fillings are really generous!) and the fried Calamari rings. The food from Poco Loco also tastes sinfully healthy if that even makes any sense!
Big Smoke Burger / Burger Pit

If you're craving for a good old burger, Big Smoke Burger or Burger Pit are definitely the trucks to hit up. Think: thick juicy patties drizzled with house sauces and sandwiched between fluffy buns.
Other than burgers, we recommend digging into a steaming dish of Poutine (sold at Big Smoke Burger), a Canadian dish comprising of french fries topped with brown gravy and cheese curds.
Chicks N' Friends

This is, hands down, the cutest food trailer in the whole park!
The food truck encourages you to share its delicious fried chicken and its friends – hotdogs, sandwiches, noodles, fries and an assortment of condiments – with your own group of friends as well. After all, sharing is caring!
D.O.N. Pizza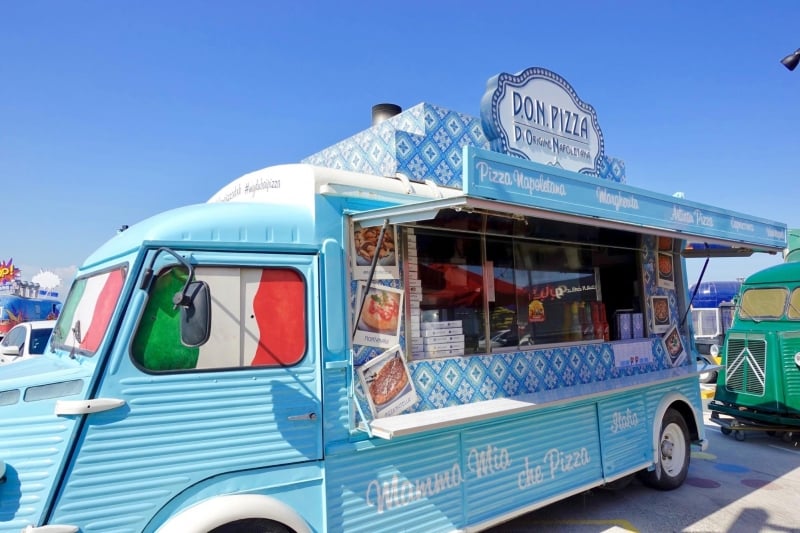 The owners of this food truck have a dream of bringing authentic Neapolitan pizza all the way from Naples to Dubai and we dare say that they've succeeded in the form of D.O.N. Pizza.
They source their ingredients fresh from Italy and bake their pizzas in traditional wood-fired ovens. Apart from the classic pizzas, do try their Angioletti Con Nutella, which is fried pizza dough covered in creamy Nutella.
Starbucks Coffee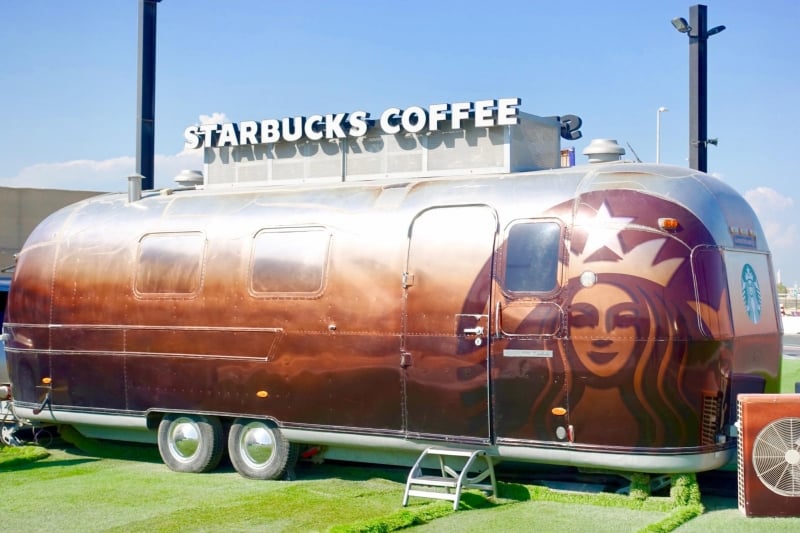 And of course, what would we do without our quintessential coffee fix?
There are two ways that you can order and eat your food: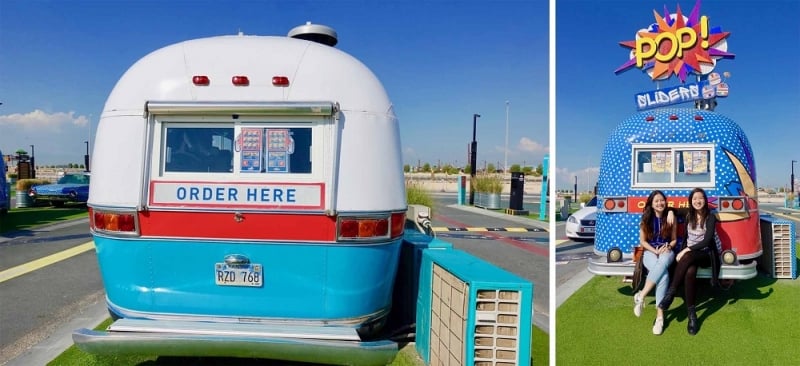 First, you can choose to drive straight up to the food trailers, place your orders and eat in your cars.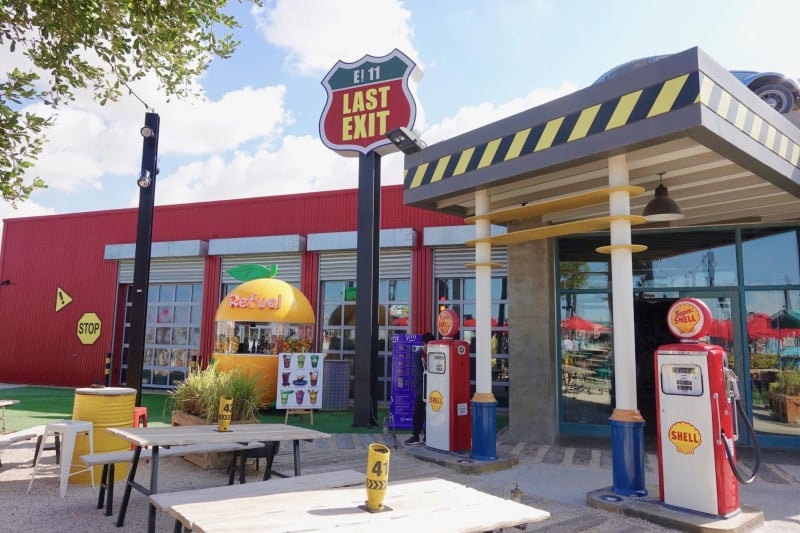 Alternatively, you can buy your food from the food trailer parks and have your meal at an Al Fresco seating area.


There is an indoor seating area as well for those looking to enjoy some respite from the heat. And you don't have to worry about getting bored too. There are plenty of things to keep you occupied after your meal, such as a foosball table, some vintage arcade machines and even an old-school jukebox. Why not blast some tunes as you challenge your friends to a game of table soccer?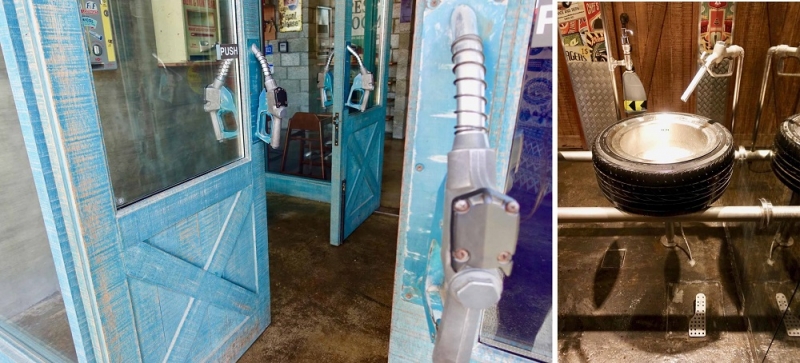 We love how the little details all tie into the overall 'gas station' theme, especially with the door handles coming in the shape of gas pumps. Even the sinks in the washrooms are pretty unique; you'll have to step on a gas pedal of sorts to turn the tap on and get the water flowing.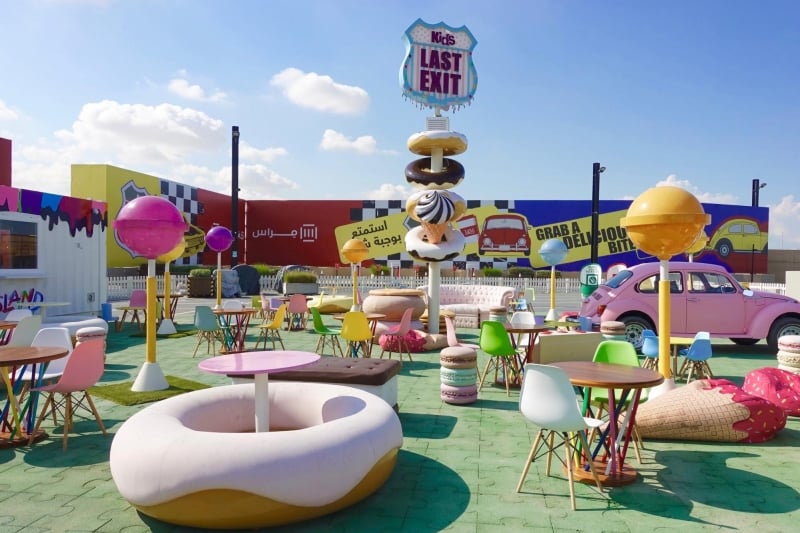 That's not all! Boasting sofas in the shape of doughnuts, stools made out of a stack of macarons and beanbags in the shape of ice cream cones, this delightful Al Fresco area spells heaven for anyone with a sweet tooth.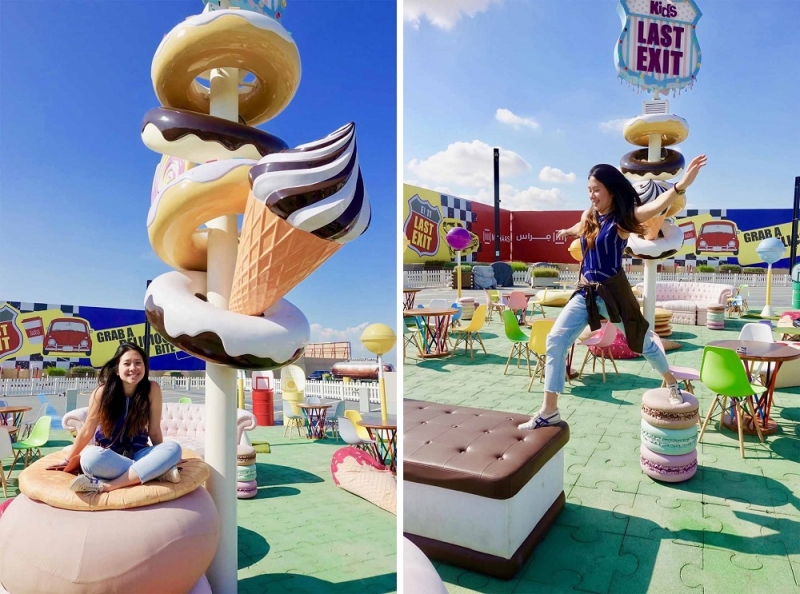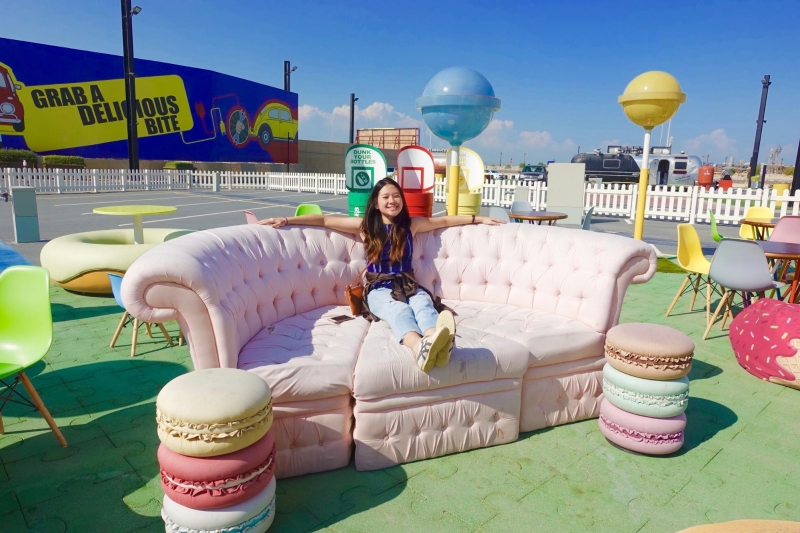 Aside from the aesthetics, the sofas make for a comfortable spot to mull off that food coma. It's almost as if we could have our cake and eat it too!

The food truck park sprawls over 1,500 square metres so there's plenty of space for you to roam and frolic around. We visited on a weekday afternoon and it was blissfully tranquil without the likes of incessant tourist chatter or ambient city noise. It truly felt as if we were discovering one of Dubai's hidden gems!

Even the floor is decked out in rainbow stripes. Go ahead and snap away!

There are actually four different 'Last Exit' food trailer parks, with the newest adopting a Mad Max theme.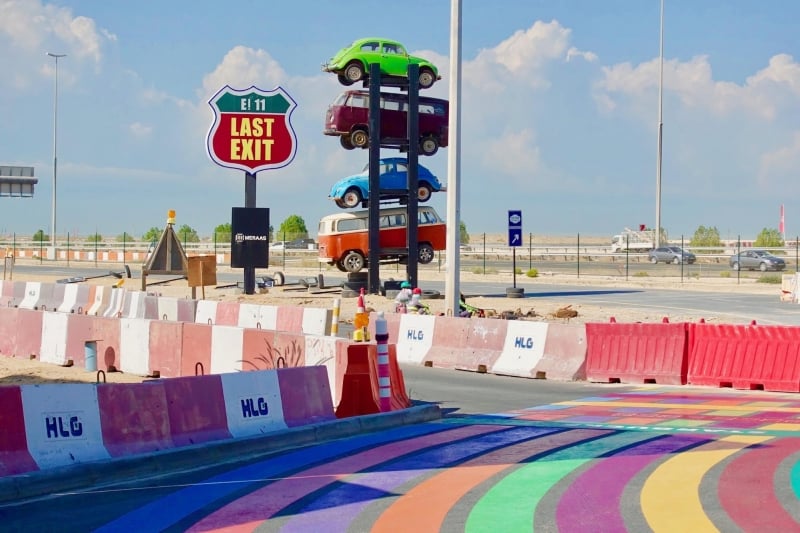 Getting here is easy, although you'd need to either drive your own car or hail an Uber. This particular park is located in Jebel Ali Hills on Sheikh Zayed Road, just after Interchange 11 in the direction of Dubai from Abu Dhabi. If you're travelling in the other direction i.e. coming from Dubai towards Abu Dhabi, do note that the park will be situated on the other side of the expressway. Simply look out for the stack of cars and the "E11 LAST EXIT" sign (pictured above) before making a U-turn.

The food trailer park is also located just a few minutes' drive from Dubai Parks and Resorts – home to theme parks like Motiongate Dubai, Bollywood Parks Dubai and Legoland Dubai, and an Outlet Village. It's thus perfect as a stopover location before or after you visit the theme parks or indulge in a bout of retail therapy.
Experience a kaleidoscope of colour here at Last Exit Dubai… with good food to boot. What's not to like?
Last Exit E11
Address: Sheikh Zayed Road, Interchange 11, Dubai
Opening hours: 24/7
Check out their website for more information on the various locations