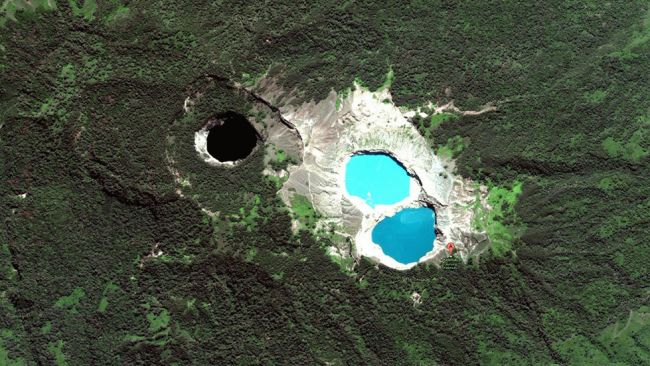 Unlike the typical fiery red depth of lava we usually see on volcanos, the Kelimutu volcano has sky blue crates that look alluringly beautiful. What is even more unique about this volcano is its three conspicuous summits with crater lakes. They are namely, "Tiwu Ata Bupu" (Lake of Old People), Tiwu Ko'o Fai Nuwa Muri (Lake of Young Men and Maidens) and Tiwu Ata Polo (Bewitched or Enchanted Lake). These charming lakes have become a popular tourist attractions.
Geologists are fascinated by this amusing Kelimutu volcano. They are continuously finding answers to explain the strange phenomenon of three lakes of varying colours despite appearing at the crest of the same volcano. However, a hypothesis formulated by the local officer at Kelimutu Naitonal Park suggests that the colour changes are the result of the chemical reaction between the minerals in the lake and the volcano gas activity.
Kelimutu is one of the few mountains that is 1,000 metres high in Indonesia. Kelimutu is situated close to the small town of Moni in central Flores Island in Indonesia.
Inspired? Here's how you can make your travel happen:
TripZilla Travel Packages to Kelimutu, Indonesia
Image credits: http://bit.ly/1gRMDhf