Located on the southeast coast of Australia, the city of Brisbane is home to world-class creative hubs, beaches, and national parks that will leave one in awe. With a subtropical climate and a laid-back lifestyle, the capital of Queensland is one of the most livable cities in the world. But if moving to Brisbane isn't an option for you right now, then staying in an Airbnb in Brisbane might be the next best thing. 
We've handpicked some of the most beautiful homes in Brissie, from exquisite Queenslander houses to Art Deco flats. Any of these homes can be the perfect base, whether you're gung-ho for a refreshing day at the Brisbane Botanic Gardens Mount Coot-tha or eager to dip your toes into Streets Beach. 
Also read: 10 Airbnbs in Melbourne for the Perfect Aussie Vacation
Top Airbnb homes to book in Brisbane
1. This Queenslander home with a spacious deck overlooking the city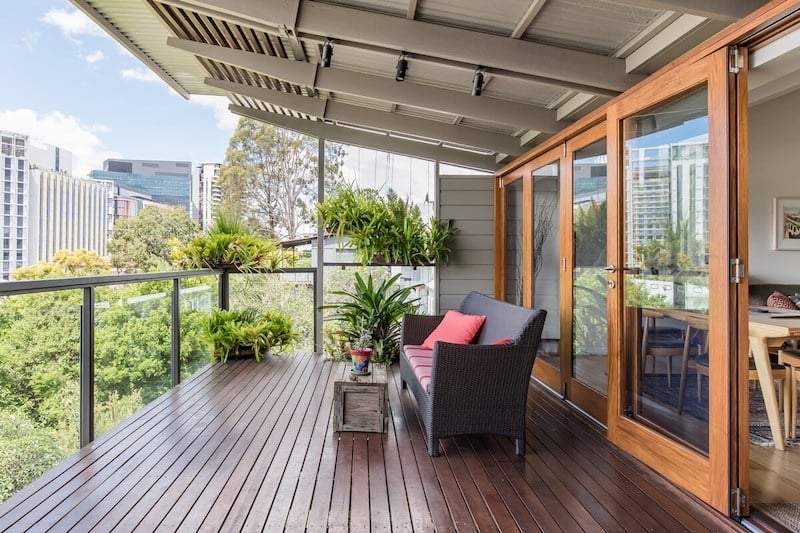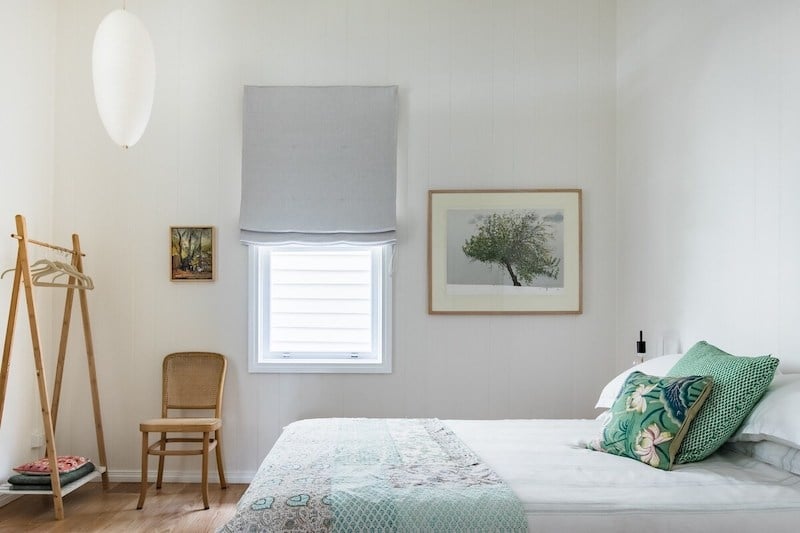 Listing name: Beautiful, Unique City Retreat in Cultural Hub of Brisbane
Listing type: Entire house
Max. no. of guests: 5
No. of bedrooms: 2
One of the things that set Brisbane apart from other capital cities is its high-set, timber-clad, veranda-wrapped house known as the Queenslander. This is why we think staying in this fully renovated Queenslander home in South Brisbane makes for an unforgettable trip. 
This Airbnb in Brisbane is the perfect starting point if you wish to lounge in the South Bank Parklands, explore the quirky and historical West End, or eat your way through Fish Lane. The Netflix party-worthy living room and airy bedrooms make it a great refuge from the city, adorned with lovely furniture and a large collection of books. But the real star is the large patio, where you can enjoy a cold can of beer while revelling in views of the garden and Brisbane CBD. 
2. This breezy, nautical-themed apartment near Moreton Bay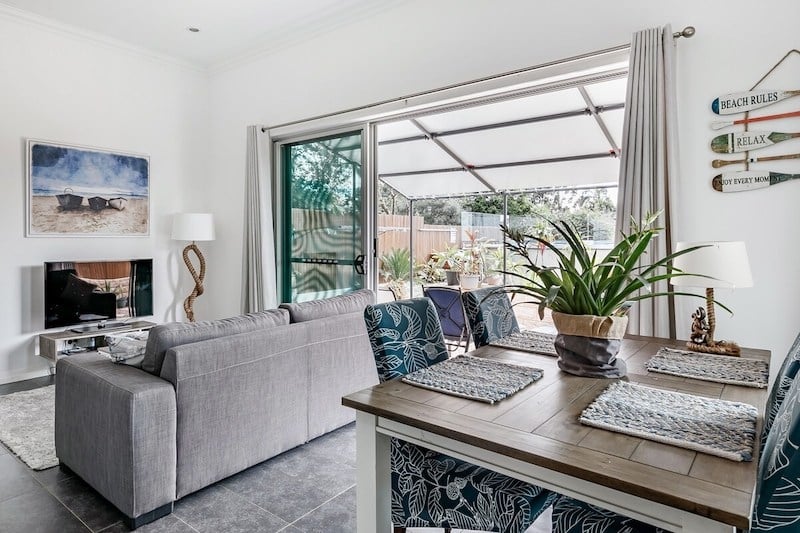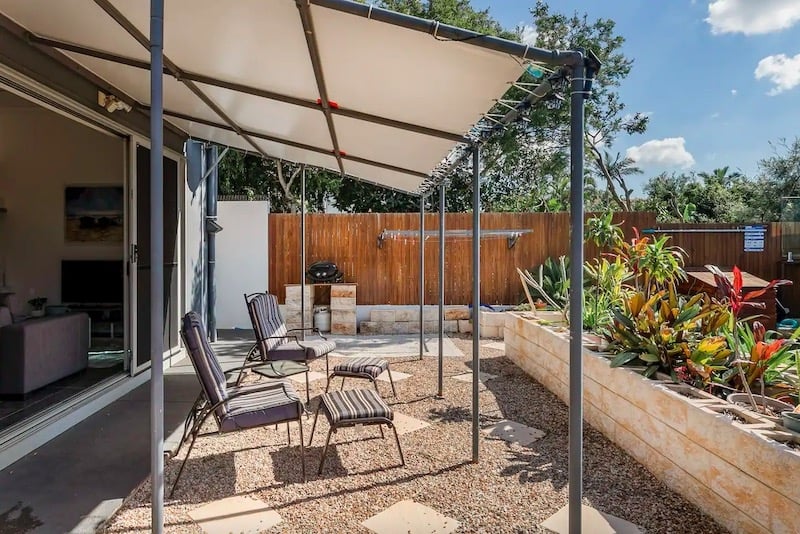 Listing name: Manly Boathouse, Self Contained Garden Apartment
Listing type: Entire apartment
Max. no. of guests: 4
No. of bedrooms: 1
Coastal vibes abound in this boathouse apartment between Manly Village and Wynnum. This pleasant home features a cosy bedroom with a boat wood style king-size bed, a pool, a garden, a modern kitchen, and nautical-inspired accents that will remind you of the sun, sand, and sea. Sliding doors in the living room let you catch the breeze from Moreton Bay, which is just down the road.
A nod to Brisbane's year-round subtropical climate and its wonderful coast, this Airbnb in Brisbane is excellent for anyone seeking bayside adventures. Here, you will get access to restaurants, indie cafés, bars, artsy shops, bookstores, waterparks, and a man-made beach. 
3. This airy and sunny apartment with first-rate views of the Brisbane River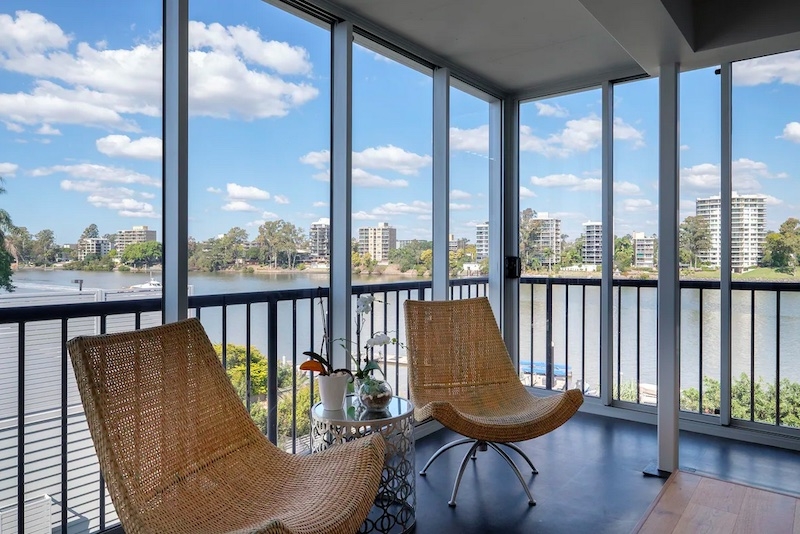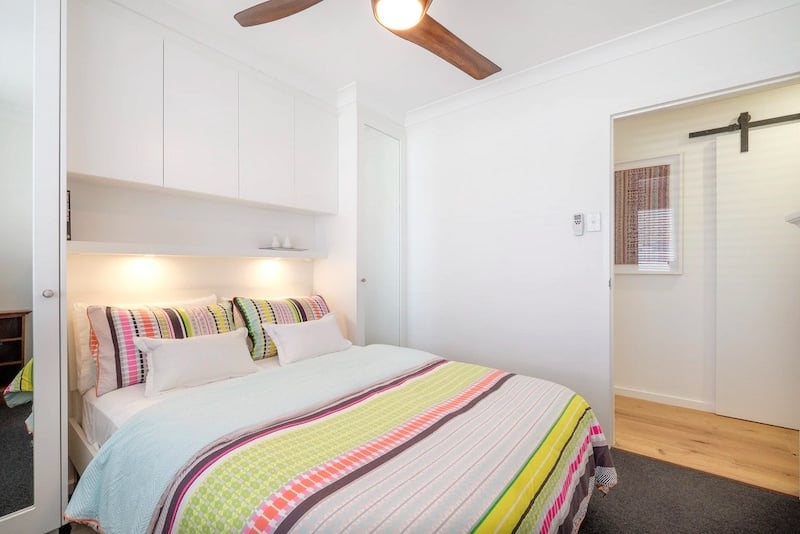 Listing name: River life with convenient inner city living
Listing type: Private room in apartment
Max. no. of guests: 2
No. of bedrooms: 1
Straddling the meandering Brisbane River, Brisbane has aptly earned the nickname "River City." The riverside is just as lively as other parts of the city, and the best way to enjoy the sights is to stay in this beautifully appointed apartment in the West End.
Ideal for solo travellers or couples, this home has a sizable bedroom with a comfy double bed and ample storage. Enjoy the riverside breeze at the sprawling Orleigh Park, where you can also find the CityCat ferry terminal — the best way to experience the river itself. After a day of sampling the best of West End's waterfront dining options, you can come home to enchanting views of the river by the veranda.
4. This luxurious and secluded retreat house in the countryside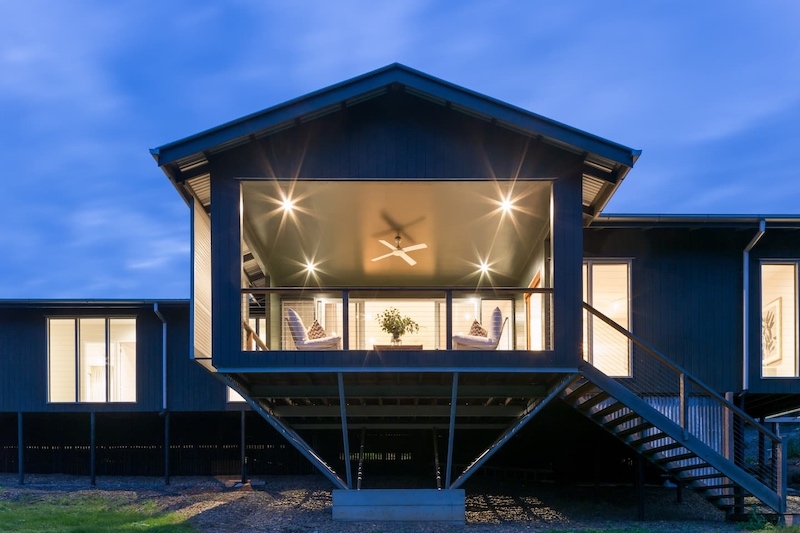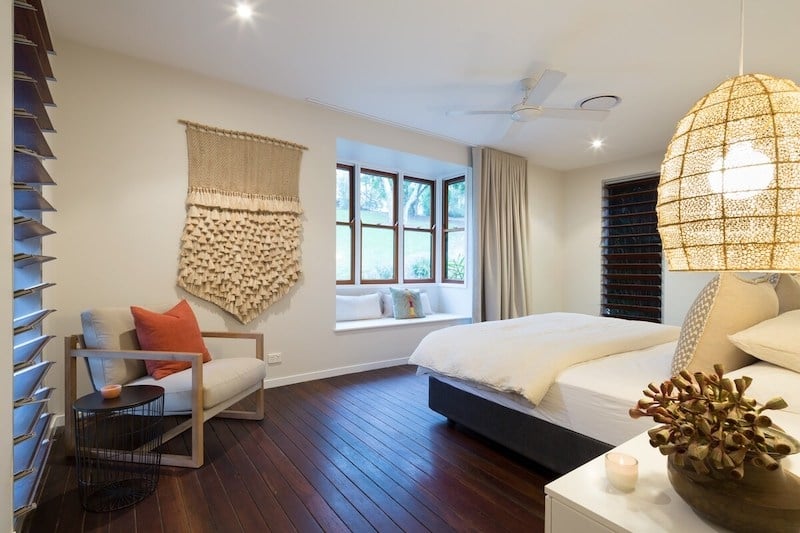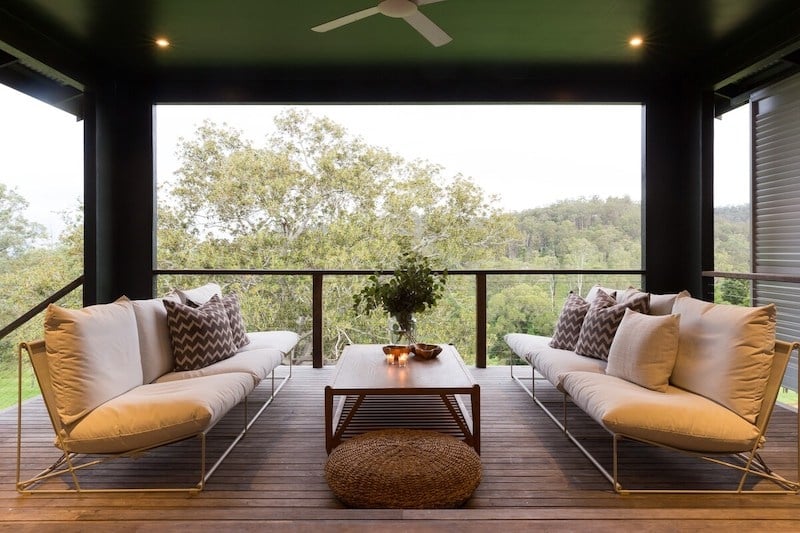 Listing name: Luxurious Hideaway Retreat in Pullenvale
Listing type: Entire guesthouse
Max. no. of guests: 8
No. of bedrooms: 4
Already seen the best of urban Brisbane? It's time to head to the countryside and indulge in this dreamy and elegant retreat house. Originally built as army barracks in 1941 at Wacol, Queensland, this relaxing hideaway was relocated to a Pullenvale acreage, then beautifully restored and transformed into the magical haven you see today.
Fitting up to eight guests in four spacious bedrooms, this Airbnb hums with luxury with its classy furnishings, appliances, original hardwood flooring, and outdoor deck with unparalleled views of the Moggill State Forest. For maximum relaxation, you can also sign up for yoga, meditation, or massage sessions at the Seed Yoga Studio within the property.
5. This calming oasis brimming with artworks and plants in Wynnum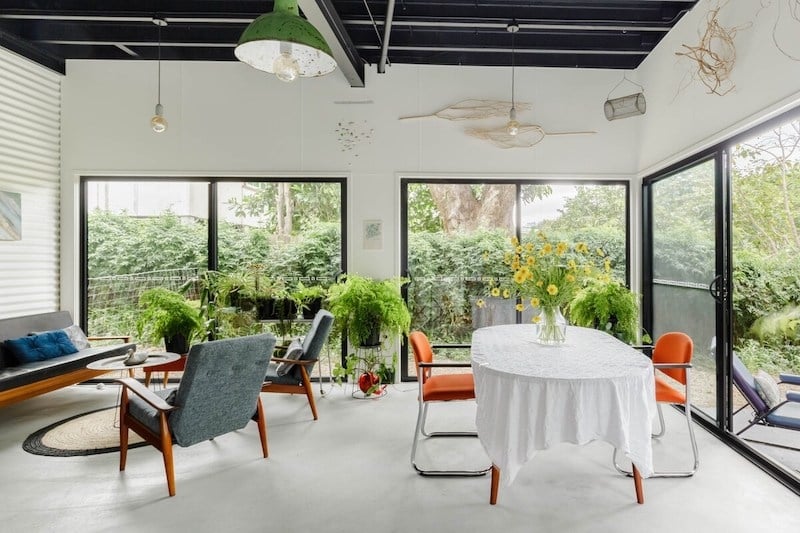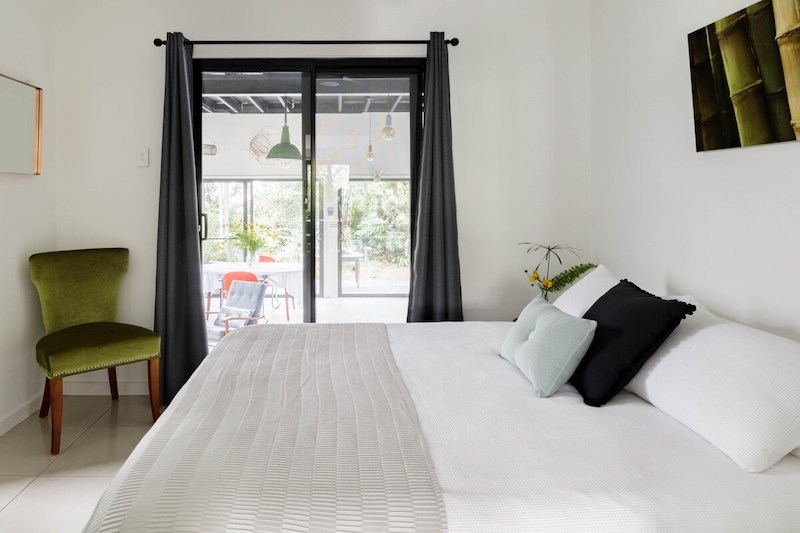 Listing name: Art Lovers Private Retreat
Listing type: Entire apartment
Max. no. of guests: 2
No. of bedrooms: 1
Get your nature fix while admiring local artworks in this peaceful hideaway in Wynnum. Sitting on a quiet street near dining hubs and the Manly Marina, this Airbnb in Brisbane is made for laidback sightseeing.
Blurring the lines between indoor and outdoor living, the apartment is peppered with calming artworks, mid-century furniture, and lots of plants. The bedroom, with its queen-size memory foam mattress and room-darkening shades, promises a restful slumber. But the highlight of this home is the well-lit art studio, where you can curl up with a book or nurse a glass of wine while watching the sunset.
6. This charming, heritage-listed Queenslander home in a popular suburb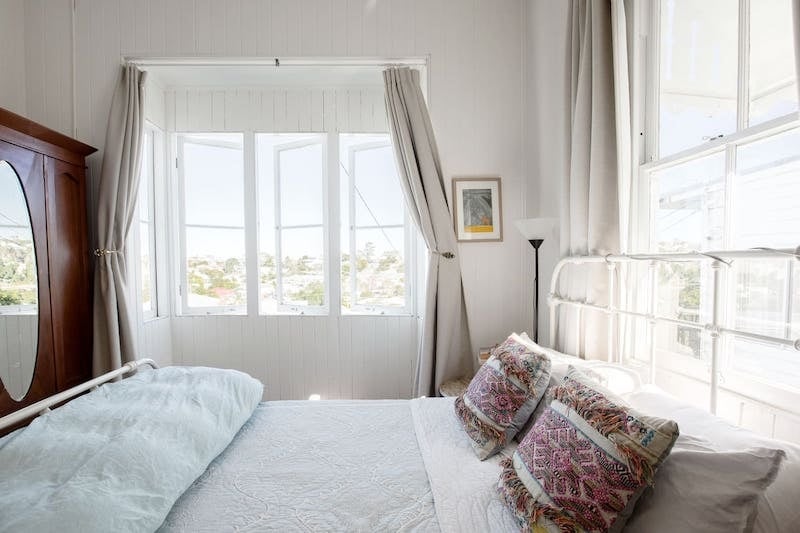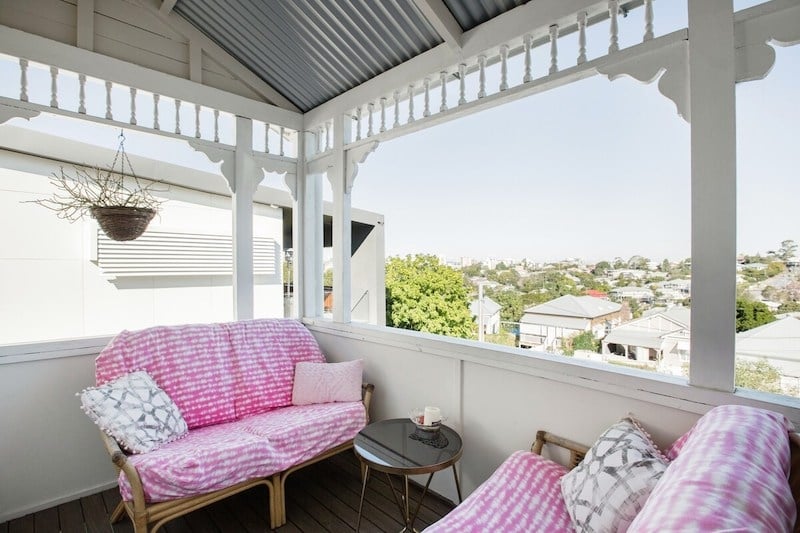 Listing name: Stay in a Homey, Restored Queenslander Cottage
Listing type: Entire house
Max. no. of guests: 4
No. of bedrooms: 3
Be transported into the early 20th century when you step inside this 110-year-old Queenslander, perched high on the Auchenflower hills. Restored to its glory days and updated with modern appliances, this quintessential Brisbane house boasts ornate ceilings, timber panelling, and vintage furniture. Colourful woven rugs and large windows complete its charming, homey look.
After spoiling yourself with wine and cheese while waiting for the sunset on the balcony, you can explore the gems around Auchenflower. This popular suburb is not only home to great restaurants, but it's also within walking distance from Milton's iconic XXXX Brewery, Suncorp Stadium, Park Road, and the famous shopping and dining hub of Paddington.
7. This tranquil studio with a tub on the patio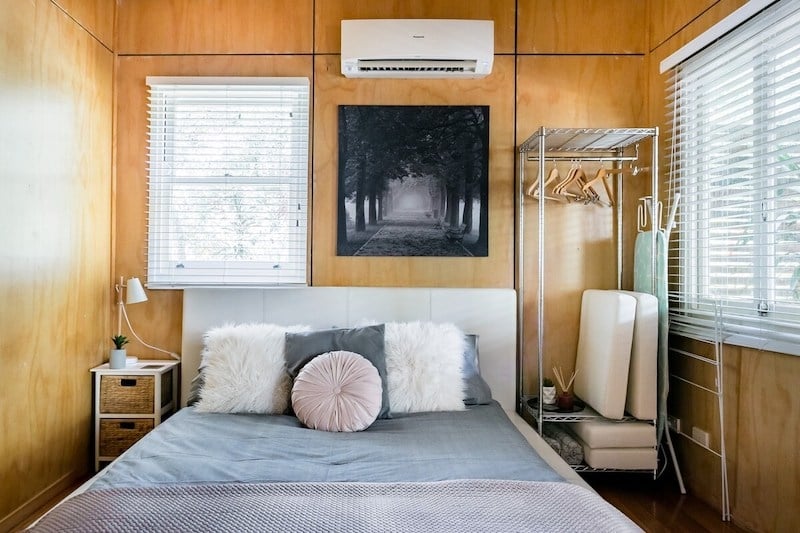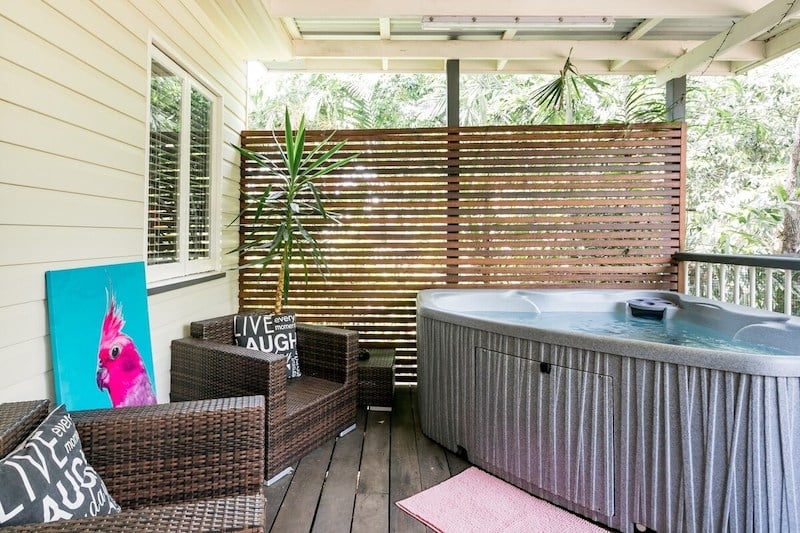 Listing name: Modern Studio & Spa Ten Minutes to Airport and CBD
Listing type: Entire guesthouse
Max. no. of guests: 2
No. of bedrooms: 1
Brisbane offers a dizzying array of choices for ardent travellers. But let's face it: All of that exploring can suck the energy out of you. Enter this secluded studio with a soothing hot tub on the patio. A rejuvenating soak in this tub is just what you need after a busy day touring Wooloowin and the neighbouring suburbs.
Perfect for romantic getaways, this wood-panelled Airbnb in Brisbane is nestled at the back of a 112-year-old Queenslander. Aside from the patio tub surrounded by a lush garden, the house also comes with a mini-fridge, an espresso machine, a cosy queen bed, and earthy furniture. Wooloowin's train station is just a few steps away, and top-rated cafes can also be found nearby.
8. This vibrant and budget-friendly room for solo adventurers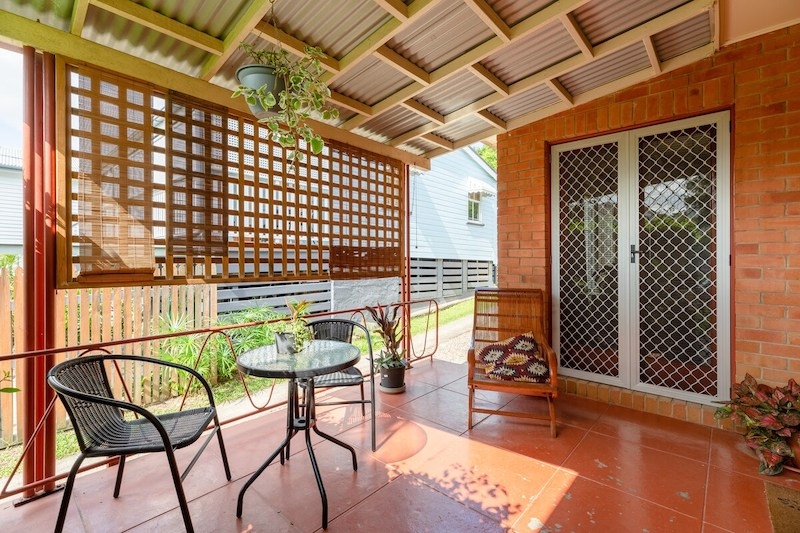 Listing name: Spacious, private, close to Hospital and CBD
Listing type: Private room in house
Max. no. of guests: 2
No. of bedrooms: 1
Travelling solo doesn't mean you have to stay in a cramped and dull room. This roomy and bright home is anything but. Ideal for solo explorers or couples, this house has a spacious, clean, and comfy private room with a separate bathroom. With large windows, colourful décor, plenty of lounging spaces, and a budget-friendly price tag, this Airbnb in Brisbane is a great bargain.
Situated in laidback Greenslopes, this home gives you access to several malls, bars, cafés, restaurants, and parks. It's also close to South Bank Parklands and the CBD, and the nearby Buranda train station can take you to Moreton Bay or the Gold Coast.
9. This 1960s-inspired home for your whole crew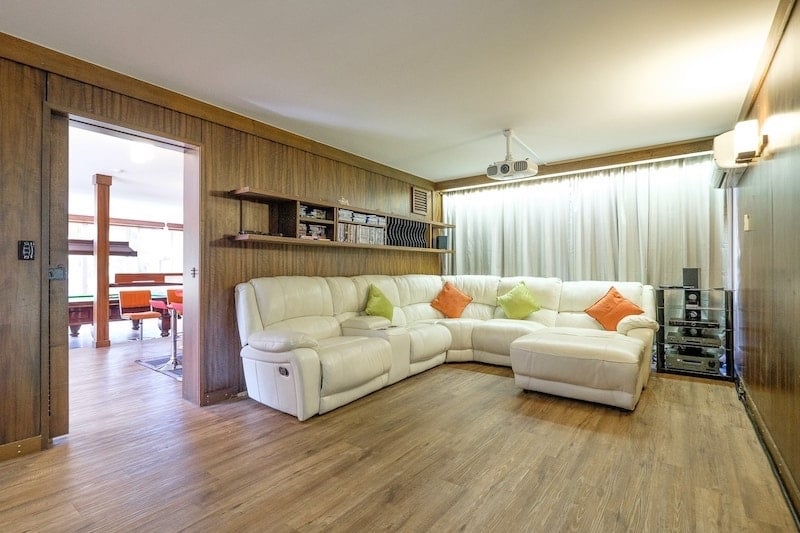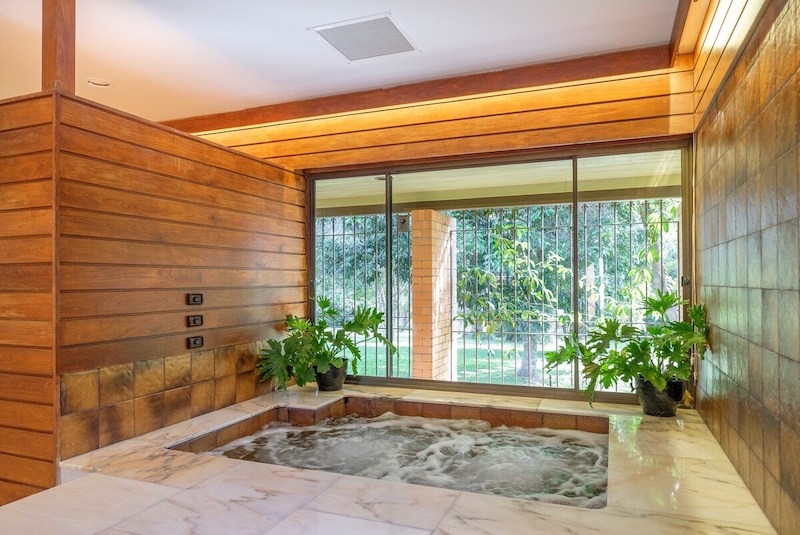 Listing name: Spacious Hideaway Retreat, Pool , Spa, Acreage
Listing type: Entire house
Max. no. of guests: 16
No. of bedrooms: 7
Whether you're seeking a space for your team-building activities or just want a large space for your family, this massive holiday home in rural Brookfield hits the spot. Sitting on a quiet lane, this palatial 1960s-inspired sanctuary has everything you need for a large group retreat.
Highlights include the pool table, the theatre room, the heated indoor spa, the pergola for outdoor lounging, and the gaming room with a bar that screams retro. And if that's not enough, this retreat is conveniently located near countryside attractions without being too far from the city. Ultimately, it's got the best of both worlds. 
10. This sleek designer apartment in historic Red Hill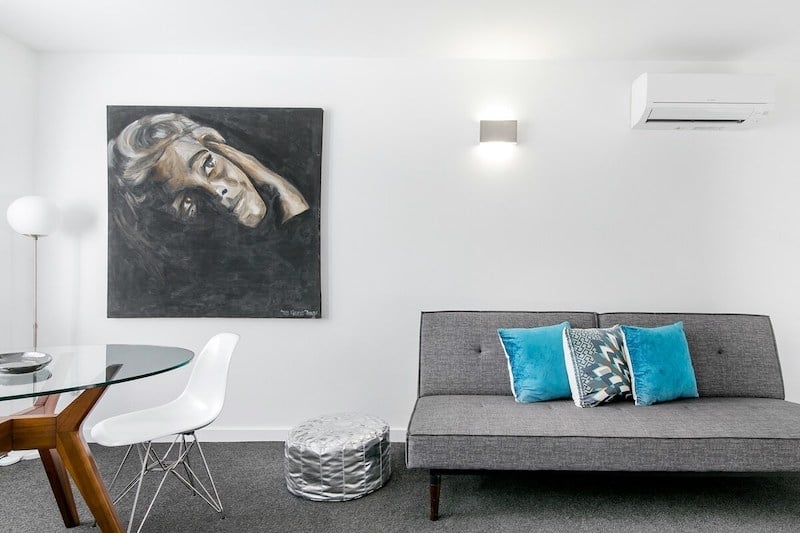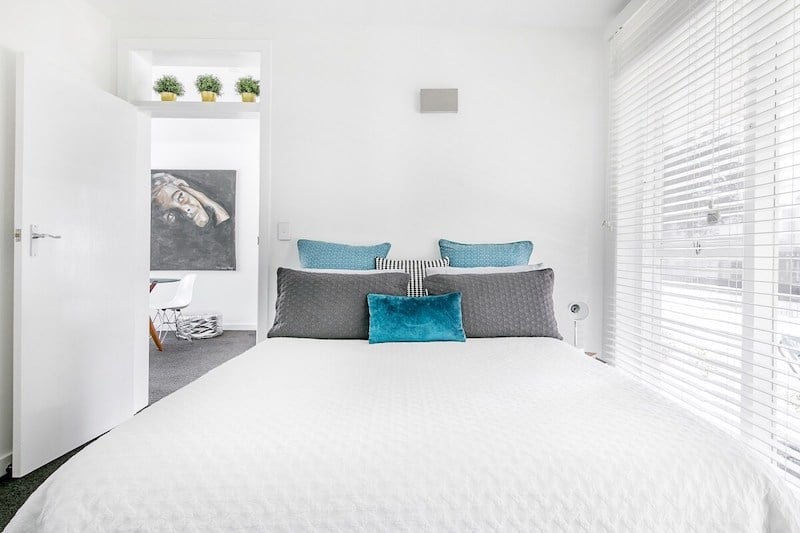 Listing name: One Bedroom Designer Oasis Just Kilometres from the City
Listing type: Entire apartment
Max. no. of guests: 3
No. of bedrooms: 1
History geeks, pay attention. This monochromatic designer home in one of Brisbane's oldest suburbs is the perfect base for exploring Brisbane's rich, colourful past. Staying in this Red Hill home means you get access to gems like the 1912-built St Brigid's Church, the century-old Red Hill Cinemas, and several heritage-listed flats in Brisbane.
After a day of touring through Red Hill's historic sites, quaint cafés, and beautiful parks, nothing beats a cosy time in this minimalist apartment. How about fixing yourself up a nice meal in the designer kitchen and sipping Australian wine on the front patio? Finally, drift off to sleep in the cushy queen-size bed. If that sounds like a luxurious vacay, that's because it is.
11. This comfy family home near a koala sanctuary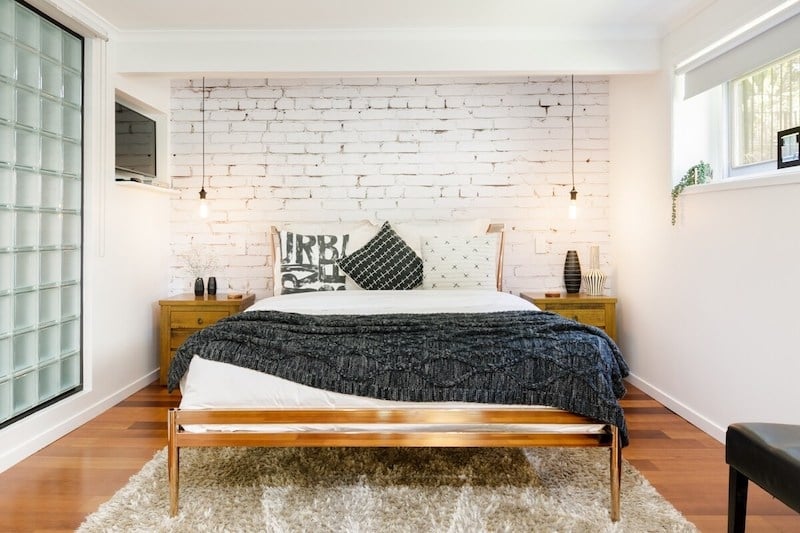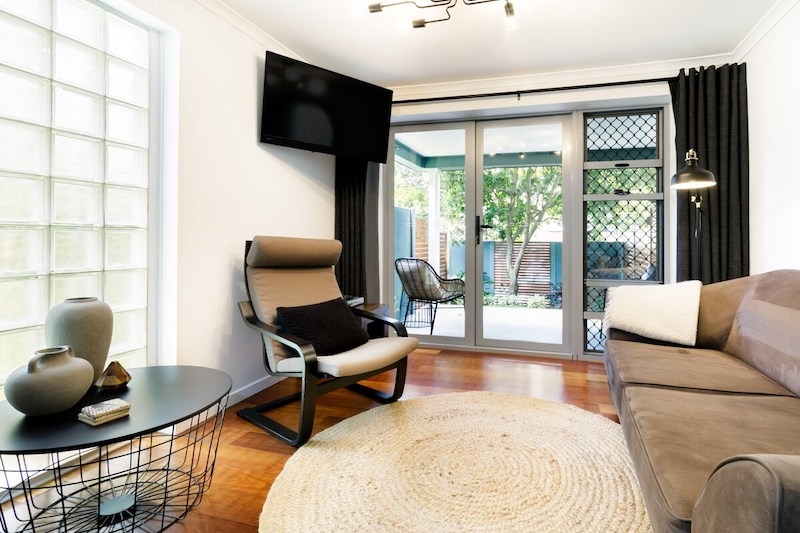 Listing name: Visit Brisbane from a Cosy Courtyard Oasis
Listing type: Entire guest suite
Max. no. of guests: 6
No. of bedrooms: 2
Planning a Brisbane trip with the kids? Make sure to include fluffy koalas in your itinerary and book a stay in this industrial-meets-tropical apartment. Located in leafy Kenmore, this family home is close to Fig Tree Pocket's Lone Pine Koala Sanctuary, the world's oldest and largest koala sanctuary.
This fab Airbnb in Brisbane is embellished with recycled timber fixtures, a copper queen bed, and a tropical garden courtyard. Aside from being near the state-of-the-art Kenmore Library and CBD, this home also welcomes pets and donates a portion of its booking fees to Queensland Staffy & Amstaff Rescue. How cool is that?
12. This Art Deco-inspired retreat with stunning interiors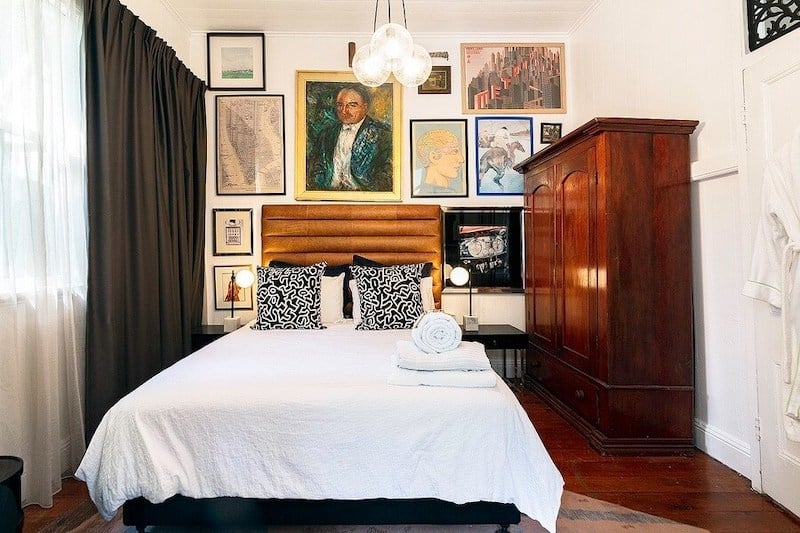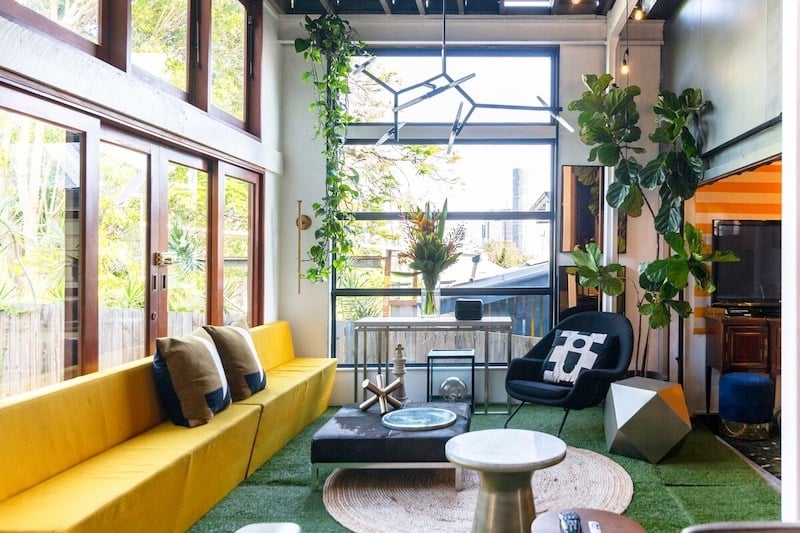 Listing name: CITYVIEW ARTHOUSE
Listing type: Entire house
Max. no. of guests: 12
No. of bedrooms: 5
Aesthetically pleasing interiors, close proximity to Brisbane's popular sights, and plenty of space make this updated 1890s arthouse a great home for travelling with family or friends. An original Queenslander, this house has been updated with lots of modern features and dotted with artworks, patterned fabrics, and storied furniture.
Located in Red Hill, this home boasts five large bedrooms, two bathrooms, a modern kitchen and dining area, a swimming pool, and a veranda with great views of the city. Good food and good times are just within reach, too. The lively Caxton Street and nightlife scene of Fortitude Valley are close by, and so are Paddington's bars and cafes. 
Also read: 8 Airbnbs in Sydney for a Taste of Life as a Local
Have you set your eyes and heart on any of these vacation homes? We hope this round-up of splendid Airbnbs in Brisbane makes it easier for you to trim down your options!